BL and I were at a wine event in Napa a few months ago and had a black bean soup that was awesome! It took me a bit to figure out what was in it that was so different- chipotle peppers. Smoky, spicy, chipotle peppers pair perfectly with black beans. This looks like a large ingredient list but very simple and easy to throw together.
Black Bean Soup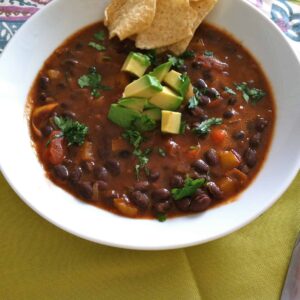 Ingredients:
5 cups black beans, cooked
2 cups vegetable broth
1 small onion, chopped
4 cloves garlic, minced
1 large pepper, any color, chopped
1 large tomato, chopped
1 jalapeño, chopped (optional)
3 tbsp. chipotle peppers in adobe sauce (about 3 peppers with sauce)
1 lime, juiced
1 Tbsp. chili powder
1 tsp. cayenne pepper
1 Tbsp. ground cumin
1 tbsp. olive oil
1/3 cup cilantro, finely chopped
Heat olive oil in a soup pot over medium heat. Add the onions, cumin, chili powder, cayenne pepper and cook until onion is soft. Add the chopped pepper, jalapeño (if using), and keep cooking for another 5 minutes until pepper is soft. Stir garlic in.
MY LATEST VIDEOS
In a blender, puree 1 cup vegetable broth, 1 cup black beans, and chipotle peppers. Add this to the soup pot along with the rest of the black beans and the chopped tomato. Bring to a boil and reduce heat to low. Cook 10-15 minutes. Stir in cilantro just before serving.