Burrito Bar Mason Jar Salads! Layers of avocado dressing, roasted sweet potato, quinoa, black bean and crispy lettuce. Vegan  & Gluten-Free.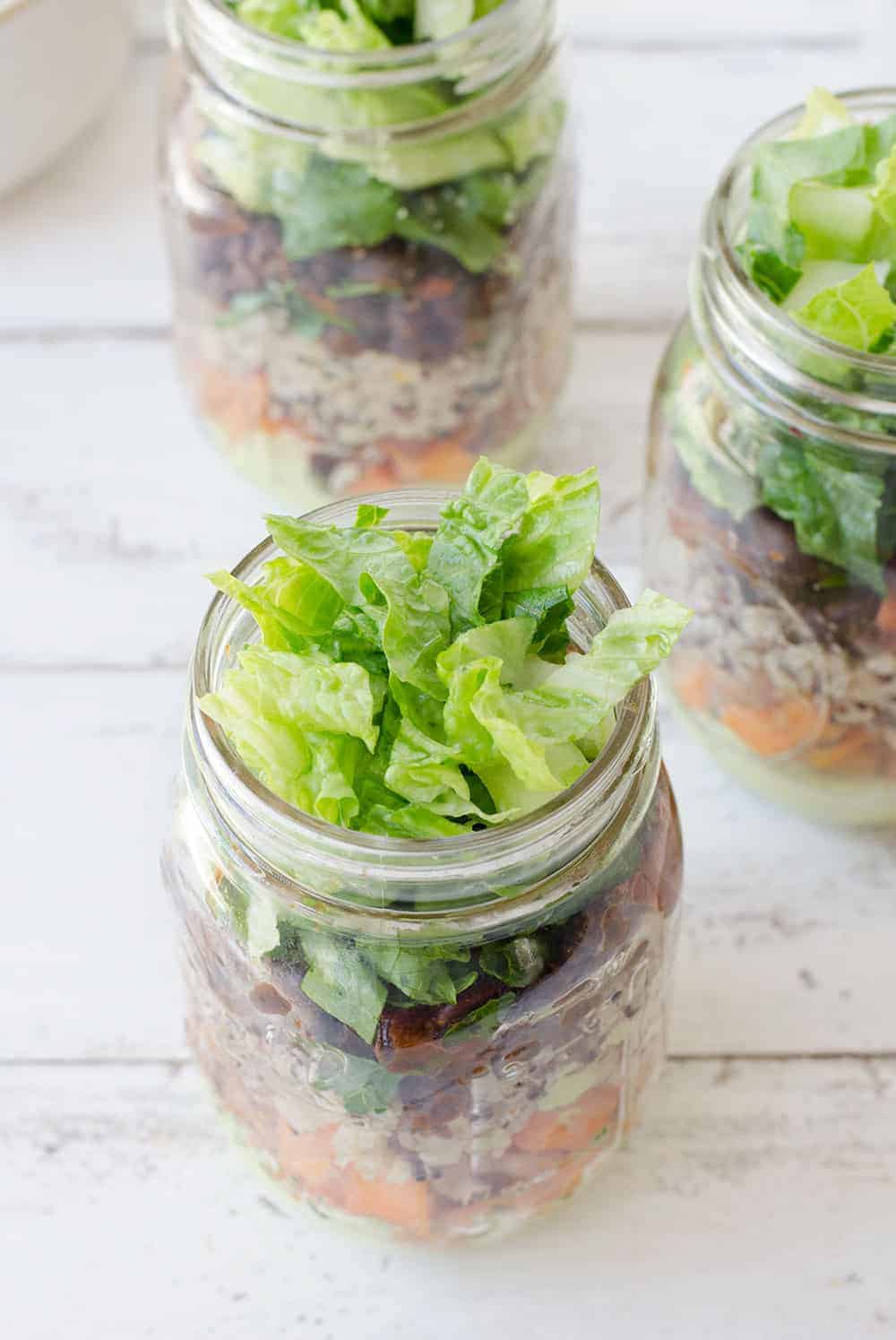 Who doesn't love a mason jar salad? They are slightly hipster, effortless to pack, and delicious. The trifecta for healthy millennials. Mason jar salads also make the perfect answer to "what should I pack for lunch?" A question that I'm sure plagues even the best of us. This month's Recipe Redux link-up is designed to give endless options to swap into your regular noontime rotation.
My obsession with mason jar salads is like most things in life: I love them, make them for weeks on end, stop and then completely forget about them. Until of course, I make them again. And then the cycle repeats.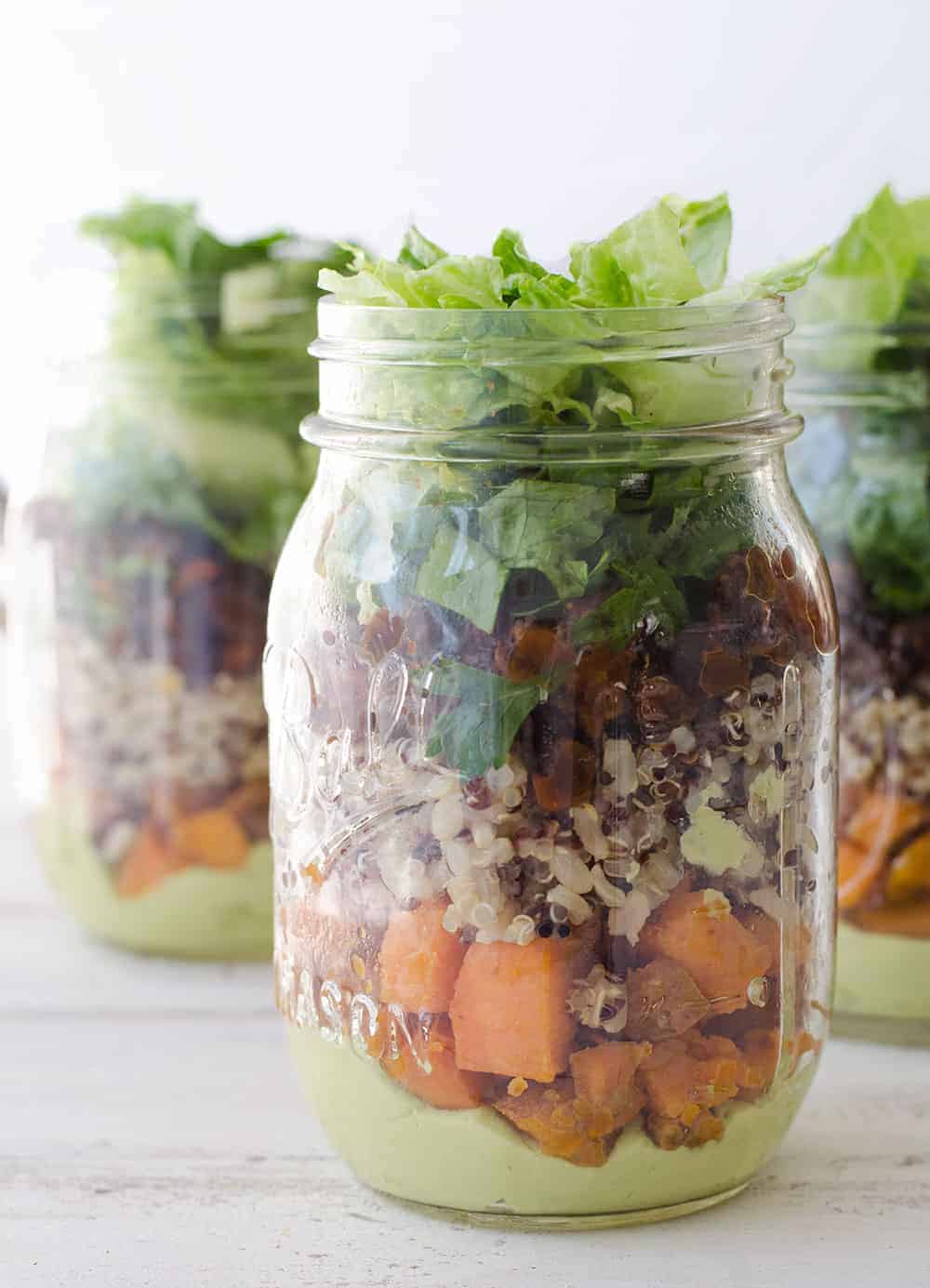 Burrito bowl in a mason jar! It's like Chipotle but cheaper and better… without the risk of picking up Salmonella. The base of these salad bowls may be the best part. I've been known to literally scrape out every last drop of avocado-lime goodness from the bottom of the jar. It's one part guacamole, one part dressing, and the perfect topping for black beans, quinoa and roasted sweet potatoes.
I've been on a major sweet potato kick for the past few weeks, so of course they are making an appearance in these mason jar salads. I keep a bowl of roasted potato cubes in the fridge for easy snacking and topping on salads or stuffing into wraps. But, the ingredients are flexible. I imagine that sautéed peppers, roasted butternut squash or broccoli would also be perfect in these salads.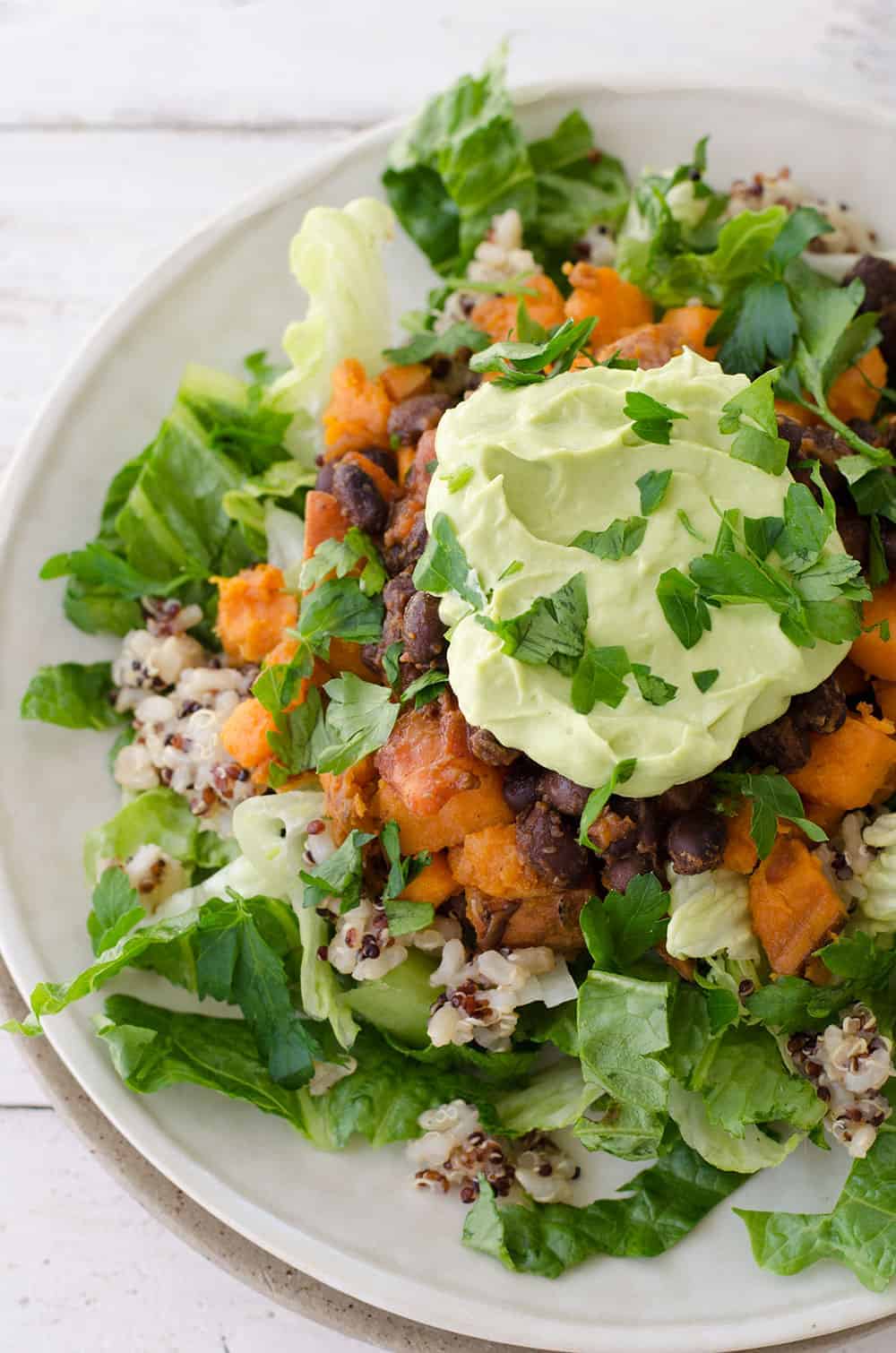 Once you've prepped all the ingredients, the fun begins! You get to layer your mason jar salad.
The process reminds me a little of those sand jars we used to make as kids. Remember those? I was a perfectionist in how they looked for the first three layers, and then my patience would always wear out. Eff it! All the colors combined together in one giant orange/brown sand mess. Thankfully, these layered salads have a prettier outcome.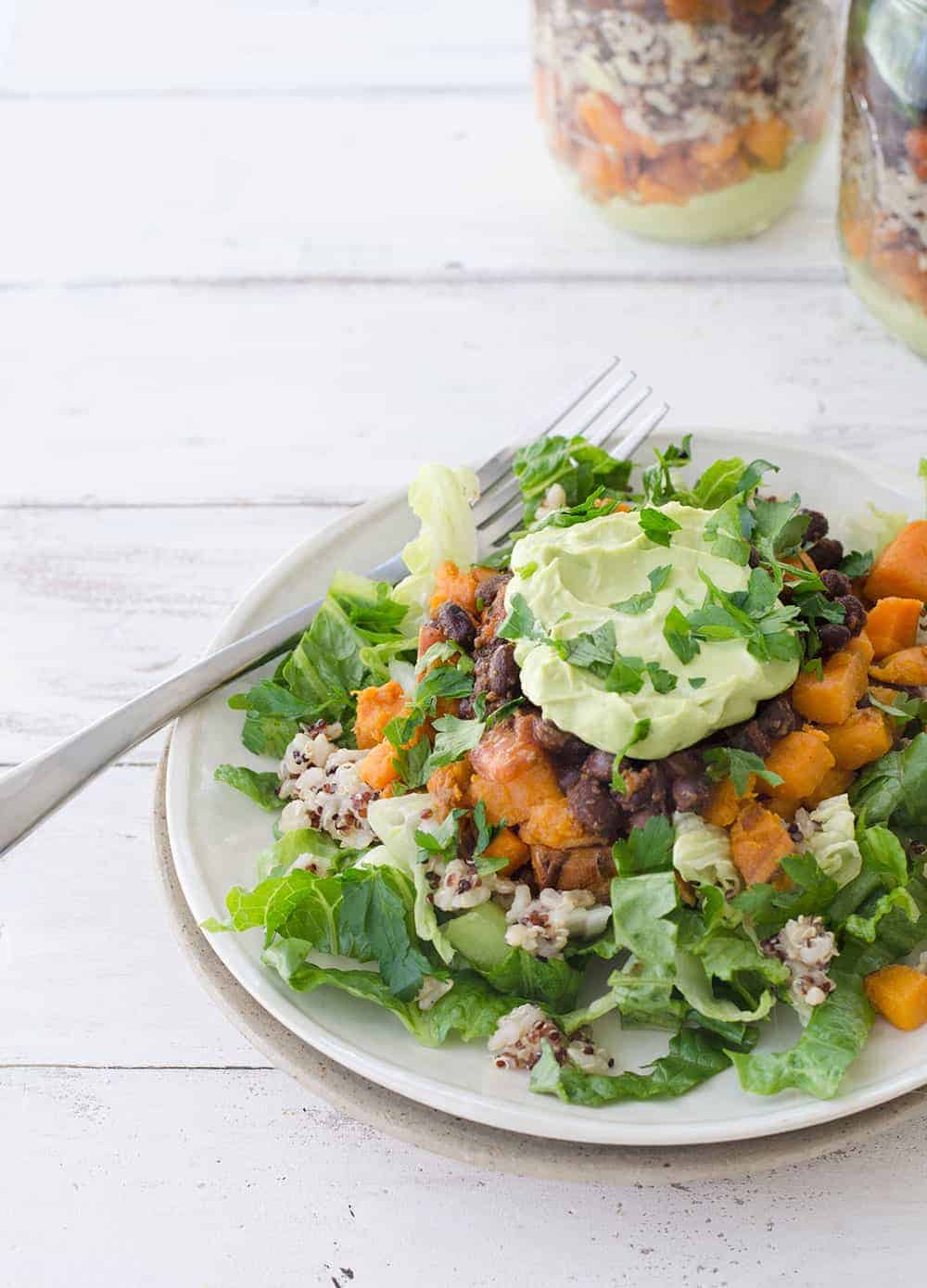 You must start with the dressing on the bottom, then slowly build your way up to the lettuce on top. These salads will stay crispy as long as the lettuce or other delicate ingredients don't touch the dressing. It's why I use a nice buffer layer of beans, quinoa and sweet potatoes. Plus, all that fiber and protein means that this salad came to satisfy.
When you are ready to eat, invert the jar and dump! Toss with the dressing and enjoy your personalized burrito bowl mason jar salad.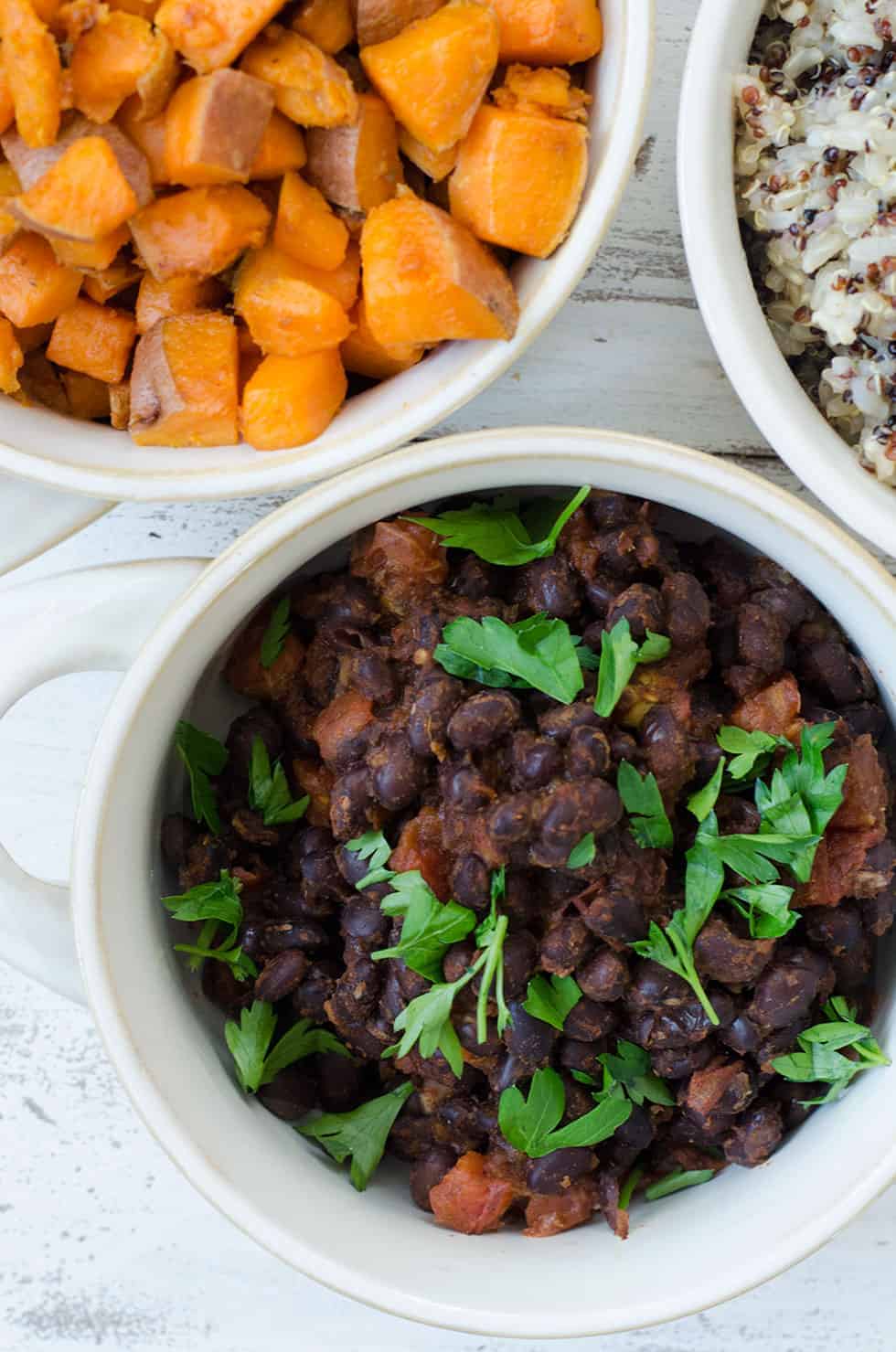 These keep for about ~4 days in the fridge, so make a bunch, store them and enjoy. Lunch time made easy.
If you try this recipe, let me know! Leave a comment, rate it, and tag your Instagram photos with #delishknowledge . I absolutely love seeing your creations. Happy cooking! 
Print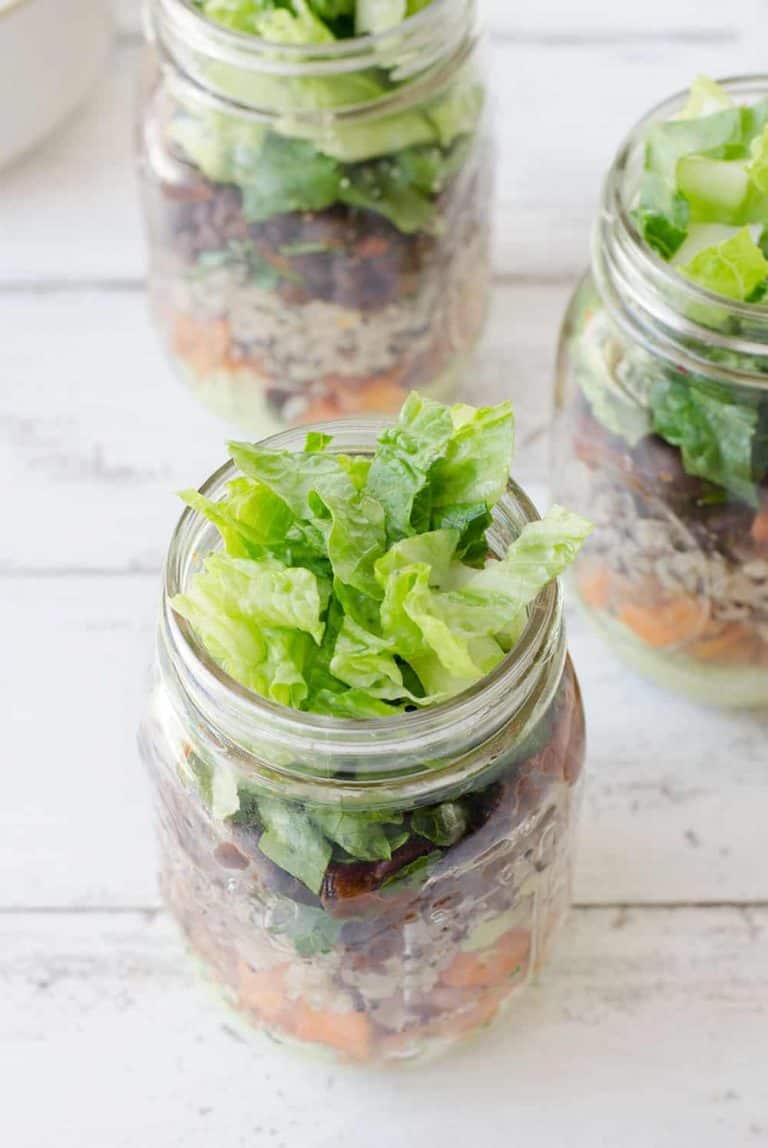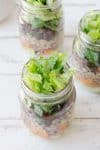 Burrito Bowl Mason Jars
Author:

Prep Time:

15 minutes

Cook Time:

20 minutes

Total Time:

35 minutes

Yield:

4

mason salad jars

1

x
Category:

salad, lunch, healthy, dinner, entree,

Cuisine:

vegan, glutenfree
---
Description
Burrito Bar Mason Jar Salads! Layers of avocado dressing, roasted sweet potato, quinoa, black bean and crispy lettuce. Vegan & Gluten-Free.
---
Scale
Ingredients
Avocado Dressing:

1

large garlic clove

1

large avocado, pitted

2 tablespoon

s fresh lime juice, plus more to taste

1 tablespoon

water

2 tablespoon

s olive oil

1/4 teaspoon

fine sea salt, or to taste
Black Bean Filling:

1 teaspoon

olive oil

1/2 cup

diced white onion

2

medium garlic cloves, minced

1 teaspoon

chili powder

1 teaspoon

dried oregano

1/4 teaspoon

cayenne pepper
pinch salt

1/2

chopped fresh tomatoes

1

(14-ounce) can black beans, drained and rinsed
Remaining Ingredients:

1 tablespoon

oil

1

large sweet potato, chopped into

½

inch pieces

4 tablespoon

s salsa

1 cup

quinoa, cooked

4 tablespoon

s pepitas

2 cup

s chopped romaine lettuce
---
Instructions
Place the ingredients for the dressing in a blender and puree until creamy and smooth. Divide the dressing among 4 mason jars.
Heat the olive oil in a large skillet over medium heat. Add the onion and garlic cloves then cook for 5-6 minutes until translucent and soft. Stir in the chili powder, oregano, cayenne pepper, salt and fresh tomatoes. Cook for another 5 minutes until soft. Stir in the black beans and set aside until cool.
Heat 1 tablespoon of oil a large skillet over medium heat. Add the potato cubes, then cook until seared on every side, about 4-5 minutes. When the potatoes are browned, reduce the heat to medium-low then cover with a lid and cook until tender, about 10-15 minutes. Set aside to cool to room temperature.
Layer the various filling ingredients into the mason jars in this order on top of the avocado dressing: black bean mixture, sweet potatoes, 1 tablespoon salsa, ¼ cup quinoa, 1 tablespoon pepitas, and ½ cup chopped romaine lettuce. Tighten the lid and place in the fridge. They will keep in the fridge for at 3-4 days.
---