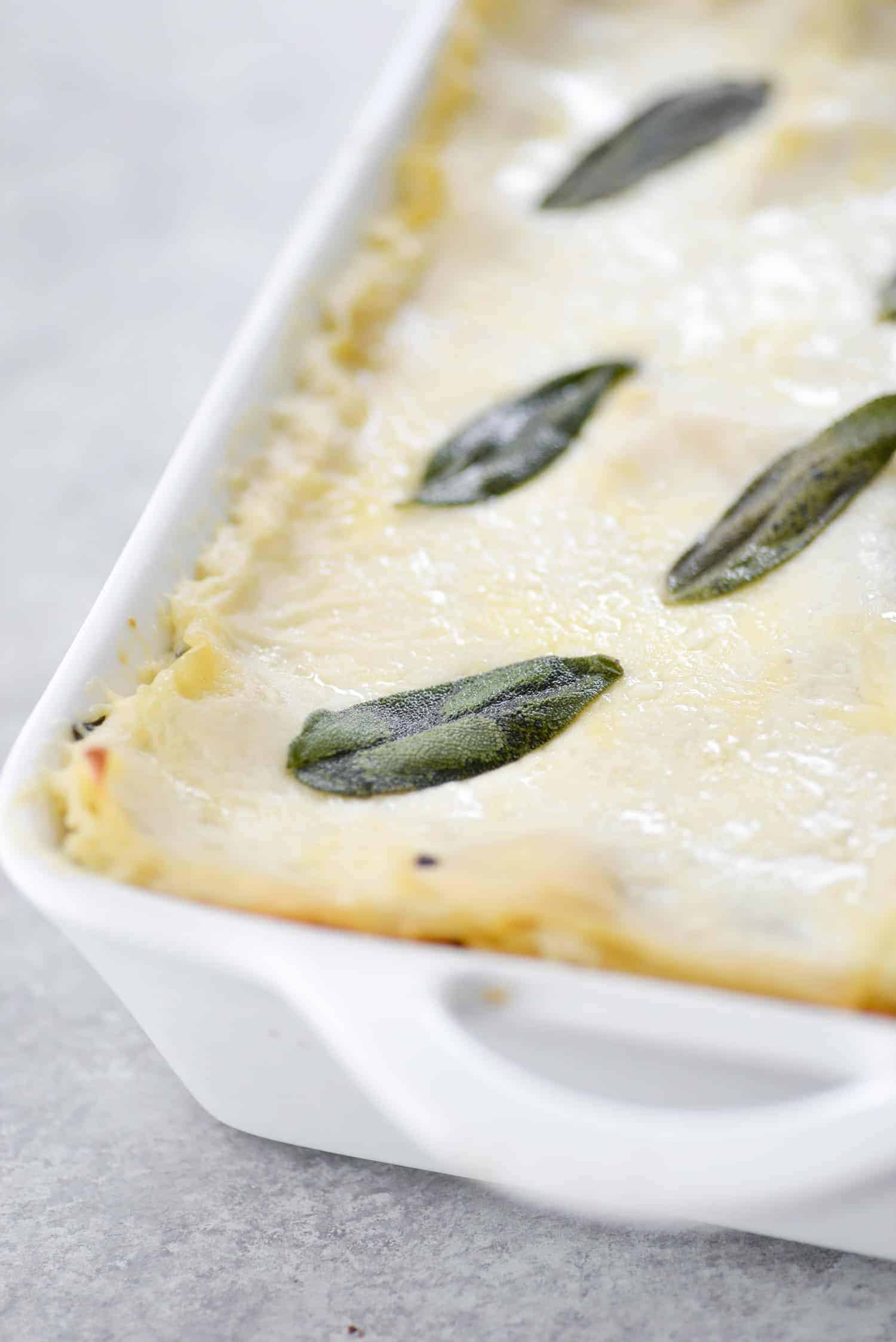 If you were wondering what show-stopping main dish you were going to make for Christmas… let me introduce you to this butternut squash and kale lasagna.
My mom and I perfected this lasagna while she was in town last month and we're planning on making it again when we're together next week for Christmas. When it comes to our holiday menu, I can't imagine Christmas without some type of pasta. We usually make homemade manicotti but with a new babe and my two little nieces under age 5, no one wants to spend all day in the kitchen.
That's why we've already made this butternut squash & kale lasagna and popped it in the freezer for Dec. 25th.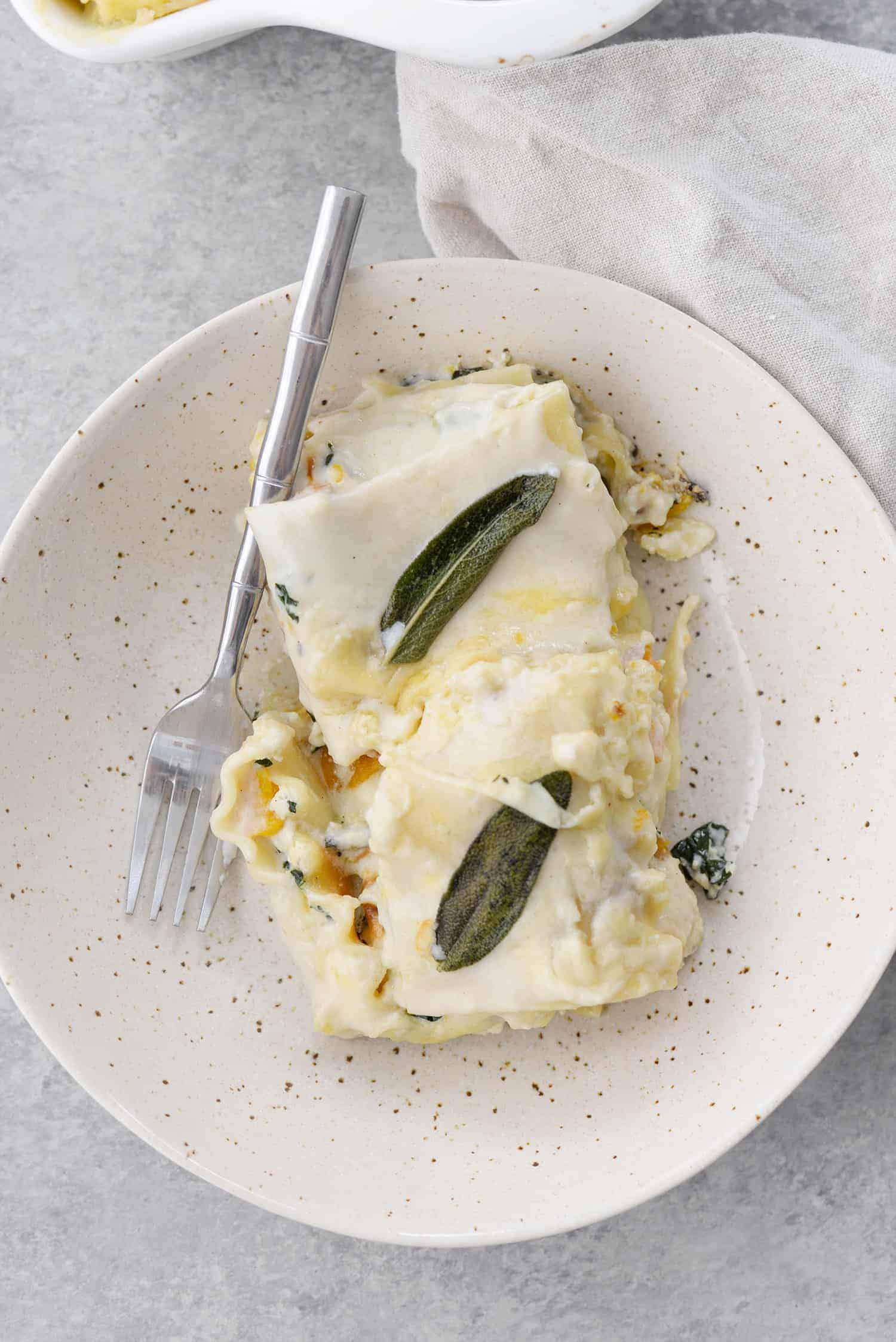 I love a good lasagna. There is something almost therapeutic about layering the ingredients, taking care with each one and then smothering everything in a luscious béchamel sauce.
No corners are cut with this one. We start with roasted butternut squash, crispy garlicky kale and a homemade white sauce. While this recipe is a little more involved, I promise you that every step is worth it.
I tested this one a few times, so follow my tips:
— Use regular lasagna noodles over no-boil ones. I found those to be too starchy as they don't soak up the béchamel sauce like regular noodles do.
— The squash should be very soft before adding to the lasagna. You want the bits caramelized and melt in your mouth. Make sure to chop them small enough so they can be eaten in one bite.
— You will end up with more sauce than you think you need, but trust it. I prefer a saucy lasagna over a dry one and the sauce will thicken as it cooks. Make sure to cover the entire top of the lasagna with a good layer of sauce.
— Cheese please! Resist the urge to cut down on the overall cheese amounts. It's Christmas and it's worth it.
— If you do plan on serving this for the holidays; garnish with fried sage leaves on top. Melt a little butter or olive oil in a small sauce pan, then fry whole sage leaves until crispy. Place on the lasagna once it's done.
— Let this rest for 5-10 minutes before slicing into it, otherwise the layers will collapse.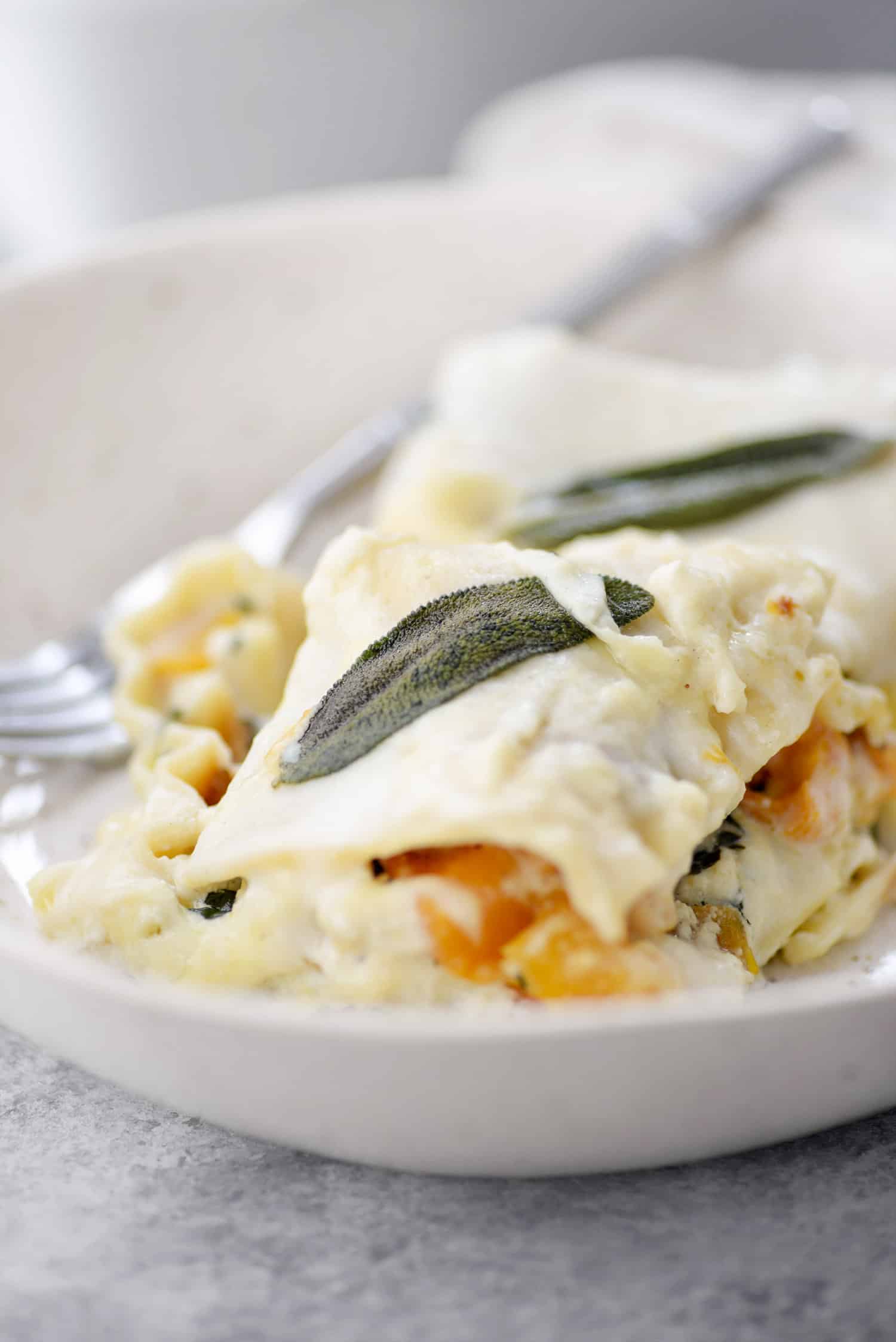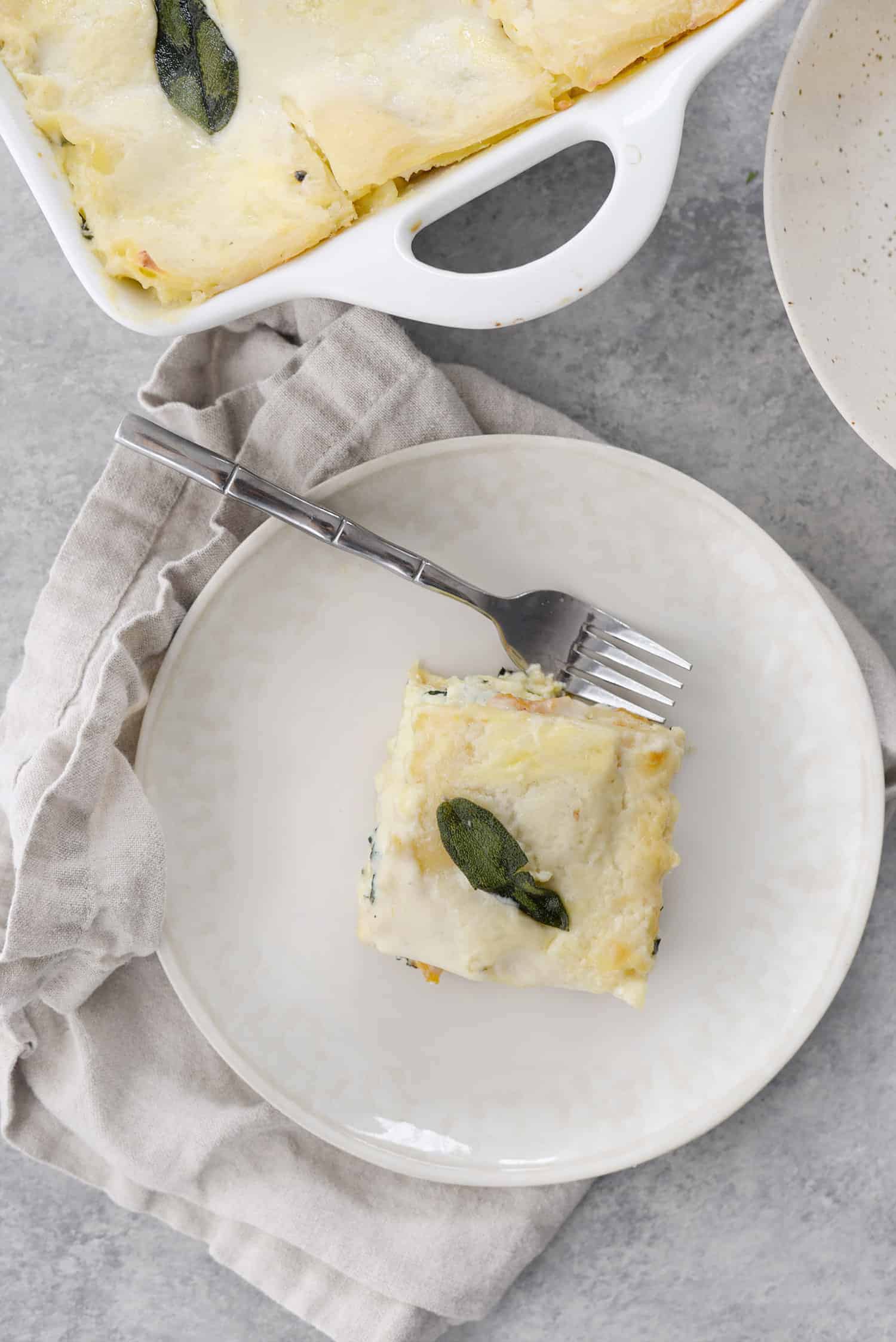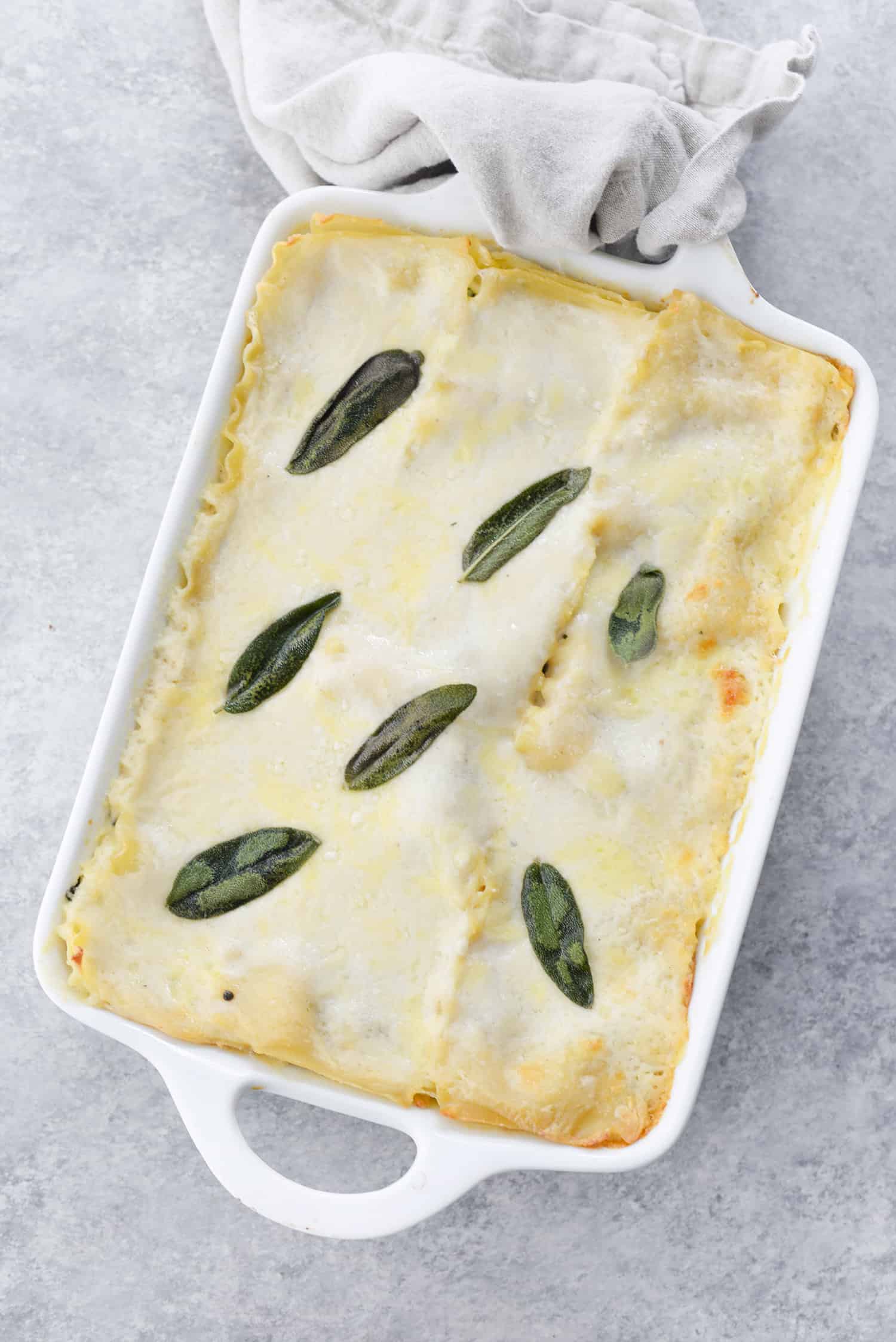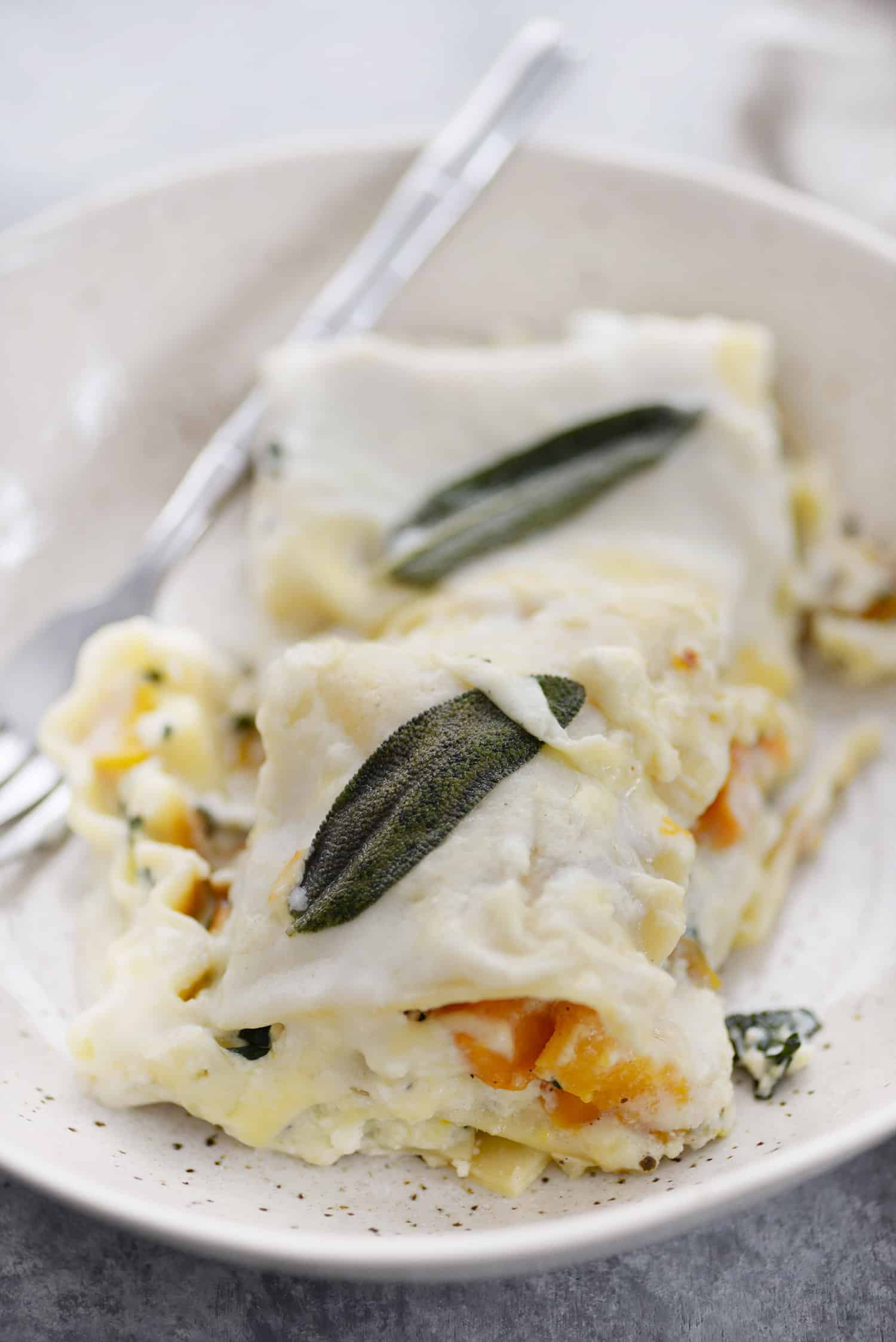 Print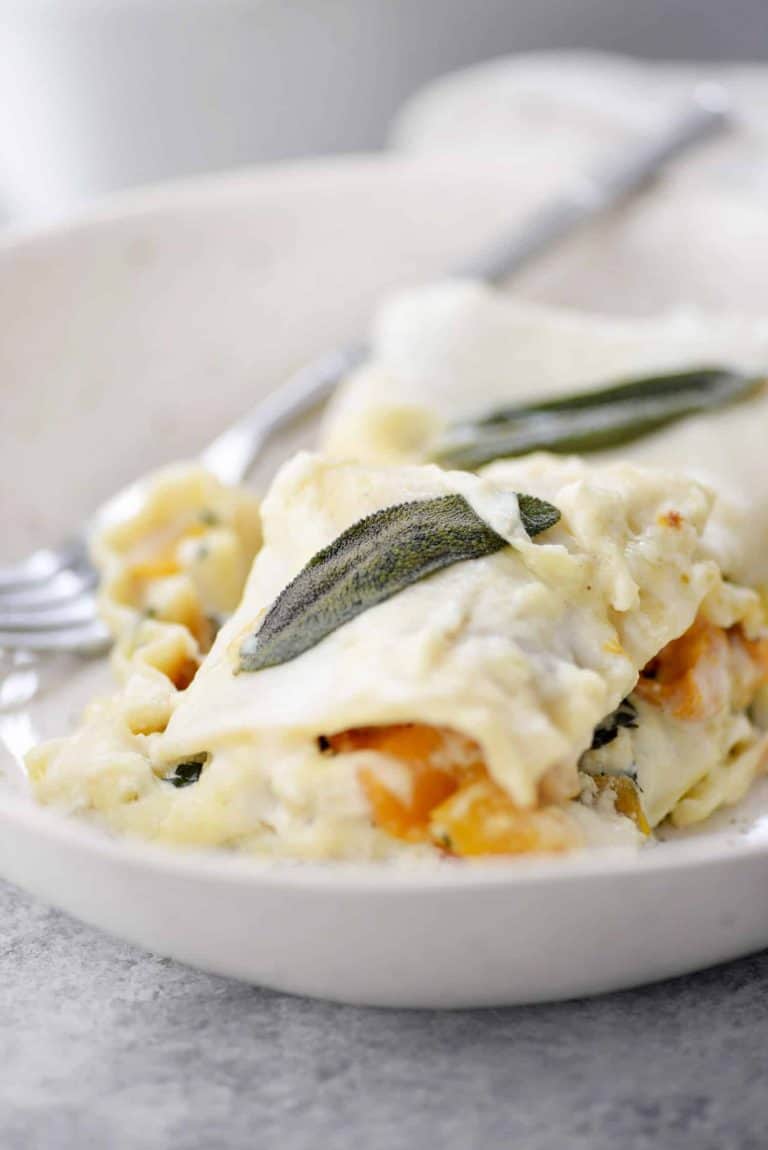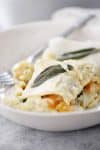 Butternut Squash and Kale Lasagna
---
Description
Butternut Squash and Kale Lasagna! Save this one for the holidays. Layers of flavors! Homemade béchamel sauce, roasted squash, crispy garlic kale and fontina cheese. A MUST make. 
---
Scale
Ingredients
6 cup

s cubed butternut squash

2 tablespoon

s olive oil

7

cloves garlic, minced, divided 

1 teaspoon

salt and freshly ground pepper, divided

1/2 teaspoon

ground nutmeg, divided

2 teaspoon

s fresh thyme

6

fresh sage leaves, chopped

1 teaspoon

brown sugar

1/4 cup

plus 1 tablespoon butter, divided 

4 cup

s torn kale leaves

1

lb. full-fat ricotta cheese

1

lb. fat-free ricotta cheese

1

large egg

1 cup

shredded fontina cheese 

1/4 cup

all-purpose flour

1 qt

. low-fat milk 

1

lb. cooked lasagna noodles (use regular cooked noodles, not no-boil. They end up being too starchy) 
---
Instructions
Toss together the butternut squash, 2 tablespoons olive oil, 4 cloves minced garlic, 1/2 teaspoon salt and pepper, 1/4 teaspoon nutmeg, 2 teaspoons fresh thyme, 6 sage leaves and brown sugar until well-mixed. Place in a single layer on a large baking sheet (may need two) and roast at 400 degrees until soft and caramelized, about 40 minutes. 
Remove from oven and reduce oven to 350 degrees F. 
While the squash is cooking, heat 1 tablespoon butter over medium heat in a large skillet. Add in the garlic cloves and cook, stirring the entire time, until garlic has melted into the butter, about 1 minute. 
Add in the kale along with a pinch of salt and pepper and cook until just tender. Set aside. 
In a medium saucepan, melt the remaining 1/4 cup butter over medium heat. Add the flour and cook until toasted and golden brown, about 3-4 minutes. 
Whisk in the milk along with a pinch of salt and grated nutmeg. Whisk until thickened, about 5 minutes, taking care not to scorch the milk. Set aside. 
In a separate bowl, whisk together the ricotta cheeses, egg, 1/4 teaspoon nutmeg, 1/4 teaspoon salt and pepper and 1/2 cup shredded fontina cheese until well combined. Remove 1 cup of the mixture and place in a food processor along with the kale mixture and pulse a few times until the kale is broken down. This step is optional, but makes for a smoother texture of the kale in the final product. You can also finely chop the cooked kale and add into the ricotta mixture. 
Make the lasagna! Spread a thin layer of the white sauce on the bottom of a lightly greased 9×13″ pan. Place a layer of cooked noodles on top along with a layer of the ricotta mixture and cooked butternut squash. Ladle on more white sauce and repeat with noodles, ricotta, butternut squash and sauce two more times. Cover with remaining white sauce and remaining 1/2 cup fontina cheese. 
Cover with foil and bake for 45 minutes until hot throughout. Remove the foil and bake another 15 minutes until cheese is melted and bubbly. Remove from oven and let sit for 15 minutes before slicing and serving. Top with fried sage leaves, if desired. 
---