Collard Green Pasta! Shredded collards tossed with hot pasta, garlic, olive oil, red pepper flakes and seasoned bread crumbs. Dinner is ready in just 20 minutes! 
When I talk to clients about cooking, one of the most frequent questions I get is "Where do you find inspiration for your recipes?"
Um, a lot of eating.
Seriously, I think one of the most important steps in finding your confidence in the kitchen is knowing what flavors you like, what dishes are your favorite, and what pairs well together. This, of course, is best done by eating.
I don't promise that everything that comes out of my kitchen is a winner; I've got about 1,000 photos that prove otherwise. But, I do know that when I cook- I rarely follow a recipe. Most of this is laziness, the other part is confidence. Not necessarily confidence that my dish will become an instant favorite, but confidence that once I start putting together flavors that I know and like, the right dish will come together.
If I were ever to end up on a cooking competition show, I can guarantee you that I would cook some type of pasta. Pasta for the appetizer, pasta for the main, and pasta for dessert. Pasta is in my blood, and is the first thing that pops into my mind most nights when deciding what to have for dinner.
Growing up in a mostly Italian household, it's not hard to figure out why. We ate pasta at least 3 nights a week, a tradition that I've carried on to my little family as well. While I've talked about the health benefits of pasta a zillion times on this blog, I think it's worth repeating: pasta isn't the enemy. I promise. Even though there are quite a few blogs, articles, and books lamenting the terrible things that will happen to your body if you eat carbs, it's just not a fact. Should we be eating less refined carbs? Absolutely. Does this include whole wheat pasta, whole grains, starchy vegetables, fruits, and greens? No way, no how– excluding my celiac and gluten-intolerant friends.
So, I'm going to keep on eating pasta and I think you should too- especially when your choosing the whole-wheat (or brown rice! or quinoa! go crazy!) varieties and pack in the vegetables. Because, while the nutrition argument of pasta can't stand on its own- the portion size argument can.
Have you ever measured a cup of cooked pasta? It's sad, pathetic, and just plain wrong. To up the fiber, nutrients and volume of pasta, I always add an equal serving of vegetables. Whether it's spinach, zucchini, or butternut squash– it all works. That way, one cup of pasta turns into a two-cup meal, even larger if you throw in cooked protein.
And that, my friends, is how to make pasta work for you- whatever healthy eating journey you are on.
We've been getting a ton of collard greens in our CSA lately, and besides turning giant leaves into wraps or shredding them for salads, I've been at a slight loss for what to do next.
Thank goodness for pasta.
This quick weeknight meal is what most of my unplanned weeknight dinners look like: vegetables, spice, pasta. Combine, season as needed, and chomp. Thinly sliced collard green leaves act like an extra serving of spaghetti, which is perfect for those of you who aren't the biggest fans of hearty greens like collards (BL, I'm looking straight at you). Finely shredded and seasoned, everyone becomes a fan.
The star of this dish is garlic breadcrumbs, aka my little secret for getting the toasted, crunchy, umami taste of parmesan- without any actual parmesan!
To start, you'll want to peel and finely mince the garlic. Then, sprinkle on a little sea salt and rub your knife along the mashed garlic until a paste forms–the salt will act like an exfoliator, breaking down the garlic even further.
Saute the hot garlic in a bit of oil for a few seconds and add in bread crumbs, nutritional yeast and a pinch of red pepper flakes. Cook until golden and toasty and add to the sauteed collard greens. Cheesy perfection without the cheese! If you don't have any nutritional yeast, feel free to leave it out. It adds to the flavor, but this combo will still taste great on its own.
 On nights when I'm not in the mood for a large dinner, I will saute a large skillet of greens and season with garlic breadcrumbs sans pasta. If sugar makes the medicine go down, then garlic makes the greens go down. 
If you try this recipe, let me know! Leave a comment, rate it, and tag your Instagram photos with #delishknowledge . I absolutely love seeing your creations. Happy cooking! 
Print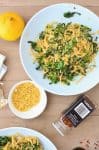 ---
Description
Collard Green Pasta Author: Alex Caspero Prep time: 10 mins Cook time: 10 mins Total time: 20 mins Serves: 3-4 servings
---
Scale
Ingredients
8 oz

. whole wheat-pasta

2 tbsp

. olive oil, divided

4

cloves garlic, minced and divided

1/2 cup

panko bread crumbs

1 tbsp

. nutritional yeast

1 tsp

. red pepper flakes (or less/more to taste)

1

large bunch collard greens

1

large lemon, zest and juiced
---
Instructions
Bring a large pot of salted water to a boil; add the whole wheat pasta and cook until al dente according to package directions. Drain, reserving 1/2 cup of cooked pasta water.
Heat a large non-stick pan over medium heat.
Place the minced garlic on a cutting board. Use the flat side of your knife and run over the garlic until a paste forms. Add a pinch of salt and rub again with the knife.
Heat 1 tbsp. olive oil and the garlic. Stir quickly so it doesn't burn, about 30 seconds, and then add the bread crumbs. Cook for 3-5 minutes, stirring often until golden brown. Add in the nutritional yeast and red pepper flakes. Remove the bread crumbs from the pan and wipe clean.
Remove the stems from the collard greens and stack the leaves on top of one another. Tightly roll, like a cigar. Starting at the end, thinly slice the chard leaves.
Heat the remaining 1 tbsp. oil in the large non-stick pan. Add the remaining garlic clove and the chard leaves with a pinch of salt and pepper. Cook until the collards are wilted and cooked through.
Add in the pasta and stir together. If the pasta is too dry, add in a little of the reserved pasta water. You may or may not need it.
Add in the reserved bread crumbs, lemon juice, and zest. Season to taste and enjoy!
---