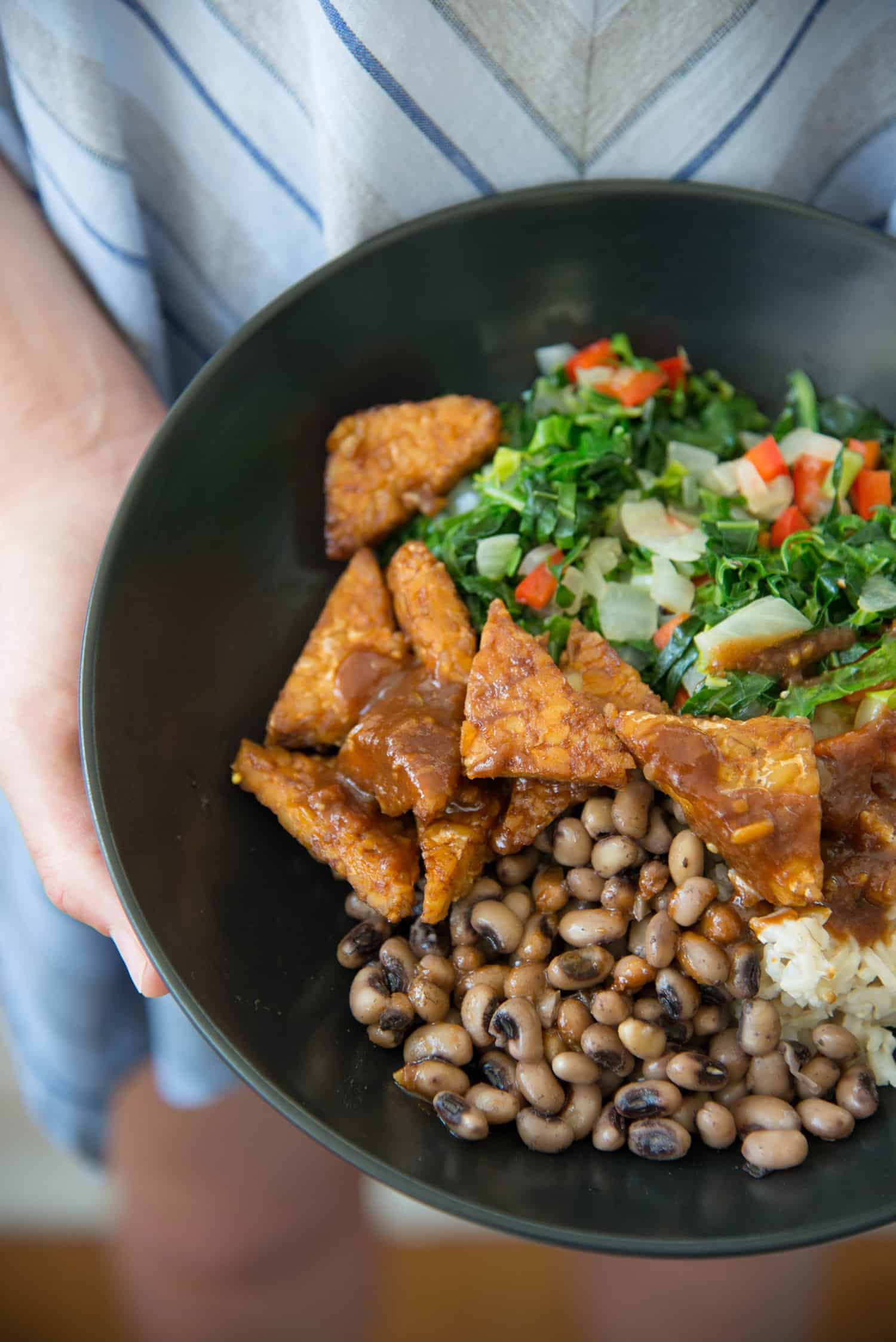 I'm still riding high from this weekend, a jam-packed frenzy of one fun event to another. We kicked Friday off with Shakespeare in the Park, one of my favorite things about a St. Louis summer. When we first moved here, so many people told us what a great town this was to raise a family in, but I didn't really believe that until we started exploring all of the free activities that are offered.
Shakespeare in the Park is literally that; Forrest Park offers a free, high-quality show that runs almost nightly for the month of June. Everyone brings blankets, beverages and food to enjoy a show under the stars. For my STL friends, if you haven't gone to this before, I highly recommend it.
On Saturday night we celebrated our good friends wedding, followed Sunday by driving up to Chicago for U2's Joshua Tree concert. I honestly don't think we've ever packed more fun into a weekend before. Since BL and I love music, especially live music, we've been trying to take this little bambino to all of our favorite places in hopes that he picks up the music bug as well. When we heard that U2 was doing a replay of their infamous album (and that the Lumineers were opening), we knew we had to score tickets.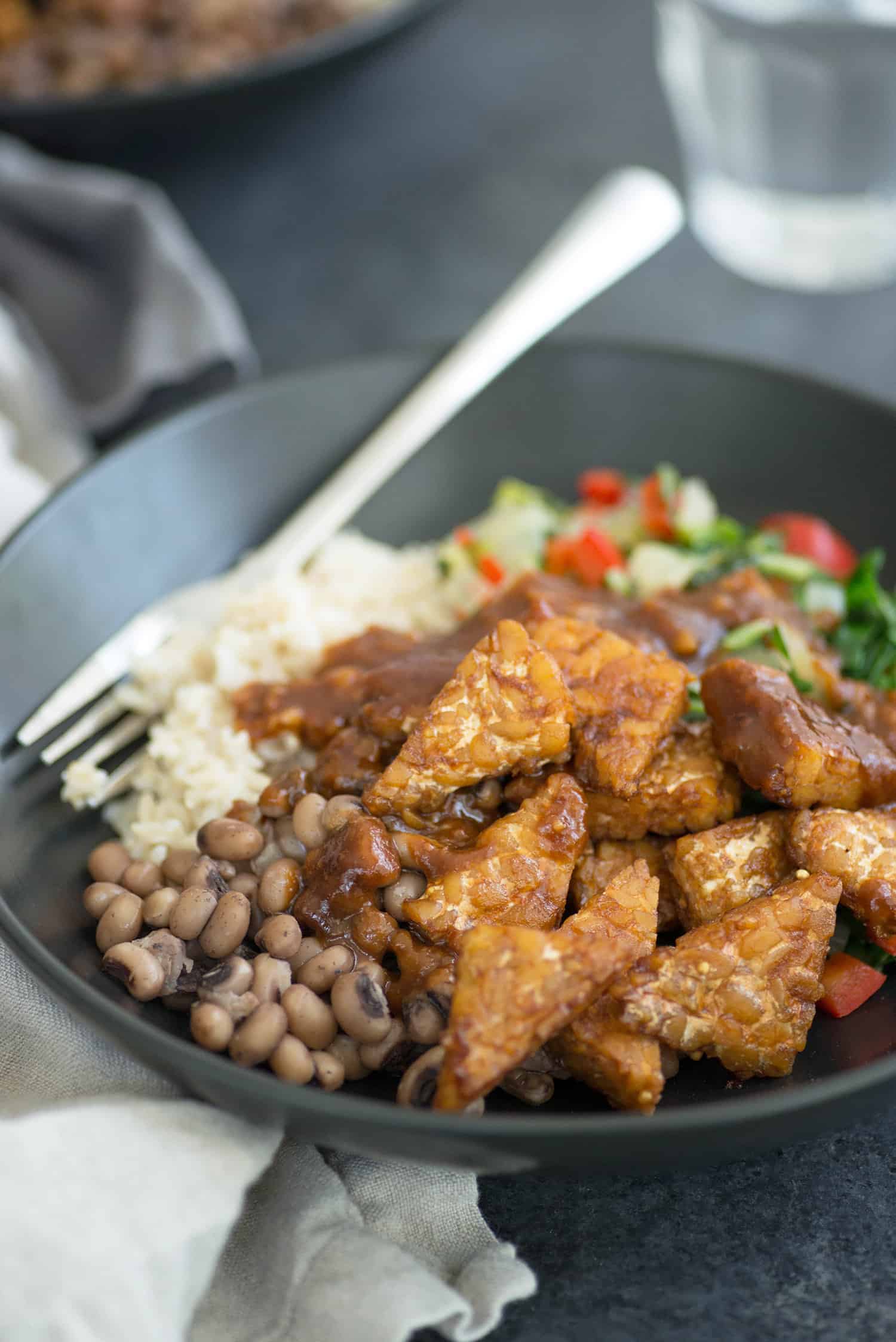 Now, I'm sipping a large cup of mostly decaf coffee in the O'Hare airport waiting for our flight to Toronto, then to Copenhagen and Brussels. It's one of our last hurrah's in this #prebabysummer and I'm excited to spend some quality time with BL and get to see my extended Danish family. (I'll be posting daily stories, follow along on Instagram!)
MY LATEST VIDEOS
I know how fortunate we've been these last few years with our travel schedules, a huge blessing that I'm able to work from just about anywhere. And while I know our lives are about to change significantly, I couldn't be more ready or excited. Even if that means putting away my passport for a little while.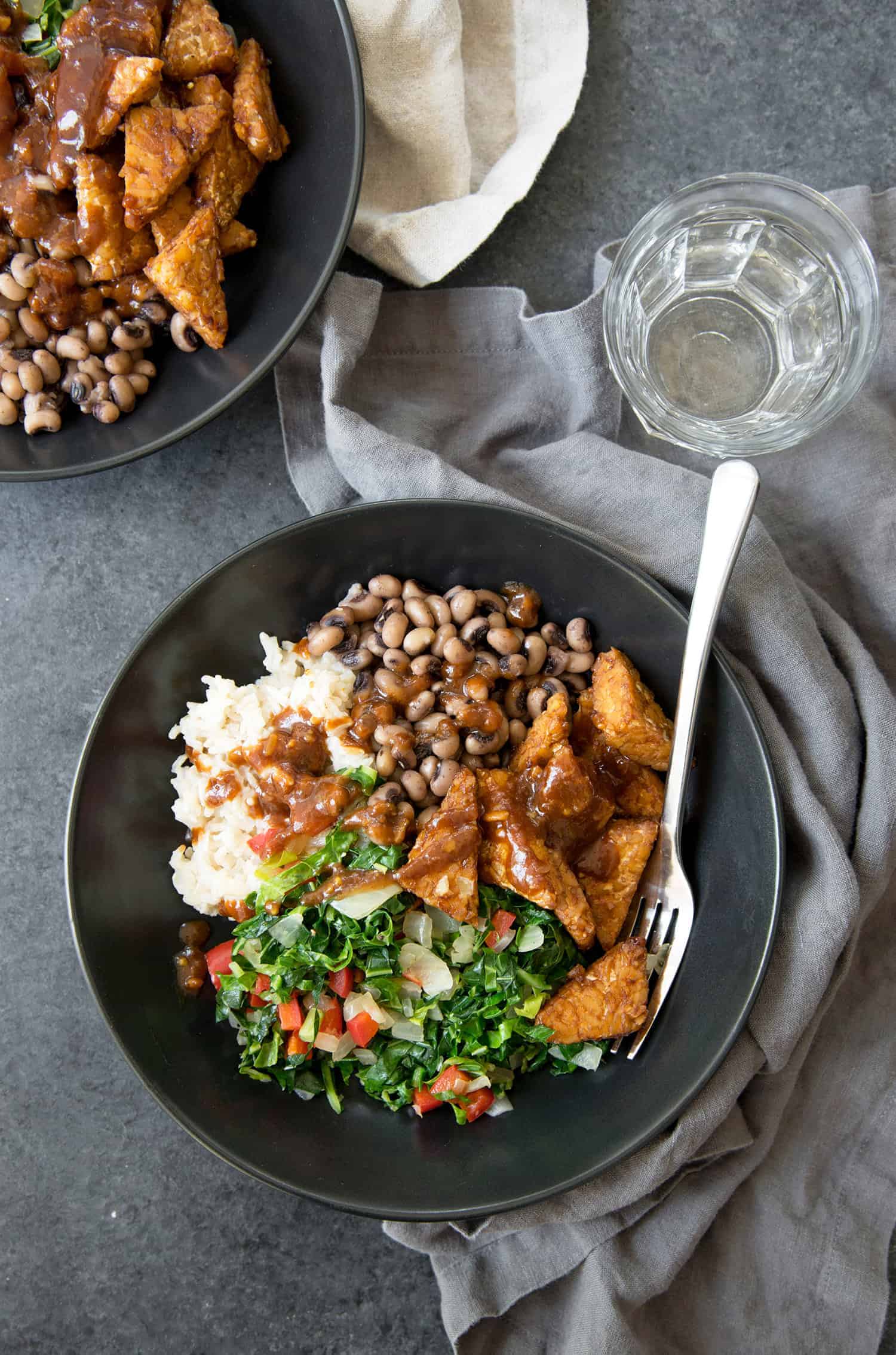 All of which has nothing to do with these collard bowls.
But, here we are. Staring at bowls of yummy goodness. I've mentioned a hundred times how hard it was for me to eat vegetables during the first trimester but now that my appetite and normal cravings are back, I'm trying to make up for lost time.
I bought a bunch of collard greens a few weeks ago in attempts to have more collard burritos but that really never came to fruition. Instead, I always opted for some type of bowl: sautéed greens, a grain, beans and usually some sort of tempeh or tofu. Honestly, it's what 90% of my meals look like, especially the ones that never make it on this space. It's so easy and almost always tastes good.
My rule for bowls: if you like the components separately, you'll probably like them together. And always add a delicious sauce.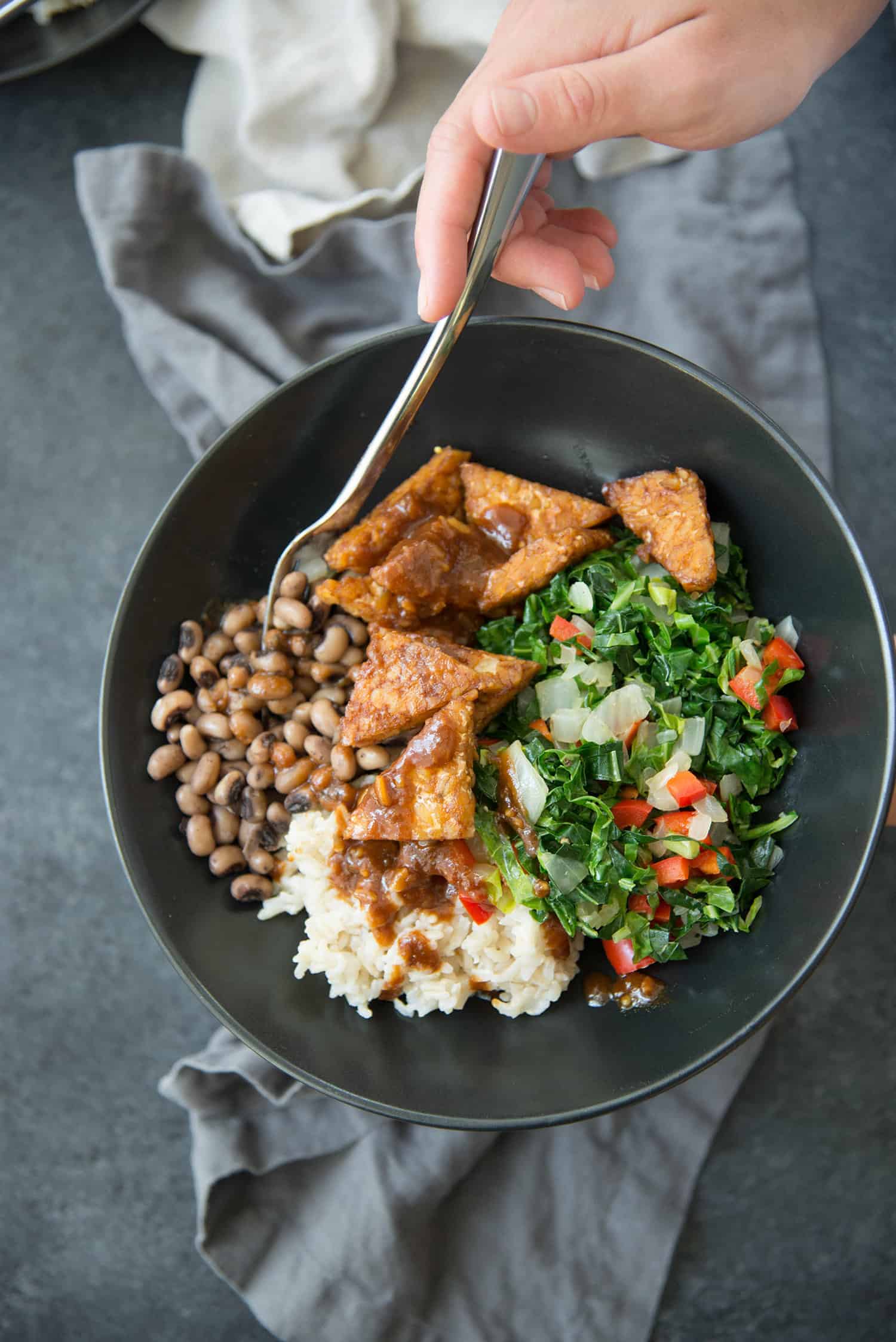 This collard green bowl is a nod to my Virginia youth, when collards where often accompanied with black-eyed peas and lots of salty ham.  I've forgone the pork and replaced it with my smoky and sweet tempeh, glazed in balsamic, maple syrup and BBQ sauce. With similar salty notes, it's the perfect pairing to hearty greens and peas.
My trick in perfectly sautéed greens is slicing them really thin, just like you would a handful basil leaves. Remove as much of the stem as possible, then stack the leaves on top of each other and roll tightly. Starting at one end, thinly slice into ribbons. I find that for those who think greens are too bitter, they really enjoy them when prepared like this.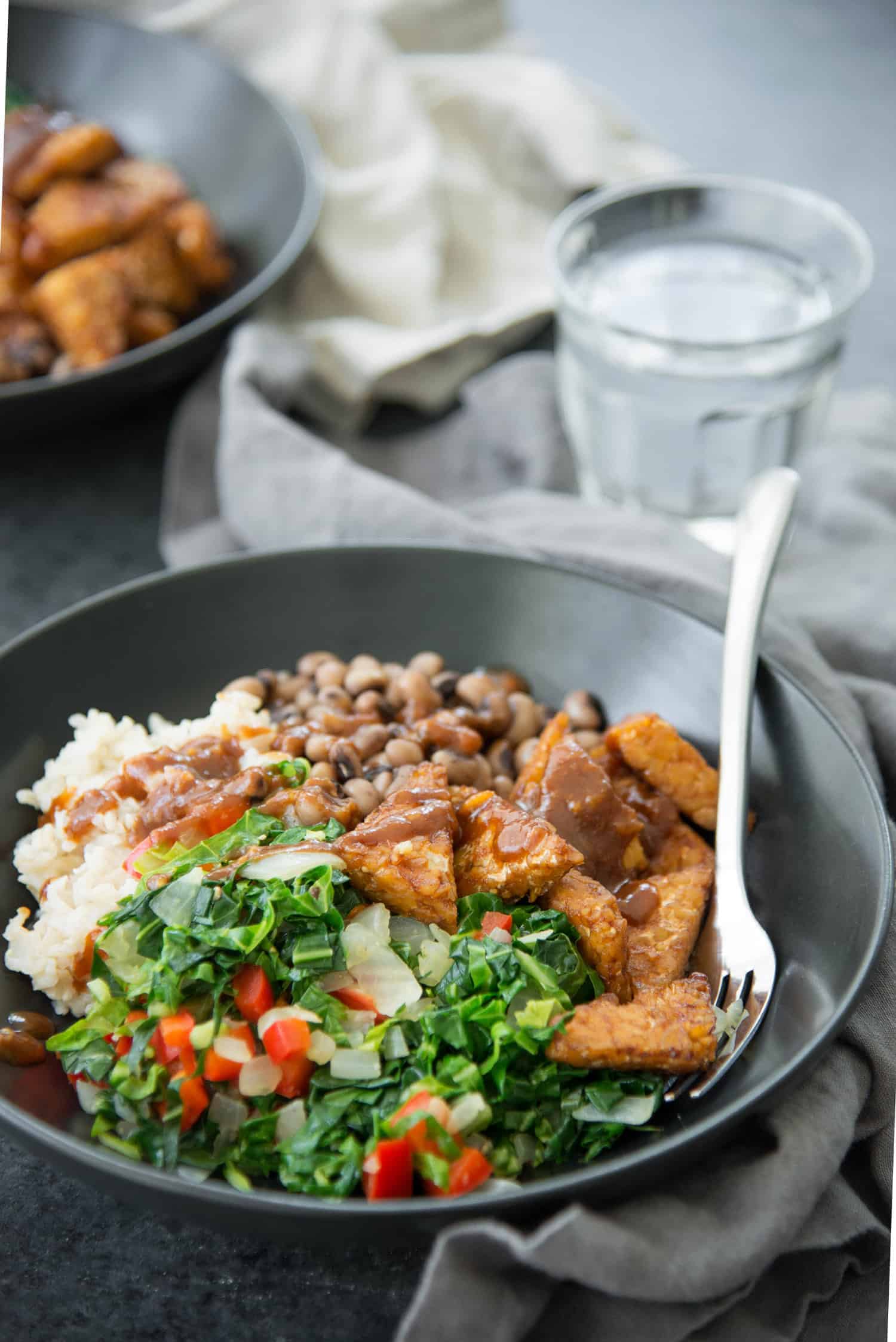 If you try this recipe, let me know! Leave a comment, rate it, and tag your Instagram photos with #delishknowledge . I absolutely love seeing your creations. Happy cooking! 
Print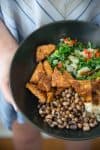 Collard Greens & Tempeh BBQ Bowls
---
Description
Collard greens and tempeh BBQ bowls. Sautéed greens, brown rice, black-eyed peas, BBQ tempeh and sauce. Vegan & Gluten-free. 
---
Scale
Ingredients
1

(8 ounce) package tempeh

1 cup brown rice, uncooked

2 tablespoons olive oil

1 medium onion, diced

1  medium red bell pepper, diced

3-4 cloves garlic, minced

1 bunch collard greens 

Salt/pepper to taste

1/2 teaspoon

smoked paprika 

1 (11 oz package) (or two 2 cups cooked/1 15 ounce can) black eyed peas, heated through.  
BBQ Sauce
1/2 cup balsamic vinegar

2 to 3 cloves garlic, minced 

1 tablespoon low-sodium soy sauce (tamari for gluten-free version)

1 tablespoon dijon mustard

1 tablespoon pure maple syrup

2 tablespoons extra virgin olive oil

1/3 cup BBQ sauce

2 tablespoon

s water 
---
Instructions
Whisk together the ingredients for the BBQ sauce, set aside. Slice the tempeh into cubes or triangles, then place in a bowl along with sauce. Let marinate for at least thirty minutes. 
Preheat oven to 350 degrees F.
Place brown rice and two cups water in a medium sauce pan, then bring to a boil. Cover, reduce heat to low and simmer until tender, about 40 minutes. 
While the rice is cooking, make the tempeh. Remove tempeh from the marinade, saving as much sauce as possible. Place the tempeh on a baking sheet and cook for 15 minutes, then flip and cooking an additional 10 minutes.
Place the reserved marinade in a small saucepan and simmer over low heat while the tempeh cooks. 
While the tempeh cooks, make the collards. Heat the olive oil in a large sauce pan over medium heat. Add the onion and cook until golden brown, about 8 minutes. Add in the bell pepper and cook an additional 5 minutes, stirring often. 
Remove as much of the stems from the collards as possible, then stack the leaves on top of one another. Tightly roll the collards (like you are rolling a cigar), then thinly slice from the end into small ribbons. 
Add the garlic and the collards to the cooked pepper and onion mixture and stir-fry until just tender. Add salt (I usually start with 1/2 teaspoon and taste from there), paprika and ground pepper. 
To serve, divide the brown rice, cooked tempeh, black-eyed peas and collard greens among 4 bowls. Drizzle with the warmed BBQ sauce and serve.