Recently I've been making my own tempeh and I am hooked. The flavor is unprecedented, a complete 180° from store bought tempeh. If you think that tempeh is bitter or off-tasting, please try the homemade version before you make up your mind.
The fermented cake gets it's flavor from Rhizopus oligosporus, a mold similar to bread mold. The bacterium helps to partially digest the beans making the amino acids (protein) and minerals easier to digest and absorb.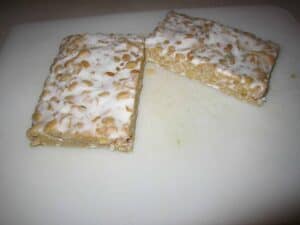 Nutrition aside, tempeh is one of the cheapest sources of protein. Grocery store prices are continually rising and protein is usually one of the most expensive items in the cart. If you're looking to add a low-cost, nutrient-dense protein into meals, tempeh is an excellent choice. Tempeh has a rich, nutty, mushroom-like flavor and can be substituted in any recipe. My favorite way to serve tempeh is to lightly fry it and serve with your favorite dipping sauce. Creamy, garlic tahini sauce with fried tempeh is delicious!
You will need to purchase a starter. There are a few places online to get it, I get mine from Gem Cultures. While your there, you can pick up a tofu starter as that is the next cooks class topic I will be sharing.
MY LATEST VIDEOS
I am using soybeans in this starter recipe because they are easier to master than other types and are traditional. As you get used to the process, you can use any type of bean you like.
Ingredients:
3 cups whole soybeans (about 1lb.)
1 tbsp. vinegar
2 tsp. tempeh starter
Soak the beans overnight or 6-8 hours. From here you will need to remove the outer hull of the bean. The easiest way is to crack the beans in a food processor or with an emulsion blender. Transfer the beans to a food processor and pulse a few times. Rub the beans until the skins fall off. I place the beans in a large bowl and add water to cover. As you rub the beans the hull will rise to the top and you can scrape it off.
Cook the beans for 30-45 minutes until done. Drain the beans and dry thoroughly. Moisture is the enemy of spore growth so your beans must be dried completely.
Next, you have to prep a container for incubation. You can use trays and they are a greener alternative to plastic bags, but I don't think they make a good cake. In my experience, the bottom doesn't firm up quite right. If you've used trays successfully, please let me know your method! I use sandwich plastic bags. Whatever you use, poke holes using a pin ¾" to and 1" apart. This will allow the mold to breathe.
Place the cooked and dried soybeans in a bowl, add 1 tbsp. vinegar and mix together. Add the tempeh starter and mix well.
Now you're ready to fill the bags! Fill them halfway, seal and pack flat in a uniform layer no more than 1 inch thick.
There are lots of ways you can incubate your tempeh, a food dehydrator or yogurt maker works great. If your oven has a pilot light or proofing light, you can use that just add a thermometer to check the internal temperature. You might need to crack the oven door every now and then to keep the oven at the right temperature of 83-90°F for 20-28 hours. Make sure not to go over 90 as you will kill the starter and allow unwanted bacteria to grow. After 16 or so hours, you can reduce the temperature as the fermentation is now generating it's own heat.
Once the cake is solid and has a mushroomy aroma, your tempeh is done. You can use right away, refrigerate or freeze. The flavor stays the same after freezing so you can make a batch to keep in the freezer. Defrost as you would any other protein, I pull it out in the morning for dinner that night.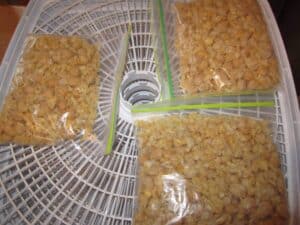 I hope you will try making your own tempeh. I know it seems like a lot of steps but like anything, once you do it a few times it becomes very easy. A second note, don't be discouraged if your tempeh does not set up correctly the first time. I don't know why but the first batch or so never turns out right, at least with people I've talked to. So, start in small batches until you get it right. My first time was a disaster but the second attempt came out perfectly.
I will be posting a new tempeh and asparagus recipe this week, just in time for your fresh tempeh use!
Other tempeh favorites:
BBQ Tempeh Sandwich
Creamy Kale Tempeh Salad
Jamaican Jerk Tempeh Salad
What are your favorite tempeh recipes?