Hi friends! Letting you know that this post is sponsored by The Little Potato Company. Thanks for supporting brands that make DK possible.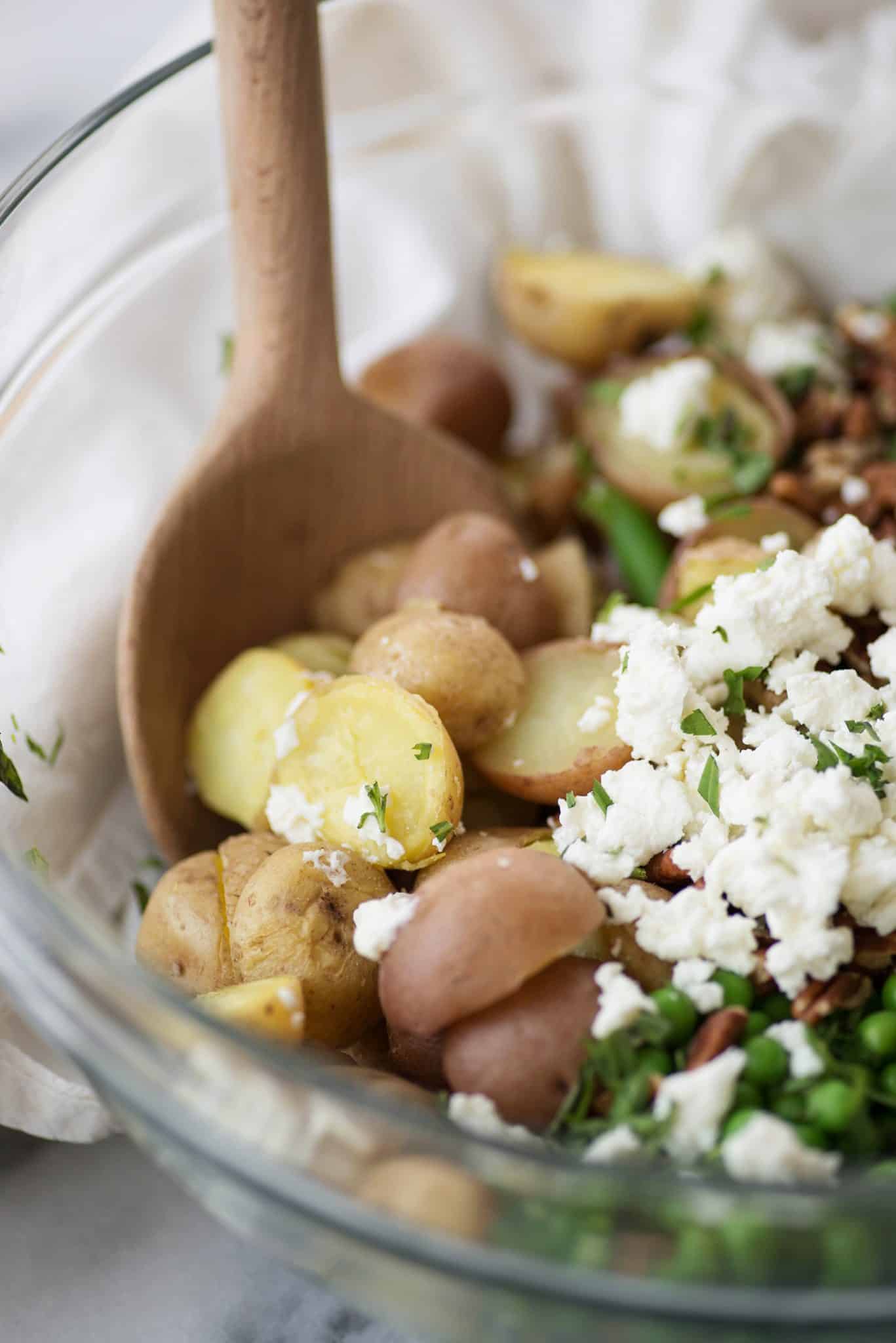 Um, is it Spring yet? St. Louis got a tease of incredible weather this weekend and we took full advantage. Spending most of the weekend outside, soaking up long walks, ice cream cones, sunshine and happy hour.
That's the one thing that I've come to appreciate most about St. Louis; while the winters are much gloomier than California, it's a real celebration when the sun finally comes out. In Sacramento, we were beyond spoiled with warm temperatures and clear blue skies almost year round.
Now, we hole up in sweatpants and sip hot cocoa from November on, then vow never to go indoors the moment the weather turns nice again. At least that's how we're working it.
With Spring cemented in my mind, I was inspired to make this vibrant, vegetable-filled salad of peas, potatoes, green beans, tarragon and bright mustard dressing.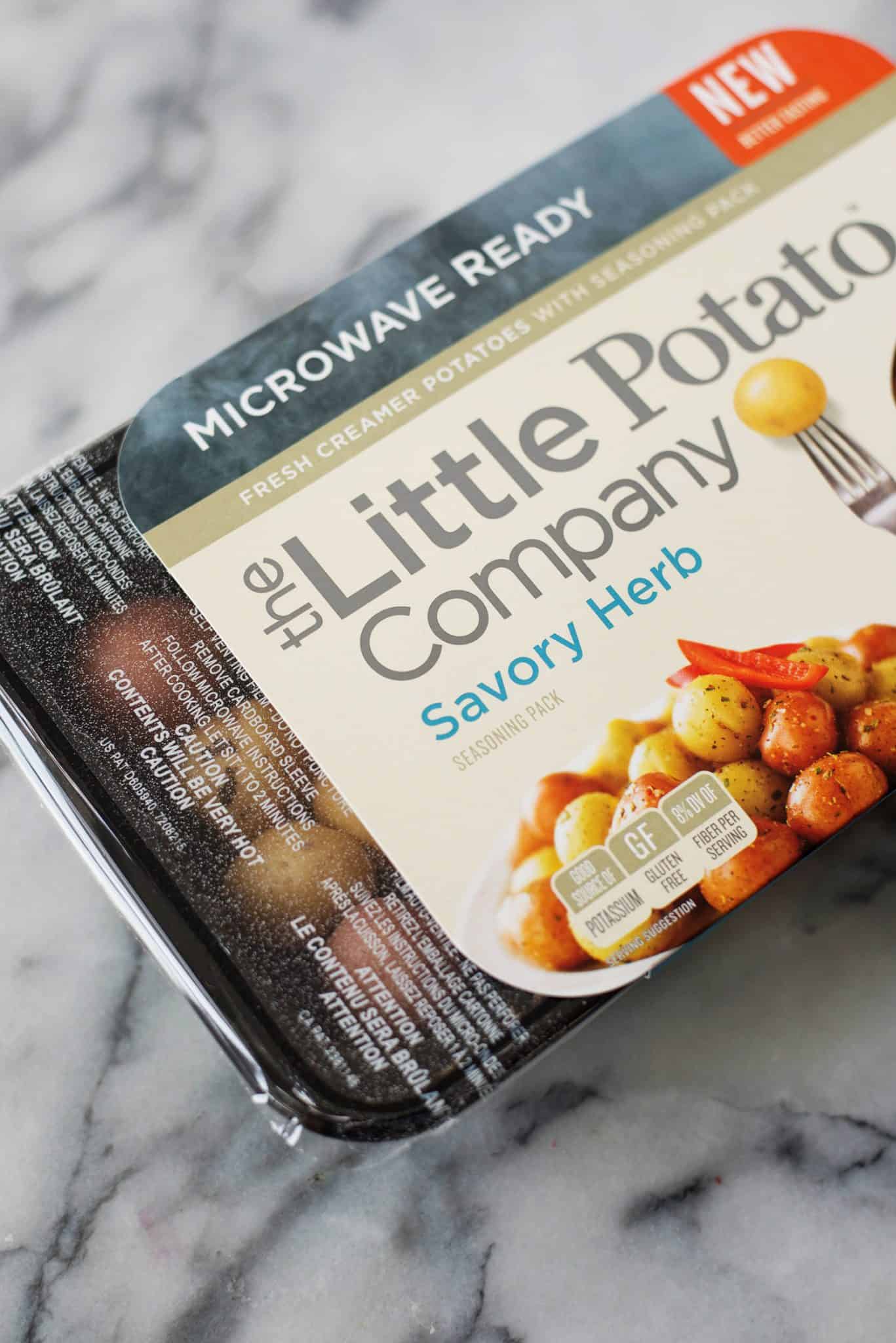 This salad is also a yummy way to get more vegetables in. The only downside to freezing temperatures is that my diet tends to run more comfort than nutrient-dense. I just don't crave salads and fresh vegetables the same way that I do during the summer months. Most of my vegetable intake is consumed in soups, roasted as a side dish or in squash form. While I love vegetables year round, it's more of an effort to get them in this time of year.
Well, this salad makes it practically fool-proof. Not only is this salad loaded with nutrients, it's also ready in the same time that it takes to prepare a salad.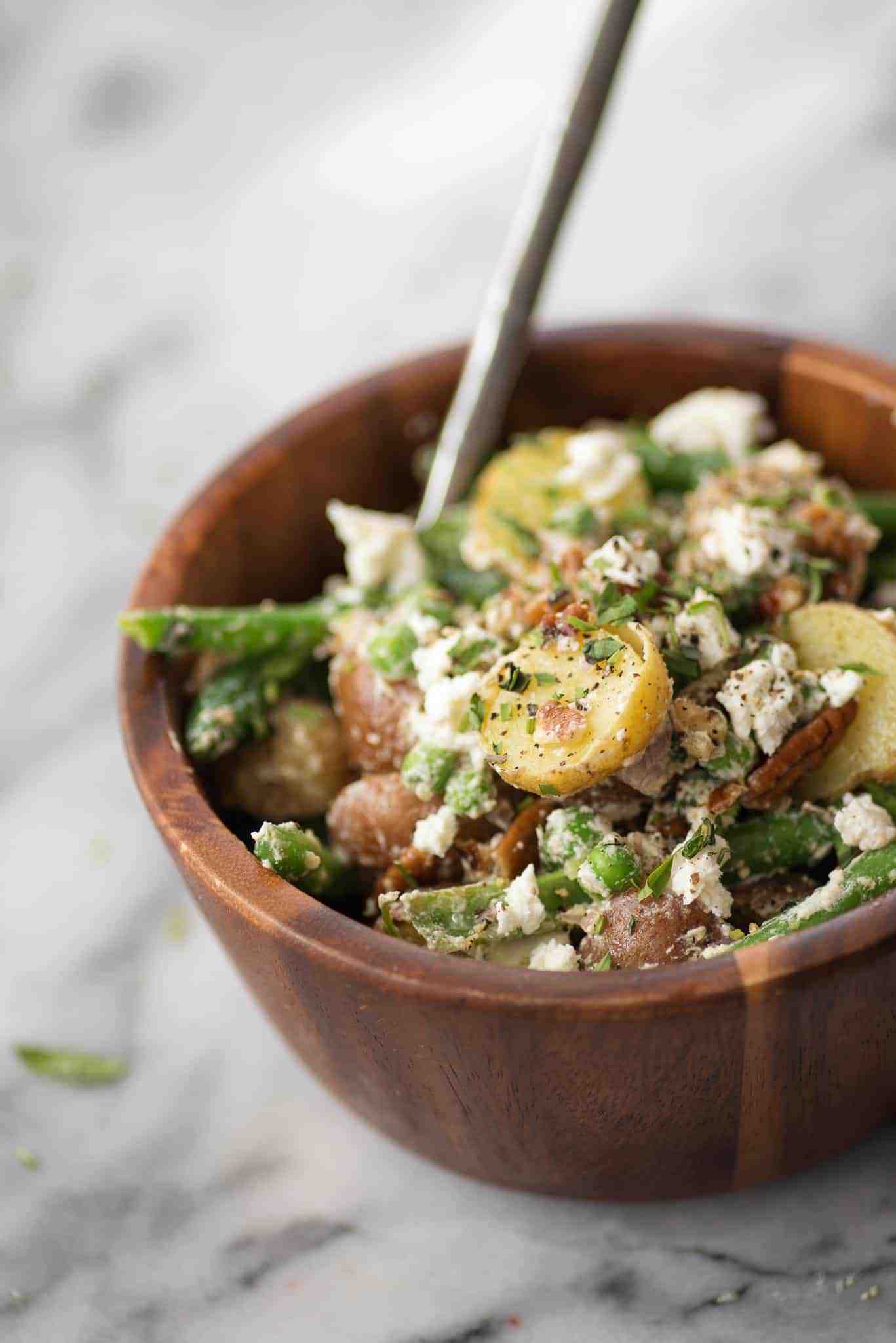 The base of this salad is one of my favorite vegetables, mini creamer potatoes from The Little Potato Company. Yup, potatoes are a vegetable. And, a healthy one at that. When they aren't loaded in sour cream or deep fried; potatoes are actually one of the most accessible, healthiest vegetable picks. Fat and cholesterol free, with vitamin C, potassium, B6, magnesium and fiber.
This recipe also takes advantage of a unique property of cooled potatoes, resistant starch. Just like it sounds, resistant starch is similar to fiber in that it's not digested as it goes through the GI tract. Resistant starch has been shown to improve insulin sensitivity, reduced appetite and aid in digestion. Think of resistant starch almost like fermented fiber; it helps provide bulk and feeds healthy gut bacteria in the intestines. Pretty cool right? When potatoes cool, like in potato salad, they have a higher amount of this resistance starch.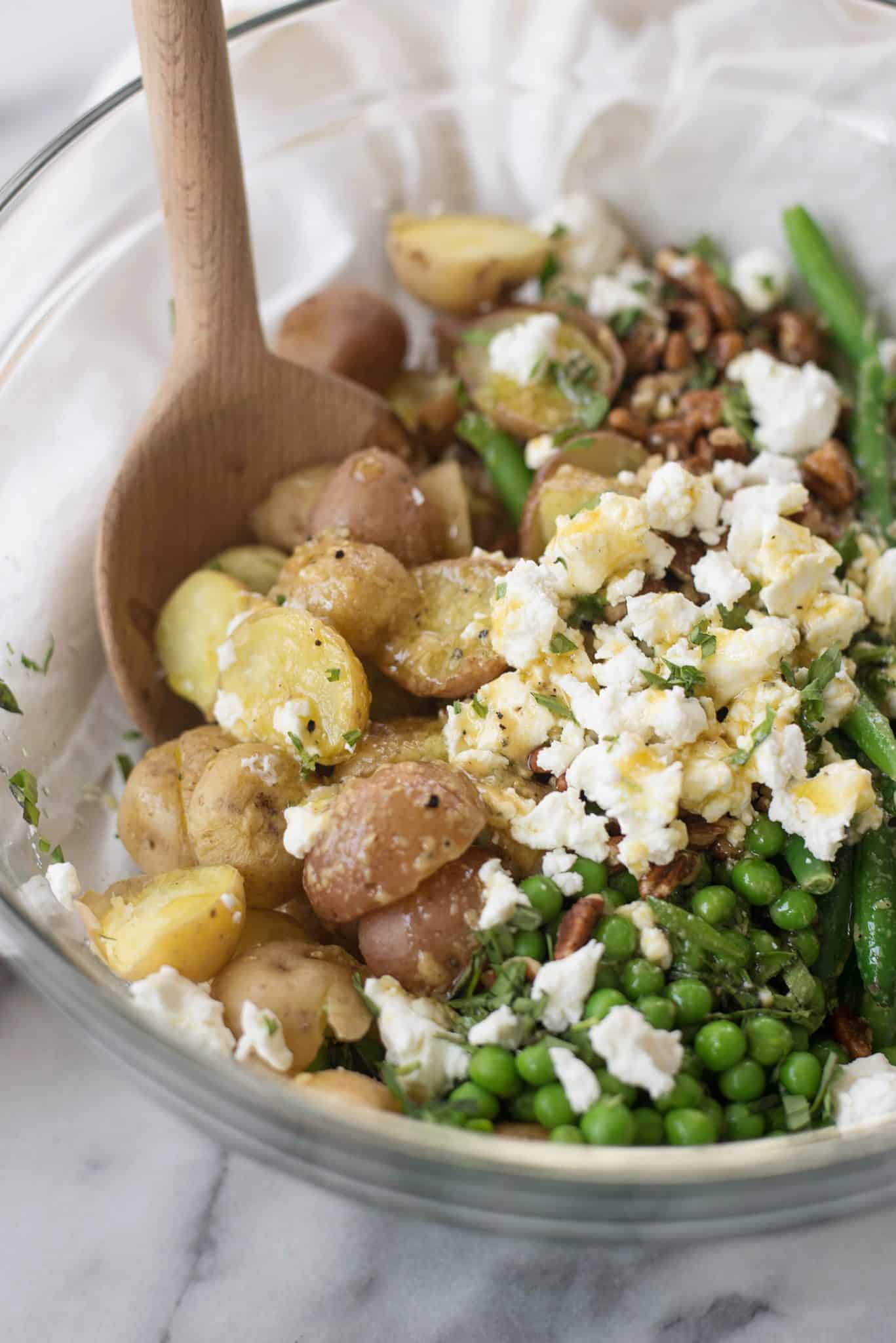 Spring makes me think of tarragon; an almost lemon-peppery herb that I want to put in everything the moment my garden is ready to plant. I throw tarragon in every kind of salad imaginable, salad dressings and cocktails.
Flipping through Sarah's new cookbook, I found a recipe for green bean salad with tarragon that I knew I wanted to replicate as soon as possible. When the weather hit 80 this weekend, we threw some veggie burgers on the grill and I made my version of that salad.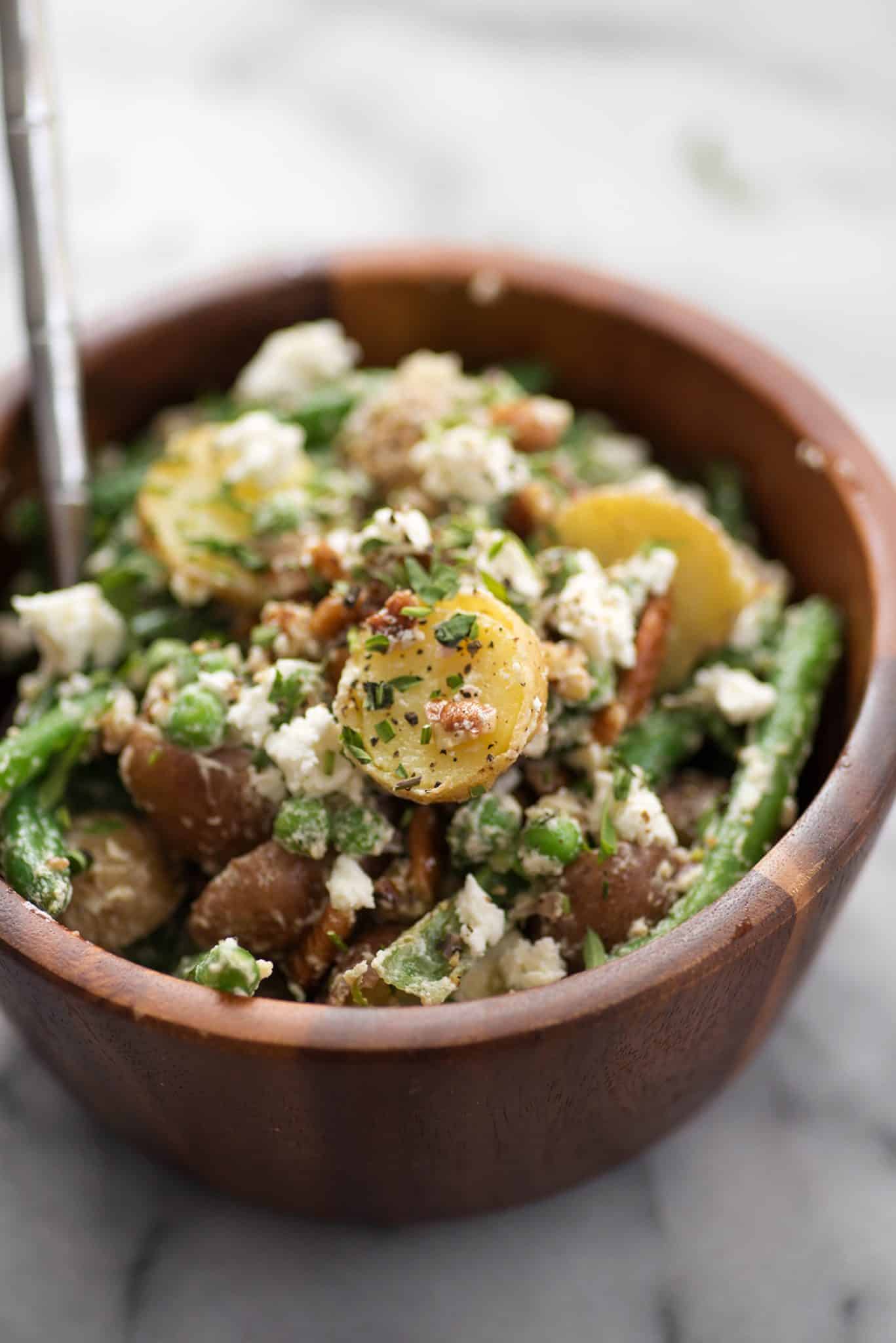 I opted for microwave-in-the-package versions of both the green beans and potatoes. I love how The Little Potato Company offers microwavable potatoes; the perfect side dish that's ready in just minutes. Set aside the included seasoning pack for use next time you roast a bag of regular creamer potatoes as you won't need it for this dish.
Since I used the microwave for the potatoes, I decided to keep the entire dish pot free. You can find bags of steam-able green beans in the produce section, but if you can't, a quick boil/blanch will work. You'll want to let the vegetables cool before adding them to the goat cheese. I threw the cooked vegetables in a bowl and placed it in the fridge while I prepared the rest of the ingredients. Then, toss together and serve.
For my vegan/dairy-free friends, you can leave out the goat cheese. I love the creaminess paired with crunchy pecans and sweet peas, but it should still be amazing without it. I hope you enjoy this one as much as we did. I know the combo of foods sounds a little strange, but trust me it works.
If you try this recipe, let me know! Leave a comment, rate it, and tag your Instagram photos with #delishknowledge . I absolutely love seeing your creations. Happy cooking! 
Print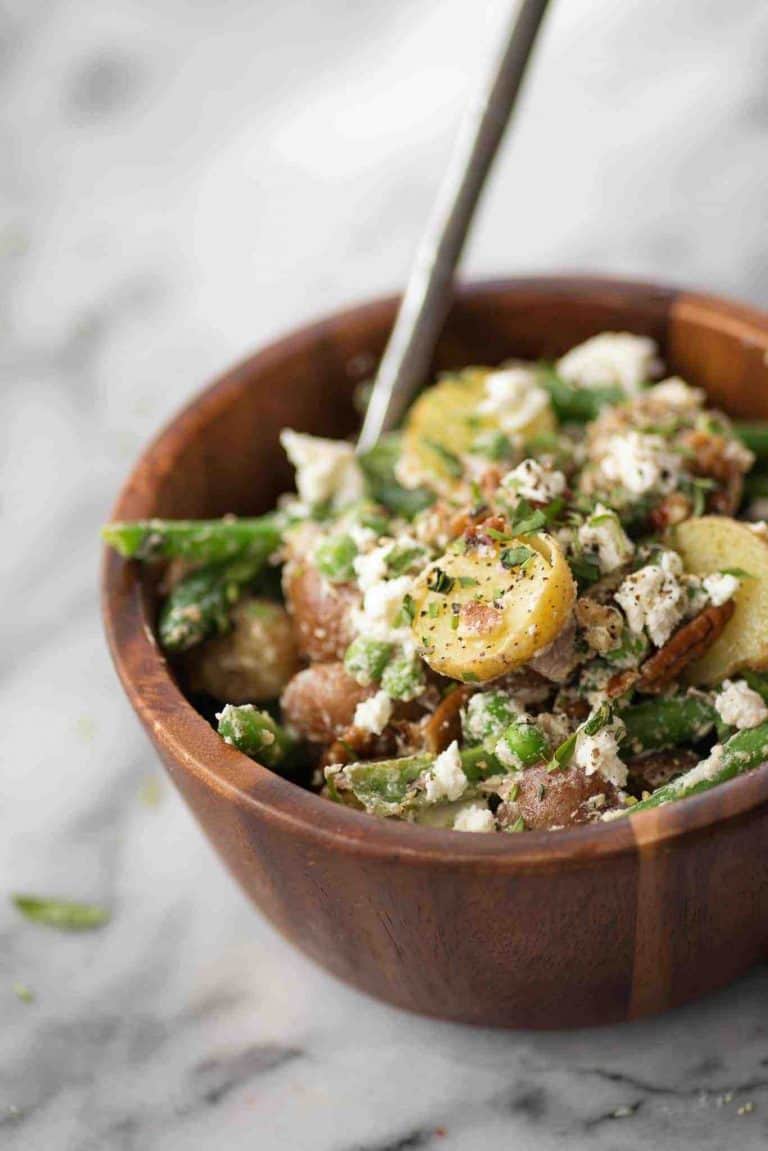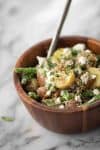 Green Bean, Potato and Tarragon Salad
---
---
---
---