Not going to lie, I make homemade baby food for lots of reasons but mostly because I can save a lot of money. I'm starting with this argument today because I know so many mom's who don't think it's worth it. Not worth it!? If you make the recipes that I'm sharing with you today, you will save $65 per batch.
$65! That's date night.
Which is a win-win considering that making baby food turned into a day-date. Matt helped create and test these recipes, which not only proves that they are user friendly but also a fun way to bond with a newborn in the house.






Don't be discouraged by the list of ingredients below or total time. Again, I made 10 ice cube trays of baby food (plus 12, 4oz pouches of food). Yes, 10 ice cube trays of baby food and 48 oz. of food. That amount will last Caroline anywhere from 38-45 days. Considering most organic baby food can be bought for $0.89-0.99 a jar, mine equaled out to ~$.20 per jar. In addition, I kept things portable and convenient with some adorable, re-usable and cost-efficient squeeze pouches.

MY LATEST VIDEOS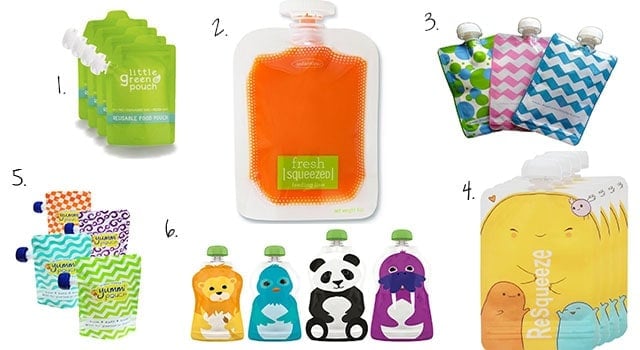 1.Little Green Pouch

2. Infantino Squeeze Pouches

3. Nourish Baby Food Pouches

4. ReSqueeze Reusable Food Pouch

5. Yummi Pouch Brights

6. Squooshi Reusable Food Pouch
The whole process seems involved, but it's definitely easier than it sounds. To get started you will need a steamer of some kind and a food processor. I purchased a food steamer
specifically for making vegetables, but you can also place vegetables in a steamer on the stove. I like my Deni food steamer
, as it's an electric (heats up in 2-3 min) and has stackable trays (multi-taskin' mama, here). Fill basin with tap water up until fill-line. Plug in. Fill trays with delicious food. I usually steam anywhere from 10-40 minutes, depending on the food.
You will also need a food processor or blender. I love my Ninja blender
! Definitely our MVP kitchen appliance. Not necessary for this though, Magic Bullet
, Baby Bullet
(the reviews on Baby Bullet's are so-so), or any blender or food processor will work.
Other items you probably already have, but will also need: a vegetable peeler
, a knife, and a can opener. While adults need the fiber that the skin is famous for, babies don't need it like we do so make sure you peel the skin away. As for knives, I can't get enough of Cutco. Alex will tell ya'… these knives are AWESOME and have a life-time guarantee. And if you're a budget mama like me, try to find them on eBay. They almost always have them for a fraction of the cost. After you peel the vegetables, core and chop them before placing them in the steamer. I used canned green beans and peas so yeah, you'll need a can opener 😉






The Food:
·      7 Bananas: regular, 49 cents a lb bananas. Since they aren't part of the "dirty dozen" I didn't buy them organic.
·      1 medium size bag of organic gala apples: $4.99/bag. Apples are considered highly contaminated, so buying organic is important here. I peeled them, cored, and sliced these before putting them in 1 tray of the steamer. I also had a regular Pink Lady and a Granny Smith available, so I threw those in the mix, too.
·      4 organic d'anjou pears: $1.89/lb peeled, cored, and sliced…no need to steam the pears. I waited until they were ripe (soft, but not squishy…you will be a sticky mess if you try to peel them when they're squishy!)
·      3 lbs bag organic carrots: $3.99 a bag. I peeled, trimmed both ends, and laid all of them in one of the steamer trays.
·     2 large organic sweet potatoes ~$1.50 for both. Same as the rest…peeled and chopped before steaming and placed in the third steamer tray.
·      2  lemons: $2.00/3 but I ended up only using 2. Cut in half and squeezed a bit into each batch adding some Vitamin C and that yummy fresh flavor.
· 2 cans of organic green beans: $1.29 each, rinsed and drained.
·      1 can of organic peas: $1.29 rinsed and drained.
·      Fresh Basil: added to last recipe, totally optional!
-TOTAL COST: ~$20.00
My Schedule:
·      Wash, peel, slice: 20 min
·      Steaming carrots, sweet potatoes, and apples: 40 min
·      Apples took 20 min, sweet pots took 30 and carrots took about 40 min. Love the removable trays on my steamer for this EXACT reason.
·      Organizing into many, many bowls…totally worth this time because makes it super easy to measure, dump, and blend: 5 min
·      Blend-time (Meaning: blending, pouring into trays, & "pouch-ing" 5 different combinations: 1 hour
·      Clean-up (in between each new batch): 20 min
-TOTAL TIME: just over 2 hours, start to finish
For the below recipes, I put all ingredients in the blender and blended until it reached an "applesauce" consistency. I bought the store-made pouches prior to making these to check the consistency for myself. Think Goldilocks: not too runny- leaks out of pouch and not too thick- can't be sucked out of pouch. Feel comfortable to play around with flavors, too—they tasted (really) delicious to me, Caroline, and Matt, but you decide….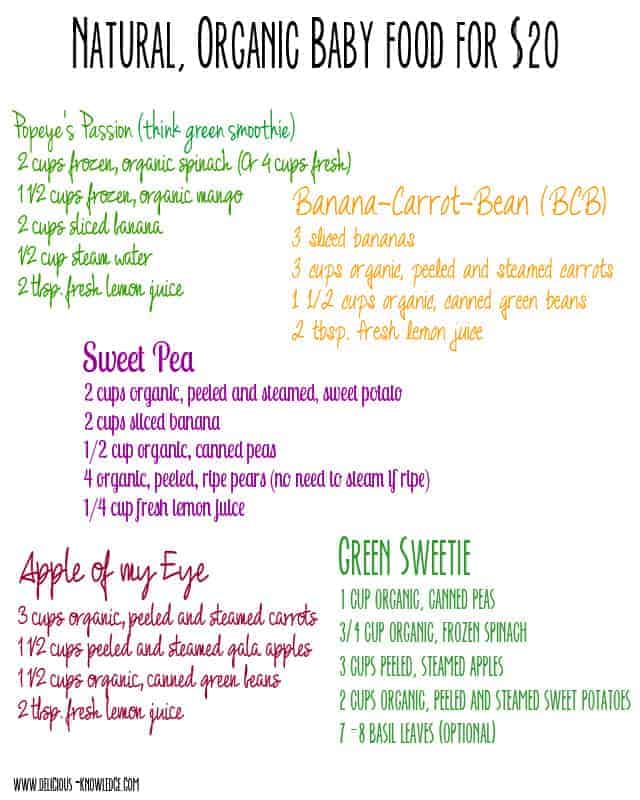 Notes:
Each recipe made at least 2 ice cube trays and an extra 24-30 oz worth of pouches, depending on how full you fill the pouches/trays.
Freeze the ice cube trays overnight. When completely frozen solid, pop the purees out of the ice trays (I had to use a knife to wedge some of them out) and put into a labeled freezer bag. They will keep about 3-6 months, to ensure optimal nutrition levels. In the fridge, these purees will last 48-72 hours.
The re-usable pouches work in the fridge and freezer about the same amount of time, only difference is that I have found most brands only recommend 2 months for freezer storage.
After spending most of the day licking my fingers (what? don't judge…) I'm not going to lie….I will not hesitate grabbing one of these for a snack. It's like a smoothie I normally make, without the protein powder and milk/juice. Makes sense, right?
I would love to know what you think! If you liked this post or try any of the recipes, please let me know how it turned out.
See you next with with a 'Back to Basics' post, simple, 1-2 ingredient combos for your newbie.
Until then,
Liz