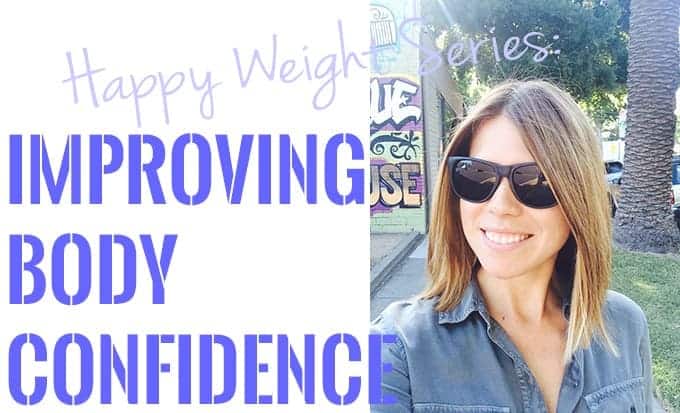 A few month's ago, we chatted about one of my favorite topics- Happy Weight vs. Idea Body Weight. And while I loved reading your replies and positive affirmations, I am also realistic enough to understand that it's easier said than done.
Accepting your happy weight is a lot easier when you're happy and a lot harder when you're not. It's hard to find your happy weight when you so-often beat yourself up for eating that extra cookie, for feeling self-conscious in your bikini or when you have to shop for clothes, in a bigger size. I'm not saying that you can't be happy in those places, but I understand that it's harder.

That's where body confidence comes into play. Because being happy is more than just a state of mind, it's in the actions of our everyday life. For starters, quit- and I mean QUIT- the fat talk.
You know fat talk:
MY LATEST VIDEOS
"I hate the way my thighs rub together"
"You're so skinny! I wish I could look like you"
"My stomach is so gross"
…and on and on and on.
It's often seen as harmless or in some twisted realities, motivational but it rarely is. Don't believe me? Try it for a week. No fat talk- out loud or in your head. When you get dressed in the morning, resist the urge to internally critique your body. When you are enjoying your meal, try not to beat yourself up for not ordering the salad with light dressing on the side.

Not only do we need to stop the fat talk to ourselves, but we also need to stop fat talking each other. Even phrases that seem like compliments, "your arms look great in that dress", can come across the wrong way. Commenting on other peoples bodies makes us take a more critical look at ours- good or bad. In this case, words can lead to action.
When we stop the fat talk, we increase body confidence. Not only do we need to stop the fat talk to ourselves, but we also need to stop fat talking each other.

Exercise! Not for fat burn of course, but for a confidence booster. Yup, that's right. Think back to the last time that you had a really good workout, one where you pushed yourself and were thinking more about how strong/powerful you were than how many calories you burned. Remember the feeling afterwards? That I can climb a mountain feeling, I am so awesome feeling? Feel like that more often. Exercise, any exercise, can improve your mood and body confidence. Even talking about exercising can up your self-image. So, make a plan to focus on exercise that you love- then go for it!
It's purely anecdotal but yoga works like a charm for me on any days I am feeling less-than. Maybe it's all the stretching and forcing myself to be still, but I tend to be much more appreciative of my body after a yoga class. On second thought, research shows a huge connection between meditation and body confidence.

On days where you feel a little more down in the dumps than others, write it down. Focus on all the amazing things your body CAN do. Focus on all the amazing things it HAS achieved. I know these are things that weird people say, but trust me on this one. It works because it puts things in perspective. Reflecting on my half-marathon training tends to dwarf any small insecurities I have about my muscular legs.
What are your body confidence tricks? Share so we can add them to the list!