Vegan Lentil Loaf! This plant-based lentil loaf recipe is packed with healthy vegetables, spices and of course- lentils! Perfect for Thanksgiving and Christmas.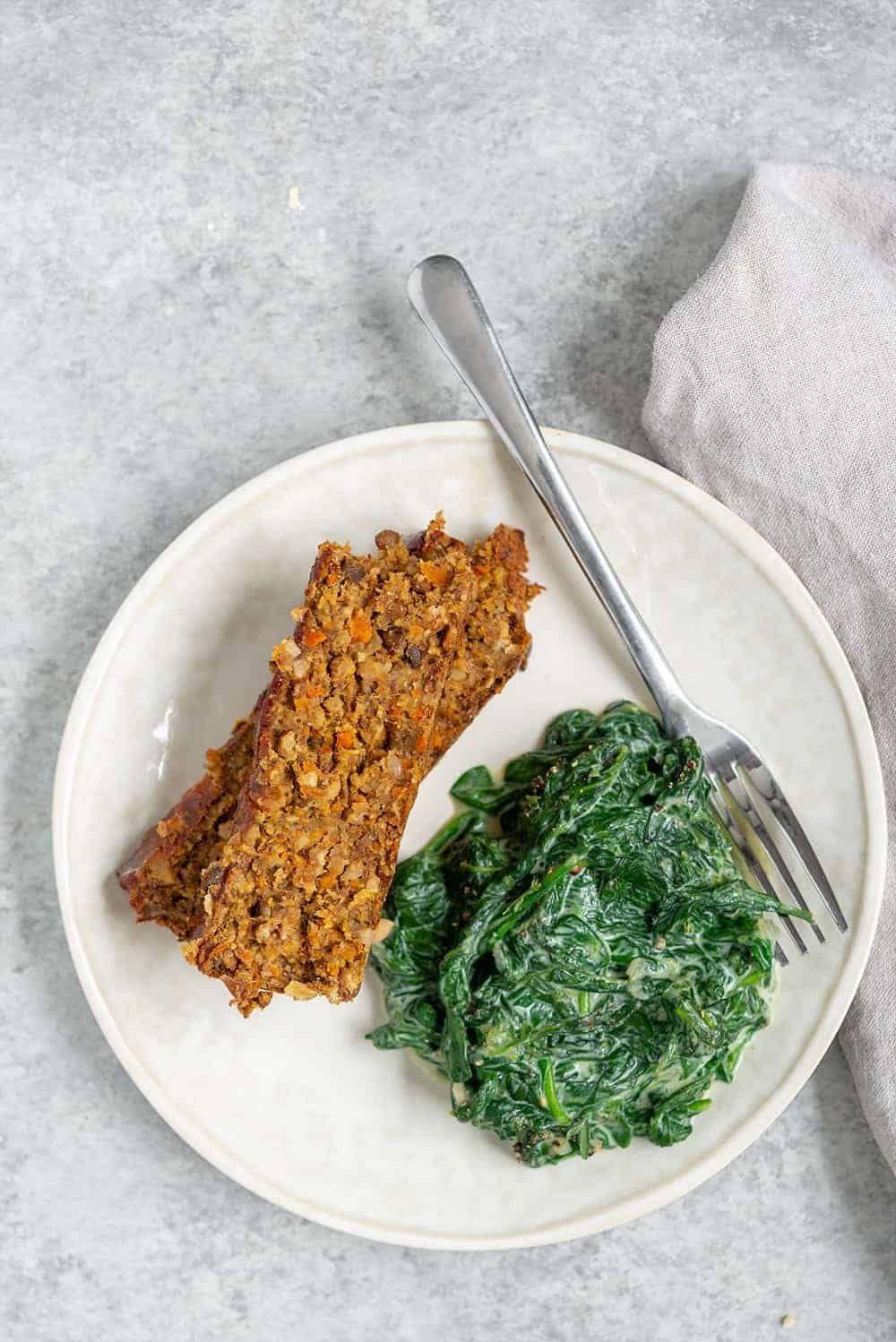 A holiday plate with overflowing bowls of mashed potatoes, silky homemade mushroom gravy, and … a vegan lentil loaf?
I still remember my first taste of lentil loaf. I was a newly declared vegetarian and just returned home from my first semester away at college for Thanksgiving. My mother, terrified that I wasn't going to get enough protein, pulled out her dusty copy of the Moosewood Cookbook for inspiration and fashioned the most Thanksgiving-y dish she could: a ketchup-glazed lentil loaf made with oats, raisins and legumes. It did the job, but I'm fairly certain the rest of my family of omnivores looked at me with pity while they enjoyed their fried turkey.
Well, 15 years and many attempts later, I've revamped the sad lentil loaf into something that everyone — even friends who eat animal products — can look forward to.
Incredibly moist, this vegan lentil loaf recipe is light-years beyond the grim bean-and-grain loaves of the past. Studded with carrots, onions, celery and mushrooms, this lentil meatloaf almost resembles a traditional meatloaf in both color and texture. Much like a good vegetable burger, this one actually tastes like vegetables. It's not meant to imitate meat, but instead be a healthy, main-dish offering to everyone.
While I often serve it with my roasted potatoes and green bean casserole for holidays, it's so easy that it has become a weeknight staple in its own right. Plus, leftovers make a tasty sandwich! (Yes please with pan-fried slices, mayo, cranberry sauce and gravy.)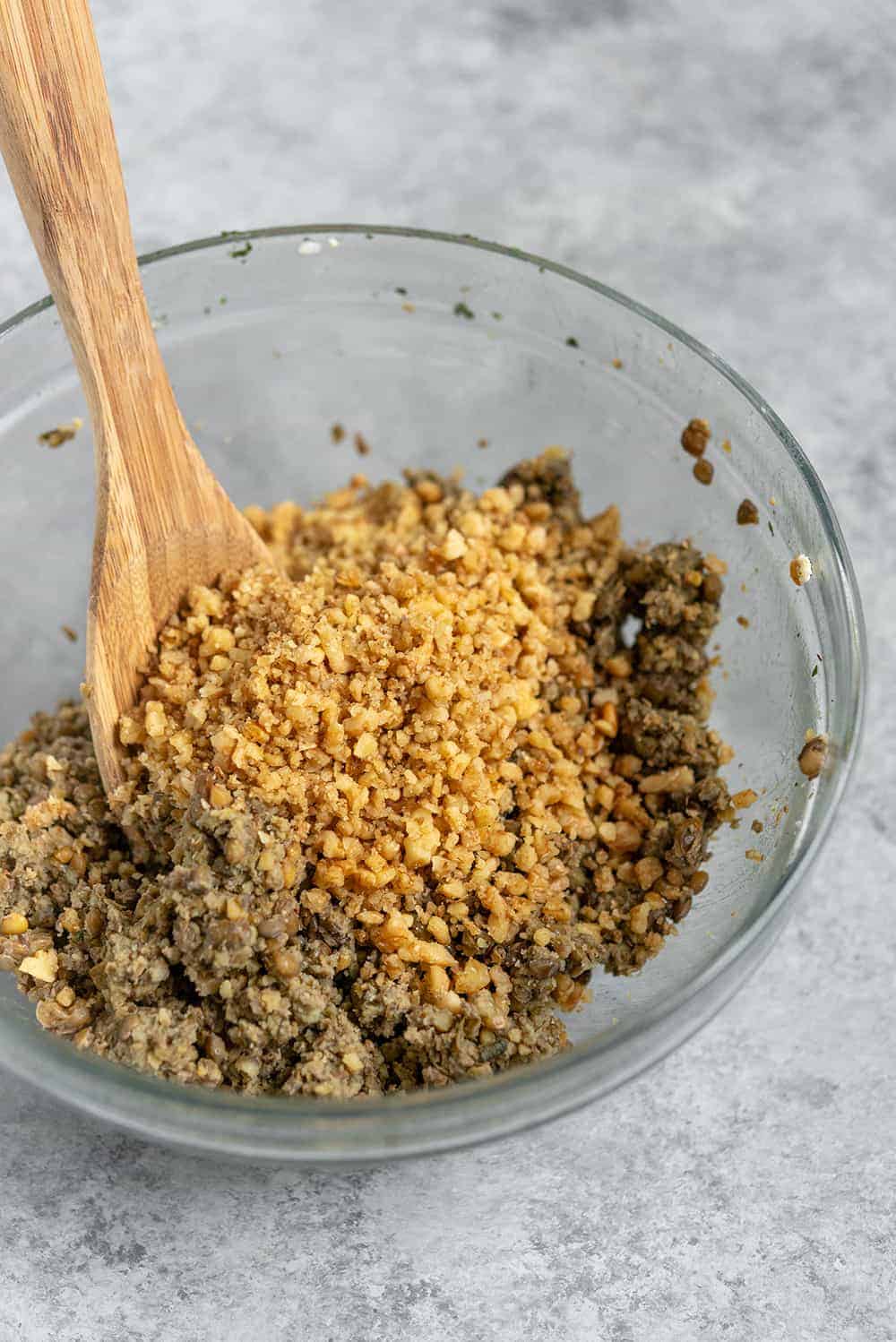 How to Make a Vegan Lentil Loaf
I know this recipe seems like it's a lot of steps, but I promise it comes together fairly quickly. Using a food processor makes this recipe even easier as you can use your processor to mash the lentils, grate the carrots and apples and chop the walnuts and vegetables. I rarely pull out my food processor just to chop things, but found it incredibly useful in this recipe!
The secret to really good lentil loaf is to make sure it's seasoned before cooking. That's the beauty of a vegan loaf like this instead of a meat based one- you can taste, adding more salt/seasonings as needed.
Lentil loaf also needs to be a perfect balance of moist and texture. Too much moisture will make for a soggy cake and too much texture will make things crumbly. This recipe using grated apple to help provide sweetness and additional liquid and plenty of finely chopped vegetables and mashed lentils that hold together without falling apart. Do the pinch test before putting the loaf in the oven: it should stick together like meatballs.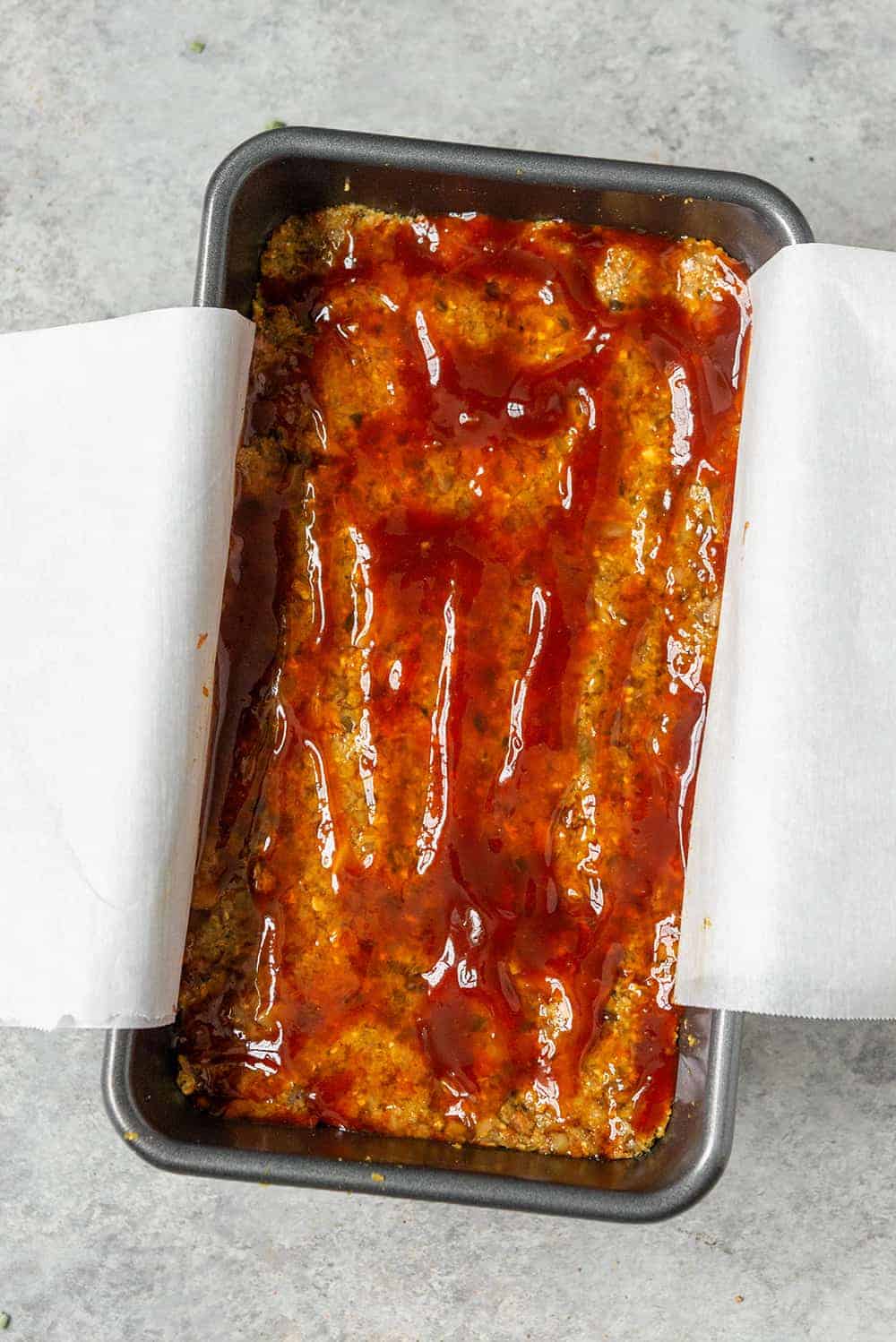 Place it in the loaf pan, then add your glaze! Any favorite glaze will work here, I just did a simple combination of ketchup, maple syrup and tangy balsamic vinegar. Don't skip the ketchup! I like to think of it as a peace offering, a familiar invite to those who are nervous about biting into a dish made of vegetables, nuts and lentils. If you want it sweeter, consider adding in a little brown sugar as well.
Bake, then let cool. Again, we are trying to reduce any crumbly loafs and allowing the lentil loaf to cool slightly will help it cool after cooking. Slice, then enjoy! We like this with even more ketchup and/or gravy.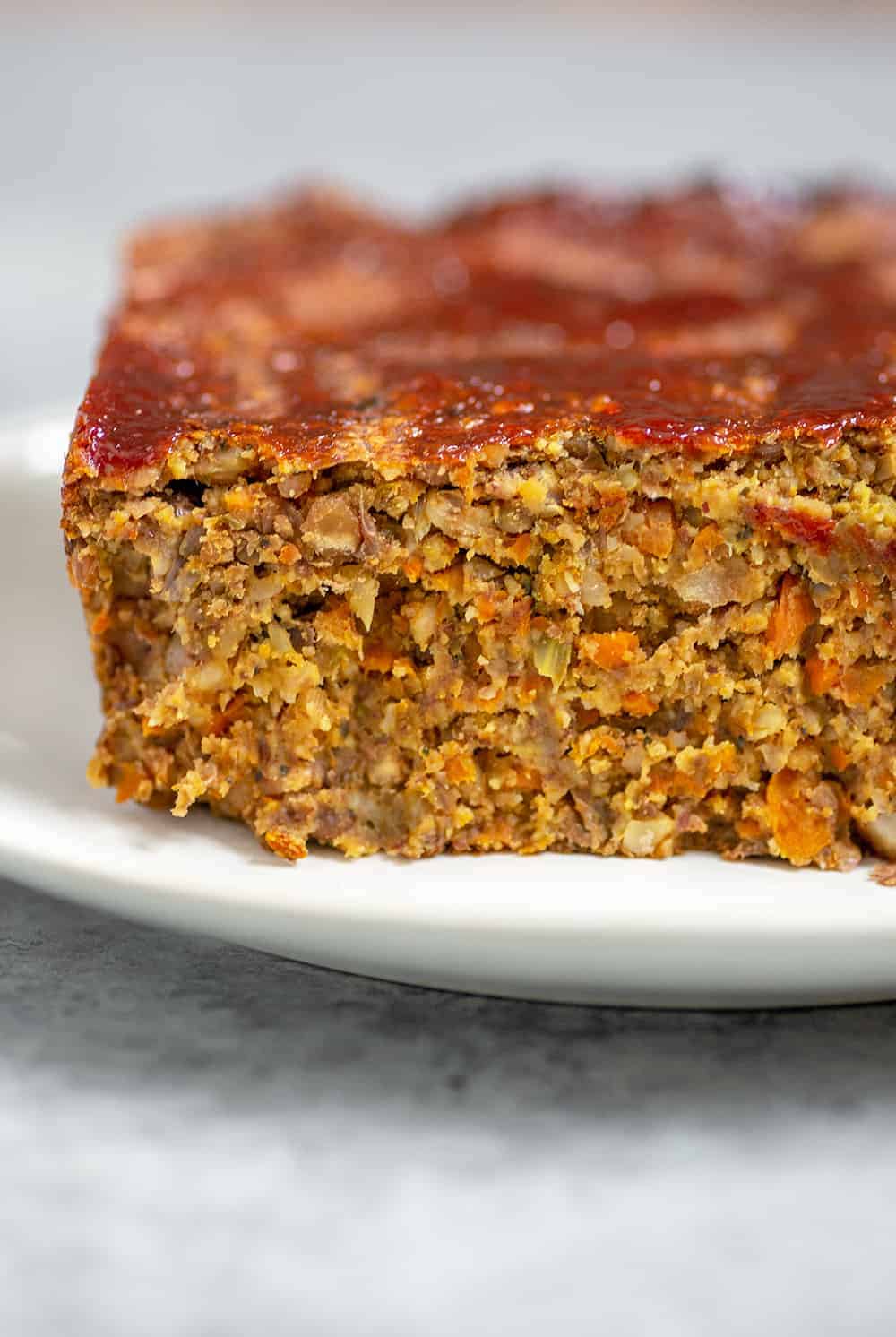 Print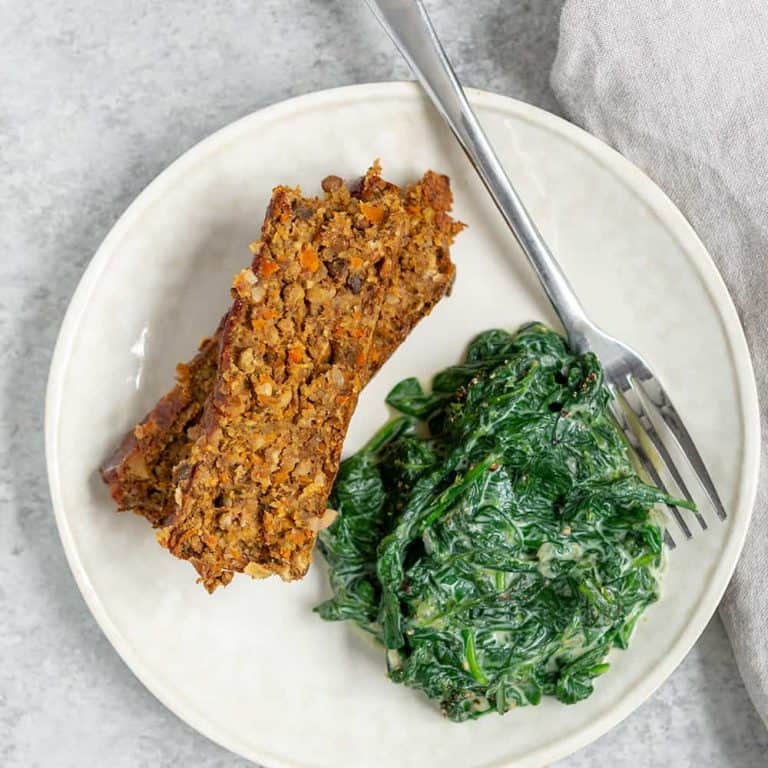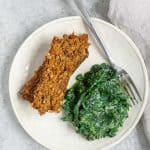 Vegan Lentil Loaf Recipe
Author:

Prep Time:

25 minutes

Cook Time:

50 minutes

Total Time:

1 hour 15 minutes

Yield:

8

slices

1

x
Category:

main dish, holiday, thanksgiving, vegan

Method:

stove top, oven

Cuisine:

vegan, American
---
Description
Vegan Lentil Loaf! This plant-based lentil loaf recipe is packed with healthy vegetables, spices and of course- lentils! Perfect for Thanksgiving and Christmas. 
---
Scale
Ingredients
Lentil Loaf
2 1/2 cup

s cooked brown or French green lentils

1 cup

finely chopped walnuts

2 tablespoon

s olive oil

2 cup

s finely chopped onion

3

garlic cloves, minced

1 cup

finely chopped celery

1 cup

grated carrots
 1 cup finely chopped mushrooms

1/2 cup

grated apple

1 teaspoon

dried thyme

1 teaspoon

dried oregano

1/2 teaspoon

dried sage

1/4 teaspoon

smoked paprika

3/4 teaspoon

salt

3 Tablespoon

s ground flax seeds

1 tablespoon

balsamic vinegar

1/2 cup

bread crumbs

1/2 cup

oat flour***
Balsamic Glaze
1/3 cup

+

1 tablespoon

ketchup

2 Tablespoon

s balsamic vinegar

1 tablespoon

maple syrup
---
Instructions
Place half of the cooked lentils in a large bowl. Place the remaining half of the lentils in the base of a food processor and pulse ~10 times to create a rough lentil paste. Add this to the large bowl.
Add in the walnuts to the food processor and pulse to create a finely chopped walnut. Add this to the large bowl.
Heat the olive oil in a large skillet over medium heat. Add the onion and cook until very soft, about 10 minutes. Add in the garlic, celery, carrots and mushrooms and cook another 10 minutes until the vegetables are very soft and almost caramelized.
Stir in the apple, thyme, oregano, sage, paprika and salt to the skillet and cook another minute or so, then add the entire mixture to the lentil bowl.
Preheat the oven to 350 degrees F. Grease a 9 inch loaf pan and line it with a piece of parchment paper for easy removal.
Stir in the flax seeds, balsamic vinegar, bread crumbs to the lentil mixture and stir to combine. Slowly add in the flour, ~1-2 tablespoons at a time until a mixture forms that isn't crumbly. It should easily hold together when pinched. Taste, adding salt/more seasonings/pepper as desired.
Press the lentil mixture into the loaf pan, pressing down the sides to even out. Whisk together the remaining glaze ingredients: ketchup, balsamic, maple. Taste, adding splashes of more vinegar/syrup as desired to create a tangy, sweet glaze as desired. Pour over the glaze, spreading in an even layer.
Bake for ~50 minutes until loaf if set. Remove and let cool for at least 15 minutes before removing and slicing. Allowing the loaf to cool slightly will make for easier slicing.
Enjoy! We love this most with my mushroom gravy, mashed potatoes and creamed spinach!
---
Notes
*This recipe comes together really fast if you use your food processor to prep the ingredients. Use the food processor to finely mash some of the lentils, to finely chop the walnuts and vegetables and to shred the apple and carrots.
** Lentil loafs can be fairly tricky, so I don't recommend subbing out ingredients as you want a good balance of flavor and moisture. Taste as you go- this is the best way to figure out the salt and spice level that's best for you and your family! The mixture needs to be easily held together in a pan, it shouldn't be crumbly.
*** I make my own oat flour by placing rolled oats in a blender/food processor and whizzing until a rough flour is created. I find that oat flour doesn't get as gummy as using an all-purpose flour does in these kind of loaves.
Keywords: vegan lentil loaf