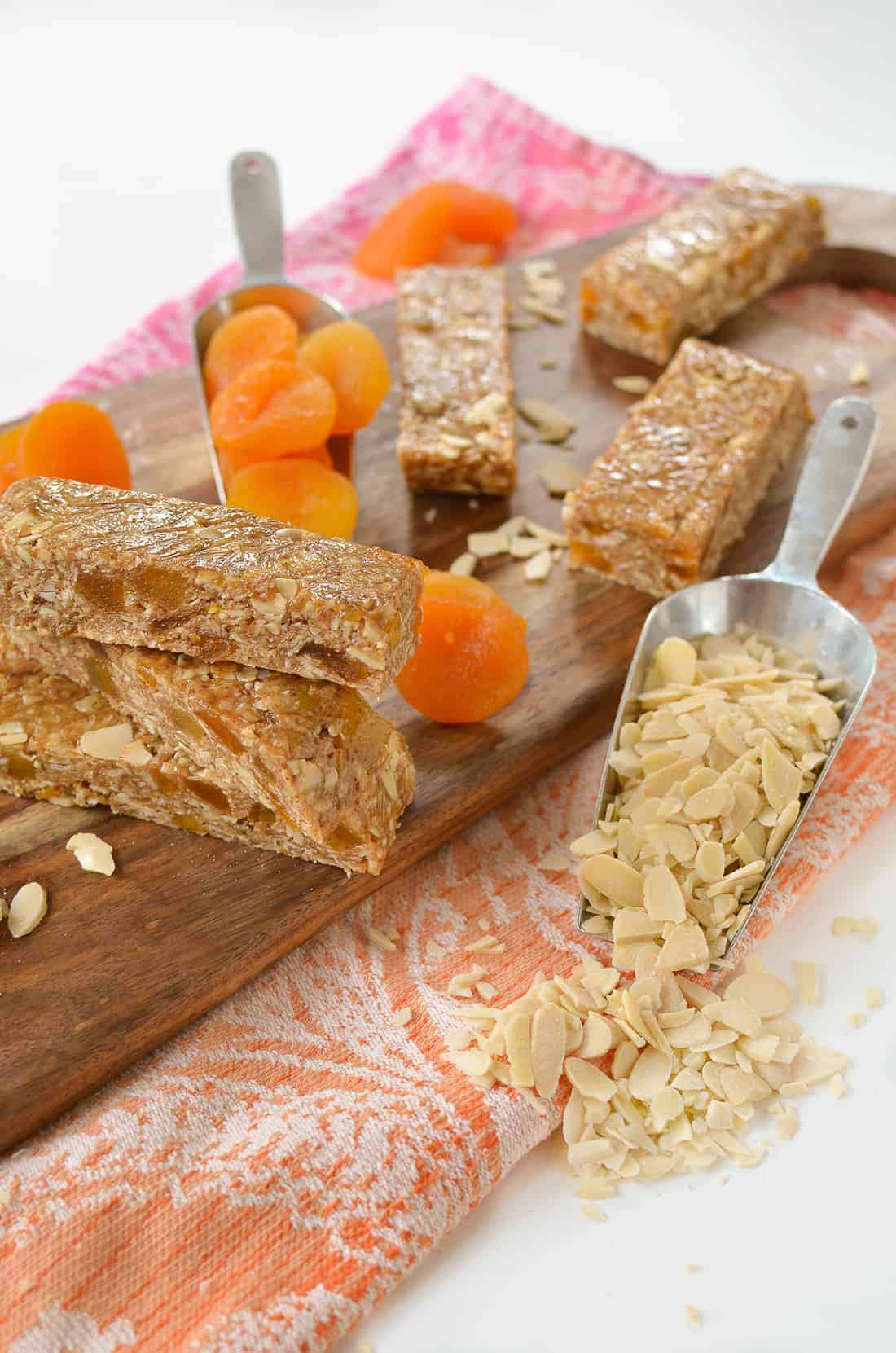 We have a house! A house! A real adult house complete with a front porch, garage, and garden responsibilities. I finally feel at ease after spending the last three months in suspension, traveling and working without being able to see our new home.
But we're here. And after a intense weekend of furniture shopping and unpacking, I'm more than ready to settle in. (Also, can we talk about The Container Store? That place is magic. Where have you been all my frenzied, unorganized life!?)
With a new house comes new responsibilities. Mainly, meeting the neighbors. We've spent the last decade living in condos and apartments where the walls were so thin that I didn't want to meet my neighbors. Now that we have a side garden and a driveway between us, I'm itching to start our hello tour.
Since I don't like to show up anywhere empty handed, I'm planning on bringing these granola bars. Hearty and healthy, these bars are the perfect way of saying thank you for being our neighbors! Please ignore the constant waffs of garlic and onion that are coming from our home.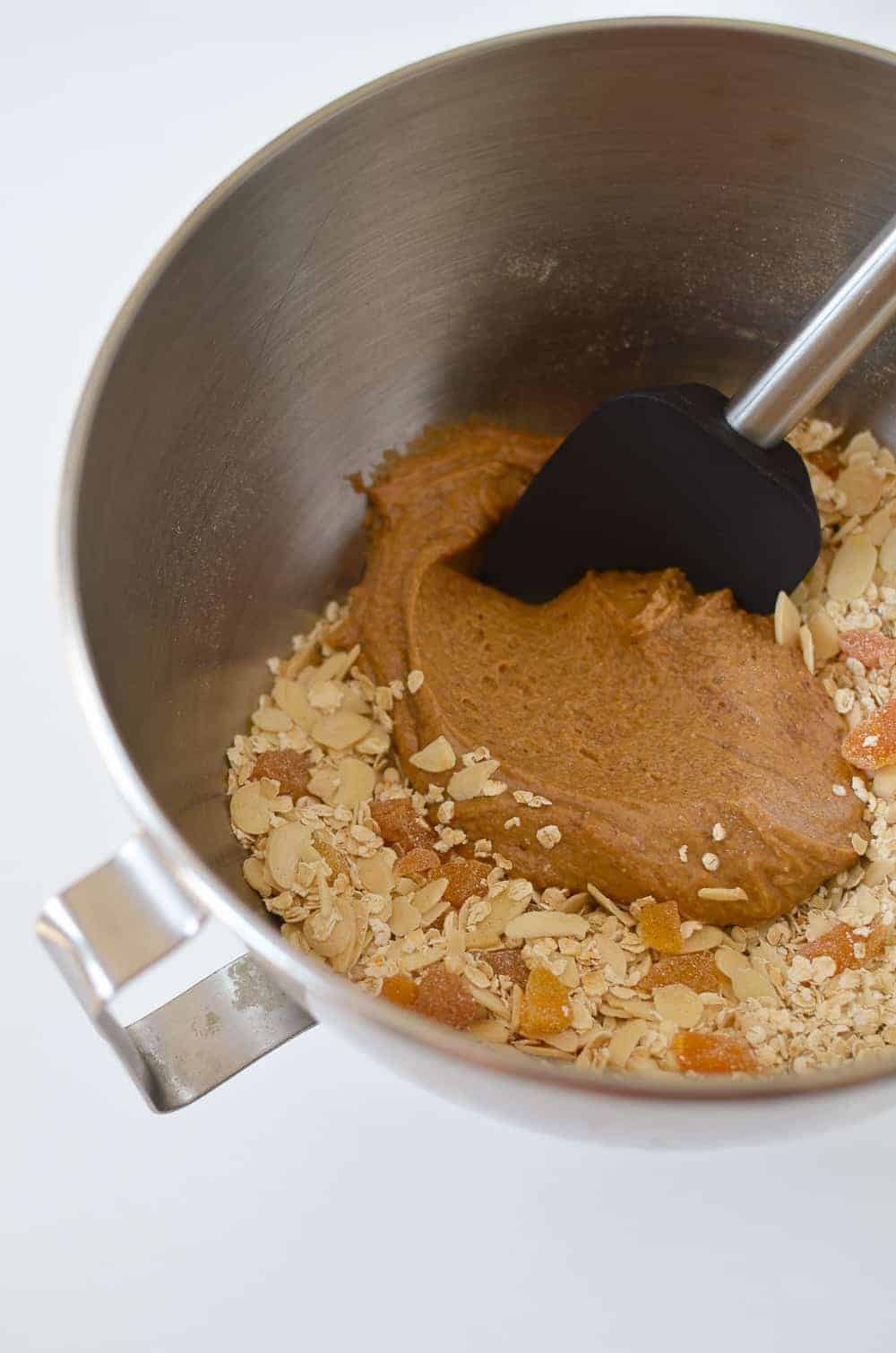 MY LATEST VIDEOS
The pairing for these bars came from my trip a few weeks ago to Lodi, California (my old grad-school stomping grounds ❤) with the California Almond Board. In between wine tasting, eating amazing food, catching up with RD/blogger friends and laughing so hard my cheeks hurt, I got to hear about the latest nutrition research and see first hand how almonds are grown.
Honestly, I was really excited to hear more about almonds and sustainability initiatives. Living in California's Central Valley for the past few years taught me a lot about the current drought and efforts around water management, especially when it comes to agriculture use.
As a vegetarian, I get almost all of my protein from plant sources: beans, lentils, nuts and seeds are daily foods. So when I heard messaging related to decreasing almond intake due to the drought, I got a little defensive as environmental concerns are one of my top reasons for being meat-free.
After talking to the Almond Board, I was happy to hear that they have been funding research to decrease water use in almond farming for over 30 years. That's great news, especially when coupled with the fact that 70% of California farmers use microirrigation to water their trees. Because of these more precise irrigation methods, it takes 33% less water to grow almonds today as it did 10 years ago.
Whew, glad to know that Almond farmers are doing a lot to help protect their fields for generations to come.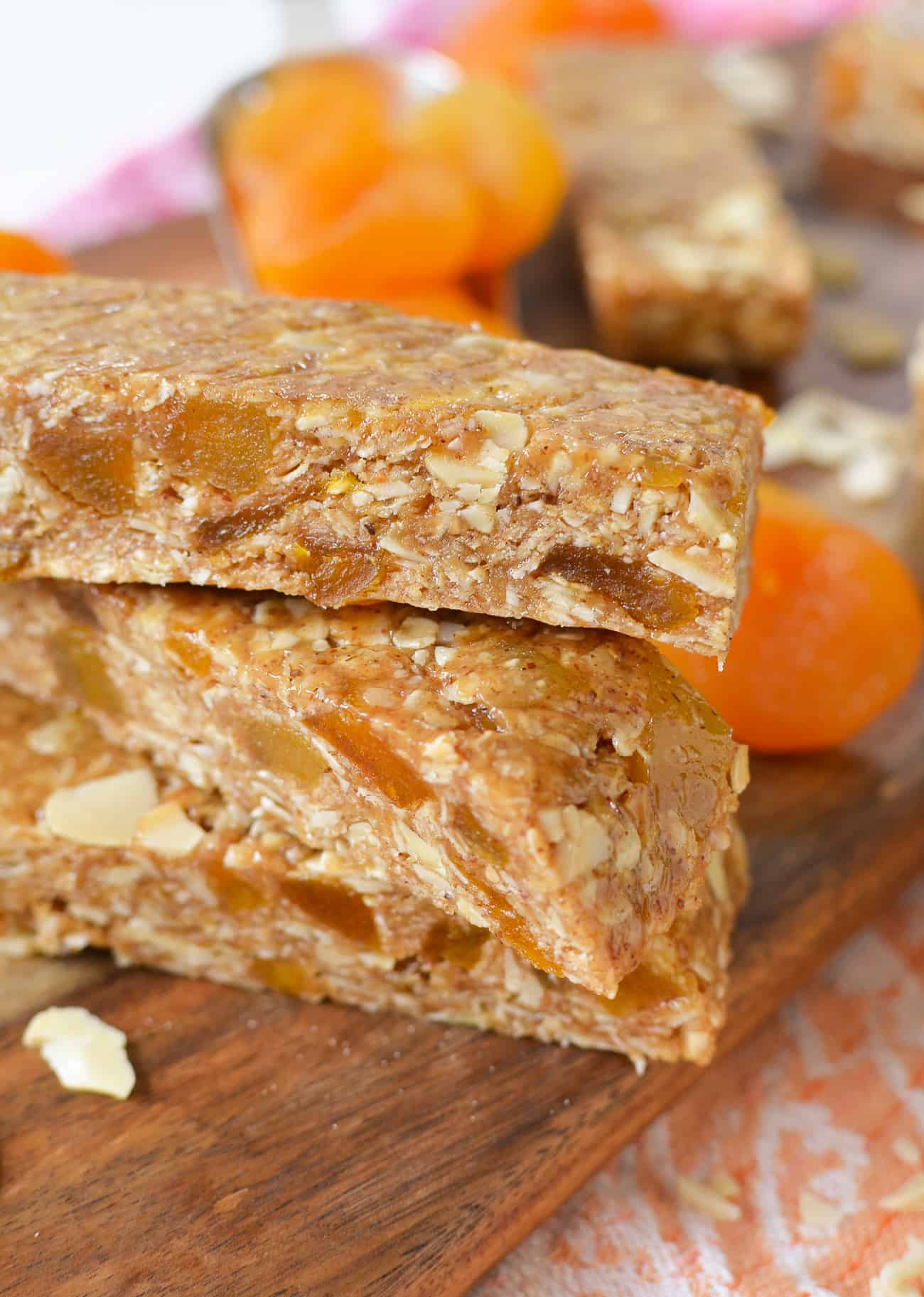 In other very interesting news, did you know that almonds are cousins of peaches!? Mind = blown. When almonds grow on the tree, they contain three parts: the hull, the shell, and the part we eat, the nut. In peaches, the hull is the juicy, ripe flesh, and the shell and the nut are the large, inside pit.
On the first night of the trip, we were treated to an incredible peach and almond ricotta salad, which has been on my mind ever since. Creamy and sweet, it was one of the best things I've eaten in a long time. I've made cheese from a lot of different plant-based milks before, but I've never tried my hand at almond ricotta. So, until that's perfected, we're making granola bars.
Because of that awe-inspiring salad, I really wanted to make these granola bars with almonds AND dried peaches. However, after heading to three different stores without any luck, I gave up and went with apricots instead. Apricots are like mini peaches, yes? Fleshy outside, pit inside- close enough for me.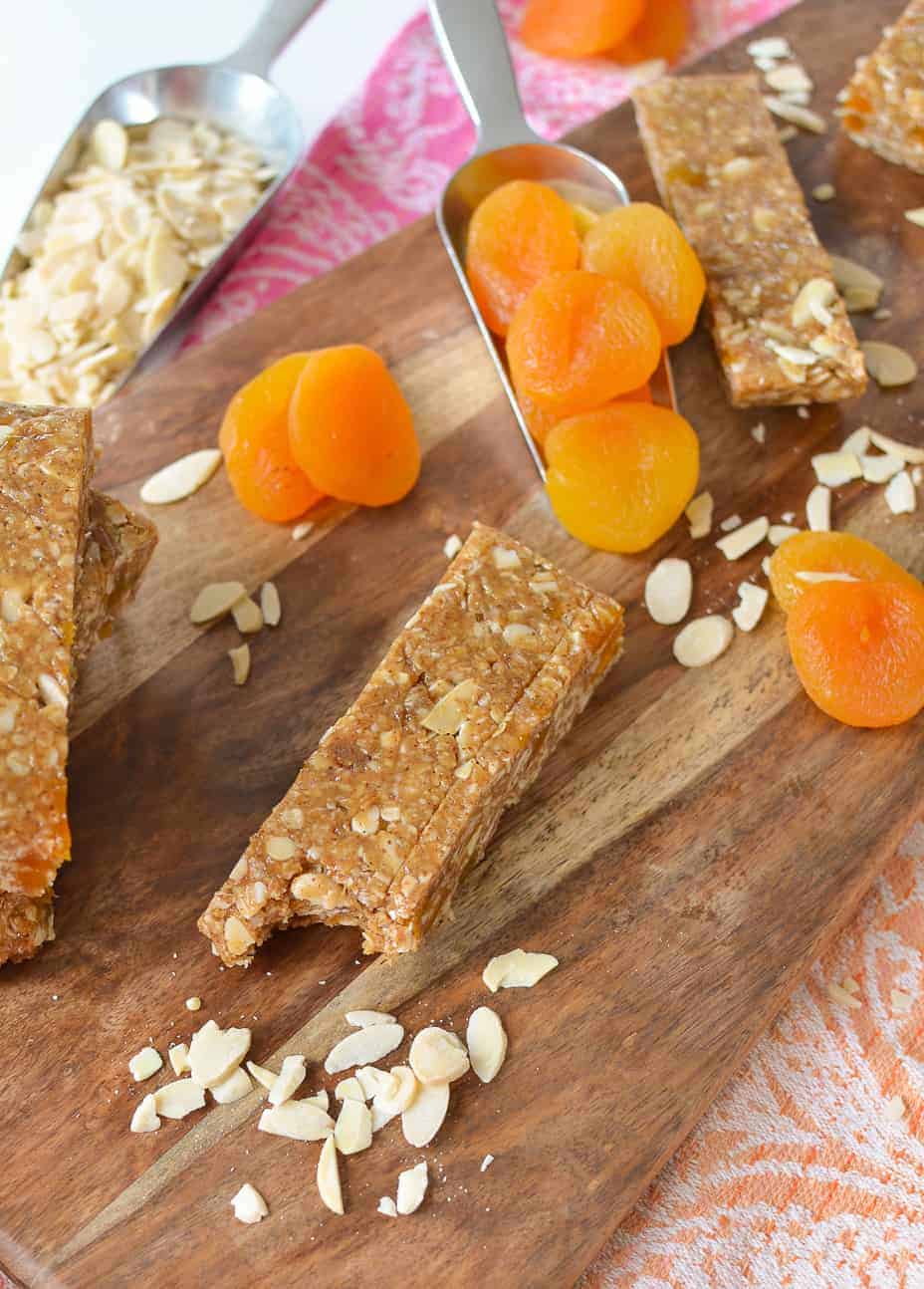 These bars are so good, the perfect blend of sweet and salty. I want them for breakfast, for snack, for dessert and all meals in between. With just 7 ingredients, these bars are about as easy as they come. In the time it takes you to drive to the store to grab a box of granola bars, you could have made these.
For a quick grab-and-go snack, wrap the individually cut bars very tight with plastic wrap and stick in a freezer bag! Whenever you feel an energy dip coming on, you've got a healthy, protein-packed, almond and apricot bar ready when you are.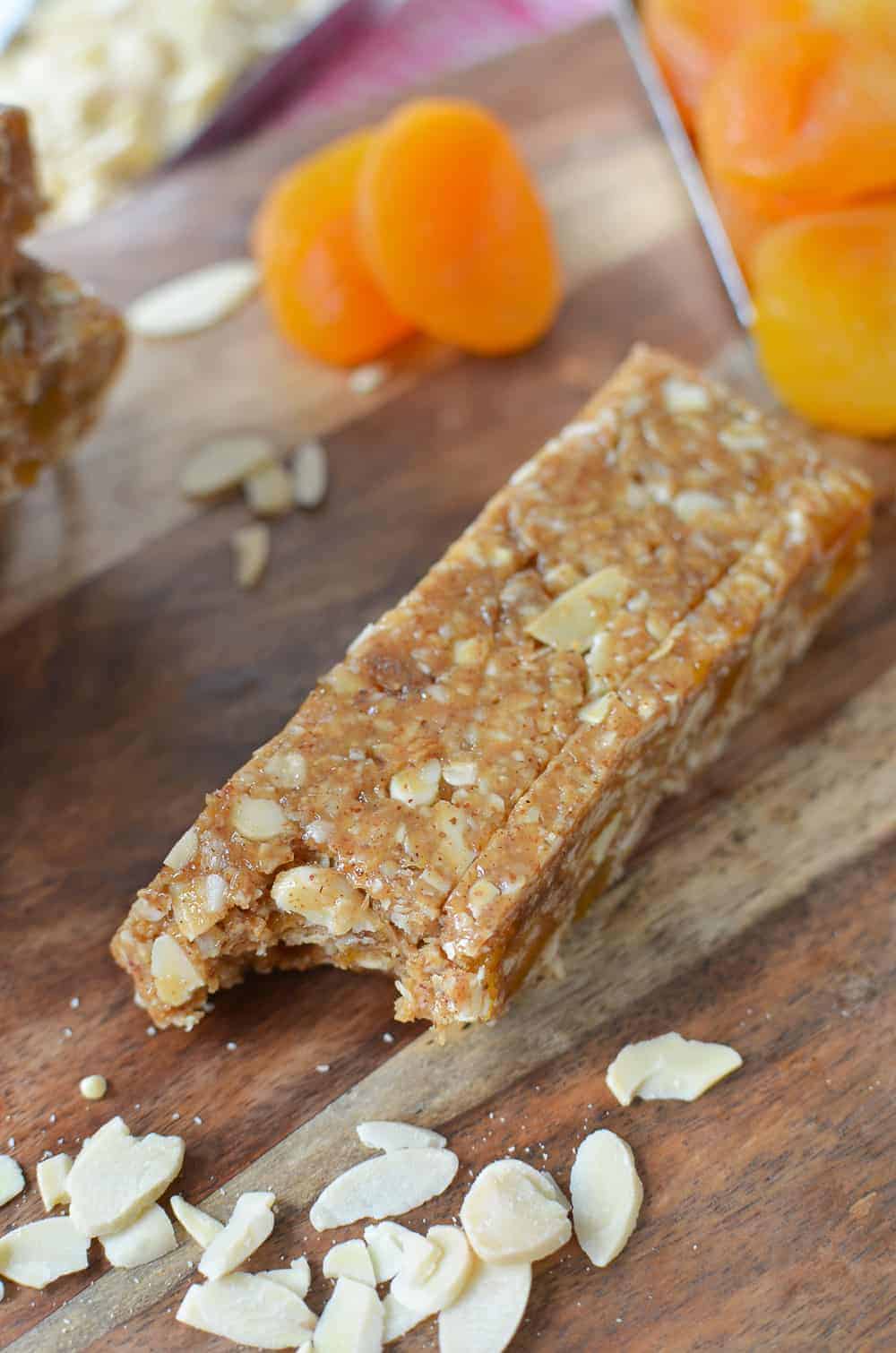 If you try this recipe, let me know! Leave a comment, rate it, and tag your Instagram photos with #delishknowledge . I absolutely love seeing your creations. Happy cooking! 
Print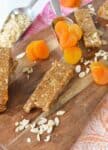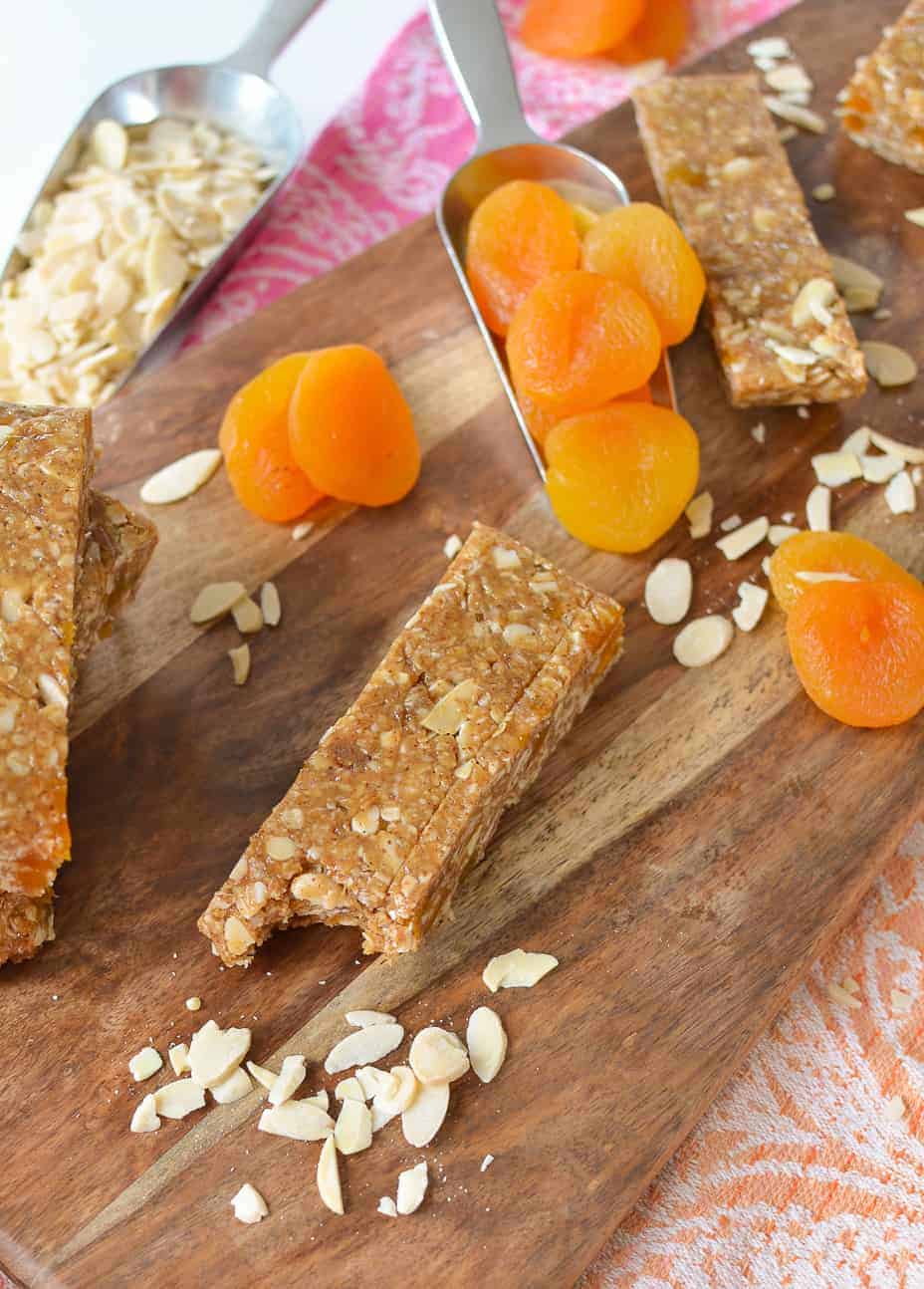 No Bake Almond Apricot Granola Bars
Author:

Prep Time:

15 minutes

Total Time:

15 minutes

Yield:

8

-

12

bars

1

x
Category:

snack, glutenfree
---
Description
No-Bake Granola Bar! Stuffed with almonds and apricots, this high-protein, fiber-filled bar is perfect for snacks or on-the-go meals. Ready in just 15 minutes!
---
Scale
Ingredients
1 3/4 cup

quick-cooking oats (see notes)

1 1/3 cup

sliced almonds

1/2 cup

diced, dried apricots

1 tsp

. ground cinnamon

1/2 tsp

salt or to taste (use less if your almond butter is salted)

1 cup

creamy, unsalted almond butter

1/2 cup

+

1 tbsp

. honey

1 1/2 tsp

. vanilla extract
---
Instructions
Line a 8×8 inch square pan with either parchment paper or plastic wrap for easy clean-up and serving.
In a large mixing bowl stir together almonds, oats, apricots, cinnamon and salt until just combined.
In a separate bowl (or stand mixer), combine the almond butter, honey and vanilla extract until creamy and smooth.
Pour the liquid ingredients into the dry ingredients. Use a big spoon to mix together until the two are evenly combined. If the mixture seems wet, add in more oats or alternatively, if the mixture seems too dry, add more almond butter and/or honey.
Transfer the mixture to the prepared square pan and gently press the mixture into the pan. I use an offset spatula to get it even.
Place the pan in the freezer for 15-30 minutes or the refrigerator for at least one hour, preferably longer. You want them to be firm enough to slice!
Remove from pan, slice into 8-12 bars and enjoy! To store, wrap in plastic wrap or parchment paper and store in the fridge or freezer (as long as they are well-wrapped)
---
Notes
Quick-Cooking oats do best here as the regular ones produce too thick of a texture. If you only have old-fashioned oats, pulse them a few times in a blender or food processor to break down.If you live near a Trader Joe's- I've found they have the best price on both sliced almonds, almond butter and dried apricots!I think honey works best here but for a vegan version, feel free to substitute maple syrup instead.
Disclosure: My trip to Lodi was sponsored by the Almond Board of California. I was not compensated to write this post and all thoughts and opinions are my own.