Here's the post where I try to convince you to take a trip to Portugal. Because, you should. You really, really should. Between the gorgeous landscape, incredible food and affordable prices it might be one of my favorite destinations in Europe. As another bonus, compared to other nearby cities, it's not as popular so you don't have to deal with endless tourist crowds like you will in neighboring countries.
As I mentioned in my traveling internationally on a budget post, BL and I are always scouring sites for cheap travel deals. The way I see it, as long as we can both get the time off, the answer should always be yes when we come across a flight deal that seems too good to be true. Especially in light of a little thing called a due-date that's rapidly approaching, we decided to spend our summer traveling as much as we can before we likely settle in for family time.
Portugal had been on my list of destinations ever since Travel & Leisure named it their destination of the year in 2016. That, and I'm a sucker for a beach vacation.
Welcome to Barcelona
In order to make our Secret Flying trip work, we had to choose either Barcelona or Madrid to start our adventure off in. I know we should have probably chosen Madrid as neither one of us has been there before, but Barcelona somehow always beacons us back. Maybe it's the combination of beach for me and city for BL? Or that they sell the most refreshing fruit smoothies for only 1 Euro at stands all across the city? Or that tapas might be my spirit animal dinner choice? Either way, it wasn't much of a decision.
MY LATEST VIDEOS
We arrived in the city early on Tuesday morning, which I think is best for jet-lag. I'm pretty lucky in that jet-lag doesn't overwhelm me and I think that has to do with a few tricks. One, I try to schedule flights to be a red-eye when I'm heading east and a later flight when I'm heading west. To me, this is the best way to try and get on the local time: I can sleep on the plane on east-bound flights to arrive in time for a whole day in my new city and I can head to bed as soon as I arrive back west, waking up the next day feeling refreshed. That and trying to stick to the new time zones eating schedule seems to do the trick.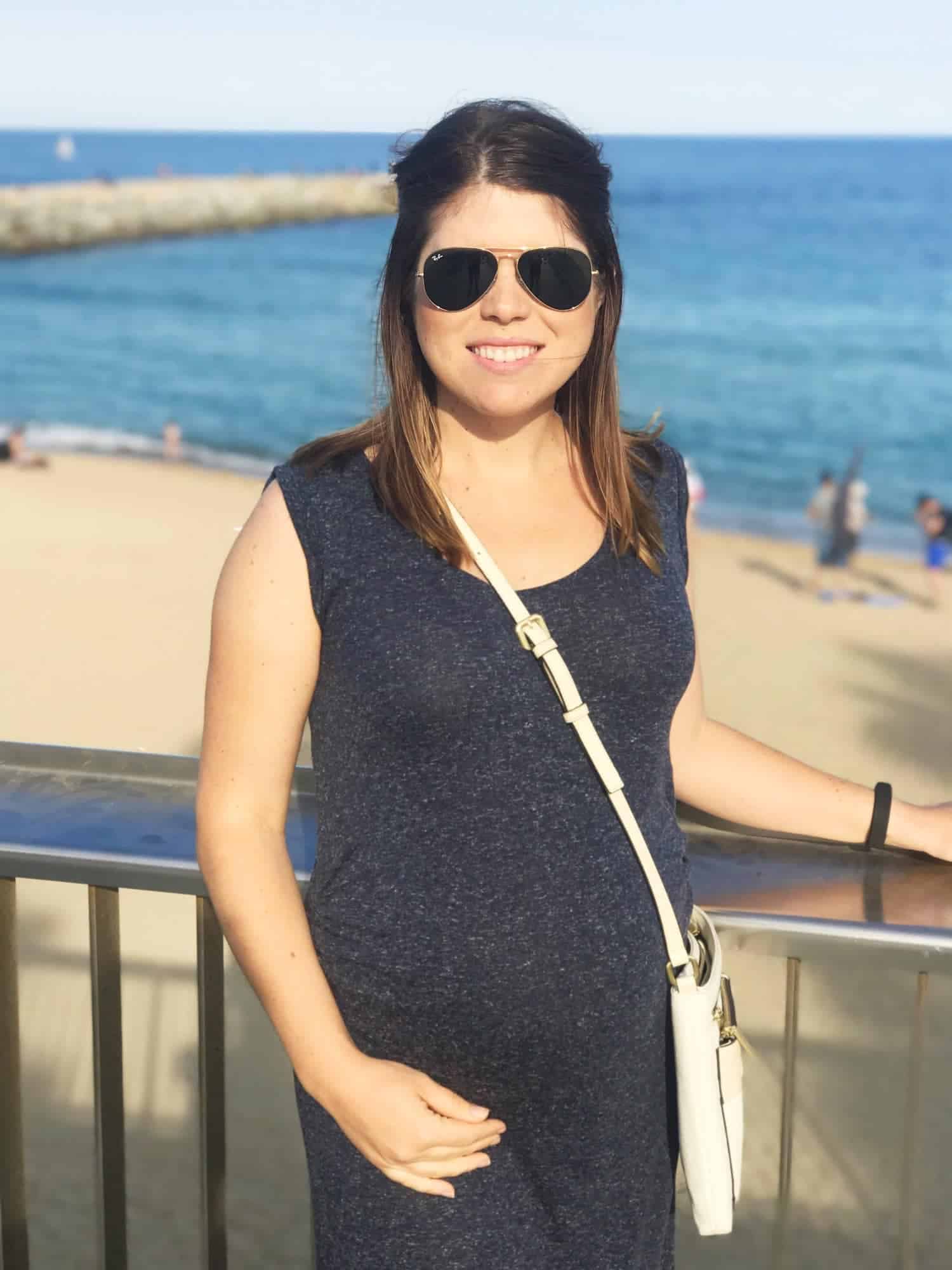 Since six-months pregnant isn't the most comfortable place to be on a 9-hour flight, I didn't sleep as much as I anticipated. So, after getting through customs we headed to our AirBnB and took a siesta. Hello Spain, I love your culture. If the rest of the city is sleeping, might as well join them.
After a quick nap, we quickly showered and headed down to the beach. Barcelona radiates with vibrant energy that's so contagious the moment you step outside. I know it get's a bad rap for being an unsafe city compared to other places in western Europe but I've felt perfectly safe each time I'm here. Just, you know, don't put anything of value in your pockets.
We then stopped by the central market for a snack and, of course, a few smoothies. I know I tend to have a flair for the dramatic when it comes to describing food, but trust me when I say that these are magical. I don't even want to know what they put in them, but they are perfectly creamy, sweet and fruity. It's a hot pregnant women's dream. We each downed two, then found a stall serving up vegetarian paella to snack on.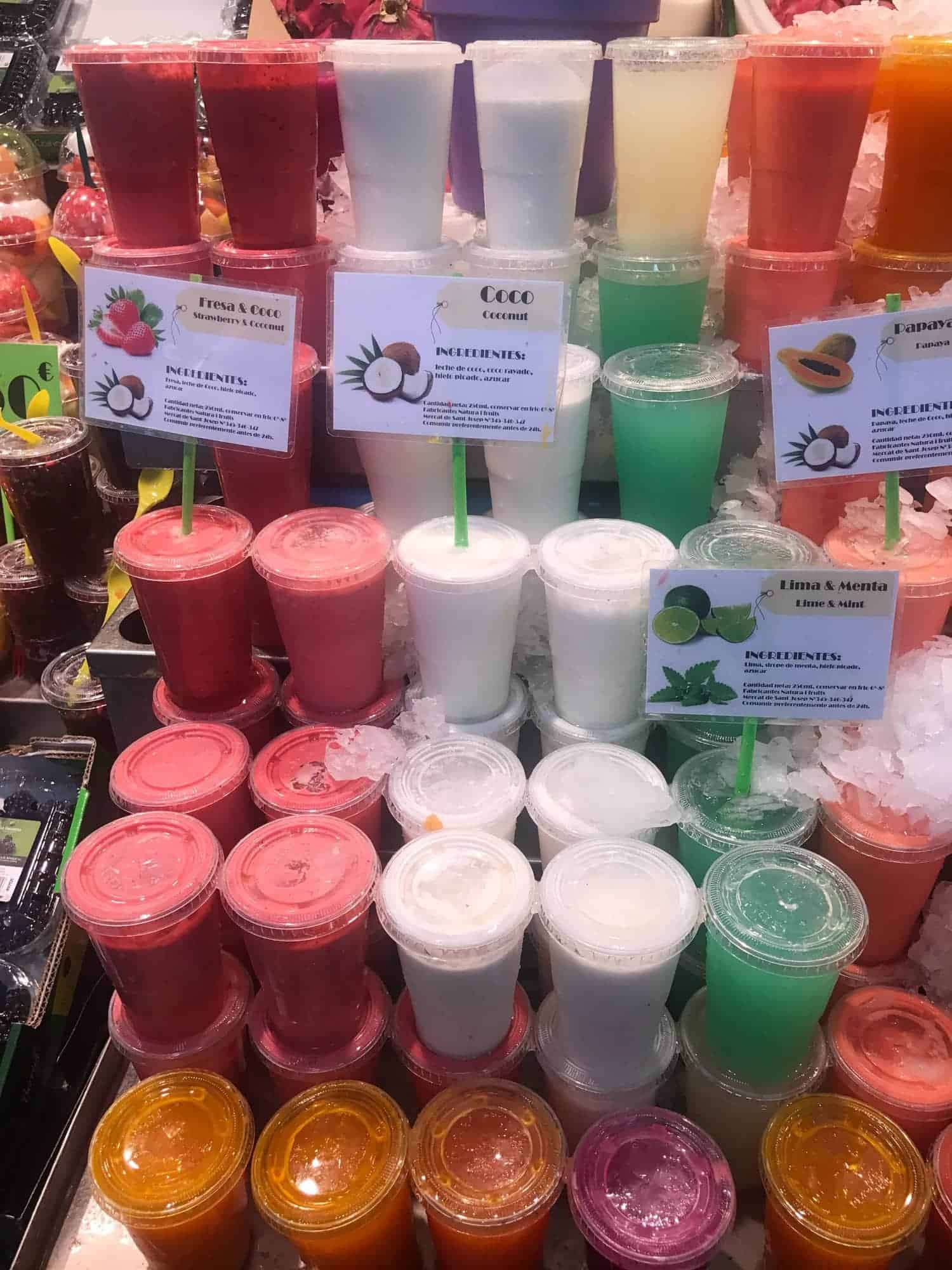 Did I mention how much we love tapas? Though it's the land of jamon in everything, I find it pretty easy to eat vegetarian in Spain thanks to a wide variety of tapas bars. After checking out reviews of places in our area, we made a reservation at Sensi Tapas.
We ate a ton on this last trip. Perhaps even a literal ton, so I'm not going to post 10,000 photos of everything that we consumed. One, you might be worried that I've now developed gestational diabetes with the amount of desserts in my photos and two, this post would be forever and a day (which, it's already looking to be). So, instead, I think I'll share my favorite item from each of the places that we dined at.
This really beautiful photo is my favorite gift from Spain, patatas bravas. I'm a huge potato girl, especially when covered in a spicy, creamy sauce. I could have ordered two more of these for my meal and been satisfied. BL downed enough sangria for both of us and at less than 3 euros for a giant glass, he should have. First meal of the trip was such a giant success that we made reservations at their sister restaurant for the next night.
After sleeping in, we headed back to the market for more snacks and smoothies. This is my favorite way to do breakfast in Europe, as traditional choices include a lot of pastries and I'd prefer to save my sweet cravings for afternoon gelato breaks. I sampled a few empanadas, shared some fruit smoothies with B and then headed out for the day.
We are not cool kids, especially when traveling. In fact, we might be the only kids under 40 who regularly follow Rick Steves for travel advice, but he does such a good job on recommendations that it's almost impossible not to. Ricky also provides guided walks through most cities on his Travel Europe app, which are both corny, informative and much better than joining a group. Check them out!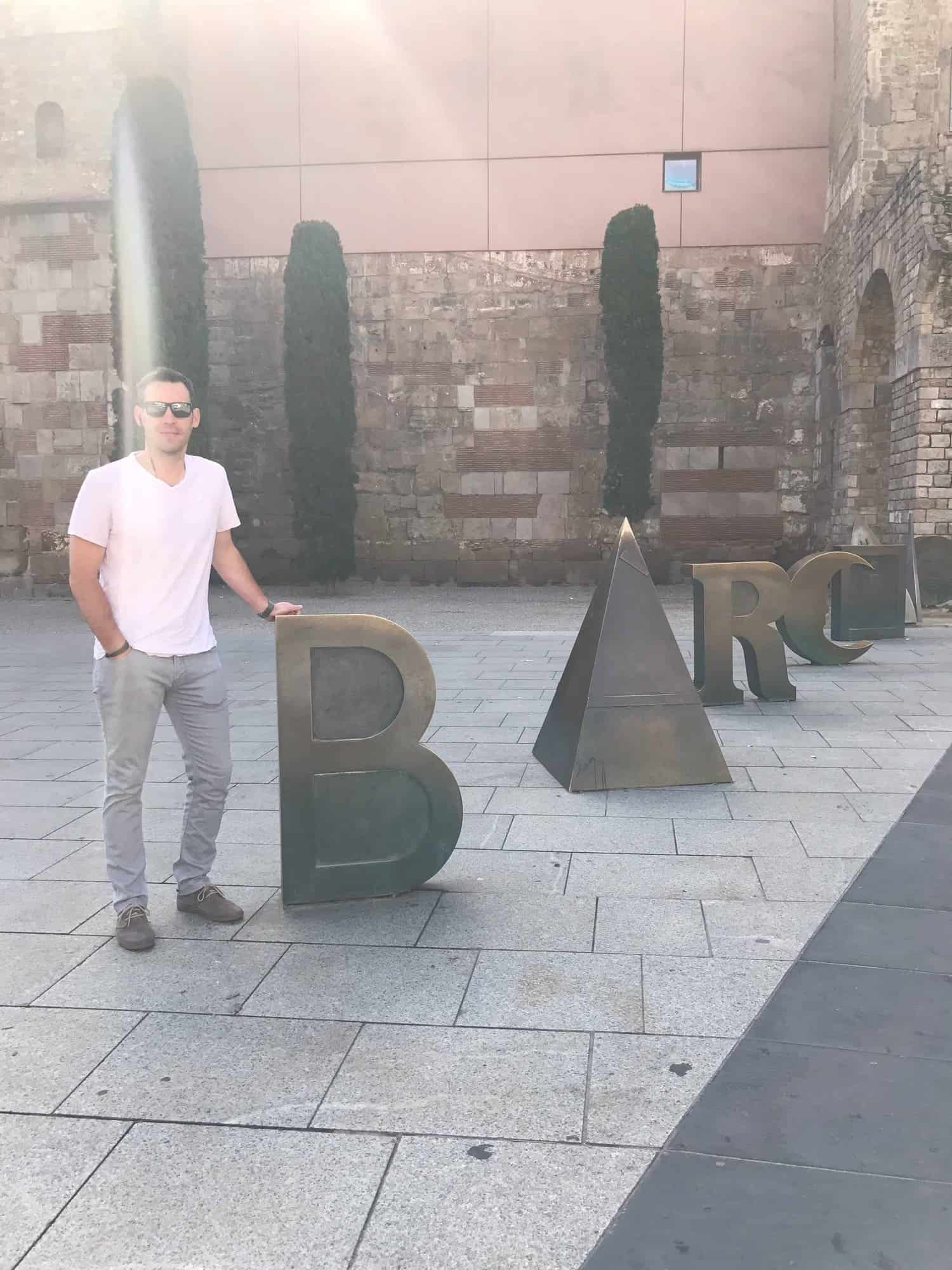 I tend to be pretty picky when it comes to food. Which, I know comes as no obnoxious surprise. After a dozen countries together and countless cities, BL and I have laser-focus when it comes to our separate travel roles: I pick the food, he does everything else. Teamwork makes the dreamwork.
Since I can't prepare for every morsel, I usually let lunch be a toss-up depending on where we are in the day and our hunger levels. We stumbled into this no-name café to grab a quick bite and people watch before continuing our adventure. I had an asparagus pesto sandwich that was good, not great. But, it's hard to complain when you are sitting outside, in the lovely Barcelona weather, stealing tiny sips of BL's ice-cold beer.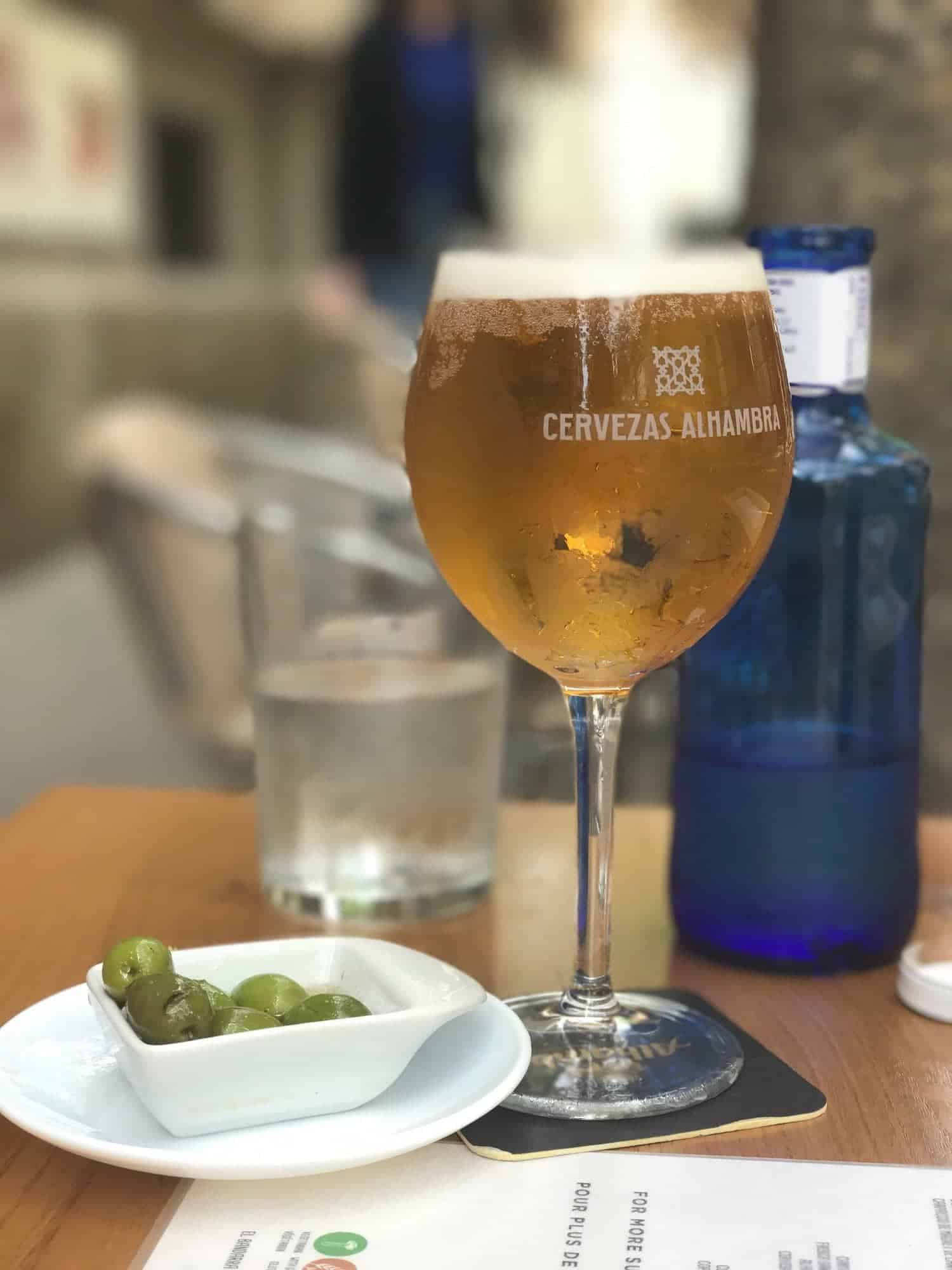 If there are two things that are musts in Barcelona (besides fruit smoothies), it's visiting la Sagrada Familia and Parc Guell. Gaudi, you are a weird genius and I'm always captivated by your stunning works of art.
La Sagrada Familia, perhaps the most exquisite church I've ever been in, always captures my heart. I don't consider myself a particularly religious person but I get chills the moment I step inside. Honestly, I don't know what else to say besides just encouraging you to go. It's pretty incredible.
Parc Guell is another masterpiece, the perfect place to stroll and take in the city. I was a bit nervous knowing that I would be pregnant on this trip, and while I had to take more breaks than usual, I felt really good walking around. We grabbed gelato before making our way back down the hill and home.
Since our dinner at Sensi was so delicious the previous night, I was excited to eat a similar, yet different, menu at their other restaurant. Of course, we ordered the potatoes again but the real star was these sautéed vegetables with romesco sauce. Once again, I forget how much I love certain foods until I have them again. We may have fought over the last bite, asking for extra bread to make sure we got all of the sauce. I'll likely be definitely recreating this one in the near future.
For a nightcap, we went to El Diset for a mocktail for me, crafted cocktail for BL. It's funny how the body works. While I'm a former Northern California wine-snob, I've had almost no desire to drink while being pregnant. A few friends warned me how hard it would be, but I don't really feel like I'm missing out (plus our dinner bills are a lot less expensive!) But, this night, I wish I was drinking. There is something so special about a place that really knows cocktails; where everything is prepared fresh, with sometimes exotic ingredients and homemade bitters. Thankfully, BL is always game to take one for the team and ordered a few rounds.
Bye Spain! Until next time. We boarded an early morning flight to Lisbon, then caught a train down to the Algarve to start the next leg of our trip.
Welcome to Lagos
THIS is what I had been waiting for, the whole reason we booked this trip in the first place. I happened to see a few photos of this beach in the T&L spread and knew that I needed to be there, soon.
After a quick siesta (once again, Portugal is perfect for a pregnant schedule), we went to the local market to grab supplies for a make-shift happy hour near the pool. Manchego cheese might be my dairy-downfall. If I had to choose one cheese for the rest of my life, this would definitely be it. Creamy, salty, slightly pungent, I had to limit myself to not grab a block every night.
Then, dinner! Birthday dinner! We went to Café do Prego, which seemed fitting. The reviews on Trip Advisor were fantastic and they seemed to have quite a few vegetarian options. We ordered a few small plates to start, then divided this platter of grilled vegetables and (shocker) more cheese with plenty of balsamic vinegar. I could eat like this every night. In fact, note to self: eat like this more often. Meals don't need to be so complicated! A platter of vegetables really is the perfect summer dish.
In a fun surprise, my friend Edwina happened to be in Lagos that evening, so we met up with her and her boyfriend Ethan for after-dinner drinks. So special to be able to share this trip with another couple.
We spent most of the next morning exploring the coast. I'm not exaggerating when I say I took roughly 250 pictures this morning, none of them really doing justice to the incredible coastline.
(PS- did I mention that ALL of these photos were taken with my phone? BL gifted me the new iphone for my birthday and wow, I'm so impressed with the camera. I'm also impressed that I didn't have to lug my big DSLR anywhere on this trip, just a phone in my pocket. Technology is pretty incredible.)
After our hike, we grabbed drink and a salad at Café do Mar, a pretty little place right on the water. I'm impressed by the fact that even in such a touristy destination, the prices aren't any different than if you were in town. Another reason Portugal will likely become a frequent vacation spot.
We spent the rest of our time in Lagos exploring more of the beautiful landscape, eating gelato and crashing at the beach. Honestly, I could have spent our entire vacation here, it was incredibly relaxing. While I love exploring new places, it was nice to completely veg out without much of an agenda.
Welcome to Lisbon
We ended our trip in the capital of Portugal, Lisbon. While we really enjoyed our time here, this wasn't my favorite city in Europe. It reminded me a bit of San Francisco, perhaps because no matter where you walked, it seemed like it was uphill both ways.
We stayed at a lovely AirBnB with the most fantastic views of the city. After a long train ride up the coast, I was completely exhausted by the time we got to our place. A charming 5th story walkup, I almost had a breakdown thinking about carrying my luggage up all those stairs. Luckily, BL is a rockstar and took care of all of it.
After settling in, we grabbed lunch at Time Out Market, a collection of restaurants, food stalls, bars and shops. Basically, my version of heaven. We split a plate of pad thai and this colorful fruit dessert.
After lunch, we explored the city. Doing another walking tour with our Rick Steve app, grabbing a few drinks and pastries for snack and generally exploring the new area. This is my favorite way to travel, walking without much of a purpose, getting a feel for the city and stopping to rest with snacks along the way. Since we had a lot of food for lunch and snacks, we decided to forgo our dinner reservations and keep exploring.
The next day, we joined a small tour group to explore Sintra palace, an odd mix of gardens, underground tunnels and a gothic-style mansion. We began the day in the old town, with coffee and these "large pillow" pastries, as the recommendation of our guide. At this point, if someone told me to try something, I'm game. They didn't disappoint, a pillowy dough filled with almond cream and topped with powdered sugar.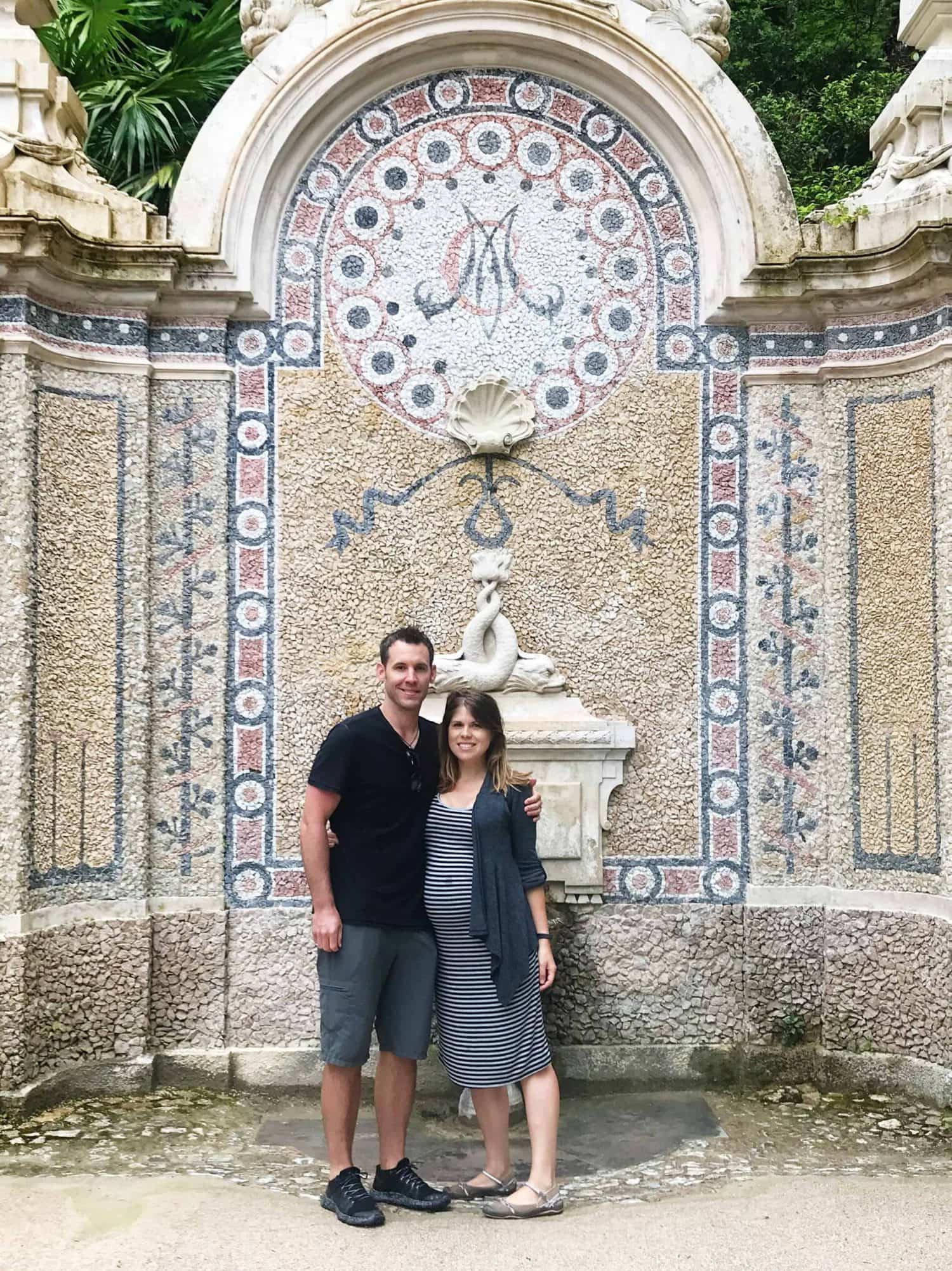 Afterwards, we headed to a local market to pick up fresh vegetables, lunch and have some green wine. I know I say that everything is my favorite, but visiting small market stalls and enjoying fresh fruit will never get old. The strawberries were deliciously sweet, the cheese was creamy and salty and the freshly baked bread was perfectly crisp and filled with steam pockets.
Our last day in Lisbon was spent in the beach town of Cascais, about a 40 minute train ride from downtown. This was the perfectly way to end our vacation, a relaxed day next to the water, listening to podcasts and reading all the books I brought with me but hadn't cracked yet.
(PS- I read this book at the beach and besides looking like a blubbering, sobbing idiot to the rest of the beachgoers, I highly, highly recommend. Michelle Obama claimed it was her favorite book of 2015 and if it's good enough for MO, it's good enough for me. Make sure you stock up on tissues before starting.)
This might be the longest post I've ever written, but hopefully it's all worth it. I tried cutting down to just the basics, but felt like I was leaving out so much. Though, the more I think about it, I could have written the post like this: we came, we ate, we went to the beach, we ate, we saw really pretty things, we ate, we went home. The End.