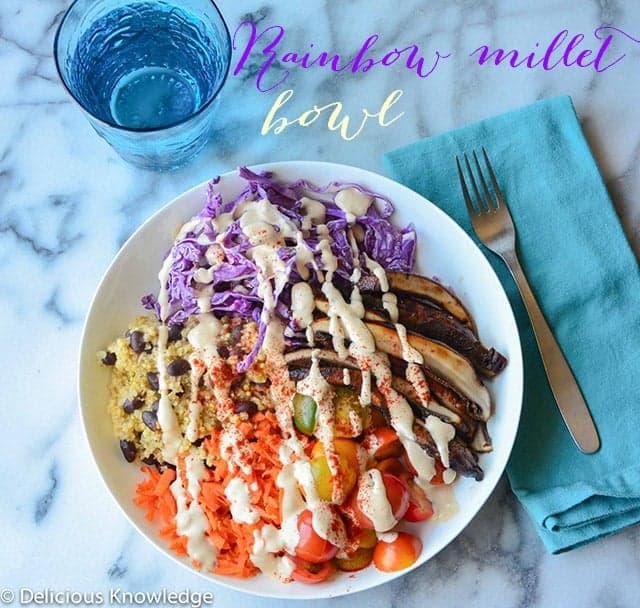 Sometimes the jokes on you.
As someone who proudly declares herself a lover of all foods (er, plant foods), I am caught off guard when I try something new… and dislike it.
Millet. The newest grain to make it's way into the hip whole-foodie scene, I gave it a fair shake a few years back when every other blogger was also trying it.
While most of my friends where singing it's praises, I could barely get it down.
Besides the fact that it had very little flavor, I couldn't get the idea that I was eating bird seed out of my head.
But, like all good wanna-be foodies do, I tried again.
A few cooking tweaks later and I have officially found a new grain I am over the moon about. Not only is millet gluten free, it's also a good source of protein (6g), low in fat and full of hard-to-get nutrients like copper and manganese.
The secret to yummy millet is two parts. First, toast millet in a dry skillet until it smells like popcorn! Then cook it in vegetable broth instead of water for maximum flavor. I also added black beans for extra fiber and protein.

Doesn't my bowl look like a beautiful rainbow? Not only is this a fun way to eat vegetables, it also makes for a colorful and hearty meal. I like to prep all the ingredients separately and combine as I go. That way I can eat this for dinner followed by lunch.
Ready to be impressed by the nutrition stats? Each bowl contains 20g of protein, 14g of fiber and 40% of your daily iron needs.
Who says you can't be powered by plants?
If you try this recipe, let me know! Leave a comment, rate it, and tag your Instagram photos with #delishknowledge . I absolutely love seeing your creations. Happy cooking! 
Print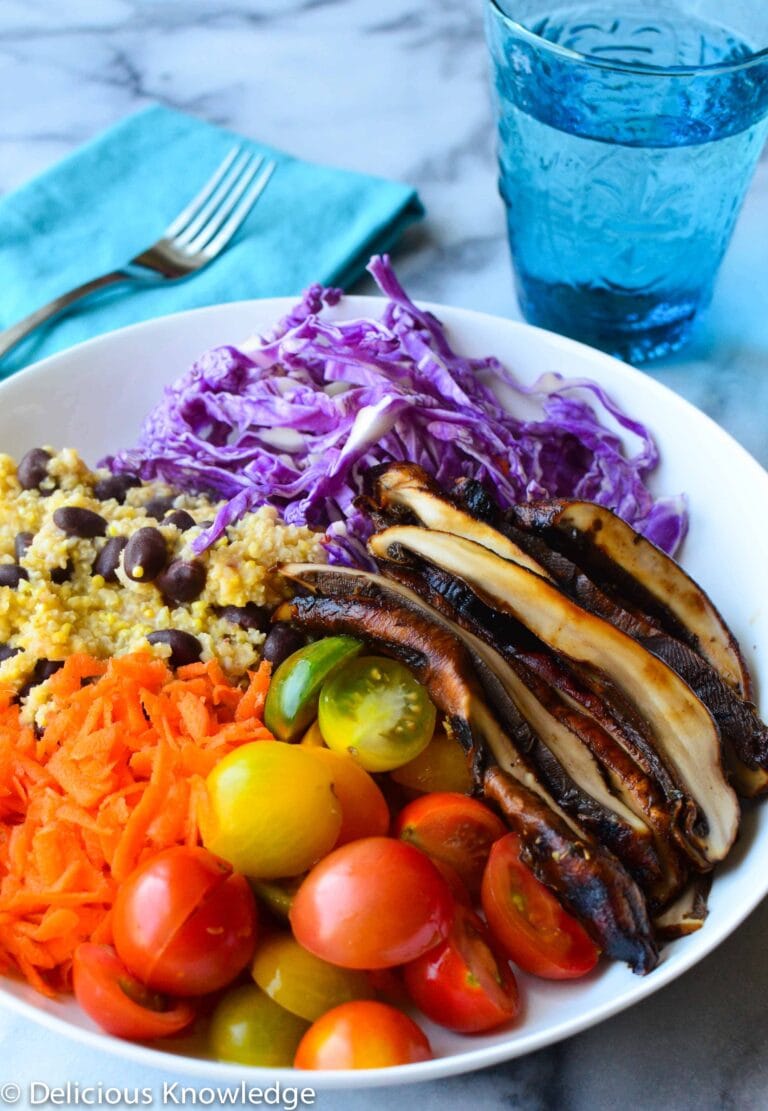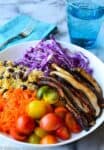 ---
Scale
Ingredients
1/2 cup

millet

2 cup

s water

1

clove garlic, grated

1

can black beans, rinsed and drained

1 cup

carrots, shredded

1 cup

red cabbage, shredded

1 cup

cherry tomatoes, halved
Grilled Portabella Mushrooms: (makes 2)
2

large portabella mushrooms, wiped clean. Leaving the gills is up to you!

1/4 cup

balsamic vinegar

1/8 cup

olive oil

2

cloves garlic, minced

2 tbsp

. soy sauce
Smoky Tahini Sauce:
1/2 cup

tahini paste (look for it in the peanut butter aisle)

1/4 cup

water

1/4 cup

lemon juice

1

clove garlic, minced

1 tsp

. smoked paprika
salt/pepper to taste
---
Instructions
Prepare the millet:
Heat a saucepan over medium heat.
Add the millet and stir often until lightly golden and starts to smell toasty!
Add the water and minced garlic clove, increase the heat to high and bring to a boil.
Reduce heat to low, cover and simmer for 15 minutes.
Remove from heat and fluff with a fork for a few minutes until grains are separated.
Remove millet from pan and mix with rinsed and cooled black beans.
Season to taste with salt/pepper.
For the Grilled Portabellas:
Whisk all ingredients together and spoon over the mushrooms. Let marinade for at least 30 minutes, flipping mushrooms to soak up as much marinade as possible.
Preheat a grill or grill pan to medium-high heat.
Grill for 4-5 minutes each side until juicy and slightly crispy.
Remove and slice into thin strips.
Smoky Tahini Sauce:
Add all ingredients to a small blender or food processor.
Blend until creamy.
Season to taste with salt/pepper.
To prepare the bowl:
Layer in black beans & millet, shredded carrots, shredded cabbage, halved tomatoes, grilled portabella strips. Drizzle with smoky tahini sauce.
---