That color! If you've been looking for a reason to literally eat the rainbow, these bowls are for you. Roasted butternut squash, black bean & cabbage slaw and a quick guacamole. It's everything I love in a burrito bowl, plus extra guacamole, obviously.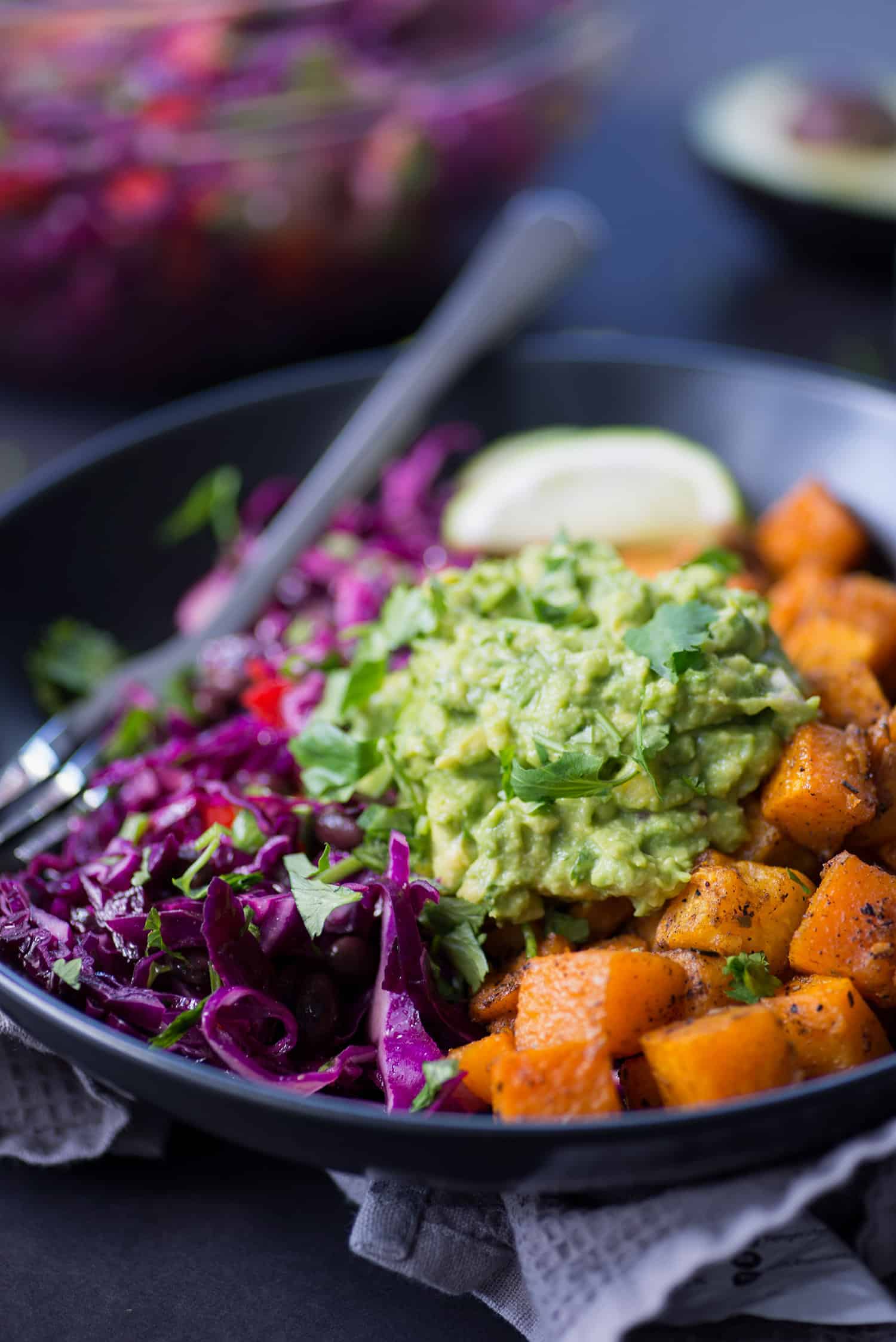 Can I tell you a lazy secret? Butternut squash is one of my favorite vegetables, but I often stare at it for days on the counter in anticipation of the prep. Slicing it, peeling it, cubing it. I know the entire process takes less than 10 minutes, but after a long day, it sometimes seems insurmountable.
So, I cheat. I buy the pre-cubed bags of butternut squash, even though they are double what I would pay for the vegetable itself. And, I'm not even that ashamed. I love how easy it is; willingly forking over $10 for a few pounds of already prepared squash.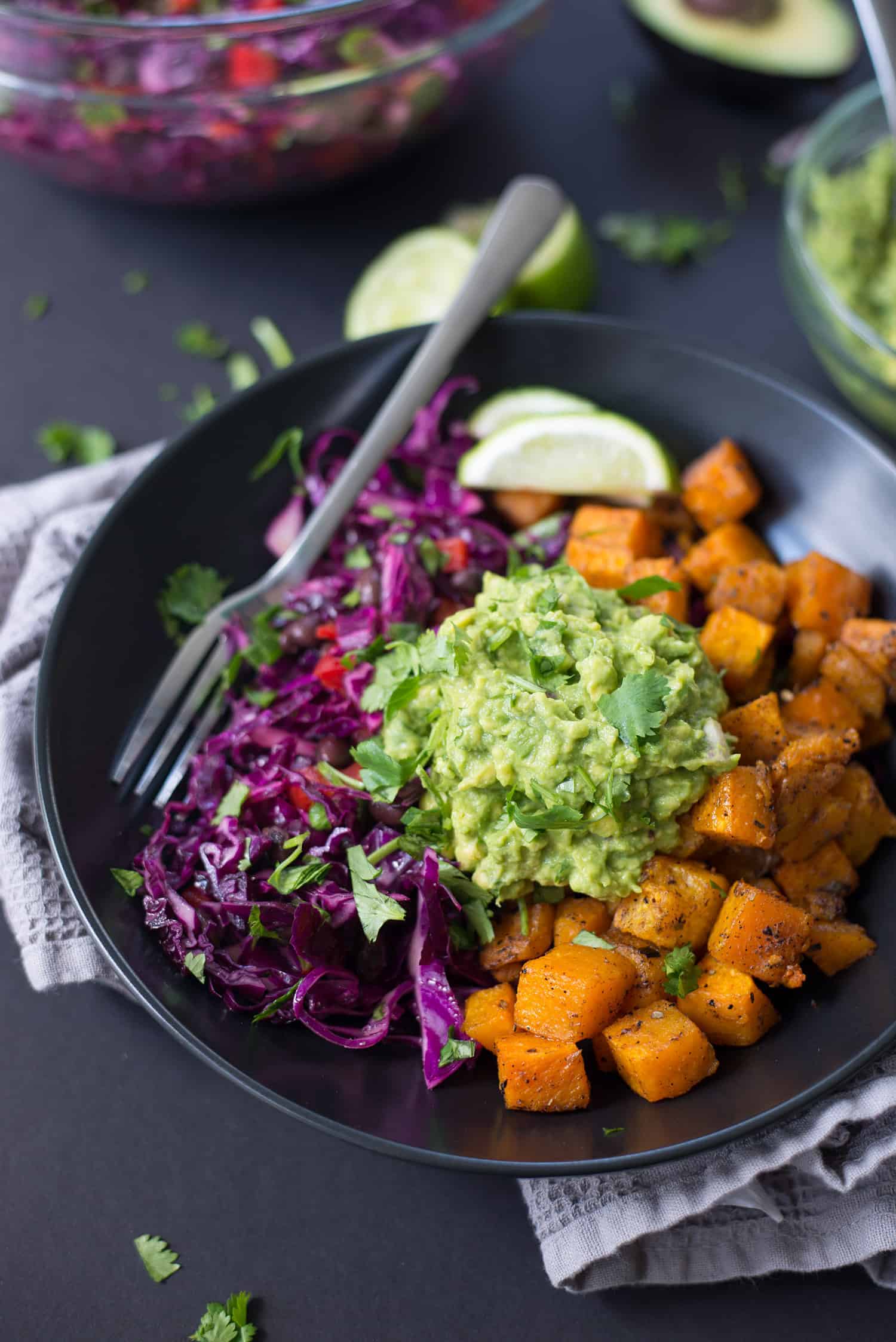 This cabbage slaw is similar to one that I make for black bean tacos. Shredded cabbage, lime juice, cilantro, salt & pepper. It doesn't get any easier than that. Since it works for bean tacos, I figured an actual can of black beans would only enhance the slaw, plus add extra protein to the entire dish.
MY LATEST VIDEOS
Another lazy secret? Sometimes I buy pre-shredded cabbage. So, if we are counting: pre-shredded cabbage, pre-cut butternut squash cubes, canned black-beans. How am I even a food blogger?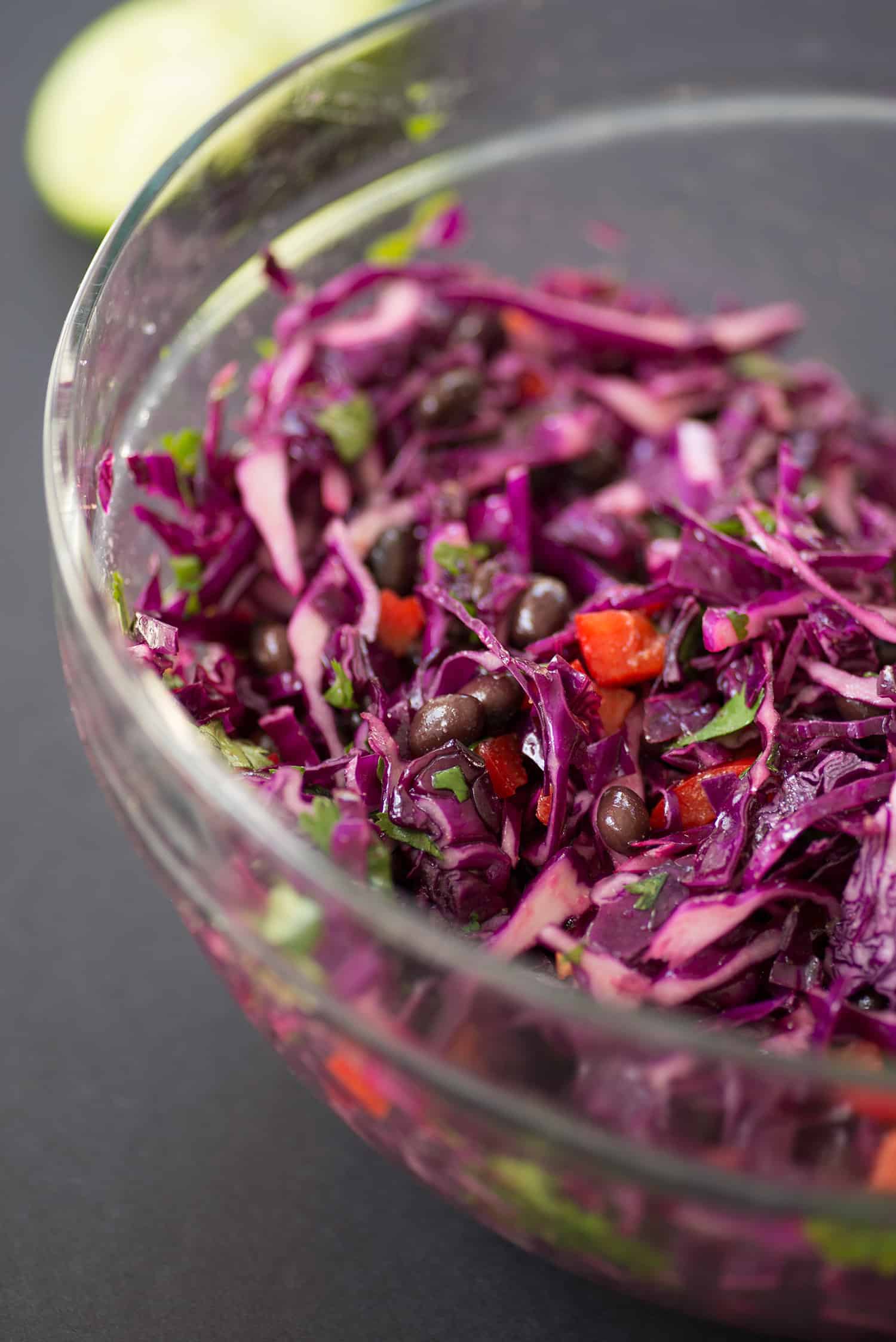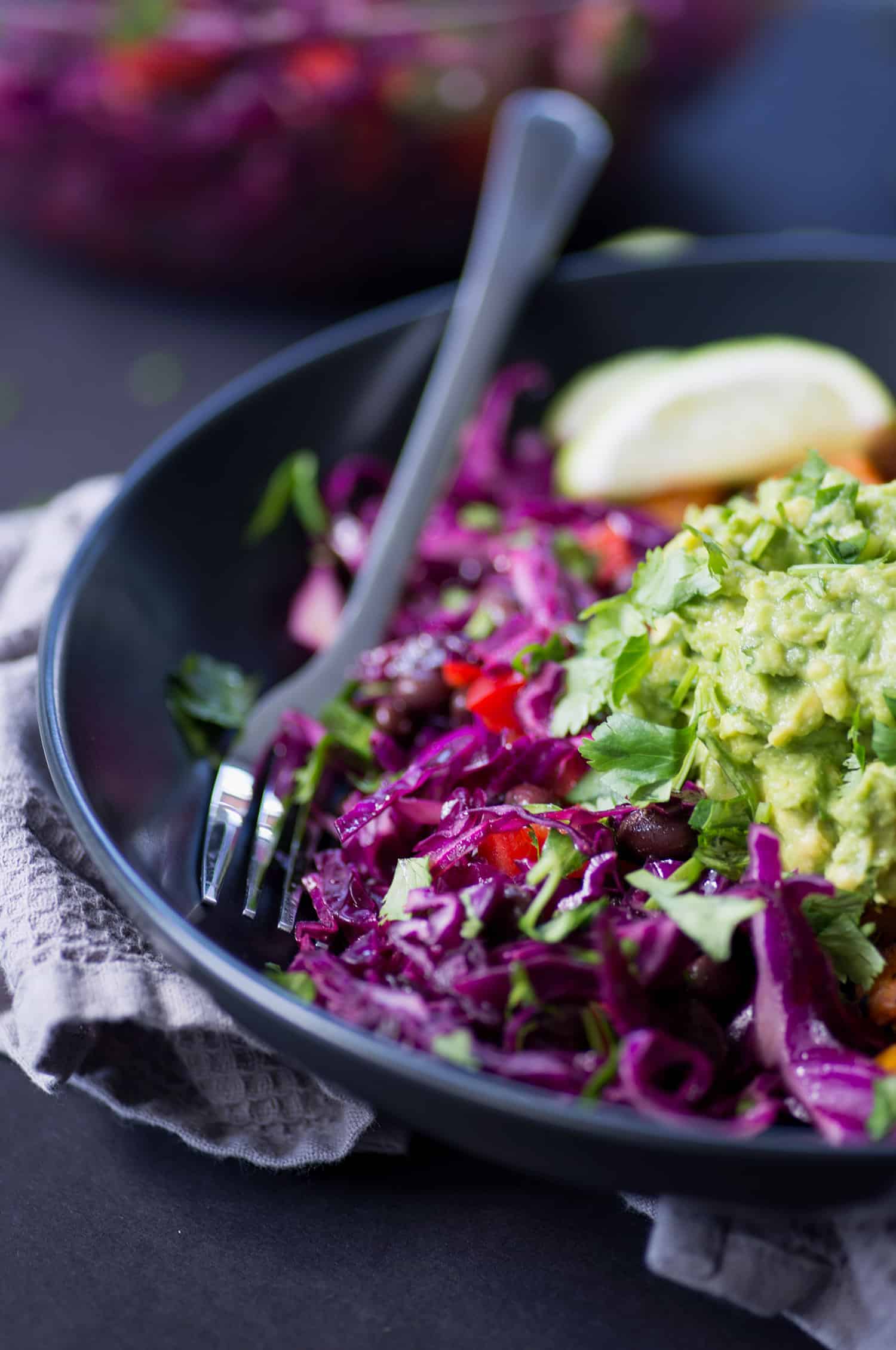 Once place I will never, ever compromise is pre-made guacamole. It's just never as good; you know it, I know it. There's that fake, tangy aftertaste that I just can't get over. But, since everything else about this meal is founded on laziness, the guacamole is too.
Smash an avocado (or five), then sprinkle in a bit of minced red onion, cumin, lime juice and more cilantro. Ratios don't matter that much, just taste as you go, seasoning with more lime, salt, pepper as needed. At least, this is what I do to ensure that I get at least six bites of guacamole before I even sit down to eat.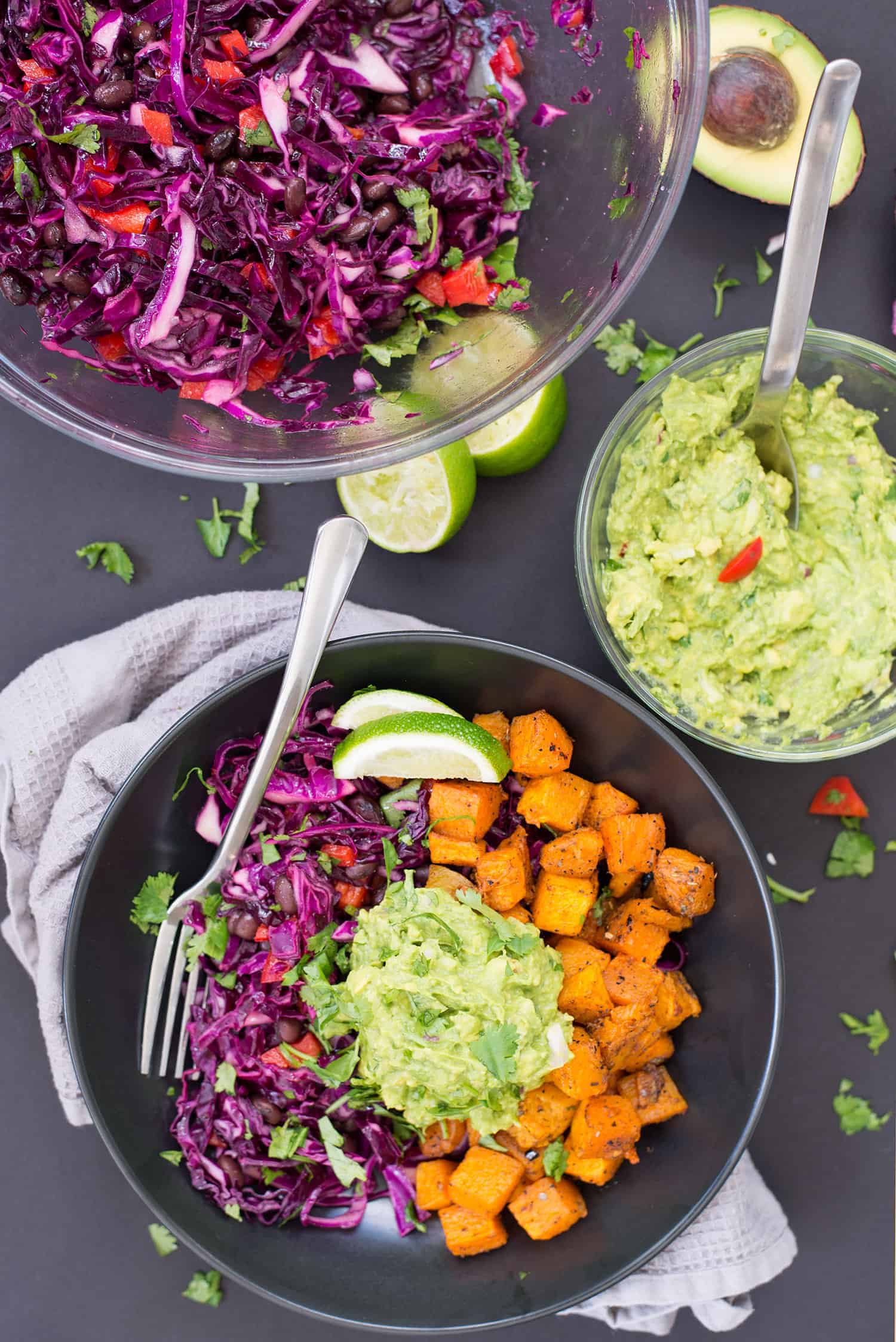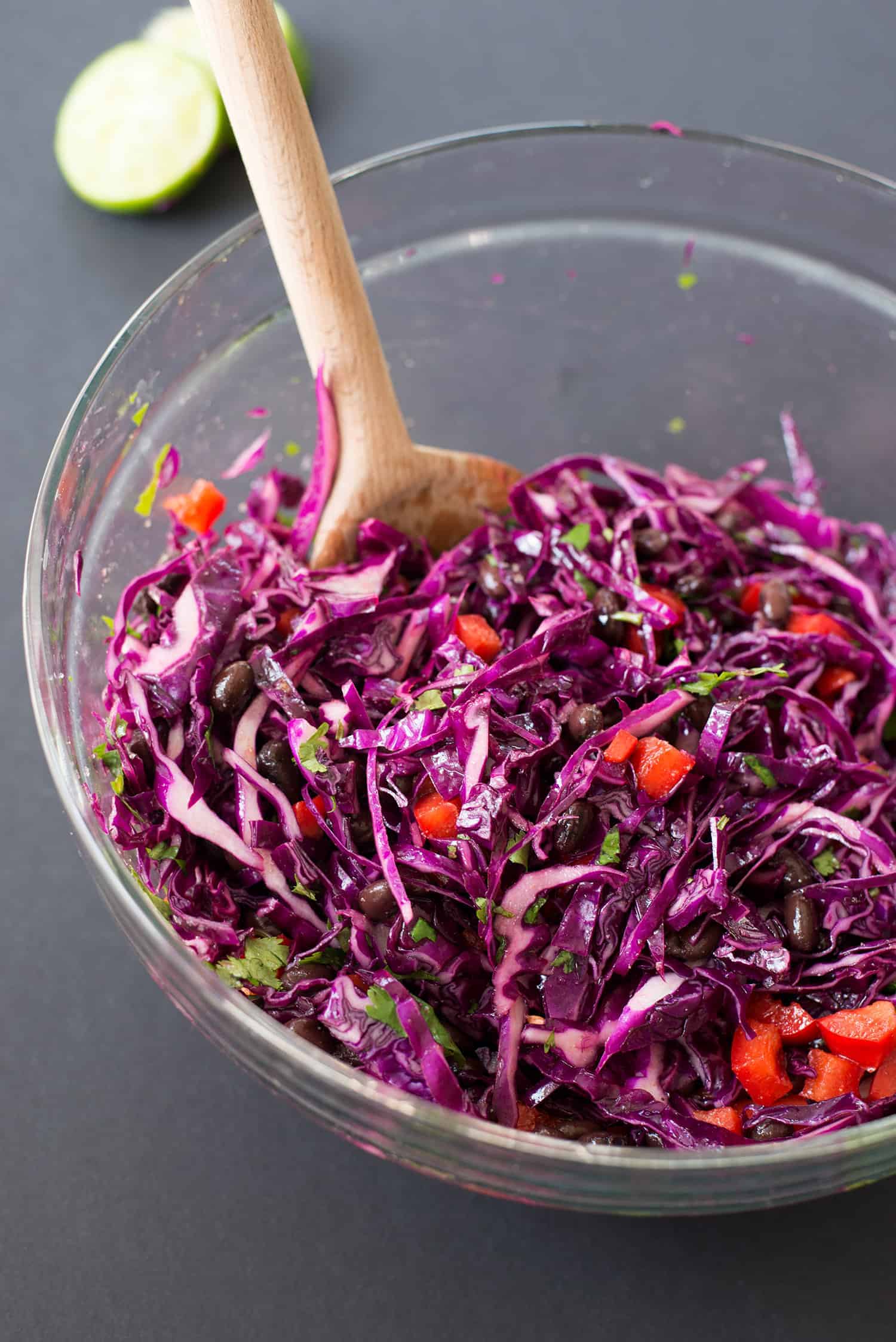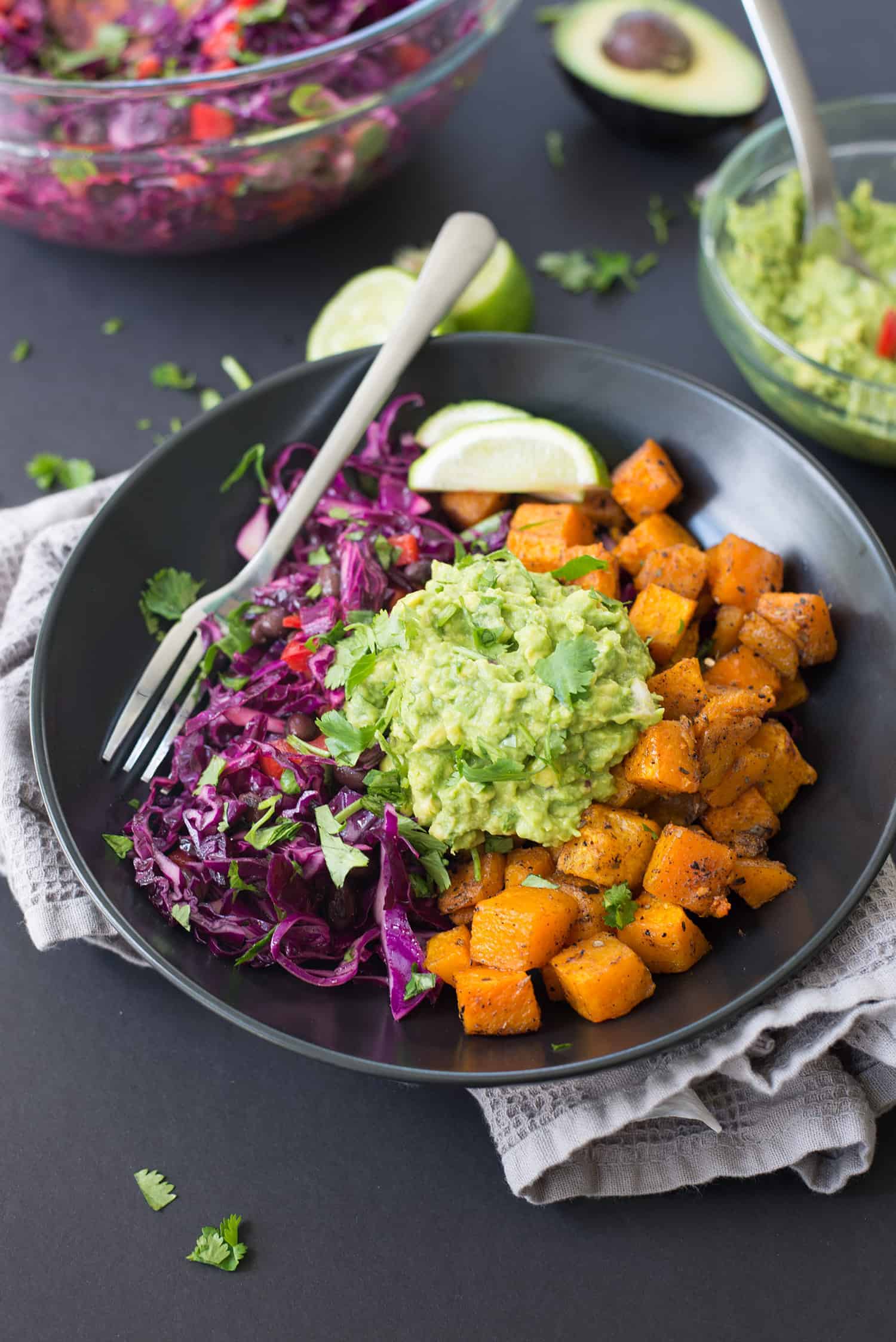 You've gotta make this one. If you do, tag me #delishknowledge on social so I can see it! Then, I'll be inspired to re-make it and we can virtual dine together. Deal?
If you try this recipe, let me know! Leave a comment, rate it, and tag your Instagram photos with #delishknowledge . I absolutely love seeing your creations. Happy cooking! 
Print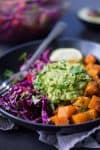 Roasted Butternut Squash Burrito Bowls
Author:

Prep Time:

20 minutes

Cook Time:

30 minutes

Total Time:

50 minutes

Yield:

4 -6 bowls
---
Ingredients
Roasted Butternut Squash
2 lbs. butternut squash cubes
1 tablespoon olive oil
1/4 teaspoon cayenne pepper
1/2 teaspoon smoked paprika
1 teaspoon cumin
1/2 teaspoon oregano
Black Bean Slaw
1 small head cabbage, finely shredded (about 4-5 cups)
1 can black beans, drained and rinsed
1 tablespoon olive oil
1/4 cup fresh squeezed lime juice
1 bell pepper, diced
1/3 cup cilantro leaves, chopped
salt/pepper
Guacamole
2 avocados
1/4 cup cilantro leaves, finely chopped
1/4 cup finely chopped red onion
1 jalapeno, seeded and finely chopped
2 tablespoon fresh lime juice
1/2 teaspoon salt
---
Instructions
Preheat oven to 400 degrees F.
Toss butternut squash cubes with oil, cayenne, smoked paprika, cumin, oregano and pinch salt and pepper.
Place in a single layer on a baking sheet (may need to use two) and roast for 25-30 minutes until tender.
While the squash is cooking, toss together the shredded cabbage, black beans, pepper, cilantro, lime juice and olive oil. Season to taste with salt/pepper. Set aside.
In a separate bowl, mash together avocados, cilantro, red onion, jalapeno, lime juice and salt. Season to taste, if needed.
Assemble the bowls. Layer butternut squash and slaw in a bowl. Top with guacamole.