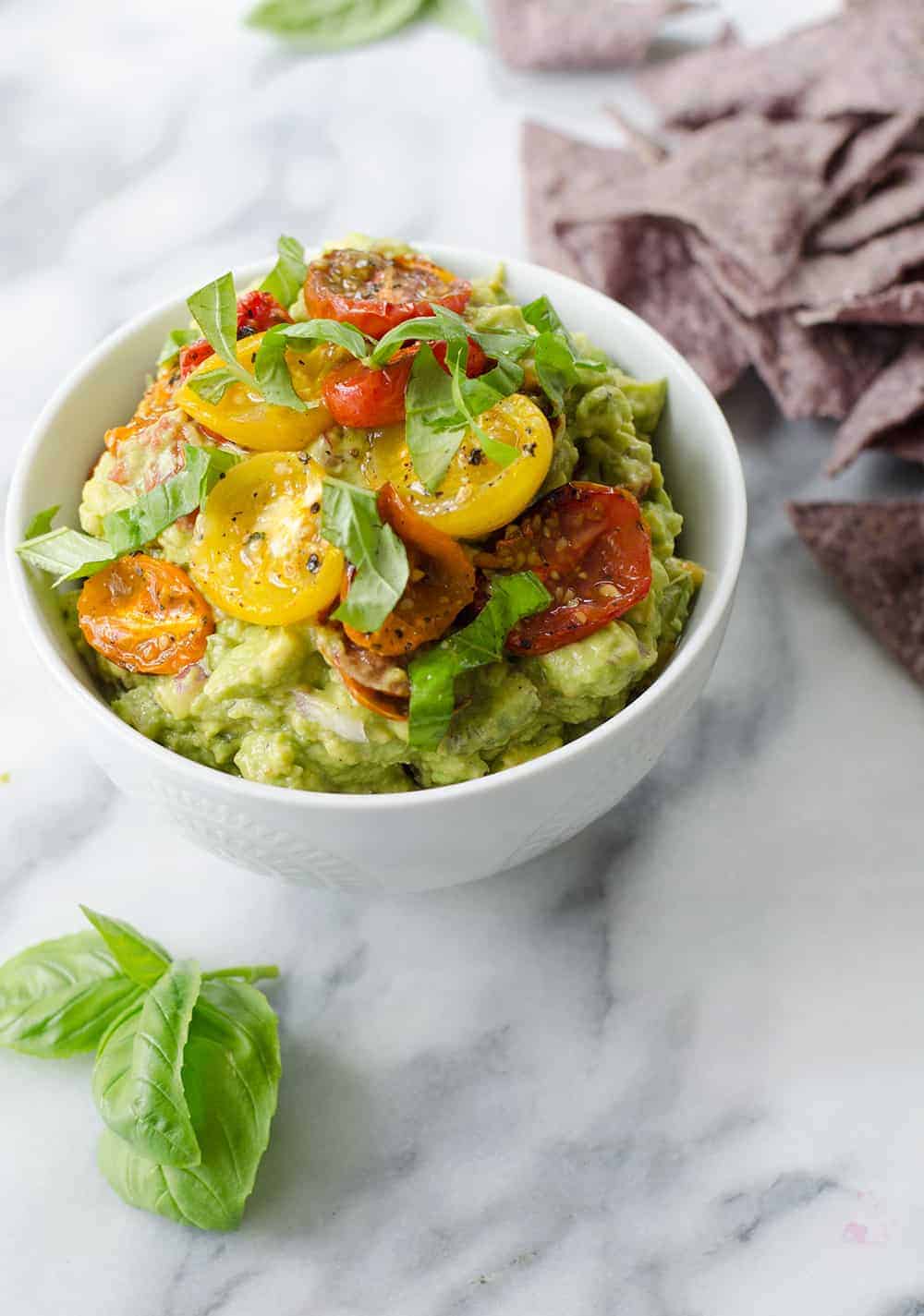 Avocados are my Achille's heel. If I see the words avocado or guacamole on a menu, I'm completely done for. Even if I came into a restaurant with the idea of getting something else, I can never not order the avocado.
My husband, in some cruel Universe joke, can't stand avocados. How!? How does this happen to a person? (And why did it happen to the person I want to spend my life with?) So, while I love, love, love guacamole- I rarely get to order it out. As much as I would gladly face-dive into a giant bowl of freshly prepared restaurant guacamole, I also know that I have zero willpower around such a serving. I don't have any room for vegetable fajitas if guacamole is coming out first.
My guacamole to chip ratio is at least 3:1. And that's being slightly generous to the chip. I want to make sure every surface of my chip is covered in buttery goodness. Because, it's not about the chips. I'm just here for the avocado.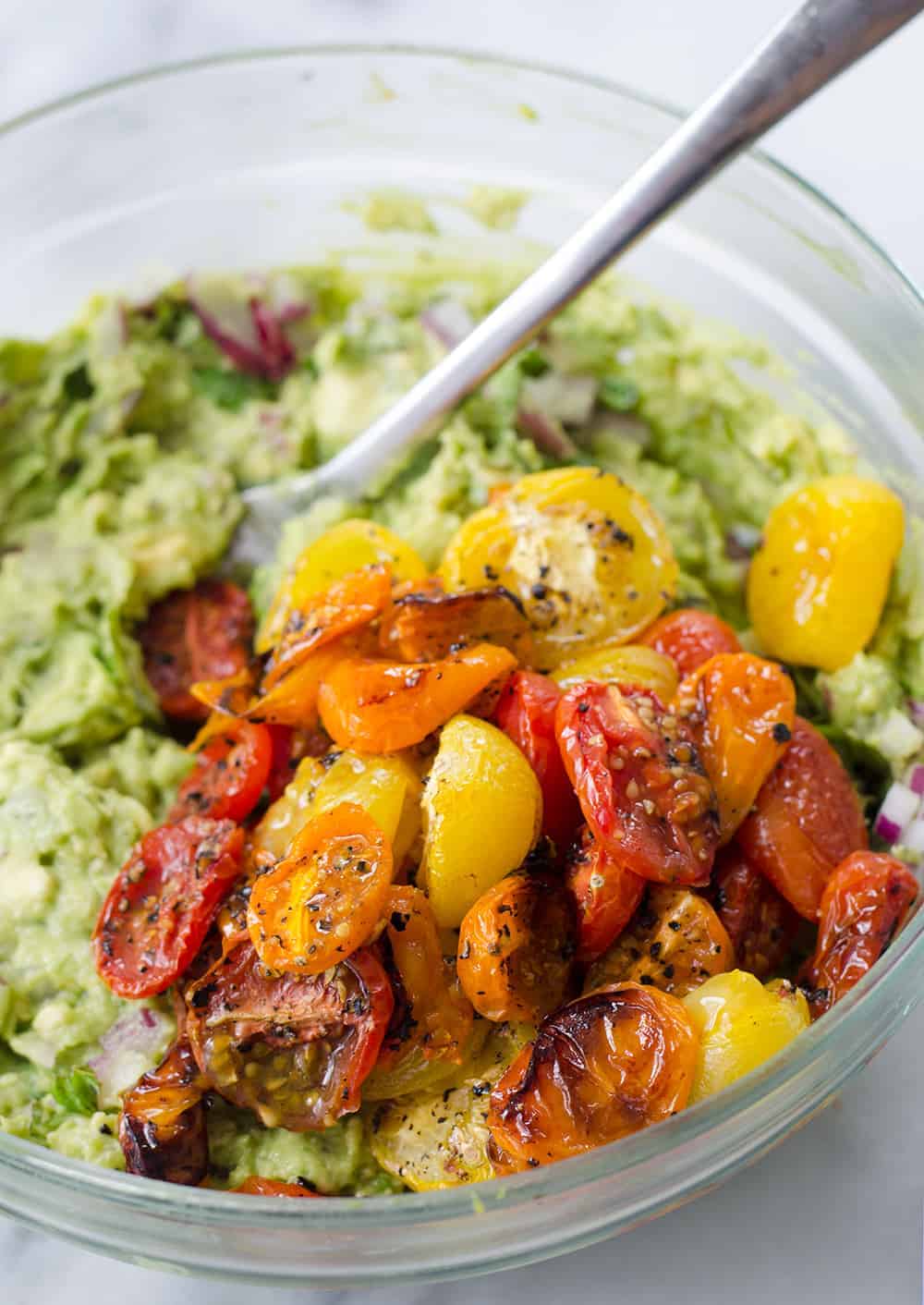 This is also the reason that I will almost always have a giant platter of guacamole ready whenever my girlfriends come to visit. (Things I know for sure —> Guacamole is always better when shared with people you love, especially when paired with fresh fruit margaritas.)
While I really love my classic guacamole recipe, I set out to create an Italian inspired one. Now that my Italian cookbook is thisclose to being released, I feel a strong urge to add an Italian flare to all of my food.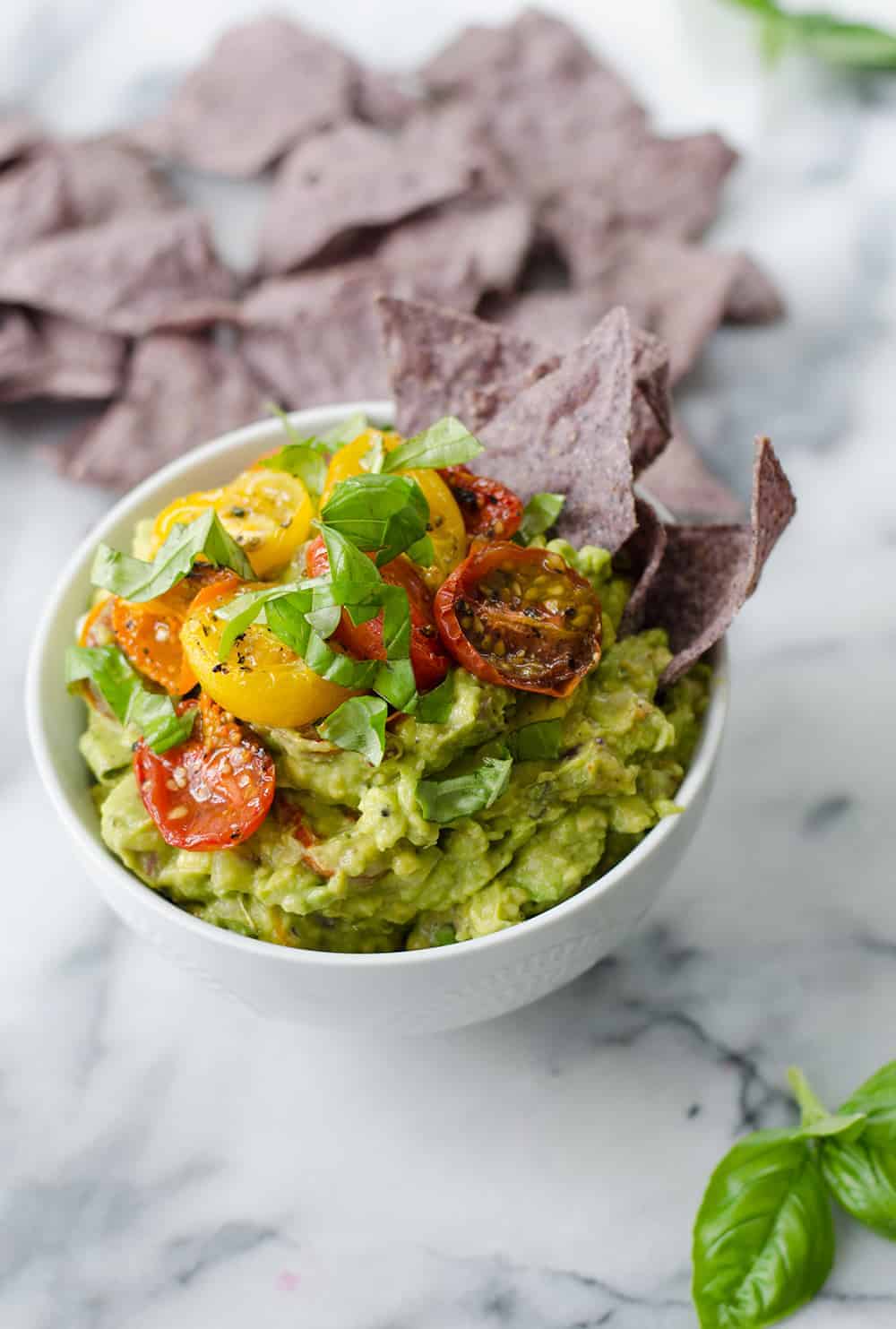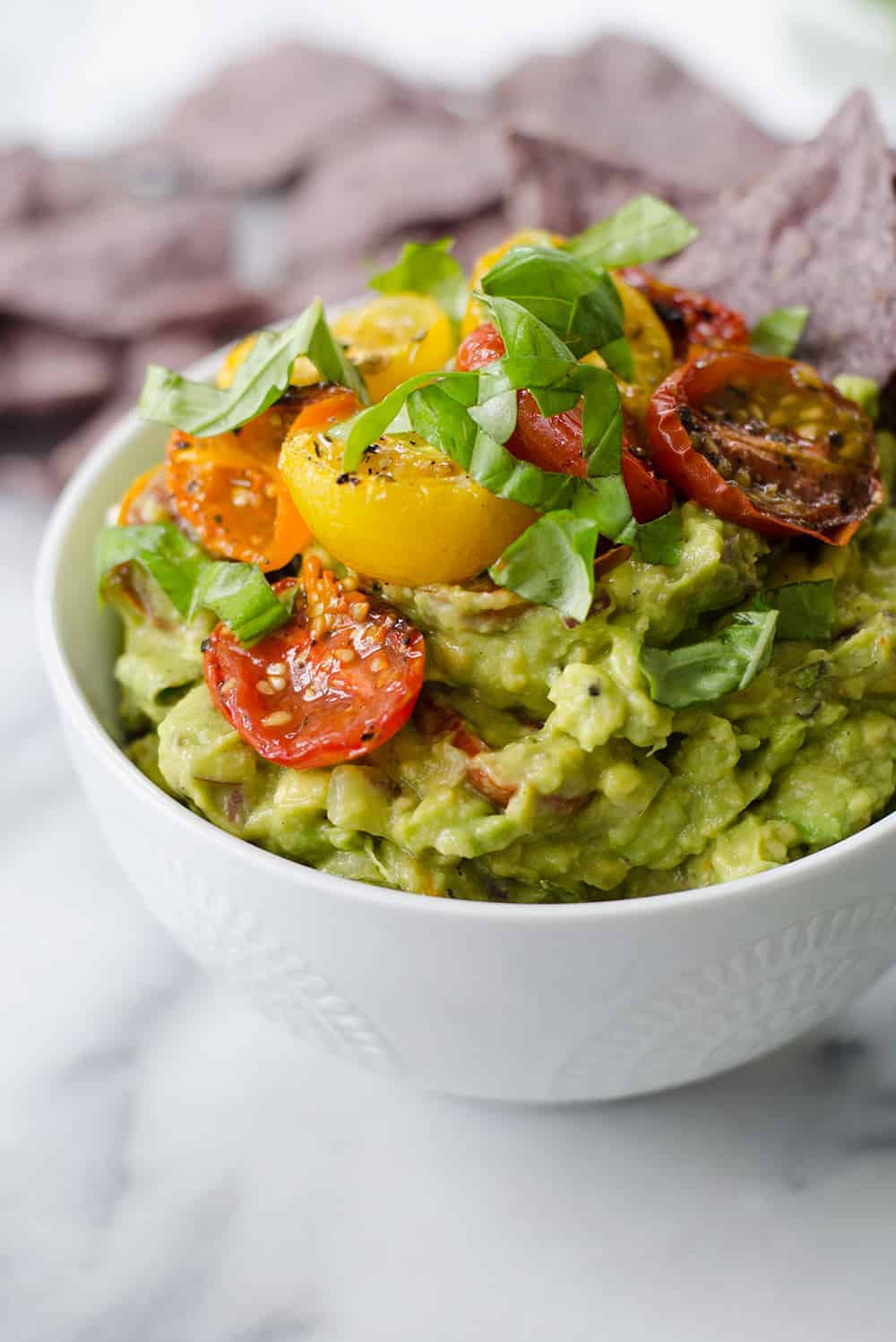 Roasted cherry tomatoes have a very, very special place in my heart. Even though I dislike fresh cherry tomatoes, I cannot get enough of them when they are transformed into tender, caramelized tomato bits. When regular tomatoes become terrible during the winter months, I rely on roasted cherry tomatoes to get me through. I toss these babies on pasta, rice, salads- you name it. So, it was inevitable that they would eventually end up on guacamole.
If the thought of Italian guacamole throws you off a bit, don't let it. I know it sounds a little strange, but think about how good avocados taste in just about everything. Well, it's the same concept here. One thing I've learned in my years of recipe testing is that as much flavor and profile that fresh herbs give a recipe, they are also really easy to substitute. With a few exceptions, I can use basil almost everywhere I would use parsley, cilantro and vise-versa. Plus, my basil plant is thriving and my parsley plant is now at the bottom of our compost pile because I killed it beyond saving. So, there's that.
I know you are going to love this summer-inspired guacamole recipe. One last trick- keep the pit of the avocado in the guacamole platter to help prevent browning. I'm not sure why this works but it does. If there's any of this guacamole left over the next day (but why would there be?) enjoy it spread like avocado toast.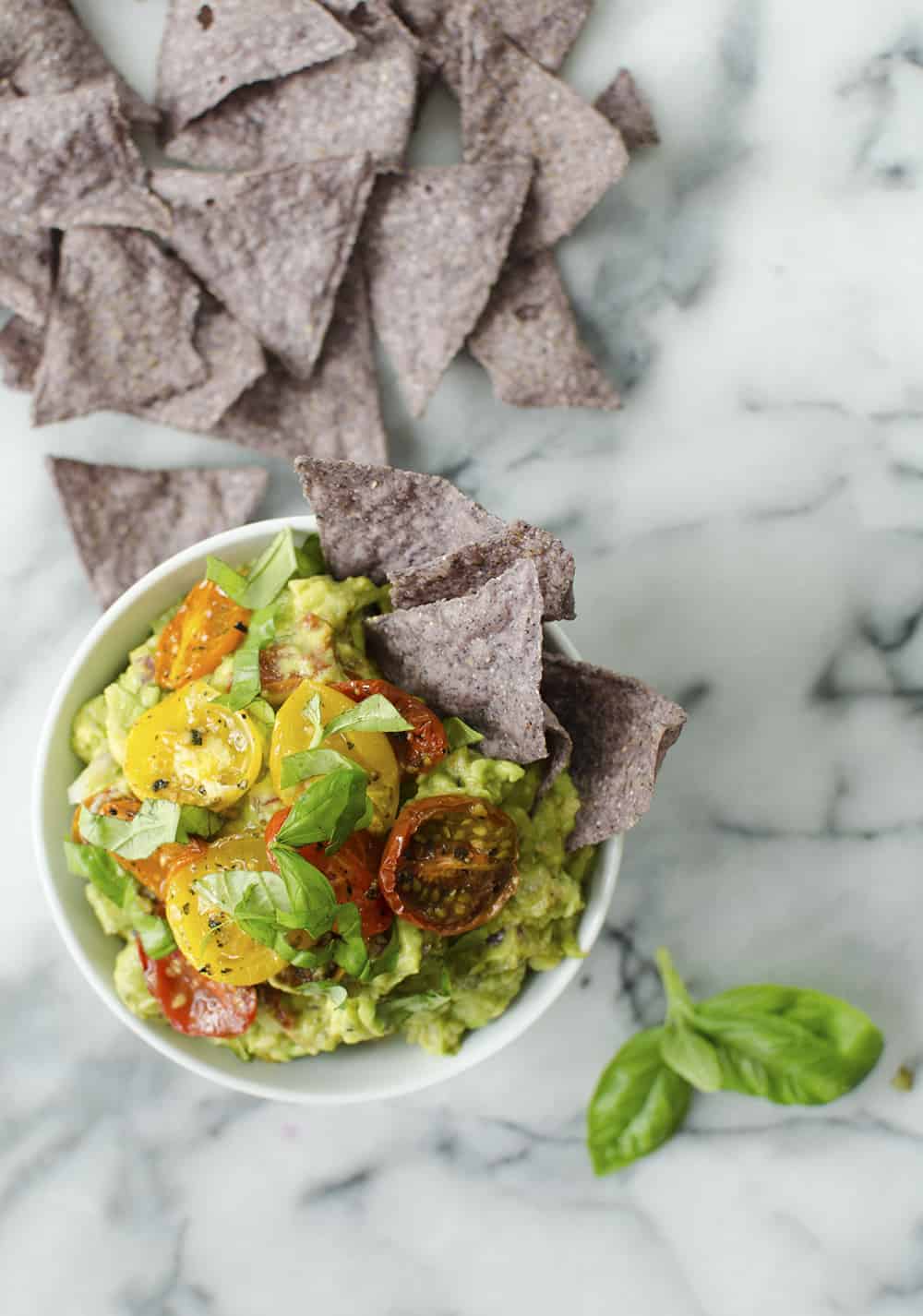 If you try this recipe, let me know! Leave a comment, rate it, and tag your Instagram photos with #delishknowledge . I absolutely love seeing your creations. Happy cooking! 
Print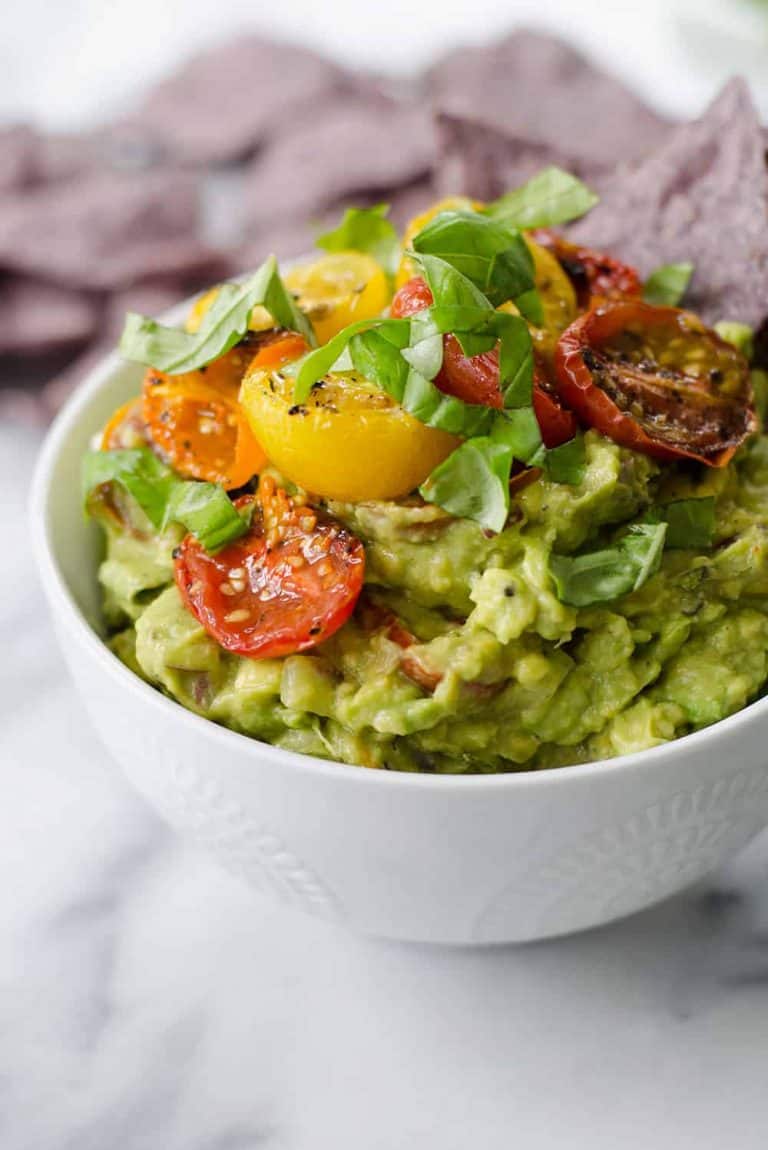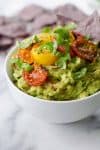 Roasted Tomato Guacamole
Author:

Prep Time:

15 minutes

Cook Time:

15 minutes

Total Time:

30 minutes

Yield:

~3 cups

Category:

appetizer, glutenfree, guacamole, vegan
---
Description
Roasted Tomato Guacamole! The perfect dip for summer or to spread on avocado toast. Vegan & Gluten-Free.
---
Scale
Ingredients
2 cup

s cherry tomatoes, halved (I used an assortment of baby heirloom tomatoes from Trader Joe's)

1 teaspoon

olive oil
salt/freshly ground pepper

4

large, ripe avocados

1/4 cup

finely chopped red onion

1

garlic clove, minced

1

lemon, juiced

1/2 cup

finely chopped basil
---
Instructions
Preheat the oven to 425 degrees F.
Toss the halved tomatoes with olive oil and a generous pinch of salt and pepper.
Place tomatoes in a single layer on a baking sheet and roast for 15-20 minutes until the soft. (Depending on the size of your tomatoes, it may take less time- check on them around 10 minutes)
Remove tomatoes from oven and let cool completely.
Halve and pit the avocados, then place in a large bowl along with the red onion, garlic clove, lemon juice and pinch of salt and pepper. Using a fork or potato masher, gently mash the ingredients together, leaving a few chunks of avocado.
Add in the basil and 1/3 of the roasted tomatoes and gently fold together.
Spread the guacamole onto a platter or dish and top with the rest of the roasted tomatoes. Serve with vegetables, tortilla chips, pita chips or slathered on bread for yummy guacamole toast.
---