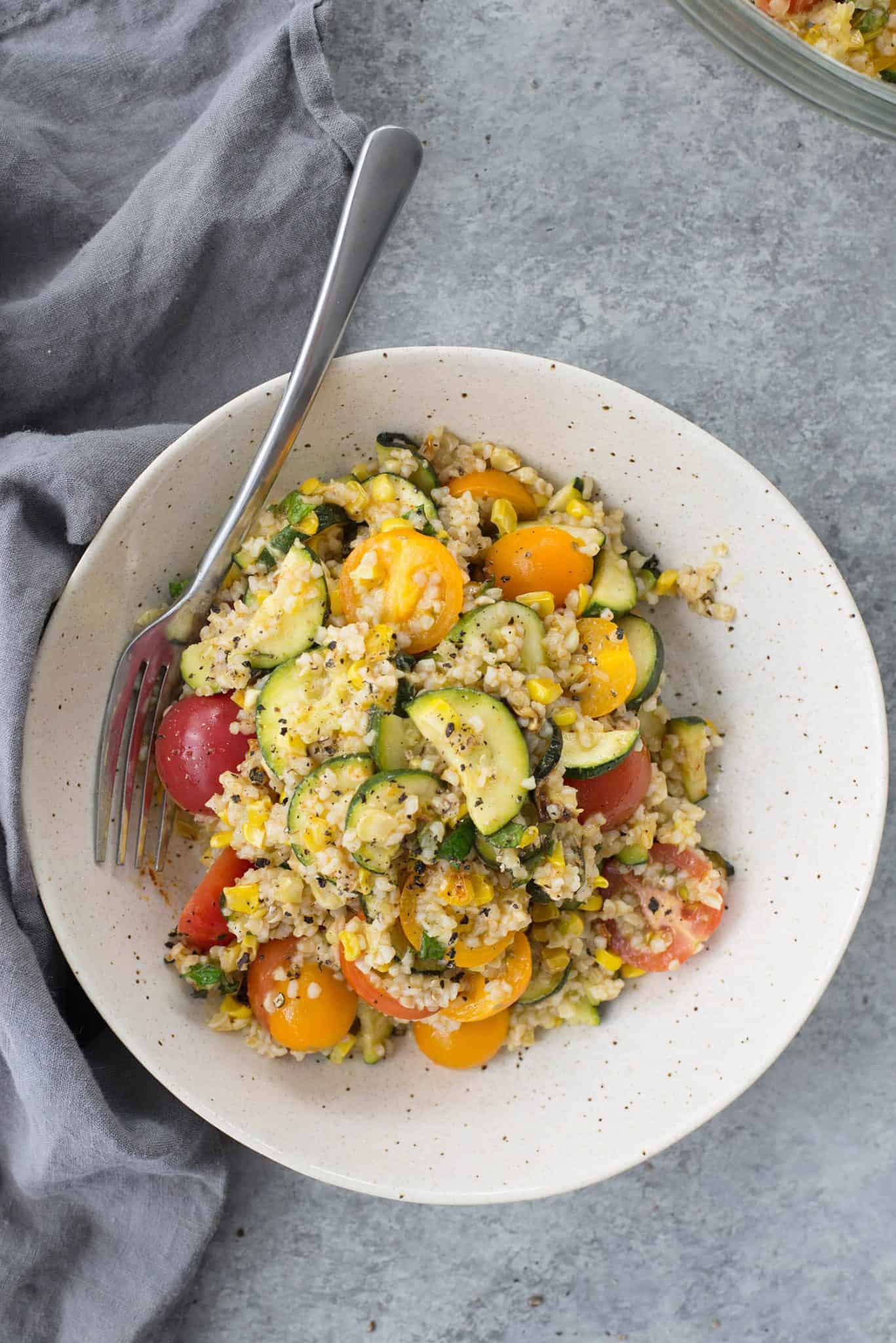 Let's eat summer! Which is exactly what I feel like saying most nights for dinner.
I feel a little bad that I've been slacking on traditional 'recipe' posts. To be honest, my notebook is filled with ideas, thoughts and inspiration from our recent travels. Things I'm so excited to make and experiment with, especially now that we are in the height of summer produce. I promise, my intentions are there.
But then I get into the kitchen and don't feel like doing much. Simple (…some might call it #basic) wins out and my innovative recipe daydreams turn into another grain bowl or salad. I can't decide yet if this is a good thing or a bad thing.
I know many of you appreciate my unfussy approach to food. The recipes I post here come directly out of my kitchen. If I wouldn't serve it to my family, I won't serve it to you. I love that you understand how good food doesn't need to be complicated; it just needs to taste delicious. Really, that's all I want. To showcase that whole-food, mostly plant-based, can be incredibly yummy and nourishing.
MY LATEST VIDEOS
But there's always that twinge of needing to push the envelope. To stretch my ability as a recipe developer and provide constant inspiration to you as well. So, forgive me for not balancing that act as much as I'd like.
I've got a lot more salads and simple summer meals coming down the pipeline. They aren't fancy and they likely won't win any recipe awards, but they are real. And they are perfect for this glorious Farmer's Market season that we are in now. Grab a ton of produce, fuss it up just a little and serve. That probably will be my motto from now until September.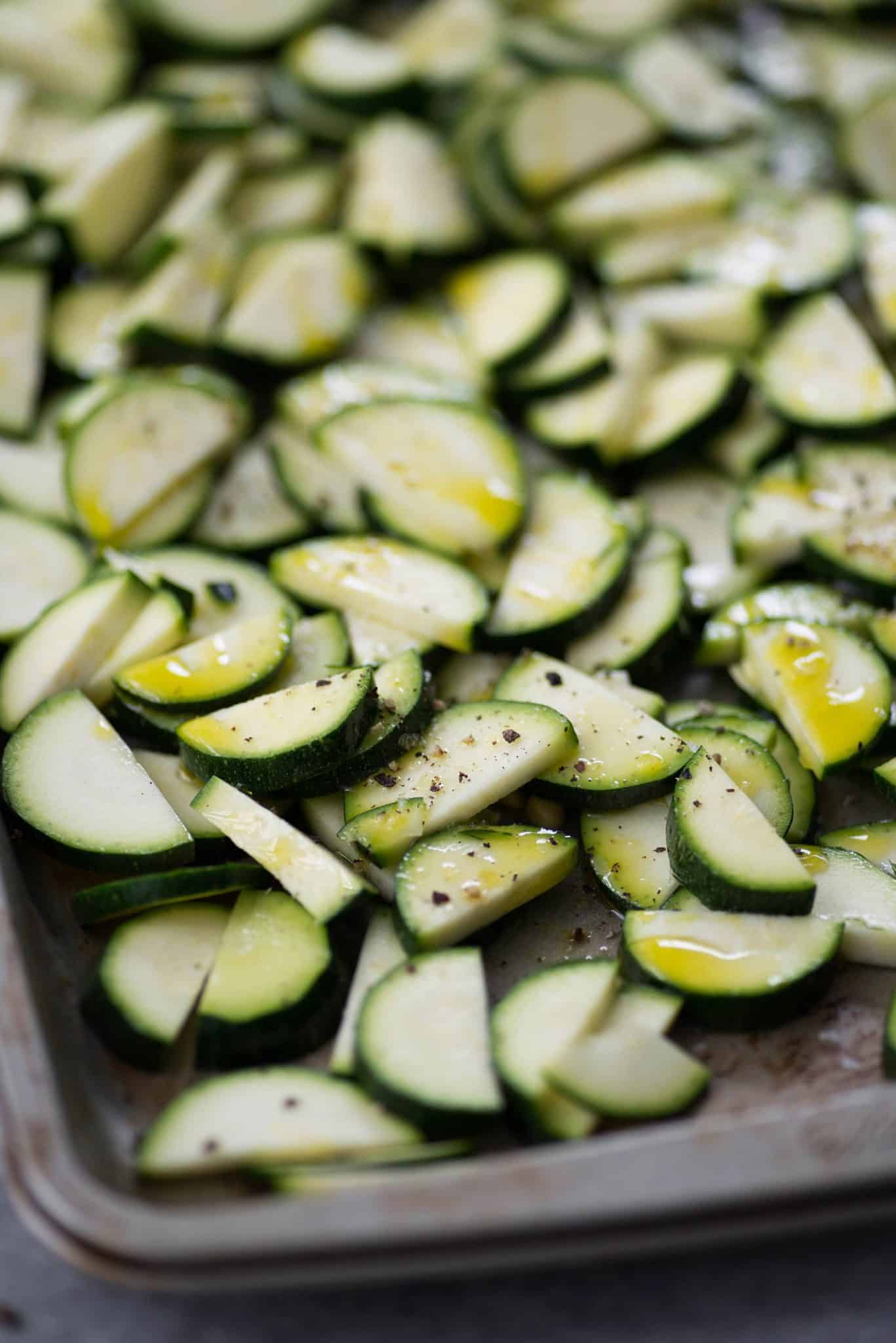 I've mentioned before how much I like roasted produce that I even bore myself. So, if you're already on the roasting-vegetable train, you understand.
However, it's worth repeating for the 87,000 time for those of you who aren't. If you don't think you love zucchini, try it this way. Roasting is king when it comes to preparing most vegetables (and fruits!)
Drizzle on some olive oil, throw in a single layer on a baking sheet and cook until perfectly tender and slightly caramelized. I could eat an entire tray all be myself. Sometimes I do. Which perfectly sums up what I meant in the beginning of this story by declaring that we should eat summer. Roast some vegetables, slice up some fruit and call it a day. It's too pretty outside to be standing in a hot kitchen.
When produce is this yummy, you don't need to do much.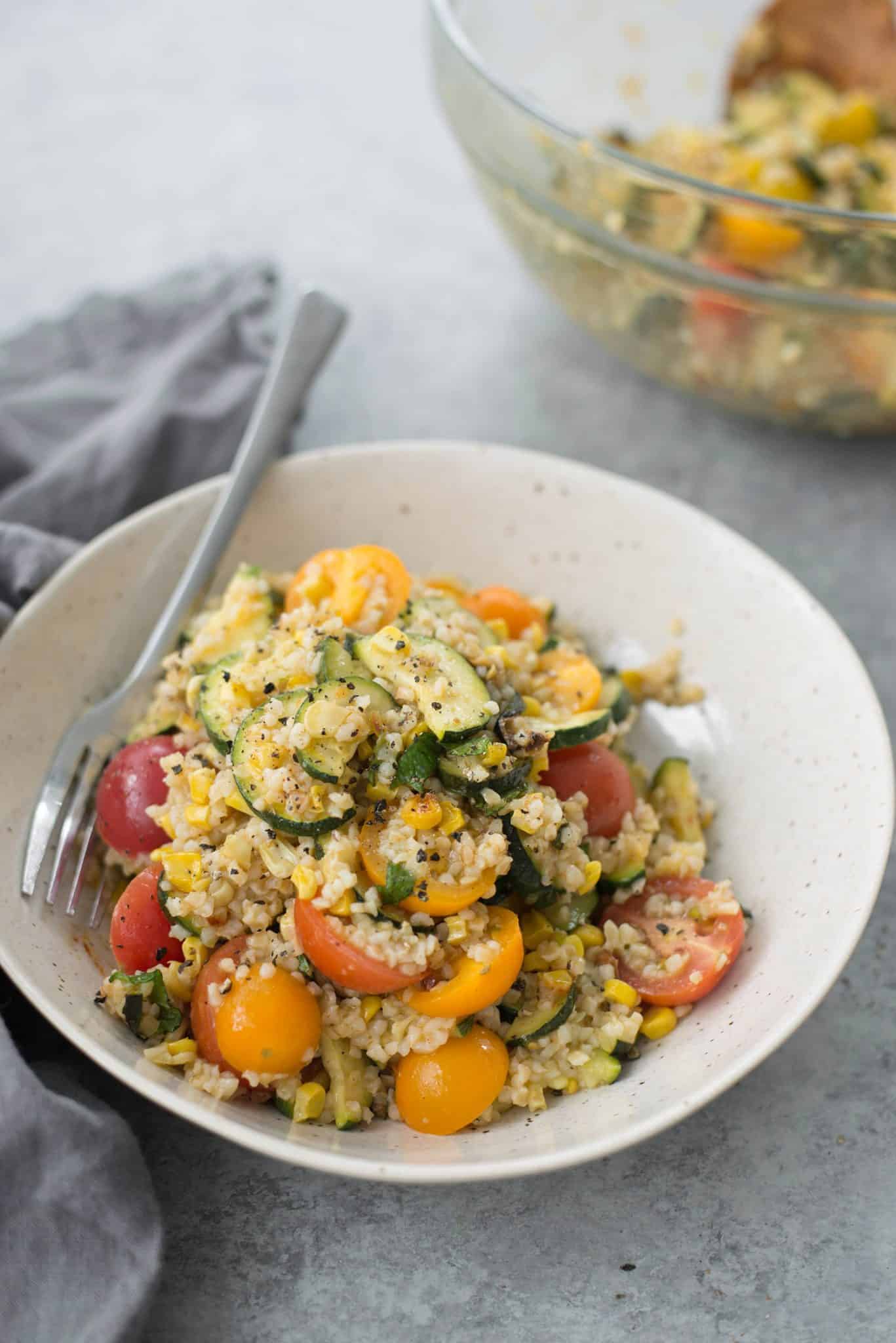 From there, we follow the rule, if it grows together, it goes together. 
Fresh corn? Yes. Halved heirloom tomatoes? Yassss. We make it a meal by adding in cooked bulgur wheat, my nod to a favorite dish this time of year, tabbouleh.
The dressing is nothing more than good quality olive oil, lemon juice and smoked paprika. With fresh mint thrown in for good measure. Toss that all together and you've got the perfect, produce-rich salad to take with you anywhere you are headed this time of year. It works for potlucks, vacations, cookouts, you name it.
Thankfully, it also works for lazy Monday nights when you don't feel like doing much but letting summer produce shine.
Shine on.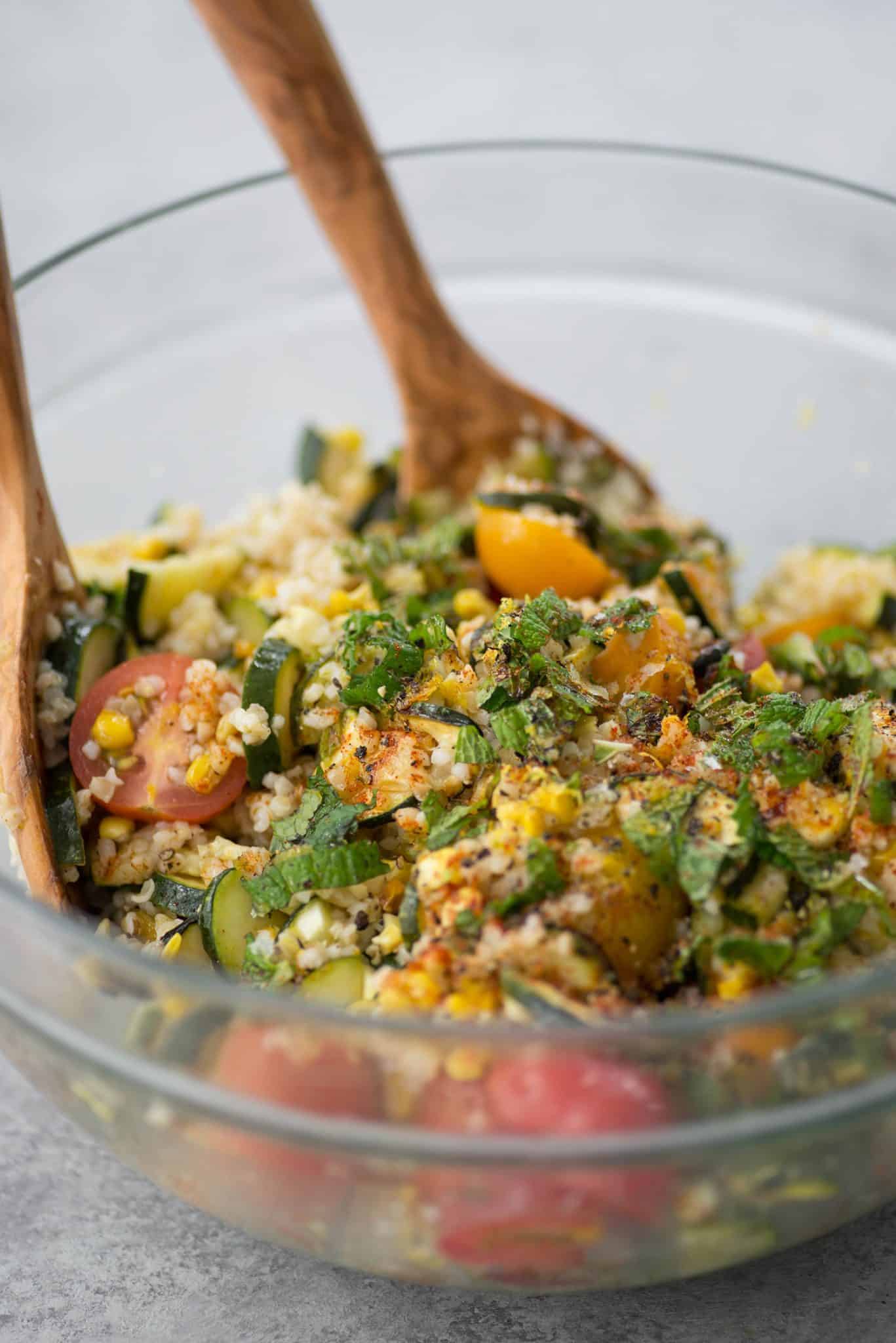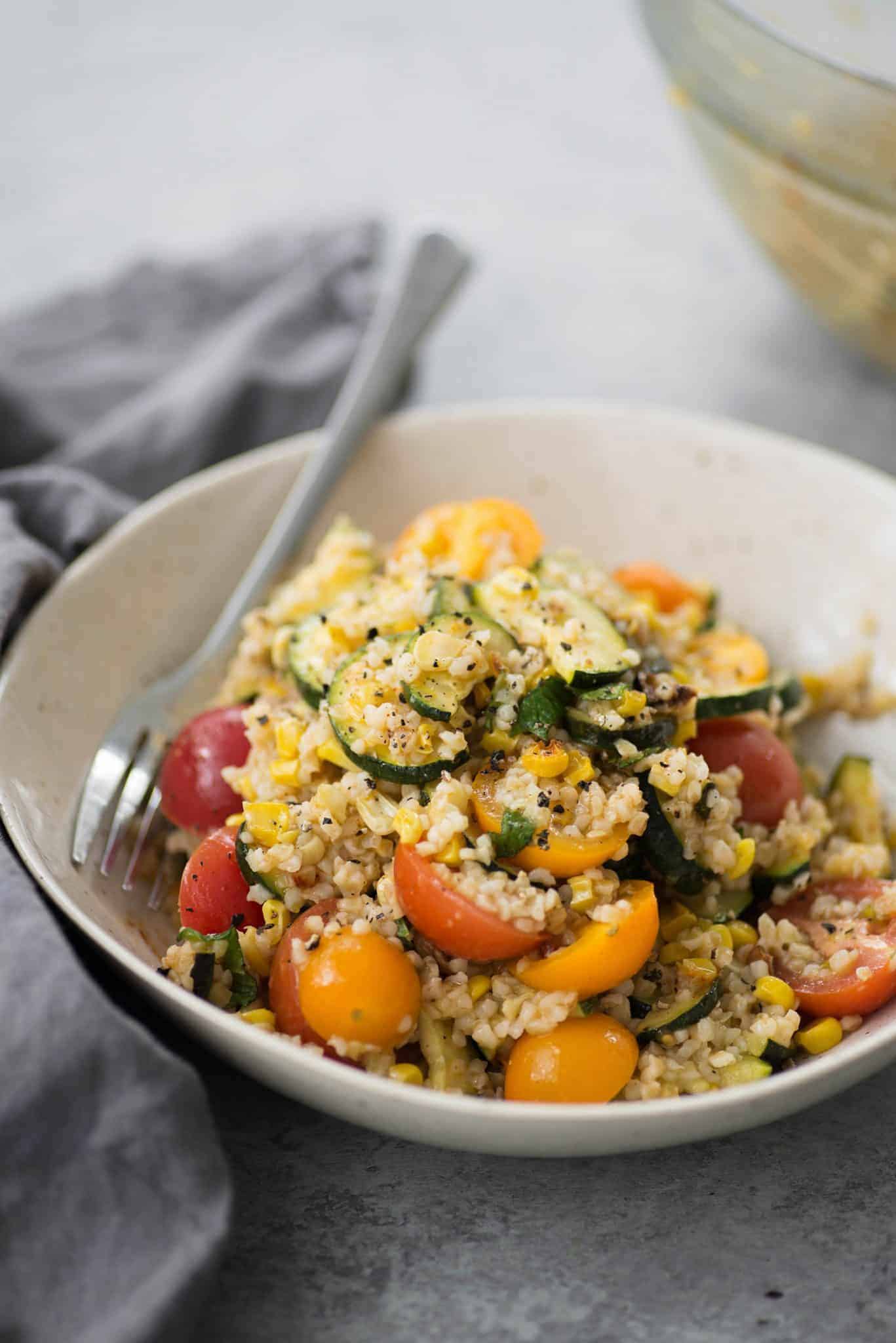 If you try this recipe, let me know! Leave a comment, rate it, and tag your Instagram photos with #delishknowledge . I absolutely love seeing your creations. Happy cooking! 
Print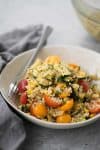 Roasted Zucchini, Corn and Bulgur Salad
---
Description
Roasted Zucchini, Corn and Bulgur Salad with Lemon Dressing. This healthy side dish is perfect for summer, potlucks and cookouts. Vegan. 
---
Scale
Ingredients
1 cup

bulgur wheat

3

ears fresh corn, shucked and kernels removed

4

medium zucchini, sliced

1/4 cup

plus 1 tablespoon olive oil, divided

1 cup

cherry tomatoes, halved (I love the heirloom variety from Trader Joe's)

1

lemon, zest and juice

3 tablespoon

s fresh mint, chopped 

1/8 teaspoon

smoked paprika 

1/2 teaspoon

salt (or more, depending on taste)

1/2 teaspoon

freshly ground black pepper 
---
Instructions
Place bulgur wheat and 2 cups water in a medium size pot and bring to a boil. Reduce heat to low, cover and simmer until bulgur is tender and cooked through. Remove from heat and cool. 
Preheat the oven to 425 degrees F. Toss the corn kernels with 1/2 tablespoon olive oil and a pinch of salt and pepper, then place in a single layer on a baking sheet. Toss the sliced zucchini with remaining 1/2 tablespoon olive oil and a pinch of salt and pepper, then place in a single layer on a baking sheet. Roast until tender, 20-25 minutes. 
Place the cooked bulgur, roasted zucchini and corn in a large bowl. Add in the halved cherry tomatoes, olive oil, lemon zest, juice, mint, paprika and salt and pepper. Toss well until combined, season to taste as needed. 
Serve immediately or keep at room temperature until ready to serve.