Wow. I can't believe that we are already into the third trimester.  I feel like I've been pregnant forever and yet, at the same time, stunned that our baby will likely be here in less than 12 weeks.
While not all parts of pregnancy have been glamorous, I've started to really love the processes. I love looking down at my bulging belly and feeling the little kicks. Overall, I'm in awe of the changes my body has gone through to get me to this point. I'm not sure if I'll be able to experience this again, so I'm conscious of being as present as possible for every exciting (and not-so-exciting) moment.
Now that the third trimester is upon us, I'm finally feeling OK and certain that this baby is ours. Things are OK, this baby is OK, you are OK. I'm sure all soon-to-be parents feel this way, especially those who've experienced a loss.
And sure, there's always that twinge of doubt, with every cramp, every sudden move, every hour that you aren't quite sure if you've felt the baby move. While my heart trusts that this baby is as safe as can be, my mind will occasionally race with worry.
MY LATEST VIDEOS
For the first trimester, I wrapped myself in a self-care cocoon. I basically stopped working out, took almost daily naps and frankly did as little as possible. Looking back, I think it was my way of protecting myself, this baby, our future. My way of making sure that if I felt protected, safe and less stressed, then it would too.
But, here we are. 28 weeks in and I'm ready to celebrate, without fear of anything backfiring. To be as present as I can, while trying to turn my anxiety and worry down. Some days are trickier than others. I've called my midwife several times for a last minute appointment, just to check. I'm assured that this is normal, especially for first time parents and I find some comfort in that. Let the lifetime of worry begin.
And…
We're having a boy!
A boy! Which, coming from a family of all girls makes me over-the-moon-excited and a little nervous at the same time. There are so many things that I can't wait to learn together. So many experiences that will be completely foreign to me; I'm overjoyed thinking about all of the adventures we get to share together.
We decided to get the advance blood test at week 10, which told us his gender along with risk status for multiple chromosomal abnormalities. Because of our history, I don't think there was any way I couldn't do this test. No matter the outcome, I needed to know. I do better with knowing, with facts, with hard numbers.
Getting the news that we were low-risk for everything was such an emotional moment. I can't remember the last time I cried that hard, in complete relief. I don't know what I was expecting but getting the news that our baby was healthy and that it was a boy, it was like all my walls came down at once.
Second Trimester Thoughts
We painted his nursery a few weeks ago, a plain grey that's cohesive with the rest of the house. I asked BL to paint a few contrasting triangles on one wall, to resemble an abstract mountain range of sorts and that's about as far as we've gotten.
I keep waiting for nesting to kick in, but so far it seems like I've missed that part of pregnancy. Please, nesting. Come for me. My house is a complete disaster, our guest room scattered with hand-me-down clothes and gifts we've received and I need a big push to put everything together. Thankfully, my family arrives next week and I know I'll be able to put them to work on these items. My mom and my sister are organizing/cleaning maniacs- a gene that I definitely did not inherit.
My friend Christina's advice to me was to buy what you need, when you need it. Which, seems like common sense, but goes against most of the recommendations we've received. So, I think that's going to be our play. We've stocked up on some clothes thanks to friends and my ThredUp obsession, along with the essentials that we know we'll need: cloth diapers (please tell me your experience with these!), blankets, a rock and play and a carseat. Any other essentials for those first few weeks?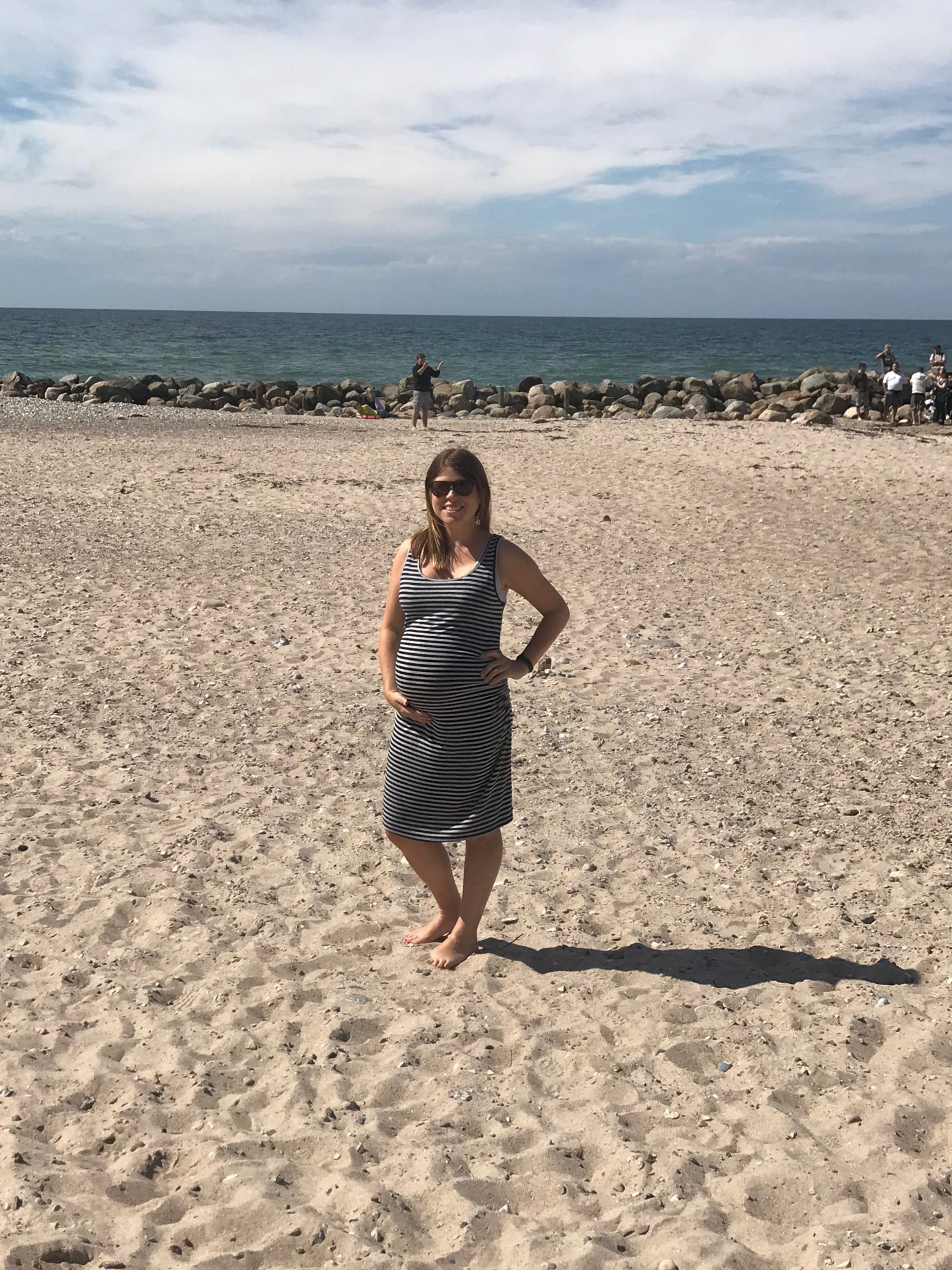 Overall, I've loved the second trimester. After feeling so exhausted and sick for the first twelve weeks, I'm impressed with how good I feel. We had an ambitious May and June and I'm happy to report that while I took more breaks than normal, it was relatively easy to travel back-to-back for almost two months straight. I spoke at two different conferences,went abroad twice, headed west for a wedding, swung by LA for an upcoming project, visited my in-laws in Wisconsin, enjoyed a beach weekend with my best friend and am currently spending some time back in Virginia with family and friends.
Having a due-date really helps put things in perspective. I'm trying to work smarter, enjoy as much quality time with BL and others as I can and cross a few things off the bucket list.
I'm mostly back to my normal work-out routine, though it's a lot harder than I imagined it to be. My friends who are able to still run at 7 months, I'm beyond impressed and also don't know how. It's a workout for me to just walk a few miles, let alone jogging. Thank goodness for my fit-bit; I've challenged myself to get in least 10,000 steps a day which doesn't seem like a lot, but has been a good milestone to reach.
I signed up for barre classes and while I liked them before I was pregnant, I didn't really enjoy them being so large. I found that I was unable to do most of the class without modifications and would rather spend my time doing exercises that I really enjoy.
I'm still teaching yoga and a weekly spin class and signed up for prenatal yoga classes that start next week. I don't know how long I'll be able to teach, but I'm hoping that this good-feeling last as long as possible.
If you've made it this far, thanks for reading. I wasn't sure how I was going to weave in this new chapter of our lives into this space, but I think a trimester update is the way I feel most comfortable. It's fun to be able to share this aspect of our life with you and I love the feedback and comments we've received. It really does take a village, so keep sending me your stories, thoughts and feedback. It's exciting and inspiring to do this together. 
P.S- I had some plugin issues last week and had to reinstall a backup copy of my site this weekend. Therefore, I lost all of your comments from earlier in the week. I read all of them, thank you! But, if I didn't get a chance to respond to you before they were lost, I'm sorry. Thank you for taking the time to share your stories with me.