Are sheet-pan dinners the new one-pot pasta meals? I've become a big fan of these kind of meals over the last few months and hope they continue to trend upwards.
Um, if I haven't made it abundantly clear, we're having a baby soon. Like, probably this week. It may be surprising that I've actually tried hard to not mention the b word in every single post, but it gets hard when that's where 99% of my brain energy goes.
Now that the end is near, I've been putting a lot of that energy into what happens next. Long term and short term. Are we going to all survive the first few weeks? And, what is dinner going to look like? Clearly, these are the important questions.
Dinner over the last month or two has been a complete joke. BL has been working longer hours trying to get ready for some dad time off and my eating habits have been all over the place. We're both completely OK with this schedule, since we know it's temporary.
MY LATEST VIDEOS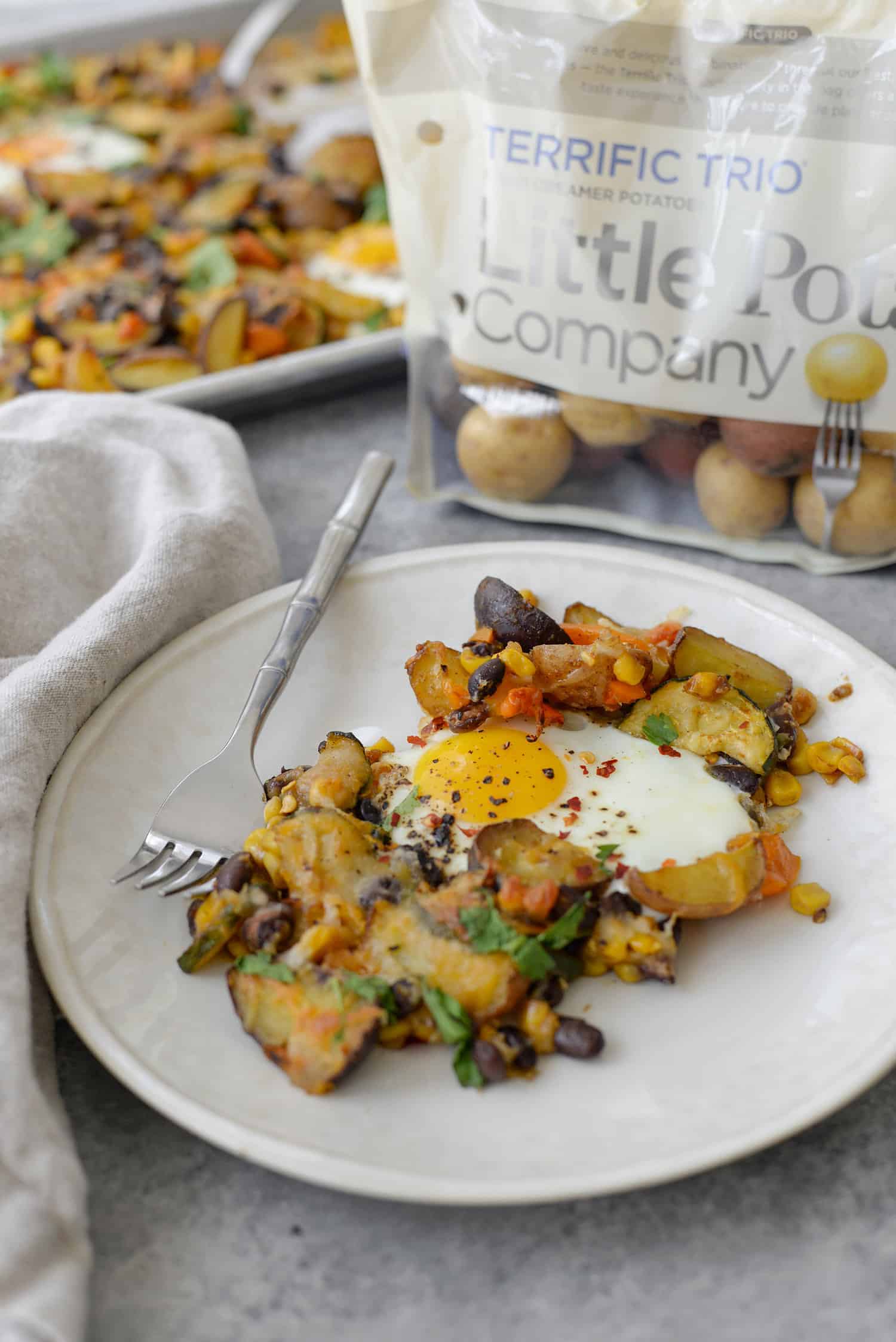 Once babe arrives, I know I'm going to put the importance of family meals front and center. Well, maybe not right away, but once we move to introducing solids. It's one of those things that has always felt super important, especially since I came from a family that ate dinner together every.single.night no matter what. It's what we did and what I hope to do with my little clan.
Therefore, I've been stockpiling ideas for 30-minute meals and no-fuss meals. Meals that I can still whip up when my sweet little angel is fussing or when my energy tank is bordering on empty. In our live before kids, this would usually look like YAOYO (you are on your own) mentality; I'd casually pass BL a box of cereal on nights when I was too tired to cook again.  And while I'm sure I'll still do this on occasion, I know that I'm now actually responsible for family dinners- a thing that's about much more than just the food.
This sheet-pan breakfast hash checks all the boxes. Easy– check. Delicious– check. Healthy– check. Can be made with a baby in one hand– check.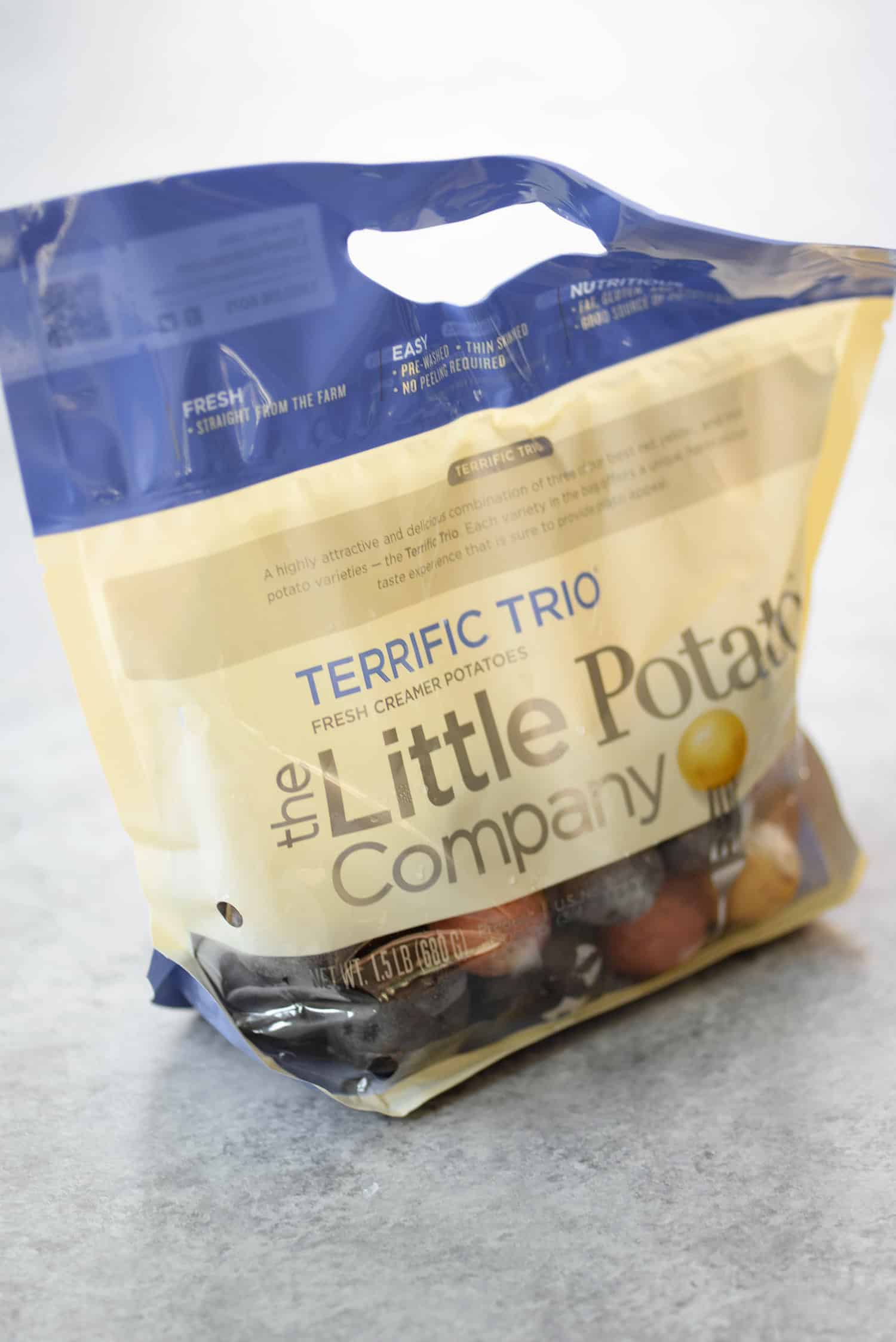 The Little Potato Company asked me to come up with a recipe this month that could get kids in the kitchen. Oh yeah, exactly on my wave-length right now. While I know that this little boy isn't going to be cooking with me for quite a while, I can't wait for the day when his little fingers are helping me in the kitchen.
Cooking with kids is such a powerful way to introduce to them new ingredients and let them take ownership of the meal. I've cooked with my nieces enough to know that this isn't always the cleanest way of preparing food, but who cares? The lessons that they take away by being able to help cook will last a lifetime.
Depending on the age of your babes, they can help halve the potatoes, open the can of beans, place the vegetables on the sheet pan or crack the eggs. Making dinner together is also a great time to talk about the various colors of vegetables (like the tri-color creamer potatoes!) and what healthy food looks like.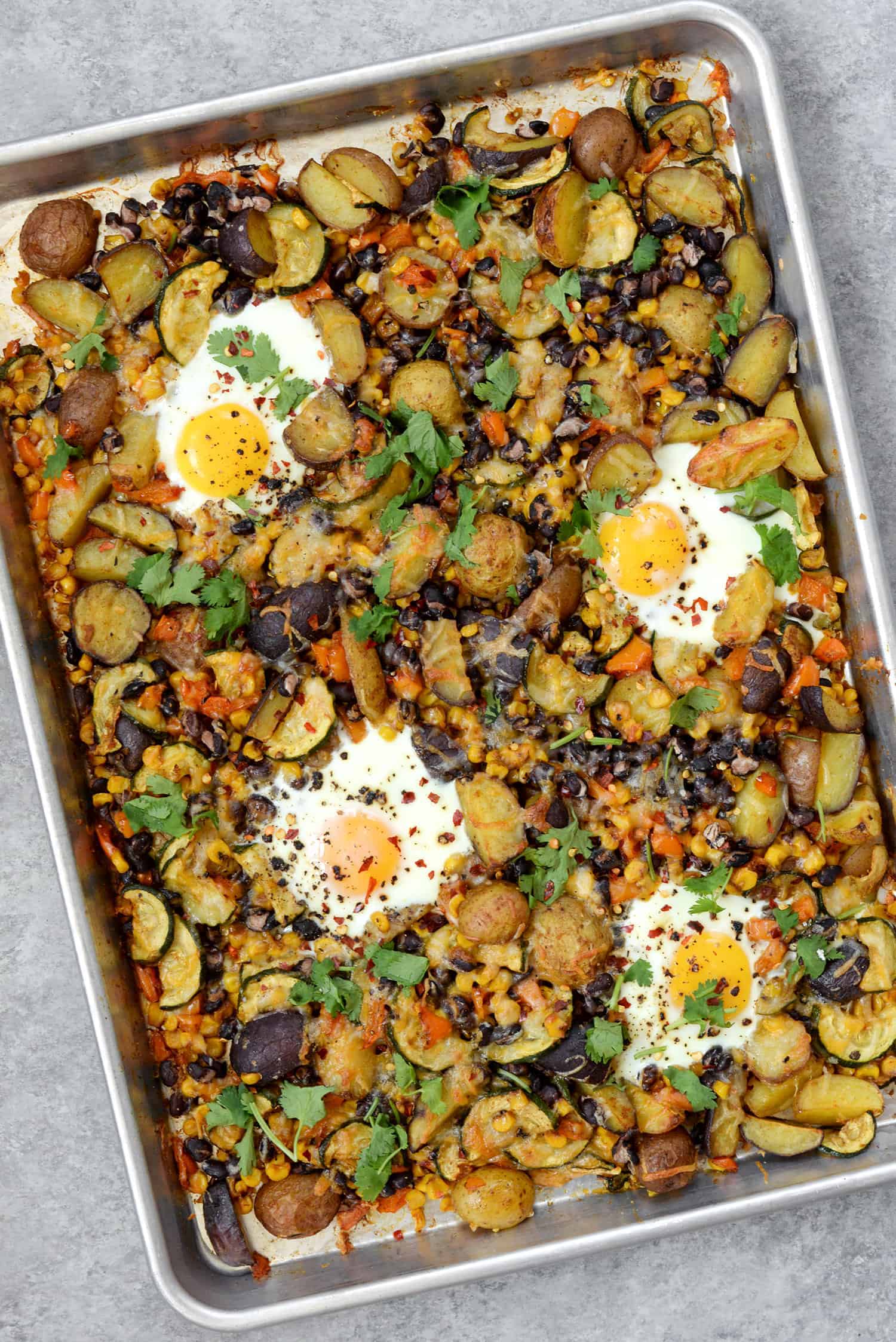 The Little Potato Company potatoes are the perfect size for this sheet-pan dinner since everything cooks at the same rate. Halve the potatoes, place on the pan with the zucchini and peppers and roast until tender, then add the rest of the vegetables along with the eggs.
If you haven't tried cooking eggs on a sheet pan before, keep a close eye on them. They will continue to cook once you remove them from the oven, so I pull them when the whites are set but not hardened. If you wait too long, they will become rubbery.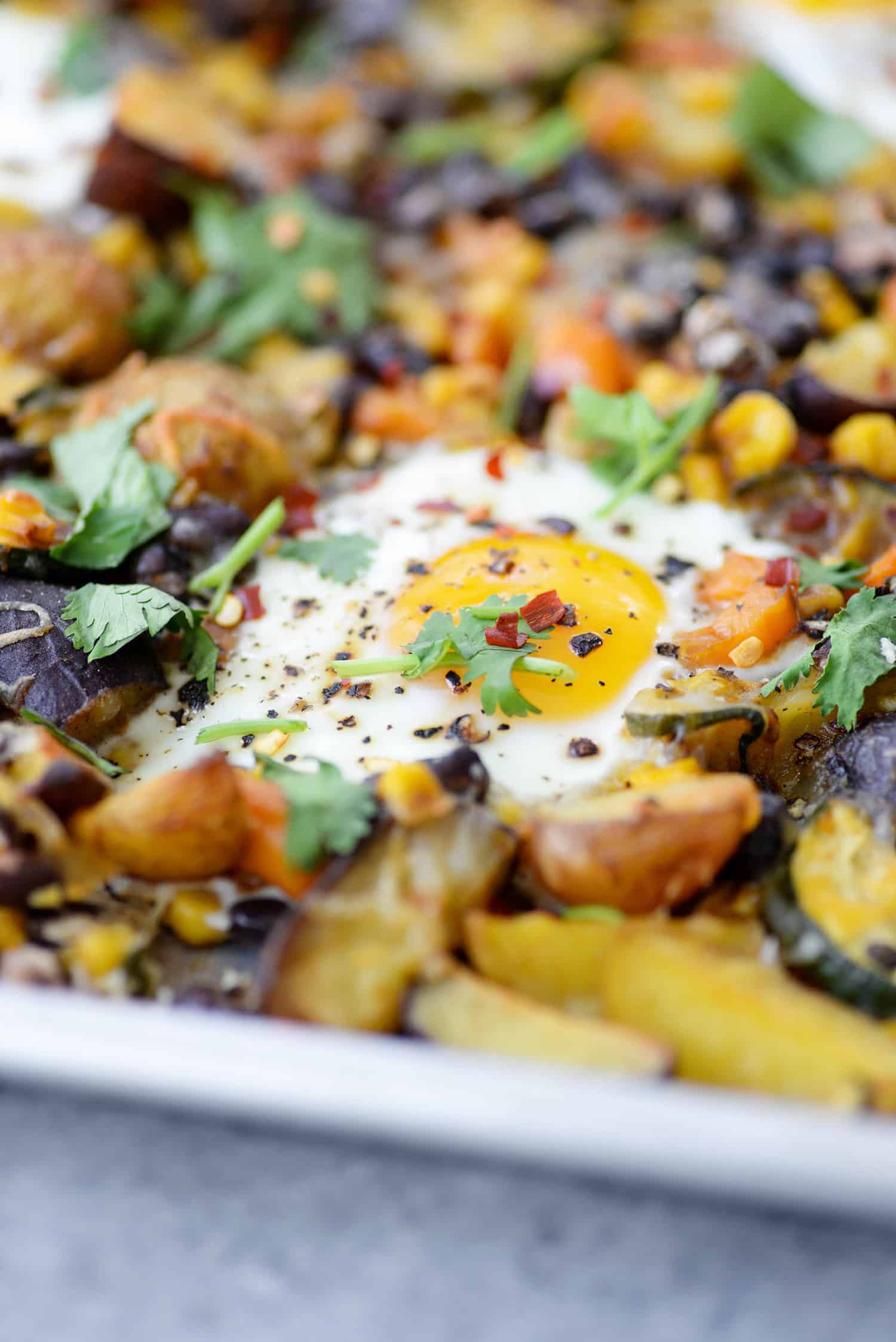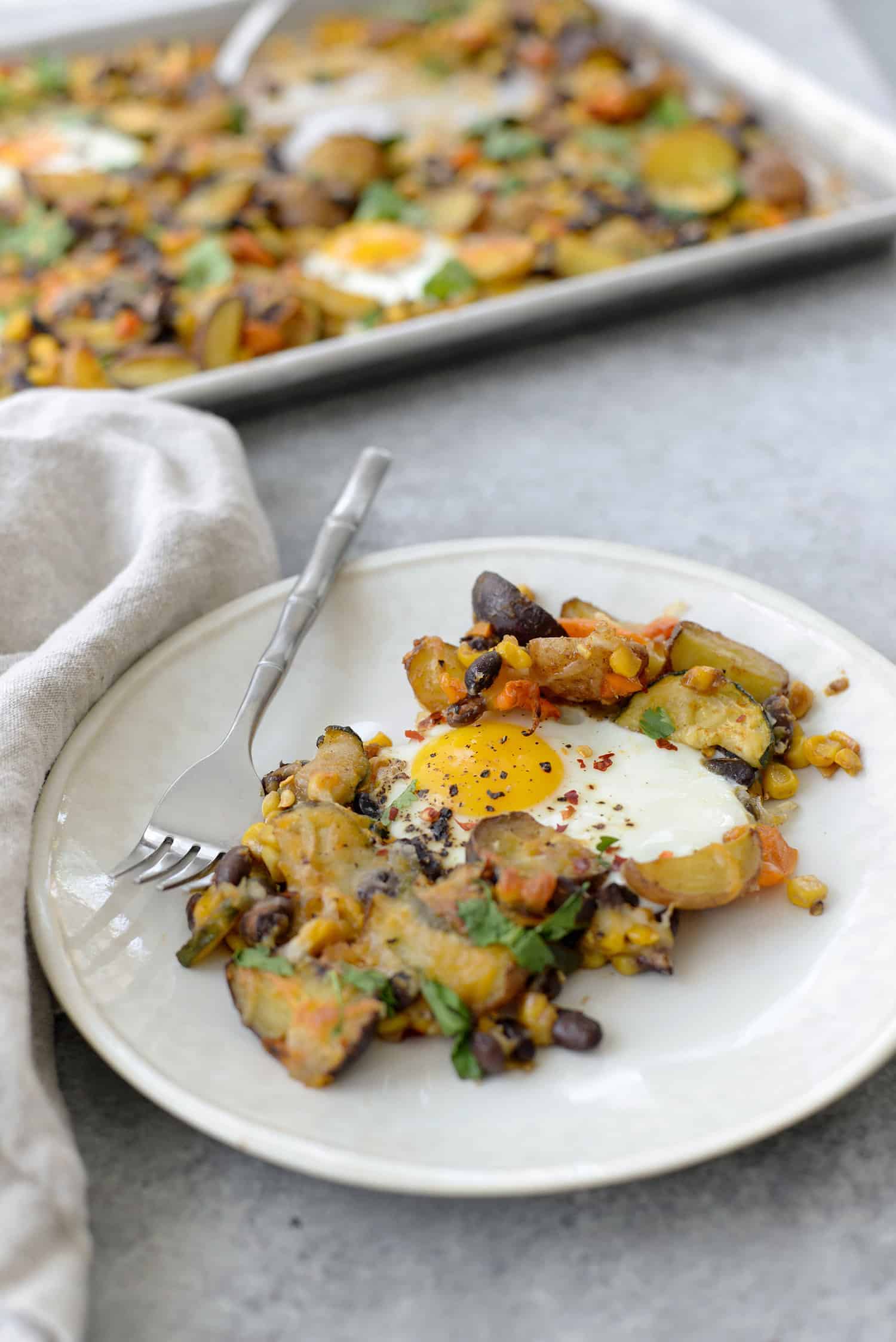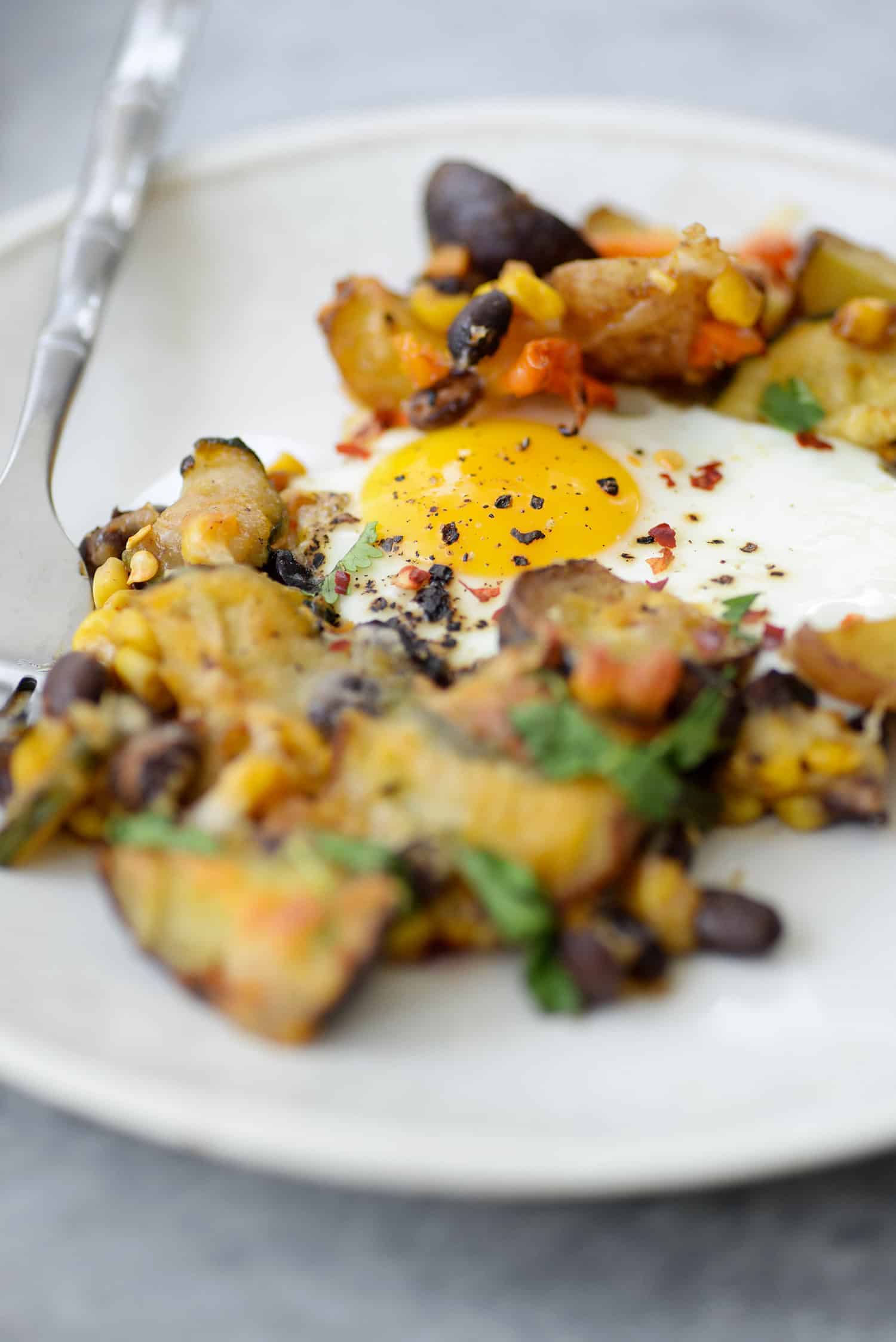 If you try this recipe, let me know! Leave a comment, rate it, and tag your Instagram photos with #delishknowledge . I absolutely love seeing your creations. Happy cooking! 
Print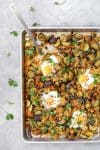 Sheet Pan Breakfast Hash
Author:

Prep Time:

20 minutes

Cook Time:

35 minutes

Total Time:

55 minutes

Yield:

4

servings

1

x
Category:

Breakfast, Dinner

Cuisine:

Healthy, Vegetarian, Gluten-Free
---
Description
Sheet Pan Breakfast Hash! You are going to love this quick and easy dinner (or breakfast) idea. Roasted potatoes, zucchini, peppers, beans, corn and eggs. 
---
Scale
Ingredients
2 cup

s sliced zucchini 

1

medium bell pepper, chopped 

1 tablespoon

minced garlic cloves 

2 tablespoon

s olive oil 

1 teaspoon

chili powder

1/2 teaspoon

cumin

1/2 teaspoon

ground paprika

1/2 teaspoon

salt

1/2 teaspoon

freshly ground pepper 

1 cup

corn kernels (fresh, thawed from frozen or canned) 

1

can black beans, drained and rinsed 

4

large eggs 
Cheddar cheese
Chopped cilantro, for garnish 
---
Instructions
Preheat oven to 425 degrees F. 
Halve the potatoes or quarter those that are large. Place in a large bowl along with the zucchini, pepper, olive oil, garlic, spices and salt and pepper. Place in a single layer and roast until potatoes are tender, about 25-30 minutes. 
Add the black beans and corn and stir together. Make 4 little wells in the pan, gently cracking the one egg in each one, trying to keep the yolk intact. Sprinkle with shredded cheese then season the eggs with a bit of salt and pepper then place back in the oven and bake another 5-7 minutes until egg whites are just set. The eggs will continue to cook once you remove the pan from the oven and the eggs are very easy to overcook. Therefore, I recommend taking them out once whites are just opaque. 
Remove from oven and garnish with cilantro, if desired. Divide among 4 plates and serve immediately. (P.S.- this meal tastes awesome with hot sauce! Hot sauce + crispy potatoes + eggs = my jam.) 
Thanks again to The Little Potato Company for sponsoring this post.