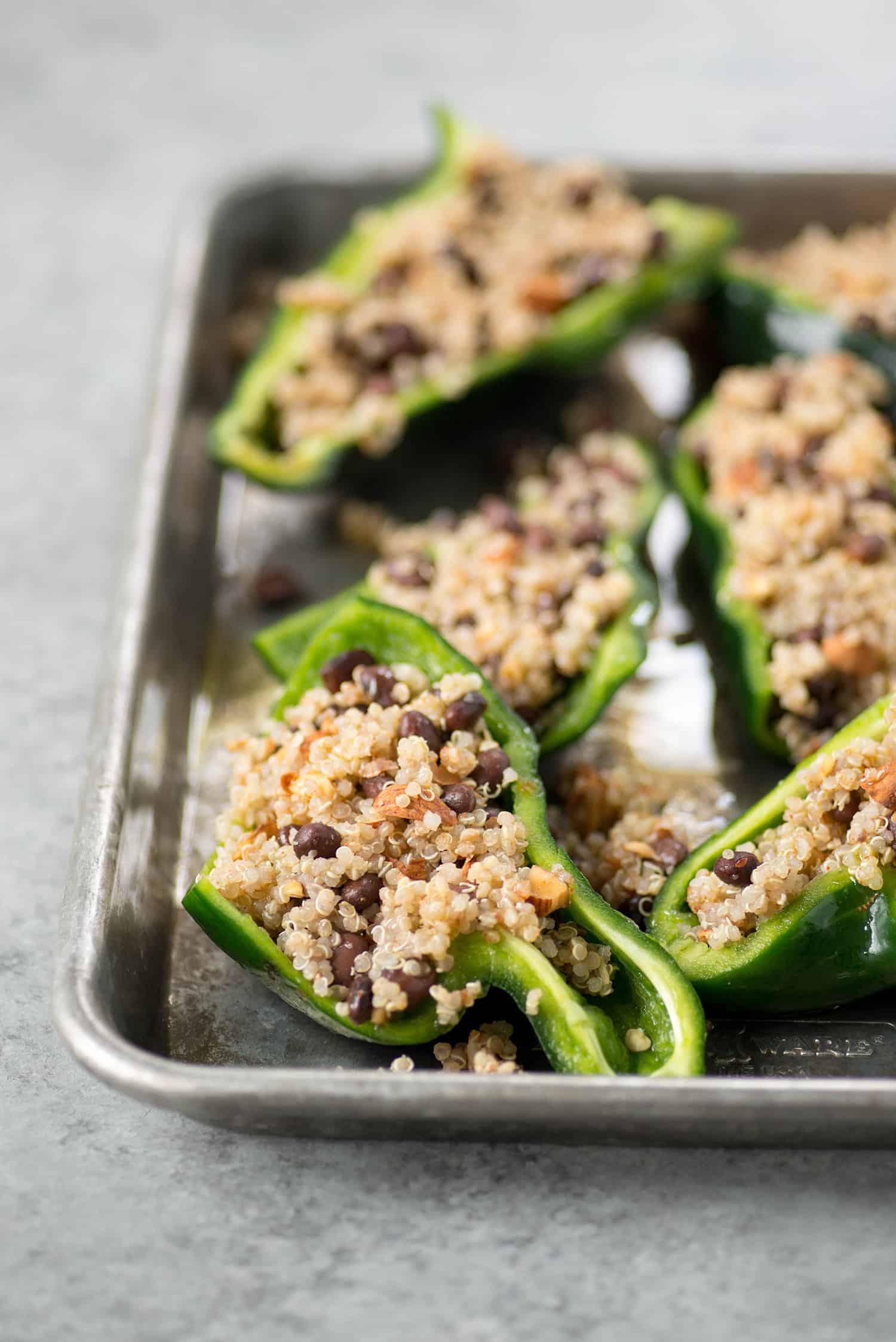 Mexican food is my achilles heal.
Perhaps it's the cuisines love of heat, avocado or beans, but I find myself gravitating towards Mexican food more and more. Especially since I've left California. It's like a little piece of my heart stomach is still there and the only remedy is more spice, more salsa, more guacamole.
Thankfully, BL is on this same wave-length. When we first started dating, our go-to meal was a pitcher of margarita's at the bar of our favorite watering hole, with a side of guacamole for me and cheesy refried beans for him. Please keep those free chips coming! What can I say? It was grad school and even this felt like a splurge.
These days, while we're a touch classier, we both still jump at the idea of fresh-squeezed margaritas and a sizzling platter of fajitas. Bar none, if it's a nice day outside, BL is angling to find a few hours to sit on the porch with our own version or head to the Mexican restaurant's patio up the street.
MY LATEST VIDEOS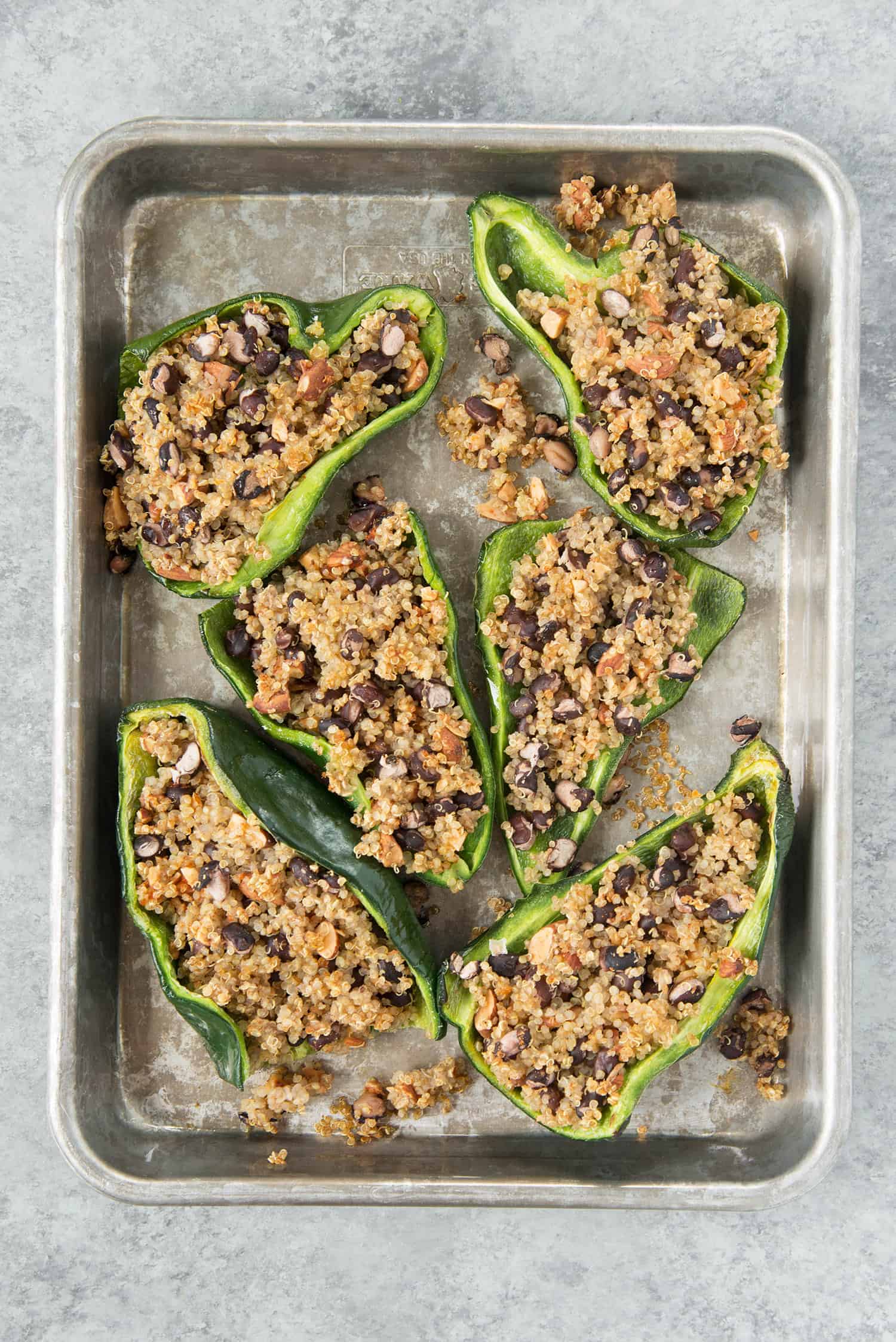 Pregnancy is weird.
You'd think with all this killer heartburn that I'd be turned off from spicy food, but I honestly can't get enough. Current status: putting hot sauce on my hot sauce.
It's with this love of Mexican food and day-dreaming about homemade mole sauce that I came up with these stuffed peppers one night for dinner. Our garden, pitiful as it may be, is at least producing a few peppers. While my original intent was to make a fresh salsa, I couldn't get the idea of stuffed poblanos out of my mind. Especially with quinoa, beans and a quick mole sauce on top.
This isn't the mole sauce that you find at your favorite restaurant; it's simple and perfect for home cooks who still have to fold laundry and pack lunches after dinner. It's not simmered on the stove for 15 hours with 17 ingredients. That kind of sauce is ah-maz-ing, but this is not that.
That's not to say it's not delicious, it's smoky, warm and spicy, but if your expecting the former –you're in the wrong place.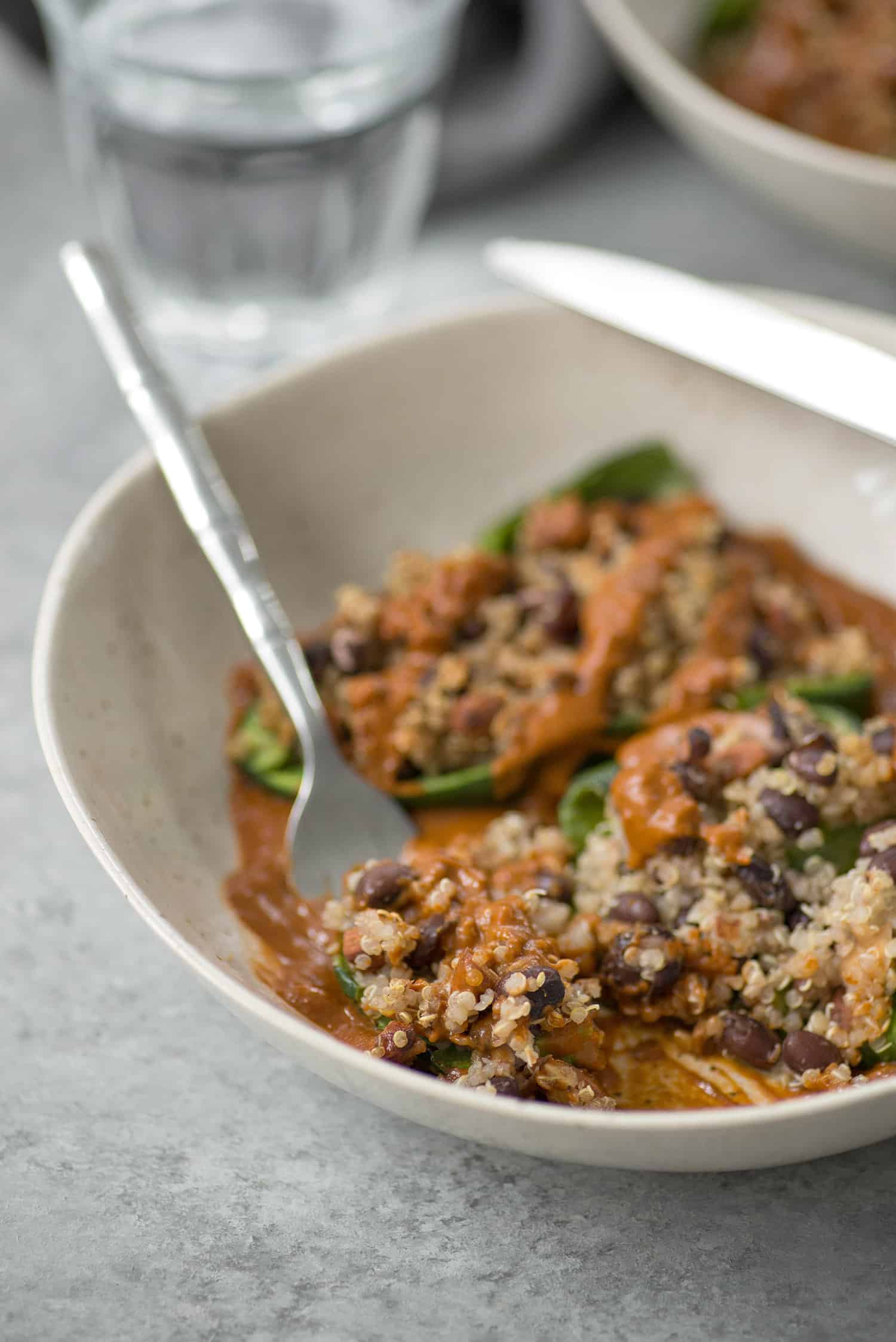 I tried these peppers a few different ways and highly recommend roasting them before stuffing. Since poblanos tend to be thinner than bell peppers, I thought I could get away with having them soften in the oven after being stuffed, but that didn't work.
If you have a gas stove, you can turn on the burner, quickly char the outside of the pepper, then cool and remove the skin. Otherwise, place them in the oven, let them char all over, then cool just enough to slip off the papery skins, halve and remove the seeds.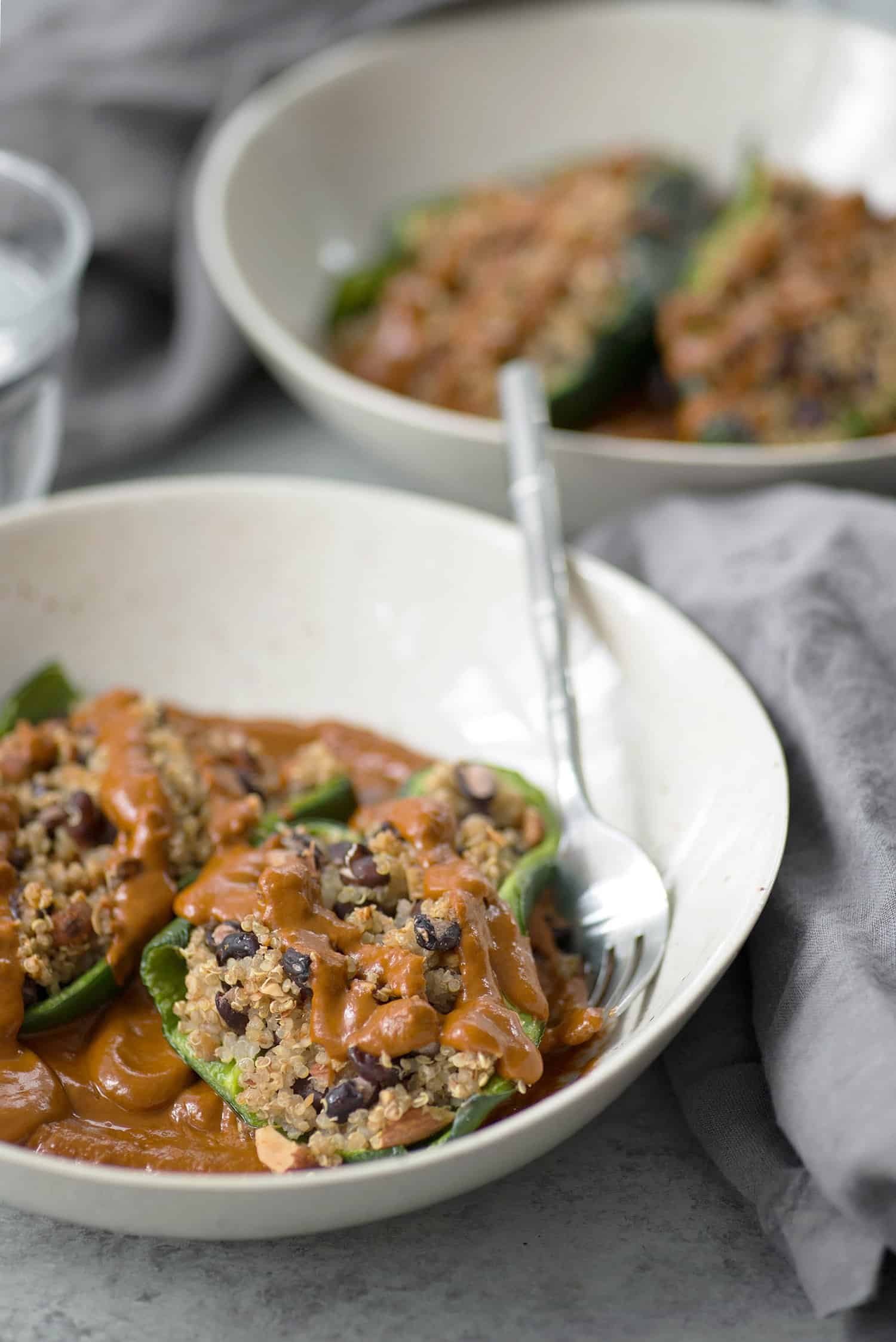 While this recipe as written is both vegan and gluten-free, it also tastes great with a bit of goat or feta cheese mixed into the filling for a creamier bite. After testing this meal a few times, I tried this with the leftovers one night and it was just as delicious as it sounds. Not a fan of quinoa? Brown rice also works beautifully.
So, the option is there for those of you who want it.
Enjoy any leftover mole sauce on quesadillas, scrambled eggs and burritos!
If you try this recipe, let me know! Leave a comment, rate it, and tag your Instagram photos with #delishknowledge . I absolutely love seeing your creations. Happy cooking! 
Print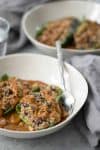 Stuffed Poblanos with Quick Mole Sauce
---
Description
Stuffed Poblanos with Quinoa, Black Beans and a quick mole sauce. We love this healthy vegan and gluten-free dinner. 
---
Scale
Ingredients
4

poblano peppers 

3/4 cup

uncooked quinoa

1 1/2 cup

s low-sodium vegetable broth 

3

cloves garlic, minced

1/2 cup

chopped almonds 

1

(15 ounce) can black beans, rinsed and drained

1/2 teaspoon

salt

1/2 teaspoon

ground cumin

1/4 teaspoon

smoked paprika

1/8 teaspoon

cayenne

1/2 cup

chopped cilantro 

3 teaspoon

s olive oil, divided 
Quick Mole Sauce: 
1 tablespoon

olive oil 

1

onion, chopped

2

cloves garlic, minced

1

–

2

chipotle chili with 2 tablespoons adobo sauce 

1

(8 ounce) can tomato puree

3 tablespoon

s chocolate chips

1 1/2 teaspoon

s ground cumin 

1/2 teaspoon

ground cinnamon

1/2 teaspoon

salt 
---
Instructions
Preheat the oven to 475 degrees F. Lightly rub the poblano peppers with olive oil, then place on a piece of foil or baking sheet and place in the oven. Roast until slightly charred and soft, about 8-10 minutes.
Remove peppers and let cool slightly. Halve, then remove the seeds and membranes. Place pepper halves on a baking sheet and set aside.
While the peppers are cooking, combine the quinoa and vegetable broth in a sauce pan and bring to a boil. Reduce heat to low, cover and simmer until quinoa is tender, about 12-14 minutes. Remove from heat and let sit for 2 minutes before fluffing with a fork. 
Combine the cooked quinoa, minced garlic, almonds, black beans, salt, cumin, paprika, cayenne, cilantro and 2 teaspoons olive oil. Spoon into the open peppers and drizzle with remaining teaspoon oil. 
Place in the oven and bake for an additional 12-14 minutes. 
While the peppers are cooking, make the mole sauce. Heat the olive oil in a medium saucepan over medium heat. Add the onion and garlic, then saute for 5-6 minutes until softened. 
Add in the chipotle peppers, adobo sauce, tomato puree, chocolate chips, cumin, cinnamon and salt and stir until chocolate chips have melted. Season to taste, adding salt as needed. 
Place mole sauce in a blender and puree until creamy and smooth. Depending on the power of your blender, you may need to add a splash or two of water to thin to desired consistency. 
When ready to serve, place some of the mole sauce on a plate, then place a pepper on top. Drizzle with more sauce and garnish with extra cilantro, if desired.