The GREAT. BIG. VEGAN. SALAD. This is it.
I could probably get away with not writing any introduction to this one and just let you drool. Drool over crispy pan-fried tempeh bacon, juicy tomatoes and creamy avocado. Wish you were currently snacking on a big bowl full of marinated mushrooms, roasted zucchini and simple herb lentils.
But, I want to shout from the rooftops about how much I love this salad.
Friends, this is what I'm talking about when I tell you to eat more salads.
MY LATEST VIDEOS
I double dog dare you to be hungry after enjoying this bad boy.
Full of nutrients like iron (46% daily value), calcium, vitamin C, fiber (92% daily value) and protein. 30g to be exact.
30g of vegetarian good for you protein, minus the cholesterol and load of saturated fat.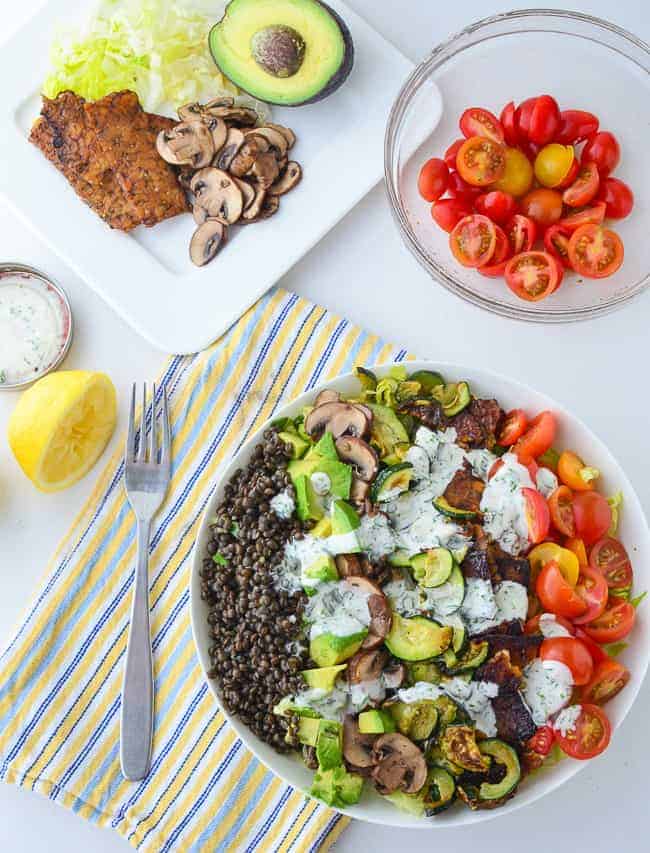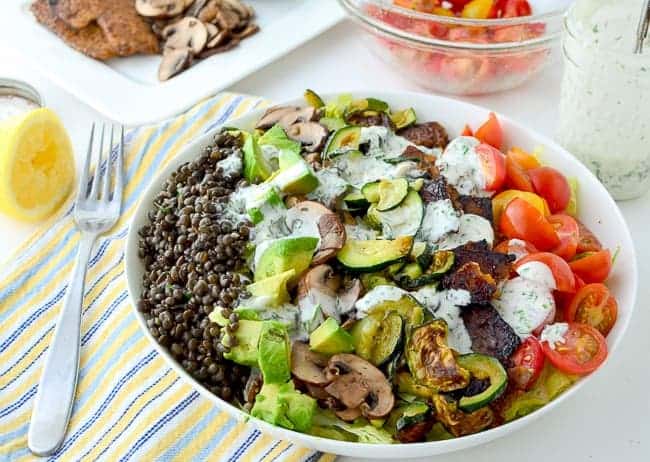 I made all the ingredients over the weekend and kept in individual containers in the fridge. During the week, I added a handful here and there to create this big bowl of beauty. With enough fiber and protein to keep me satisfied for hours, I am declaring this the salad that even salad haters will love.
So go on, make all the layers or just a few but please promise me you will make this. Soon.
Below you will find the quick ingredient and how-to list for creating 4-5 giant salad bowls. Preheat the oven to 400 degrees and make the lentils, zucchini and mushrooms first. While those are cooking, prepare the rest of the ingredients.
Herbed Lentils: Cook 1 cup lentils, drain off any excess water. Toss lentils with 1 tsp. olive oil and 1/4 cup of whatever herbs you have lying around: chives, parsley, mint, basil.
Marinated Mushrooms: Clean and thinly slice 8 oz. button mushrooms. Whisk together 1 tbsp. soy sauce, 1 tbsp. sesame oil, 1 garlic clove grated and 1/4 cup water or vegetable broth. Layer mushrooms in a baking dish and pour marinade on top. Bake for 15- 20 minutes in a 400 degree oven until roasted and slightly crispy.
Roasted Zucchini: Thinly slice 3 zucchini into 1/2 moons. Toss with 1 tsp. oil and pinch salt/pepper. Arrange in a single file on a baking sheet and roast for 20 minutes, flipping halfway through.
Tempeh Bacon: Very thinly slice an 8oz. package of tempeh. Whisk together 2 tbsp. maple syrup, 1 tbsp. olive oil, 1/2 tsp. cumin, 1/8 tsp. cayenne pepper, 1 tbsp. soy sauce, pinch freshly ground black pepper. Place temepeh in a shallow bowl and cover with marinade. Let soak for at least 15 minutes. To fry, place tempeh slices in a hot skillet and let cook 1-3 minutes per side until brown and crispy. Cook longer for crispier tempeh.
Dairy-Free Ranch Dressing: 1/2 cup mayo or dairy-free mayo, 1/4 cup soymilk, handful of fresh parsley, roughly chopped, 1 tsp. dried dill, 1 tsp. garlic power, fresh ground pepper. Mix all ingredients together.
Other ingredients: 1 large ripe avocado, 1 pint cherry tomatoes, 2 heads romaine lettuce, roughly chopped.
To assemble, layer 1/2 head of romaine lettuce in a large bowl. Top with 1/3 cup lentils, 1/4 avocado, chopped, 1/3 cup mushrooms, 1/3-1/2 cup cooked zucchini, 2 oz. tempeh bacon, 1/3 cup cherry tomatoes. Drizzle with ranch dressing.
And there you have it. 5 servings of vegetables, 23g of fiber, 30g of protein. Done.