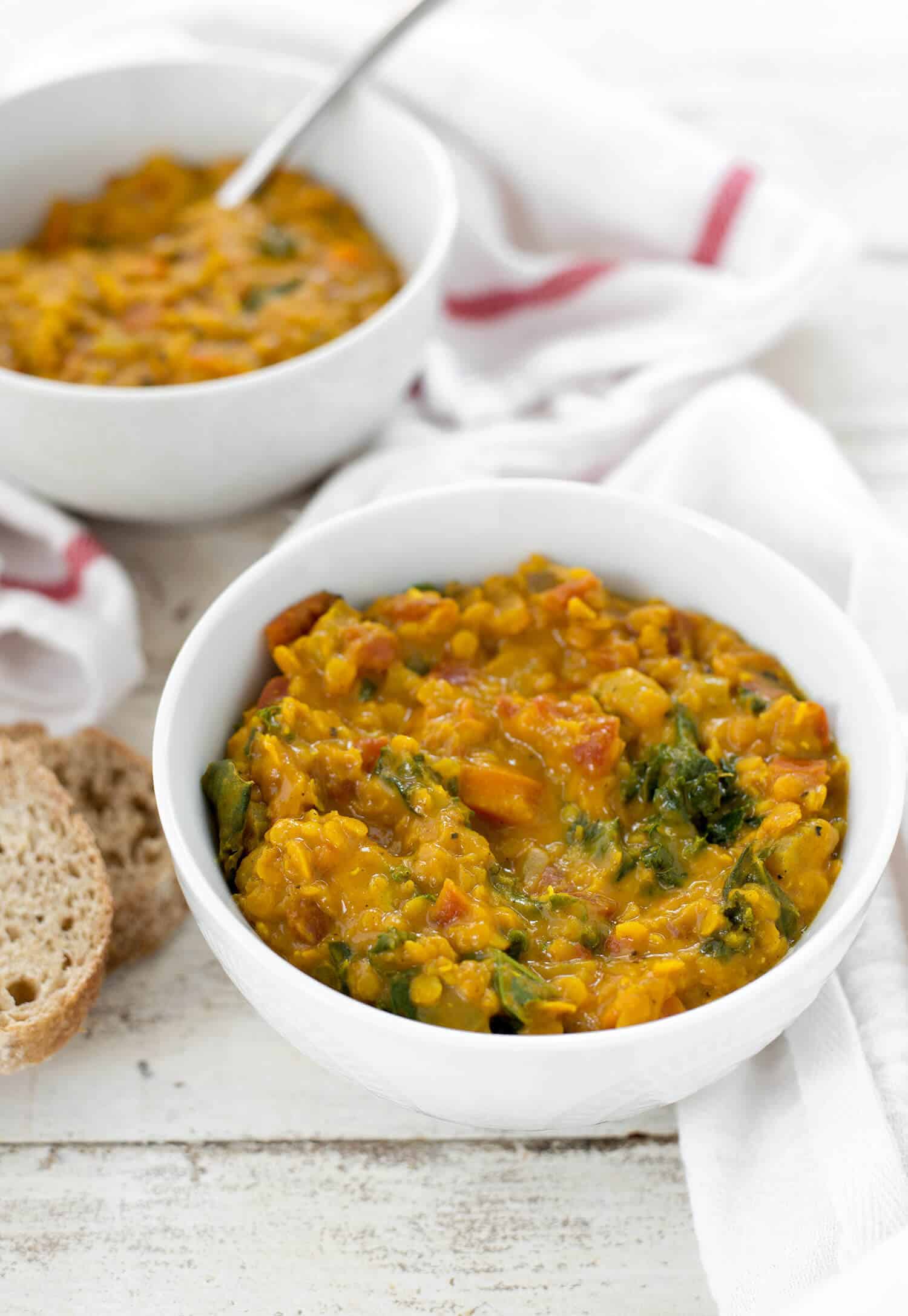 Turmeric Red Lentil Soup! Creamy, thick lentil stew with turmeric, vegetables and kale. Vegan and Gluten-Free.
Can we celebrate for a moment that it's finally soup season? I mean, if we have to leave the land of heirloom tomatoes, juicy peaches and bright, beautiful berries, then it better be for soup. I'm such a soup person, the perfect way for me to get in all of the nourishing necessities I crave: pulses, vegetables, spice. Slather some butter on toasted bread and you've got the meal that I dream of the moment the leaves change color.
Soup season, we welcome you with open, sweater-covered arms.
If you're looking for healthy, nutrient-dense comfort food, this.is.it. Simmered red lentils, kale and a healthy dose of turmeric for gorgeous color, warming spice and extra antioxidants. Um, this may also be the perfect meal if you've just spent two weeks of your life galavanting around Italy eating nothing but gelato, pizza and pasta- in that order. And while that was really fun while it lasted, you are now in full vegetable-crave mode, begging for overflowing salads, garlicky sautéed greens and this wondrous soup. Or, maybe you're just looking for a yummy break from the inevitable richness that comes with this time of year. Either way, this bowls for you.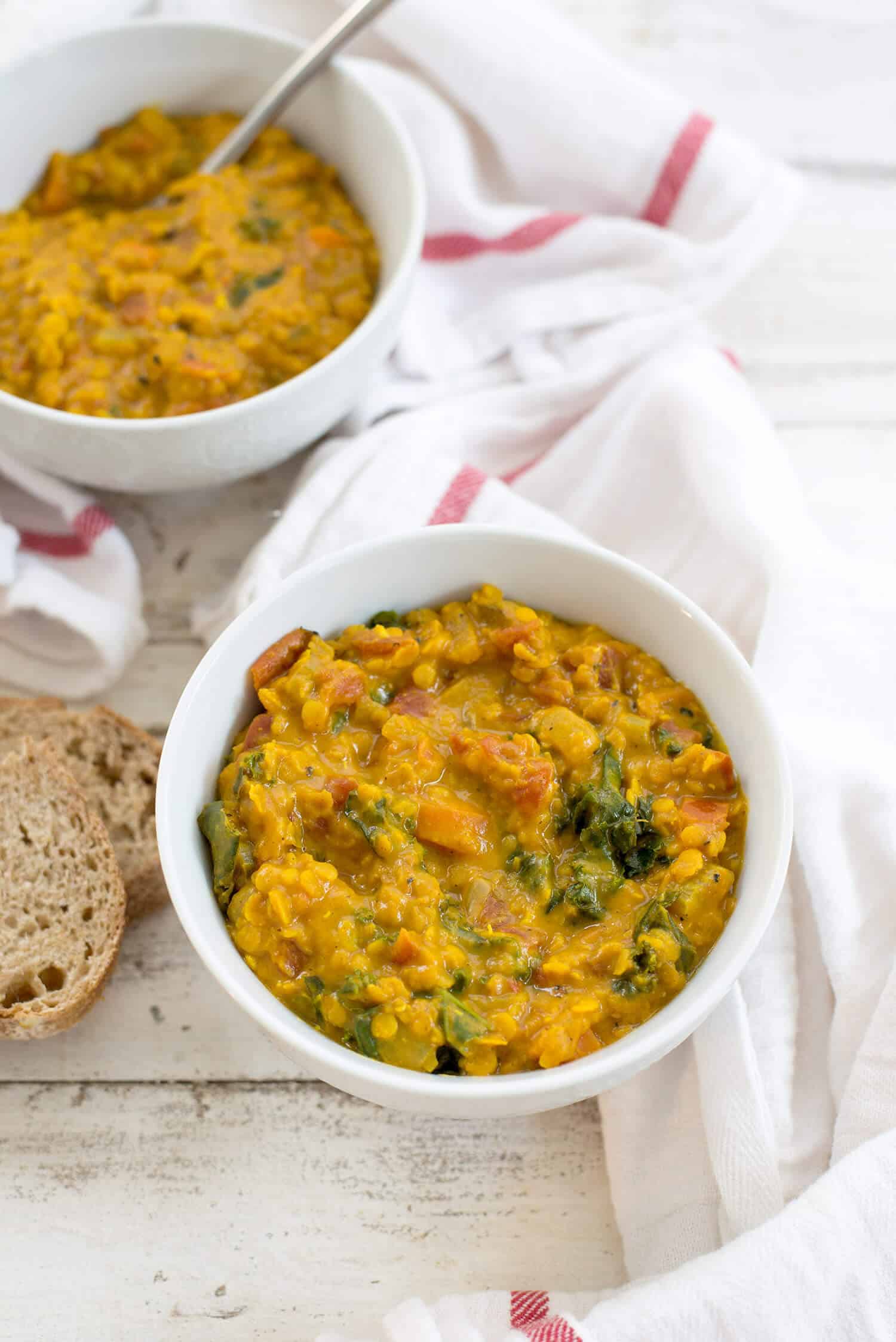 If you haven't cooked with red lentils before, prepare to be wowed. They almost melt into the broth, creating a thick, stew-like texture- perfect for catching chunks of vegetables in every bite. They go in red, they come out yellow; a beautiful transition in creating this golden soup.
Lastly, the turmeric. For starters, turmeric is magical and I recommend adding it (and other spices) to food for an easy way to pack in the antioxidants. Turmeric's active ingredient, curcumin, is better absorbed when paired with black pepper, which I've included in this recipe and recommend an extra sprinkling on top of the finished soup. In fact, I'm seeing more and more curcumin supplements that are adding black pepper to their formulas, which is great. That being said, I've seen some really crazy claims on other health blogs about what turmeric can and can't do. Look, I'm all for food as medicine- there usually isn't any downside, but I think it's important to really understand the research before making health claims. That's how nutrition misinformation continues to spread.
Either way, even with the most conservative research, turmeric is fairly potent as an anti-inflammatory substance. Several studies suggest that it might ease symptoms of osteoarthritis and rheumatoid arthritis. While the conclusive jury is still out on it's role in blocking cancer growth, I think it's safe to say that this is one superfood most of us could benefit in eating more of.

If you try this recipe, let me know! Leave a comment, rate it, and tag your Instagram photos with #delishknowledge . I absolutely love seeing your creations. Happy cooking!
Print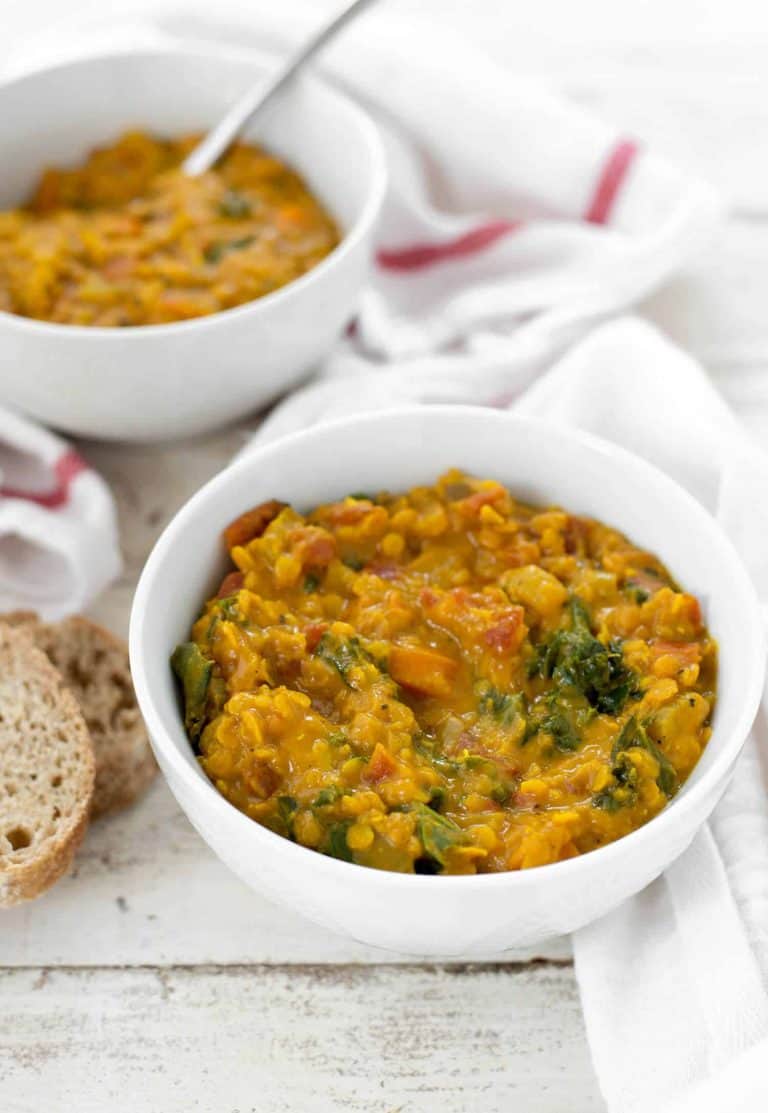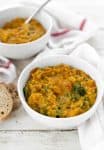 ---
Description
Turmeric Red Lentil Soup Author: Alex Caspero Prep time: 15 mins Cook time: 50 mins Total time: 1 hour 5 mins Serves: 4-6 servings Turmeric Red Lentil Soup! Creamy, thick lentil stew with turmeric, vegetables and kale. Vegan and Gluten-Free.
---
Scale
Ingredients
1 tablespoon

olive oil

1

onion, chopped

2

celery stalks, chopped

2

carrots, chopped

2

garlic cloves, chopped

1 teaspoon

ground cumin

1/4 teaspoon

ground cinnamon

1/4 teaspoon

ground nutmeg

1 1/4 teaspoon

s turmeric

1

15 ounce can diced tomatoes, in juice

1 cup

red lentils

3

–

4

cups vegetable broth

3 cup

s torn kale leaves

1/2 cup

cashew cream (

1/2 cup

raw cashews pureed with

1/2 cup

water)
---
Instructions
Heat olive oil in a soup pot over medium heat. Add the onion, celery and carrots and cook until very soft and reduced, about 10 minutes.
Add in the garlic, cumin, cinnamon, nutmeg and turmeric. Stir to combine and cook until spices are fragrant. Add in the tomatoes, with juice, lentils and vegetable broth. Cook, stirring often, until lentils are cooked through, about 25-30 minutes.
Stir in the kale and cook until wilted, an additional 5-10 minutes. Season to taste with salt and freshly ground black pepper.
Stir in the cashew cream and more vegetable broth, if needed, to thin.
---