Creamy, dreamy, Jamaican summer fun dessert.
That's how I introduced this dessert to Bryan a few moments after he saw me whipping up a can of coconut milk and firmly said "Whatever that is, I'll pass."
Erm. OK. I remind myself on a constant basis that just because BL doesn't share my affinity for all things coconut and curry, doesn't mean we aren't MFEO: made for each other.
Back to removing the hardened coconut milk from the can and whipping it into dairy-free cream; add a smidge of vanilla and sugar to create the perfect, fluffy topping that just begs to be paired with ripe berries.
MY LATEST VIDEOS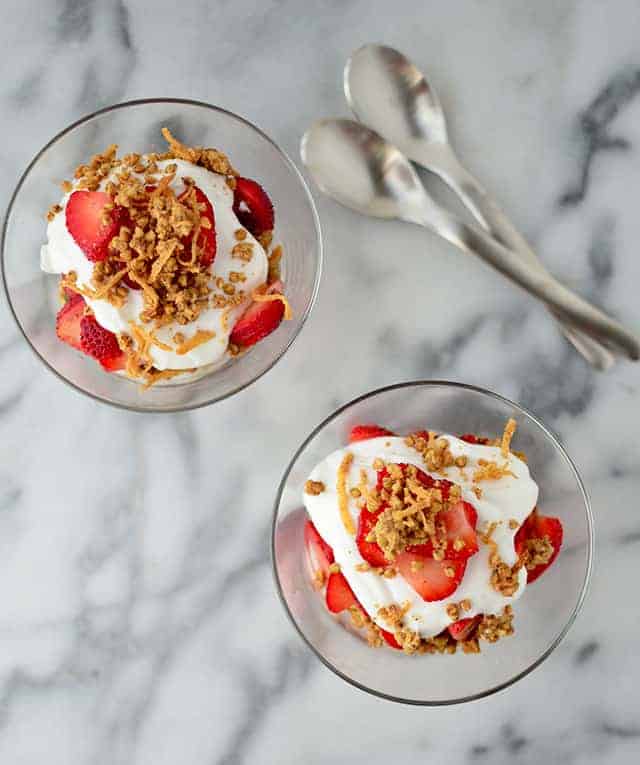 "You sure you don't want to try this?" I teased him as I dipped berry after berry in my creamy concoction. "I promise it's not too coconut-y."
And, like all good food-blogger husbands, he eventually gave in because he knows it's easier to just take a bite than plead with me. Sigh. That's just the way it works around here.
Should I have even been surprised that he loved it? That he agreed with me that while it still tasted like coconut it wasn't too overpowering? And yup, it was even better with crunchy groat granola clusters and strawberries.
 So now when he asks for this one, we refer to it as the creamy, dreamy, Jamaican summer fun dessert. Sounds so much better than Coconut Berry Parfaits.
I love this recipe because it proves once again that it's not too difficult to go dairy-free. And even though we still eat dairy, I know how much cleaner I feel when I reduce my intake.
Coconut milk to the rescue. For this dairy-free hack, place a can of regular coconut milk in the fridge for a few hours- preferably overnight. Gently open the can and spoon out the top 1/3-1/2 of the can, the hardened milk before you get to the liquid. You can save the liquid for another recipe- how about vegetable korma?  Or freeze for later.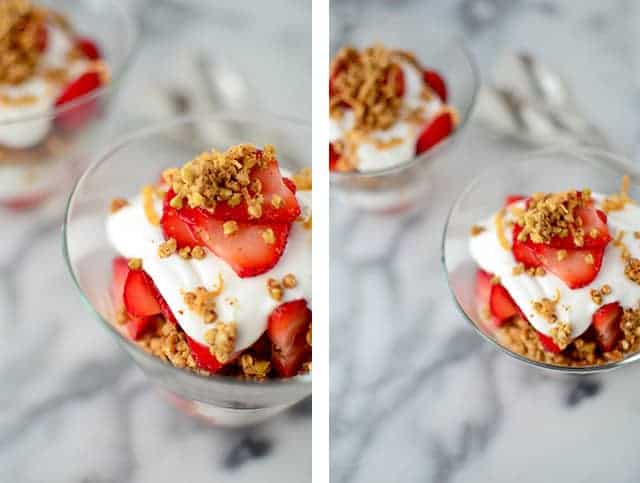 To assemble, layer with fresh sliced berries and cooled groat granola. Just like whipped cream, a little goes a long way. Start with a tbsp. or maybe two to start- you can always add more if you need!
If you try this recipe, let me know! Leave a comment, rate it, and tag your Instagram photos with #delishknowledge . I absolutely love seeing your creations. Happy cooking! 
Print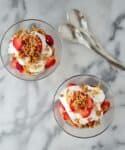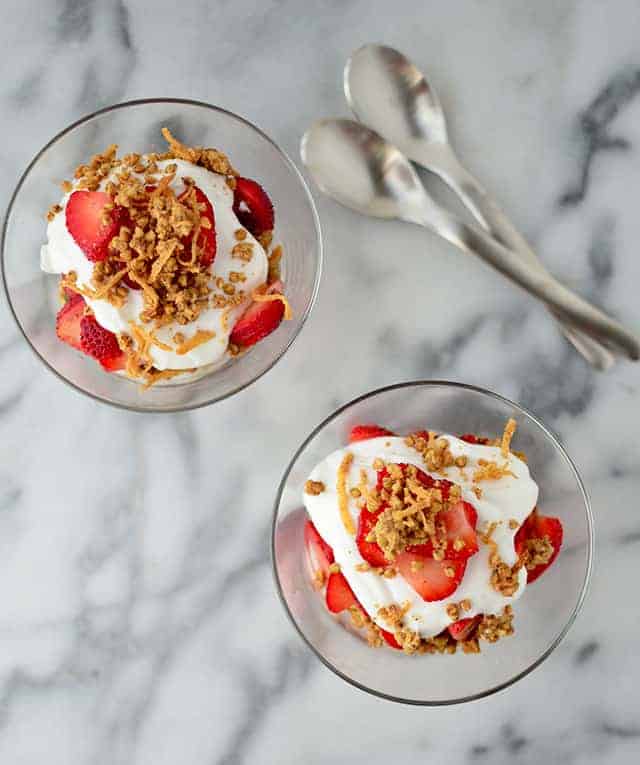 Vegan Coconut Cream Berry Parfaits
Author:

Category:

Snack

Cuisine:

American
---
Scale
Ingredients
Buckwheat Groat Clusters:
1 cup

buckwheat groats

1/2 tsp

. cinnamon

1/8 tsp

. salt

3 tbsp

. maple syrup

2 tbsp

. almond butter (or other nut butter)

2 tbsp

. coconut oil (room temperature)

1/4 tsp

. vanilla extract

1/4 cup

unsweetened shredded coconut
Parfait Ingredients:
1

can full fat coconut milk (or coconut cream) placed in the fridge overnight

1/4 cup

[url:1]coconut sugar[/url] (or other sugar)

1

container strawberries, sliced
---
Instructions
Before making, make sure your can of coconut has been placed in the fridge for at least 6 hours, preferably overnight. 
Preheat oven to 300 degree F.
In a large bowl, mix together buckwheat groats, cinnamon and salt.
Whisk together the maple syrup, coconut oil, almond butter and vanilla extract.
Pour over the buckwheat mixture and stir together.
Add the shredded coconut.
On a baking sheet lined with parchment paper or a [url:2]silpat[/url], pour out the grouts.
Baked for 25 minutes until golden brown.
Remove from oven and let cool. Break into clusters and set aside.
Coconut Cream:
After opening the can, scoop out the top 1/2 of the solidified coconut on top.
Make sure you are only getting the solid coconut, not the water underneath. If you are using coconut cream, you will use the whole can.
Add the sugar to the coconut cream and whip together with a hand mixer.
To serve, layer the berries, coconut cream (about a tbsp. or two) and fresh berries.