Have you tried my vegan greek salad with tofu feta yet? I recently made a video of this recipe, so wanted to re-share it with you.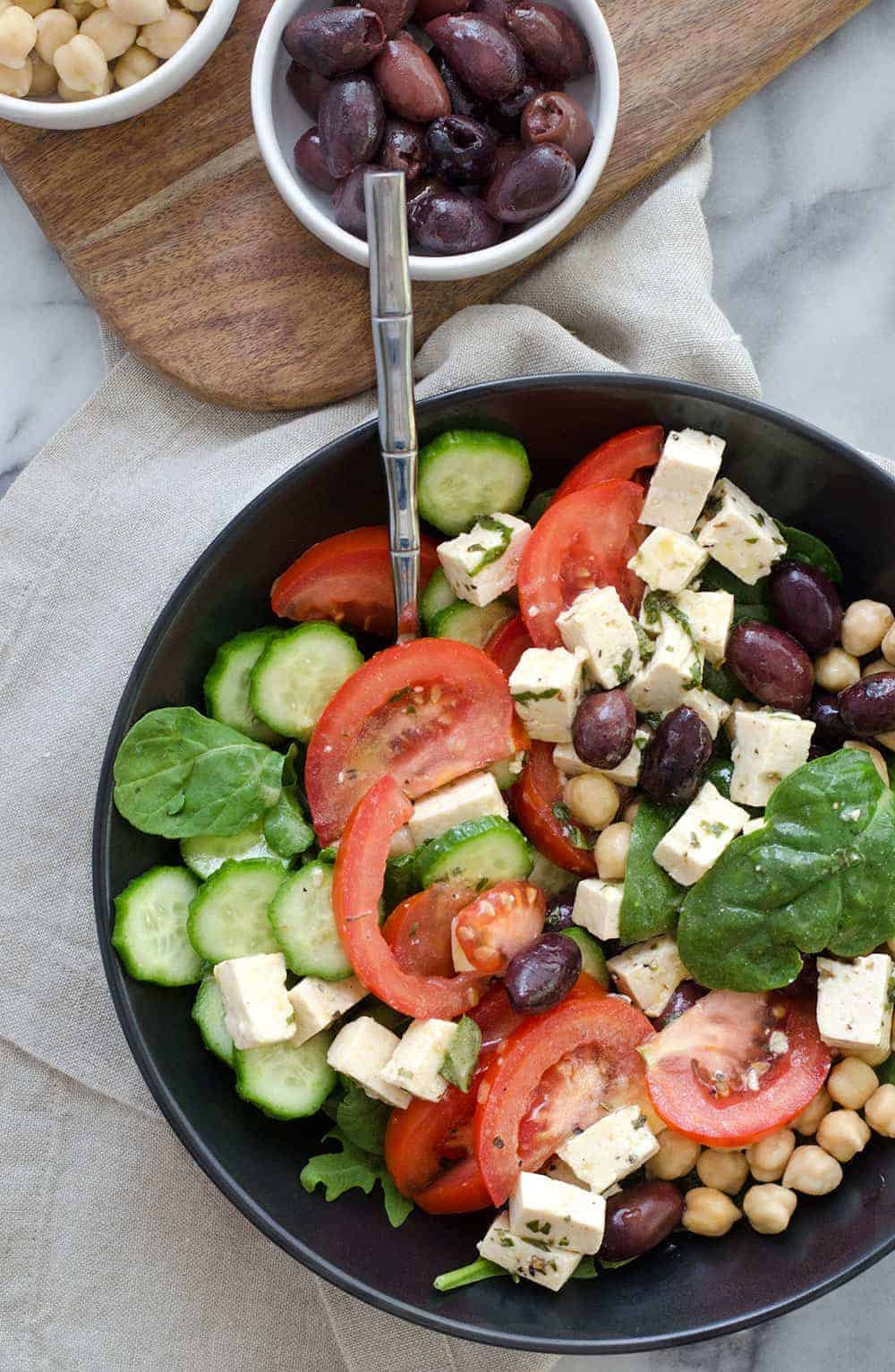 How come anything that has feta in it is automatically Greek? Is this universally true or just true in my naive cooking corner of the world? Maybe in the same way that when I add in both olives and tomatoes, the dish becomes Mediterranean. You get this right? My mom threw feta into almost everything when we were growing up, so I felt like I had a good handle on Greek food. Greek pasta, Greek potatoes, Greek salad. It contains feta cheese, so it must be Greek. With this kind of reasoning, it's amazing that I didn't do better on my verbal SATs.
Well, this salad contains both tomatoes, olives and tofu-feta. And I'm calling it Greek. And you are going to love it!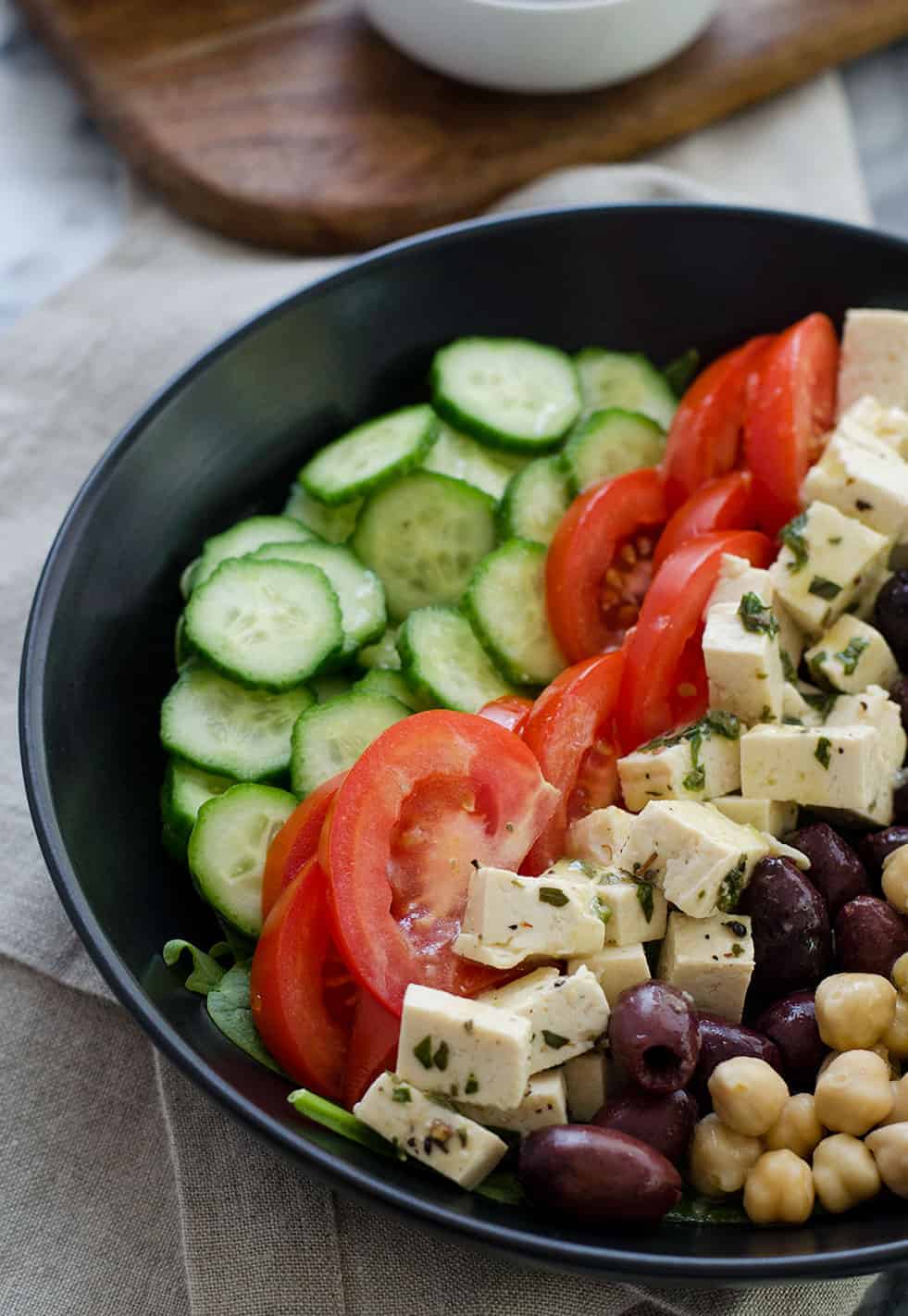 Before you turn your nose up at tofu-feta (cough, BL, cough), trust me that it tastes way better than it sounds. Sure, I love tofu so I may be a bit biased, but it really does take on the salty, slightly tart brine of traditional feta cheese.
I suppose you could just use regular feta, but since I love experimenting with vegan/dairy-free food, I'm going the tofu route. Join me!
The secret in making this cheese is pressing the tofu for a minimum of 1 hour. You are pressing your tofu anyways, right? I swear by this tofu press because I'm #lazy, but you can also wrap your tofu in a papertowel/kitchen towel then add something heavy on top. In an hour, you will be left with a squished block of tofu (and probably water all over your counter, so I suggest placing your tofu wrap on a cutting board first.)
Now, the magic begins! Because tofu is so porous and spongy, you need to get rid of it's liquid so that you can rehydrate it with the good stuff- salty, tart feta marinade!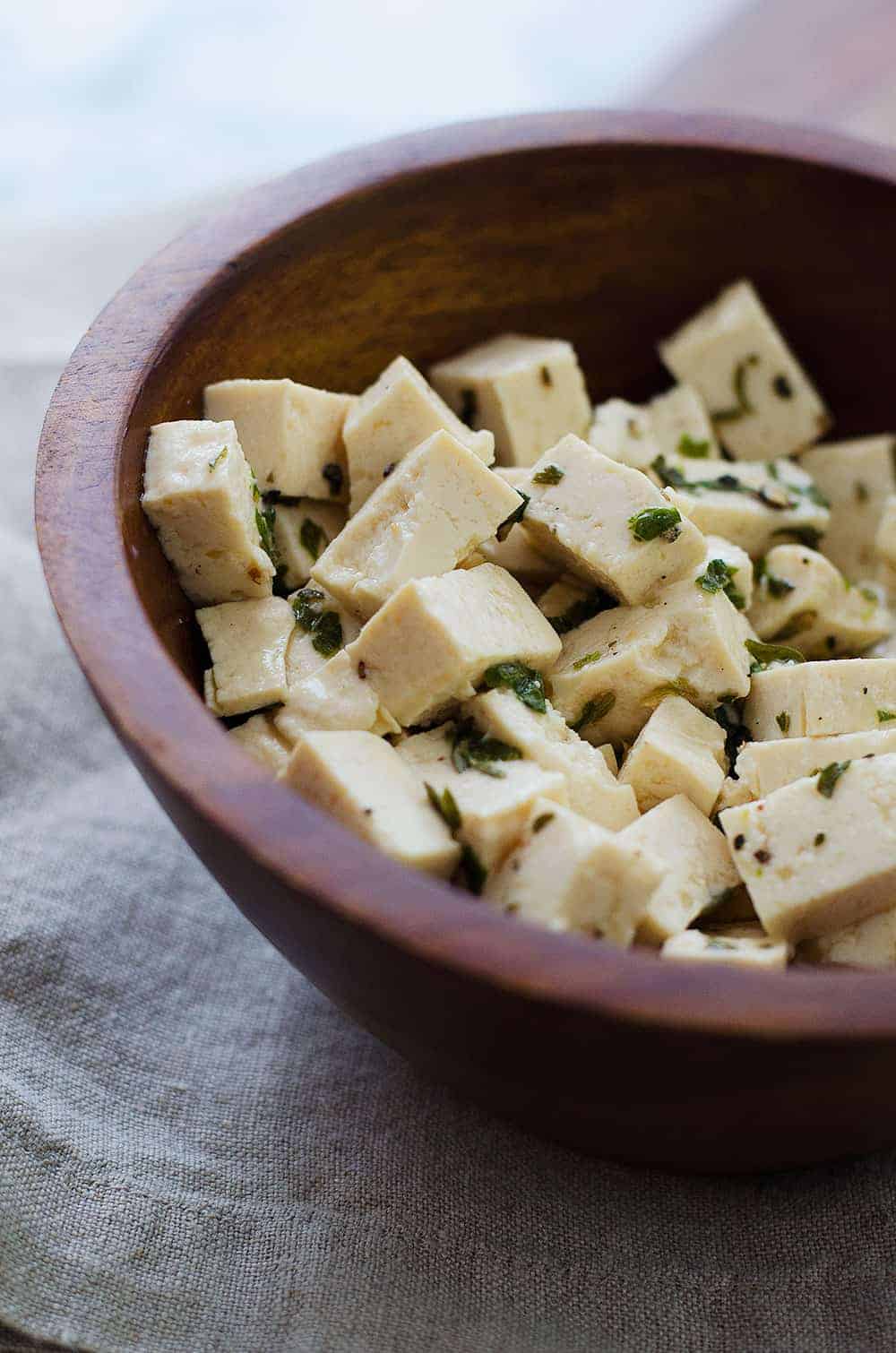 Toss the ingredients together and let the tofu sit for at least 2-3 hours, preferably longer. I usually make the tofu at night for lunch the next day. Sure, it's a lot of waiting time but the prep is really minimal.
The tofu feta should last a few days in the fridge, so make a batch for lunches throughout the week! When I'm tired of this salad, I like to tuck sliced tomatoes, lettuce, red onion and tofu feta into a pita pocket for a quick Greek sandwich.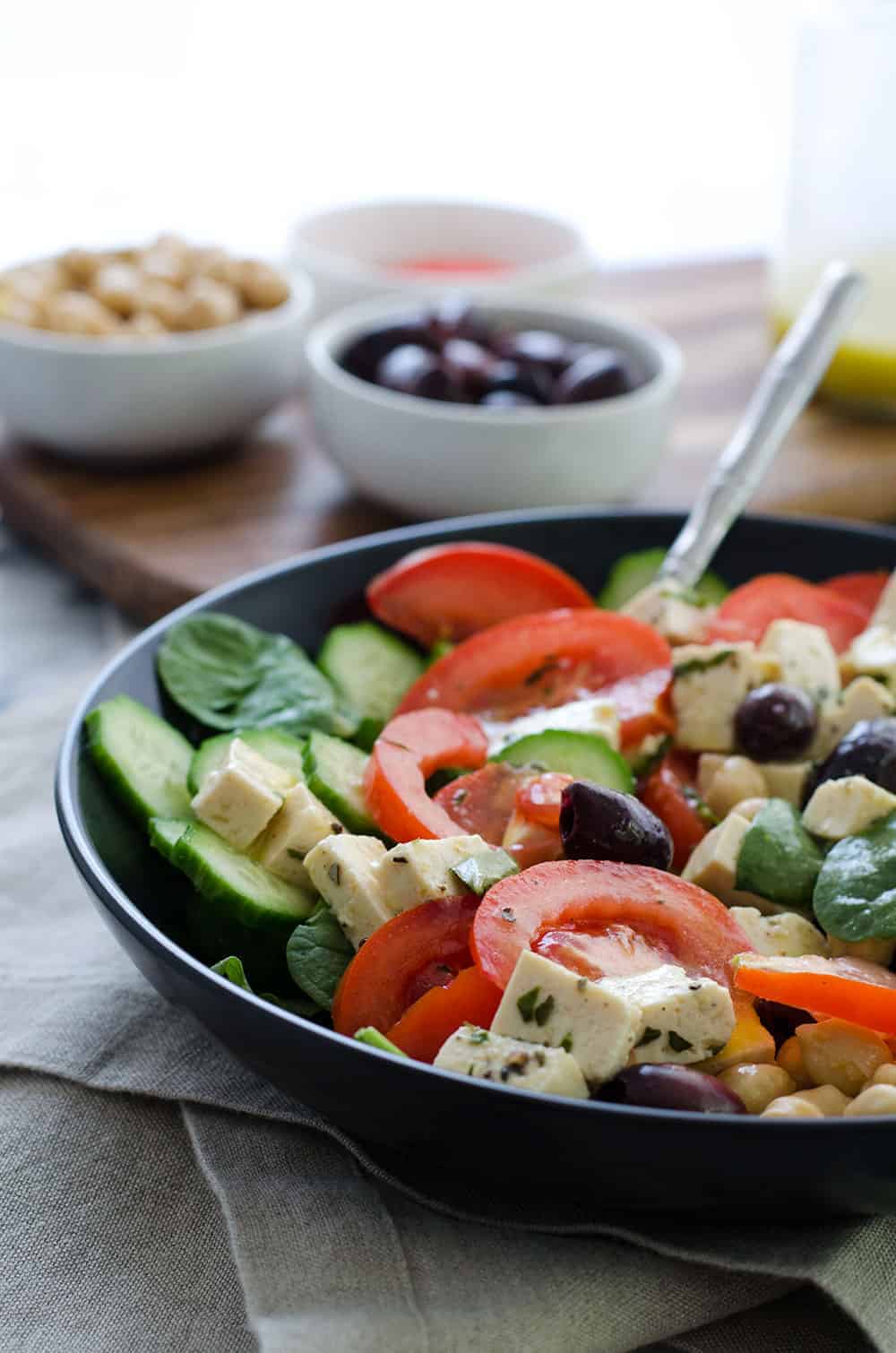 If you try this recipe, let me know! Leave a comment, rate it, and tag your Instagram photos with #delishknowledge . I absolutely love seeing your creations. Happy cooking! 
Vegan Greek Salad with Tofu Feta
Print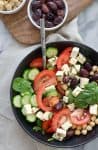 Vegan Greek Salad with Tofu Feta
Author:

Category:

salad, vegetarian, vegan, glutenfree
---
Description
Vegan Greek Salad with Tofu Feta! The best salad for summer; packed with protein and fiber. A must make! Vegan & Gluten-Free.
---
Scale
Ingredients
Tofu Feta:

1

package of extra firm tofu (

400

g)

2 tbsp

white miso

3 tbsp

water

1

lemon, juice (about

2 tablespoon

s)

1 tbsp

apple cider vinegar

1 tbsp

olive oil

1 tbsp

nutritional yeast

1 teaspoon

dried oregano

½ tsp

garlic powder

½ tsp

salt
black pepper
Dijon Dressing:

1 teaspoon

dijon mustard

1

clove garlic, minced

1/4 cup

fresh lemon juice

1/3 cup

extra-virgin olive oil
salt/pepper
Salad Ingredients:

8 cup

s lettuce of choice (I used baby greens but chopped romaine would work as well)

2

large tomatoes, chopped

2 cup

s thinly sliced cucumbers

1

15 ounce can chickpeas, drained and rinsed

1/2 cup

kalamata olives, chopped
---
Instructions
For the tofu feta:
Drain and press the tofu for at least one hour. You can wrap the tofu in towels and place a heavy object on top or with a [url:1]tofu press[/url].
While the tofu is pressing, whisk together the miso and water until smooth.
Combine with the lemon juice, apple cider vinegar, olive oil, nutritional yeast, dried oregano, garlic powder, salt and pepper.
Cut the tofu into small cubes and toss with the marinade. Place in the fridge and marinade for at least 3 hours, preferably longer.
Make the dijon dressing:
Whisk together the dijon mustard, garlic clove and lemon juice until combined.
Slowly whisk in the olive oil until combined. Season with salt and pepper.
Make the salads! Divide the lettuce, tomatoes, chickpeas, cucumbers and olives among 4 bowls. Top with tofu feta and drizzle on dressing. Serve immediately.
---