Vegan Indian Dal Chili! You are going to love this masala spiced chili. Vegan and Gluten-free.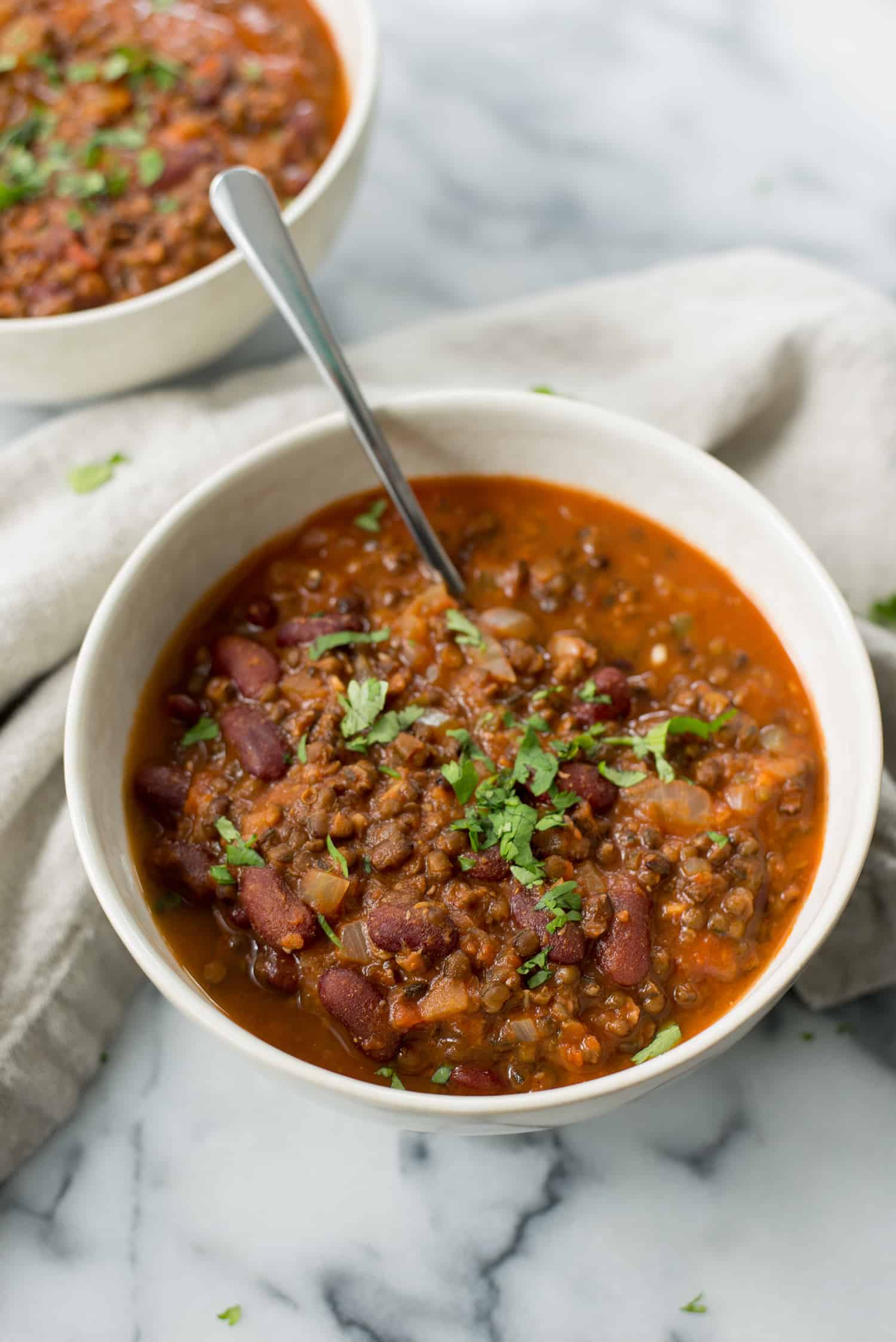 Chili, forever. ❤︎
That's my motto this time of year. Chilly temperatures have me dreaming of chunky socks, oversize sweatshirts and an overflowing bowl of chili. Maybe a side of cornbread, if we're getting really specific.
Looking back over the last few years, I've done chili a lot of ways. In the slow-cooker, with white beans, pumpkin, beer, over polenta and smothered in cheese. Um, I really, really love it.
This isn't your traditional chili; it's chili meets Indian take-out. Urad dal and kidney beans in a fragrant, masala tomato sauce. If you love cumin, ginger and curry powder, you are going to love this chili.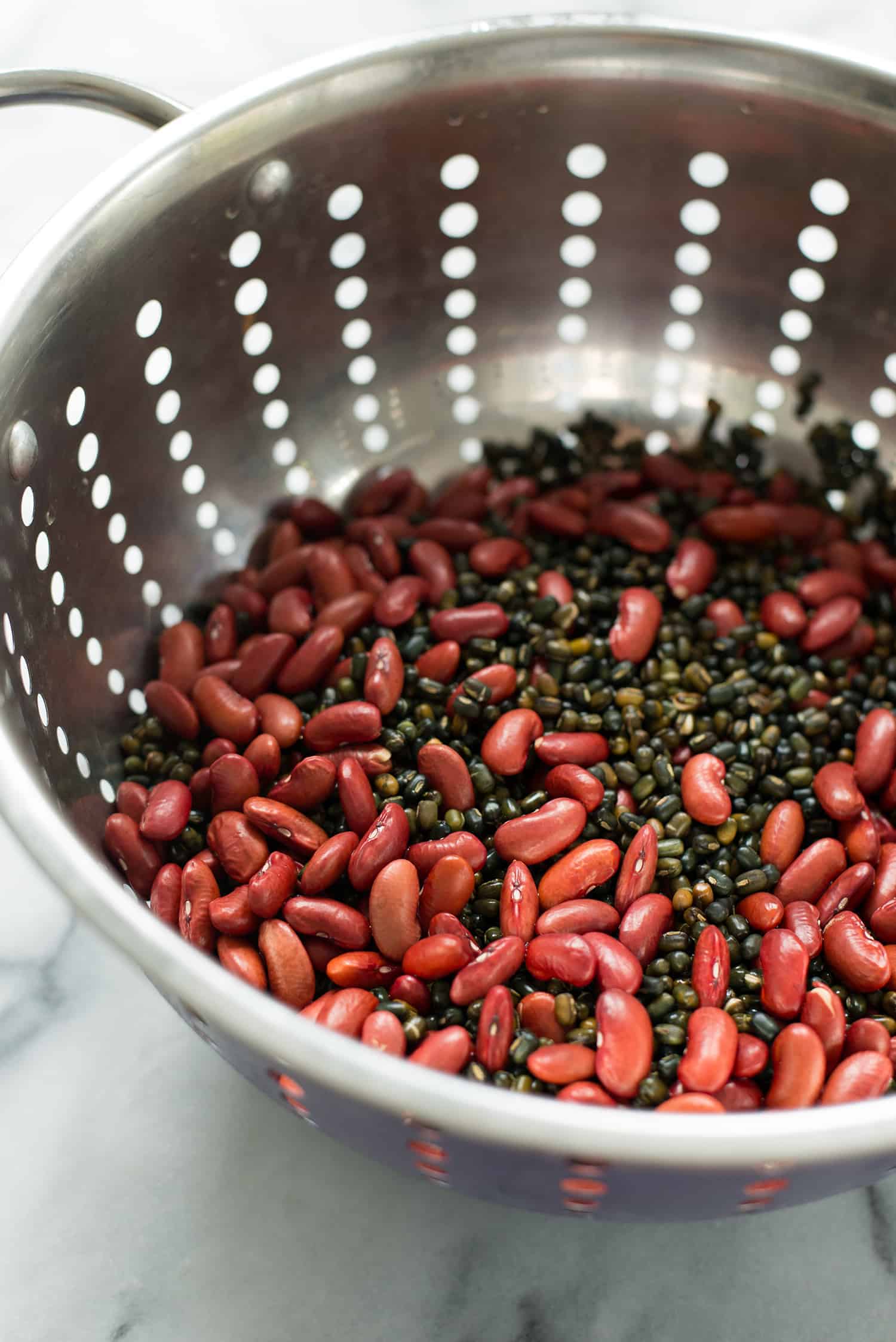 I'm using urad dal beans here, which you may be familiar with if you frequent Indian food joints weekly, like me. If not, you can likely find them at your local Whole Foods bulk-bin section, International Market or online. Honestly, I find myself buying more and more ingredients online. Thanks to Amazon prime, it's so easy to get difficult-t0-find ingredients right to my house in less than 48 hours. No driving, searching or disappointment when I can't find what I need after the third grocery store stop.
If you're making this one, try to find the urad dal, it's worth it! They have a great bite and don't lose their shape like other lentils do when cooked for a long time. But, if you really can't find them, sub in black lentils instead.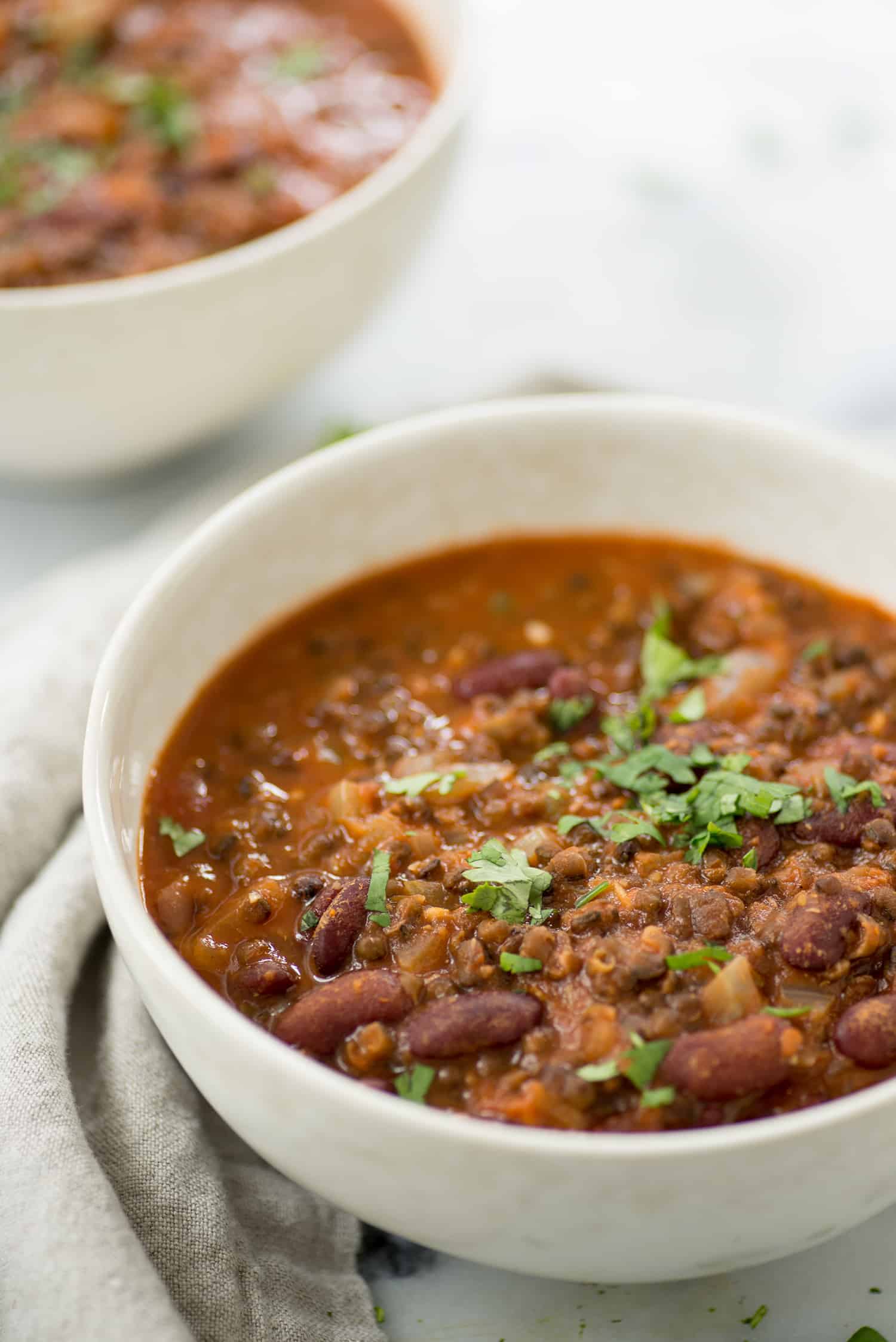 Hello comforting bowl of spice! Packed with so much fiber and protein, this is one filling chili.
I've only known chili for what it is- a thick stew that's sometimes served with cornbread. BL, however, considers chili to be a topping for elbow noodles or rice. Is this some midwest thing I don't know about? If you prefer a heartier meal, serve this chili on top of basmati right, with maybe a piece of naan on the side. (Note: I will try and find a reason to have naan served with every meal.)
If you do go this route, feel free to decrease the water to 2 cups for a thicker stew.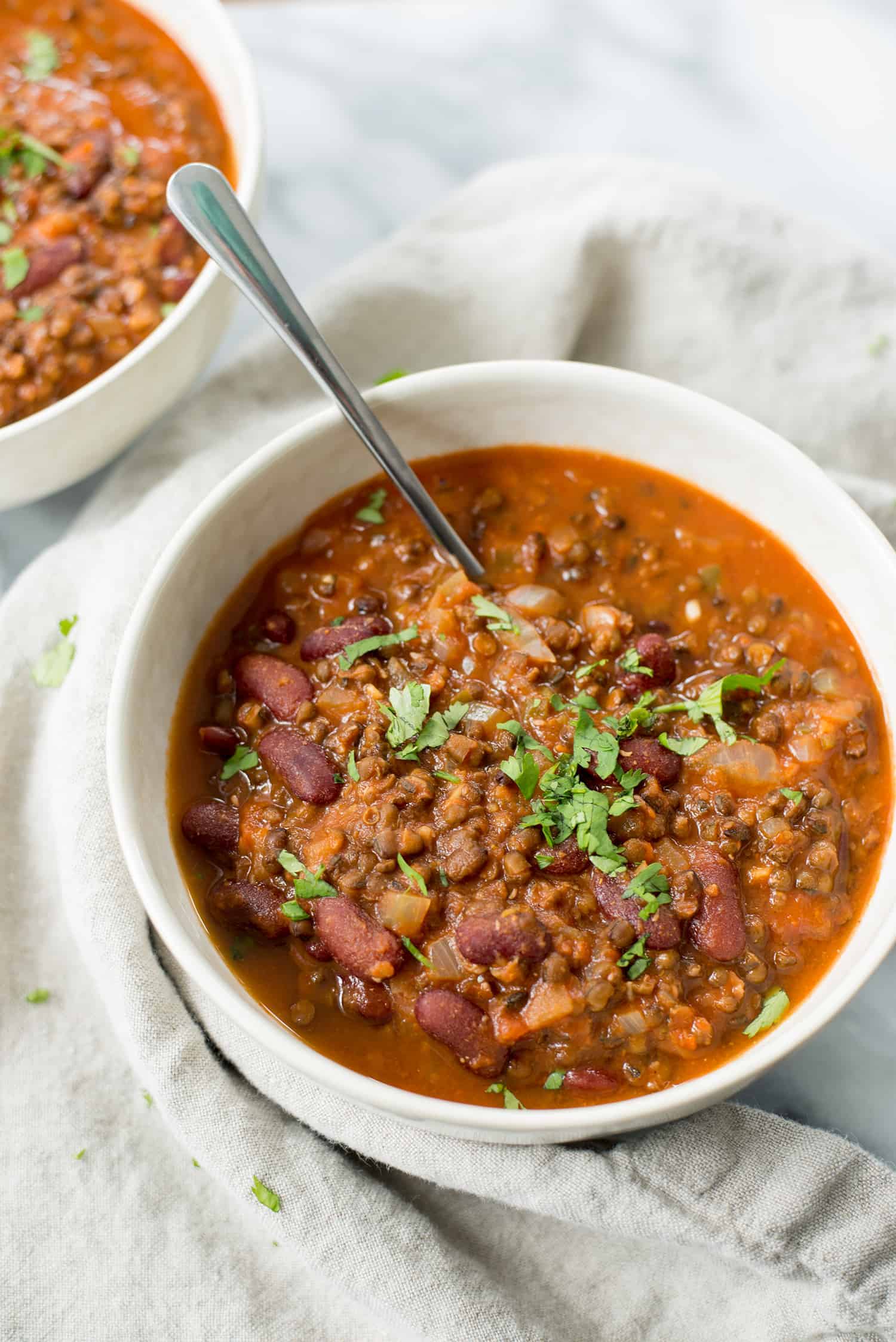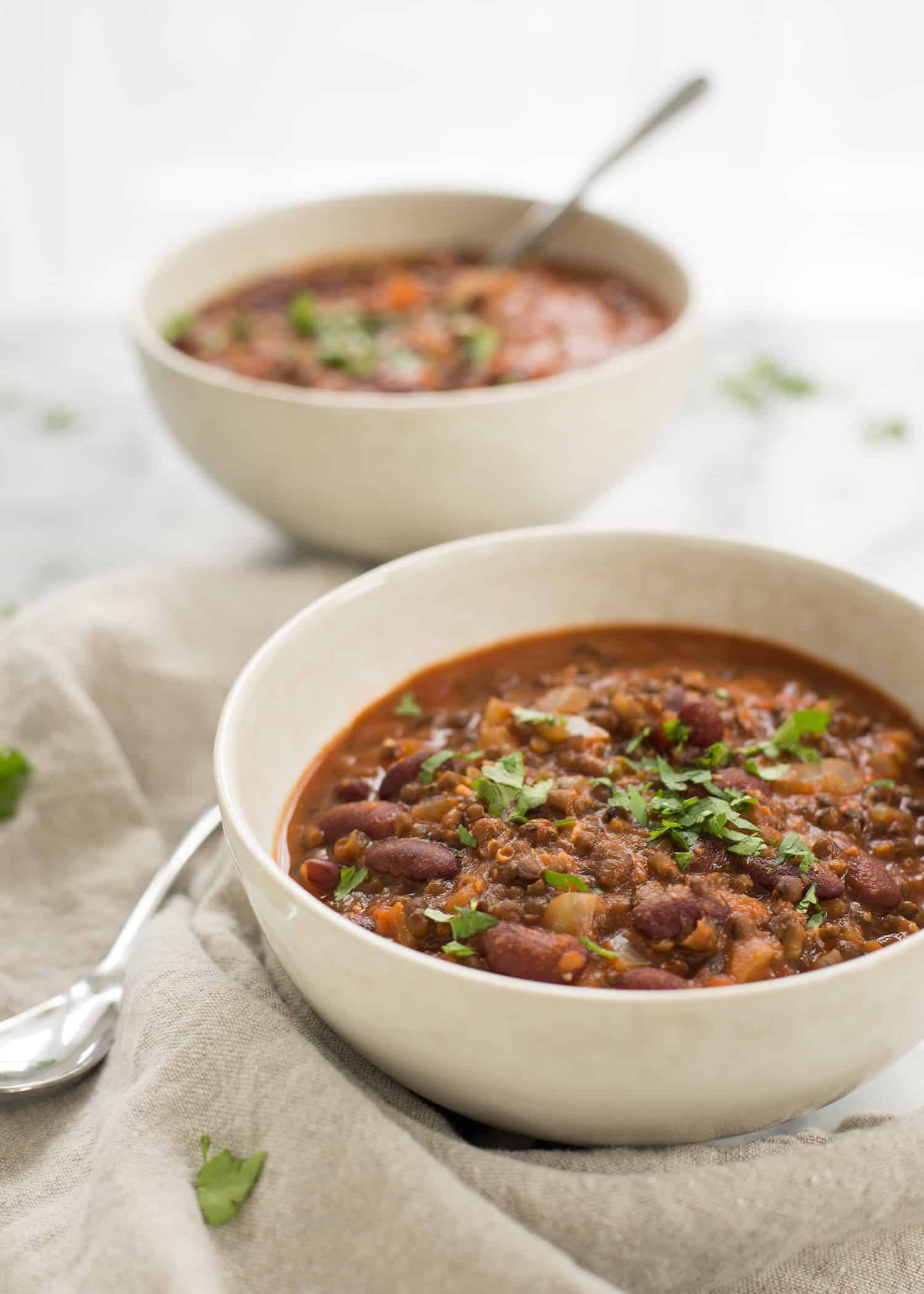 Vegan Indian Dal Chili
Vegan Indian Dal Chili Author: Alex Caspero Vegan Indian Dal Chili! You are going to love this masala spiced chili. Vegan and Gluten-free.
Ingredients
1½ cups whole urad dal
1 cup dried small kidney beans
1 tablespoon olive oil
1 medium onion, very finely chopped
4 garlic cloves, minced
2 tablespoons minced fresh ginger
1½ teaspoons cumin seeds
1 tablespoon chili powder
1 teaspoon garam masala
½ teaspoon cayenne pepper (or more/less depending on your preference)
1-2 Thai green chilis, minced
1 28 ounce can crushed tomatoes
3 cups water
1 teaspoon lime juice
⅓ cup chopped cilantro leaves
Instructions
Combine the urad dal and kidney beans in a large pot and cover with water by at least 1 inch. Soak for at least 8 hours or overnight.
Drain and rinse beans, then return back to the pot with 8 cups water. Bring to a boil, then reduce heat to low and cook until tender, about 60 minutes. You can also cook beans in a pressure cooker for 15 minutes.
Heat the olive oil over medium heat and add the onion. Cook until onion is very soft, about 5-7 minutes. Add the ginger, garlic, cumin seeds, chili powder, garam masala, cayenne pepper and chili peppers. Cook for another 5 minutes until chilis are soft.
Add in the crushed tomatoes, water and cook at least another 15-20 minutes until the mixture has thickened and warmed through. Right before serving, stir in the lime juice and cilantro.