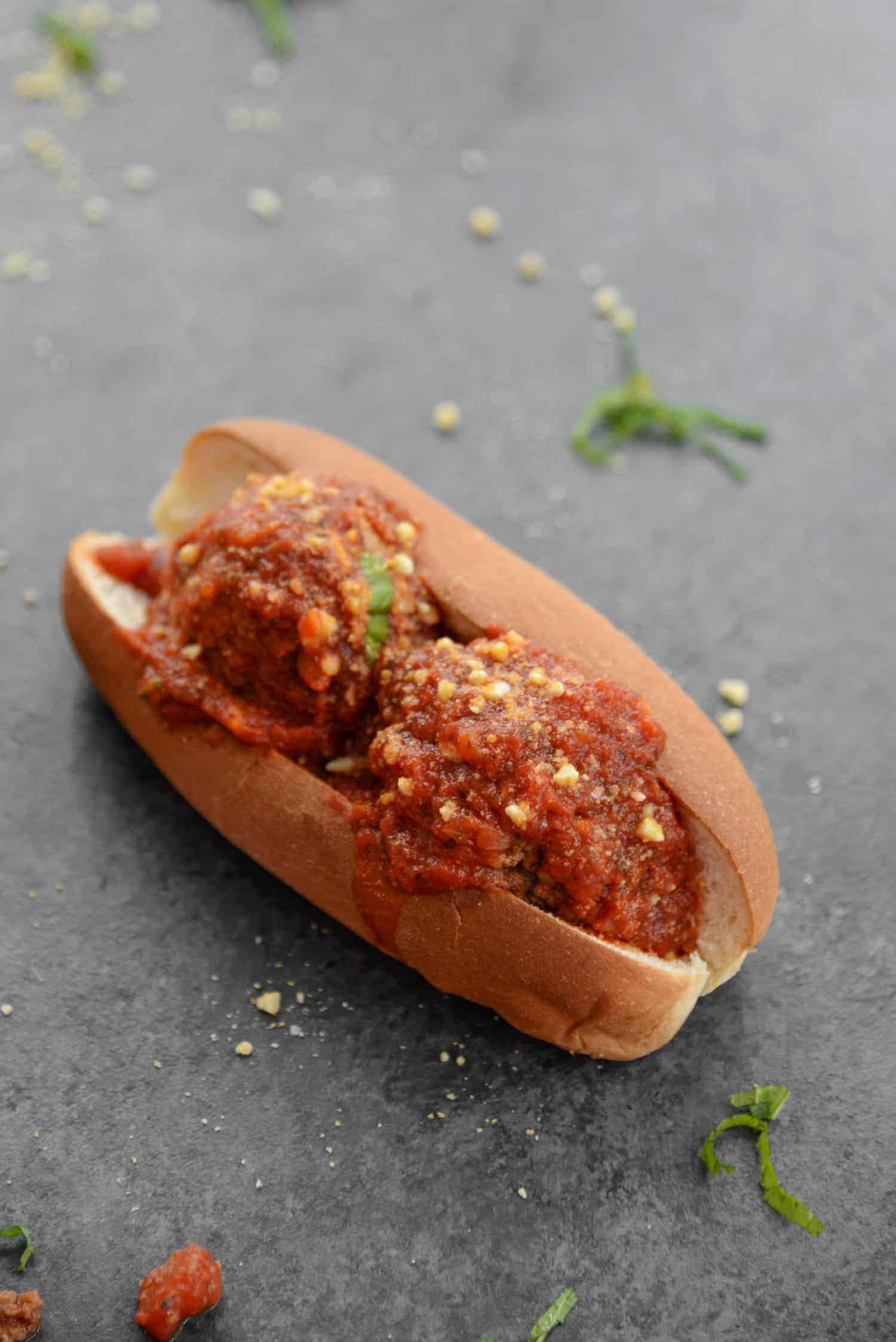 Hi friends! Happy Labor Day. What are your plans for today? Hope they include relaxing with your loved ones and something on the grill.
Popping in this morning to share with you this meatball sandwich, made with homemade chickpea meatballs. Tender, flavorful little balls that just beg to be covered in marinara sauce and tucked into toasted hoagie rolls.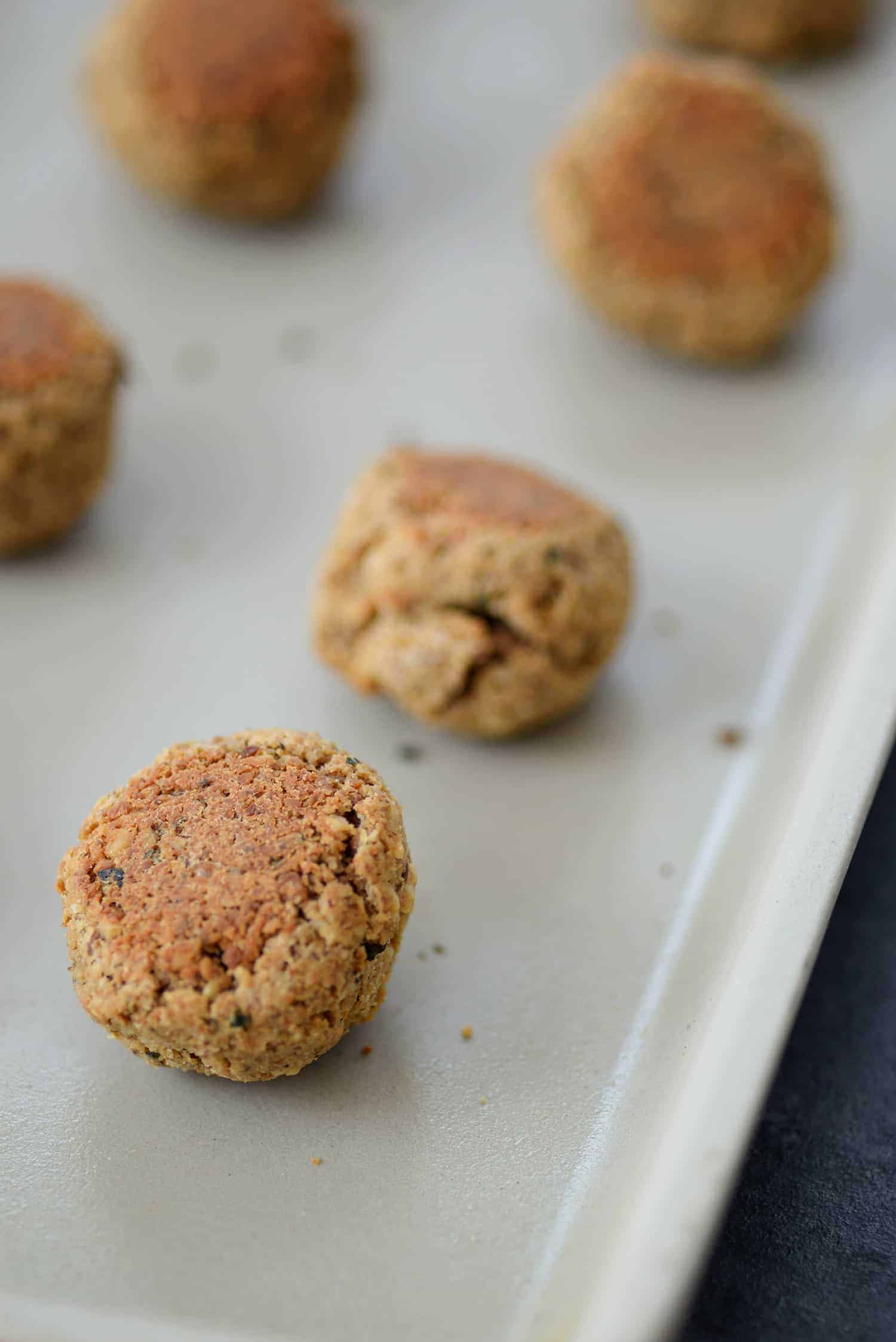 MY LATEST VIDEOS
I've got a saying when it comes to vegetarian food- and that's not to try to recreate meat items with veggie versions. When I'm feeding omnivore friends, I tend to stick with dishes that are unique in their own right; dishes that could naturally be vegetarian without feeling like anyone is 'missing' the meat. That list usually includes a yummy pasta, enchiladas, Indian or Thai cuisine, salads or grain bowls.
That mantra usually goes pretty far, especially when there's nothing to compare it to. Nothing worse than hearing someone say, 'it's no _____, but it tastes OK.' That's all to say that these chickpea meatballs aren't my grandmothers meatballs. If I expected that same taste, I'd probably be a little disappointed. That's not to say they aren't fantastic though, they just have a little different texture and feel than regular meatballs.
After making these a few weeks ago, I've already made two other batches, freezing one for when baby gets here and using the others in these sandwiches or chopped onto salads. I've got a feeling that these meatballs are perfect for little mouths as well. I've made a similar mini-meatball for my nieces and they go crazy for bite-size balls that they can dip into their favorite sauces.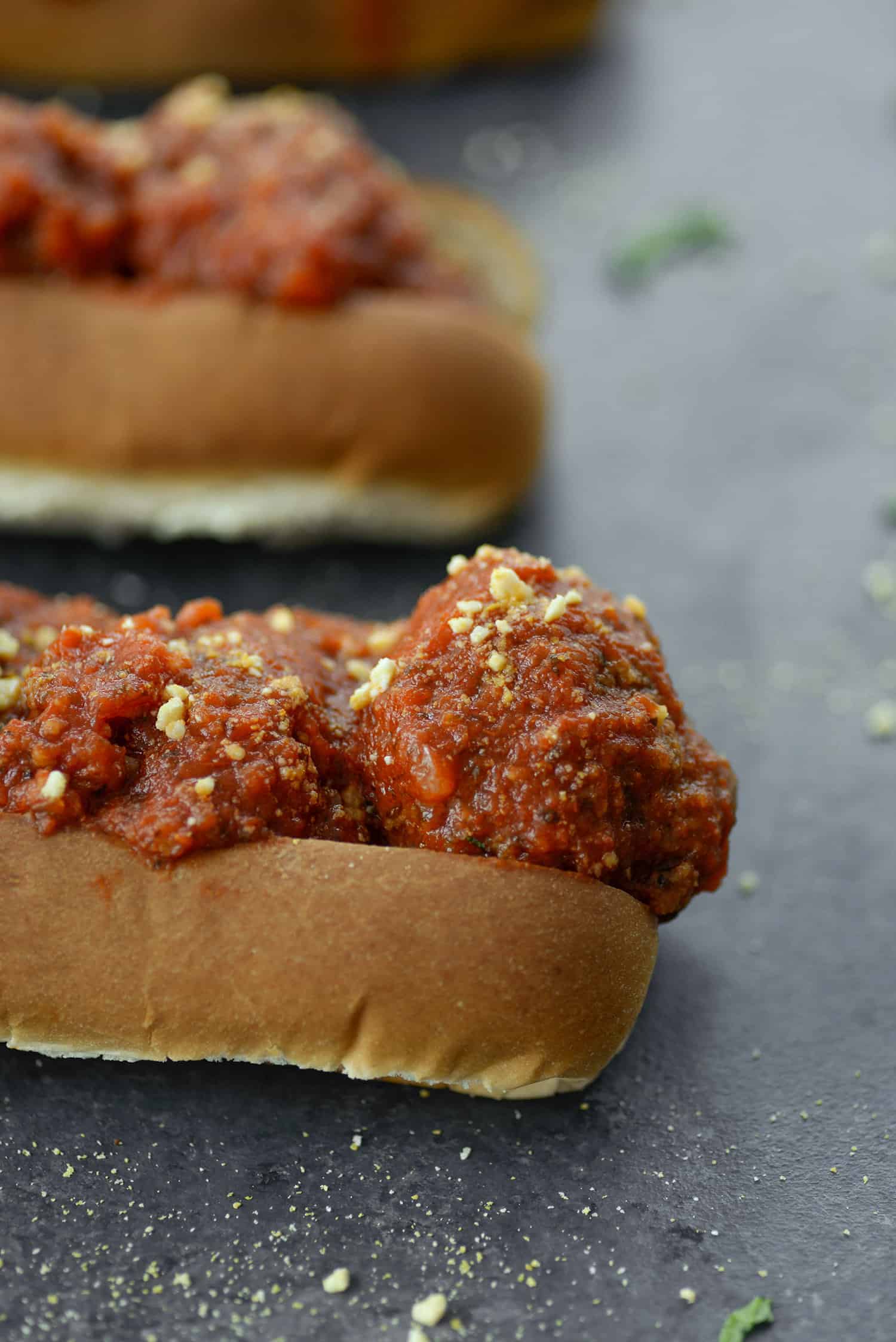 A quick word on assembling these: if you simmer them in warm sauce for too long, they will break down and you will end up with chickpea mush. It'll taste great, but the balls don't hold their shape long in a sauce.
Therefore, I recommend making the meatballs and warming whatever sauce you want to use on the stove. If I'm feeling particularly ambitious, I might make my Sunday Red Sauce from my cookbook. If I'm feeling like I'm 9 months pregnant, then I'm using Trader Joe's Tomato Basil jar sauce. It's pretty good and only $1.99.
Right before you are ready to eat, dunk the meatballs into the sauce using a slotted spoon and tuck into toasted bread. I love the texture combo of toasted bread and warm sauce, but I suppose plain rolls bread could work as well. Then, cover in more sauce and a sprinkle of parmesan cheese. For my dairy-free friends, try my homemade vegan parm. It's amazing and keeps for 6 months or so in the freezer. For my non-veg friends, regular parm works too.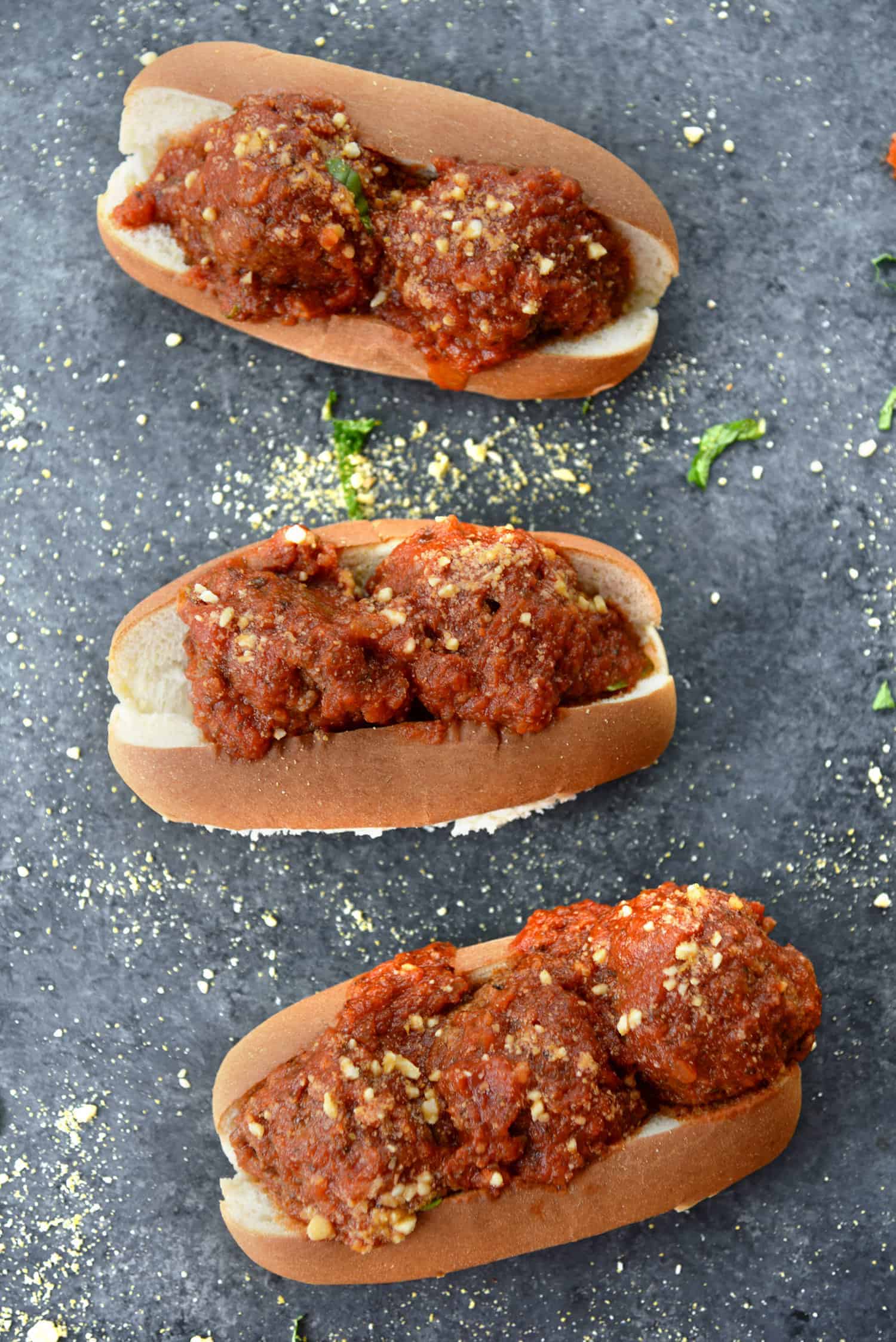 If you try this recipe, let me know! Leave a comment, rate it, and tag your Instagram photos with #delishknowledge . I absolutely love seeing your creations. Happy cooking!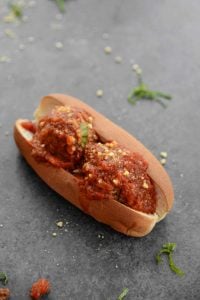 Print
Vegan Meatball Sandwiches
Yield 4 sandwiches (12 meatballs)
Vegan Meatball Sandwiches! If you love meatball sandwiches, then you've gotta try this vegan version. Chickpea meatballs smothered in marinara sauce and homemade vegan parmesan. Meatballs freeze well!
Ingredients
Vegan Meatballs: 
1 tablespoon ground flax seed meal 
3 tablespoons water 
2 cups canned chickpeas, drained and rinsed 
1/2 cup walnuts 
1 teaspoon dried oregano
1 teaspoon dried basil
1 teaspoon dried parsley 
1/2 teaspoon salt 
1/2 cup breadcrumbs
4 tablespoons water 
2 tablespoons oil 
Sandwich ingredients: 
Instructions
Preheat oven to 450 degrees F.
Mix together water and ground flax seeds in a small bowl and set aside to gel.
Place chickpeas and walnuts in food processor and pulse until very finely chopped. Remove from base of food processor and place in a large bowl. Add in gelled flax seed mixture along with the dried spices, breadcrumbs, water and oil. Stir together until mixture comes together. (Too sticky? Add more breadcrumbs? Too dry? Add a bit more oil) 
Roll mixture into balls (I used this scoop) and place on a lightly greased baking sheet. 
Bake for 20 minutes until golden browned. 
To serve, split the buns and add a layer of warmed sauce. Add the meatballs and cover with more sauce. Top with parmesan cheese and enjoy! (While these meatballs hold their shape well, I find they get too soft if they are simmered in the sauce. If you want to cover them completely, warm the sauce, then add the meatballs just before serving. If they sit too long, they will break down.) 
Notes
Nut free? My niece's school is nut-free so my sister made these without walnuts, subbing in 1/2 cup sunbutter (sunflower seed butter) instead of walnuts. I haven't tried this version, but she makes it often and says it works beautifully! 
Courses dinner, main, sandwich
Cuisine vegan, vegetarian