Simple vegan pizza that taste like Puttanesca pasta! Layers of fresh tomato slices, briny olives and capers and roasted vegetables. Topped with homemade dairy-free parmesan cheese.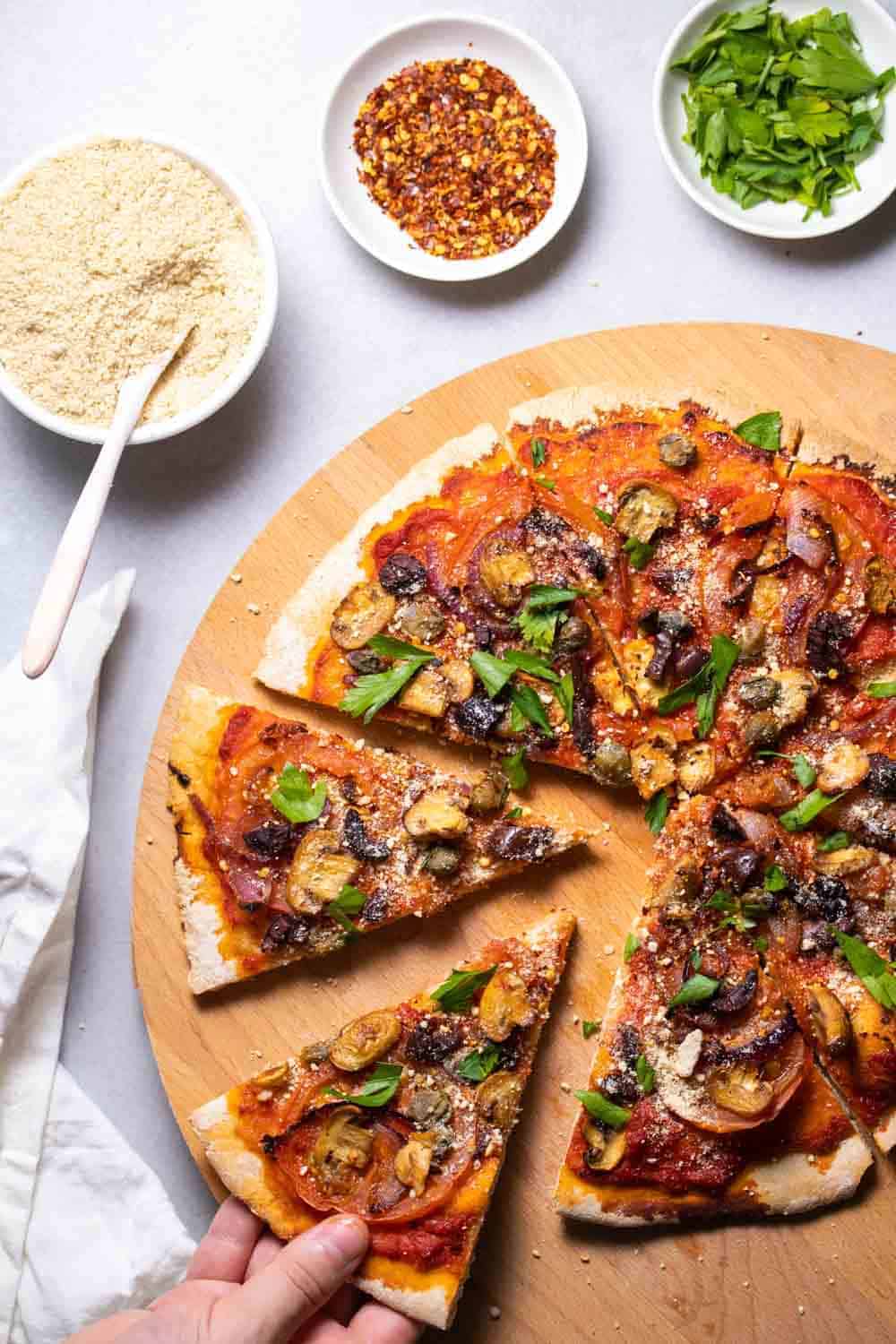 Puttanesca pizza! I first made this recipe for you back in 2014, but decided it needed a refresh. Have you noticed that I've done that to quite a few recipes as of late? Things that I posted back in 2010-2014 that needed to be reworked/rephotographed/redone.
I always get asked how I come up with so many recipes and the truth is that sometimes I have so many ideas I could fill a notebook and sometimes I get into ruts of creating new things that I'm really psyched about. I'm almost finished working on two big projects where I've had to create almost 200 different recipes and that means my recipe brain gets fried faster than usual.
So I've been recreating some of the items that I know you would love, but were a little hard to find on this space.
MY LATEST VIDEOS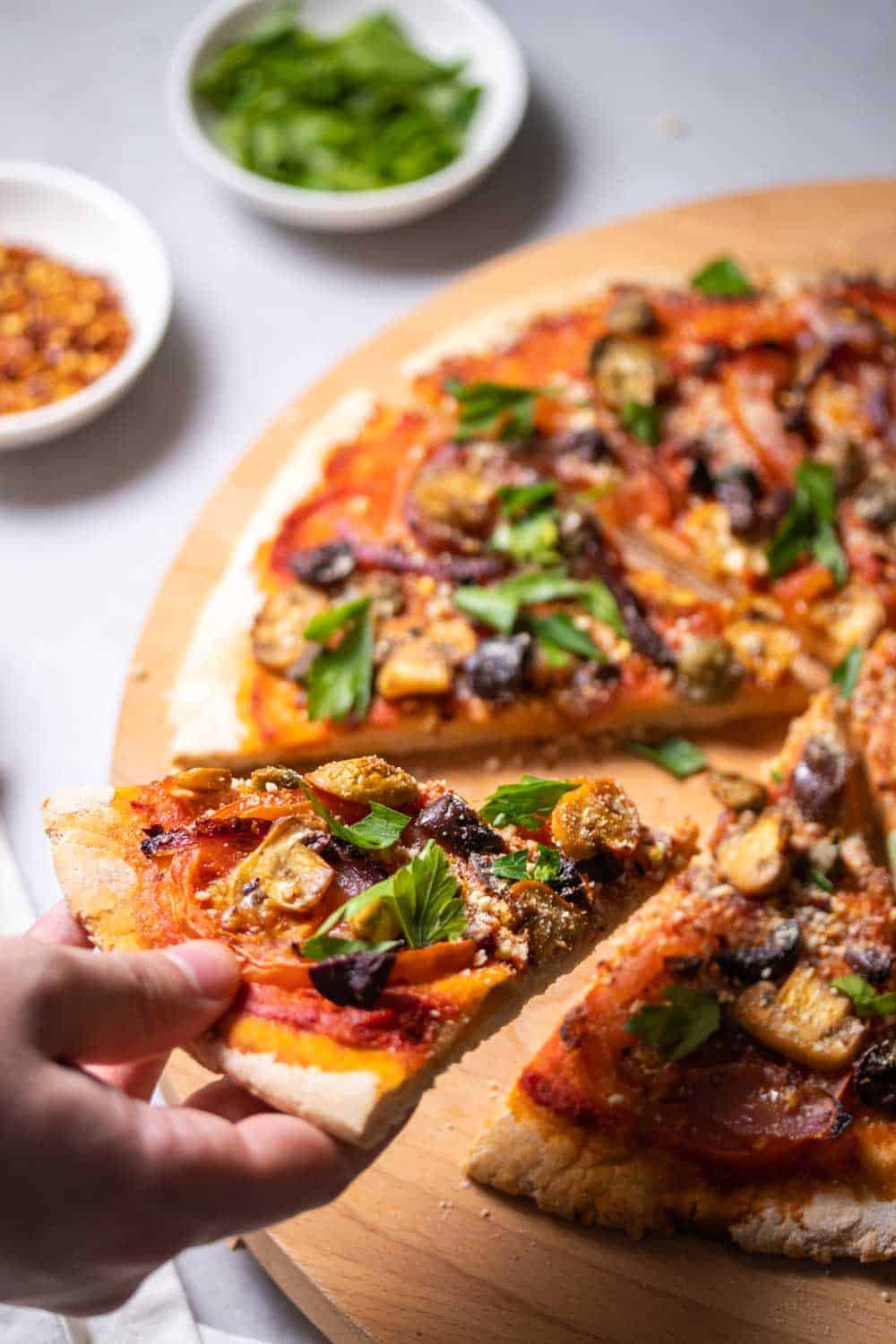 We watched the movie Chef this weekend (PS- so good! Make sure you've eaten beforehand because you are going to drool over every scene), and I felt drawn to the struggles he faced everywhere in his life…besides the kitchen.
The kitchen is my safe space. It's where I can lose myself in rolling out a pizza dough, creating a new sauce, or taste testing multiple batches of granola at once. While I am working on being more present in my day-to-day life, being in the kitchen helps to ground me. So, thank you for continuing to show up day after day and allowing me to share my love with you.
Yummy, healthy, whole-food recipes from me to you. It's what Delish Knowledge is all about.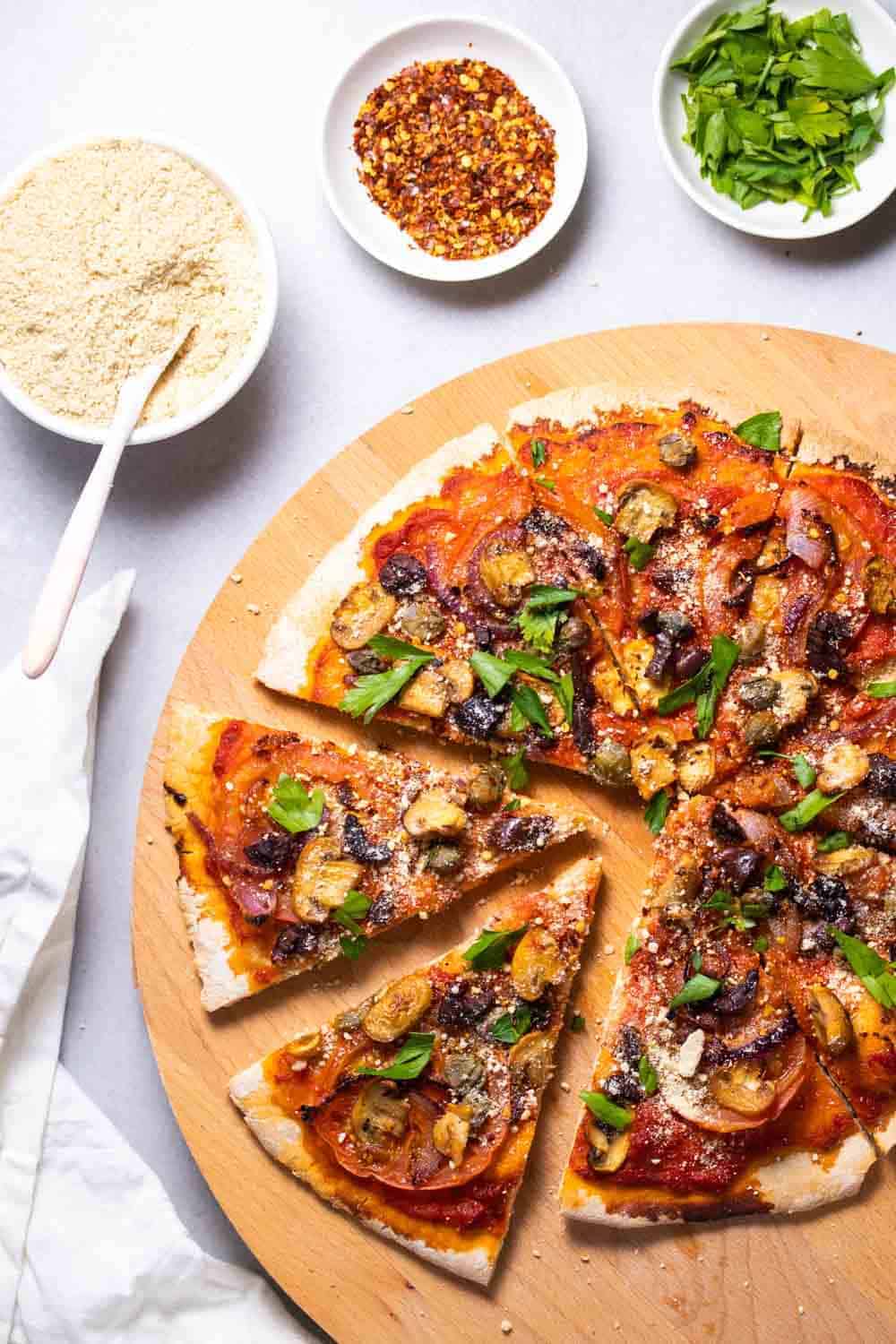 Um, what's this gotta do with pizza? Nothing. But, you should totally make this one!
Puttanesca ranks as one of my favorite spaghetti dishes of all time so it was inevitable that I would one day recreate those flavors as a pizza.
A smidge of tomato sauce and layers of fresh, thinly sliced tomatoes create the perfect base for briny olives, capers, caramelized onions and mushrooms. We then kick it up a notch with crushed red pepper.
For pizza dough, I'm a loyalist to the Trader Joe's pizza crust in a bag. For less than $2 you get a freshly prepared dough that takes very little effort to roll out and top.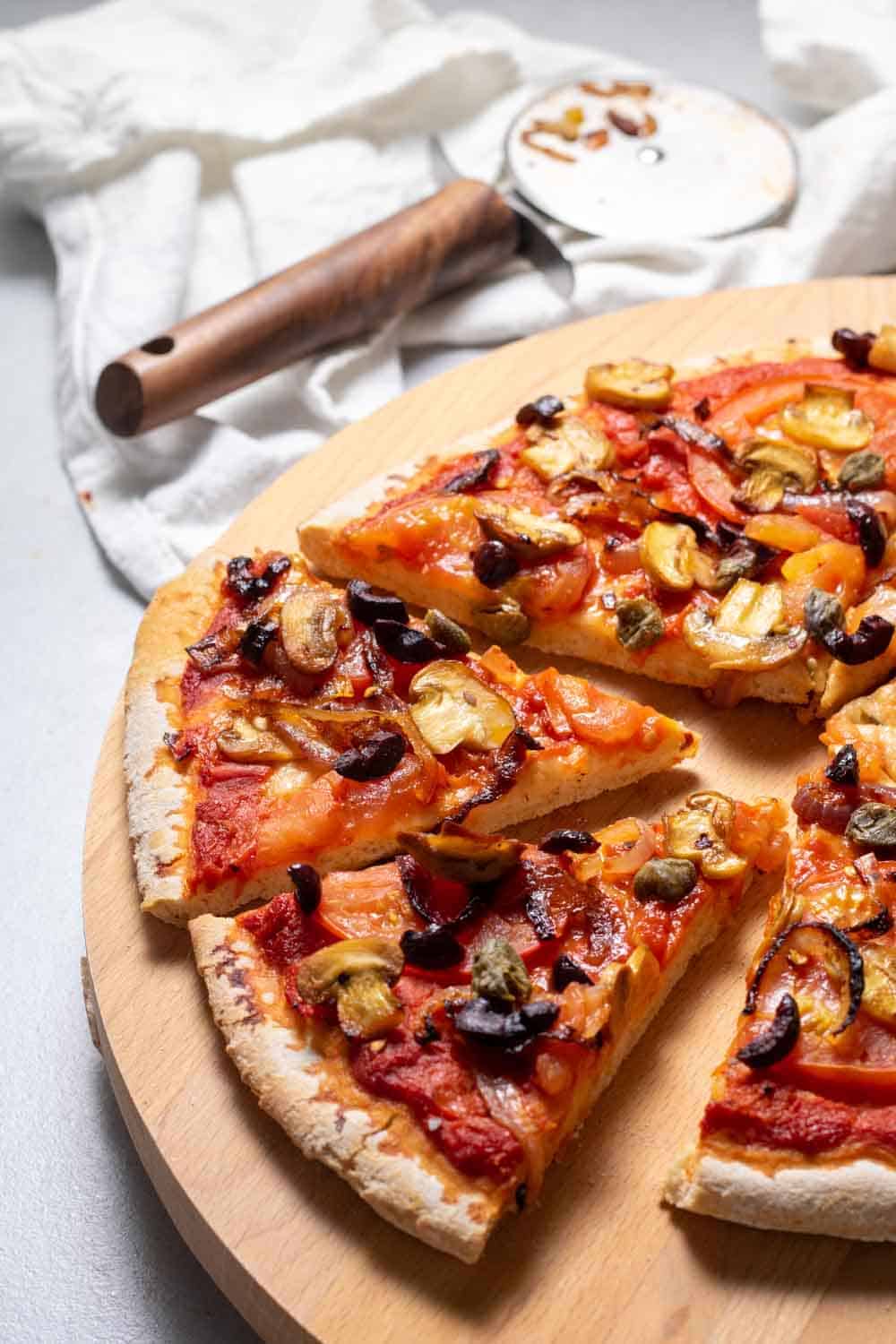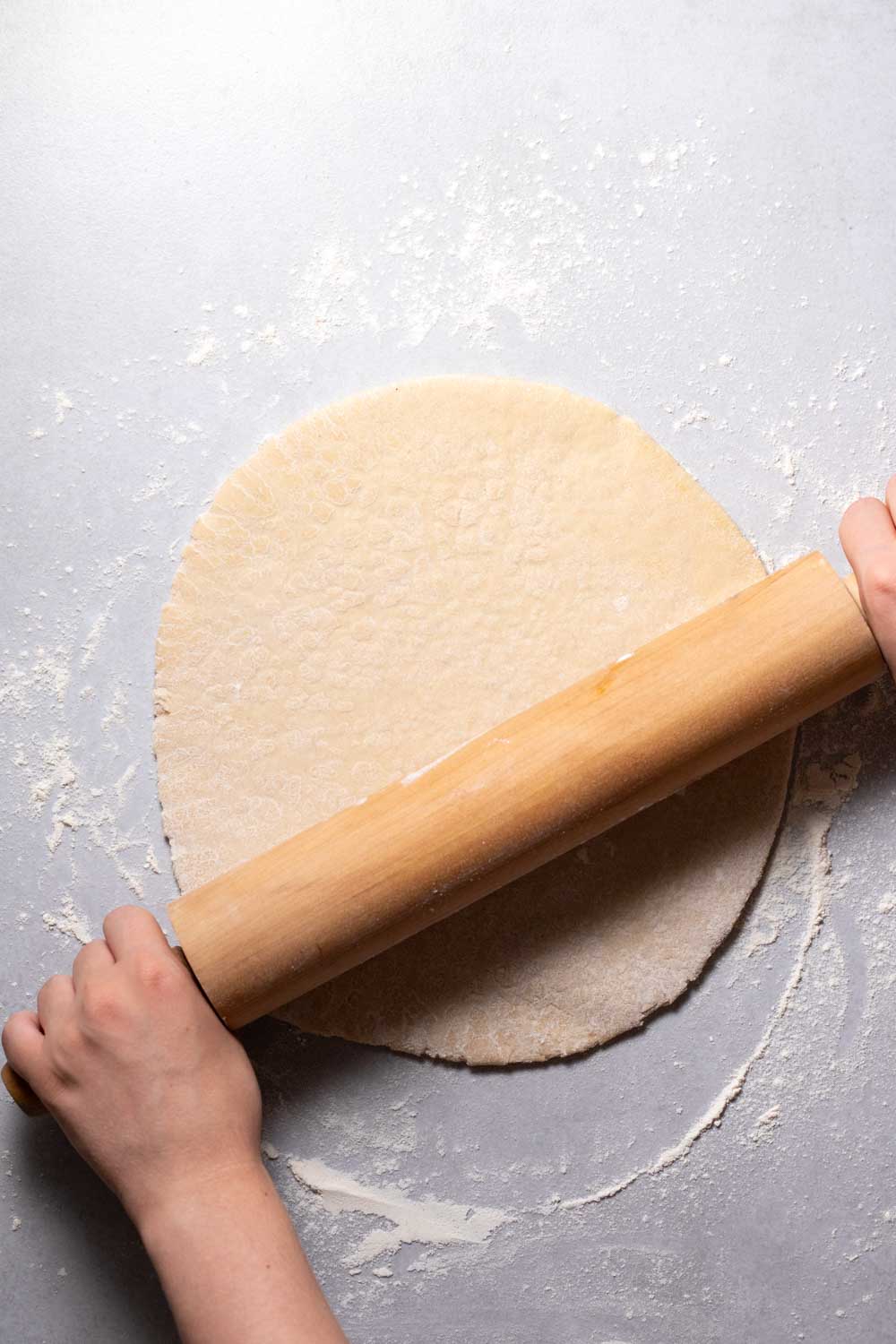 To recreate the cheesiness of traditional pizza, generously sprinkle on our homemade Parmesan cheese shake: blended cashews, nutritional yeast and garlic salt tastes eearily similar to regular parm. I keep a batch of this in the freezer for adding onto just about any dish where I need a cheesy hit of flavor.
Roll. Top. Bake. Shake. Vegan Puttanesca pizza is served.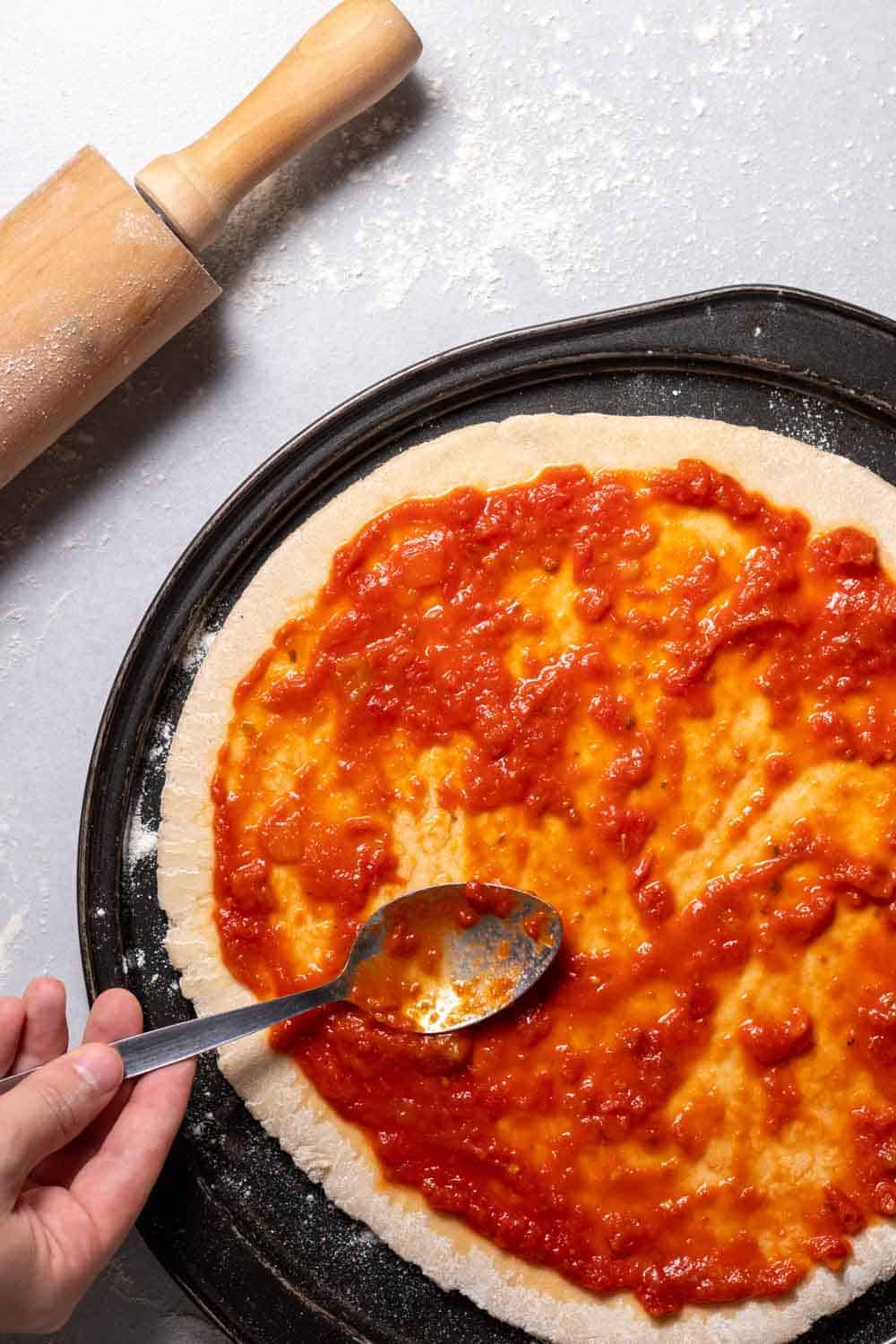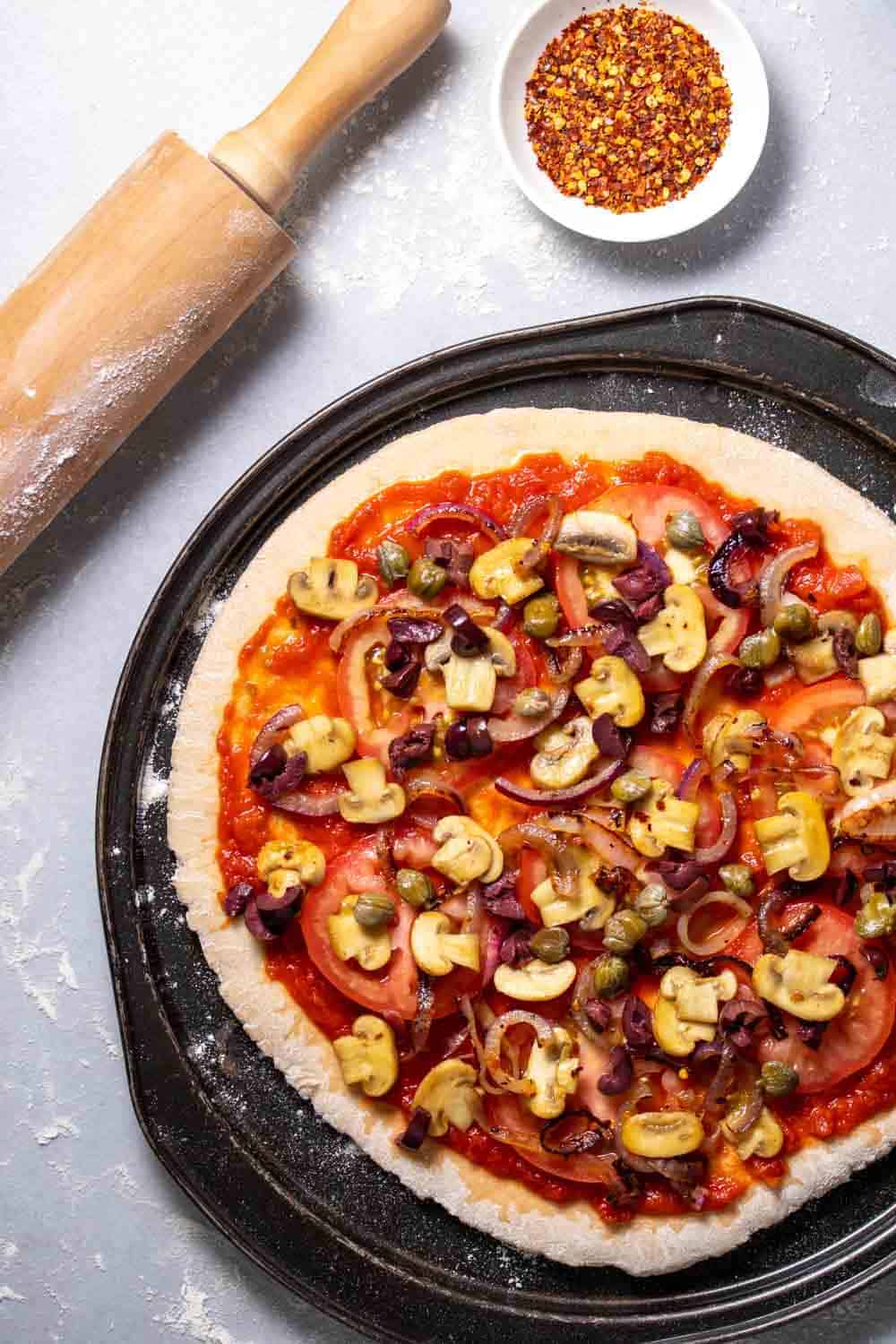 If you try this recipe, let me know! Leave a comment, rate it, and tag your Instagram photos with #delishknowledge . I absolutely love seeing your creations. Happy cooking! 
Print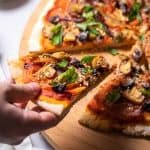 Vegan Puttanesca Pizza
Author:

Prep Time:

20 minutes

Cook Time:

15 minutes

Total Time:

35 minutes

Yield:

4

1

x
Category:

Main

Cuisine:

Pizza
---
Description
Spicy Vegan Puttanesca Pizza! Fresh dough layered with tomatoes, olives, capers and homemade vegetarian parmesan cheese.
---
Scale
Ingredients
Pizza Dough (I used a plain dough from Trader Joe's)

1 tbsp

. olive oil, divided

1/2

red onion, sliced into very thin 1/2 moons

1/2 tsp

. crushed red pepper flakes

8 oz

. button mushrooms, sliced

3 tbsp

. tomato sauce

2

large tomatoes, sliced very thin

1/4 cup

chopped olives

2 tbsp

. capers

2 tbsp

. chopped parsley
Vegetarian Cheese for sprinkling: Pulse all ingredients into a powder: 3/4 cup cashews, 1/4 cup nutritional yeast, 1 tbsp. garlic powder, pinch salt
---
Instructions
Preheat the oven to 425 degrees F.
Heat a large skillet over medium high heat and add 1/2 tbsp. olive oil.
Add the red onions, red pepper flakes and pinch salt and cook until translucent and soft, about 7-8 minutes.
Remove the onions from the pan and add the additional 1/2 tbsp. olive oil.
Add the sliced button mushrooms and saute until browned, about 5-8 minutes.
Remove the mushrooms from the pan and set aside.
Spread out the 3 tbsp. of tomato sauce onto the crust, leaving about 1″ around the edge for the crust. Depending on how big your crust is, you may need to add another tbsp. of sauce.
Layer the sliced tomatoes, mushrooms, onions on the sauce. Sprinkle on the olives and capers.
Place the pizza in the oven for 12-15 minutes until lightly browned and golden!
Remove and sprinkle with parsley, more red pepper flakes and vegetarian parmesan cheese shake!