Gluten-Free, Vegan Ranch Bowls! These salads bowls are packed with vegetables and ranch-roasted chickpeas! 250 calories, 11g fiber, 12g protein (without dressing).
You guys know I'm a salad gal. I love 'em. I preach about 'em. I still get excited about them after all these years. And while I've yet to meet a salad topping I didn't like, in reality- I'm just here for the dressing.
This ranch bowl has been a long time coming. Ranch-roasted chickpeas, juicy tomatoes (♥), cucumber, peas, all swirled together in ranch dressing heaven. If Hidden Valley commercials were real, they would be eating this salad.

Ranch dressing < —- why are you so yummy? I'm only slightly embarrassed that you are this dietitian's first choice when it comes to dressing.
Sure, I like vinaigrettes and flavored oils as much as the next person, but given the choice between ranch and every other dressing on the planet? Ranch Good ranch always wins. 
First, ranch needs to be slightly runny. I want to be able to drizzle it on, not spoon it out in globs. Because as much as I love the flavor of ranch, I am quickly turned off by anything that globs. If it looks too much like mayo, I'm outta here.
Second, the homemade version wins every single time. Since my homemade ranch takes 0.5 seconds to whip together, this is never a problem. And always the problem. Once you start making it, it's hard to stop. Ranch and crackers? Ranch and rice? It's not always pretty, but it always tastes good.
Lastly, fresh ground pepper! It's the secret ingredient that I must have when making most of my dressings, ranch definitely included. It gives the perfect amount of zing, I even crack a bit extra on top after everything is dressed and ready to go.
Since we are already paying so much homage to ranch dressing, why not make ranch-roasted chickpeas? Because if you're going to get obsessive about something, why not go all the way?
I wanted these chickpeas to taste like Cooler Ranch Doritos aka my all-time favorite chip. Even my health-nut friends have to agree, Cooler Ranch Doritos set the bar when it comes to snacking. Since I don't want to advocate piling handful after handful of Doritos onto this salad, ranch-roasted chickpeas are the next best thing.
This meal actually comes together fairly quickly so ranch bowls can be at your beckon call whenever the mood strikes.
Prep the chickpeas first. Toss all ingredients and place in a single layer on a baking sheet. While those are roasting, slice and chop the rest of the vegetables. I used my favorite salad veggies here: fresh tomatoes, thinly sliced red onion, carrots, fresh peas (had them leftover from our CSA), and cucumbers. But, like any and all salads, everything works. Empty out your produce drawer and throw it in!
Divide vegetables among bowls, top with chickpeas and drizzle with ranch dressing. So simple, so satisfying. And did I mention? 11g fiber, 12g protein per serving, both designed to keep you satisfied and full until the next ranch craving hits.
If you try this recipe, let me know! Leave a comment, rate it, and tag your Instagram photos with #delishknowledge . I absolutely love seeing your creations. Happy cooking! 
Print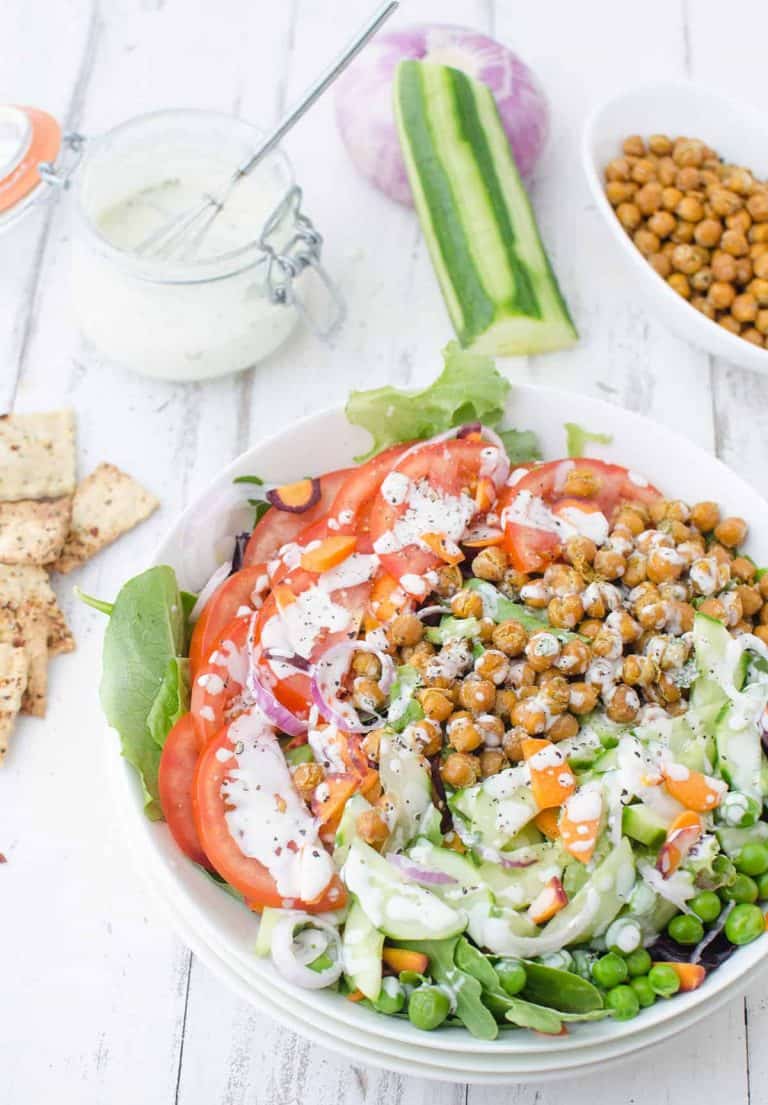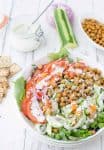 Vegan Ranch Bowl
Author:

Prep Time:

10 minutes

Cook Time:

20 minutes

Total Time:

30 minutes

Yield:

30

min

1

x
Category:

salad, dinner, lunch, healthy
---
Description
Gluten Free and Vegan Ranch Bowls! These salads bowls are packed with vegetables and ranch roasted chickpeas!
---
Scale
Ingredients
Ranch Chickpeas:

2 cup

s cooked chickpeas

1 tbsp

. nutritional yeast

2 tsp

. olive oil

1 tsp

. apple cider vinegar

½ teaspoon

garlic powder

½ teaspoon

onion powder

½ teaspoon

dried dill
Ranch Dressing:

1/2 cup

mayo (use vegan version if needed)

1/4 cup

soymilk
handful parsley, finely chopped

1 tsp

. dried dill

1 tsp

. garlic powder
freshly ground pepper/salt
Vegetables:

2

large tomatoes, sliced

6 cup

s torn lettuce or torn kale

2

carrot, shredded

1

cucumber, thinly sliced

1/4

red onion, thinly sliced
---
Instructions
Ranch Chickpeas:
Preheat the oven to 400 degrees F. Toss chickpeas with nutritional yeast, olive oil, apple cider vinegar, garlic powder, onion powder, dried dill and pinch salt. Place in a single layer on a baking sheet and roast for 20-25 minutes until golden brown and crunchy! Remove and set aside.
Make the Dressing:
Whisk together all ingredients for the dressing. Season to taste with salt and pepper
Assemble the Salad
Divide the vegetables among 4 bowls. Top with chickpeas and drizzle with dressing.
---