As a long-time vegetarian, I know my way around the meat-alternative aisles. I can probably guarantee that if it's carried in a regular grocery store, I've tried it at some point. I take this responsibility very seriously as those of you in the game know; some options are incredible and some are downright inedible.
I'm the girl standing near the tofu case at Whole Foods, giving recommendations to beginners. This is the faux-cheese that will change your life, this is the faux-cheese that will make you never consider faux-cheese again. BL rolls his eyes every time I give my unsolicited advice, but it's all part of my purpose: to show that vegetarian eating is awesome, simple and best of all- delicious.
So, when I find something I love, you can bet that I'm going to share it, shout it, tweet it. When I stumbled upon Sweet Earth products last year, I was so enamored with their options that I shared my love for their burritos here. Then I found their bacon and I felt like the love-gates had been opened once more. I didn't even like bacon before I become vegetarian and here I was, eating BLT after BLT every week last summer. I think this is what true love feels like. ❤︎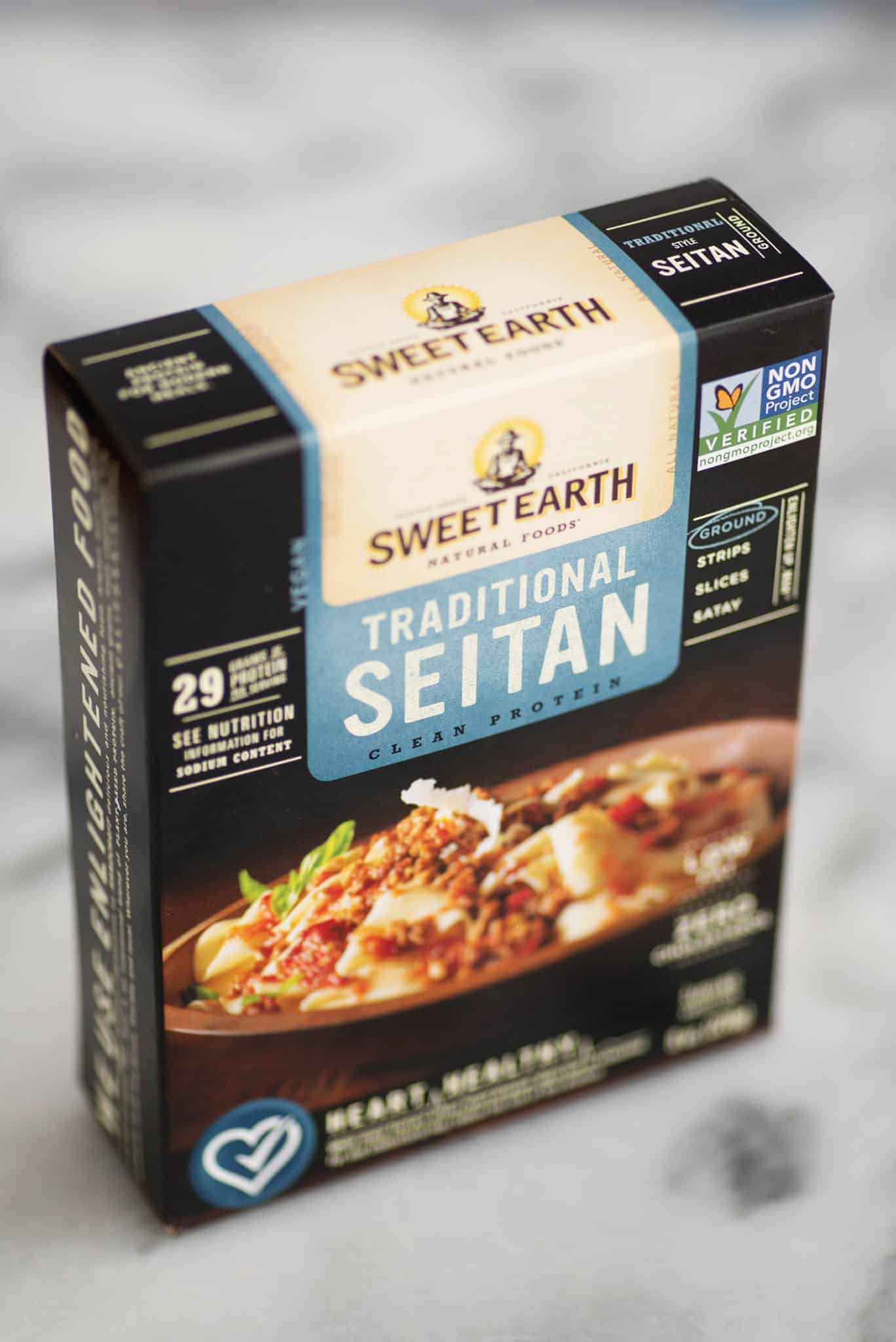 These lettuce wraps, made with Sweet Earth's ground seitan, have been a rotating menu favorite for the last few weeks. Spicy, fragrant lemongrass and chili crumbles tucked inside crisp lettuce. A platter of these and a side of rice is dinner perfection.
MY LATEST VIDEOS
I was first introduced to larb when we were still living in California. One of my favorite Thai restaurants made a tofu and mushroom larb that I would request on an almost monthly basis. Light, yet filling, it was the perfect option when I was craving a nutrient-dense meal, but not in the mood for a salad.
Now that I'm 2,000 miles from Bangkok on 12th, I've had to make my own. Which, seems to be the theme for vegetarian midwest living. Not that I mind; it's been fun to recreate some of my favorite take-out options in the privacy of my own home (and wine that costs as much per bottle as it did the glass).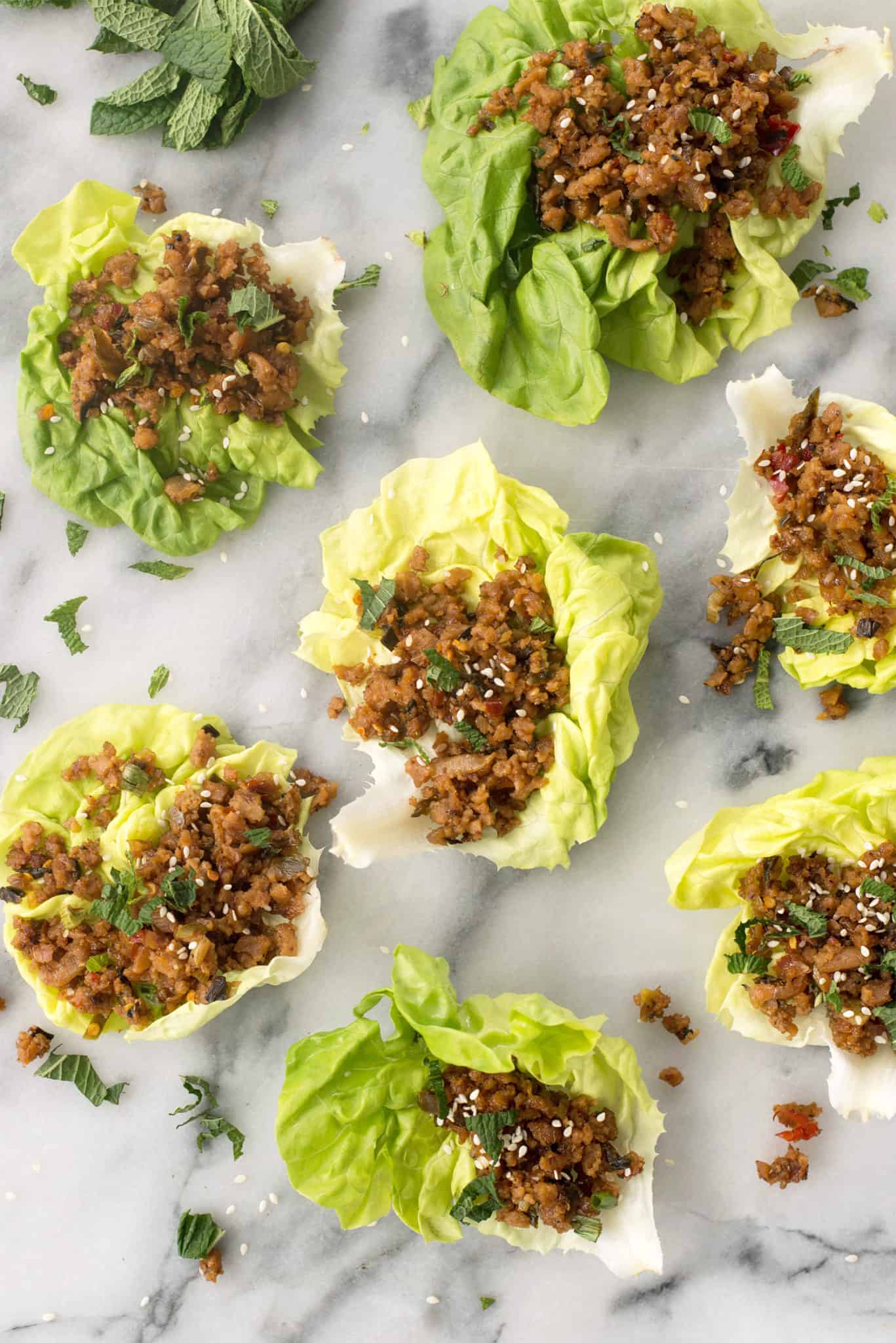 If you haven't had larb before, you are in for a treat! These are different than traditional Asian lettuce wraps: less sweet, more tangy.
Per usual, I'm taking lots of liberties in making this dish. For one, I've never had traditional larb (made from chicken), so I'm basing this off of what I know vegetarian larb to be. Second, I haven't traveled yet to Asia, let alone Laos where these originate, so I can't claim authenticity.
Does that matter? Not to me. I go by taste and these lettuce wraps are so undeniably good that I bet even if you've had larb in Laos, you'd still enjoy these. Just good-for-you-food that tastes good. Simple as that.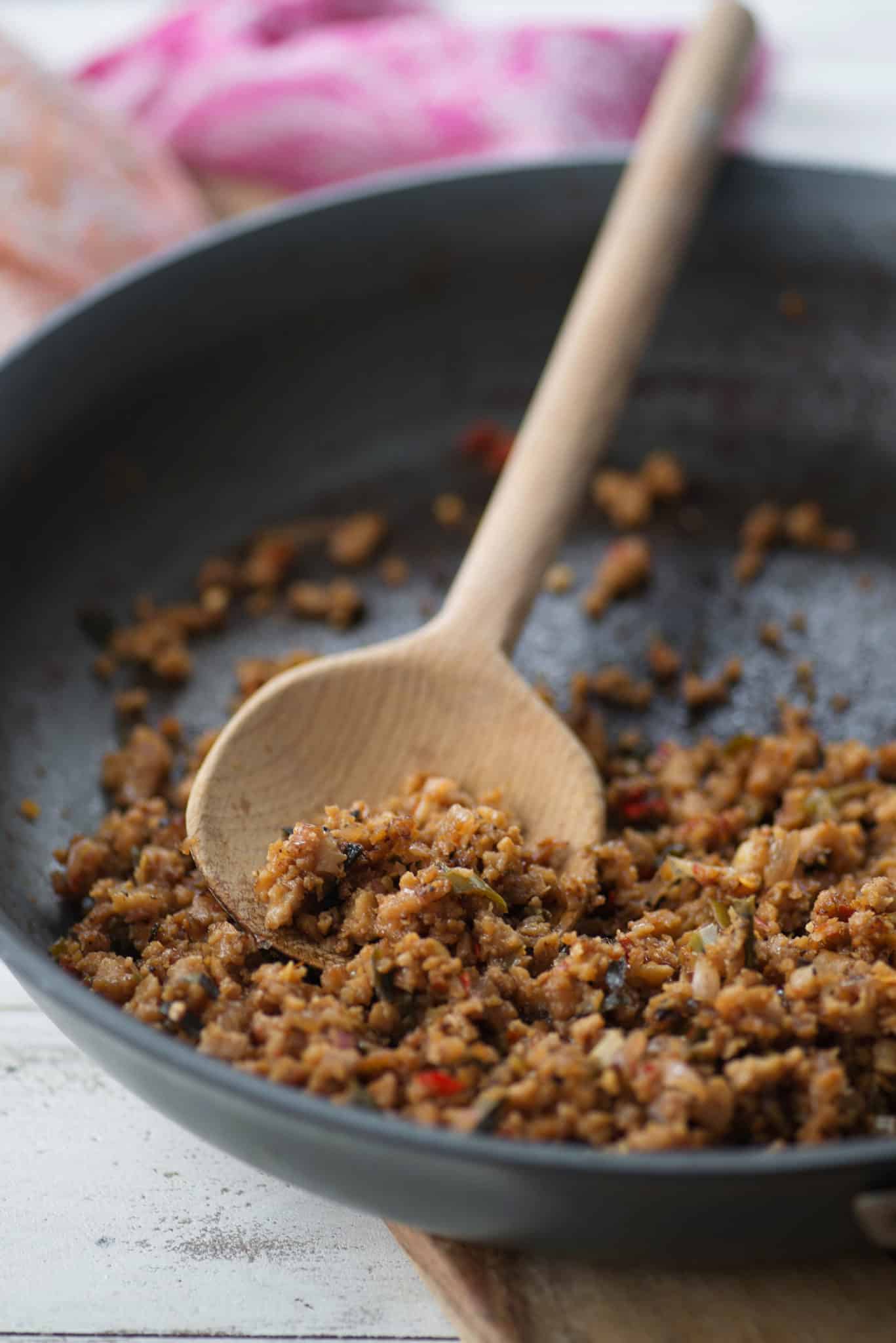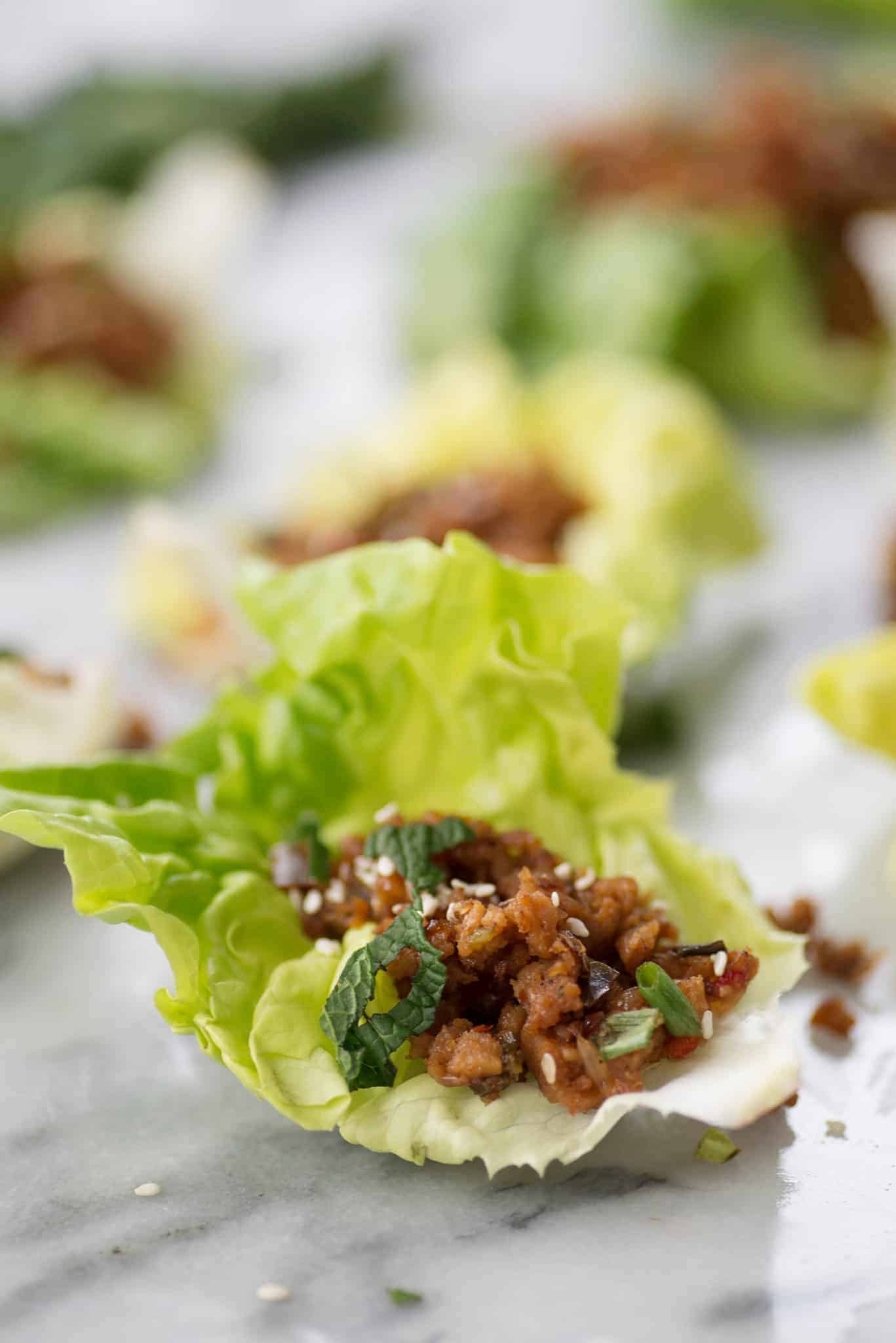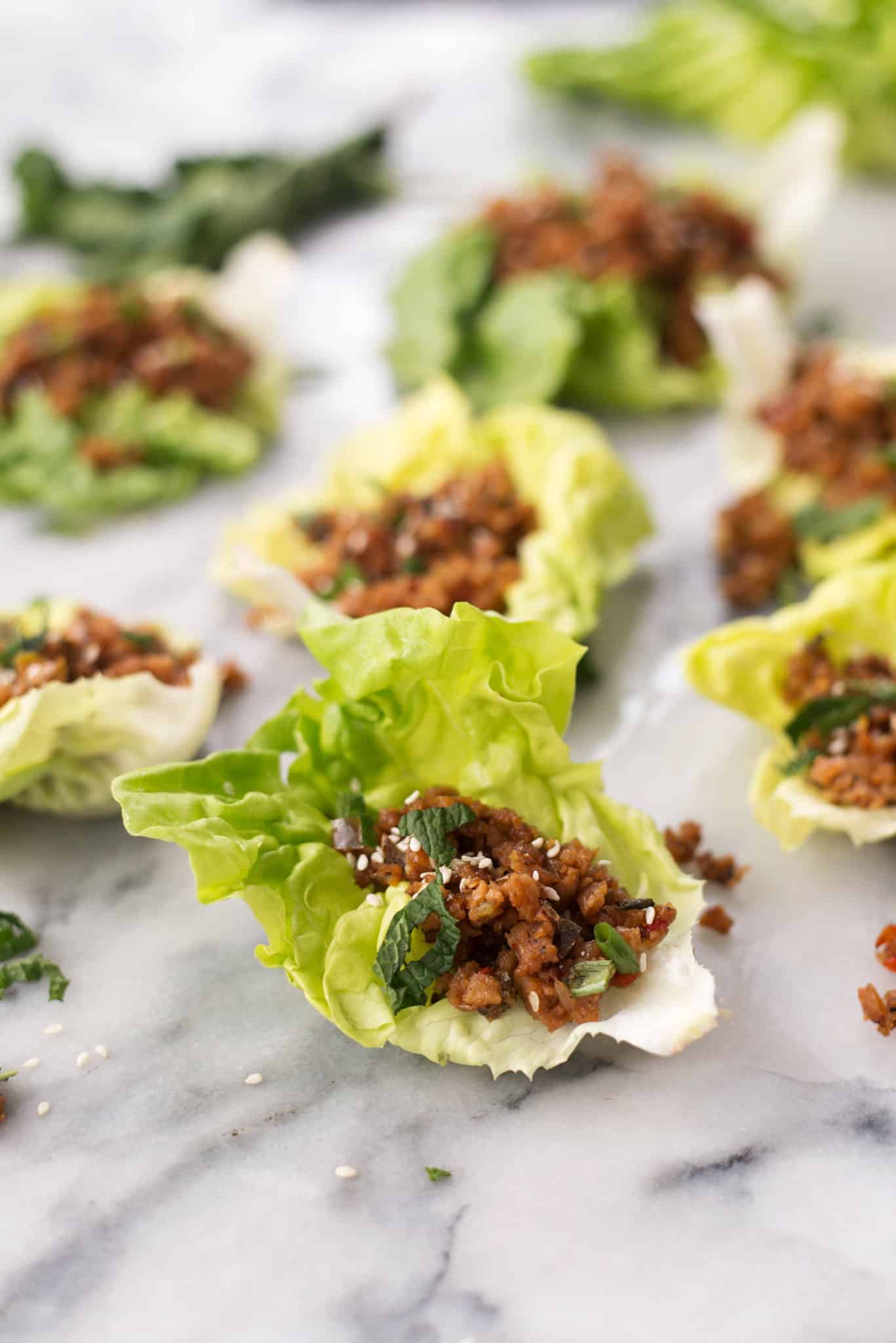 If you try this recipe, let me know! Leave a comment, rate it, and tag your Instagram photos with #delishknowledge . I absolutely love seeing your creations. Happy cooking! 
Print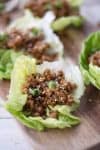 ---
Description
Vegan Thai Larb Lettuce Wraps! These spicy wraps are the perfect healthy dinner.
---
Scale
Ingredients
1/4 cup

fresh lime juice

2 tablespoon

s fresh lemon juice

2 tablespoon

s maple syrup

1 tablespoon

soy sauce (low-sodium, if preferred) 

2 tablespoon

s oil

1/3 cup

chopped scallions

3

shallots, thinly sliced 

1

(3-inch) piece lemongrass, minced 

1

serrano chili, thinly sliced 

1

(8-ounce package) Sweet Earth Seitan Grounds

1/2 cup

chopped mint
salt/pepper/crushed red pepper flakes  

1

head Boston lettuce leaves, separated 
---
Instructions
Whisk together the lime juice, lemon juice, soy sauce and maple syrup in a small bowl. Set aside. 
Heat the oil in a large skillet over medium heat. Add the scallions, shallots, lemongrass and chili. Cook until vegetables just soften, about 5 minutes. 
Add the ground seitan and cook an additional 2-3 minutes until warmed through. Add the dressing to the pan and cook until the liquid has been absorbed and the mixture is crispy and tender. 
Stir in the mint and season to taste with salt/pepper and crushed red pepper, if desired. 
Separate the lettuce leaves and spoon the larb mixture on top. Serve as is or as a side to rice.