Pizza Night!
An occurrence that would happen every other night if BL was planning the menu. His dream dinner rotation would go something like this: Pizza, Stir-Fry, repeat. Smoothies for breakfast and Taco Salad for lunch.
I've never met a man who could eat the same thing every.single.day and not get tired of it.
Well, lucky or unlucky for him, he met me. A gal who needs a lot more variety in her diet.  Don't get me wrong, we still do pizza night though we've cut it down to bi-weekly. A little to do with variety and a lot to do with portion control. What is it about cheesy, dreamy pizza where I lose all self-control? BL and I easily split a large pizza for dinner. That's crazy.
Over the last several years, we have both done a pretty good job of reducing the amount of dairy in our diet. No small feat for a Midwestern boy.
Milk? We're complete converts to almond, soy, coconut and oat.
Butter? I can't remember the last time I bought a stick of butter–not with Earth Balance on the shelves and my love for good quality olive oil.
But cheese? Well, that's another story.
Especially when it comes to the aforementioned pizza night. I've tried a lot of dairy-free pizzas. A lot. Like 72. And most of them are good but always lacking that something. That creamy, umami, savoriness that cheese is.
Since I don't shy don't from competition lightly, I was on to create version #73. This vegan white pizza is pizza without being a pizza. Garlic-herb crust baked until golden brown. Then topped with a creamy garlic white sauce, caramelized onions, herbs galore and veggie-parmesan shake.
And yes, all that garlic makes it the perfect date night pizza. Just, um, make sure you are both eating it.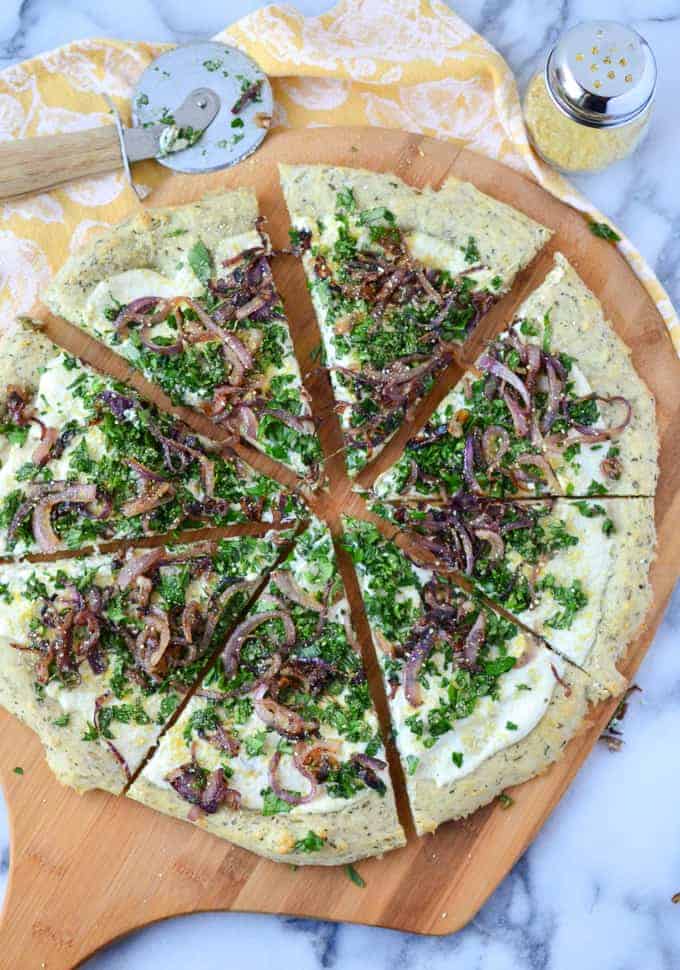 The base of this recipe is one of my favorite things in the world- The Garlic & Herb pizza crust from Trader Joe's. If you do not live near a TJ's, I'm sorry. For many reasons I'm sorry, but mostly because you don't know the herby goodness that is this pizza dough. Besides being less than $2, it's the perfect pre-made dough that provides a flavorful canvas for just about any toppings you can get your hands on.
If you can't find the herb crust, you may make your own or use a plain dough.  However, using regular crust won't have the same layering of garlic and herbs so you might need to add a bit more for toppings.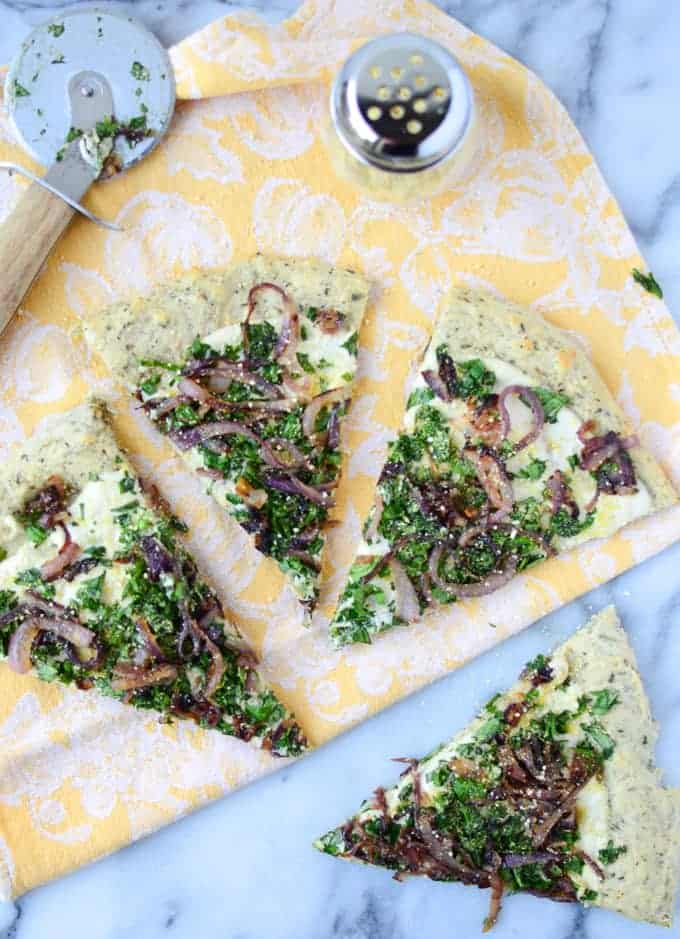 For the creamy garlic sauce, we turn to my favorite dairy-free friend: the cashew. Can I invest in cashew stock? If so,well, you might too considering how many packages of these nuts I go through in a month.
Soak the cashews, drain, and blend with a little bit of nutritional yeast & garlic. This is one of those recipes where you really need nutritional yeast. If you aren't dairy-free, you could substitute with parmesan cheese but I think it's worth seeking out nutritional yeast. If your regular store doesn't carry it, consider ordering it online.
Nutritional Yeast= Amazing nutty, cheesy flavor.
We sprinkle it on just about everything: pizza, popcorn, pasta, you name it. Plus, it's the secret ingredient in the veggie-parmesan shake that we will use to top the pizza. If you get the fortified version, you get a little micronutrient bump as well.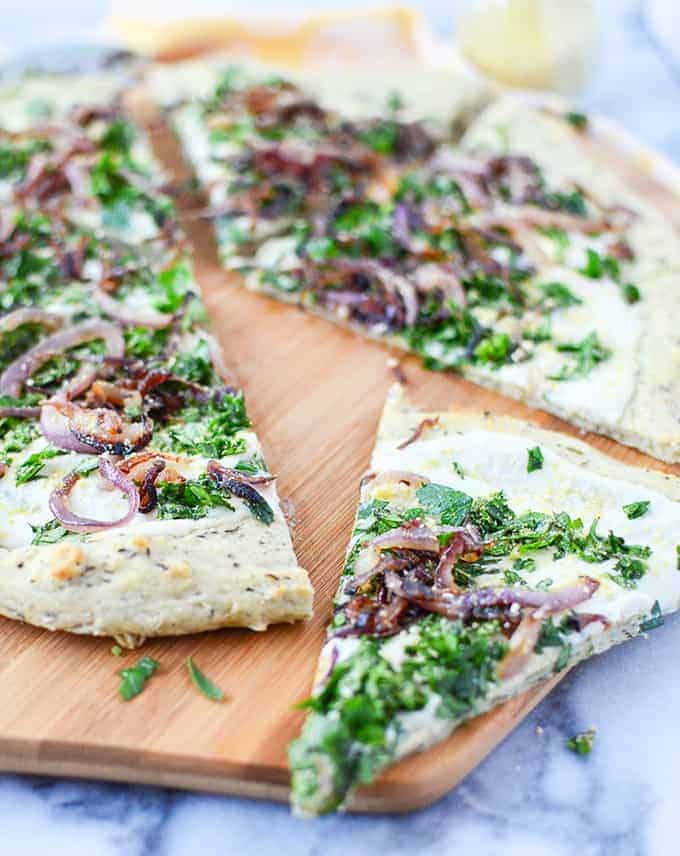 Since you are cooking the pizza dough first without the toppings, make sure to stretch it pretty thin. You don't want it to be overly doughy. More crispy than chewy. For herbs, add what your family likes best. I did a combination of basil (essential), parsley and fresh oregano.
The secret ingredient to making this taste like pizza and not garlic-herb flat bread is the vegan-parmesan-shaky-shake (official title) that we will sprinkle on generously after all the toppings have been laid down.
Again, cashews and nutritional yeast (is there anything those two can't do?) combine to create a dreamy-nutty-salty topping that elevates the entire pizza to gourmet, you are a genius status. Put it in a shaker-jar and shake-shake away.
If you're looking for the perfect pizza night consider making these healthy peanut butter banana ice cream sandwiches to enjoy for dessert!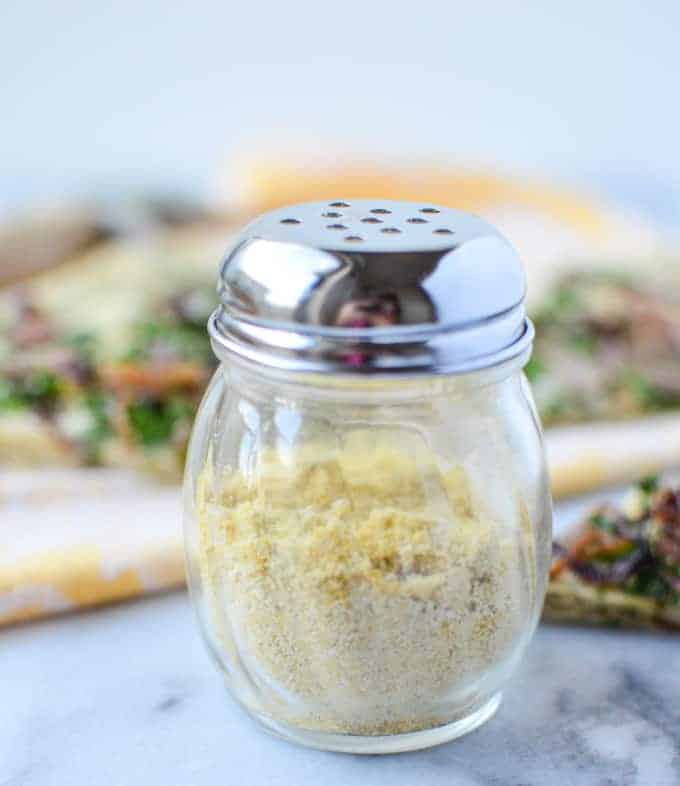 If you try this recipe, let me know! Leave a comment, rate it, and tag your Instagram photos with #delishknowledge . I absolutely love seeing your creations. Happy cooking! 
Print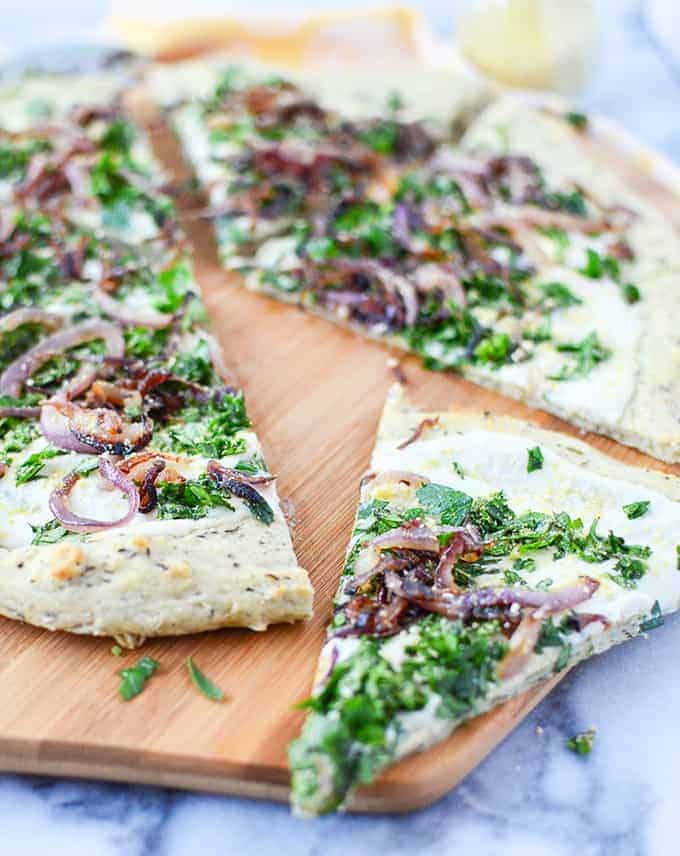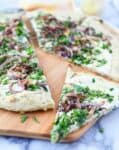 Vegan Garlic Herb White Pizza
Author:

Yield:

4

1

x
Category:

Main

Cuisine:

Italian/Pizza
---
Description
Garlic lovers unite! Creamy dairy-free garlic sauce with caramelized onions and lots of fresh herbs! Vegan pizza at it's best.
---
Scale
Ingredients
1

garlic-herb pizza crust (like the kind from Trader Joe's)

2 tsp

. olive oil, divided

1/2

red onion, sliced into very thin 1/2 moons

1/3 cup

raw cashews, soaked at least 2 hours in water

2 tbsp

. nutritional yeast

1/4 teaspoon

salt

2

garlic cloves (if raw garlic bothers use, substitute roasted garlic cloves or garlic powder)

1 tsp

. cornstarch

1/2 cup

unsweetened almond milk (or other plain milk)

1 tsp

. fresh lemon juice
Large handful of assorted herbs, finely chopped (I used a mixture of mostly basil, parsley, and oregano)
Red pepper flakes, for topping
Vegan Parmesan Cheese , for topping
---
Instructions
Preheat the oven to 425 degrees F.
Remove the dough from the package and let rest, about 20 minutes while you prepare the rest of the ingredients.
Heat a non-stick skillet to medium-high heat and add 1 tsp. oil.
Add the onions, reduce heat to medium-low and cook, stirring often until onions have caramelized.
In a high-powered blender, place in the drained cashews, nutritional yeast, salt, garlic, cornstarch milk and lemon juice. Blend, on high until smooth and creamy, about 4-5 minutes. The sauce should be very smooth, not grainy.
Lightly flour your hands and stretch the dough out onto a pizza stone or peel. Brush the crust with the remaining 1 tsp. of olive oil and place in the oven for 10-12 minutes until golden brown. (If you are using another brand of pizza dough, make sure to cook according to package directions).
Remove the dough from the oven and let cool slightly.
Add the garlic-cashew cream in a single layer.
Top with caramelized onions, fresh chop herbs, red pepper flakes and Parmesan cheese.
Slice and serve!
---