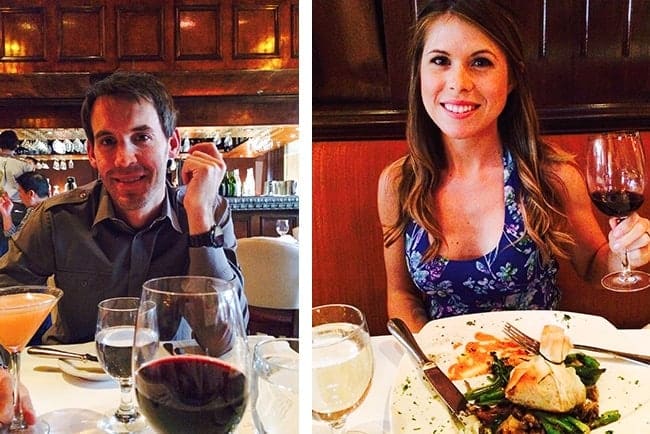 This past weekend BL and I headed to SF to do what we do best: shop, eat, drink and enjoy live music. You know those cities that you feel at home in, even if you're just visiting? That's SF for us. While we don't get here as often as I'd like, when we do- it's perfect. I can spend all day walking around the city, stopping into the shops and generally eating my way through the city. Which is exactly what we did last weekend.
While we normally head for our favorite casual spots, last Saturday we celebrated our engagement anniversary and my birthday with dinner at Millennium.  If you're into the vegetarian food scene, you've probably heard about Millennium. A groundbreaking restaurant in the heart of SF, Millennium is a gourmet, upscale vegan restaurant.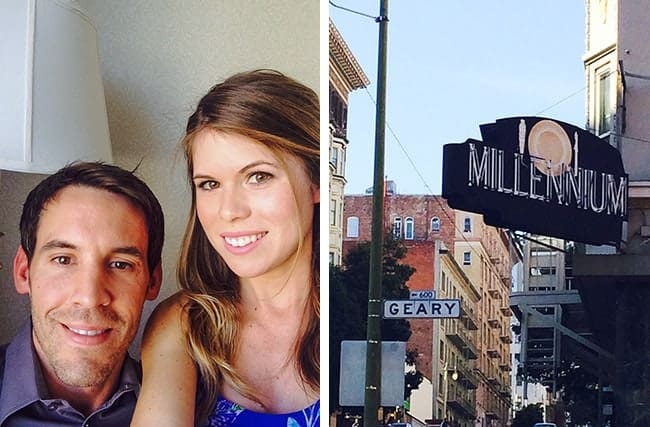 I normally don't do restaurant reviews but because I am so fond of this place, I just had to share it with you. While the pictures are terrible (although, if you followed this blog from the beginning, you know how bad it used to be) and don't do the food justice, I decided to include them because a review without photos isn't a review at all.
If you go, when you go, you must try the King Oyster Mushroom appetizer! Oh goodness, it's a vegan version of calamari but so much better. Lightly fried king oyster mushrooms served with a fragrant orange dipping sauce, the lightness of the sauce pairs perfectly with the meaty 'shrooms. The appetizer is huge- easy enough for 3-4 people to have a generous serving of. I hated that we couldn't finish it all but I wanted to make sure I had plenty of room for what was coming next.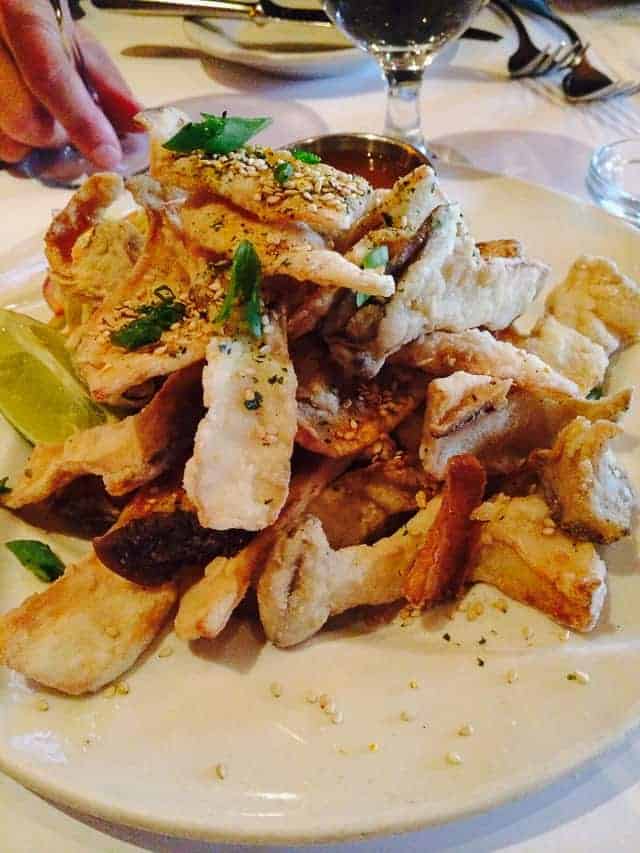 We decided to get two other small plates and one entrée. I love being able to taste lots of dishes and we felt like this was the best way to get a little of everything we wanted.
First up, this beet salad that I couldn't get enough of. I cannot wait to recreate this at home, roasted beets, orange segments (which looks red in the photo but I swear they are orange), toasted hazelnuts and a balsamic glaze of sorts. While this was my favorite dish, it was BL's least favorite as he thought the sauce overpowered the beets.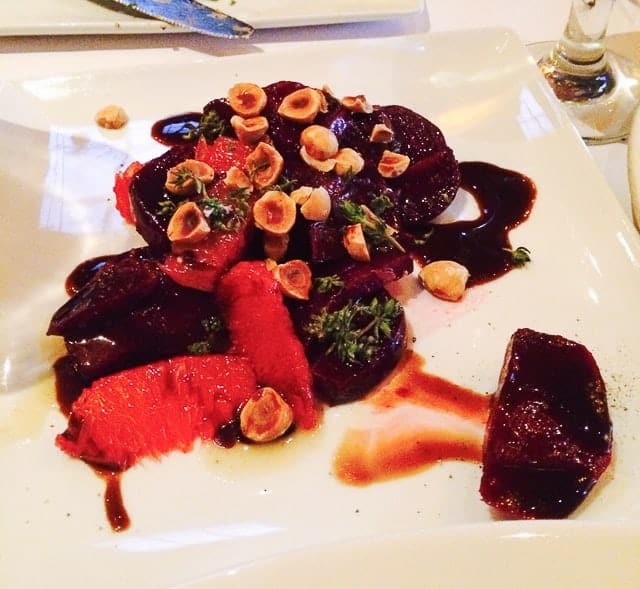 Maybe it's because Cinco de Mayo was last week but I have not been able to get enough Mexican food! While shopping in SF earlier that day, we headed to Tropisueno for tacos and I still wanted more for dinner! These sopes were amazing, again- another dish I want to try and put my spin on. Topped with black beans, lots of vegetables and a spicy creamy sauce. Perfection.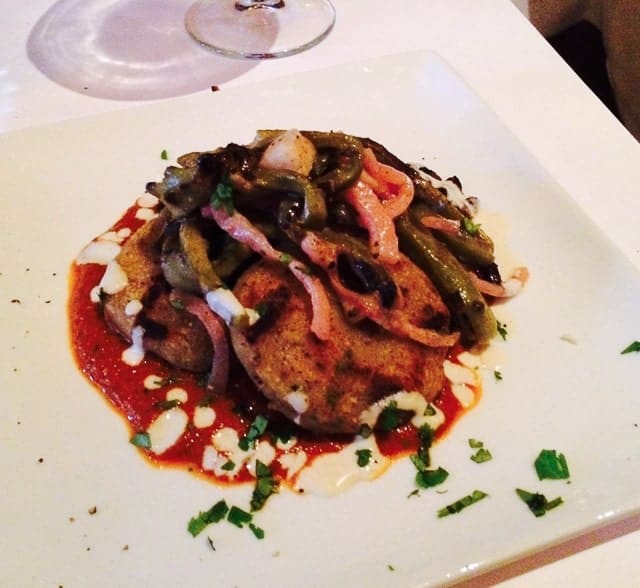 This entrée is exactly what makes Millenium so special. For my fellow veg's, you know the disappointing feeling when you open a typical restaurant menu. Sure, there's always the pasta but man cannot live on roasted vegetable penne alone! Come to Millennium where not only is everything thoughtful prepared, it's beautifully presented as well. This is a phyllo purse stuffed with wheat berries served with roasted vegetables, morel mushrooms, shaved truffles and the best romesco sauce (right behind mine of course ;) ).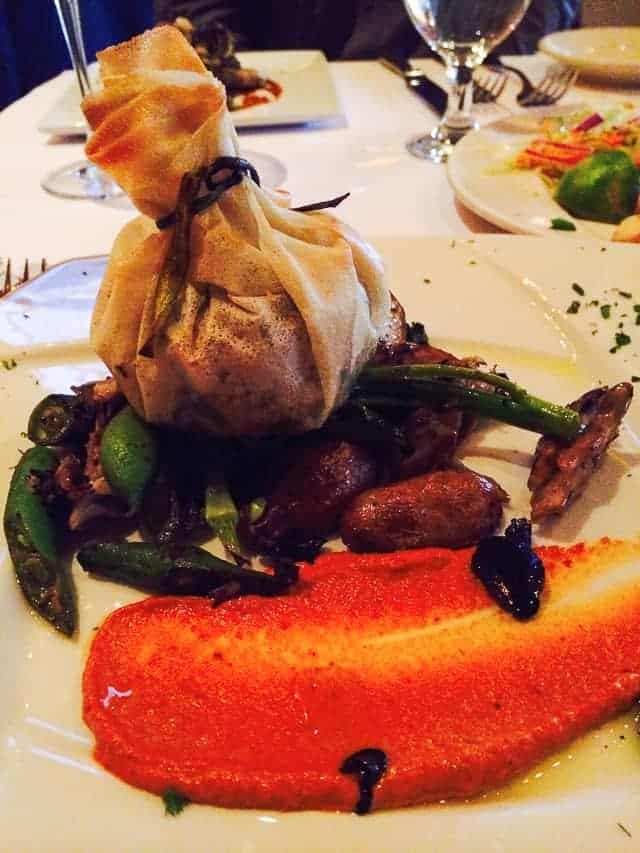 We passed on dessert to head to The View lounge for a pre-concert drink. If you are ever in SF, please come here for a drink. Yes, they are exuberantly overpriced but the view is totally worth every penny. When you arrive from the elevators, take a right and see if you can snag the hidden table in the corner. Not only is it the best seat in the house, but it's also where BL and I got engaged. If you can time it right, try to get here 30 minutes before sunset. That will allow you enough time to grab your drink and enjoy the view!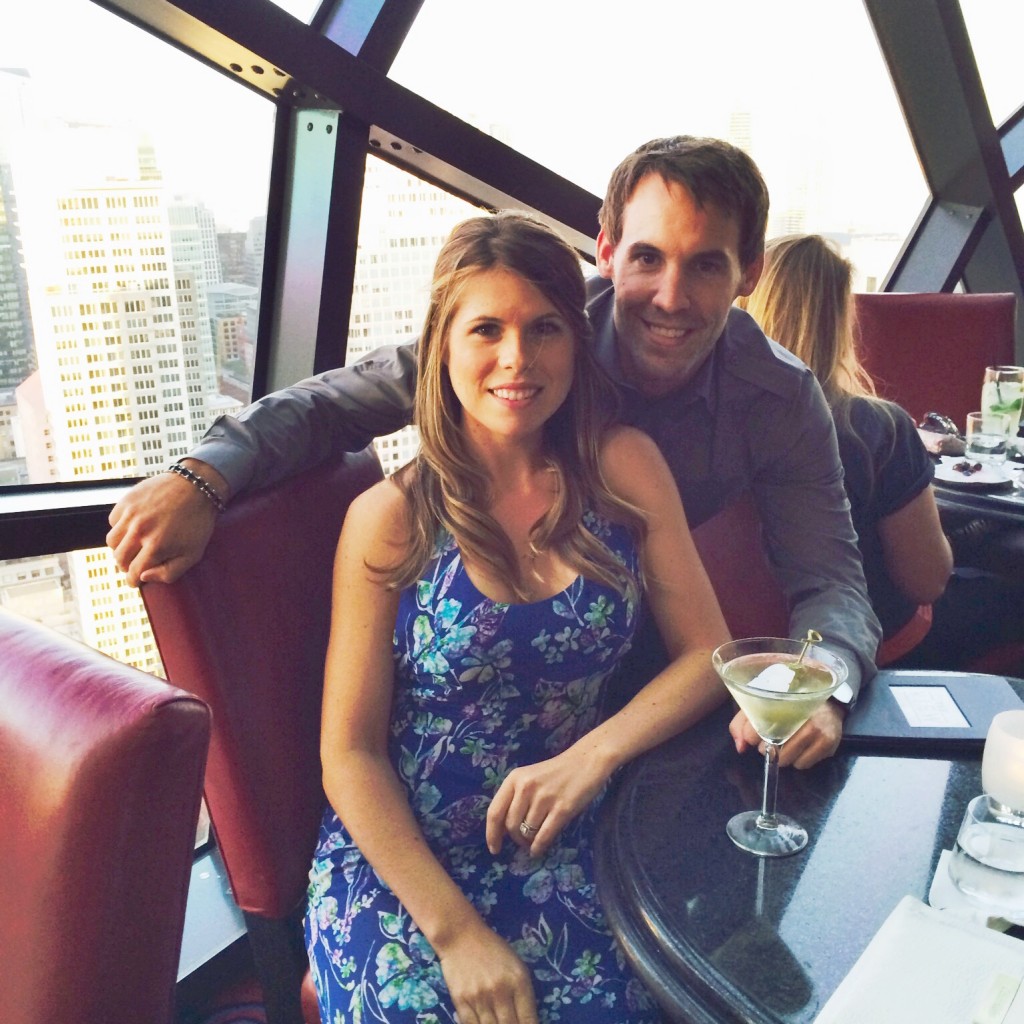 I know there are so many places in SF that are "must-eats" but Millennium is my top pick for a special occasion. If you can't make it to the city, there is always the cookbook! What are your must-eats when visiting the Bay Area?