A kid-friendly dessert you can feel GOOD about! Almond butter banana popsicles!
Dairy-free and only 5 ingredients! Perfect for powering you through your day. 
 Disclosure: The following post is a part of a paid promotion between The Healthy Aperture Blogger Network and California Almonds.  I received free samples to use for this post.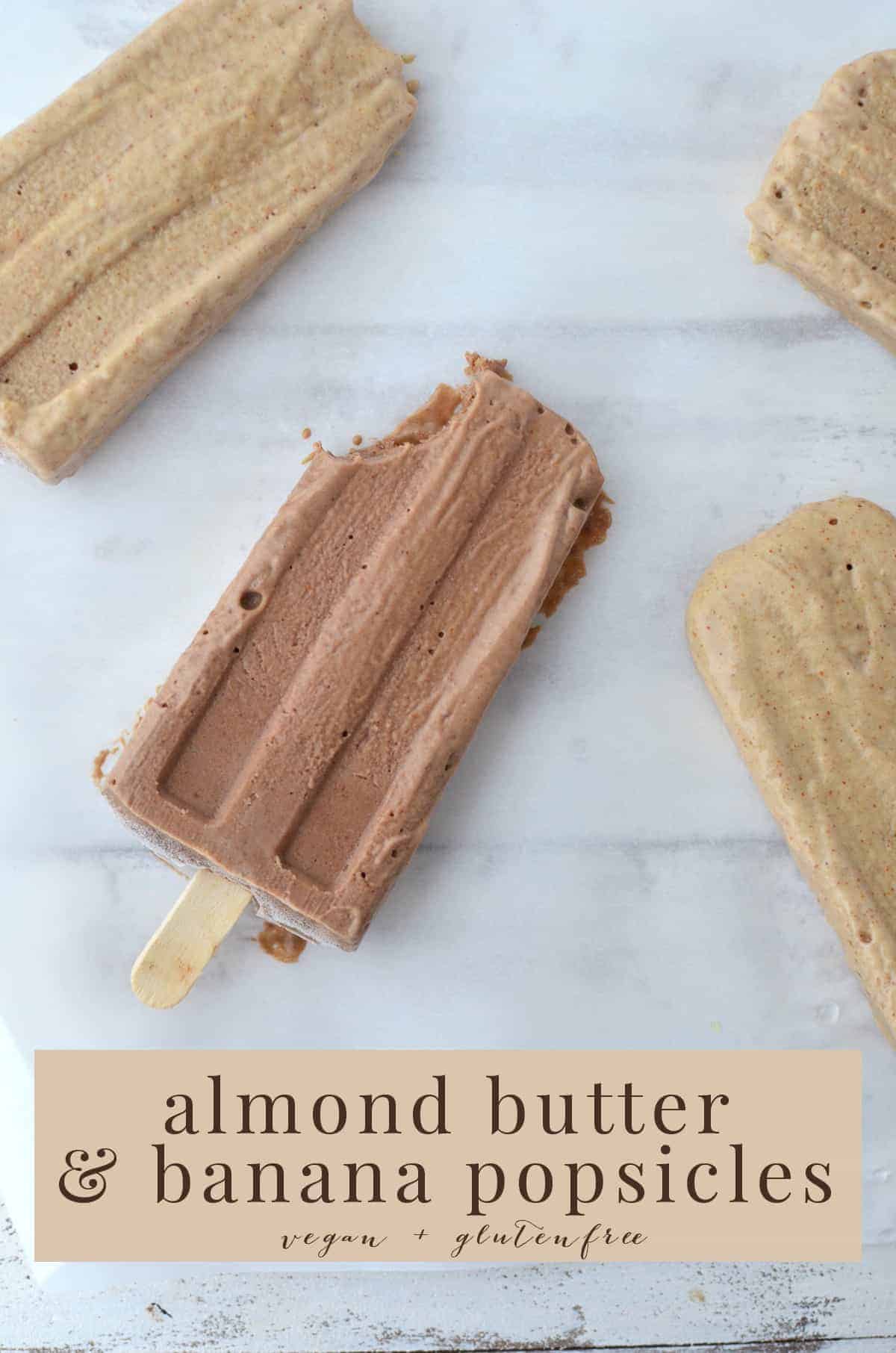 Gimme all the almonds < ----- usually what I say to BL around 3:30PM when I have entered into my hangry phase and need something quick to power me through until dinner time.
MY LATEST VIDEOS
When did snacking become such a no-no thing? I've had several clients over the last month say to me proudly, 'I never snack'. Ok, that's all fine and good, unless you end up overcompensating at meal time because you are starving when you finally sit down to eat. In that case, let's have a snack.
I love snacking. In fact, adding in a 3PM snack helped me lose the 5 pounds I had gained during a particularly stressful winter. My afternoons used to look like this: eat lunch, cram as much as I could until 5/6PM, drive the 1-hour back home to my house, then eat everything in sight the moment I got into the door. Not exactly mindful eating and it's no surprise that I ended up adding a little cushion.
Now, I plan for a 3PM snack and not only does it give me the power to get through my tasks, I also feel in control when I finally do arrive back home. Win-win for my body and for my intuitive eating skills.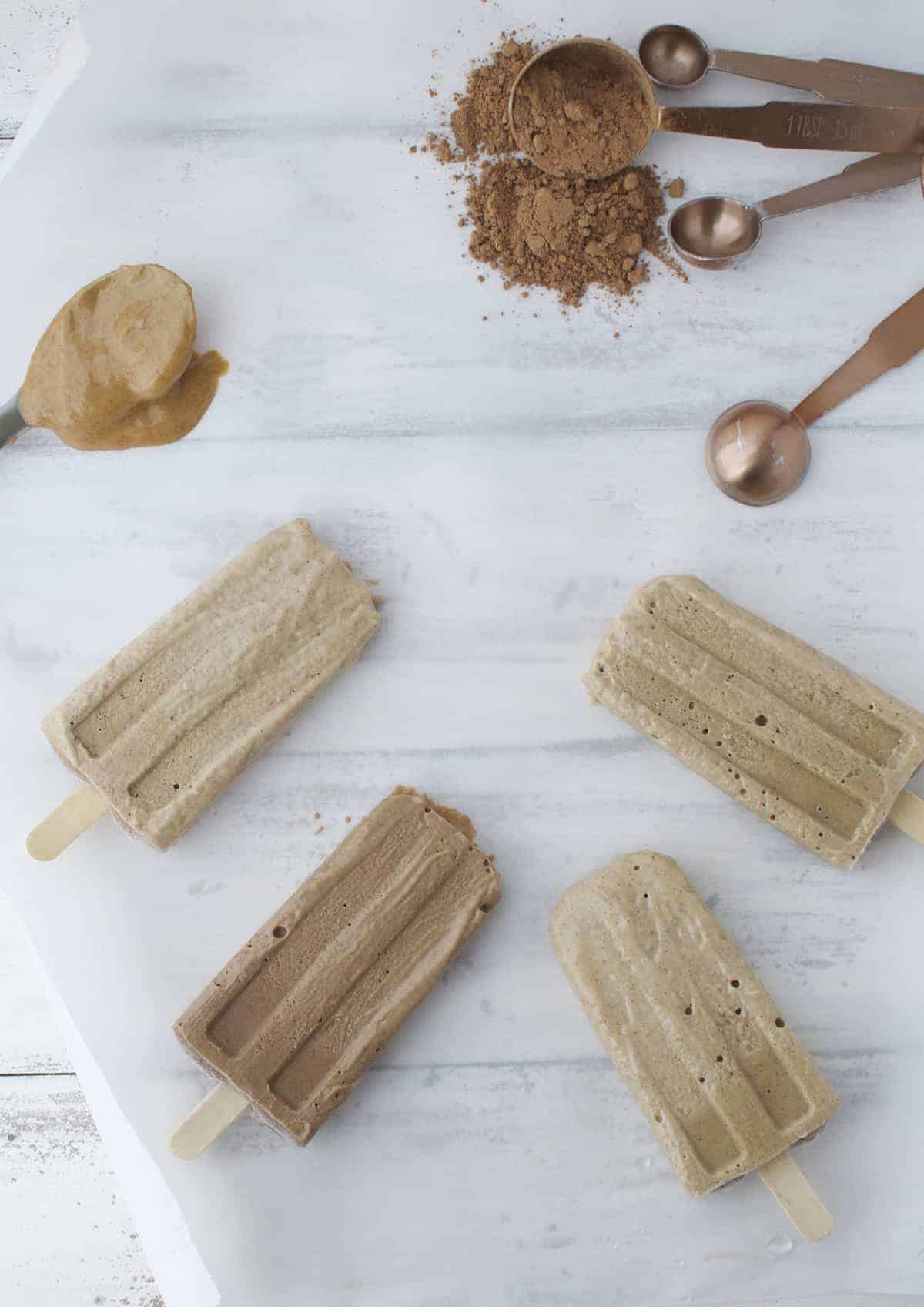 When my sister and favorite niece (…and only niece) were visiting last month, I wanted to prepare a few snacks that both the adults and lil' Caroline could enjoy. Since she's barely 22 months old, I knew that extra crunchy granola bars and raw balls weren't going to cut it.
Since popsicles are a favorite no matter what your age, I got to working on a healthy, naturally sweetened pop that still tastes as good as one of my favorite summer day treats–fudgesicles. #truestory
For the base, I looked no further than my current favorite snack: banana + almond butter. It's got enough carbs, protein and fiber to power me through until dinner time. Plus, it's a snack I feel good about- and don't have to worry about 'crashing' an hour later.
Did you know that almonds have the most plant-powered protein (6g), fiber (4g), calcium, riboflavin, vitamin E, and niacin of any tree nut? Stats like that make me swoon. And hungry.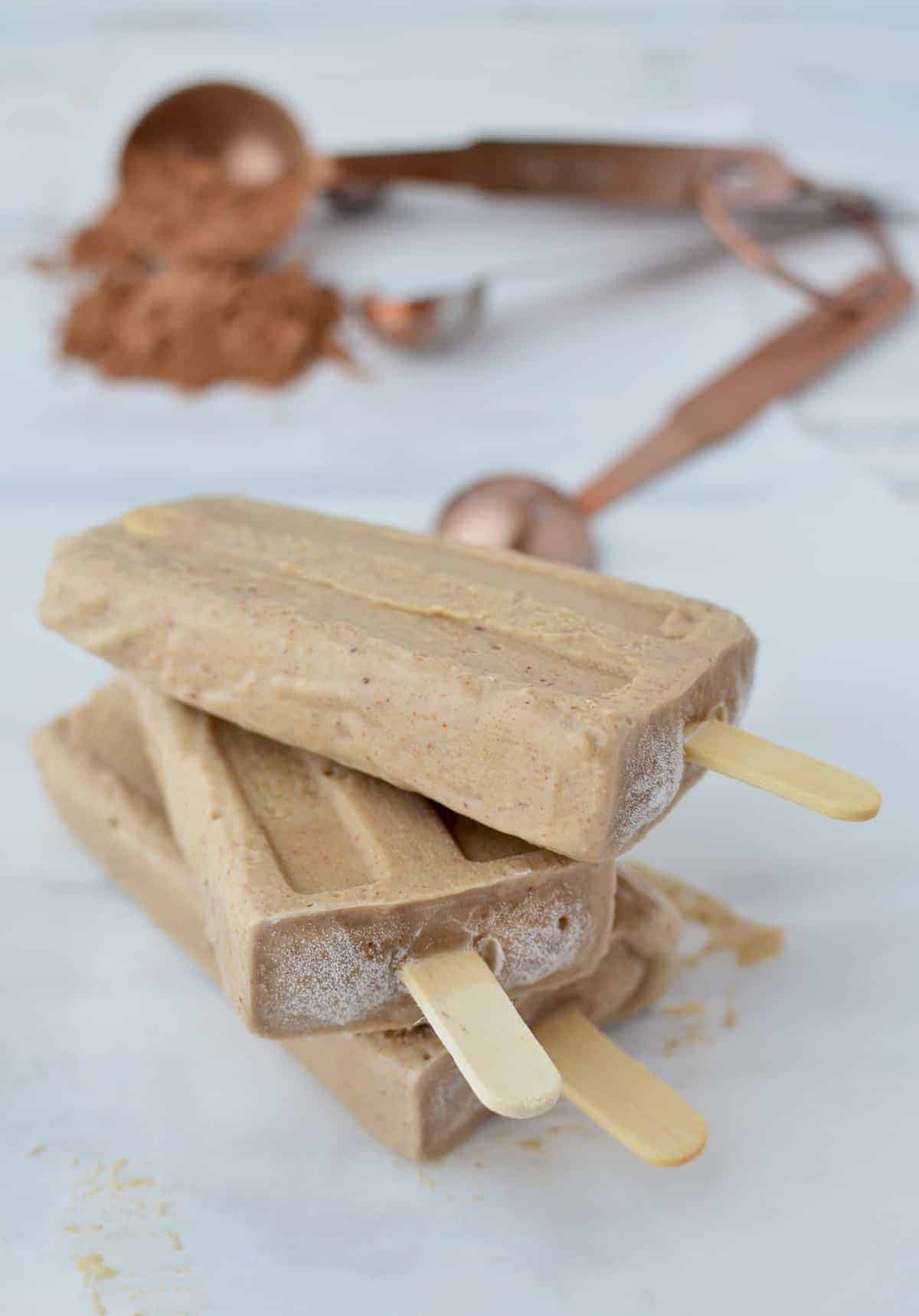 Since we all know that bananas make the perfect base for ice cream, these popsicles were an almost no-brainer. The best part about these? The combinations are almost endless.
I started by mixing all the ingredients in my BlendTec: almond butter, bananas, almond milk, vanilla extract and a smidgen of maple syrup. Taste as you go to see how sweet you prefer these. Since I was making them for my little niece, I thought that 1 tbsp. of maple syrup was the perfect amount of sweetness for both her and me. Just know that the mixture will taste sweeter in the blender then it will once frozen.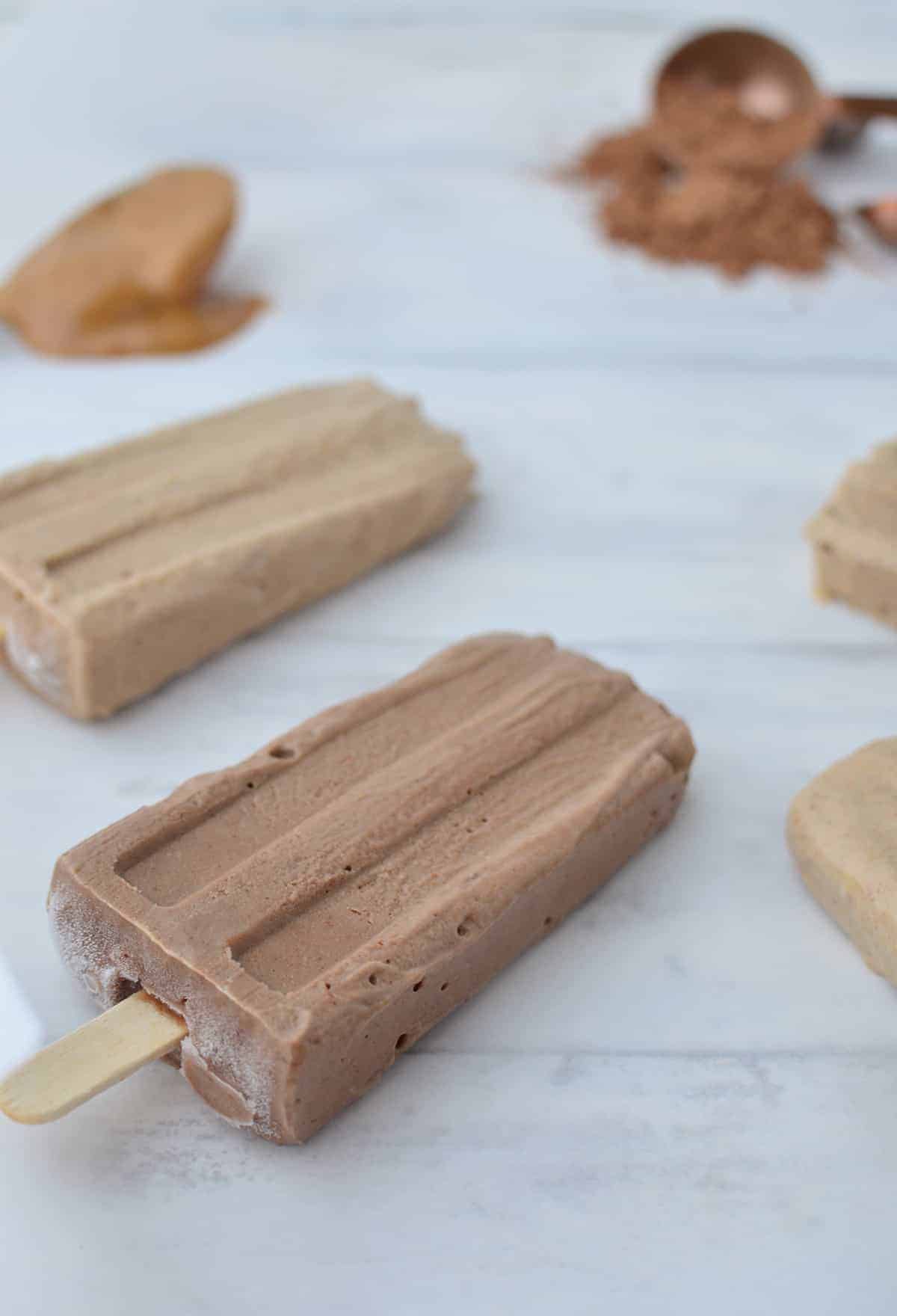 To make these even more fun, I made three different flavors out of the same batch. Fill a few of the molds all the way and a few of the molds halfway with the almond/banana filling. Then, add a bit of cocoa powder to the remaining filling and fill the remaining molds and the rest of the halfway filled molds. Now you've got three flavors: almond butter banana, chocolate almond butter, and 1/2 chocolate, 1/2 almond butter banana. When you're ready to get your snack on, just run hot water over the molds for 10-15 seconds and they should pop right out.
Being busy doesn't mean sacrificing flavor or time! Make the pops ahead of time, store in the freezer for up to 6 months, and know that you have a healthy, delicious snack waiting for you anytime you need a little strength to #crunchon and power through.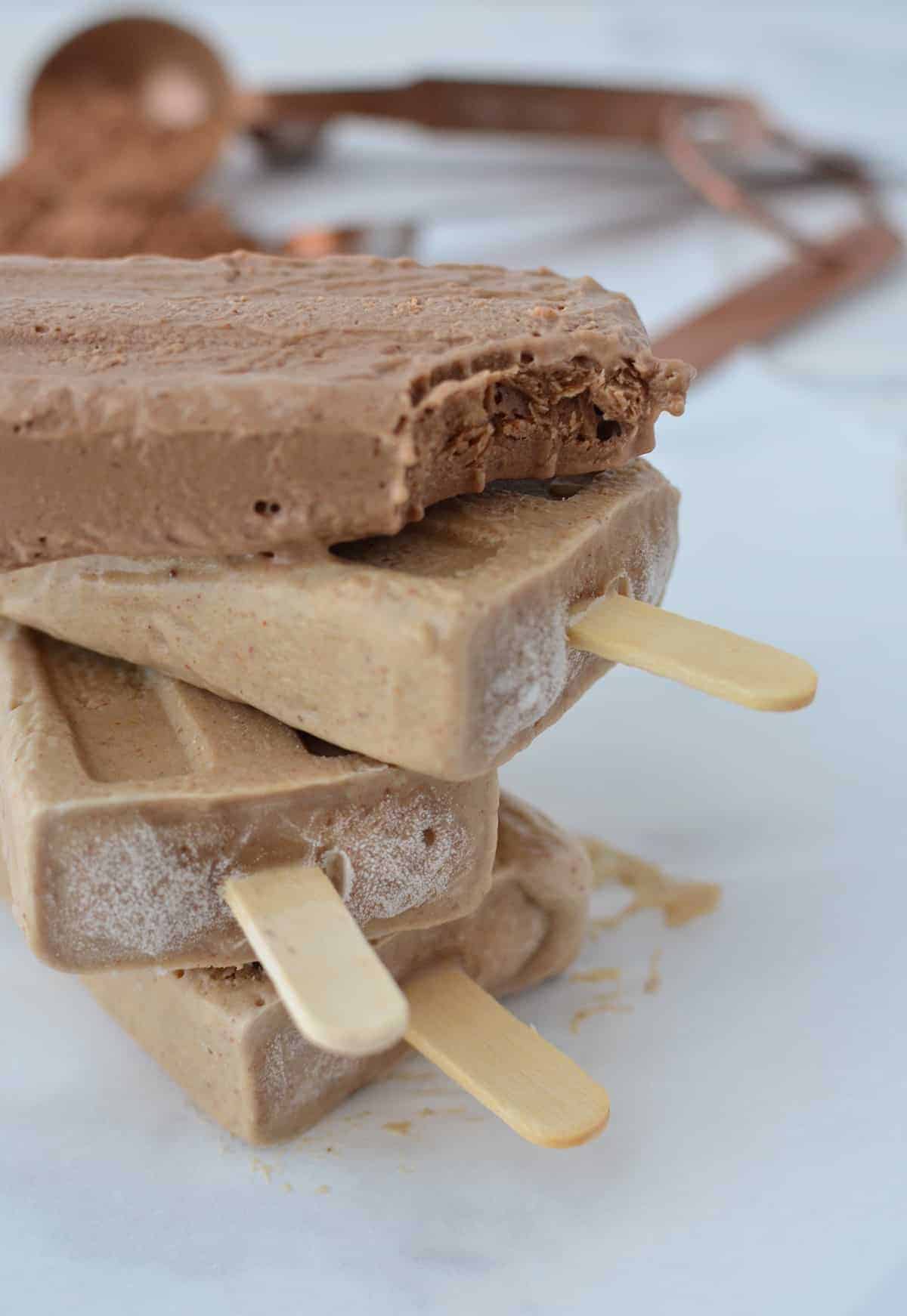 If you try this recipe, let me know! Leave a comment, rate it, and tag your Instagram photos with #delishknowledge . I absolutely love seeing your creations. Happy cooking!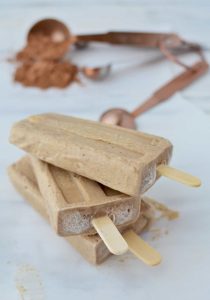 Print
Almond Butter Banana Popsicles
A kid-friendly dessert you can feel GOOD about! Just 5 ingredients, naturally sweetened and gluten-free/dairy-free. Almond Butter Banana Popsicles!
Ingredients
4 bananas
3/4 cup California almond butter
½ cup + 2 tbsp. unsweetened California almond milk
1 tbsp. maple syrup
½ teaspoon vanilla extract
Instructions
Place all ingredients in a blender and puree until very smooth and creamy. Taste and adjust sweetness as needed.
Pour the batter into 8-10 popsicle molds (will vary depending type of mold used) and freeze for at least 6 hours, until solid.
Enjoy! Store in a sealed container in the freezer until ready to serve.
Notes
For chocolate version, add in 1 tbsp. cocoa powder
Courses dessert, snack,
Cuisine Healthy