Happy Friday! I made you a dip to celebrate. A beautiful bowl of creamy caramelized onions with homemade crispy potato chips.
Admittedly, this recipe is mostly for BL. I wasn't even planning on sharing it here, but after having it requested from both my mom and sisters, I figured there were others out there who would also enjoy it. Salty snack lovers, this one is for you.
Please tell me you've picked up Trader Joe's caramelized onion dip before. It's one of our favorite finds, though I try not to buy it that often. I know that if I put a container of that in my cart, I'll have to grab a bag of wavy potato chips to go along with. And, as that bag contains far more chips to dip ratio, one container of caramelized onion dip quickly becomes two. It's a vicious, yet delicious, cycle.
The ironic thing is that I don't even like onion dip. I'm slightly grossed out by most dips made with sour cream and/or mayo and onions have quickly become one of my most-hated foods this entire pregnancy. So, you've got me on why I stood over the sink a few weeks ago, happily shoveling loaded potato chip after loaded potato chip into my mouth. (And friends, if that's not selling this recipe then I don't know what will.)
MY LATEST VIDEOS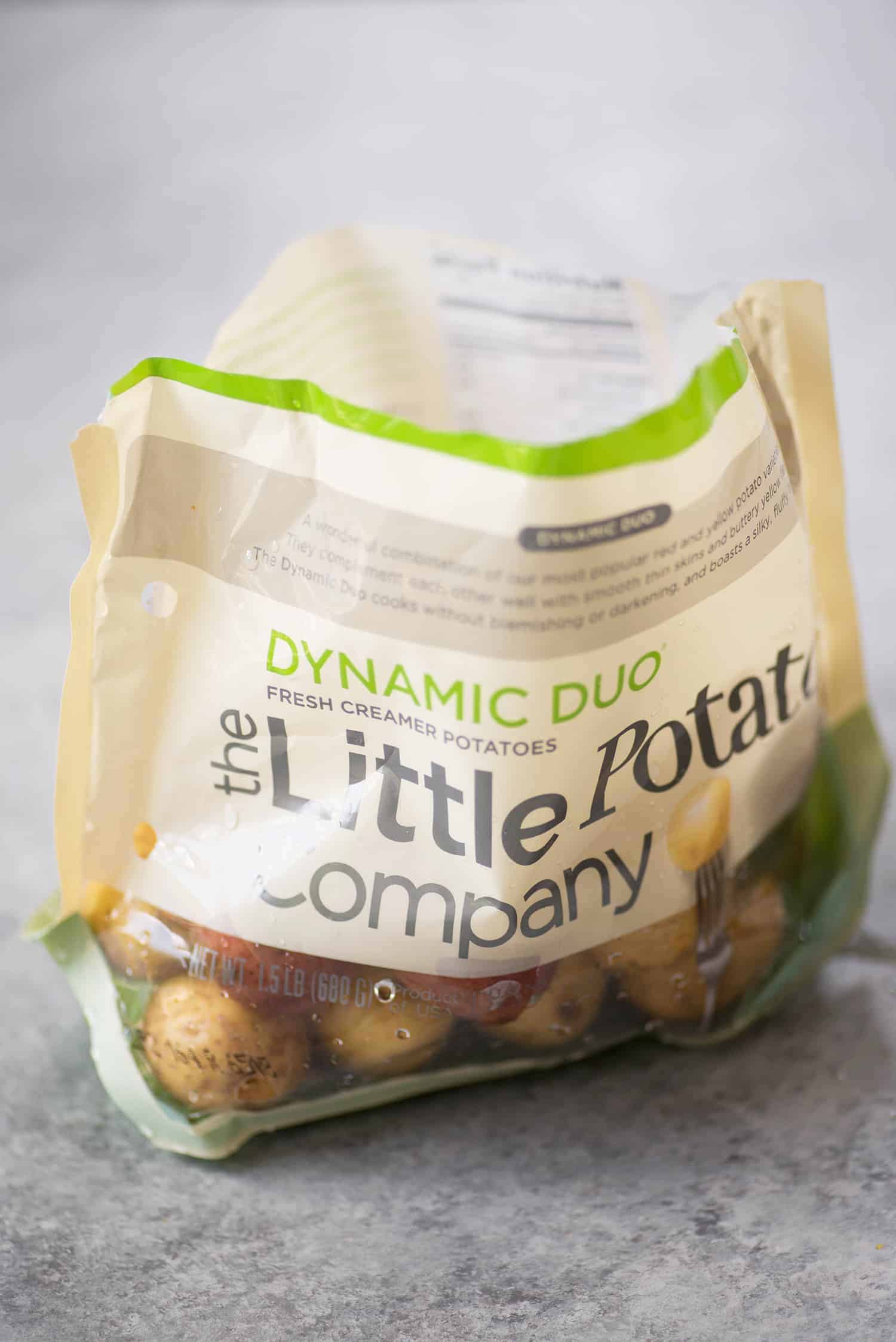 It all started with my craving for homemade potato chips. I may not be loving onions (or sadly, mushrooms) while pregnant but I cannot get enough potatoes. Baked potatoes, mashed potatoes, potato chips, french fry potatoes; all forms are my favorite.
I've been practically living off this potato nacho bowl and ate my body weight in potato salad last week. Packed with vitamin C, potassium, B6 and fiber, it's a food I feel good about enjoying while also giving to baby.
So, I was craving potato chips but wanted to create a homemade, slightly less-fat version. I turned to my favorite potatoes, creamer potatoes from The Little Potato Company. Ever since I discovered them a little over a year ago, I've been singing their praises. These potatoes are so incredibly creamy, they work in just about any potato recipe. They are also perfectly bite-sized, perfect for quick side dishes and easy prep-work.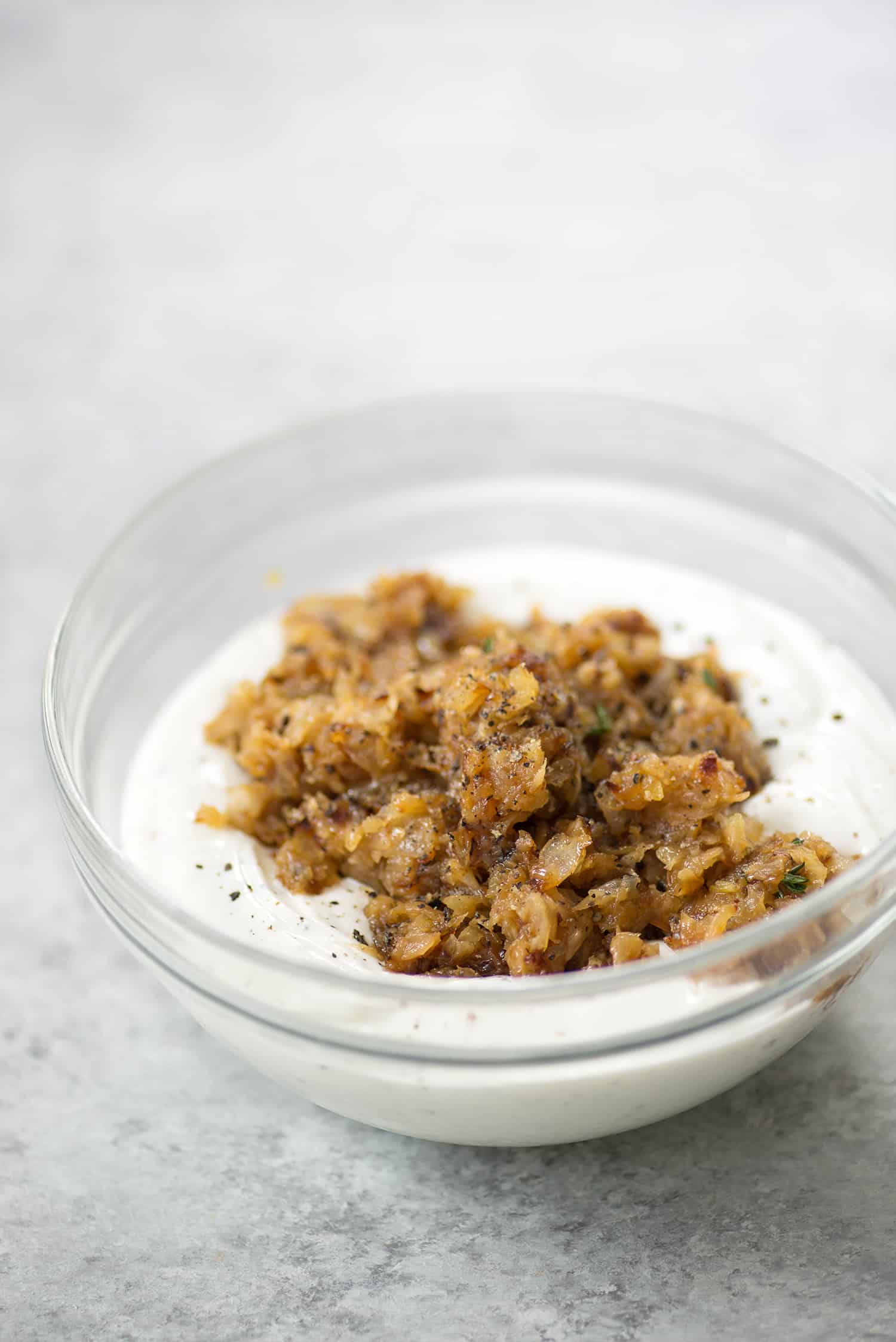 Their petite size works well in creating homemade chips, especially when paired with creamy onion dip. Small coins create the perfect chip:dip combo and don't easily burn in the oven like other potato varieties.
Since they are almost uniform in size, when one chip is done, it's a good bet that the rest of the chips are done as well. I dislike homemade potato chip recipes where I have to watch the pan like a hawk, picking off smaller chips as they are done while returning the pan back to the oven every minute until the large pieces catch up.
To create perfect slices, I'm relying on a mandoline but a sharp knife will work as well. Once the potatoes are sliced, pat them dry with a tea towel, then toss with oil. Yes, we still have to use oil on these to make them crispy but I assure you that 2 tablespoons for 1.5 pounds of potatoes is still far less than any fried version.
Enjoy them right from the oven. Crispy potato chips with cool onion dip is one of summer's greatest pleasures.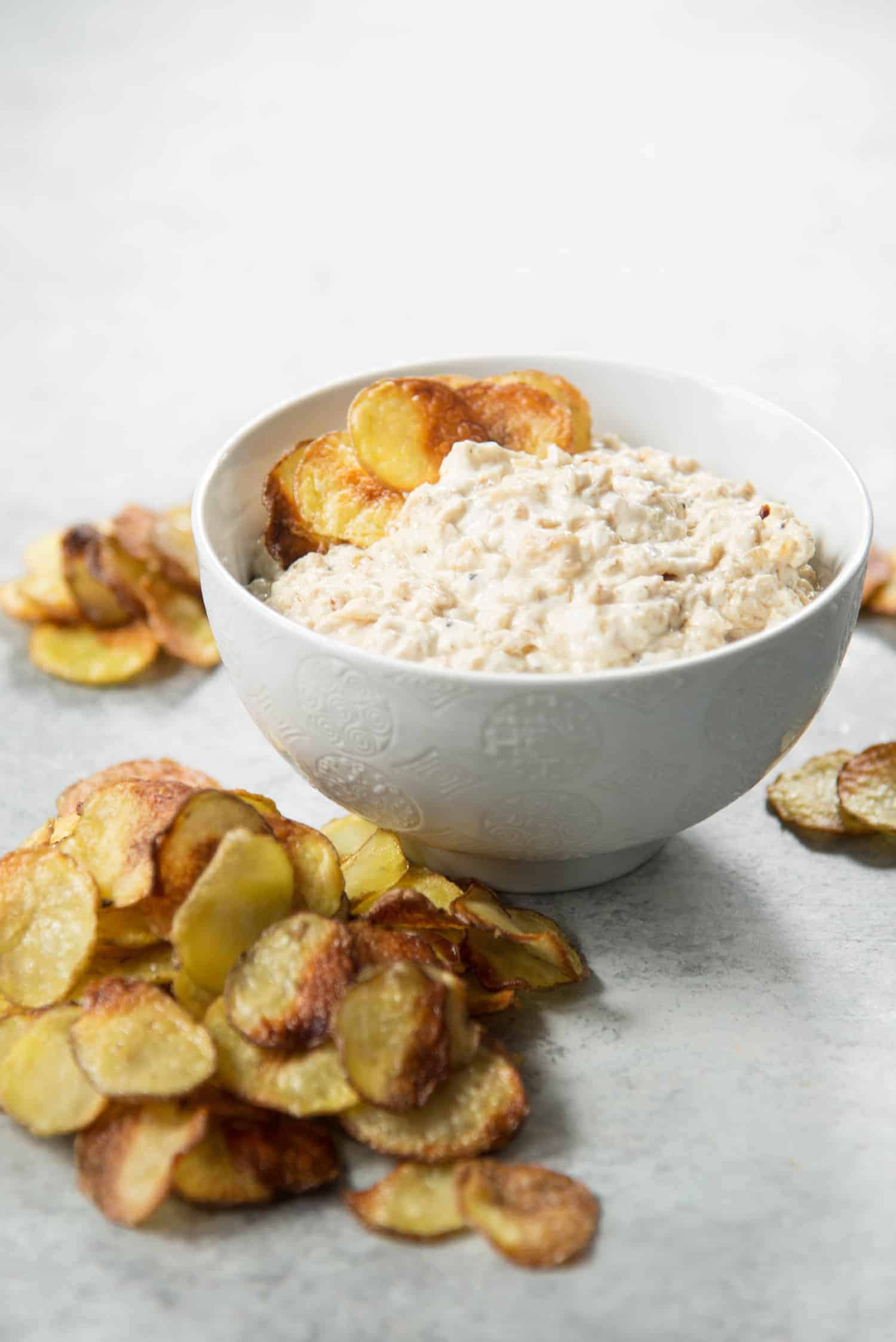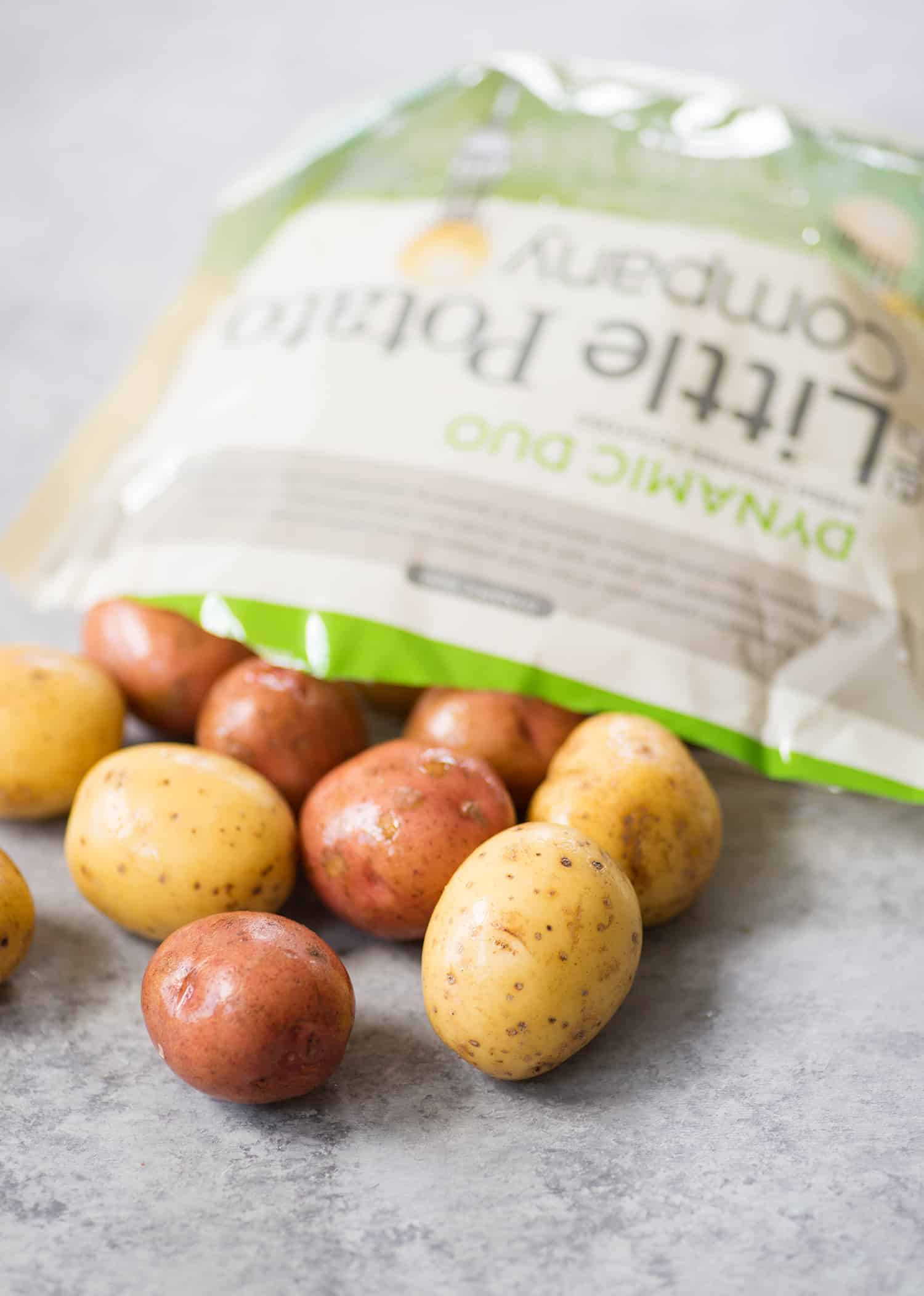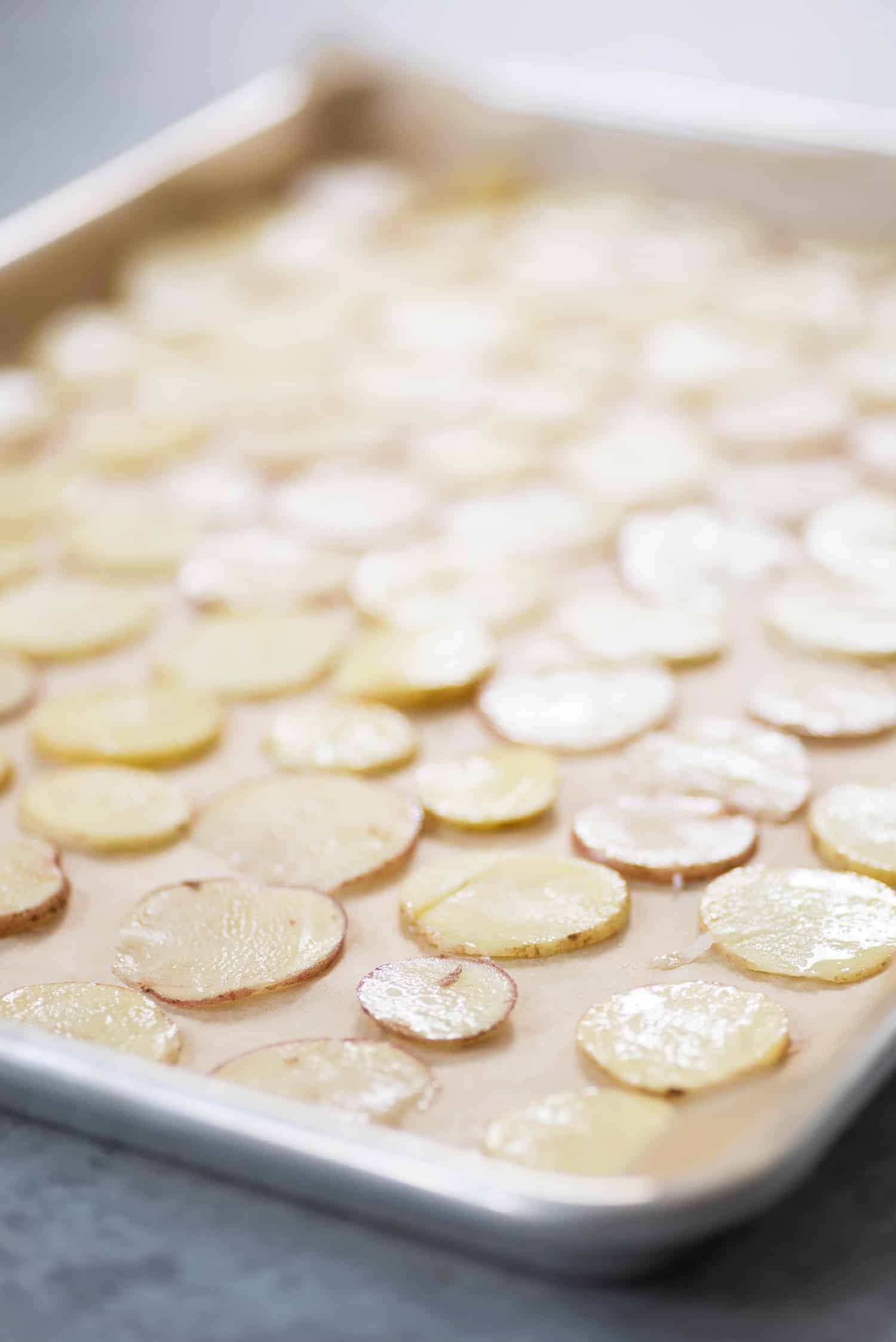 A few more comments on the dip:
Make sure your onions are dark and caramelized before pulling off the heat. See the picture above? They should be dark brown. Any lighter and you won't have that deep onion flavor, which is the star of the dip.
Trader Joe's version uses a combo of cream cheese, mayo and greek yogurt- no wonder it's so delicious! To cut back, I used a combo of greek yogurt and mayo. I suppose you could use all greek yogurt, but I like the extra creaminess that mayo provides.
I know that many of you are dairy-free and I think this dip would work great with any dairy-free version. As I've made this several times, I've used both Just Mayo and Veganaise for the mayo part and it turns out great.
I find that 99% of foods are too salty for me at this stage in my pregnancy, so I found this dip to be really salty! However, my taste-testers didn't (one even asking for more salt.), So, start with 1 teaspoon and then add from there as needed.
If you try this recipe, let me know! Leave a comment, rate it, and tag your Instagram photos with #delishknowledge . I absolutely love seeing your creations. Happy cooking! 
Print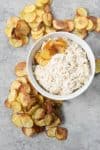 Caramelized Onion Dip with Baked Potato Chips
Author:

Prep Time:

20 minutes

Cook Time:

1 hours

Total Time:

1 hours 20 minutes

Yield:

2 1/2 cup

s

1

x
Category:

snack, appetizer, side dish
---
Description
Caramelized Onion Dip with Baked Potato Chips! This appetizer is perfect for summer; easy caramelized onion dip made with greek yogurt and homemade baked potato chips with less oil than traditional chips. Vegetarian, easily vegan using dairy-free versions. 
---
Scale
Ingredients
Caramelized Onion Dip
2 tablespoon

s olive oil

4 cup

s very finely chopped white onion

1 teaspoon

salt, divided 

3/4 teaspoon

freshly ground pepper, divided 

2

cloves garlic, minced

1 tablespoon

vegetarian Worcestershire sauce (I love Annie's brand)

1/2 teaspoon

dried thyme 

1 1/2 cup

s plain greek yogurt (use non-dairy for vegan version)

1/2 cup

mayo (use non-dairy for vegan version) 
Baked Potato Chips 
---
Instructions
Make the dip! Heat the 2 tablespoons of oil a large skillet over medium heat. Add the onions and 1/2 teaspoon salt and cook until very dark brown and reduced, 45-60 minutes. Stir occasionally so the onions don't stick to the bottom of the pan. 
Once the onions are cooked, stir in the minced garlic, worcestershire sauce, thyme and 1/2 teaspoon freshly ground pepper. Let cook another 5 minutes, then remove from heat and let cool. 
Whisk together the greek yogurt and mayo. Add in the cooked and cooled onions and stir together. Add in the remaining salt and pepper, and season to taste. Place in the fridge for at least 30-40 minutes before serving for optimal results! 
While the dip is chilling, make the potatoes. Preheat the oven to 400 degrees F.
Thinly slice the potatoes (I use a mandoline for easy slicing). Pat dry and place in a large bowl. Toss the potatoes with remaining olive oil and a large pinch of salt. 
Spread potatoes in a single layer on a parchment lined baking sheet. Bake for 12-18 minutes until golden brown and crispy. Remove from oven once crispy and transfer off the parchment paper to a bowl. These taste best right out of the oven with cold onion dip!