Thumbprint Cookies! Pecan thumbprint cookies topped with cranberry jam and peanut butter drizzle. Wholesome, naturally sweetened and vegan!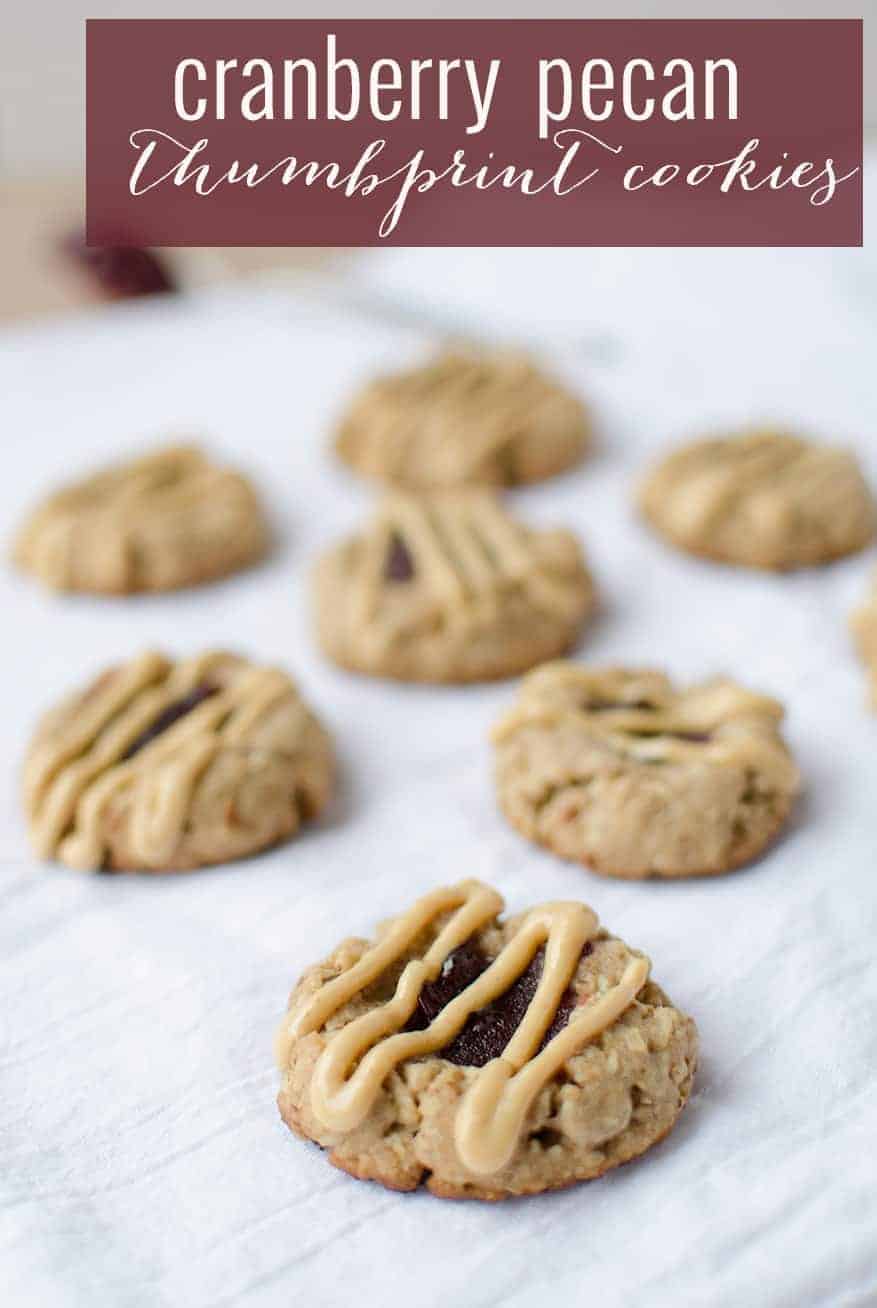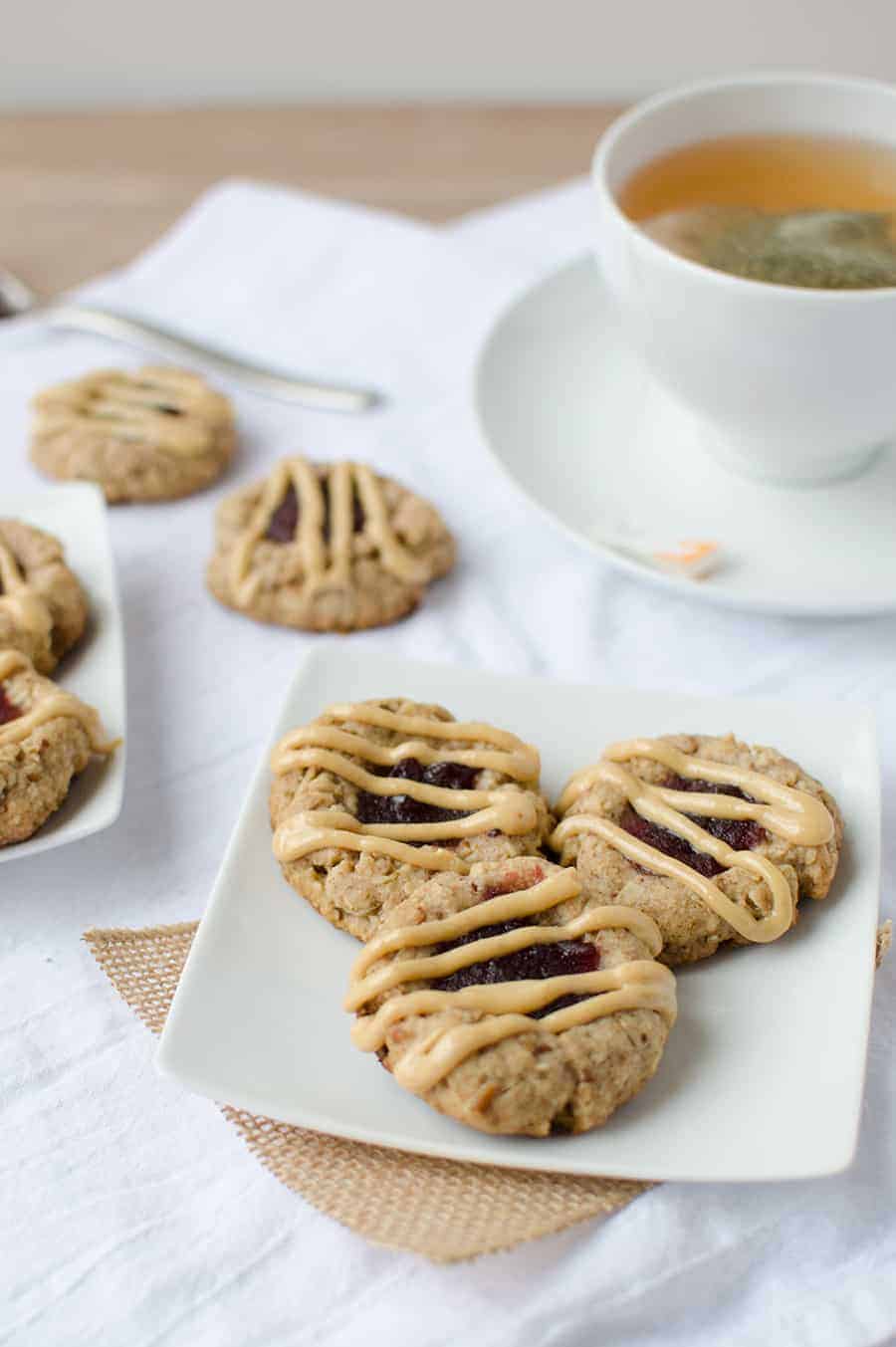 Well, now that we've all had a week to recover from Thanksgiving, it's time to move onto Christmas cookie season.
Yes? Not exactly what you were expecting from a Registered Dietitian Nutritionist?
Here's the thing. The average weight gain around the holidays is one pound, not five pounds or ten pounds like some TV alarmists would have you believe (cough. ahem, Dr. Oz. again). Truth be told, there are a zillion different tips out there on how not to gain weight this holiday season, but since the vast majority of these experts discourage any Christmas cookie indulgence, I tend to ignore them.
MY LATEST VIDEOS
Also, I believe that food, even treat food, is part of life. I'm not saying I encourage the overeating of every treat in sight just because it's the holidays. I don't. But, I do believe that you shouldn't deny yourself a cookie or two because you're afraid of ruining your diet. You guys know how passionately I feel about diets, and that doesn't change during the season of mashed potatoes and gingerbread men.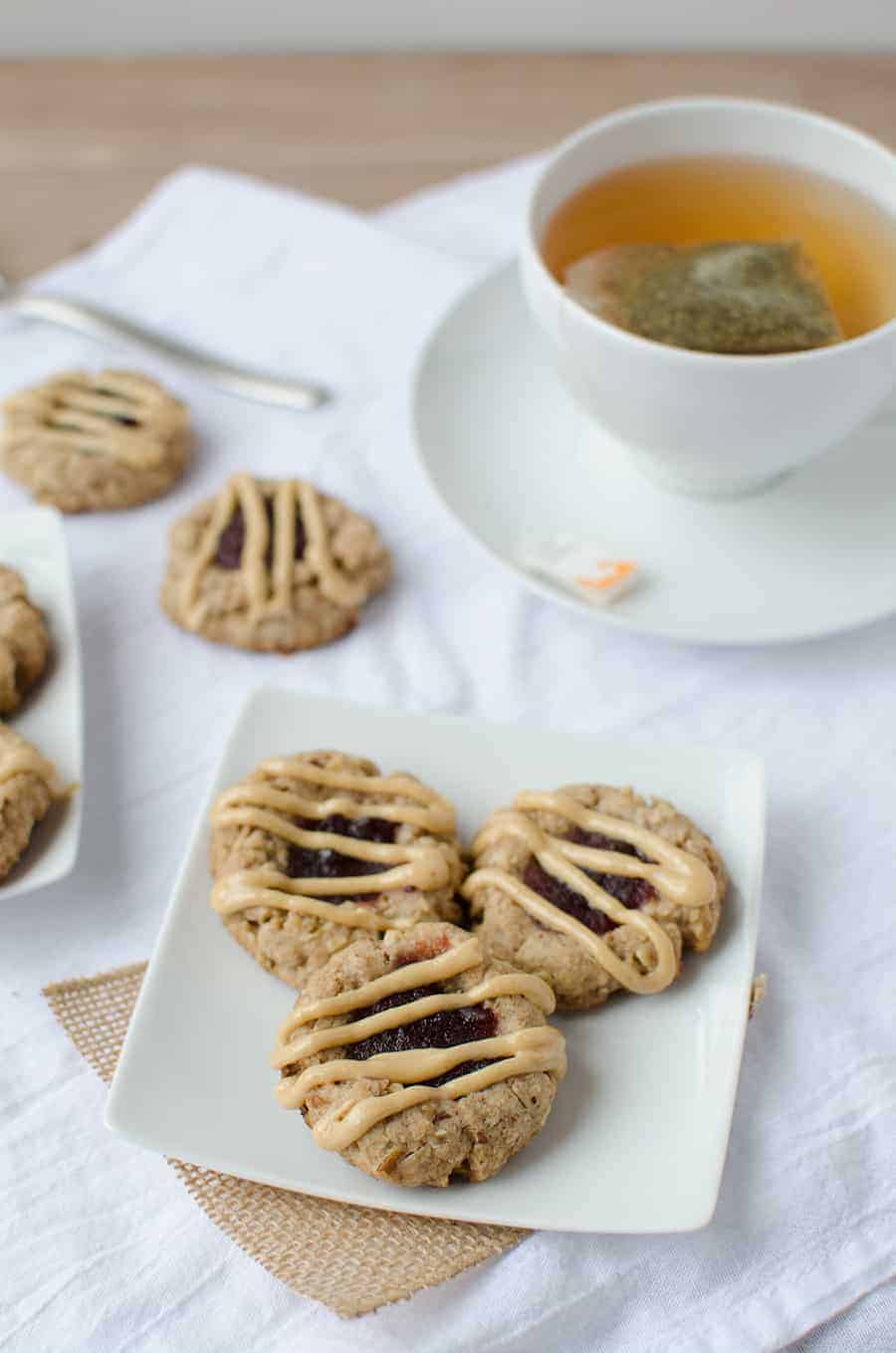 Baking Christmas cookies is one of my favorite ways to enjoy my December weekends. Yesterday, I invited a few girlfriends over for spiked cocoa, Christmas music and cookie making.
Outside of watching The Holiday a hundred times in a row, there is no better way to for me to get into the Christmas spirit than baking cookies. Since we are heading to Jamaica for the holidays (not exactly a traditional destination), I wanted to cherish as many weekends like this as I could before trading in the eggnog for a Mai Tai.
Cookies are always the answer.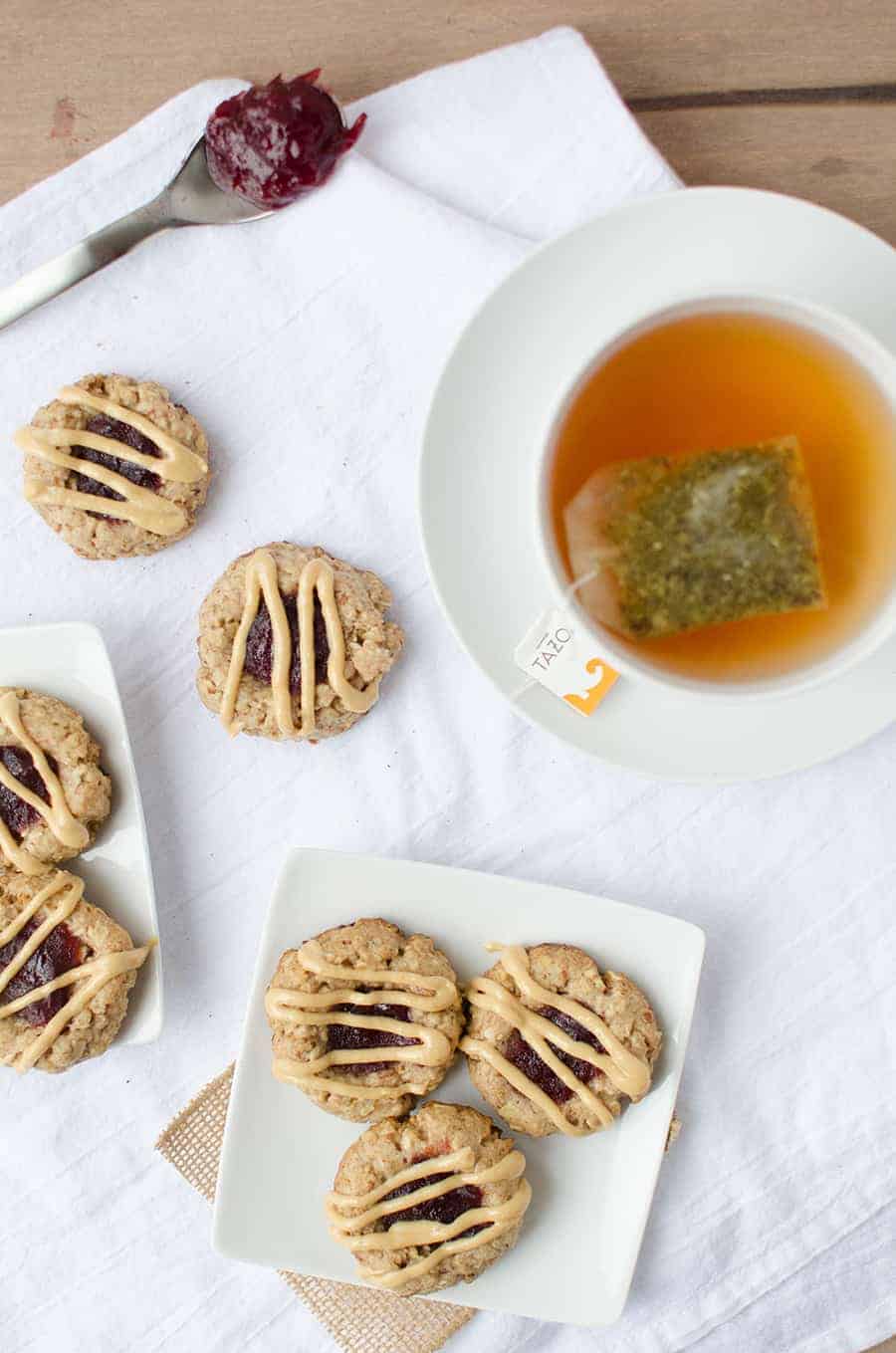 These remind me of pecan-peanut butter-cranberry jam sandwiches, if there ever was such a thing. I know most thumbprint cookies call for raspberry jam, but since cranberry jam is my er, jam, I used that instead. If you like nuts and you like cranberries, you will love this cookie. But, feel free to sub whatever jam you prefer.
This dough is so good I might have eaten a few cookies before they even made it into the oven. I think this is what I love so much about making vegan cookies- I can eat all the dough, and no one needs to warn me about the raw egg batter! Pecans, oats, and flour get whisked together and formed into little pecan pillows.
Then, we add a dollop of jam and bake until golden. The peanut butter drizzle is optional, but I love the peanut butter and jam combination. While these are a Christmas cookie, they are actually pretty wholesome. Biscuit-like in texture, and the perfect pairing to a cup of tea or coffee.
These cookies are only slightly sweet, using maple syrup instead of regular sugar. If I can get away with it, I like using maple for my sweetener as it's packed with antioxidants. Since maple syrup tends to brown quickly, make sure to bake these on parchment paper or a silpat to prevent the bottoms from burning.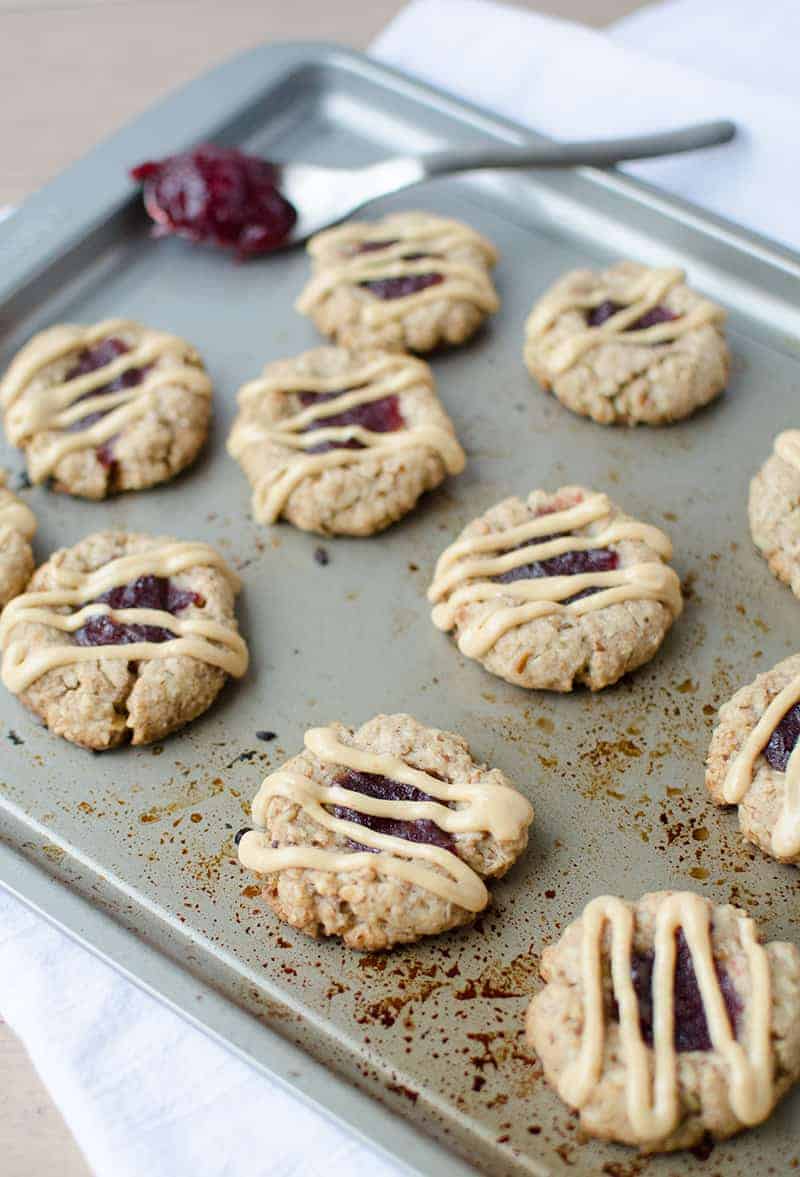 If you try this recipe, let me know! Leave a comment, rate it, and tag your Instagram photos with #delishknowledge . I absolutely love seeing your creations. Happy cooking! 
Print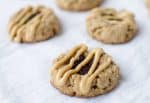 Cranberry Pecan Thumbprint Cookies
Author:

Prep Time:

15 minutes

Cook Time:

15 minutes

Total Time:

30 minutes

Yield:

about 20 cookies
---
Scale
Ingredients
1 cup

pecans

1 cup

rolled oats

1/2 cup

all purpose flour

1/2 cup

whole wheat pastry flour

1/2 cup

canola oil

1/2 cup

maple syrup

1/8 tsp

. vanilla extract

1/4 tsp

. salt

5 tbsp

. cranberry jam

1/4 cup

peanut butter for drizzling (optional)
---
Instructions
Preheat oven to 350°F. Place pecans and oats into a food processor and pulse until finely ground.
Place pecan and oat mixture in a large bowl and add flours, oil, syrup, vanilla extract and salt. Stir to combine well. Roll 2 tbsp. size balls of the dough in the palm of your hand to form each cookie, then place on baking sheets, spacing cookies 2 inches apart. Press your thumb into the center of each cookie to make an indentation and spoon a teaspoon of cranberry jam into each space.
Bake cookies until golden, about 13-15 minutes. Transfer to a wire rack to let cool completely, then drizzle with peanut butter, if using.
Want more cookies? Enjoy these Christmas Cookie round-ups from a few of my favorite bloggers:
50 Vegan Christmas Cookies by The Pretty Bee
Cookie Swap Party from Keepin it Kind
Lightened Christmas Cookie Roundup from Food Done Light
Vegan Christmas Cookie Roundup from Sharon Palmer at the Plant-Powered Blog