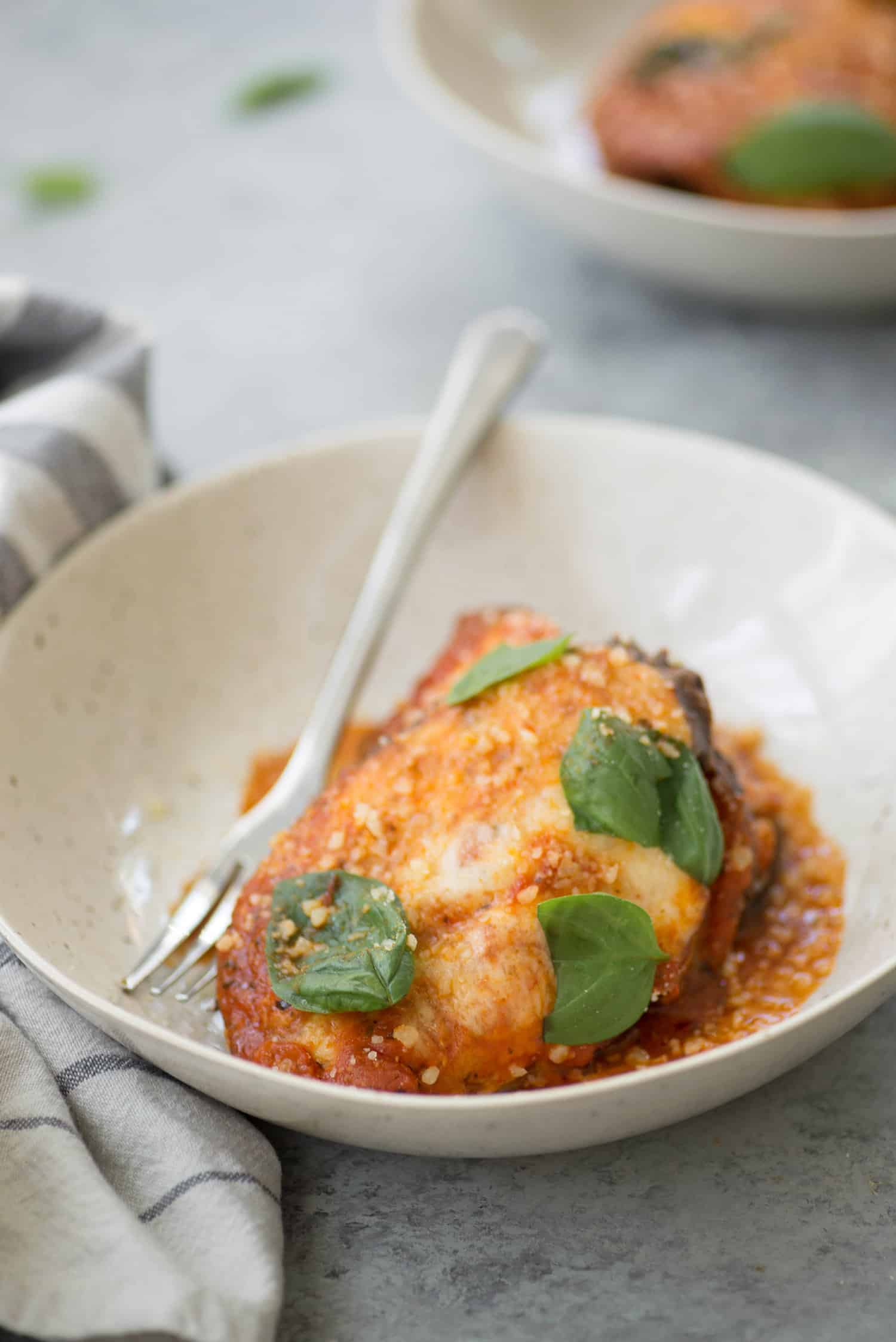 Well, I'm finally the proud new owner of an Instant Pot.
I broke down during last week's Amazon prime day and finally bought one. The magical appliance that seems to do it all: slow cook, saute, pressure cook, rice cook and even makes yogurt.
Like with any new toy, I spent most of last Saturday sifting through manuals, recipe ideas and testing some of my favorite recipes. While I've been a fan of pressure cooking for years, there's something a lot more sleek and trendy about using the Instant Pot. My old pressure cooker seemed like a kitchen disaster waiting to happen, as it dangerously jiggled across the stove every time it reached pressure.
Having already used the Instant Pot a dozen times over the past week, I can safely say this is one purchase I should have made a while ago.
MY LATEST VIDEOS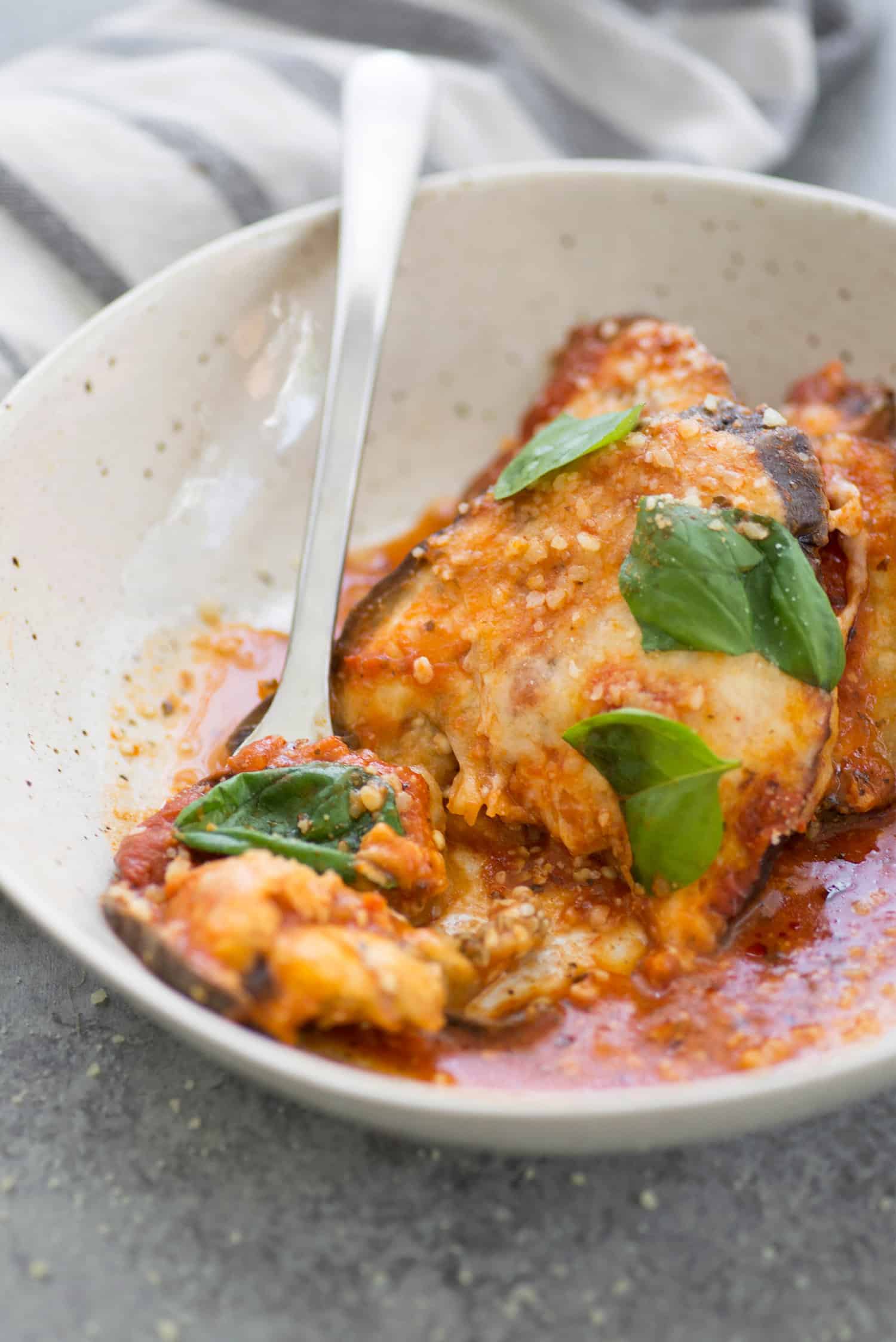 15 minutes friends! That's all you need to bring creamy, cheesy eggplant parmesan to your table. I think eggplant is one of those foods that you either love or hate. Personally, I'm a big fan. I love the meaty, tender texture it takes on when it's prepared right.
When it's prepared right being the operative words. Eggplant contains saponins, bitter yet healthful compounds, that make cooking it until done essential. Otherwise, you end up with a sharp, unpleasant taste that makes you never want to cook eggplant again.
I think the pressure cooker solves this dilemma perfectly as it ensures that the eggplant is poached in a flavorful marinara sauce, without the additional need of oils to keep it from going dry. With a little cheese and fresh basil for good measure, this is the perfect side dish (or main dish) of summer.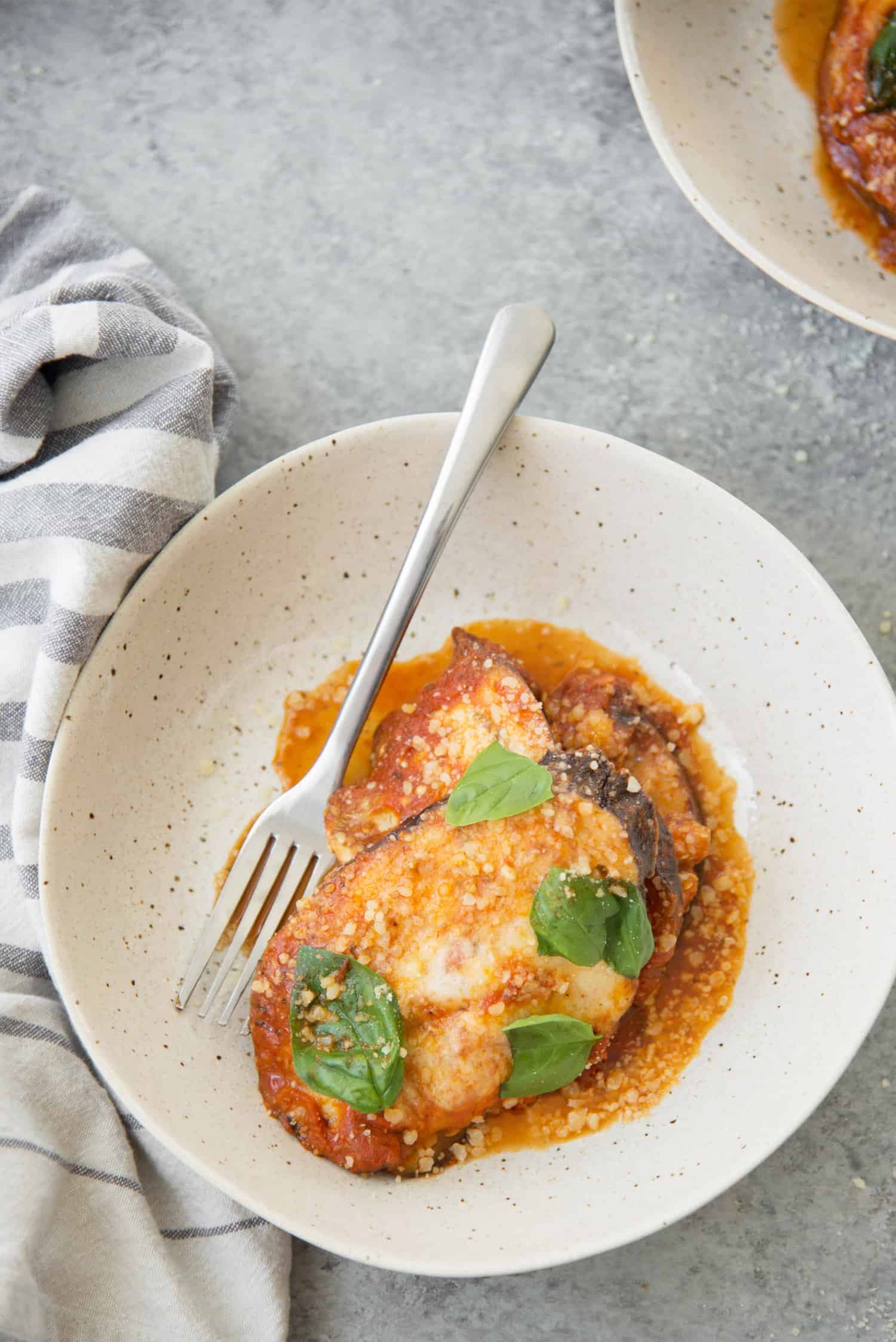 To ensure success, make sure your eggplant is sliced fairly thin and that the slices are as uniform as possible. This way, the eggplant cooks at the same rate and you aren't left with overcooked and undercooked pieces. I aimed for a 1/4-1/2″ slice, which was timed perfectly for 11 minutes in the Instant pot.
If you have larger pieces, you might need to bump up the cooking time by a few minutes.
Lastly, I'm calling for enough sauce here to be able to serve over pasta, if desired. You can see in the photo below that you should have more then enough liquid to cover the eggplant with. Depending on the size of your eggplant, you may need to add a bit more sauce or water.
Then, if you'd like, serve the eggplant (and the yummy sauce) over spaghetti or your favorite grain.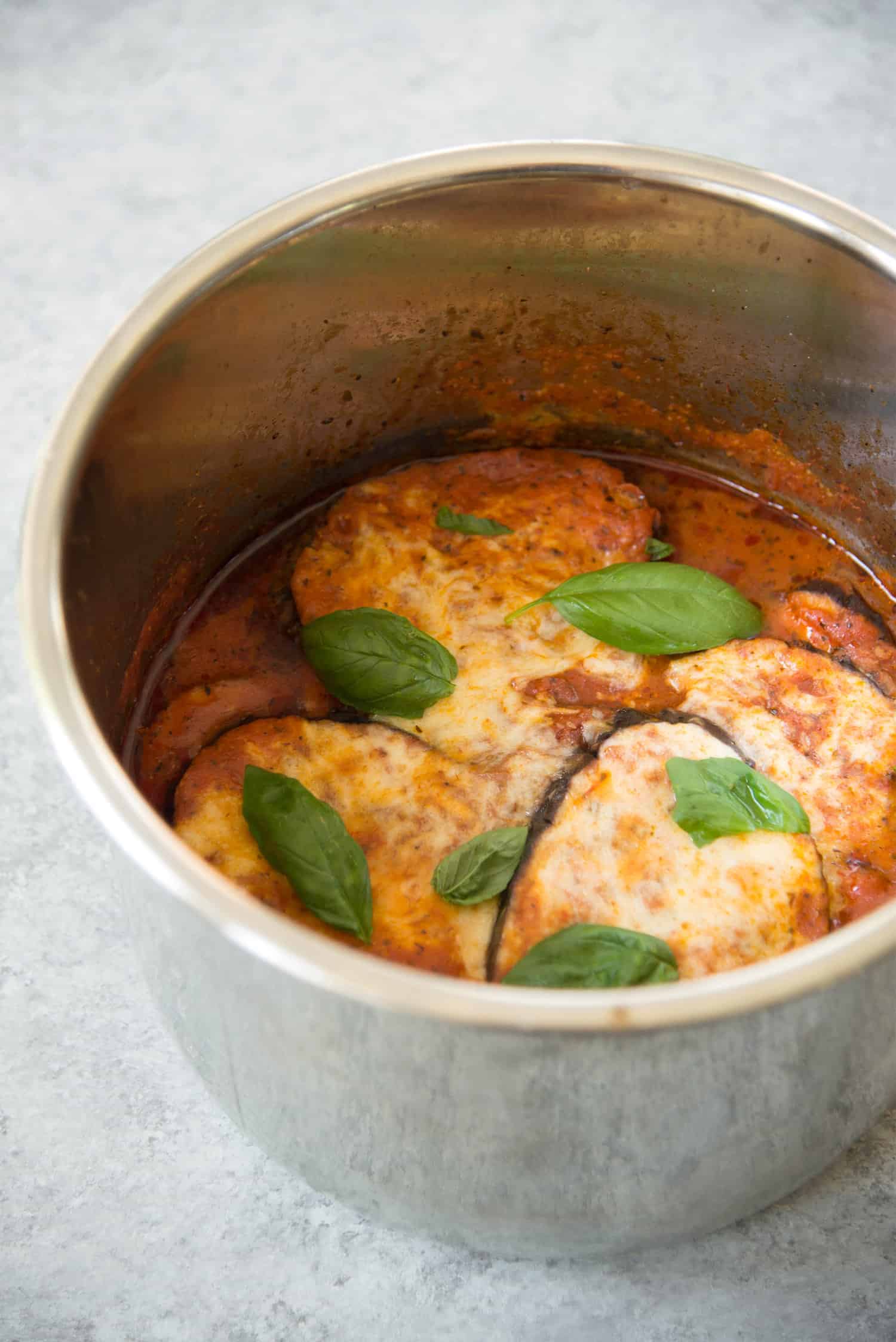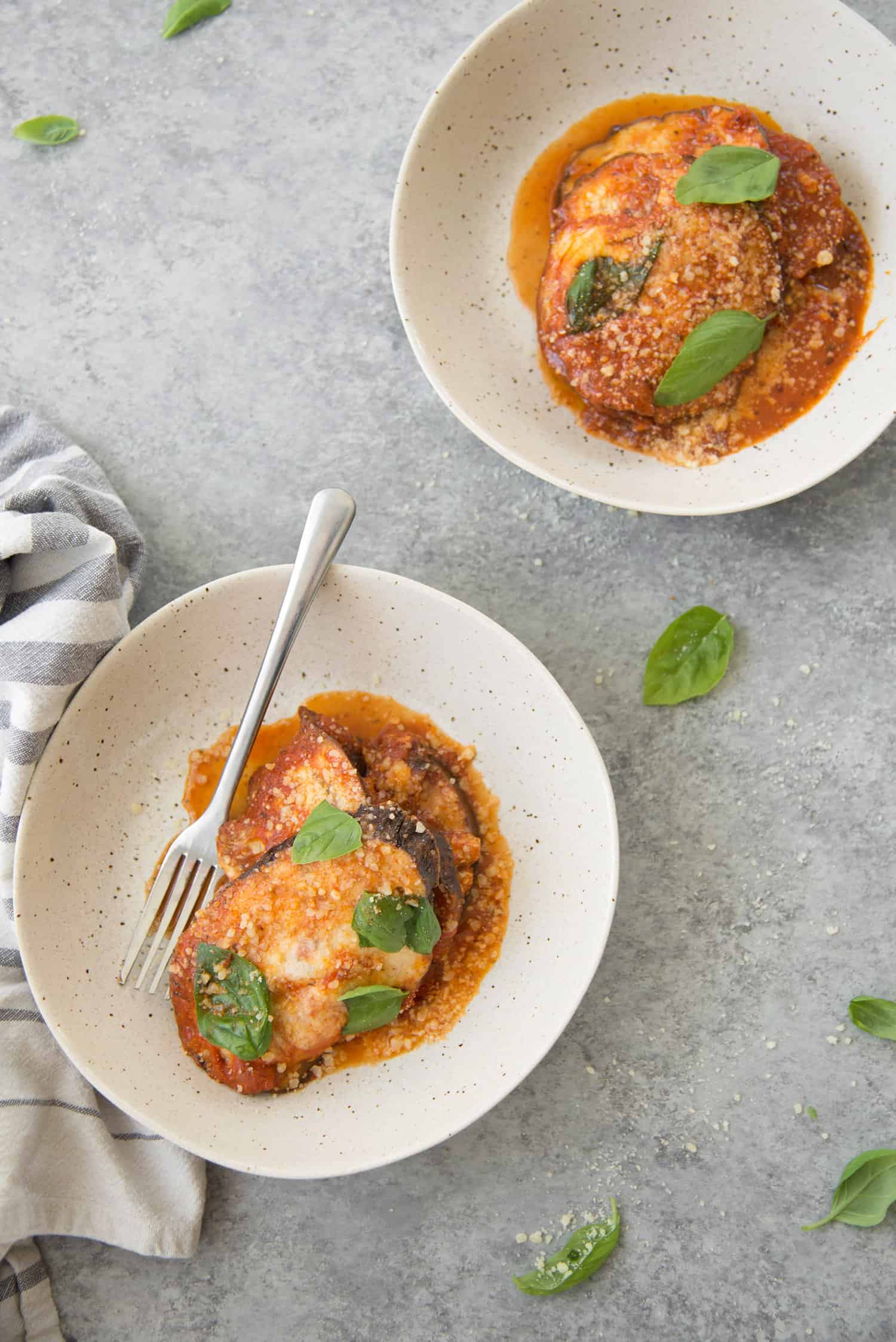 Looking for more beat the heat recipes? Click here for more healthy recipes using the slow cooker, instant pot or pressure cooker recipes from The Recipe Redux.
If you try this recipe, let me know! Leave a comment, rate it, and tag your Instagram photos with #delishknowledge . I absolutely love seeing your creations. Happy cooking! 
Print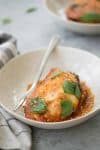 Eggplant Parmesan made in the Instant Pot
---
Description
Eggplant Parmesan that you can make in the Instant Pot! This side dish is ready in just 15 minutes. Layers of eggplant, tomato sauce, basil and mozzerella cheese. Vegetarian and Gluten-Free.
---
Scale
Ingredients
2

medium eggplants, sliced into 1/4″ rings (the eggplant needs to be uniform in slices so it cooks evenly)

4 cup

s marinara sauce (homemade or jarred)

1 cup

water

1 cup

shredded mozzerella cheese

1/4 teaspoon

red pepper flakes (optional)
fresh basil, for serving
---
Instructions
Place 1 cup of the water in the bottom of the Instant Pot. Layer with a few slices of eggplant, a sprinkle of cheese and cover with a very thin layer of sauce. Repeat, layering eggplant, cheese and a thin layer of sauce until all the eggplant is in the pot, ending with the remaining sauce and then a sprinkle of cheese. Sprinkle with red pepper flakes, if using.
Cover and bring the pressure to high (using the manual setting) and cook for 10 minutes. Let the pressure come down naturally or use a quick-release method after 3 minutes.
Serve, garnish with fresh basil. You will likely have extra sauce, so serve this one over pasta if you'd like!
---
Notes
If you read the comments you'll see that 1/2 of the people LOVE this recipe and 1/2 had it scorch on them. Here's how to prevent that:

Make sure you have enough water in the bottom of the Instant Pot.  I've tested this recipe a few times and this amount works for me. I have the smaller Instant Pot, so if you are using a larger one then you might need to add more. The first layer of eggplant should almost float so that the eggplant doesn't stick. The only downside is that you will end up with more sauce than you need so do what I do: make some pasta to put the eggplant and sauce over! It's delicious.
The KEY is not letting the sauce touch the bottom of the pot. So, make sure your first few layers are thin and then add the rest at the end and DON'T stir.
Make sure your Instant Pot is set to sealing when you cook it; if it's not then it won't come to pressure and the sauce will burn.
You'll want fairly thin slices of eggplant; too thick and they won't cook through.
For more detailed information on why some recipes burn and why some don't, read this post.

No Instapot? No problem. A regular pressure cooker should work the same way.
None of the above? Layer the eggplant, sauce and shredded cheese in a casserole dish and roast at 375F for 35-40 minutes until golden browned and eggplant is tender.
Feel free to alternate layers of zucchini and eggplant in this dish as well- works great!