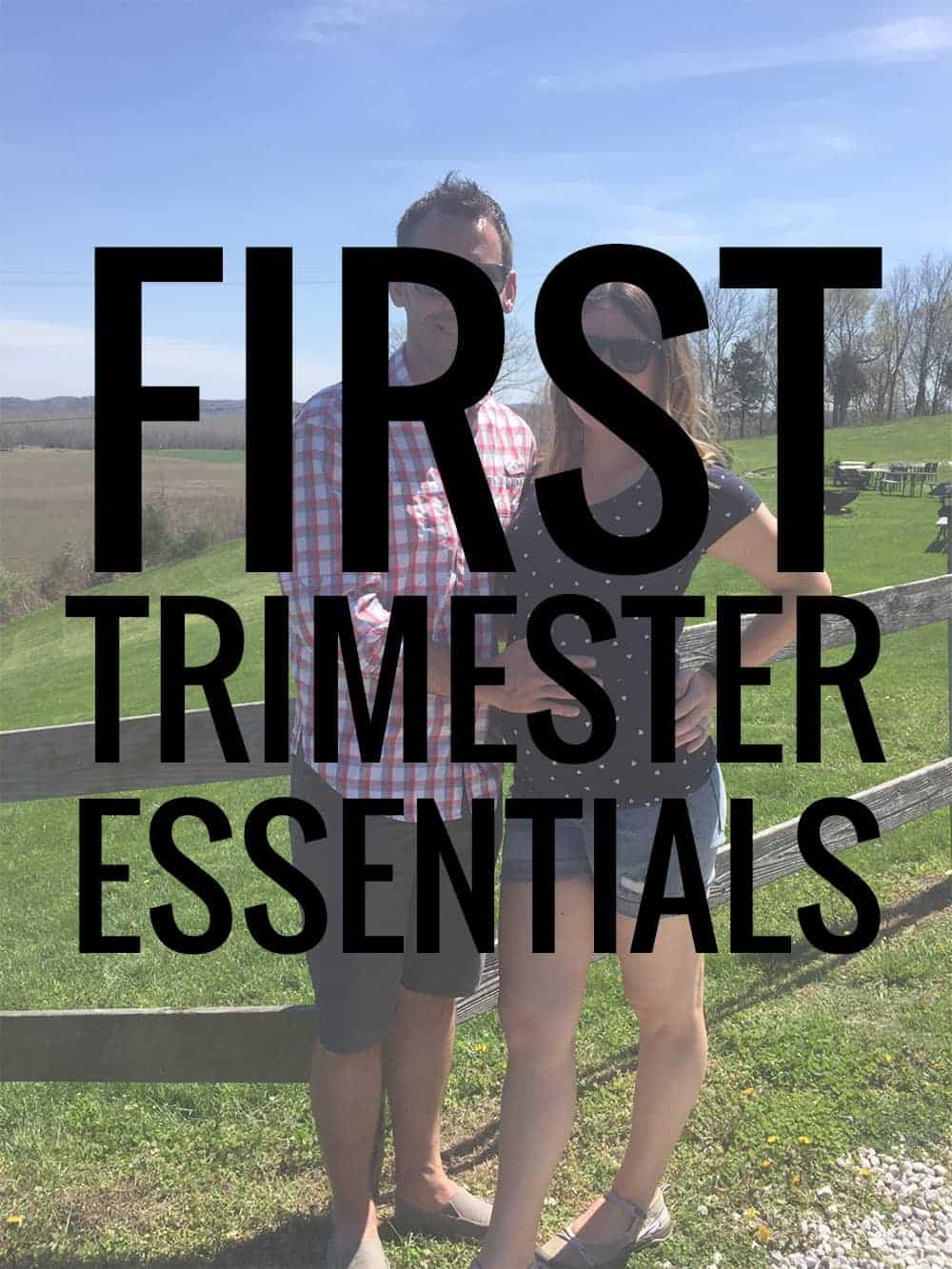 Oh, baby, baby, baby. 
I have to admit that writing this post still feels a little surreal. Like, I know what's going to happen this fall; I've been dreaming about it for the past few years, but now that's it's finally here, it just doesn't seem real. Then, I look down at my bulging belly and my brain catches up with my body: this baby is on it's way.
First Trimester Thoughts: 
I wanted to share a few musings on the first trimester along with the essentials that got me through because, well, things were rough. I tried really hard not to complain during those miserable 14 weeks because hey! we did a lot to get here. Seems silly to complain about getting what you want. But, it doesn't mean it was easy.
Food, my old friend, I'm just starting to enjoy you again. Having a full-time job that revolves around recipe development when every smell and ingredient turns your stomach wasn't always pleasant. It may be why you noticed fewer posts and social media shares than usual. Unless you were a piece of bread, bagel or frozen waffle, I didn't want anything to do with you. That's not exactly foodgrams worth sharing. Though I tried to force down a vegetable or two every now and then, those moments were few and far between.
MY LATEST VIDEOS
Bagel sandwiches were my life; I don't think I've eaten that many bagels ever. But, for some strange reason, it was the only thing that sounded remotely good. I plan on writing more in a another post on intuitive eating during pregnancy, but here's the thing I kept reminding myself: you aren't the only pregnant women to not want nutrient-dense foods. It's OK. 
I equate first trimester to being in a permanent hangover, without the fun party beforehand. It's basically a rotation between junk food, naps and apathy towards doing anything besides sitting on the couch.
The foods I loved during these first months (and still do): bread, in just about any form: bagels, english muffins, toast, pickles, CHEESE, tofu, french fries, veggie burgers & fake chicken patties, hot sauce, Indian food, Thai. Basically, if it was spicy, pickled, deep-fried or a carb- I wanted it.
Favorite foods that I couldn't stomach: pasta, pizza, vegetables in any form, smoothies, coffee, chocolate, most candy, hummus.
First Trimester Essentials:
I suppose these could be used anytime during pregnancy (or anytime for that matter), but these were the things that I enjoyed on almost a constant basis.
Big Heart Tea (especially their Cup of Sunshine & Calm Yo' Tummy varieties)
Kicking caffeine was a struggle. As someone who could have a permanent IV line of coffee daily, this might have been the hardest thing to do. I quit cold-turkey, which, I don't necessarily recommend. I know that you can technically have some caffeine while pregnant but with our history, I didn't want to chance it.
So, I fell hard into Big Heart tea, a local St. Louis tea company that has my heart. They were started with Ayurvedic principles and the founder couldn't be nicer. I found their Chai when I first moved here, roaming a local kitchen store and became an instant fan.
When I became pregnant, I started looking into their caffeine-free varieties and was instantly hooked. It's easier to give up coffee when you look forward to a delicious pot of tea instead. Calm Yo Tummy tea was meant for first trimester mamas; it's soothing, fragrant, caffeine free and packed with natural nausea quenchers like fennel, lavender and tulsi.
Similarly, Cup of Sunshine is magic in a glass. Turmeric, ginger, peppercorn and cinnamon in a vibrant yellow, antioxidant-filled beverage. I suppose if I didn't want to eat vegetables, at least I was getting some nutrients through this. (P.S.- I'm planning on sharing my favorite way to drink it in an upcoming post for my frozen mango lassi)
Choline
It goes without saying how important a prenatal is (I swear by this brand, with methylated versions of B Vitamins) and I took extra precaution with a singular dose of choline. A few studies have shown that taking extra choline during pregnancy (and breastfeeding) can decrease mental health issues, like ADHD and schizophrenia.
Though my prenatal has some choline, I took an additional 500mg a day. Sure, you can get choline in the diet but I'd prefer to ensure intake through a supplement.
Sea Bands
My sister swore by these during her pregnancies, but I was a little skeptical on their claims. By week 10, when I could barely keep anything down, I finally gave in an ordered a pair. I'm not sure if it's coincidence or not, but when I was wearing them I felt significantly less nauseas. The only downside is that they start to hurt after a while, so I could only wear them in ~6 hour increments.
For me, they seemed to be most effective before nausea kicks in, so I threw them on in the afternoon as the evenings seemed to always be hardest.
Books & Documentaries
This may be the time that everyone recommends What to Expect When Your Expecting, but I have still yet to read it. Instead, I gravitated towards various topics that spoke to me.
I've had The Continuum Concept on my bookshelf for at least five years, an impulse purchase after hearing good things from a friend. Well, needless to say, I placed it on the shelf after buying and never thought of it again until we got that positive sign. I'm still processing this one, but it's opened my eyes to so many of the things we do during infant years that may go against the natural process of nurturing. I'm so curious to those who have read this one and your thoughts. Either way, it's made me want to commit to giving this sweetie as much in-arm time as possible to extend the fourth trimester.
Did I mention how much time I spent laying on the couch? Well, let's just say our Netflix got quite a workout this winter. (If you need recommendations for just about anything, lemme know.) The 9 Months that Made You was recommended to me by Netflix (did my constant watching patterns let them know that I was pregnant?) and I'm glad I watched it. Not only did it give me a new appreciation for how incredible our bodies are, it also eased my mind to the idea that sometimes things go wrong, even if you're trying to do everything "right."
I'd seen the Business of Being Born previously, but watched it again in this new light. I already knew that I wanted to go the route of a midwife for this birth, but this message reinforced the idea.
If you've got other recommendations for reading/watching, I'd love to know them.
LuLuRoe Leggings
I know how fortunate I am to be able to wear pajamas to work, if I choose. Pregnant or not, this perk is not lost on me and I'm pretty grateful for this when it suites me. I started showing fairly early, a combination I'm sure of being smaller to begin with, a short torso and a steady diet of bagels. Therefore, comfortable, loose clothing was essential.
My sister swore by LuLuRoe clothing, which again, I was skeptical. It looked like toddler clothes for adults and I'm not that into loud, busy patterns. She gifted me a pair of leggings and of course, I was won over. What do they make these out of? These might be the most comfortable pair of leggings I've ever owned, which says a lot considering that most leggings fall squarely into the comfortable category. I decided to get myself a few pairs and have been wearing them almost non-stop.