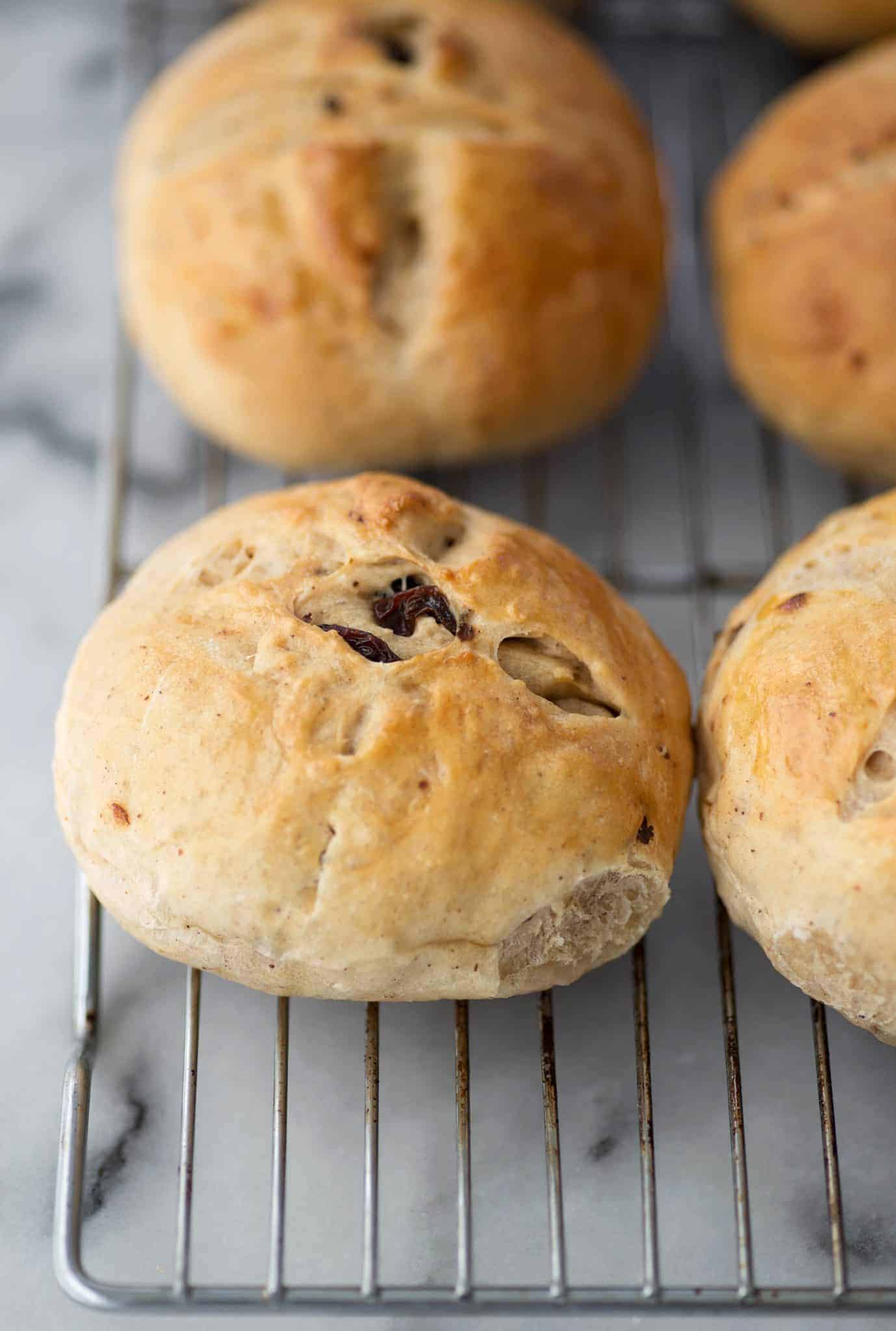 Guess what.
We're having a baby.
A baby! My goodness, I feel like these words have been coming for a lifetime and now that they are finally here, able to be said out loud, feels almost unreal.
But, it's true. We are here, in this moment, announcing that our little family of two is now going to be a family of three. We're nervous, scared and over-the-moon with joy. You can be all those things at once, right?
MY LATEST VIDEOS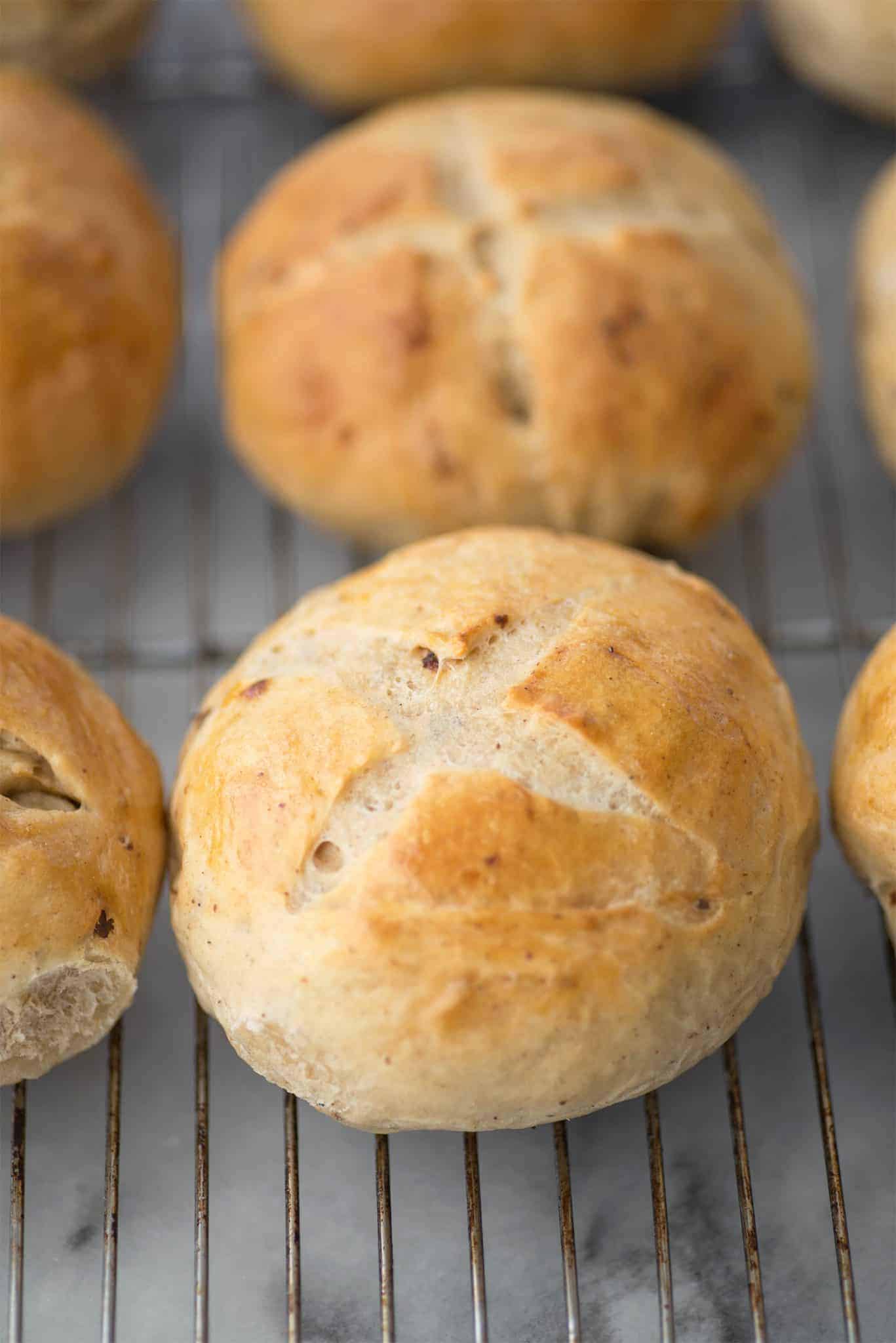 How we got here:
Do we share more or do we keep it inside? That's the feeling that's plagued me over the last year or so. Ironically, for owning a food blog, I'm a pretty private person. Oversharing, unless to my besties and family, isn't really my thing.
You won't find status updates on my personal Facebook page, my Instagram is packed with food (not selfies), and it took me almost 3 years of writing like a robot to actually share real details of my life. It's not a bad or a good thing- just a thing. Part of my personality, of who I am.
So, when BL and I were riding the emotional rollercoaster of fertility for the past year, I didn't feel any need to share. It was our thing, a personal event that felt safest closest to our hearts and only shared after a few glasses of wine with friends. We didn't feel any shame in our struggle, just not a desire to talk about it. Talking about things makes it real, and we were focused on moving onward and forward. I don't dwell too much in things I can't change, and wanting to get pregnant and then not, is a hard thing to change.
The crazy thing about sharing is that it makes you feel less alone. And, on the road of infertility, alone is a pretty common place. Even after just dropping a hint or two, I received emails and texts from friends who were in the same boat. Quietly in the background, harboring their story, but not quite sure how to share. You don't even need many words, a hug, an 'I understand your pain' is sometimes all that it takes. So, I'm putting my brave face on and sharing. Maybe our story makes you feel less alone or maybe you can identify with this journey. Either way, I see you and I'm here for you.
We found out I was pregnant two days before we were scheduled for IVF orientation. Two days. That's gotta be some kind of divine intervention, right? In hindsight, I probably could have tested a lot sooner than I did. I could barely keep food down at that point, needing to take breaks often, thanks to waves of nausea and sickness. But, there's magic in not knowing. Not knowing isn't definite and, crazy as it sounds, not knowing felt more hopeful than actually knowing.
POSITIVE. So positive. I had barely finished taking the test before two bright blue lines popped up. I think time stood still for 5 whole minutes before I summoned BL into the bathroom to see. Here. we. go.
Until we saw our little teddy bear on the screen at 7 weeks, I didn't believe it was real. Sadly, we'd been here a few times before. Pregnant, then not pregnant. The gut-wrenching pain of saying goodbye to something you never really knew, the possibility of what could have been. I honestly didn't think I could handle the experience again, so I ignored what was happening. Sure, I took my prenatal and mustered up the energy to force food down, but we didn't talk about it. It wouldn't let it be real until we moved past those first key milestones.
It's real. There's a baby in there, a beautiful baby that we can't wait to meet this September. Sure, I'm still nervous sometimes, freaking out with every unusual feeling and 'Is this normal?' moment. I've been told that all soon-to-be mommas feel this way, so I'm rolling with the punches.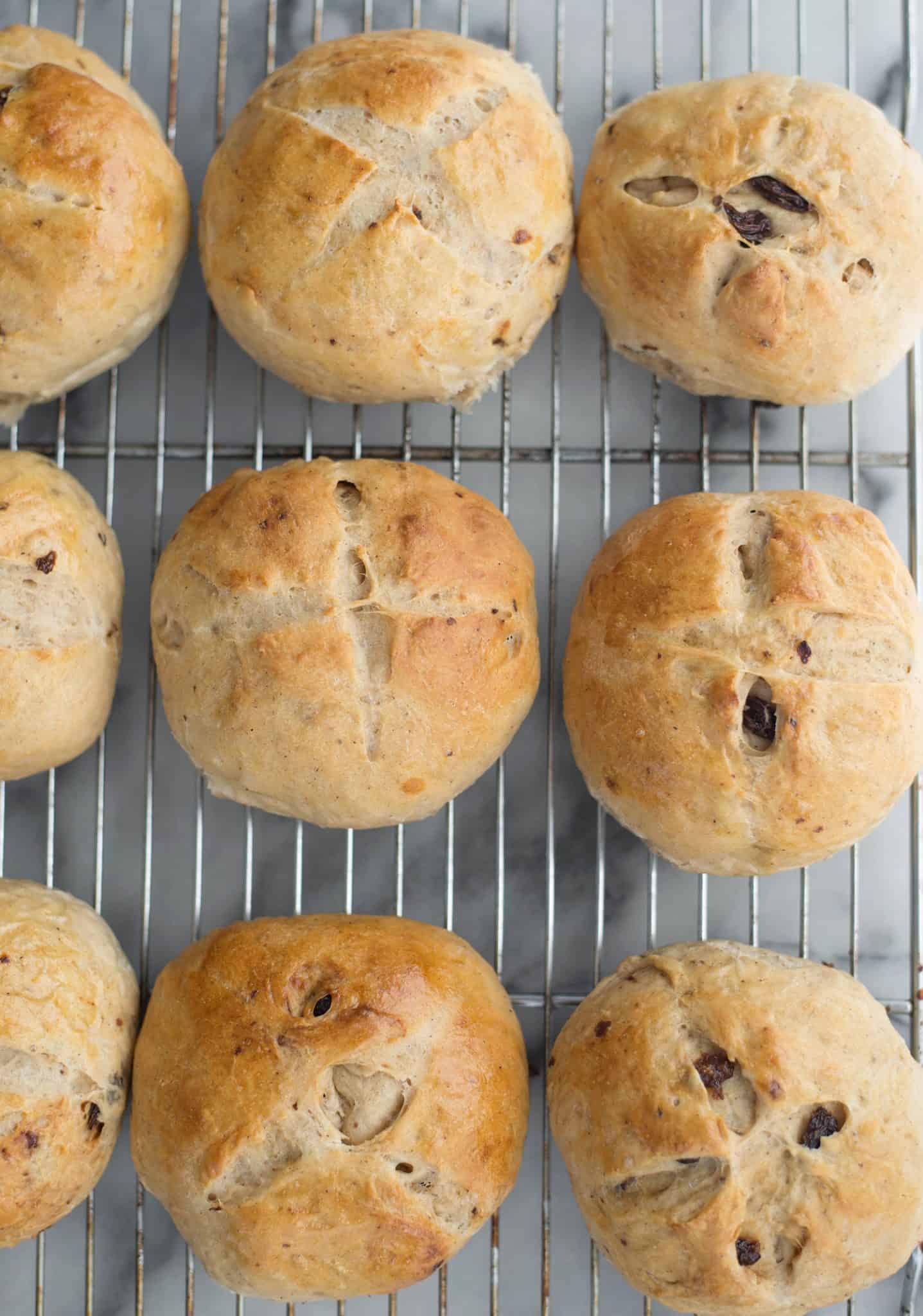 Currently:
Entering the second trimester felt like a giant right-of-passage. I know the statistics like the back of my hand and this felt like a major milestone. We could tell people! I could finally admit that my need to wear yoga clothes at every possible gathering was because nothing else fits. This belly is a baby.
I'm planning on sharing some first-trimester essentials in a separate post, but for now, things are really good. I can still nap at the drop of a hat, but food sounds good again. How come when you are supposed to be nurturing another life, you don't want anything but bread, bagels, crackers and cheese?
So, let's celebrate! With more bread. Hot Cross Buns (in the oven). Since carbohydrates have been my #1 food group since New Year's, it felt only fitting to tell you in a recipe comprised of bread topped with icing.
These buns are good, like I'll have a third good. Fluffy, chewy and perfectly spiced. Don't mind that I slathered my buns with extra icing before eating, I'm eating desserts for two of us after all. I think I subsisted on these buns for a week straight; the perfect first-food of the morning when nothing else sounds good but you know you need to settle the stomach.
Not pregnant? Don't worry, these buns are still a delicious addition to any Spring breakfast or gathering.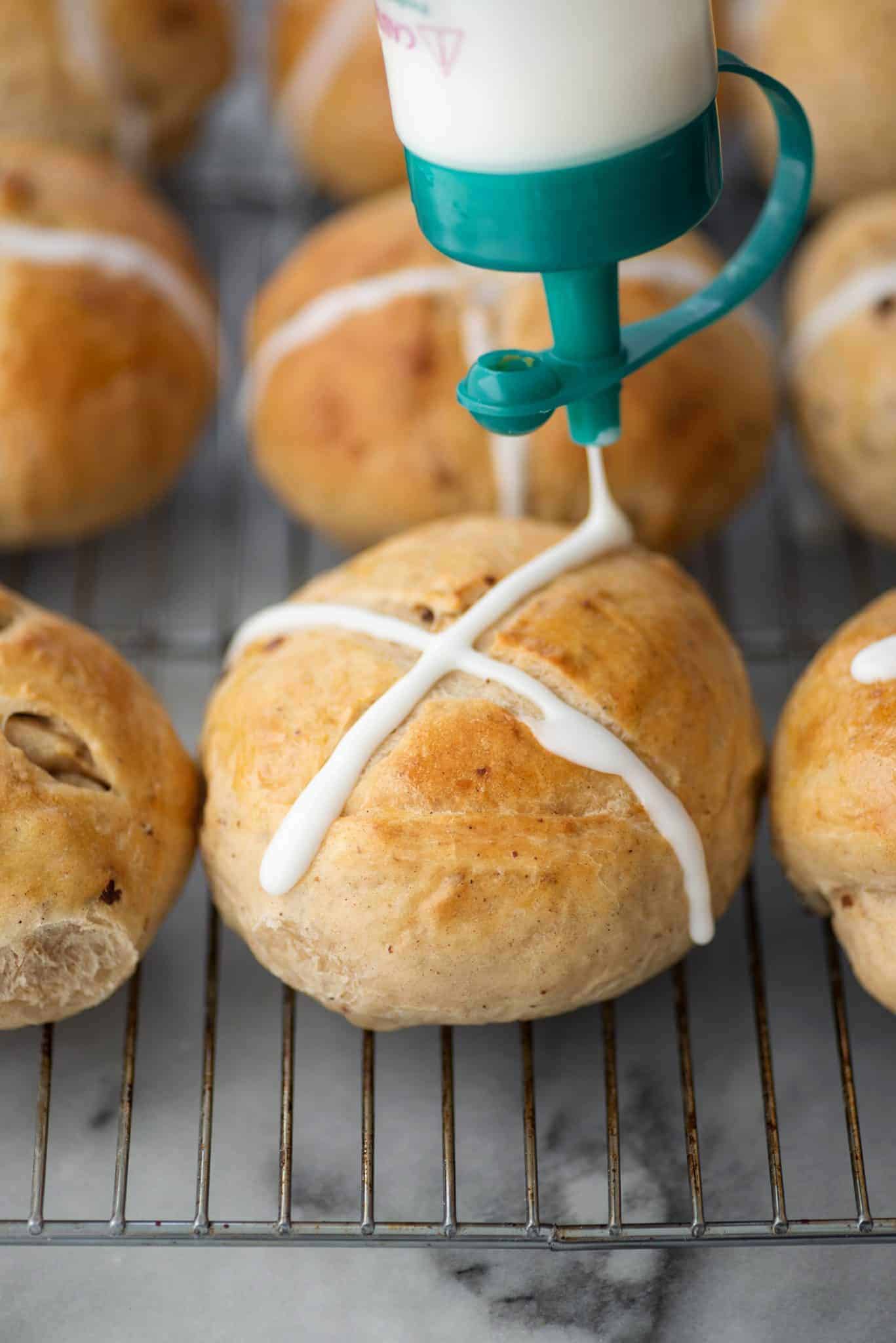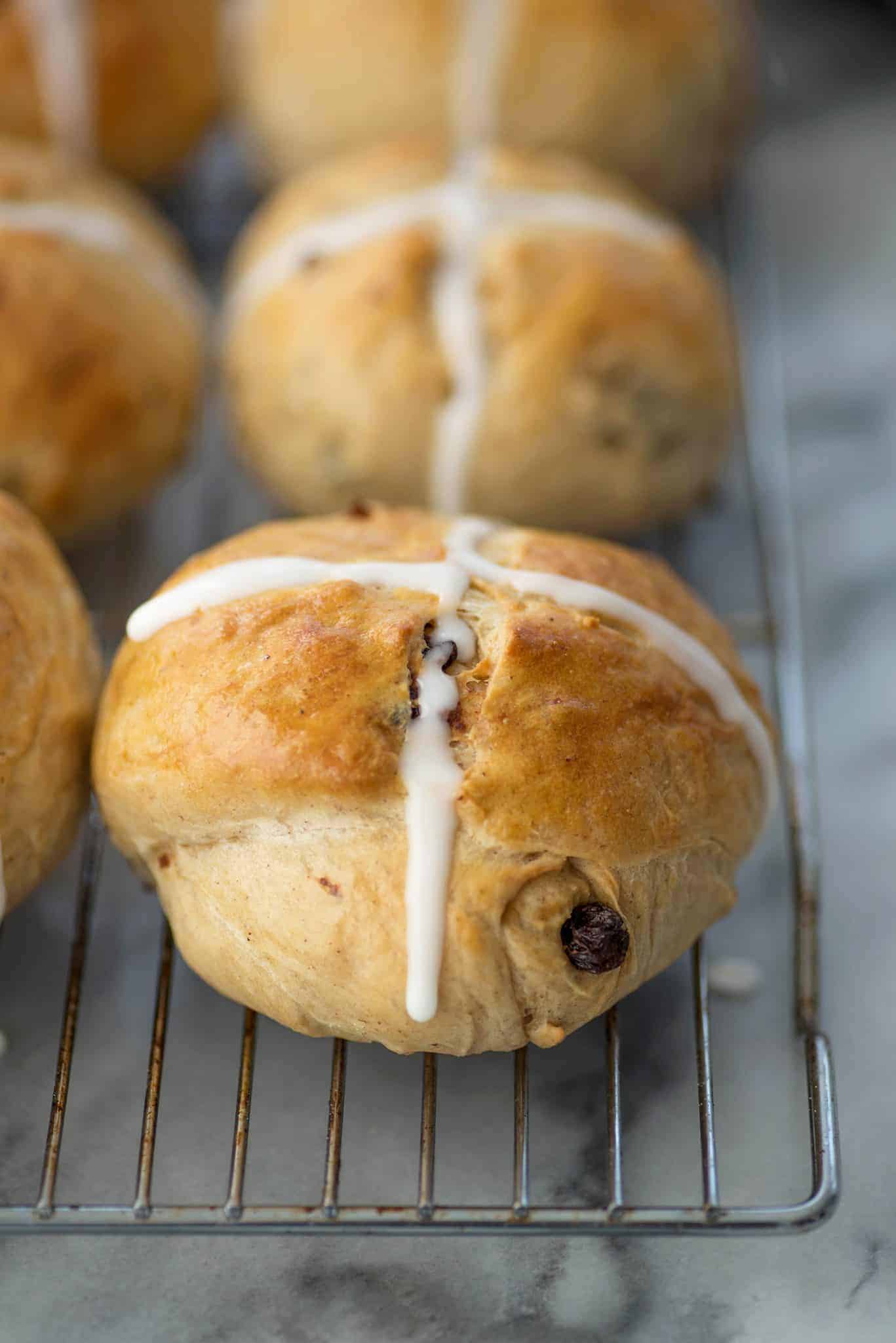 What now?
Well, that's the million dollar question, isn't it? Like most soon-to-be parents, BL and I know how much life is going to change come September, but we are likely naive about exactly how much.
We've got an ambitious to-do list to try and work through before the baby gets here. A little thing called a due date really helps you prioritize and stop procrastinating. We're crossing off a few last-minute bucket list trips, finishing our house remodel, and trying to get as many work projects done so I can essentially take time off until 2018.
I'm still planning on keeping this site as active as possible, though I'll likely cut down from 3x a week to 2. I'll also probably be sharing motherhood updates often, especially as they relate to nutrition. A few years ago, my sister did some guest posts on raising a healthy baby and, even though we were childless at that point, her posts seemed to be enjoyed by a lot of you.
I kinda feel like we are all growing up together. To my friends who are on this same path, let's help each other. I'll share meal ideas and thoughts on raising intuitive eaters and you tell me exactly how to navigate everything else. Deal?
Phew. A lot of words, a lot of thoughts, a lot of love. That seems to be the theme these days; I'm an endless vat of emotions. If you've made it this far, thanks for reading. Thanks for showing up and sharing this space with me. Thank you for letting me pour my heart out and know that it's safe to do so.
And, of course, to the mamas who are struggling on this road, either trying to get pregnant or recovering from loss – I'm cheering for you. My wish in sharing our journey is to remind us all that hope is there.
And to those who are not in this space or interested at all- it's OK. I still promise you lots of plant-based treats and yummy delights. xo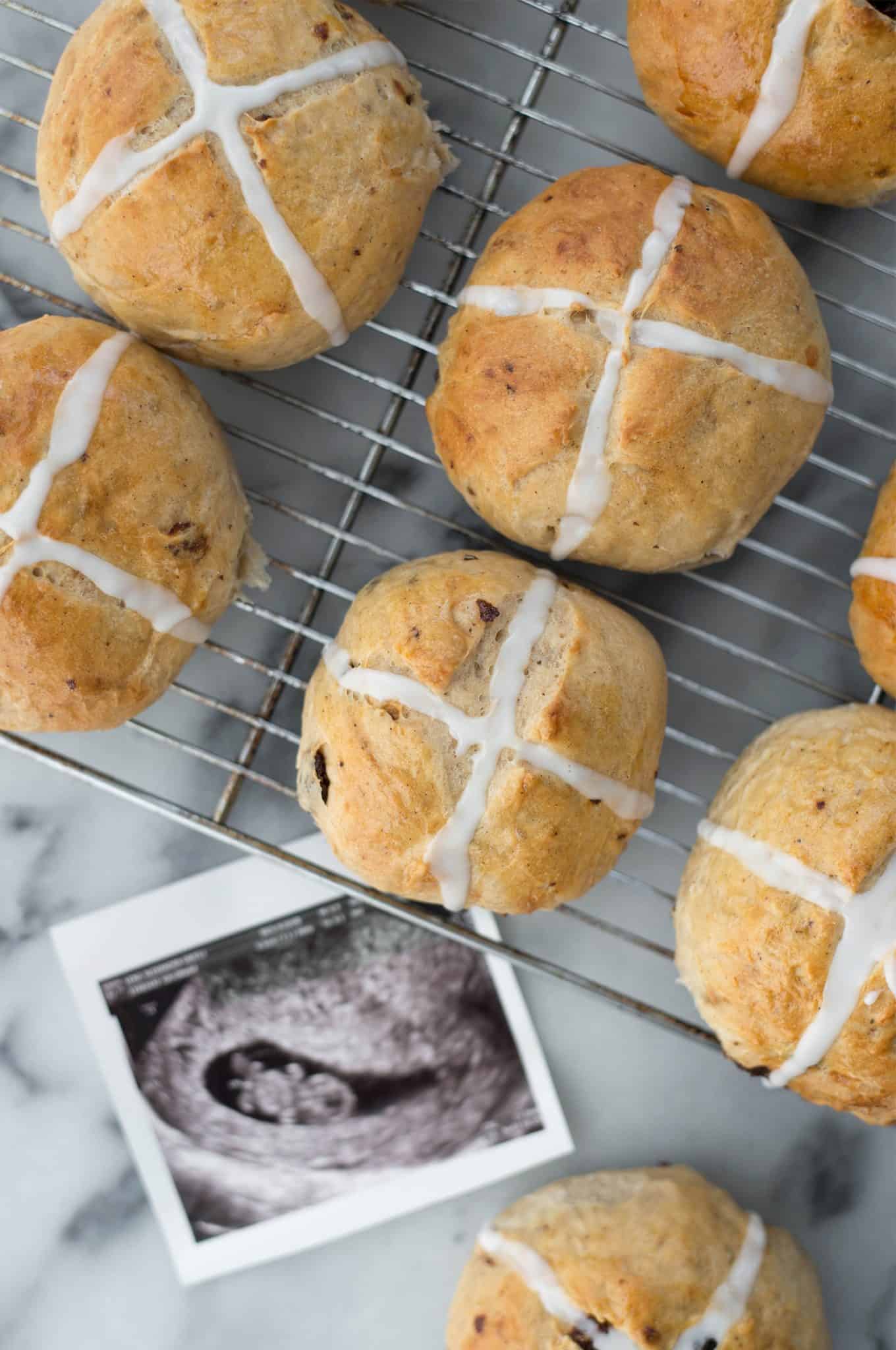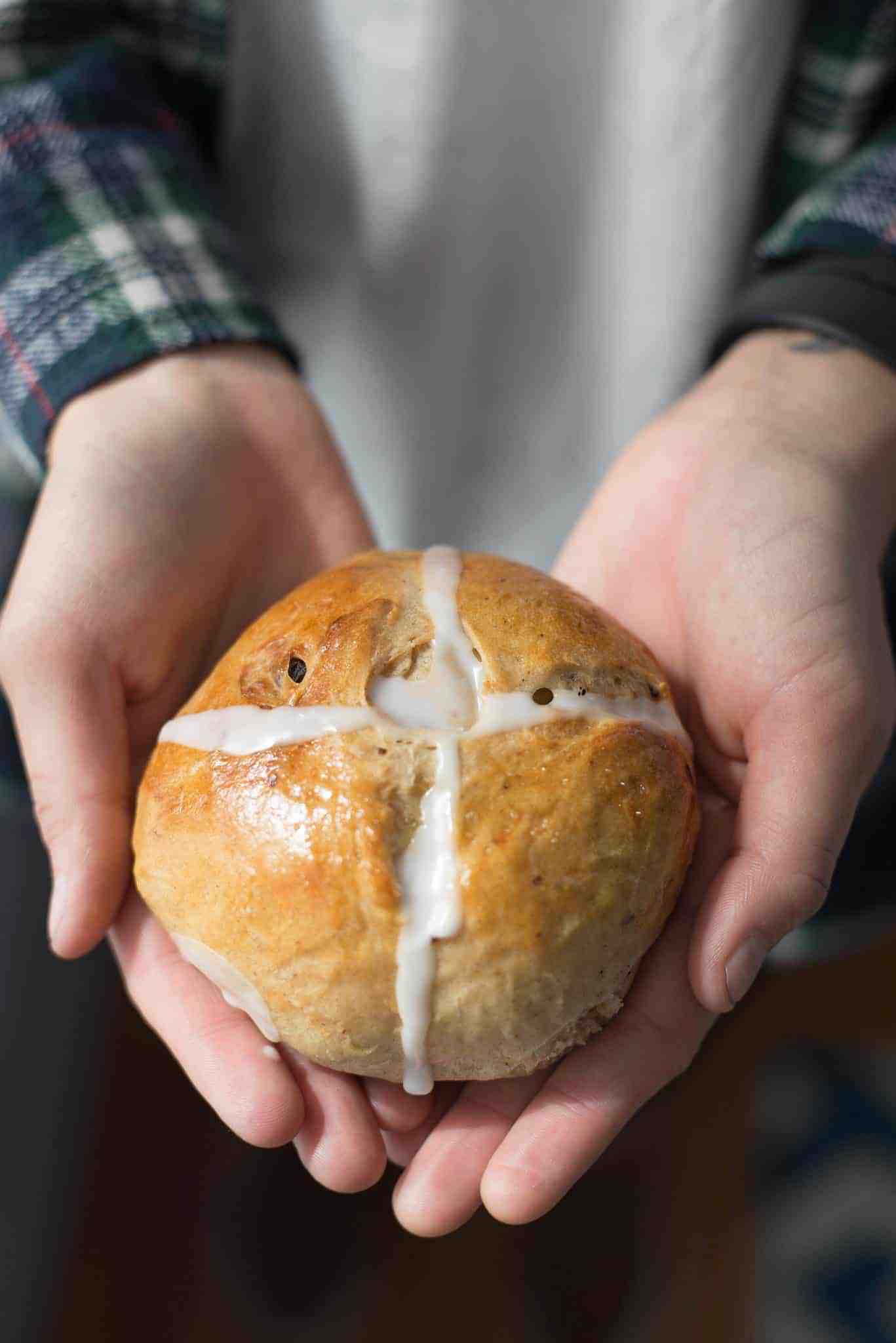 If you try this recipe, let me know! Leave a comment, rate it, and tag your Instagram photos with #delishknowledge . I absolutely love seeing your creations. Happy cooking! 
Print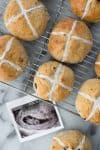 Hot Cross Bun in the Oven
---
Description
Hot Cross Bun in the Oven! Yup, we're having a baby. These homemade hot cross buns are the perfect spring breakfast or to serve for Easter and Mother's Day. 
---
Scale
Ingredients
1 cup

plus 1 tablespoon milk

1

package active dry yeast

½ teaspoon

granulated sugar

3 ½

–

4

cups all-purpose flour

¼ cup

 light brown sugar

1 teaspoon

cinnamon

¼ teaspoon

ground clove

¼ teaspoon

ground nutmeg

½ teaspoon

salt

5 tablespoon

s unsalted butter, melted

2

 large eggs, divided 

½ cup

 currants or raisins
For Glaze
½ cup

 powdered sugar

1 tablespoon

milk
---
Instructions
Scald 1 cup of milk to 100˚F in small pot. Remove from heat and transfer to separate bowl, the sprinkle on yeast and add a pinch of sugar. Stir just to incorporate. Let sit until foamy, approximately 10 minutes.
In a mixer with the paddle attachment, combine flour, spices, granulated sugar and light brown sugar, and salt. Add yeast to flour and mixture until just moistened. Add in melted butter and 1 egg.
Next, change to dough hook attachment and add currents/raisins. Continue to mix on medium speed until dough is smooth and elastic.
Knead dough into ball, then transfer to oiled bowl. Cover with plastic wrap and let rise in a warm place until dough has doubled in size, approximately 60 minutes.
Once dough has doubled in size, punch dough down and divide into 12 equally sized pieces. Once divided, roll pieces into balls, then place on parchment lined baking sheet.
When placing buns on the baking sheet, remember to give them adequate space to rise more. 3 X 4 works well on a normal baking sheet.
Whisk together 1 Tbsp. of milk and remaining 1 egg to make egg wash, brush onto each bun and then cover the entire tray with plastic wrap.
For their second rise, place the buns in another warm place until they have doubled in size, this can take between 30-60 minutes.
While dough is rising, preheat oven to 400 ˚F.
Once buns have doubled in size, take a slightly greased sharp knife, or scoring knife, to slice a cross into the top of them. The cross does not need to be deep.
Bake for approximately 12 minutes or when an inserted toothpick comes out clean.
While buns are baking, mix powdered sugar and milk in a bowl to make glaze. Transfer glaze to pastry bag, squeeze bottle, or plastic bag.
When the buns are done cooking, remove from oven and place on wire rack to cool. Once buns are cool, use glaze to pipe cross over top of score marks.