The BEST tomato bruschetta- thanks to a secret ingredient! One of the most popular and most-pinned recipes on my blog. You have to make this one!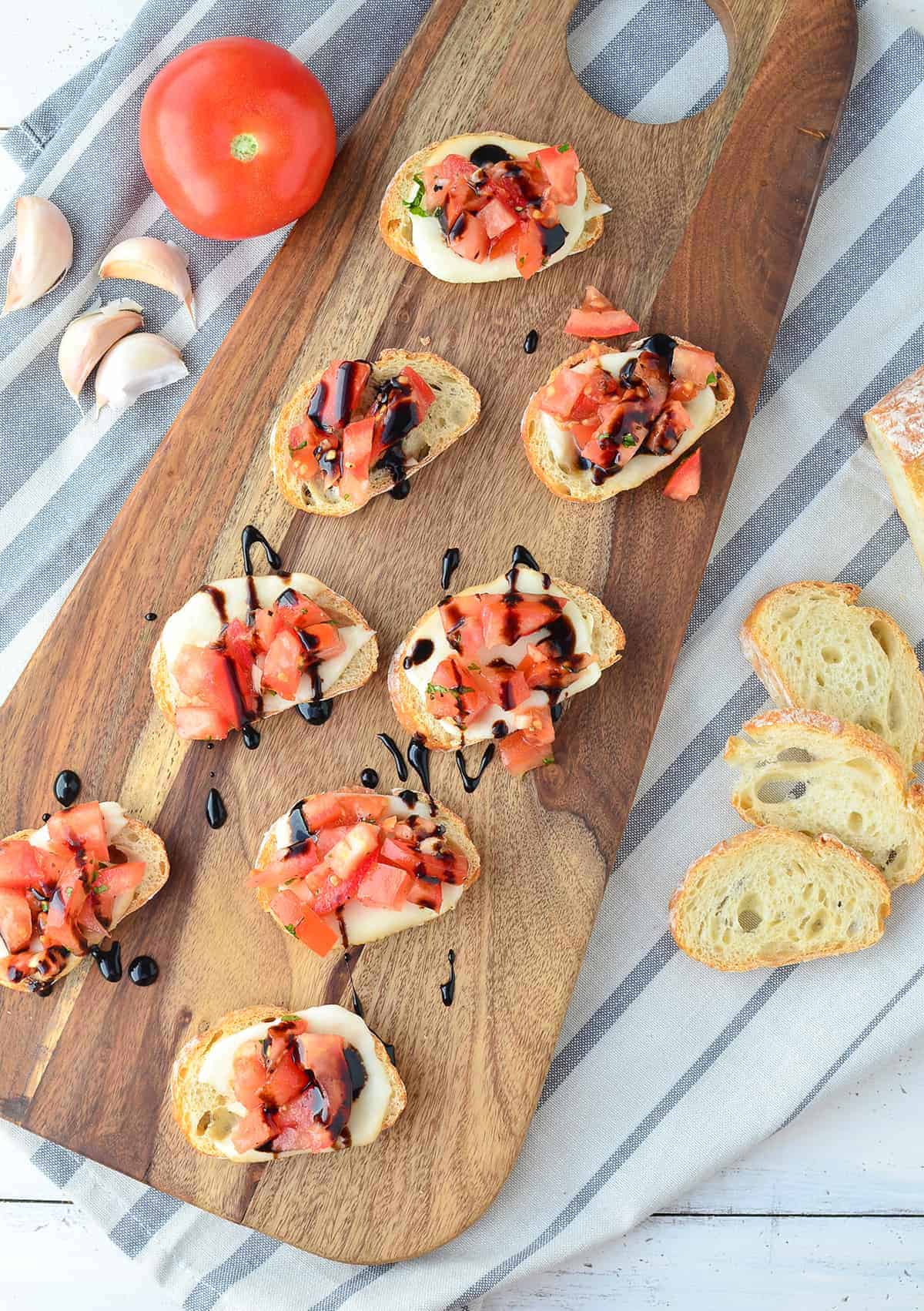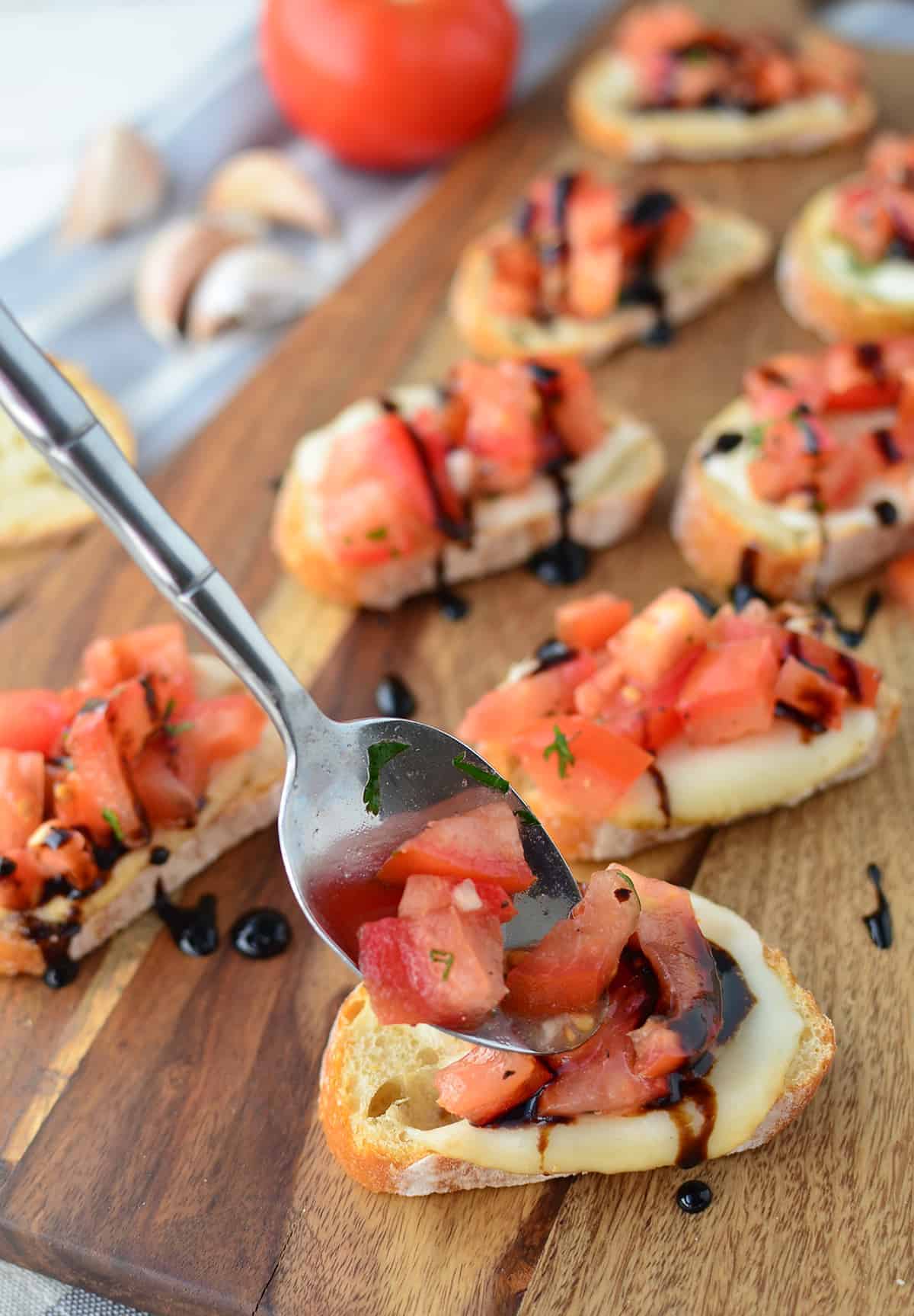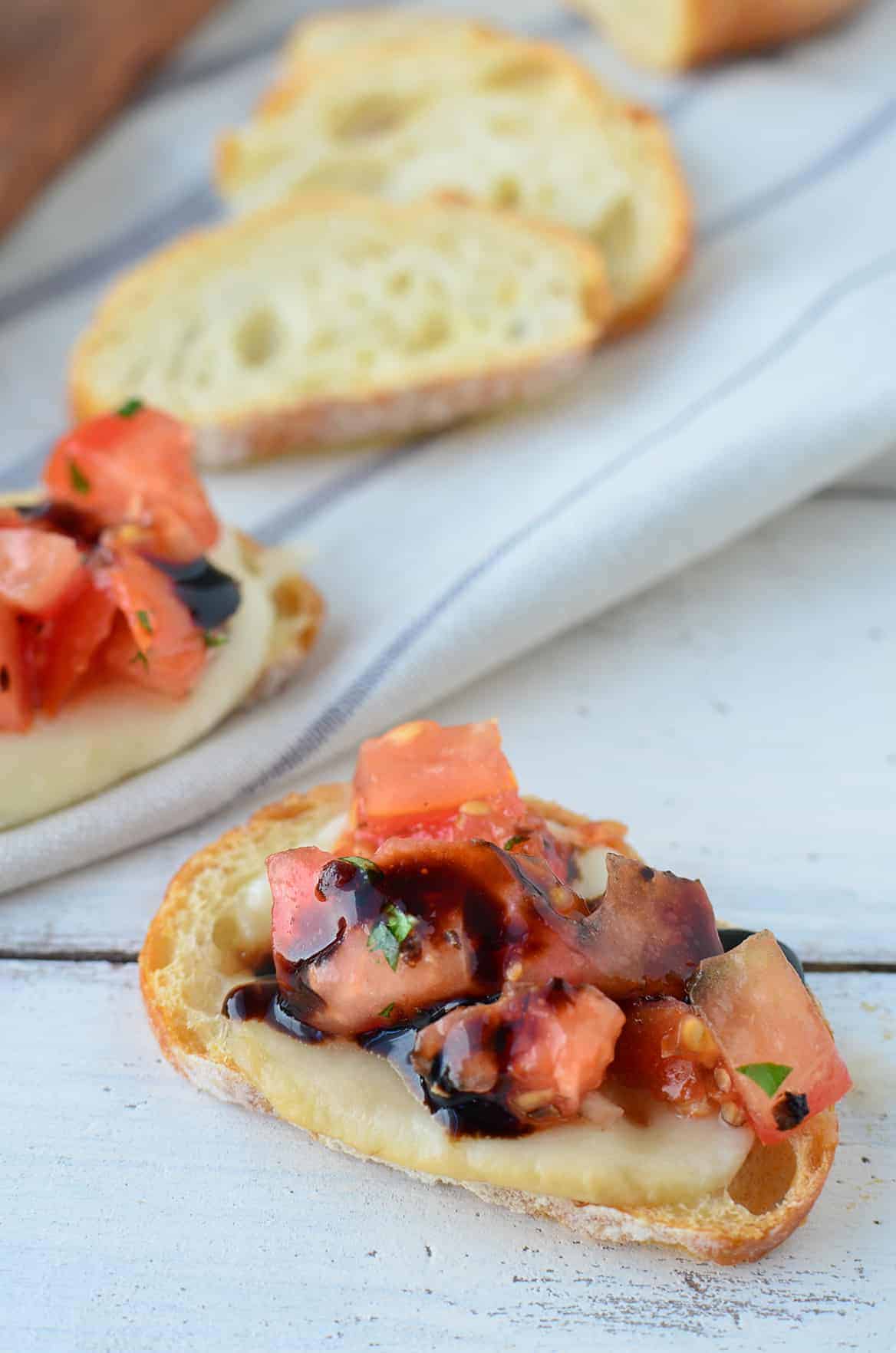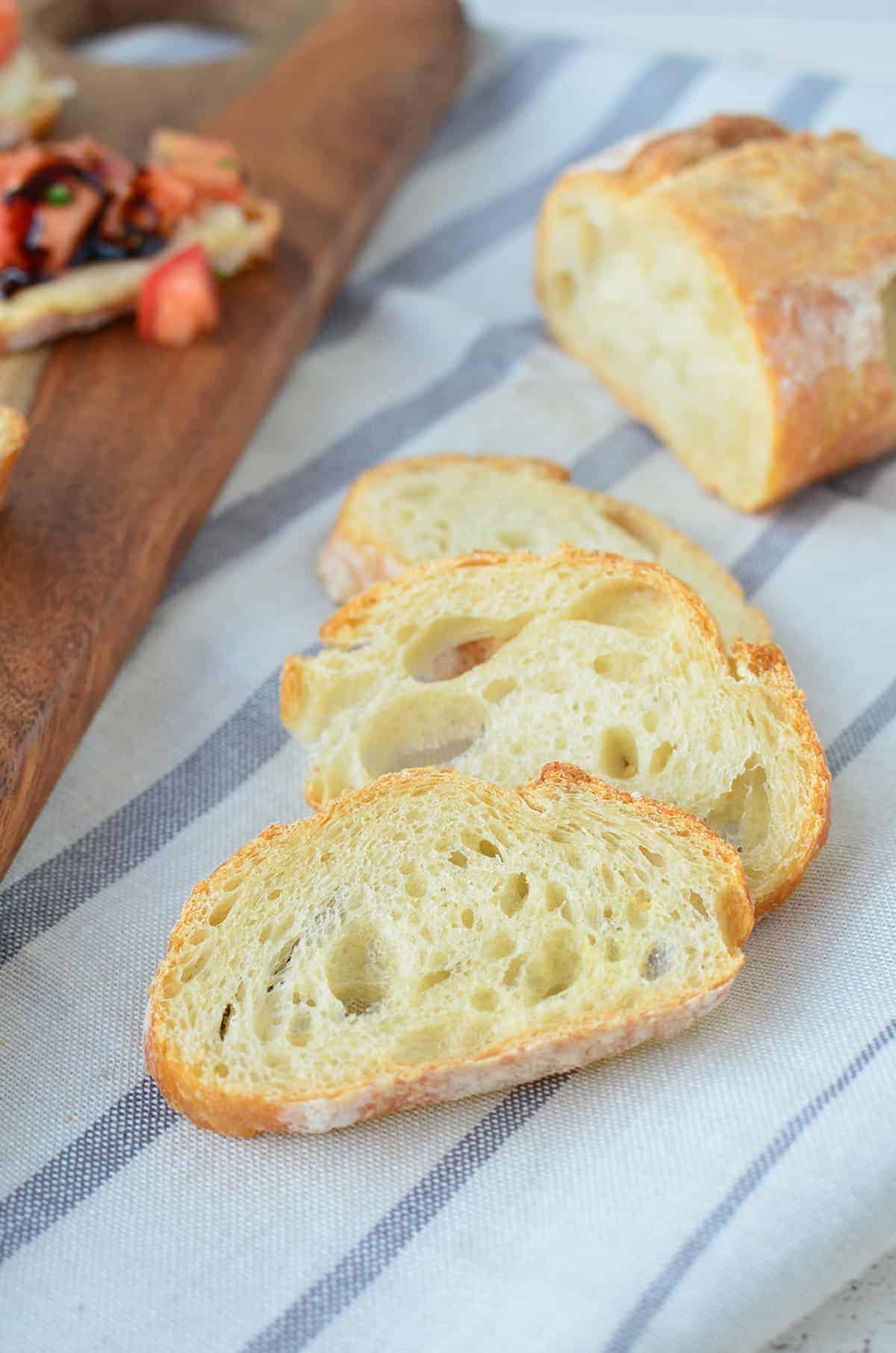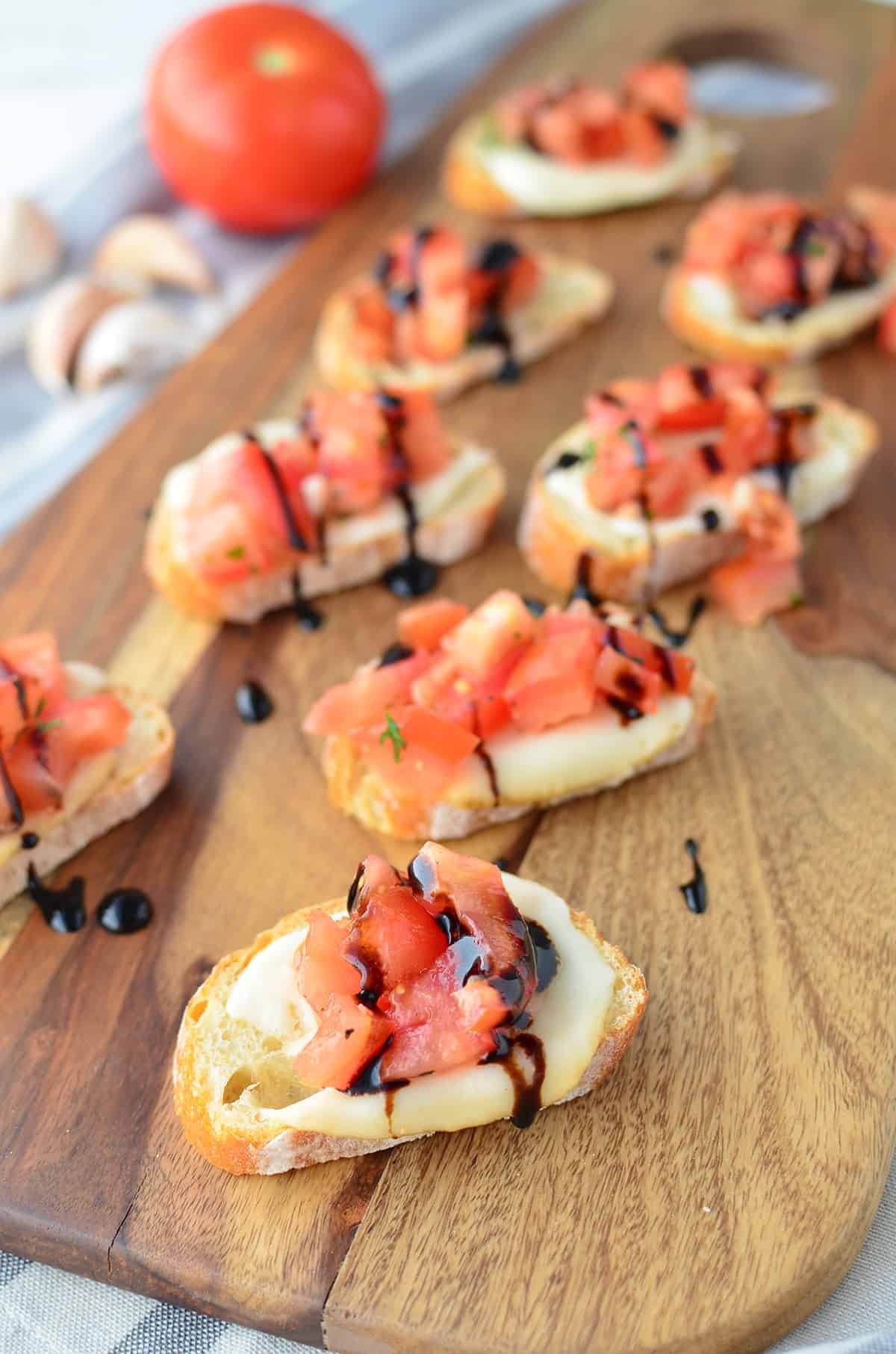 If you want to know what I've been doing for the last week, you're looking at it.
This week has been particularly busy, as the healthy eating cookbook I am co-writing (I'm responsible for the nutrition text and analyzing the recipes) is due this week and hard deadlines mean quick dinners.
On a side note, get excited for 365 healthy, gluten-free, vegan, 100% whole food recipes. Yes. I just wrote that. I'll be talking about this amazing book in the next weeks but for now, it's all about bruschetta.
MY LATEST VIDEOS
I tried really, really hard this past summer and spring to restrain myself from grocery store tomatoes in order to heighten the experience of the first summer tomato. While I wasn't perfect, I did drastically reduce my winter tomato intake and now…. all has broken loose.
I can't get enough. Sliced and eaten on it's own, nestled in-between wheat bread & mayo, topped on raw zucchini pasta, the list goes on.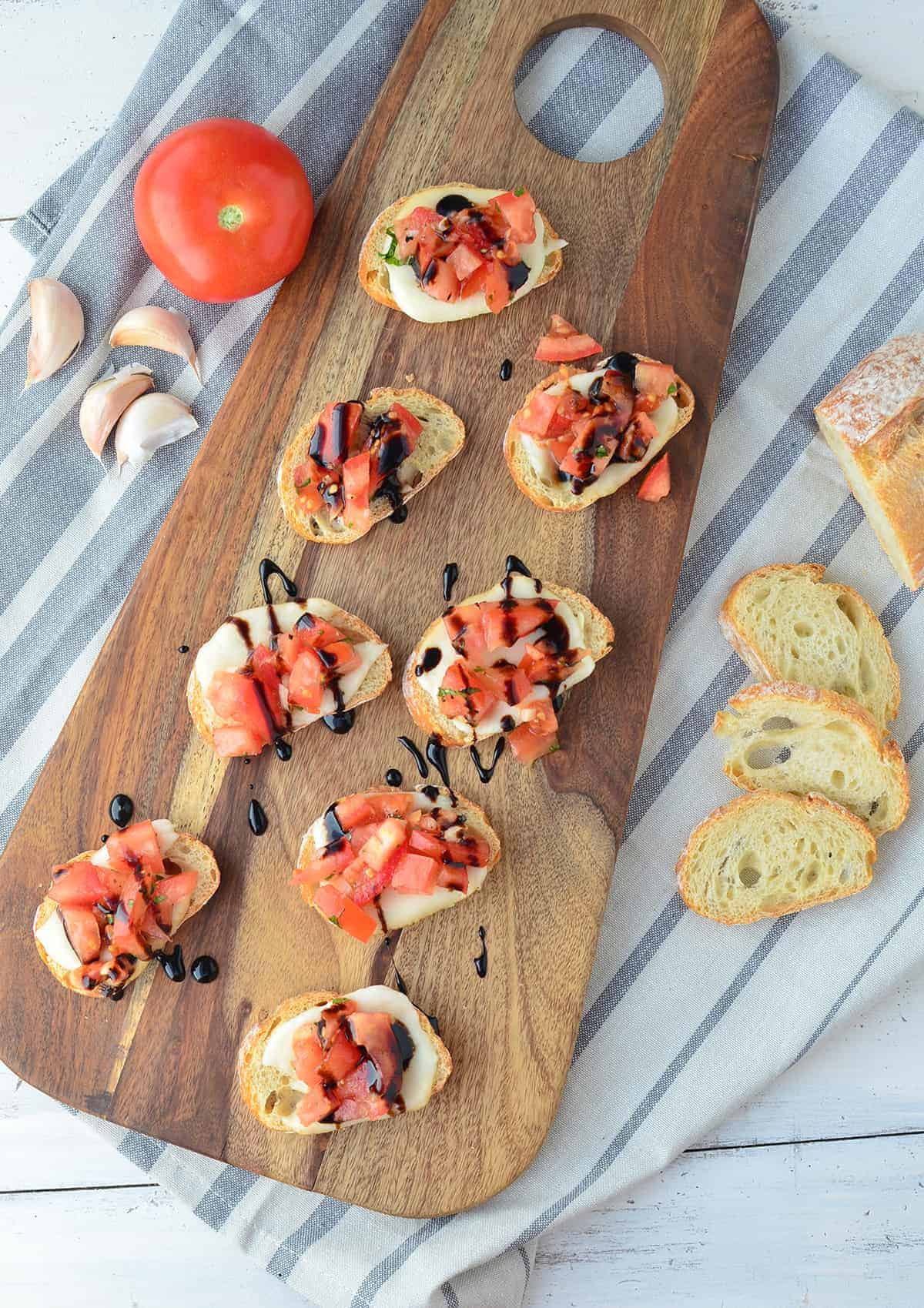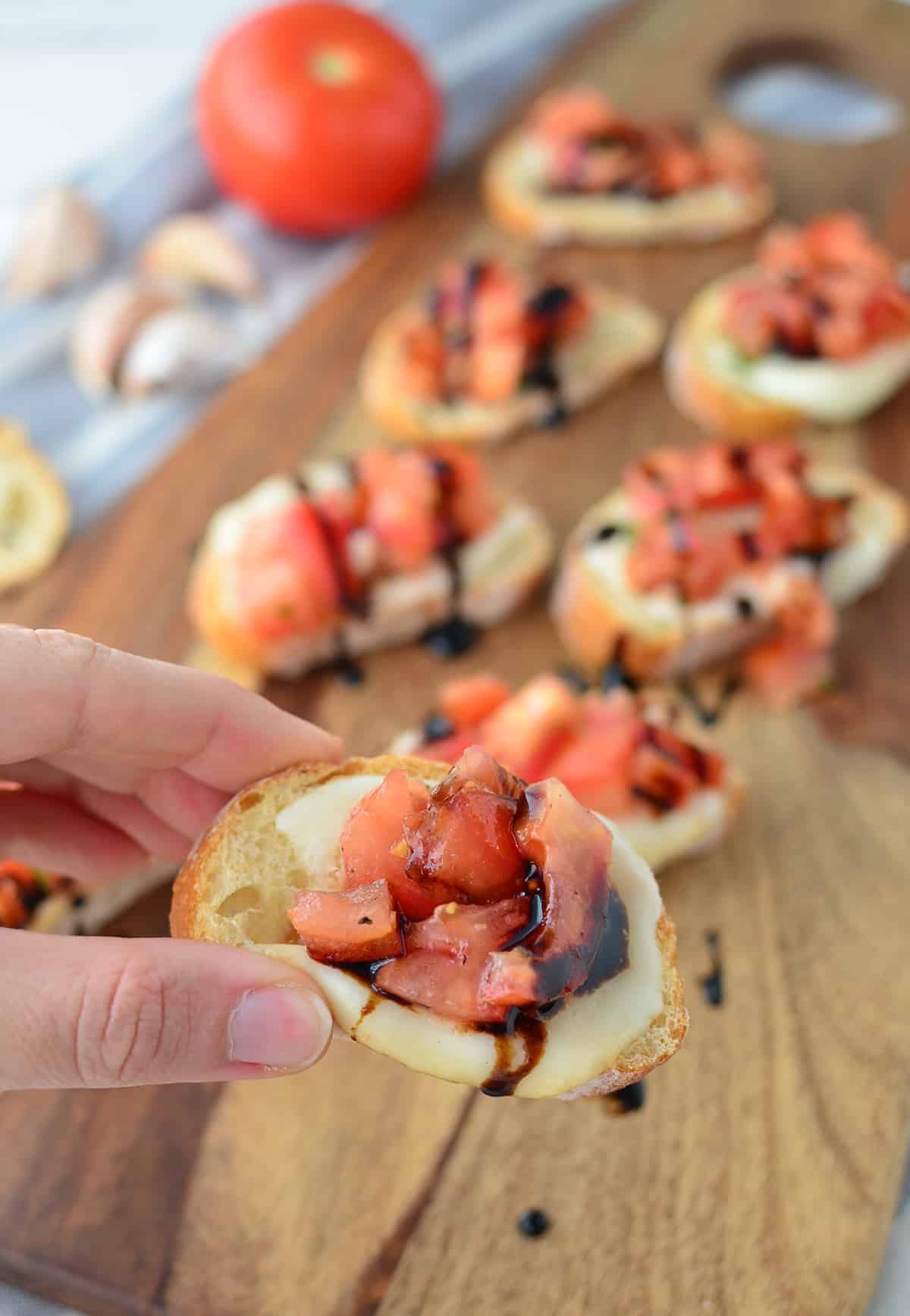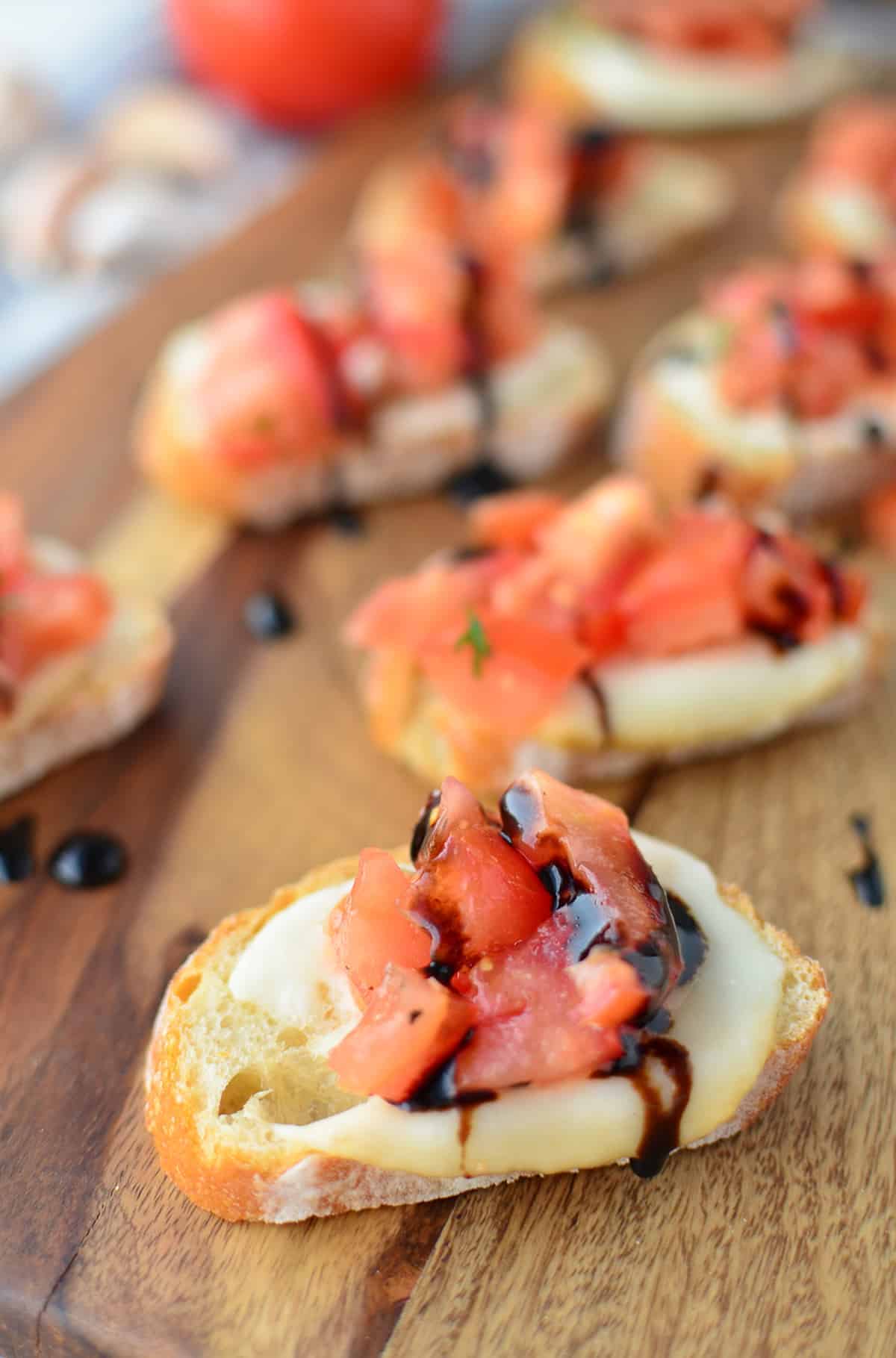 Lately though, inspired by one of our favorite happy hour spots and our recent Florence trip, I decided to recreate bruschetta at home.
If BL didn't ask me to marry him a few months ago, he definitely would have after eating this. It's been requested at least 4 times this week and I have to say, I don't mind. While working much later into the evening than usual, I appreciate a quick dinner that also allows me my fix of summer tomatoes.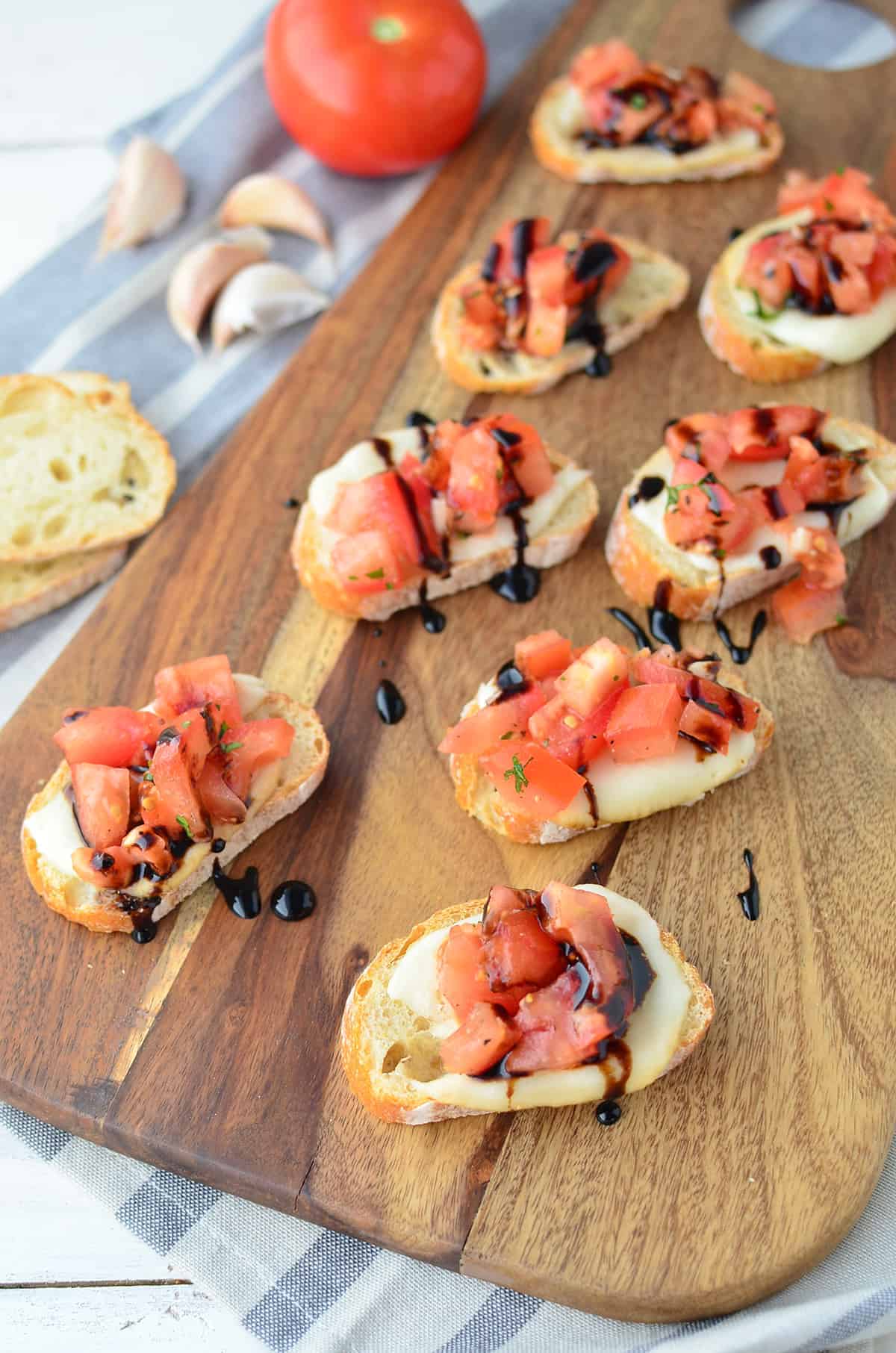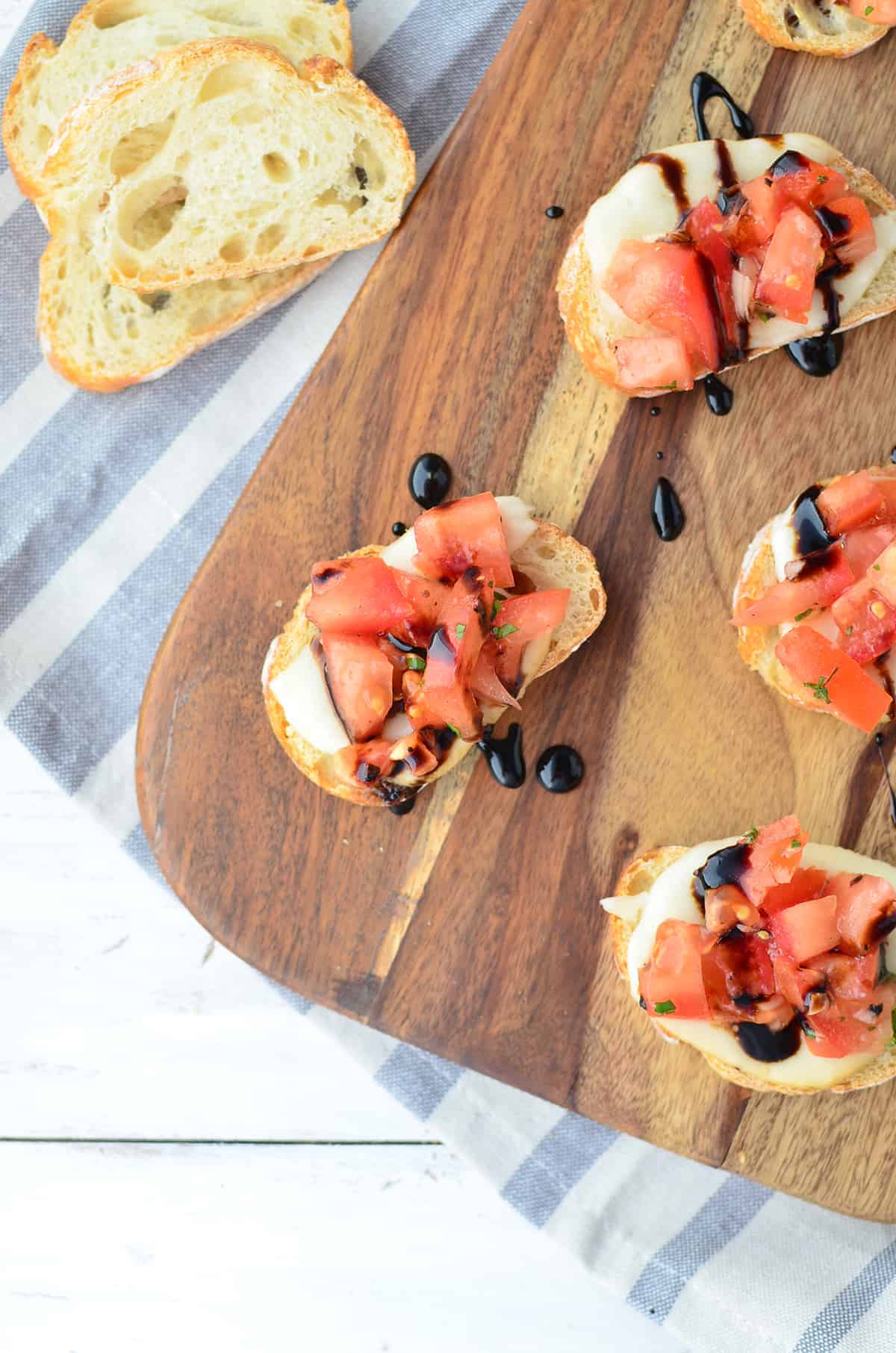 The secret is a thin layer of smoked mozzarella that's broiled with the toasted bread. It's the perfect complement to the fresh bruschetta and gets rave reviews every time I make it.
I promise you this is hands down the best bruschetta I've ever tasted- you've gotta make it!
If you try this recipe, let me know! Leave a comment, rate it, and tag your Instagram photos with #delishknowledge . I absolutely love seeing your creations. Happy cooking! 
Print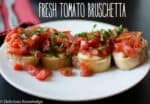 ---
Description
Fresh tomato bruschetta! The BEST Bruschetta with a secret ingredient! A must for any summer dinner or get together.
---
Scale
Ingredients
Fresh Tomato Bruschetta

3

large tomatoes, chopped, preferably heirloom. Since the tomatoes are the star, use the best you can find.

1

small cloves garlic, grated or finely minced

1

clove garlic, peeled

1 tbsp

. quality extra virgin olive oil
drizzle (1-2tsp.) Balsamic reduction
handful basil, thinly sliced
Baguette, sliced
Thin slices of smoked mozzarella
---
Instructions
Preheat the oven to 400°F. Place the baguette slices on a baking sheet and toast for 2-3 minutes per side until golden brown. Remove from oven and rub peeled garlic clove on both sides. The garlic will "melt" into the toast.
Switch the oven to broil and place thin slices of smoked mozzarella on top. Broil for 2-3 minutes until just melted. While the cheese is melting, combine the chopped tomatoes, minced garlic, olive oil, balsamic reduction and pinch salt/pepper to taste.
Remove bread from oven, top with tomato mixture and sprinkle with basil.