Frozen Mango Mojitos! This mango mojito recipe is perfect for summer. So simple and delicious!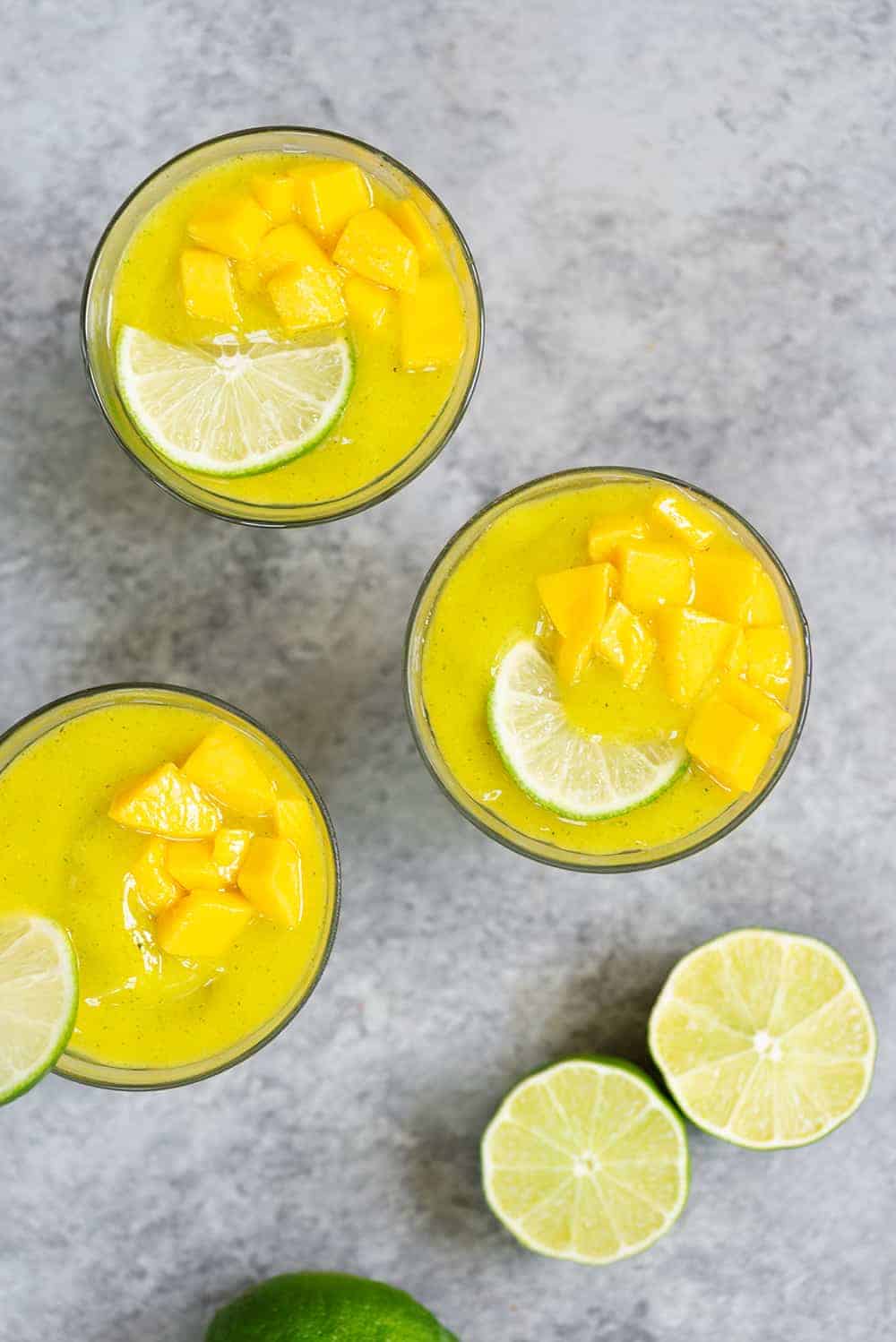 Hey friends! How was your weekend?
We took a quick 30-hour trip to Omaha to see our best friends and it was so perfect. I intentionally left my computer back in St. Louis and didn't take my phone along for most of the trip. I know I don't need an excuse to unplug, but it feels incredibly liberating not to have my phone tethered to me at all moments.
I'm struggling much more this year than last when it comes to being a working mom. I'm incredibly fortunate to have built a career that I can take breaks from, but the guilt of not working plus the guilt of leaving my baby is a vicious cycle I can't seem to pull myself out of somedays. Things are falling through the cracks and I'm learning to be really OK with letting go of things that don't serve me. Attempting to 'do it all' leaves me frazzled, burnt out and miserable.
That means ignoring social media and emails to catch-up with our dearest friends, eat at Modern Love (squeal! I've been dying to go here since forever. Isa is my favorite of all my favorites) and sip frozen mango mojitos, pretending like we don't have a care in the world.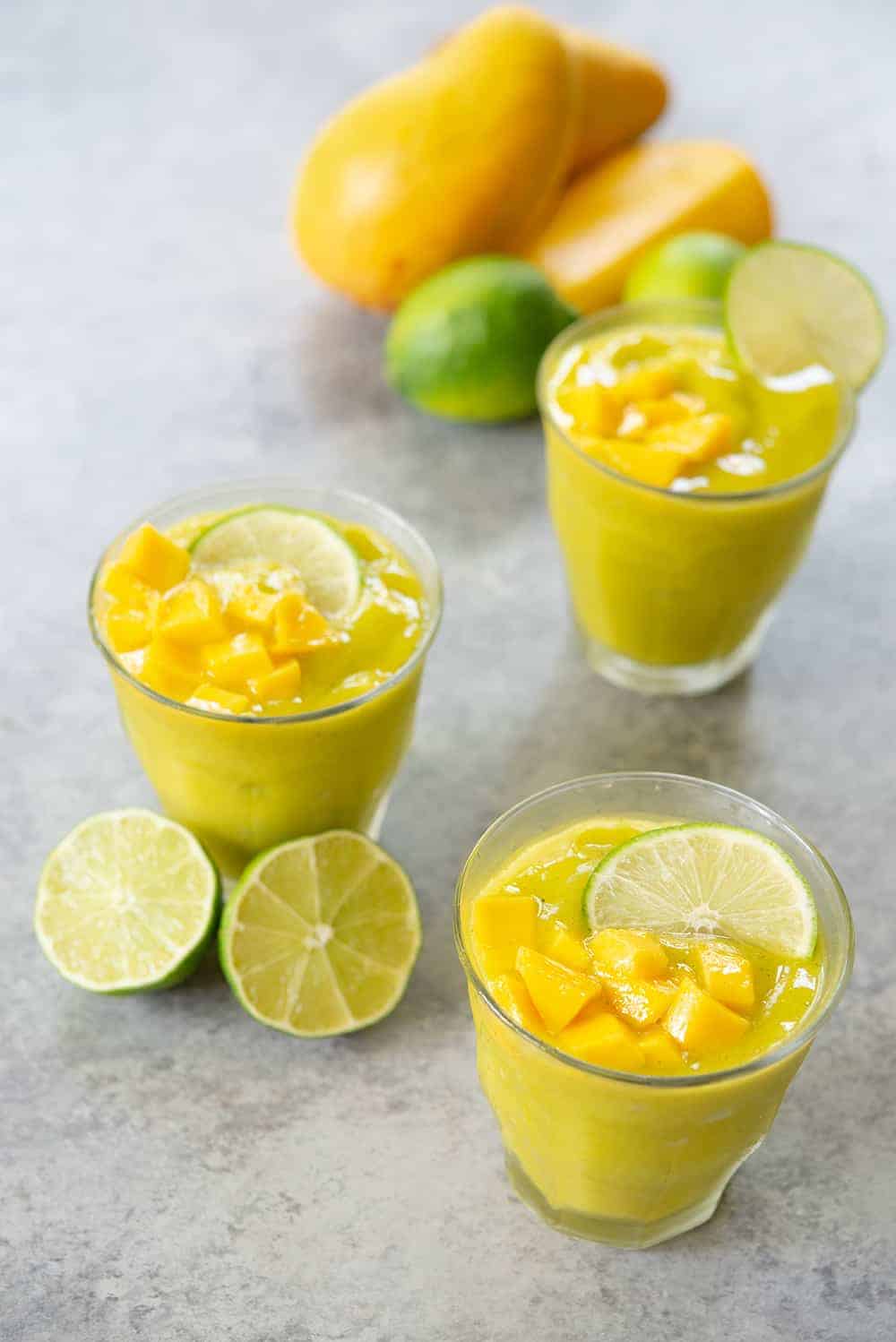 Look at these beauties! Who doesn't love a frozen mojito, especially during a very hot, very humid, St. Louis summer?
These are a take on my all-time favorite beverage, my frozen blueberry mojitos. While I love that recipe, I've been really into mango lately. I often buy bags of the frozen mango chunks at Trader Joe's and let them defrost in the fridge overnight. We eat them thawed right out of the bag and they are so juicy and sweet, it's one of my favorite snacks. Van is usually right on the counter with me, grabbing cube after cube to put into his mouth. His little bear paws grabbing mango cubes is one of my favorite sites.
With all that mango eating, we were bound for frozen mango mojitos at some point!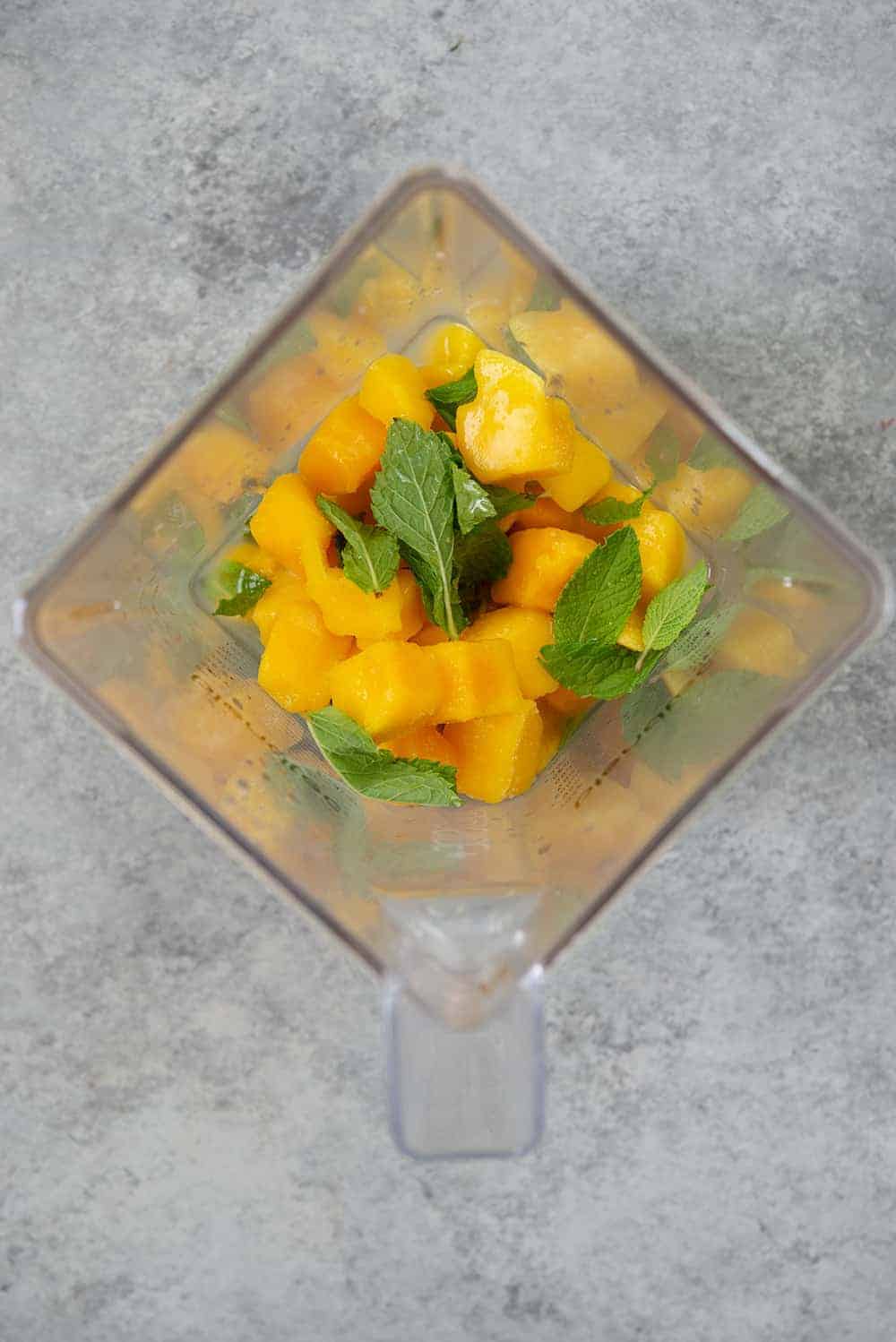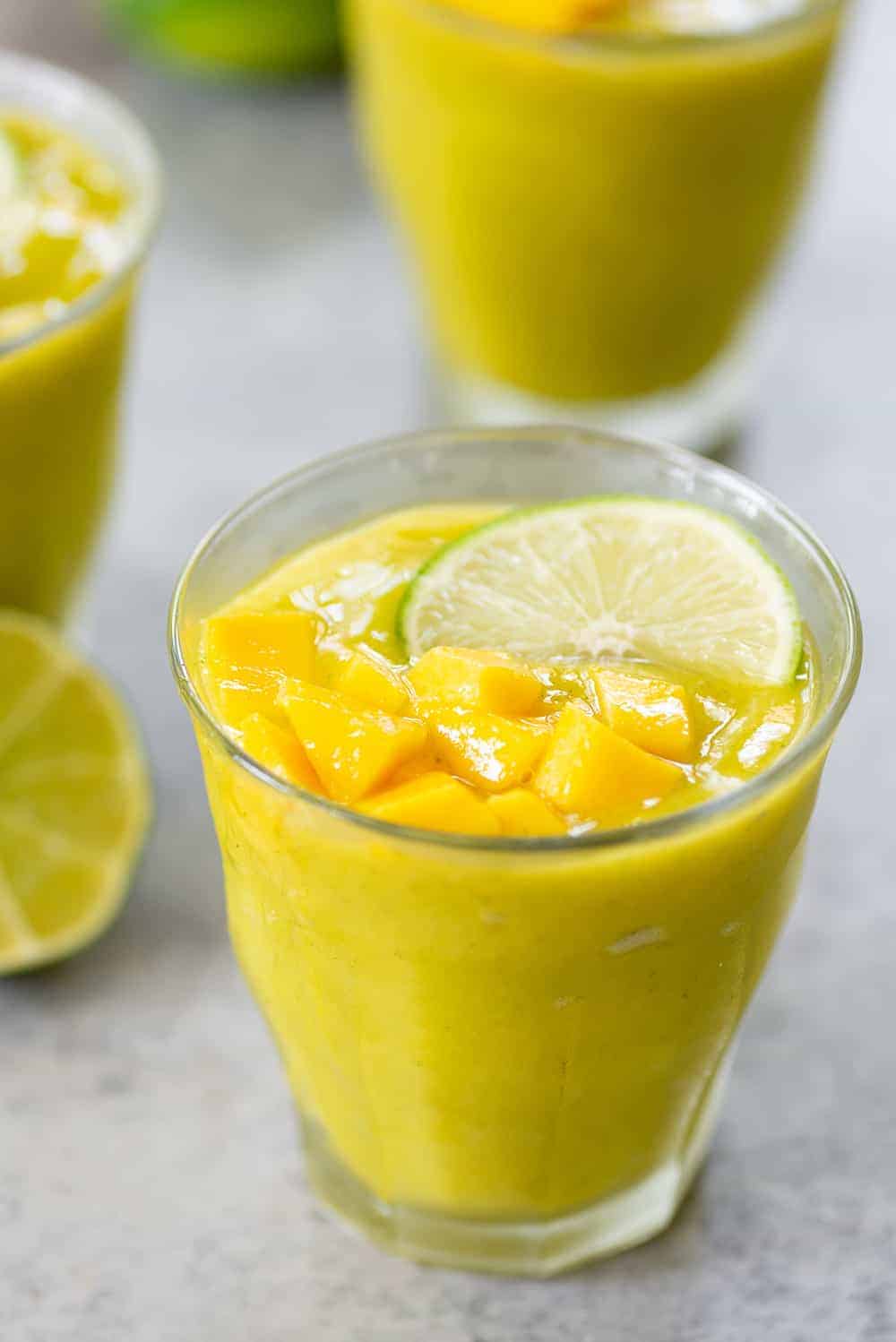 How to Make a Frozen Mango Mojito
You've essentially got two options with this mojito, as I've outlined in the notes section. I'll preface this by saying that I really, really love the taste of mint. It's a mojito after all and the strong mint and lime flavor is what I crave most.
That's why I puree the whole mint leaves in with the rest of the ingredients so I get a little mint in every sip. You don't notice any color change when I make my frozen blueberry mojitos, but you can faintly see mint specks in the lighter color mango version, as shown in these photos.
If that doesn't sound appealing to you, then you'll want to make a mint syrup instead. Start by bringing sugar and water to a boil, then add in fresh mint leaves to steep while it cools. Discard the mint, then add a few tablespoons of the syrup to the mixture omitting the  whole mint leaves and additional sweetener called for in the original recipe.
Both versions are amazing, though the mint syrup calls for more prep time. Hence, why I end up just throwing everything in the blender pool at once!
However you make it, these frozen mango mojitos are going to be on repeat in my house this summer and I hope in yours as well! xo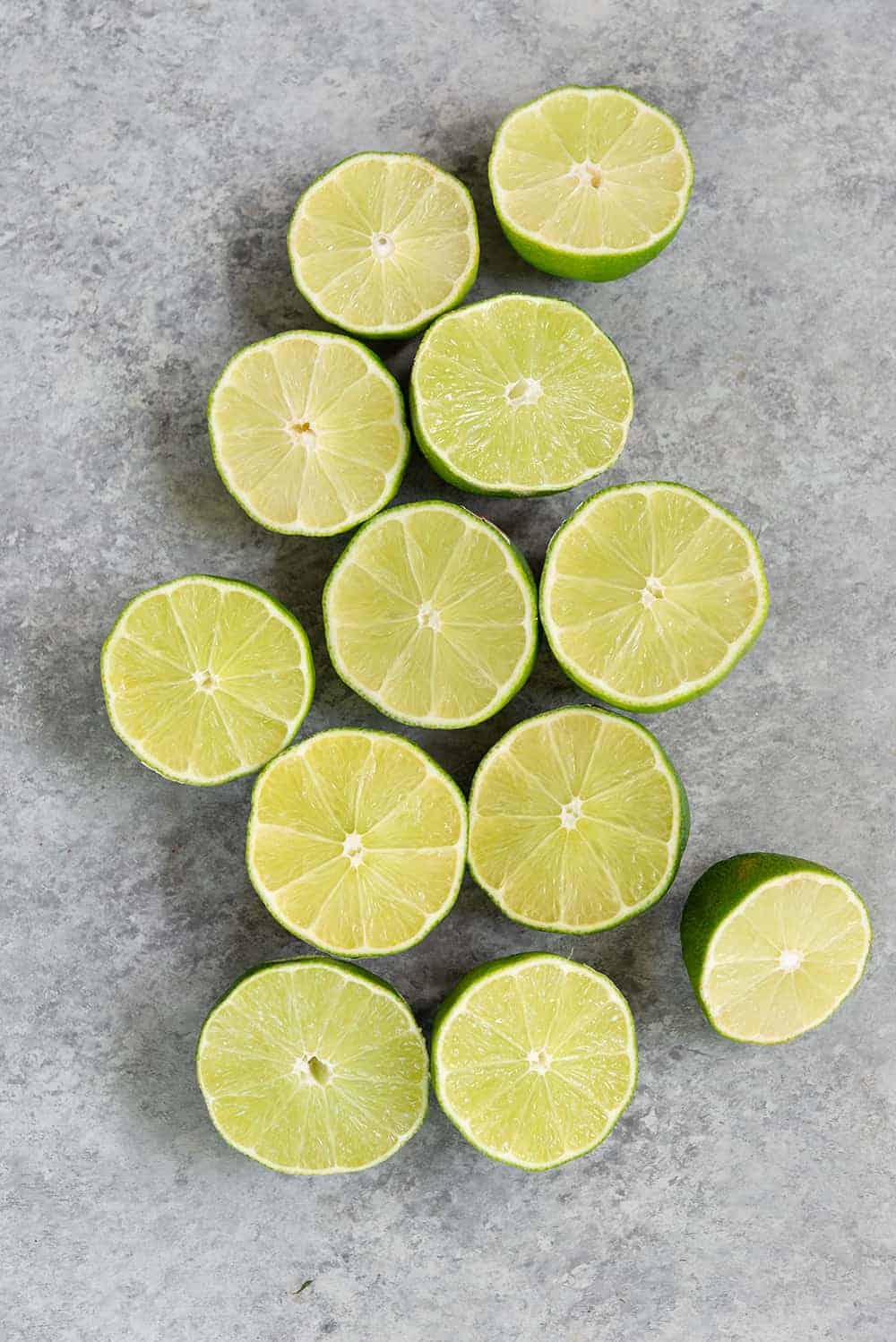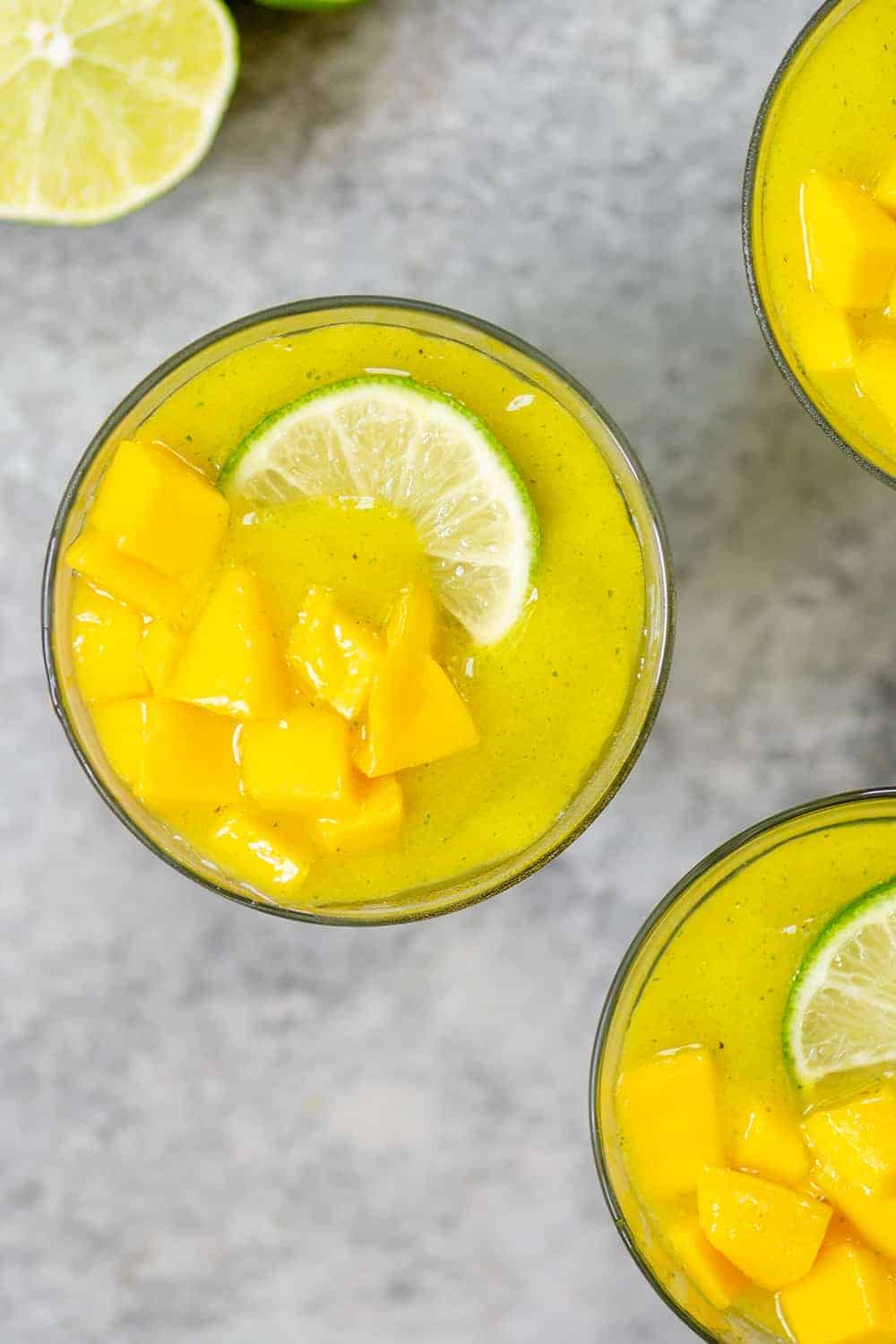 Print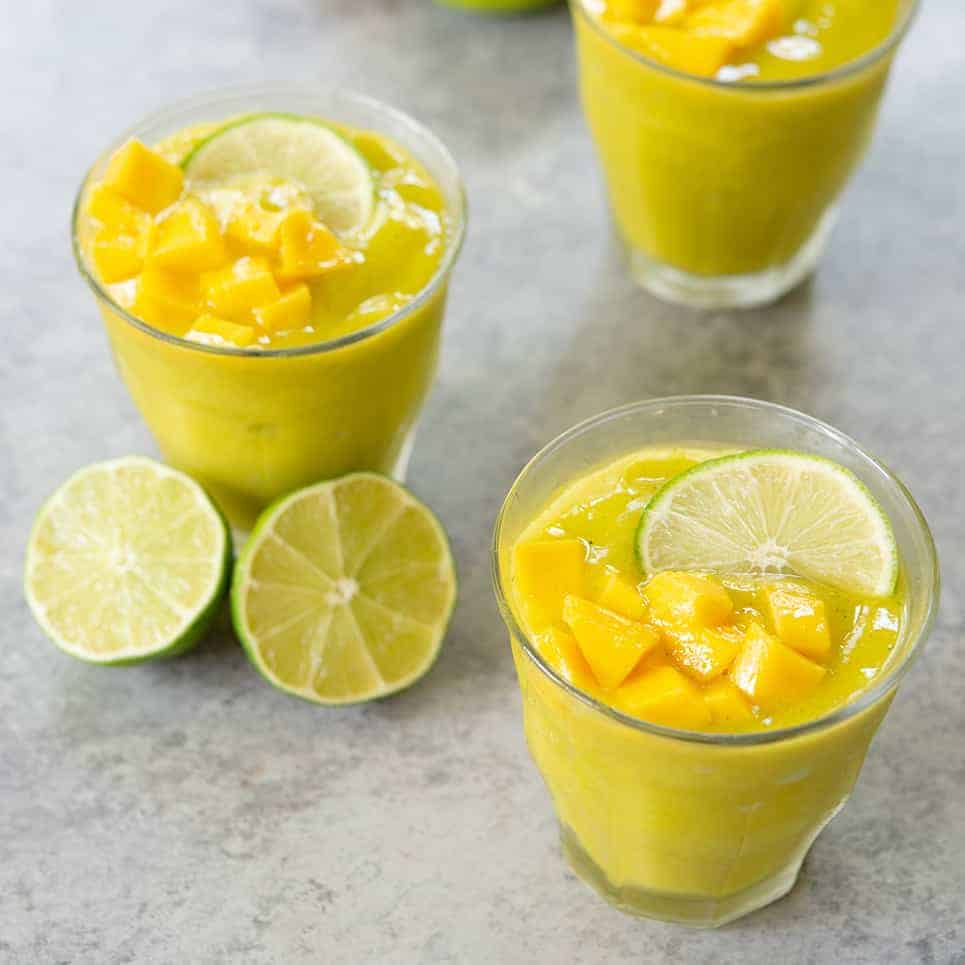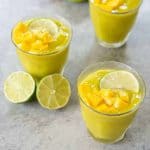 Frozen Mango Mojito
Author:

Prep Time:

5 minutes

Total Time:

5 minutes

Yield:

4

mango mojitos

1

x
Category:

drink, mango, mojito

Method:

blender

Cuisine:

american, cuban inspired
---
Description
Frozen Mango Mojitos! This mango mojito recipe is perfect for summer. So simple and delicious! A must make.
---
Scale
Ingredients
2 cup

s fresh or frozen mango cubes

1/3 cup

 fresh lime juice

1 tablespoon

s maple syrup (or other liquid sweetener)

1 tablespoon

* packed mint leaves

1/2 cup

 silver rum (or leave out for non-alcoholic option)

2 cup

s crushed ice (will need less if mangos are frozen)
---
Instructions
Add all ingredients to a blender and puree until thick and frosty.
Serve with lime garnish.
---
Notes
As described above, adding the mint directly into the blender will make the drink yellow with specks of mint in it. I LOVE the mint taste and enjoy it this way, but if you want it to be a bright yellow, then make a mint syrup instead. Steep 1/2 cup fresh lime juice with 1/2 cup water and 1/3 cup sugar until sugar is dissolved. Let cool, then add in 2-3 Tablespoons of syrup to blender instead.
*I typically use 2-3 tablespoons of fresh mint in this recipe, but start with one and then add more from there depending on taste. I prefer a really strong minty mojito!
Keywords: mango, mojito, cocktail
Want more frozen beverages for summer? Try these: Frozen Blueberry Mojito, Blackberry Jalapeño Margaritas, Frozen Sangria Slush, Frozen Negroni Slushies, Frozen Watermelon Lemonade, Watermelon Lemonade and Frozen Strawberry Basil Margaritas.