Greek Quinoa Zucchini Fritters!  Crispy zucchini fritters with a garlic-hummus sauce.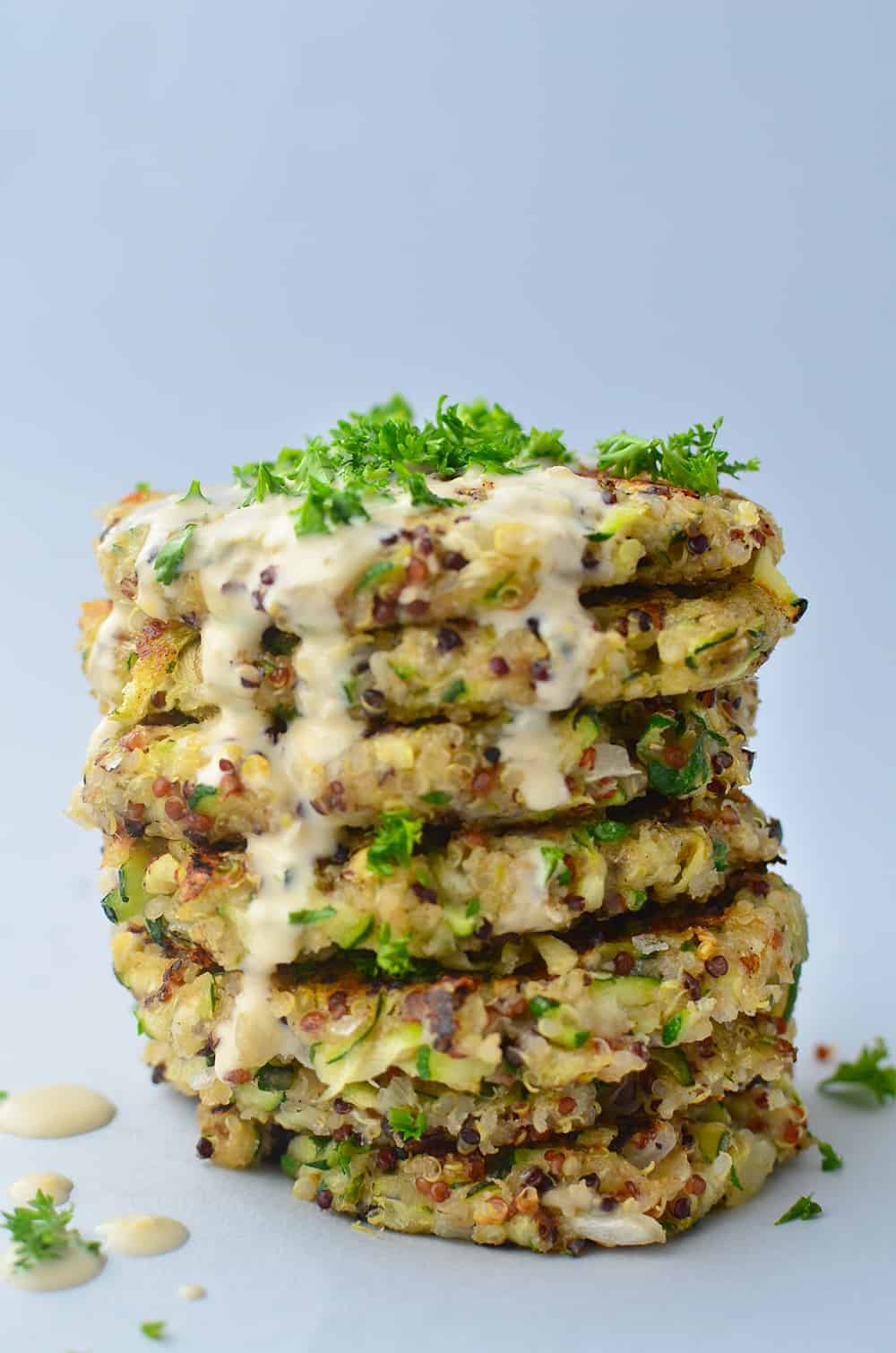 One of the best parts about cooking from a CSA box every week is that I'm never quite sure what's going to be inside. Some weeks I am giddy for just about every ingredient, while other times, I gladly pawn off most of the contents to my co-workers.
I consider myself to be a lover of most fruits and vegetables, but there are a few I just can't get behind. (Ahem, fennel- Imma looking at you). Zucchini is one of those veggies that I am slightly forced to love from late June until mid-September. While I definitely don't dislike zucchini, I also don't have the same affection towards it like I do other summer vegetables like corn, tomatoes or peppers.
It's zucchini after all, the slightly flavorless vegetable that we stuff into cookies, cakes, muffins and spiralize to mimic every pasta imaginable. It's similar to tofu in my mind; it works in most dishes but it's rarely a star on it's own.
MY LATEST VIDEOS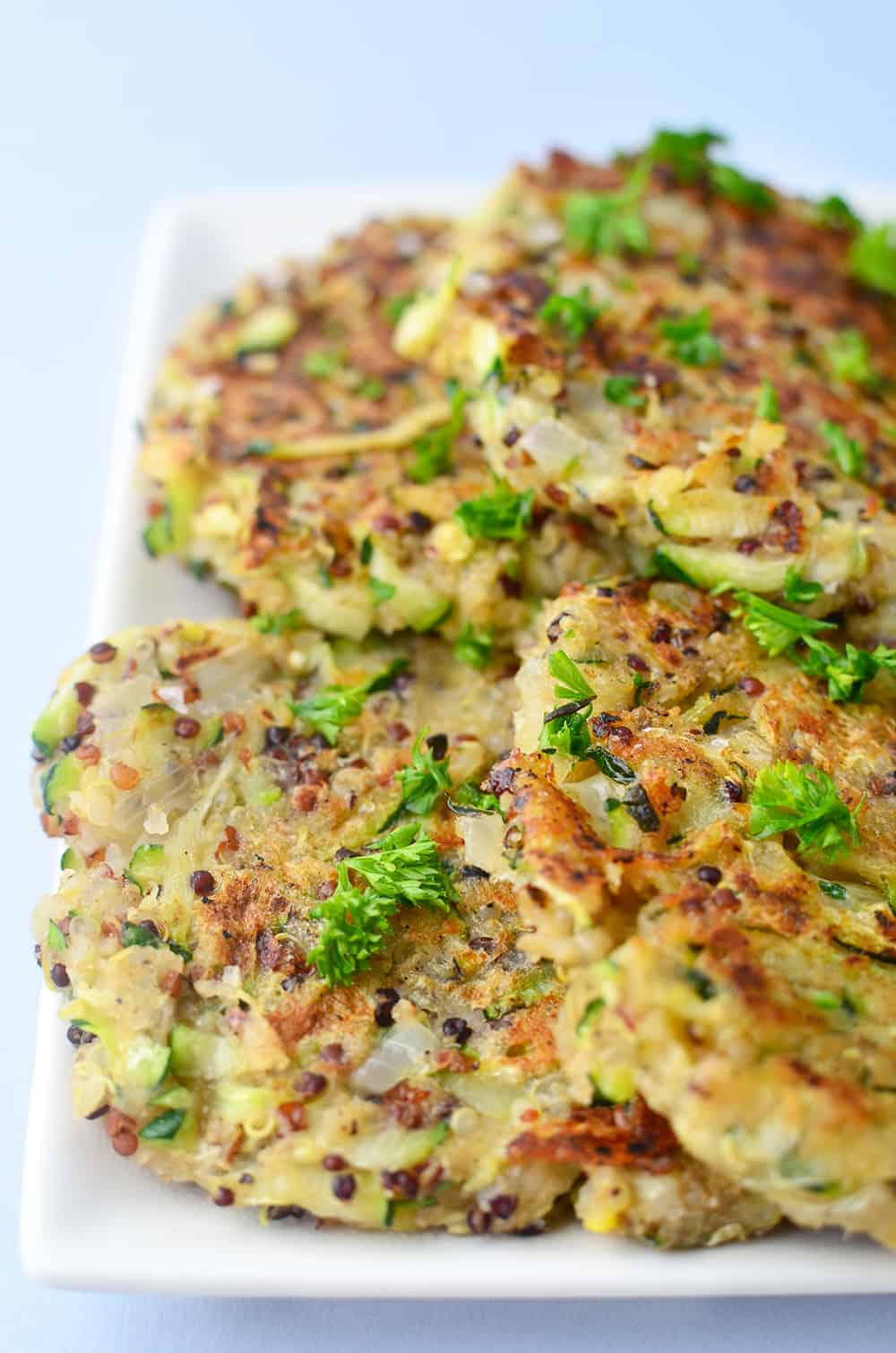 So, knowing that I would be swimming in zucchini yet again this week- I got to work. I wanted to make a cake that could easily stand on it's own as a main dish, while leftovers could be placed onto salads or stuffed into pitas for sandwiches.
I'll be honest- I wasn't expecting to love these. Zucchini fritters aren't exactly a dish you end up craving. I crave pasta, I crave cheesecake, I crave tacos. I don't think I've ever craved zucchini.
However, what I ended up putting together far exceeded my expectations. Hearty, crispy patties topped with a creamy, hummus-dill sauce. A stack of these and I don't need anything else.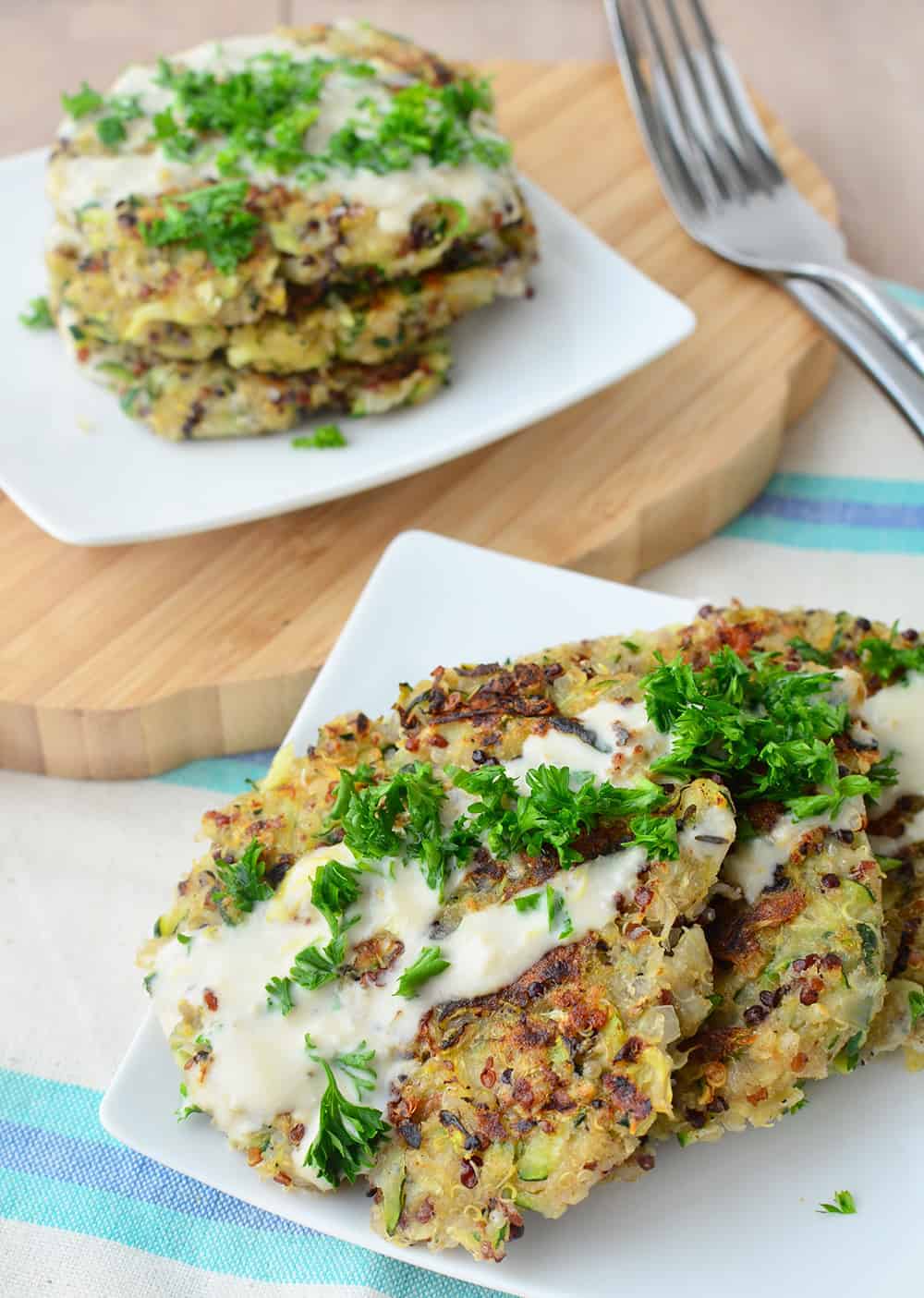 To get these fritters as crispy as possible, you will need to finely shred the zucchini and then drain as much water off as possible. Since I like to do things the hardest way possible, I hand grated my zucchini. Of course, after I was finished I remembered that my food processor also has a grating blade that would have taken all of 10 seconds to complete the task.
So, pick your weapon. If you have a food processor then I highly recommend remembering to use it- and then use it.
After you've grated your zucchini, place it in a large bowl and start squeezing. Take off your rings, wash your hands and squeeze the day away. Moisture is the enemy to crispy so if you don't want soggy patties, you'll need to get dirty. For reference, I ended up squeezing almost a cup of water out of my shredded zucchini (!) Use a heavy hand when seasoning these. Since zucchini tends not to have much flavor, I used a healthy pinch of both salt and pepper for these.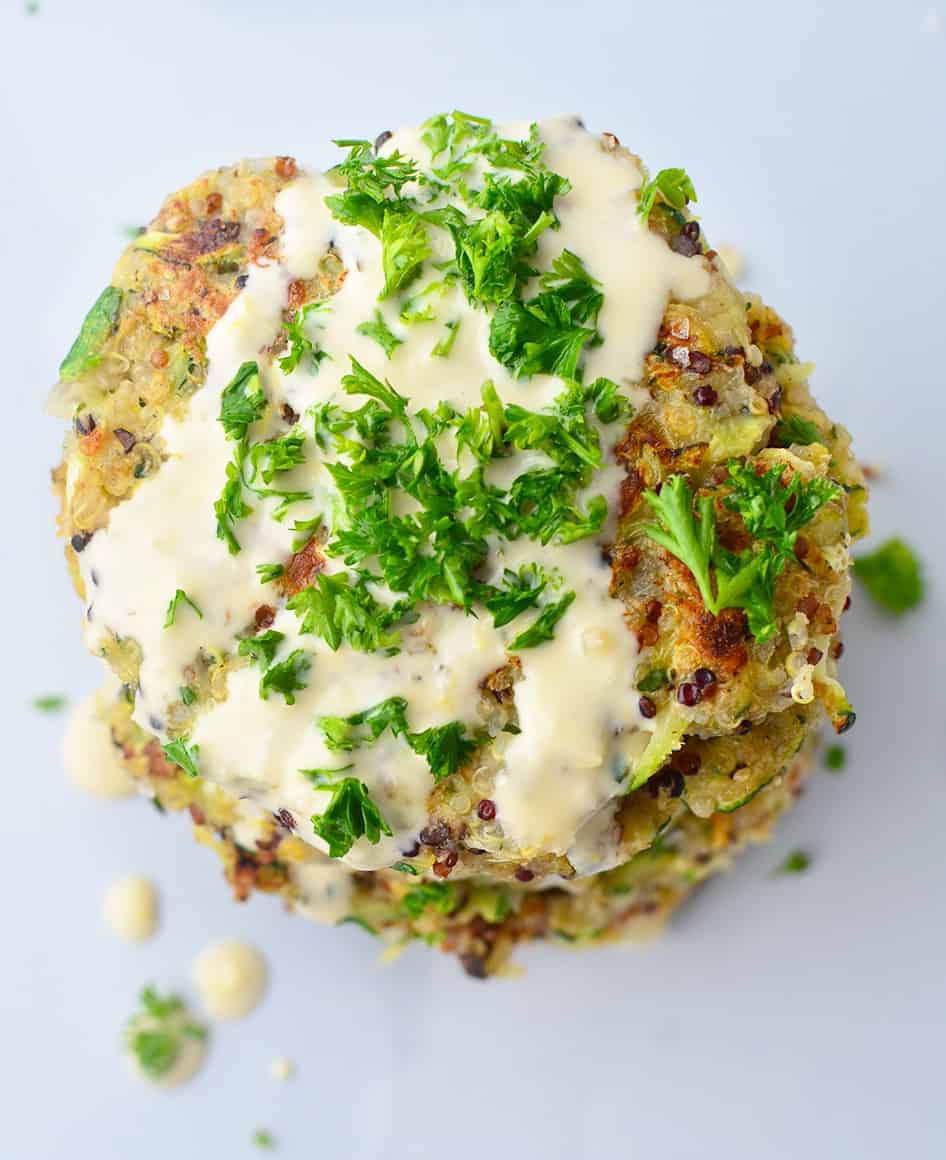 The rest of the process comes together in no time flat. Add the ingredients, shape into patties and lightly fry. If you've got a cast iron pan, break it out, it's essential in creating a perfectly crunchy exterior without going overboard on the oil.
To give these a little more oomph- and because I was too lazy to make anything else for dinner- I added in cooked quinoa. I love the extra layer of texture it provides and of course- more protein and fiber.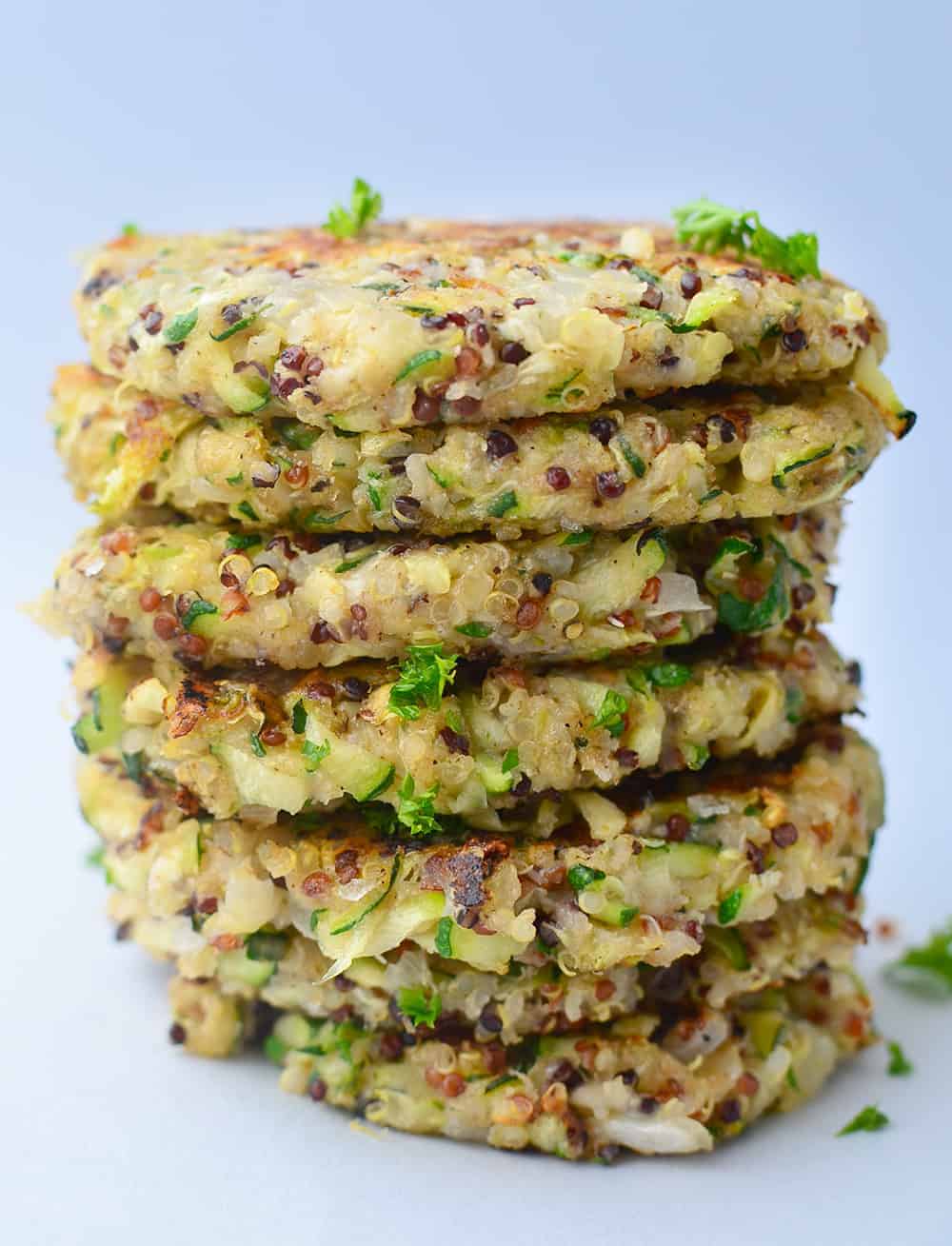 Lastly, this sauce. I've got one of my most FAVORITE recipes of late coming to you on Tuesday (such a tease) and it features this sauce. I'm so glad I had extra in the fridge, as these fritters were just begging for a luscious, garlic topping.
I'm calling these my greek zucchini fritters because they remind me of a cross between falafel and potato latkes. So I added in oregano, garlic, and dill to take them over the top.
Zucchini, I'm not worthy. I'm sorry I doubted you all these years. These fritters are so fantastic, they have definitely added to my crave-able meal list.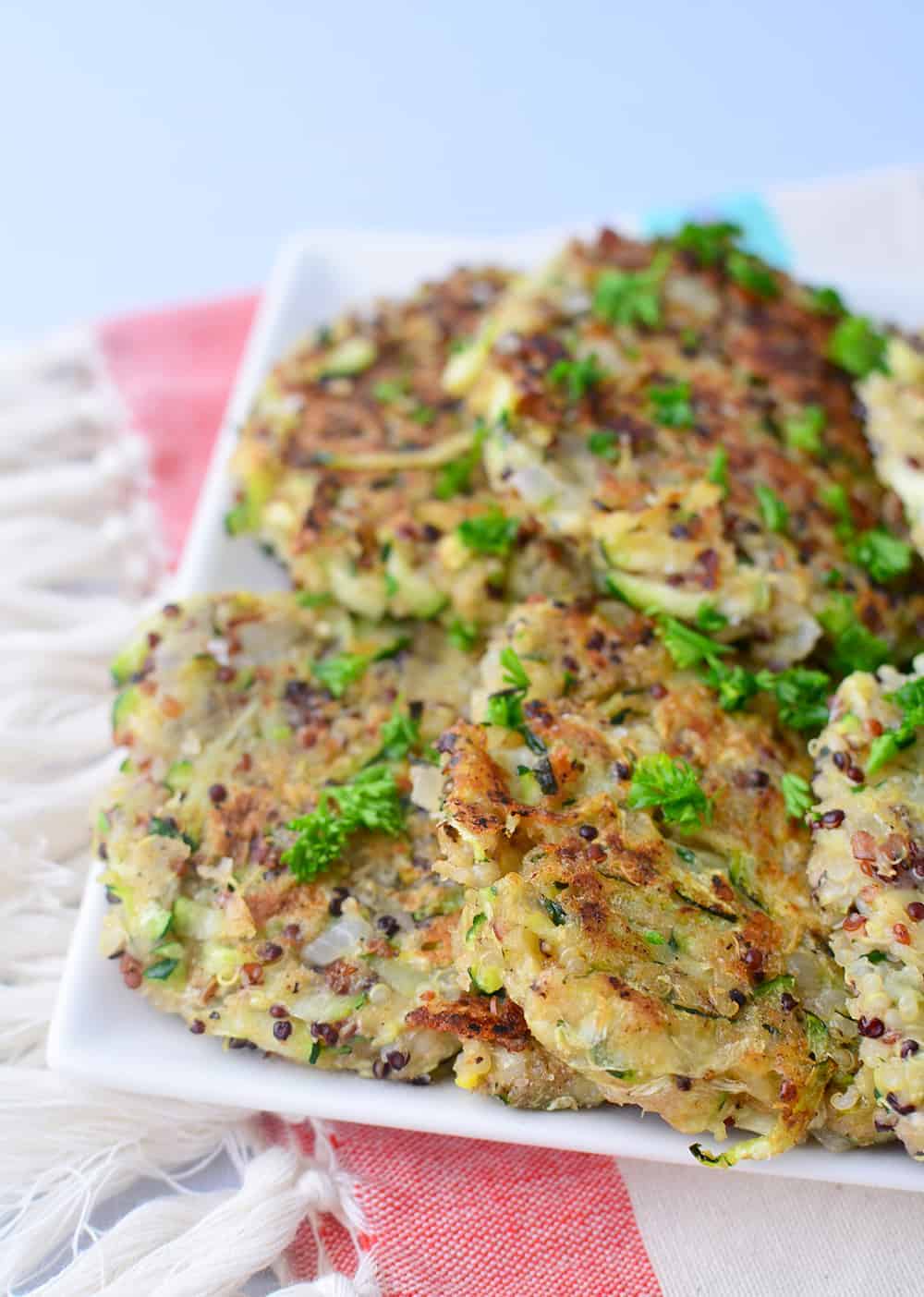 If you try this recipe, let me know! Leave a comment, rate it, and tag your Instagram photos with #delishknowledge . I absolutely love seeing your creations. Happy cooking! 
Print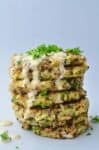 Greek Quinoa Zucchini Fritters
Author:

Category:

side dish, vegetable, zucchini, quinoa
---
Description
Greek Quinoa Zucchini Fritters! Crispy zucchini fritters with a garlic-hummus sauce.
---
Scale
Ingredients
1/2 cup

quinoa

1/4 cup

onion, diced

1

garlic clove, minced

3 cup

s grated zucchini, as much water squeezed out as possible

2 tsp

. dried oregano

1 tsp

. dried dill

1/2 cup

flour (I used 100% whole wheat pastry flour)

1/2 teaspoon

baking powder

2 tbsp

. lemon juice
generous pinch salt/ground pepper
Hummus Sauce:

1/3 cup

hummus

1

large lemon, zest and juice

2

garlic cloves, minced

1/2 tsp

. dried dill
Parsley, for garnish (optional)
---
Instructions
Combine the quinoa and 1 cup water in a sauce pan and bring to a boil. Reduce heat to low, cover and simmer until cooked, about 12 minutes. Set aside and let cool.
Heat a medium non-stick skillet over medium heat and add the onion. Cook until soft, about 5 minutes. Stir in the garlic clove, dried oregano and dill. Set aside and let cool slightly.
Grate the zucchini using a box grater or food processor. Place in a large bowl and squeeze out as much water as possible. For reference, I squeezed out about 1 cup water from the zucchini. If you have too much water left in the fritters, they will be soggy and won't get crispy.
Place the grated zucchini back in the bowl and add in the cooked quinoa, onion and herb mixture, flour, baking powder, lemon juice and a generous pinch salt/pepper.
Heat a skillet over medium-high heat (I used my [url:1]cast-iron[/url] for a crispy crust) and add a tsp. or two of oil.
Grab a hunk of zucchini mixture (about 1/3 cup) and form into a patty.
Place in the skillet and let cook 3-4 minutes until golden brown, flip and cook another 2-3 minutes on the either side.
Cook the rest of the fritters and set on a platter.
Whisk together the ingredients for the hummus sauce and drizzle over the fritters.
Garnish with minced parsley.