A must make for cookouts! Grilled Sweet Potato Salad with roasted jalapeno dressing.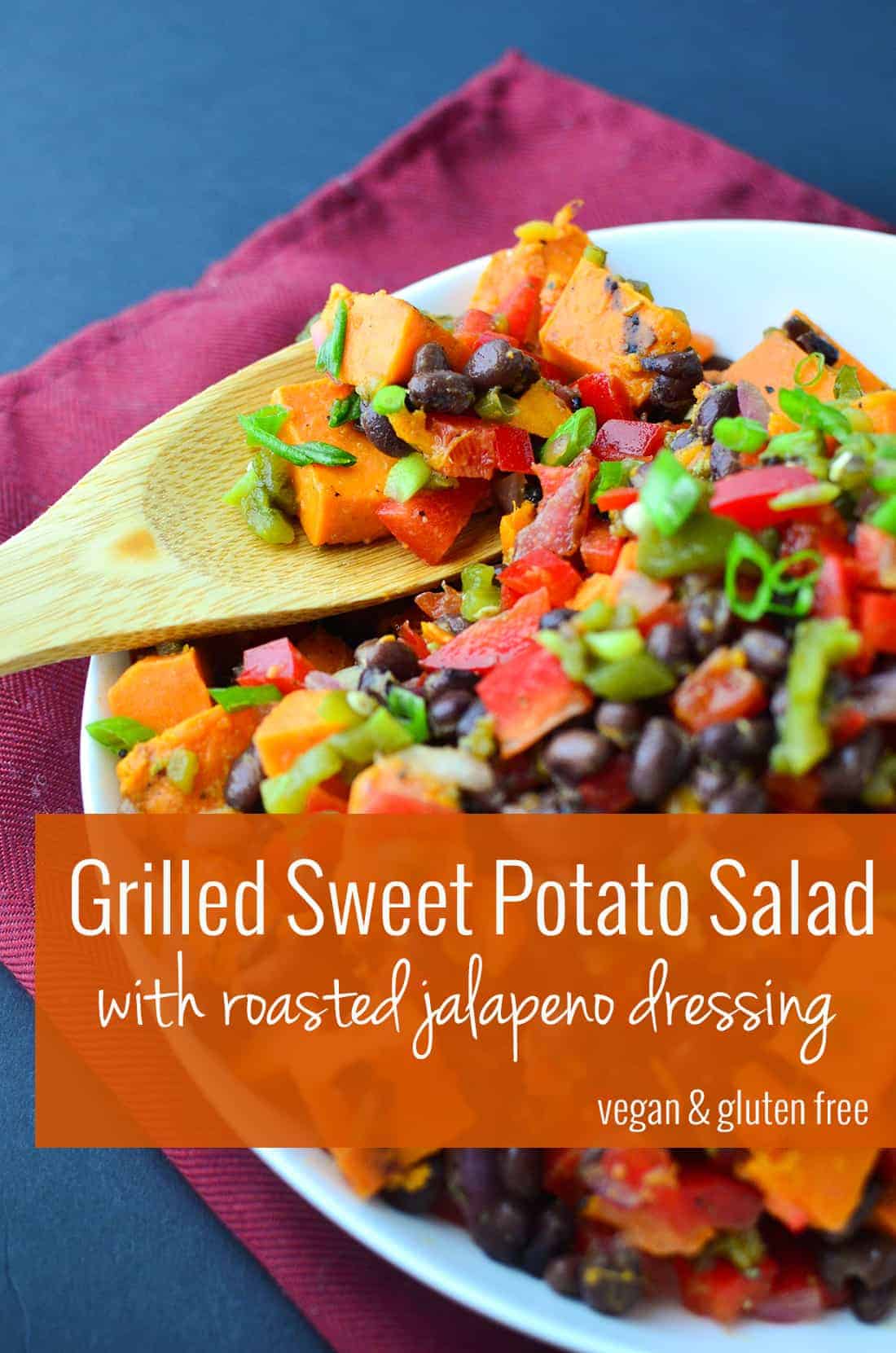 I turn 30 this upcoming Sunday, and it feels like a long time coming. In fact, for the greater part of this year, whenever anyone would ask me how old I am, I would generally respond with "30".
It's not that I want to rush my life, but I've never felt more adult than I have in the last few years leading up to this birthday. I got married, started my own business, and am gearing up for the next adventure: moving from California to St. Louis. I feel a long way from the person I was in my early 20s and cannot wait to see what the next decade brings.
In fact, after BL and I decided that we would be relocating for his new job, I made a decision that I couldn't be more excited about. I will be leaving my full-time job at the University of the Pacific this summer and working exclusively on building my private practice.
I am beyond excited for this opportunity, and I owe a lot of that to you and this space. I am thankful that I don't have to "wait-list" clients anymore and can spend more time on the projects I am most passionate about: helping others find their healthiest food relationship, mindful eating, and vegetarian cooking. Stay tuned as I revamp my services and offer more online packages for everyone to enjoy. I'm not naive to the fact that it's going to be challenging, difficult, and outside my comfort zone, but I am beyond excited to take that next step.
30, here I come.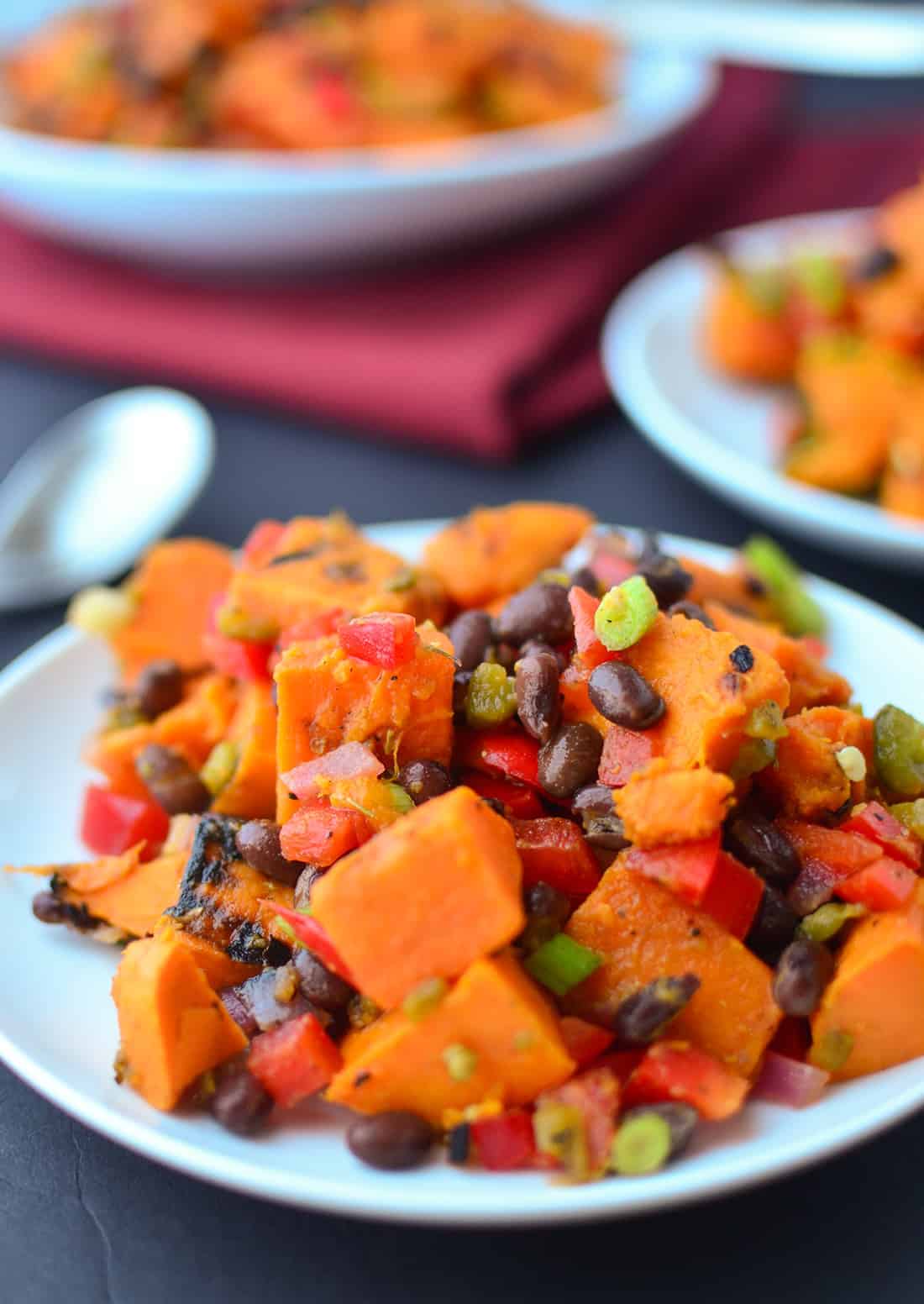 In California, May evenings are warm, but not overly hot- the perfect temperature for firing up the grill and enjoying a relaxing dinner outside.
My birthday is typically around the time when I officially feel ready for summer- the semester has ended and I want to spend as much time as I can outdoors. Grill season, I am more than ready for you!
As a vegetarian, people often think that you're limited in grilled foods but that couldn't be further from the truth! I think I've put just about every vegetable on our baby Weber and love the smoky, earthy taste that grilled vegetables become. These sweet potatoes are no exception. Grilled sweet potato chunks get tossed with a grilled red onion & jalapeno dressing, making this the perfect side dish to any cookout this year.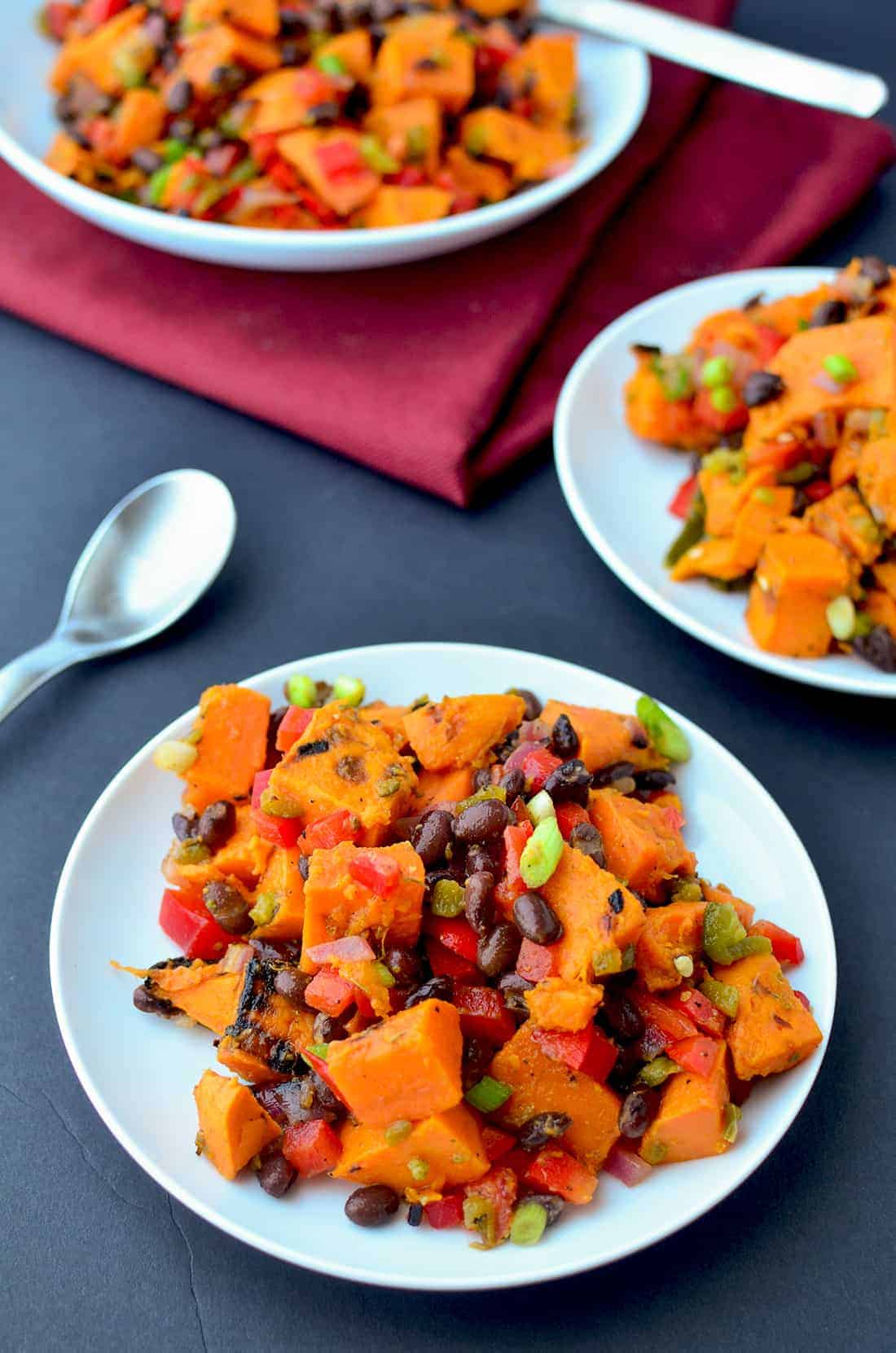 I originally bought a bag of sweet potatoes to make my Sweet Potato & Black Bean Burgers but then laziness set in. Which is pretty typical when the sun is out as all my desire to stand in a kitchen and cook rapidly disappears.
While I wasn't in the mood for crafting handmade burger patties, I was still craving meaty sweet potatoes and spice. This salad nailed it. The creamy sweet potatoes soak up all of the spicy jalapeno dressing, negating any need for mayo, sour cream, or other heavy binders. I loved this warm right off the grill, but the flavor only intensifies the longer it sits. Warm, room temp, or cold, this salad is a summer evening winner.
If you try this recipe, let me know! Leave a comment, rate it, and tag your Instagram photos with #delishknowledge . I absolutely love seeing your creations. Happy cooking! 
Print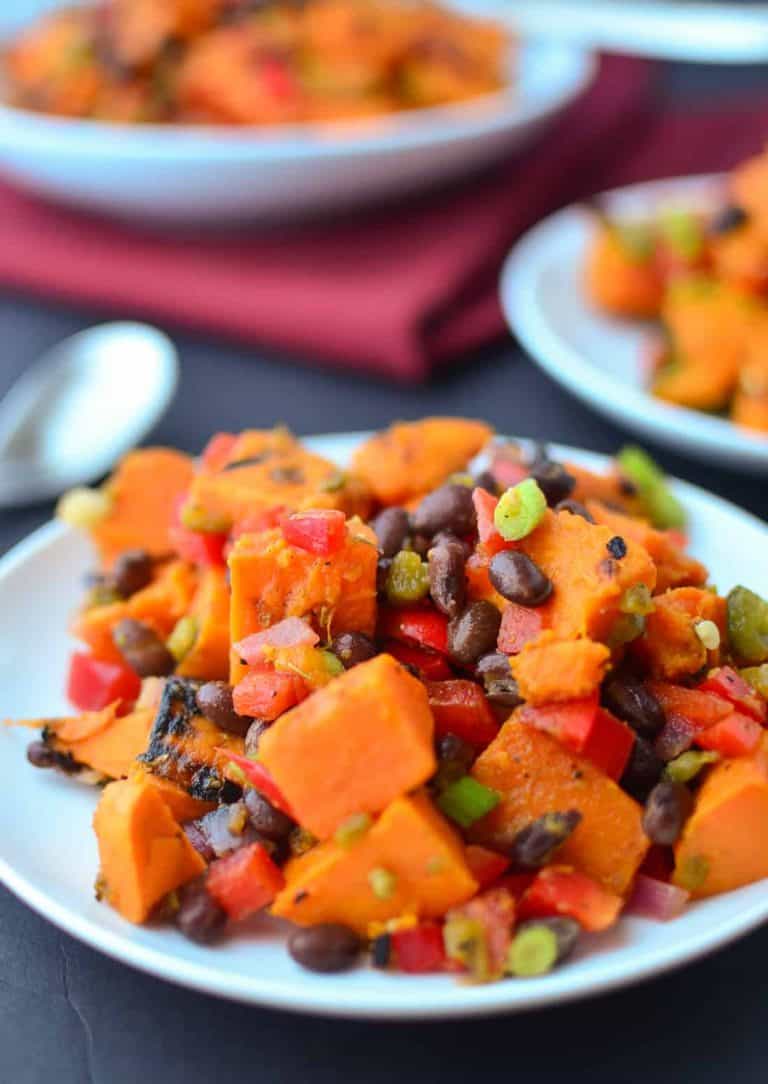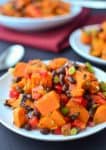 Grilled Sweet Potato Salad
Author:

Prep Time:

20 minutes

Cook Time:

30 minutes

Total Time:

50 minutes

Yield:

4

-

6

servings

1

x
Category:

salad, side dish, vegetable,
---
Description
A MUST make for cookouts! Grilled Sweet Potato Salad with roasted jalapeno dressing. #vegan and #glutenfree
---
Scale
Ingredients
2

lbs. sweet potatoes

1

can black beans, rinsed and drained

1

red pepper, diced

1/4 cup

cilantro, finely chopped

1/4 cup

finely sliced scallions

1 1/2 tsp

. olive oil, divided
Roasted Jalapeno Dressing:

2

jalapenos

2

large slices red onion

2

limes, juiced

1/2 tsp

. red chili flakes

1/4 tsp

. cumin

1/2 tsp

. oregano

1 tsp

. maple syrup

4 tbsp

. olive oil
---
Instructions
Preheat a grill or grill pan to medium-high heat.
Place the potatoes in a large pot and cover with water. Bring to a boil, reduce to a simmer and cook until just tender, about 15-20 minutes.
Drain potatoes and let cool. The skins should slip off but if not, gently slice them off.
Cut into 1″ thick slices and brush with 1 tsp. olive oil.
Place on the grill and cool for 2-3 minutes per side. Remove and cut into large dice. Set aside.
Make the dressing:
Brush the onion slices and jalapenos with 1/2 tsp. olive oil.
Place on the grill and cook for 5 minutes until skin is blistered. Remove from grill, let cool slightly, and rub off jalapeno skins and seeds. Finely dice the jalapeno and red onion in a separate bowl. Add in the rest of the ingredients: lime juice, chili flakes, cumin, oregano, maple syrup. Drizzle in the olive oil and season with salt and pepper.
Add the red pepper, black beans, and cilantro in the sweet potato bowl. Gently toss with dressing. Cover and let stand for at least 30 minutes. Serve!
---