Healthy spring vegetable lasagna! Layers of zucchini, spinach, peas and creamy ricotta.
Less than 350 calories per HUGE slice.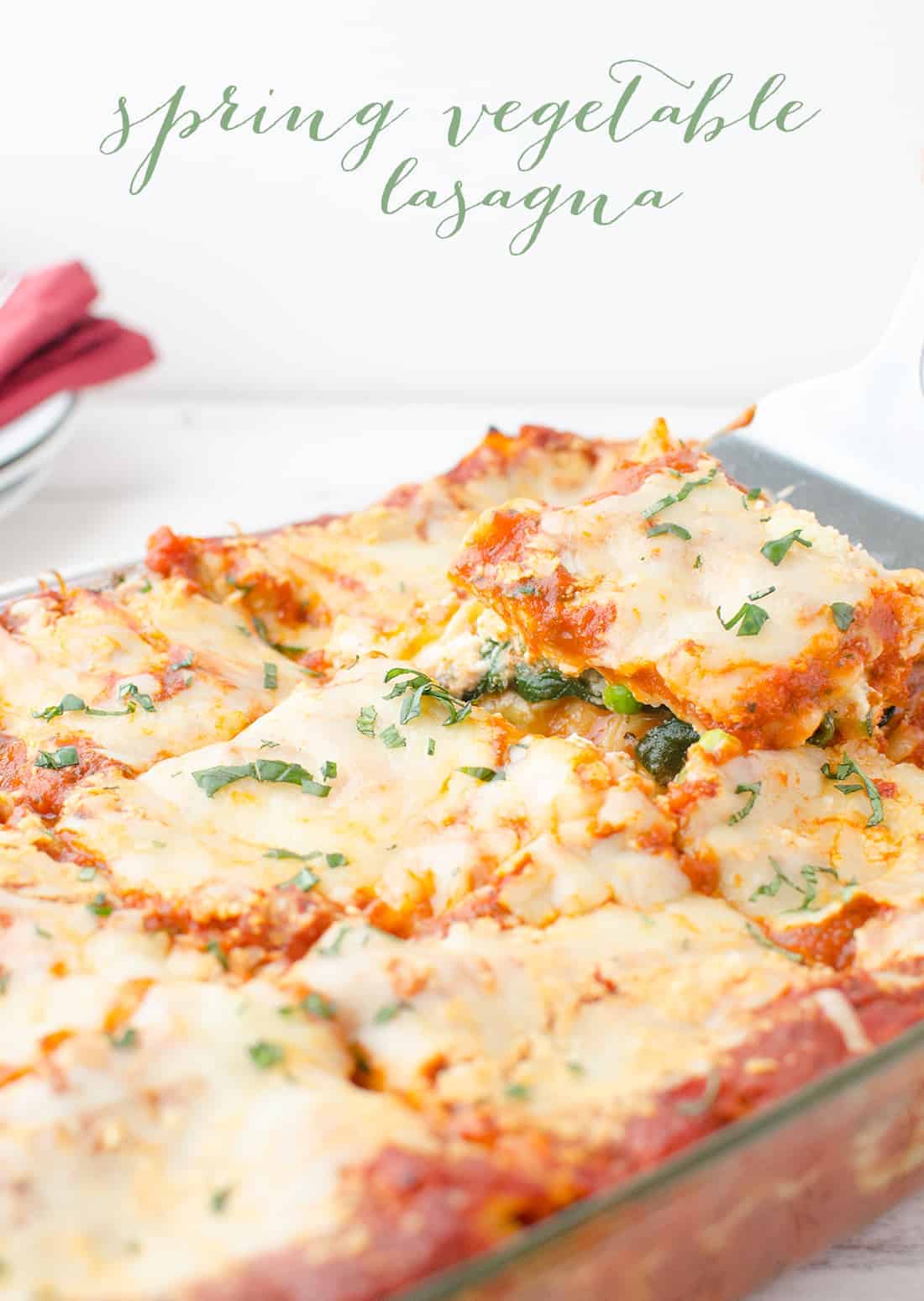 Sometimes I wonder if I should rename this blog "Delish Pasta". While I love just about every cuisine under the sun, my first love will always be Italian. Nothing eases my soul like a giant bowl of slurpy, sauce-covered noodles, which is beyond obvious considering I have at least 50+ pasta recipes on this website. With no signs of stopping.
Once word gets out that I am a self-proclaimed pasta-holic, friends often want to know "how"- how are you able to eat pasta 3-4 times a week and not gain weight? Somewhere along the way, pasta gained the stigma of being unhealthy- along the same lines of rice, bread, and everything gluten-filled. Sure, these foods have calories, but can we please stop blaming carbs? The nutrition scientist in me knows that eating carbs doesn't equate with weight gain; that's too simplistic of an argument and doesn't take bio-chemistry into consideration. If you've been avoiding grains for weight loss purposes, I'm happy to report that it's possible to have your cake noodles and eat it too.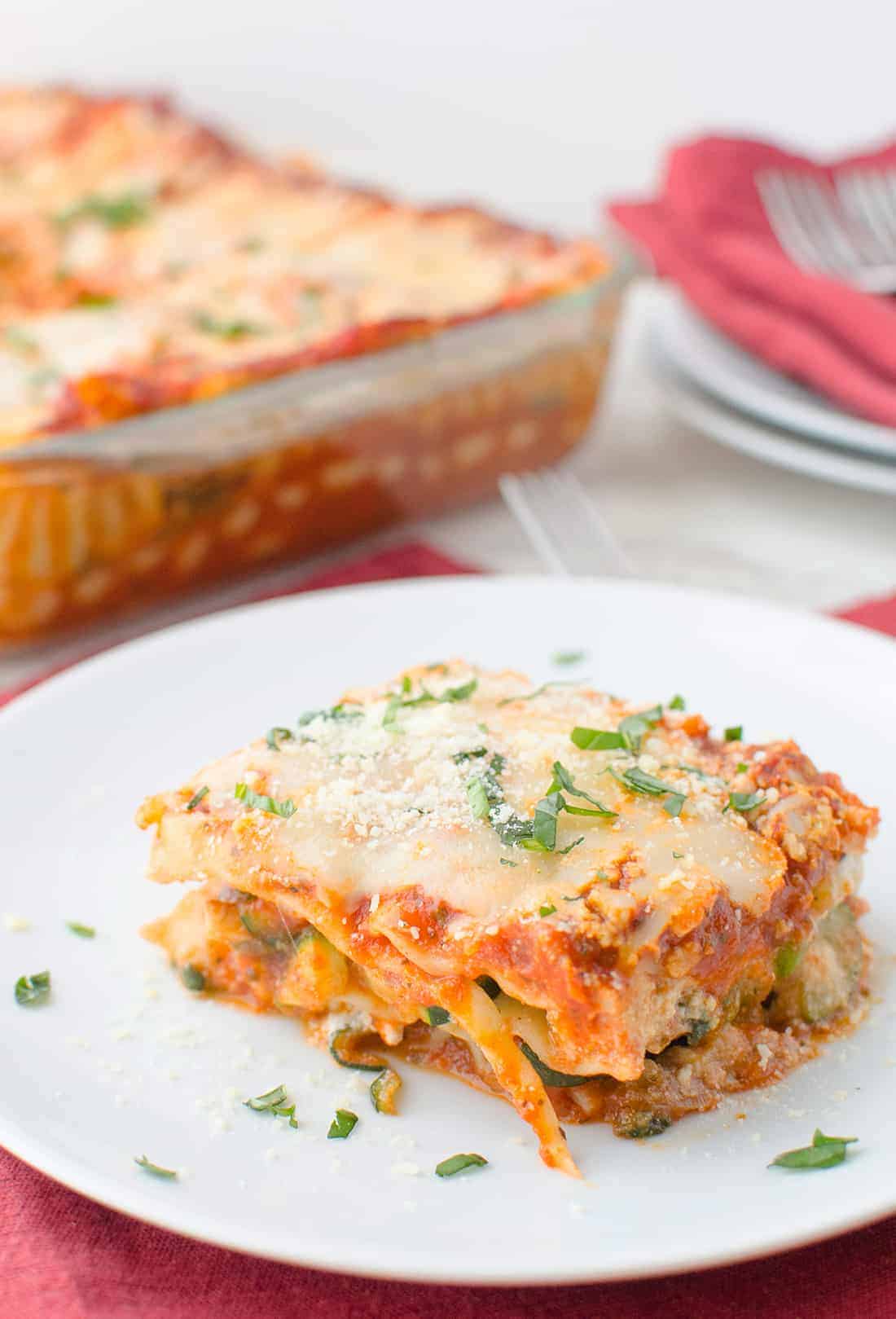 In my private practice, I spend a lot of time discussing small changes with my clients. While I'm all for sweeping changes, I know that sometimes when we take on too much too soon, we get fed up, exhausted, and head right back to where we started. Micro-goals are easier to accomplish and can make any health change seem more doable; small changes can add up to create a big difference.
MY LATEST VIDEOS
I take this same approach to my pasta. First, I always make sure that I've included at least one serving of vegetables per serving of pasta. It's a simple way to make sure that I'm increasing the nutrient density of the dish, adding in extra vitamins, minerals and fiber. For an added bonus, I prefer to choose whole-wheat or high-fiber pasta, like Dreamfields. Dreamfields pasta line is made from premium durum wheat semolina, giving it the familiar taste and texture of traditional pasta with 5 grams of fiber and 7 grams of protein per cup.
The best part? It really does taste like white flour pasta. So much so that after BL polished off 2 huge slices, he turned to me and said- I think this is the best lasagna I've ever tasted. And really, if my former meat-and-potatoes hubby thinks that this lasagna is some of the best he's ever had, you know it's a keeper.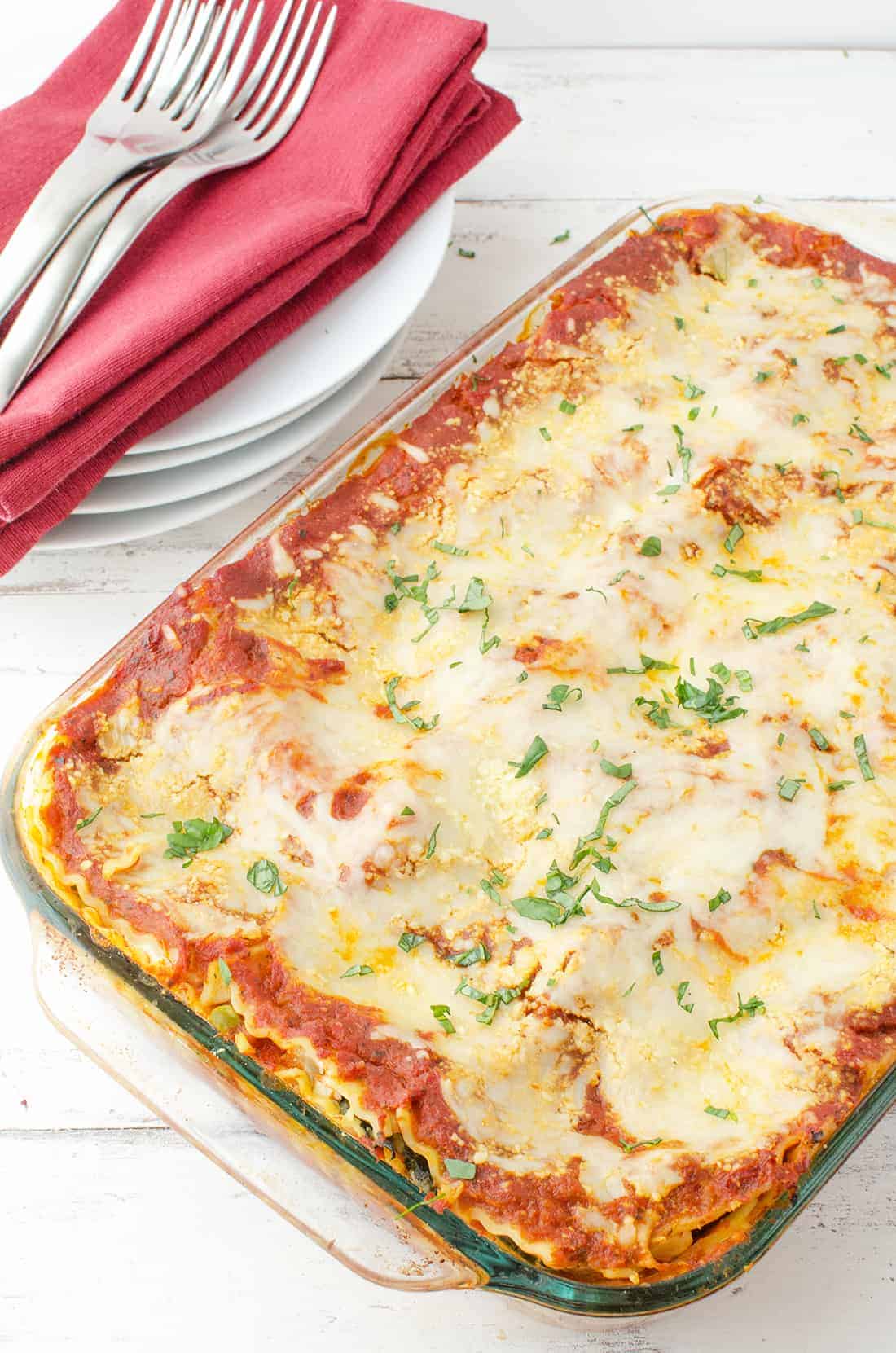 Why do I not make lasagna more often? I have this idea in my head that making lasagna is a complicated, all day process and then surprise myself when I'm done cooking in less than 40 minutes and have dinners + leftovers for days on end.
Leftovers only sound bad when they aren't lasagna —-> even after 13 straight meals of lasagna while testing this one out, I still wasn't sick of it. Which either confirms the fact that Delish Knowledge is now Delish Pasta or that this lasagna is really that good. I'm going to stick with the latter. Layer of sauce, fresh spring vegetables, and cheesy goodness, it's 9X13 inches of total perfection.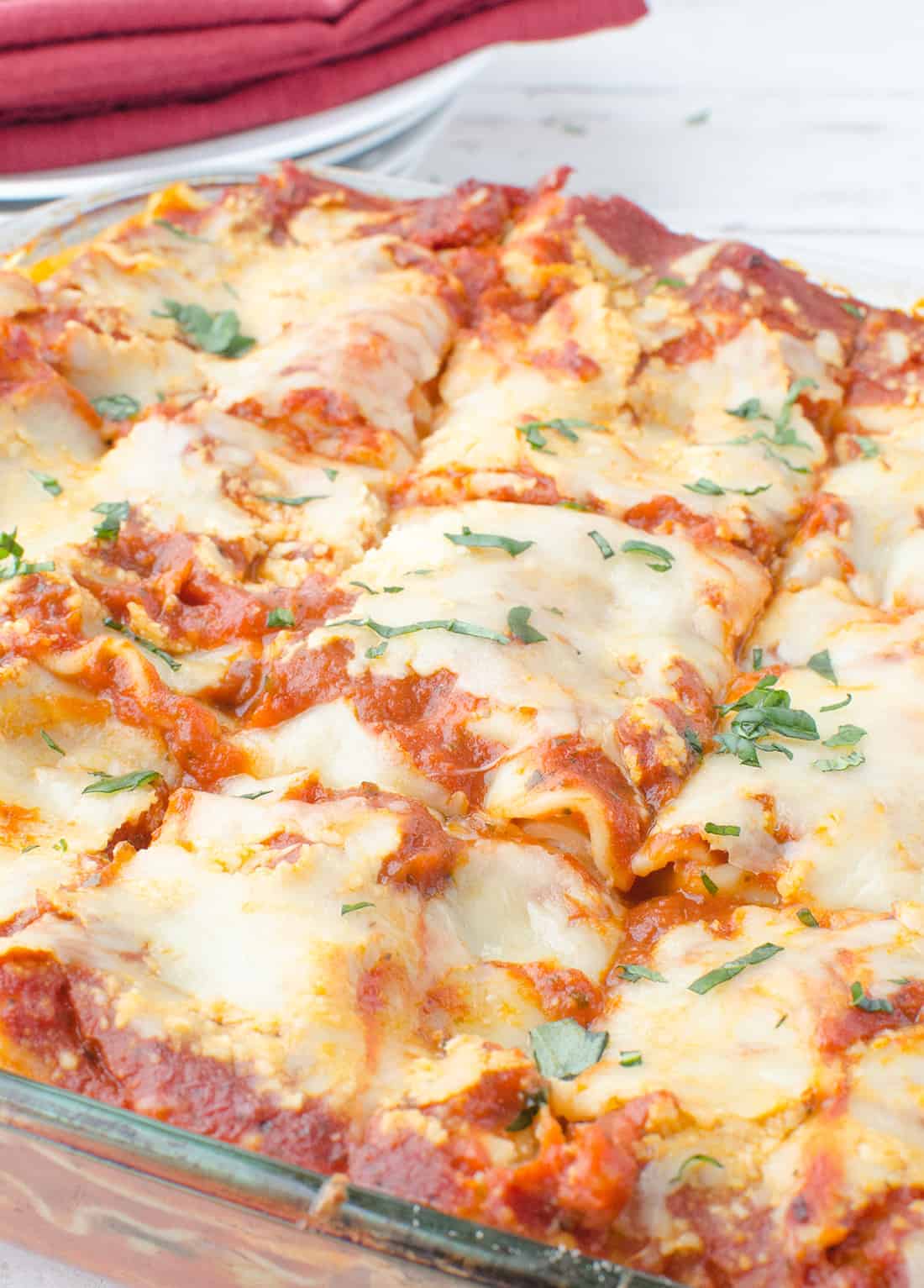 As you all know, I am definitely NOT a calorie counter but wanted to run this recipe through my recipe analysis just to prove that pasta can be a healthy dinner choice.
Per serving stats: 333 calories, 9g fat, 44g carbs, 7g fiber, 20g protein.
Those are some impressive stats when you consider that this lasagna no-way, no-how tastes like diet food. I hope you love it as much as we did!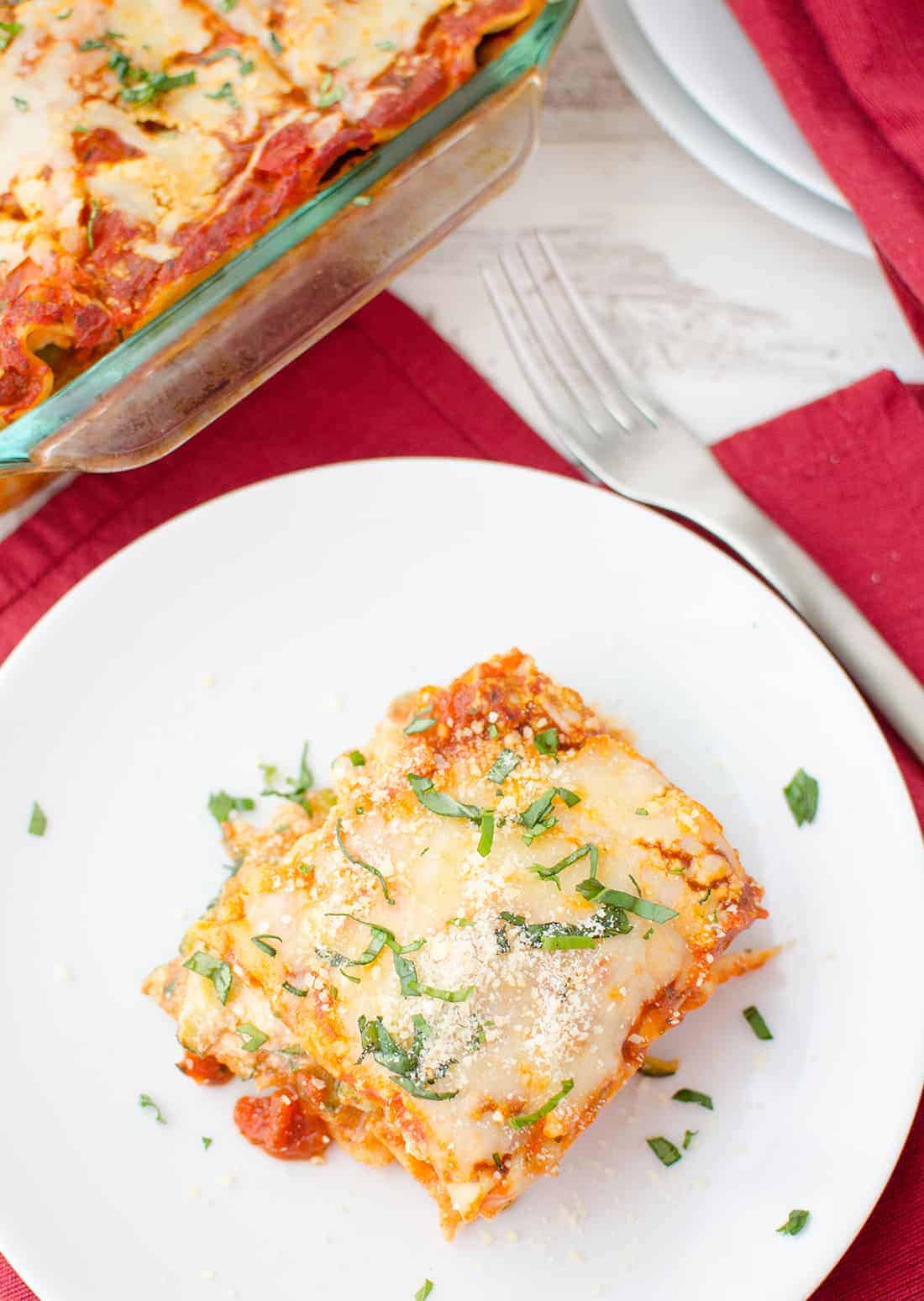 If you try this recipe, let me know! Leave a comment, rate it, and tag your Instagram photos with #delishknowledge . I absolutely love seeing your creations. Happy cooking! 
Print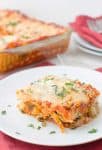 Spring Vegetable Lasagna
Author:

Prep Time:

15 minutes

Cook Time:

50 minutes

Total Time:

1 hours 5 minutes

Yield:

12

1

x
---
Scale
Ingredients
12

Dreamfields Pasta lasagna noodles

1/2 cup

onion, diced

1 tbsp

. olive oil

1 tsp

. dried italian seasoning

1/4 tsp

. red pepper flakes

1

garlic clove, minced

4 cup

s fresh spinach

2

zucchini, thinly sliced

1 cup

peas (thawed if frozen)

1

lb. non-fat ricotta cheese

1

lb. whole milk ricotta cheese

1/4 tsp

. fresh grated nutmeg

5 cup

s marinara sauce

1 cup

shredded mozzarella cheese
---
Instructions
Bring a large pot of salted water to a boil. Add the noodles and cook until just al-dente. Drain and rinse with cold water. Set aside.
Heat olive oil in a large saucepan over medium heat. Add onion and cook until translucent. Add in italian seasoning, red pepper flakes and garlic clove. Cook for 30 seconds and add in the spinach, zucchini and peas. Cook for 10 minutes until spinach is wilted, peas are cooked through and zucchini is tender. Remove from heat and drain off any water.
In a separate bowl combine the ricotta cheeses and grated nutmeg.
Preheat oven to 375 degrees F. Spread 3/4 cup sauce on the bottom of a 9×13″ glass pan. Layer with 4 of the lasagna noodles (3 vertical, one horizontal). Spread on 1/2 of the ricotta mixture and 1/2 of the vegetable mixture. Spoon on 1 1/2 cups of the tomato sauce on top. Continue to layer with lasagna noodles, rest of the ricotta mixture, remaining vegetable mixture and 1 1/2 cups tomato sauce. Top with 4 additional lasagna noodles and remaining 1 1/4 cup tomato sauce. Top with mozzarella cheese and cover loosely with foil.
Bake for 40 minutes. Remove foil and cook for an additional 10 minutes until bubbly and hot.
---
Notes
I like my lasagna pretty saucy! Feel free to cut back to 4 cups of marinara sauce if you'd prefer. For my dairy-free friends, this one is easily adaptable: swap in tofu ricotta for the filling and omit the cheese or use dairy-free mozzarella on top.