When I went fully vegetarian over a decade ago (!), I really had no idea what I was doing. I had flirted with meatless meals for years before that, but it wasn't until a really bad breakup (and the self-love/healing that comes after) that I settled into my groove. As you know, while I am a passionate vegetarian, I also understand that everyone is on their own path. I celebrate everyone who comes to this space: those looking to find their happy weight, those needing a quick dinner recipe, and those interested in the idea of vegetarian living.
Therefore, I'm beaming with excitement to introduce you to this new series: How To Vegetarian. For the next five months, I'm going to explore all aspects of vegetarian nutrition, from essential nutrients, meal ideas, sports nutrition and more. We are going to de-bunk myths, fact-check some crazy info that's floating around out there and dive deep into the world of vegetarian nutrition. So, whether you are a flexitarian, omnivore or full-on vegan, this series is for you.
The Protein Myth
It's almost comical. Tell someone you are a vegetarian and immediately you'll hear concern over protein intake. And while I'm quick to laugh it off, I understand why this is the first thing we think about when we consider a vegetarian diet. We are a culture obsessed with protein. I'm not sure who exactly started the protein revolution (Atkins, South Beach, the Fitness Industry, Paleo?) but it's out there. Even my clients who come to me with very little understanding about nutrition want to know about protein.
So, what exactly is this magical macronutrient? Let's start off with a quick reminder of what protein does in the body (and what it doesn't do).
Protein is a component of every cell in the body; take a look at your nails and hair- they are made almost entirely out of protein. In addition to building and repairing tissues (hello, muscles!), you need protein to make enzymes, hormones and as a building block of bones, cartilage, skin and blood. Protein will not make you lose weight (more to come), give you a six pack, or increase muscle mass (without hitting the gym first). We need protein, we just don't need as much as we think we do. 
I've been analyzing diets on a daily basis for almost 7 years straight. Only a handful of times (even in counseling hundreds of vegetarians and vegans) have I ever seen someone who is protein deficient. (And those are usually my under-nourished, raw-food juicers.) I'm not saying it's impossible, but in our protein-focused world, it's very, very unlikely. (We should be much more focused on getting enough fiber, but that's another post).
How about if we change the word protein to amino acids, the building blocks of protein. If we consider that all foods contain amino acids (even plant-foods), it's easier to see that while some foods contain more amino acids than others, we are still getting amino acids in just about every food we eat. Even kale!
I start there because I want to ensure that you are probably getting enough protein amino acids. Even though many weight loss books/diets will promote more, more, more- added protein alone isn't going to change your body composition.
Protein & The Weight Loss Myth
It's common weight loss advice (at least on the internet/popular magazines): in order to lose weight, you need to bump up your protein intake. Kinda wrong, kinda right. Of all the macronutrients (nutrients that provide energy in the form of calories: protein, fat and carbohydrates), protein is the most satiating. That's just a fancy way of saying that if you eat more protein at a meal, you will likely feel more satisfied for longer. That's a big deal in the weight loss world where a decrease in caloric intake usually means a shift in hunger and fullness levels. Ensuring protein at every meal (and snack) will increase satisfaction and hopefully, decrease the desire to overeat.
While satiation is important in weight loss, it's not the only factor. Adding in amino acids in any variety will work, you don't need to overload your plate with too much protein to get this effect. Fiber (yay! fruits, vegetables and whole grains) will also increase satiation as will a little bit of fat.
Second, adding in more protein than you need also adds in more calories than you need. While weight loss is not only a direct calorie game, we have to consider calorie intake when we discuss weight loss. You *will* gain weight eating nothing but protein as protein still contains calories (4g/kcal). It's a myth that excess protein is excreted. If your body does not need the additional amino acids you are taking in, it can easily store them as fat.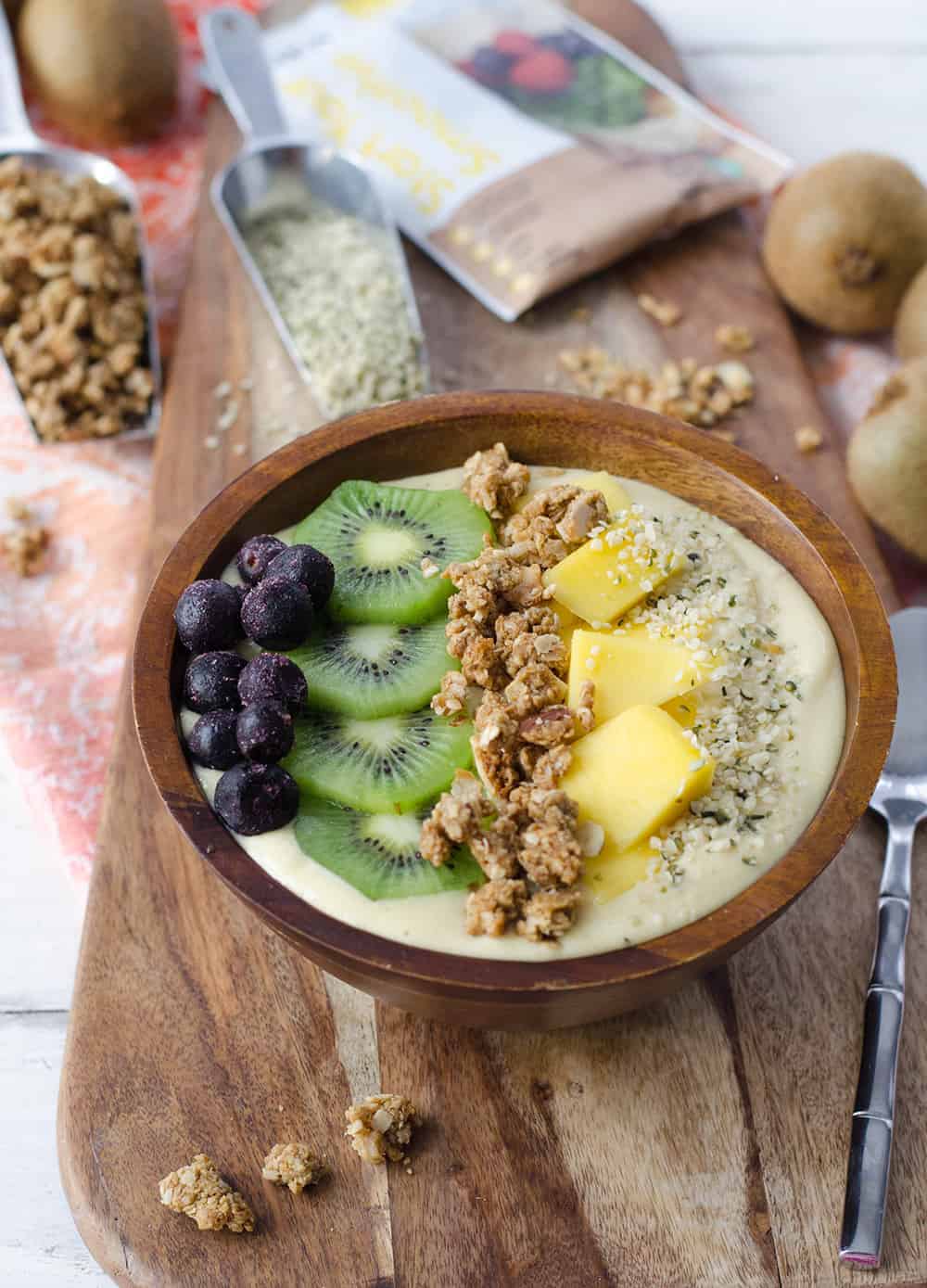 How much protein do I need?
The DRI (Dietary Reference Intake) is 0.8 grams of protein per kilogram of body weight, or 0.36 grams per pound. Even at a fairly conservative number, this equates to about 56g of protein per day for the average guy, 46g for the average woman. If you were to add up how much protein you eat in a day, I would bet that you get almost double that amount. At least, that's the norm for my clients (omnivores & veggies). 
For my active friends, bump that number up to 1.2-1.4g/kg for endurance athletes (.54-.63g/pounds) and 1.4g-1.8/kg for strength athletes (.63-.81g/pound). Even with those increased demands, we are still only talking 80-95g per protein per day. Yes, you will have to make sure that you are getting protein in, but that's still a very manageable number.
Somewhere along the way, a vegetarian diet also meant that it was a "challenge" to get in the necessary amino acids. There is some truth to this, although it's largely false. Animal proteins are considered a complete protein, meaning that they contain all of the essential amino acids that we need. Makes sense as animal tissue is similar to human tissue. Plants then, are considered incomplete amino acids as they are missing one or more of the essential amino acids needed in our diet.
For a long time, nutrition science told us that we had to combine certain plant foods in order to get a complete protein. I was even taught this in school and vividly remember writing down my meals in a notebook to make sure I was getting all of the required amino acids.
Then, we learned more! And realized that as long as you are eating a varied plant-based diet, you are getting all of the amino acids, even if it's not at the same meal. So, if I have oatmeal for breakfast, a gorgeous salad with beans for lunch, an apple and peanut butter for snack, and quinoa, tofu and veggies for dinner I am getting all the essential amino acids- no counting required.
So, while it was originally thought to be more challenging to get enough protein on a vegan/vegetarian diet, as long as you are including quality sources, you are OK.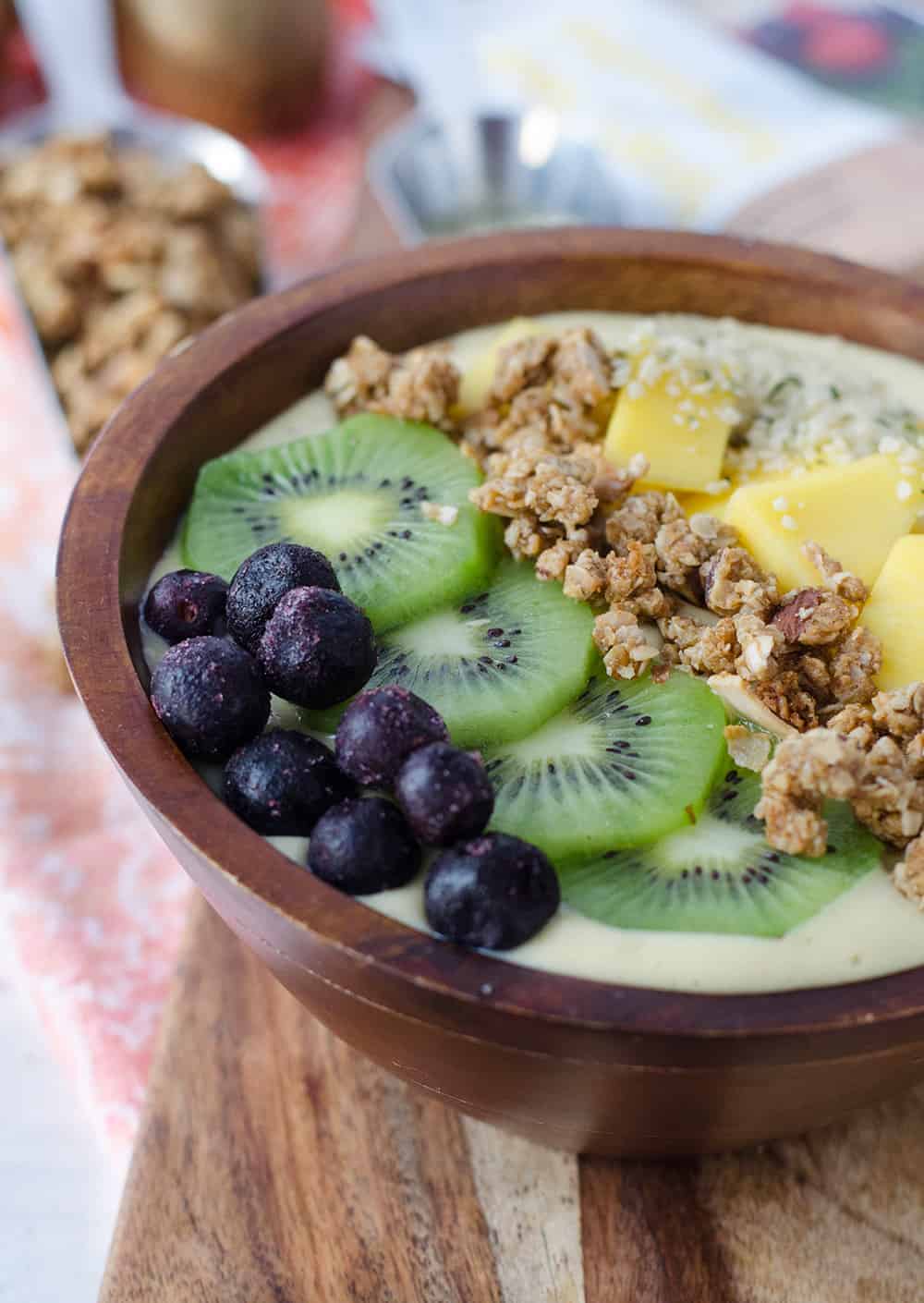 Quality Protein Sources:
I'm a big fan of quality eating, no matter what macronutrient we are talking about. It's also why I think vegetarian protein sources have a leg up; they are usually higher quality.
We don't eat in a protein vacuum, all foods are going to contain other nutrients (either micro, macro, fiber, antioxidants, ect) that we have to take into consideration. When I eat a cup of lentils, not only am I getting 18 grams of protein, I also have the benefit of 16g of fiber and almost zero fat. Contrast that with a similar amount of chicken which contains zero fiber, fat and cholesterol. It's why I believe that everyone- veggie or not- should eat more quality protein sources like beans, lentils, tofu, tempeh, nuts and seeds and grass-fed dairy protein. Eating these foods gives you more of the good stuff- protein included!
My diet is fairly low in dairy but when I do consume it, I want to make sure I'm getting the biggest bang for my nutrient buck. Since I don't eat much of it, I can justify consuming organic and/or grass-fed varieties over the conventional kind. Grass-fed dairy makes a difference in the omega-3 department (coming next week!), containing up to 5 times as much Omega-3 as grain or corn-fed dairy.
If we take the above recommendations into mind, at 130 pounds and fairly active, I aim to get 65-70g per protein per day. 20-25g at dinner (my largest meal), 15-20g at lunch (second largest meal), 10-15 at breakfast, and 10-15 divided up among my snacks.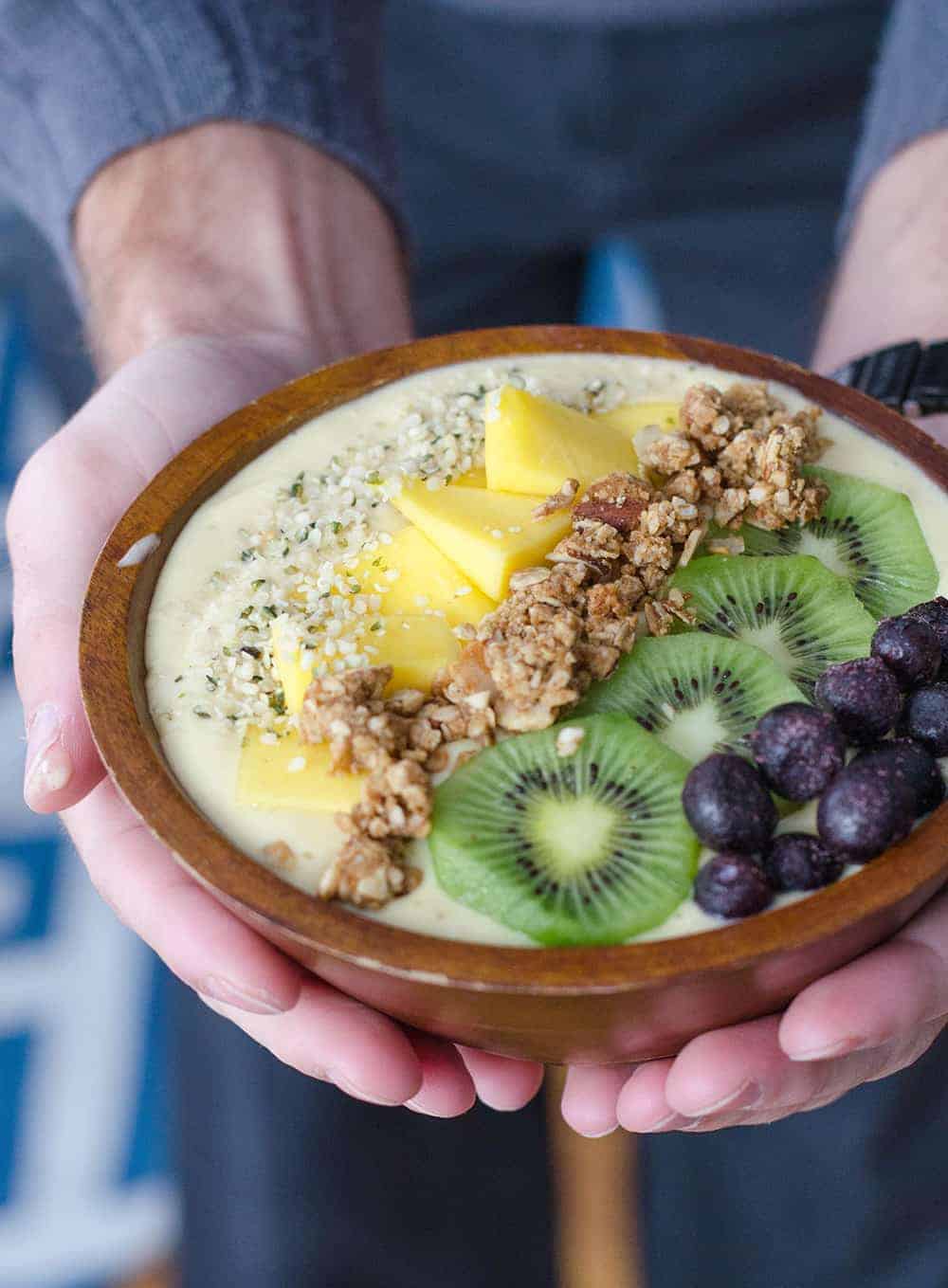 I've talked about my love of smoothies for breakfast so often here that I'm starting to sound like a broken record. They are my perfect breakfast option! For my energy needs, I'm rarely hungry in the morning. Blame it on my morning workouts, circadian rhythms, I dunno, but I don't typically have an appetite until 11AM or so.
In the past, I've tried putting off breakfast until this point, but found that I was so incredibly hungry by the time that I ended up eating, I wasn't able to mindfully enjoy my lunch. Instead, I've been enjoying a morning smoothie post-workout to replenish my thirsty muscles and keep hunger at bay until lunch.
Since I'm a qualitarian, I wanted to make sure my morning smoothie packs a hefty nutrient punch. After tasting what seemed like every protein powder on the market, few of them ranked in terms of both taste, nutrition and quality. Then, I met KURA.
I introduced
KURA
(in
this
non-sponsored post) a few months ago and have really been enjoying their powder in my daily smoothies. Not only does it contain 14g of protein (in line with my requirements), it's made from grass-fed dairy, contains omega-3s, probiotics and has a stamp of approval from the Global Animal Partnership. It's the perfect start to my day, and I hope you love it as much as BL and I do.
For a yummy, 14g+ of protein smoothie bowl to start your day, enjoy the Mango Smoothie bowl recipe below.
How to Vegetarian: Protein
Tropical Mango Smoothie Bowl! A delicious, protein packet breakfast topped with THE BEST homemade granola.
Recipe type:
breakfast, smoothie, beverage, vegetarian
Ingredients
1 package/scoop KURA Vanilla powder
1 frozen banana, sliced into big chunks
¾ cup frozen mango
1 cup unsweetened vanilla almond milk (may need more depending on the power of your blender)
Hokey Pokey Granola, for topping
Cubed mango, for topping
Frozen blueberries, for topping
Hemp Seeds, for topping
Sliced kiwi, for topping
Instructions
Place KURA, banana, mango and almond milk in a blender, puree until creamy and thick.
Pour into a bowl and top with granola, fruit, and hemp seeds.
I'd love to know any comments, thoughts or questions on this new series! I'll be back next month for How to Vegetarian: Becoming a Flexitarian.
Have a great weekend!
This post was in partnership with KURA nutrition. As always, all thoughts are my own.