Mini Vegetable Wellingtons! The perfect vegan thanksgiving recipe! Savory squash and mushroom filling in puff pastry. Decadent, easy to put together and delicious! If you need a plant-based thanksgiving main dish, this is it.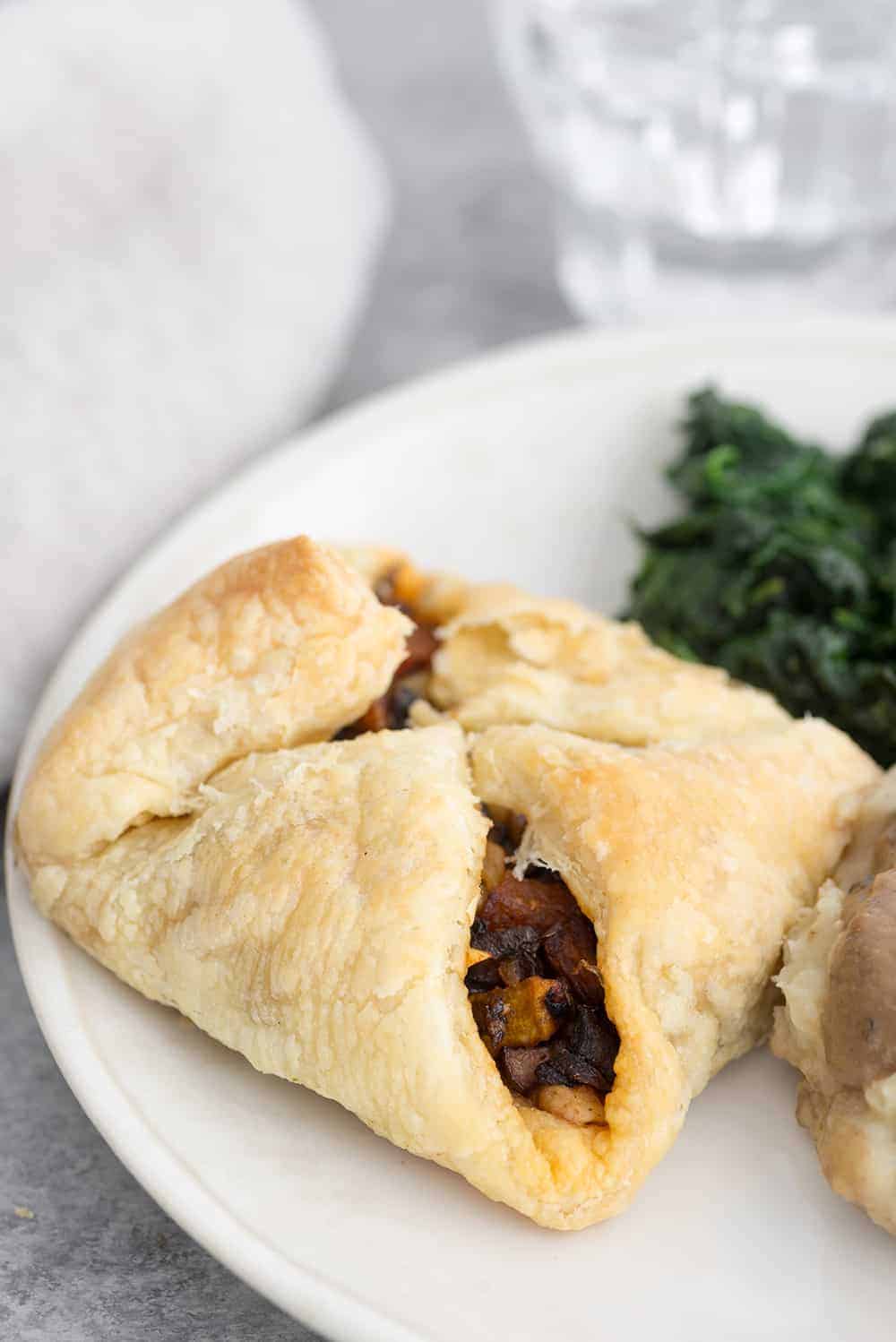 If you read Friday's post featuring my mushroom gravy, then you knew this recipe was coming! If not– let me catch you up. A vegetable wellington stuffed with roasted squash, mushrooms and walnuts all encased in flaky puffed pastry. It's the perfect 'wow' dish for a plant-based Thanksgiving or Holiday feast.
To me, this is the perfect center for any fancy dinner this Winter. It's beautiful, tastes delicious and light enough to not compete with other heavy comfort classics.
It's also very customizable to what kinds of things you like. I've made the filling three different ways and all have been a hit. Besides the base recipe I'm showcasing here, I've made one with tempeh sausage and with sautéed lentils.
If you want these to be a little more protein-heavy, then you can add either option. Not necessary, just an option.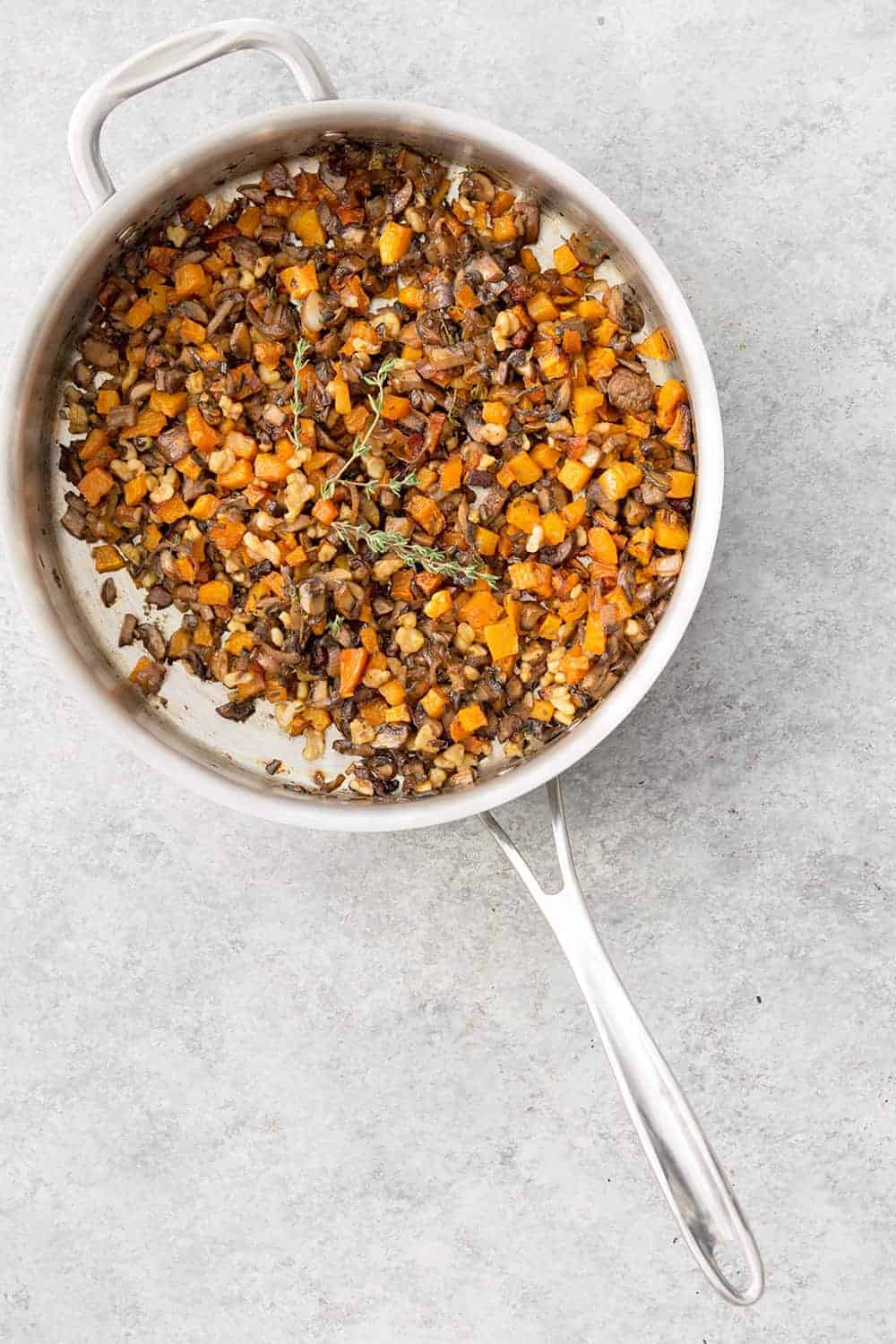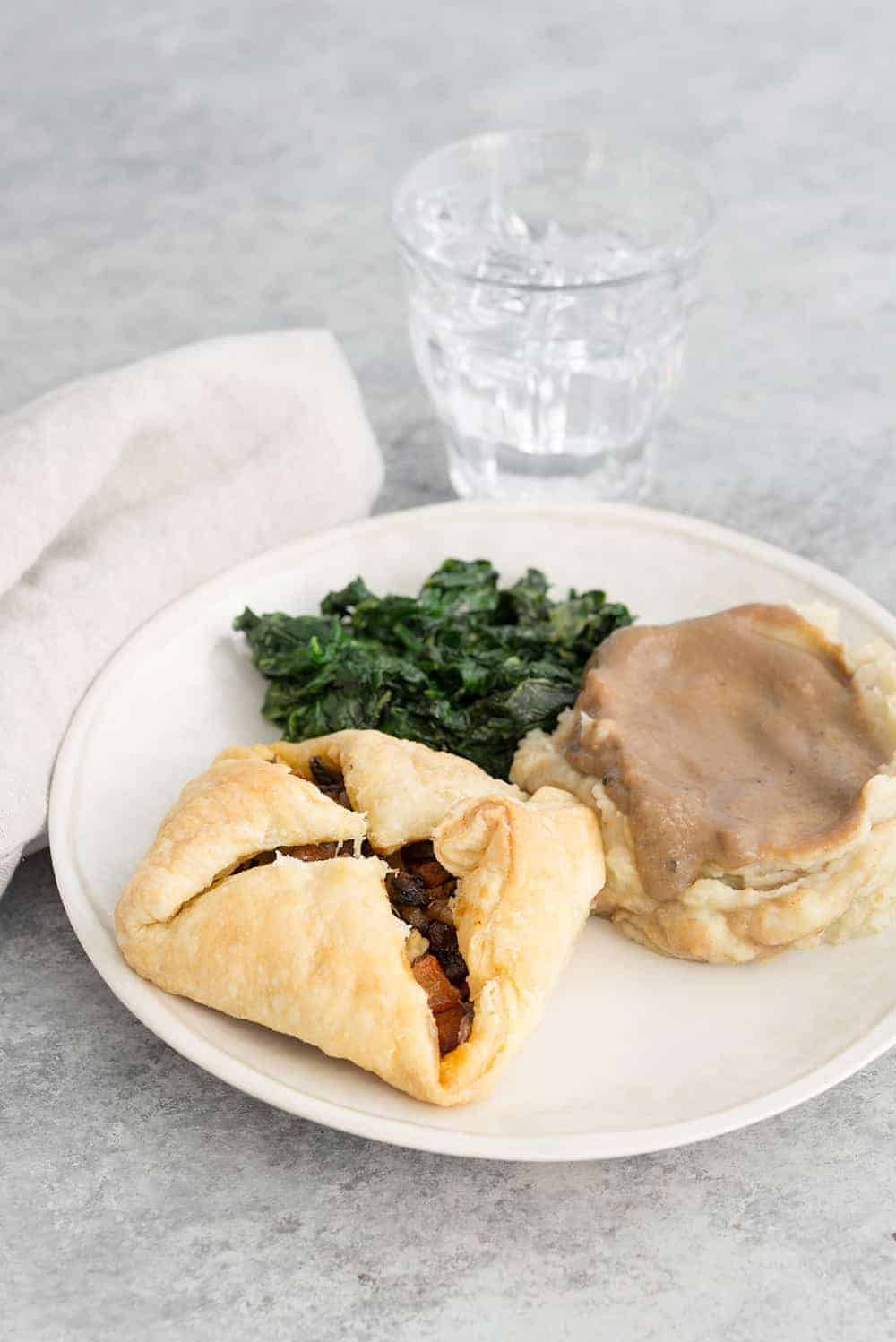 Since this is a show-stopper recipe and worth the extra effort, I'm recommending roasting the squash while also pan-frying the mushrooms. I know that this dirties more dishes, but I think roasting gives the squash more flavor than sautéing on the stove.
You can make the filling 2-3 days ahead of time, so keep that in mind if you do end up making these for Thanksgiving.
From there, you'll need to assemble. Again, you can decide how you want to do this. I decided to make these mini so they were easier for guests to grab, and I think it looks prettier on the plate.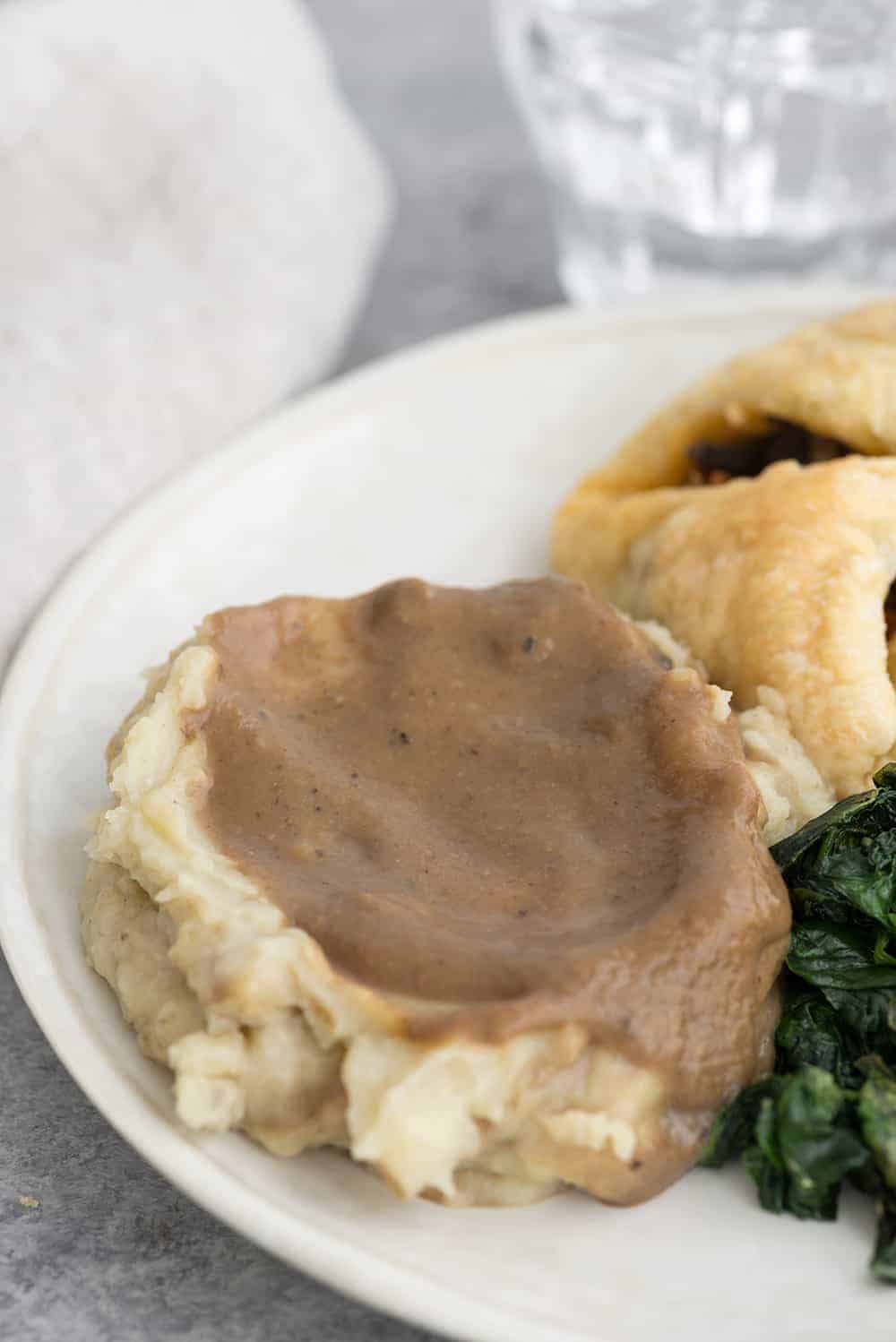 To make mini wellingtons:
Defrost, then roll the puff pastry out. Most prepared puff pastry is vegan, which is a happy accident for those of you who stay away from any dairy. That doesn't mean that hydrogenated oils are any healthier, but I think we'd all agree that puff pastry is a delicious, fun holiday food and not something we are eating on a regular basis anyways.
Cut a large square out; I divided the puff pastry sheet into 1/4ths. Then, scoop the filling in the center and bring two corners together, then the two other corners to overlap.
If you aren't making these strictly vegan, you can add an egg wash which will make them more golden brown than showed here. For the vegan version, I recommend using oat milk to brush on instead of water. I didn't do that for these photos as we were out, but I've done it before and oat milk browns much better than other non-dairy milks because of it's (naturally) higher sugar content.
From there, bake until puffed, golden and crispy! Delicious on it's own or served how I like, with a little mushroom gravy on the side (along with lots and lots of mashed potatoes, obviously.)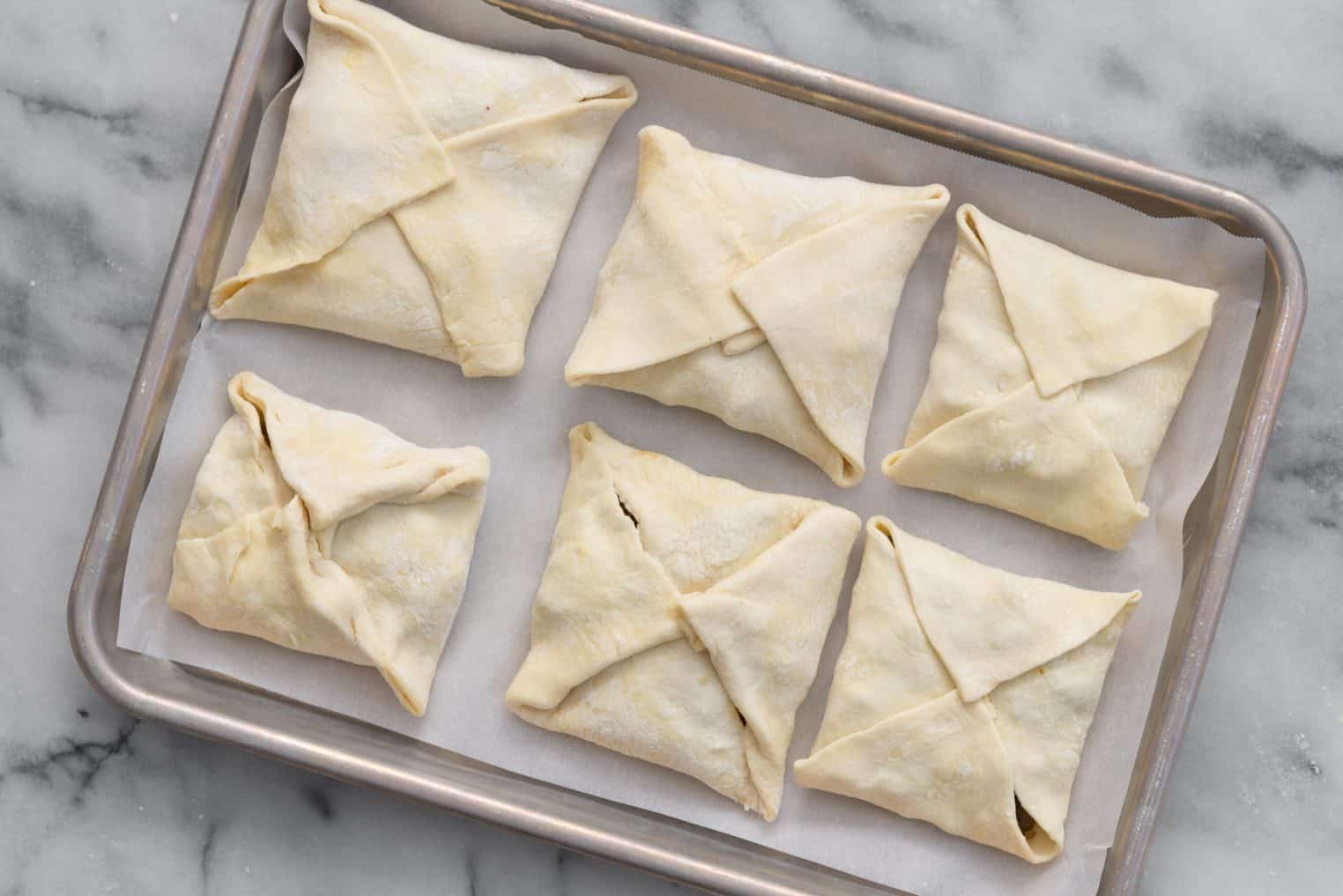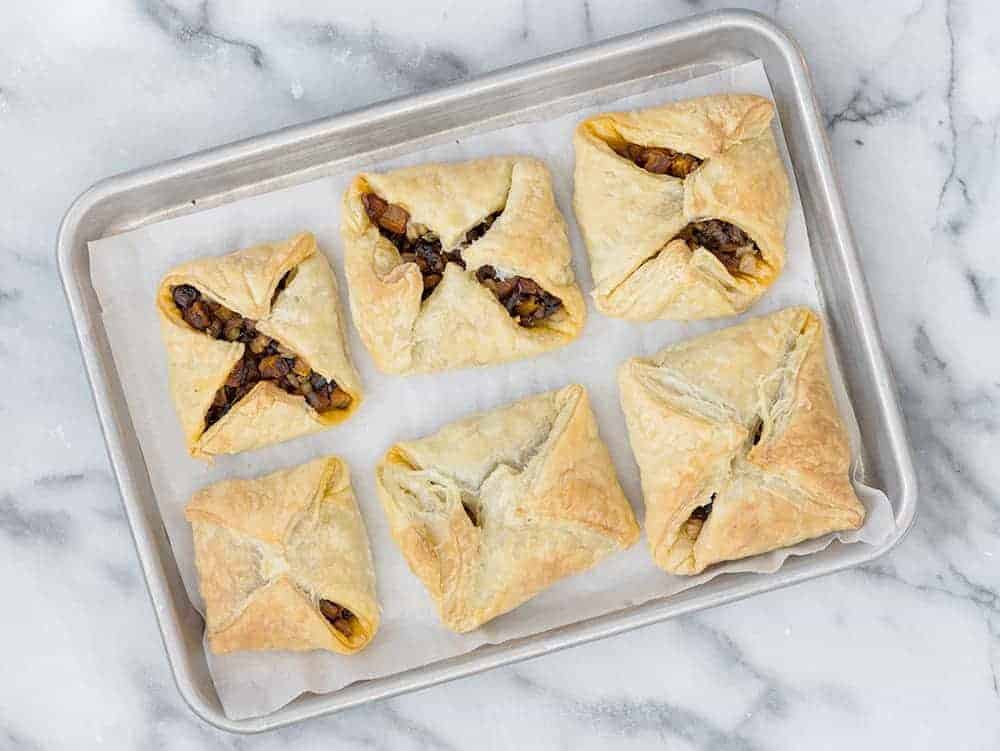 Print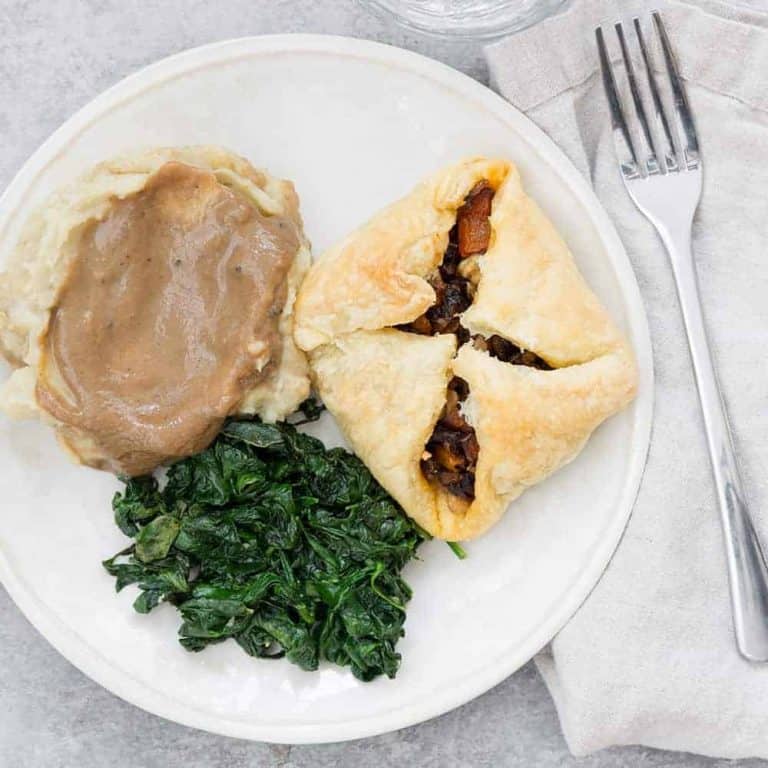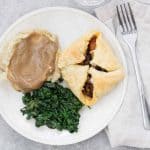 Mini Vegetable Wellingtons
---
Description
Mini Vegetable Wellingtons! The perfect vegan thanksgiving recipe! Savory squash and mushroom filling in puff pastry. Decadent, easy to put together and delicious! If you need a plant-based thanksgiving main dish, this is it.
---
Scale
Ingredients
2 tablespoon

s olive oil, divided

4 cup

s peeled, cubed butternut squash

1 teaspoon

maple syrup

1 teaspoon

+

1 tablespoon

chopped fresh thyme

1/4 teaspoon

smoked paprika

1/2 teaspoon

salt

3

garlic cloves, finely chopped

2

shallots, finely chopped

1

pound cremini or baby bell mushrooms, chopped

1/4 cup

dry white wine

1/2 cup

chopped walnuts

1

(14-16 ounce) package, puffed pastry
---
Instructions
Heat the oven to 400 degrees F
Toss the squash with 1 tablespoon olive oil, maple syrup, 1 teaspoon chopped thyme, paprika, 1/4 teaspoon salt and place in a single layer on a baking sheet. Roast for 25-30 minutes until tender. Set aside.
While the squash is cooking, heat a large skillet over medium heat. Add the remaining tablespoon olive oil and add the garlic and shallot, then cook until just tender, about 1 minute taking care not to burn.
Add in the mushrooms and cook, stirring often, until mushrooms are browned and reduced- about 15-20 minutes.
Add the white wine and cook until mixture is dry, about 5 minutes. Add in the walnuts, cooked squash, remaining fresh thyme and mushrooms. taste and add more salt/pepper if needed.
Line a baking sheet with parchment paper/ silpat and set aside.
On a lightly floured surface, unwrap the thawed puff pastry. Cut into squares; I cut the parchment into 4 equal squares to make 8 wellingtons per package of puff pastry.
Spoon the filling in the center, about 1/4 cup filling. Bring two opposite corners together and pinch, then bring the other two corners together and press down. If using oat milk, then lightly brush the entire top with the milk. If using water, then just lightly brush as needed to let the pastry stick together.
Repeat for the remaining squares/filling then place on the prepared baking sheet. Cook at 400 degrees for 25-30 minutes until golden brown and puffed. Enjoy!
---