Breakfast burritos! Friends, I am so excited to share this time-saving recipe with you. I've been making these for years and they are a life-saver on busy mornings when you need breakfast but don't have time to put it together.
I'm there. Almost everyday, in fact. You'd think that an almost 3-hour window in the morning would be enough to fit in exercise, playing with Vander, feeding us all breakfast, packing lunches/snacks for the day and getting ready for work but it's not. Without fail, by the time 8AM rolls around I'm barely dressed, holding V and trying to piece together our meals for the day. Good times.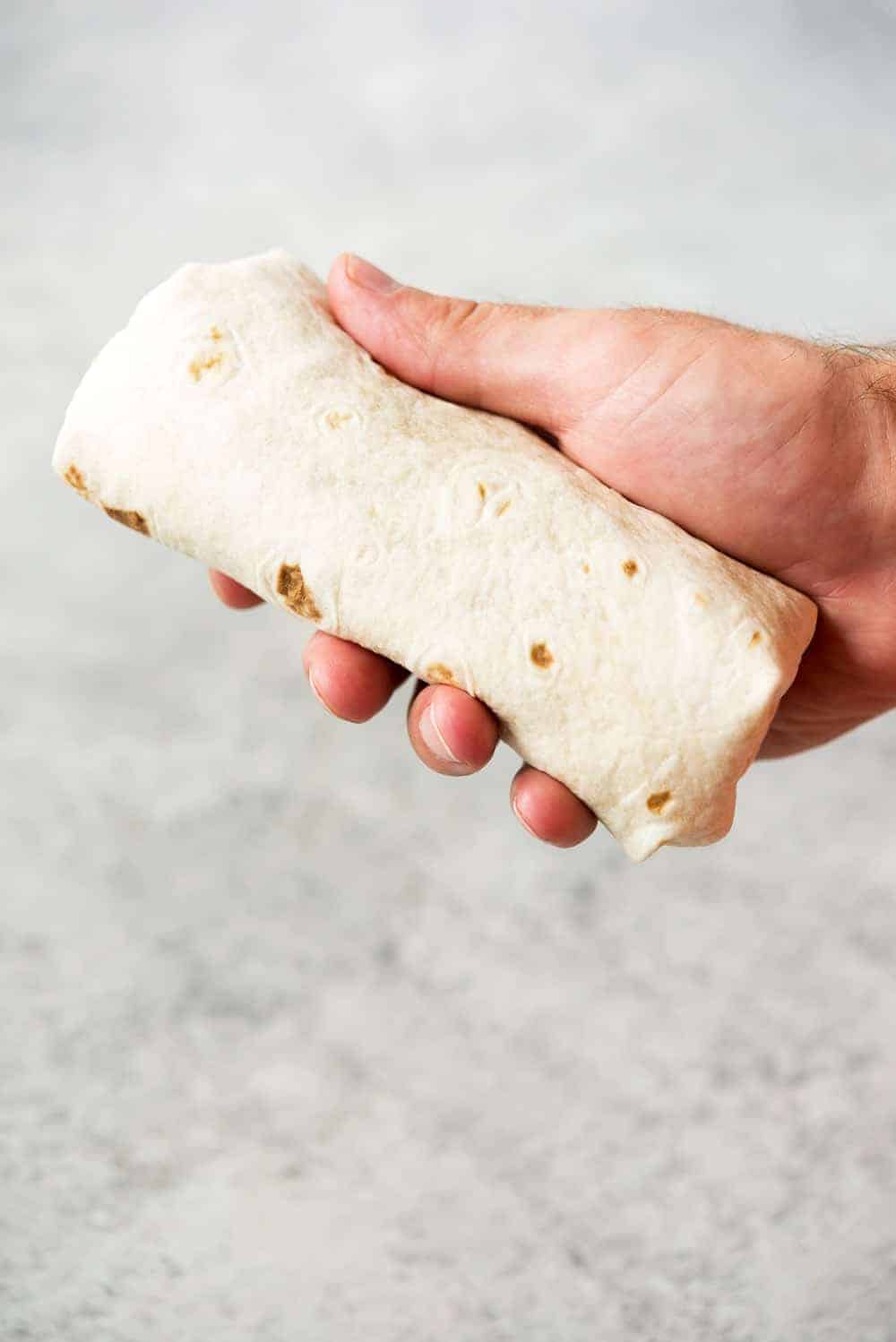 Thankfully, I usually have these in my freezer. A frozen burrito stuffed with fluffy scrambled eggs, homemade tempeh sausage, black beans, salsa and hot peppers, if ya like. I make a batch on the weekends then roll and freeze. Done. Eating made easy, essential on busy mornings.
Wait? These burritos have eggs. Aren't you predominantly plant-based!? That's a question I get often from readers, especially those who love my vegan creations.
MY LATEST VIDEOS
Yup, I eat eggs. Often in fact. And while I am not vegan, I do prefer to eat plant-based most of the time. However, my diet does include eggs (and yogurt! And cheese!)—not only because I love them, but also for their nutritional benefits.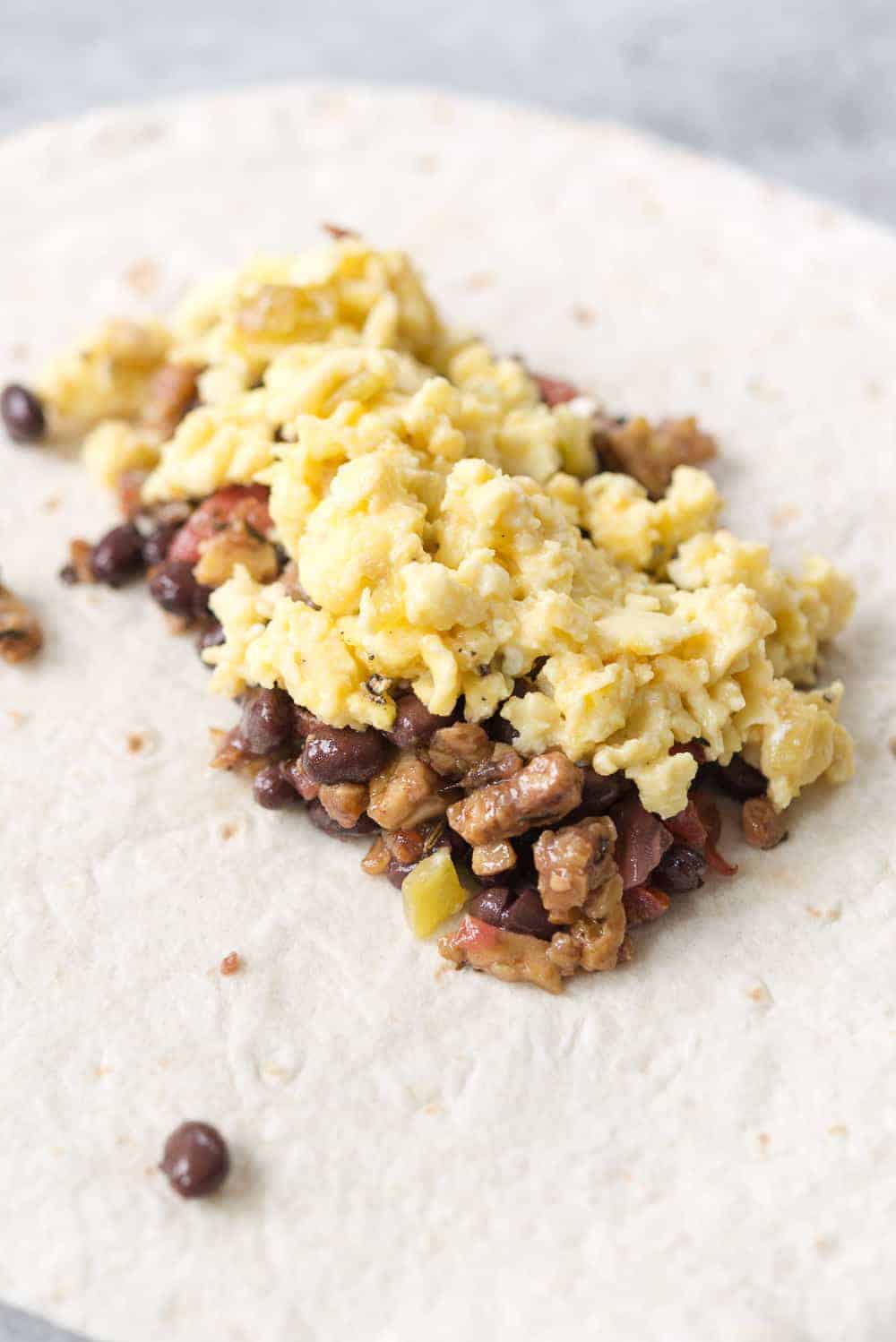 When I become pregnant, I started heavily researching essential nutrients for me and babe. And, while you can absolutely be fully plant-based while pregnant, there was one nutrient that kept coming up over and over again in my research- choline. Like folate, choline is essential in nervous system and brain development and the amount that's in most prenatal vitamins isn't enough. There's also a strong association with pregnancy and infancy choline exposure and improved infant cognition.
Researchers at Cornell University recently published evidence that infants exposed to higher levels of maternal choline (930 mg/day) during the third trimester have improved information processing speed during the first year of life, which is an indicator of cognition and intelligence.
Similar studies have been conducted in rodents and show that the cognitive effects of maternal exposure to choline last far beyond infancy. Of course, whether the same is true in humans is yet to be determined but, there's enough evidence for me that choline is essential in brain development and something that I didn't want to chance.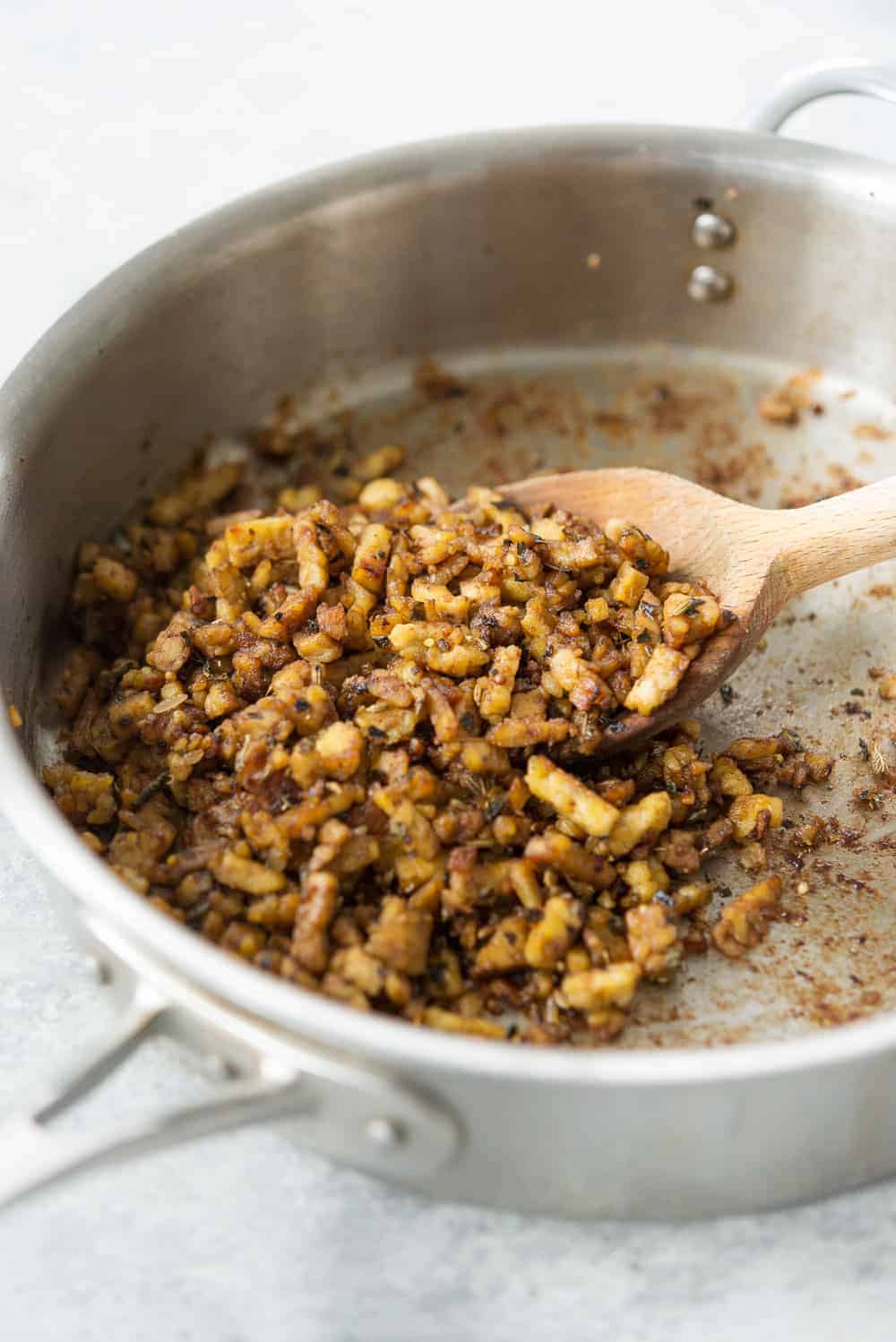 It's why I ate eggs throughout my pregnancy and why I give them to Vander. One large egg contains 147mg of choline, compared to 57mg of 1 cup of soymilk- the highest amount in plant-based foods. As infants need 150mg of choline a day, one egg easily fills the requirement. For V, I usually just scramble an egg for breakfast or mash one with a ripe banana for 2-ingredient pancakes.
Pregnant mamas and moms to young babes- I know what an important topic this is. Therefore, let me know any questions you have regarding choline intake. I want to make sure you are getting all of the information you need- I was surprised how little I knew about it before I started diving into the literature.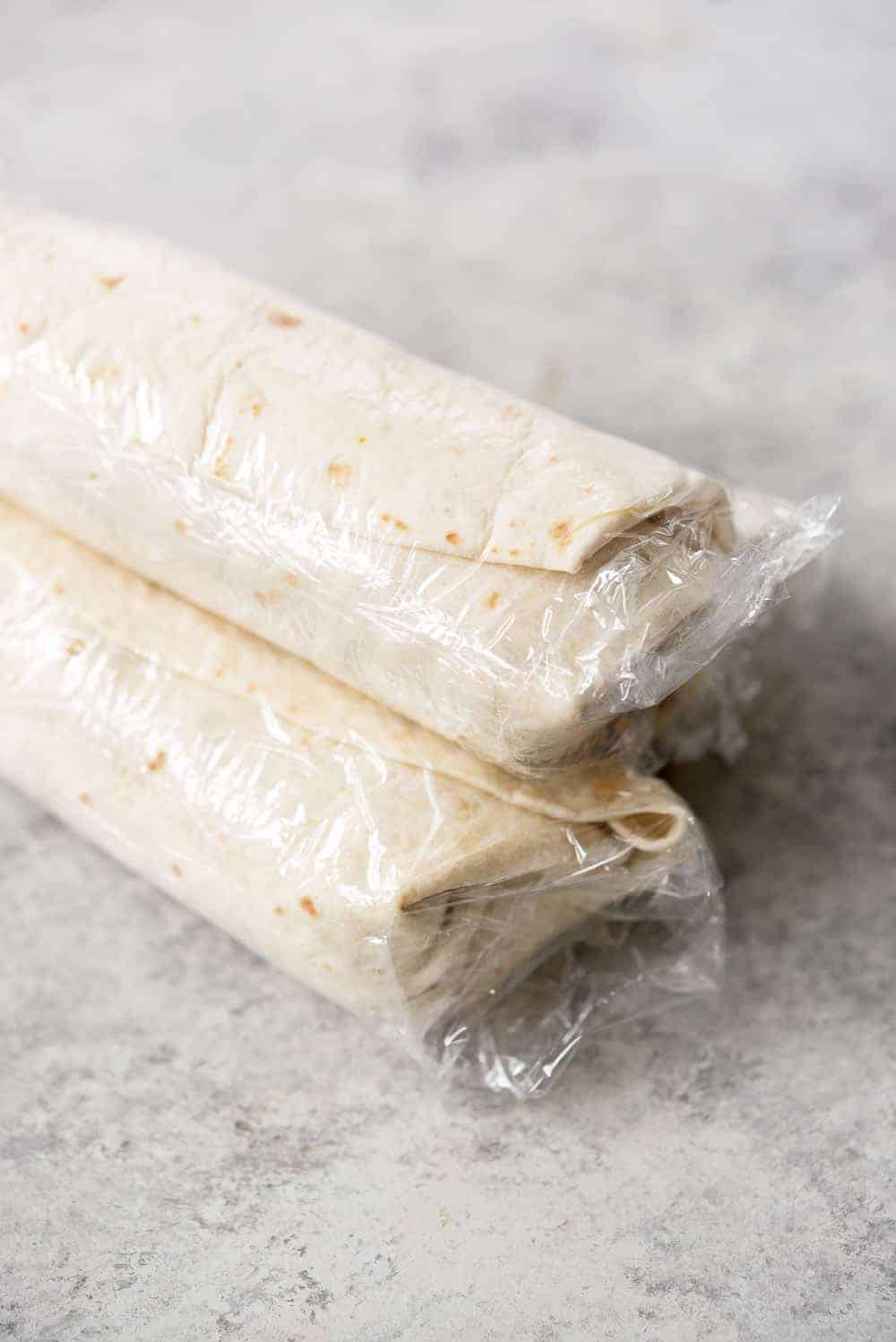 Quick word about this sausage… it's amazing! Those of you who have my cookbook will probably recognize this recipe but if not then you must try it. Even if you aren't vegetarian. Everyone I make it for loves the flavor and how much it actually resembles sausage. It's worth the time and effort, once you try it- you will find yourself putting it on everything. We also love it tossed with pasta and roasted zucchini. YUM.
To freeze, I make all of the burritos, then wrap tightly in plastic wrap. Since I usually eat the burritos within 4-5 weeks of making them, I don't do anything else. However, if you are planning on storing them for long-term use, then you'll probably want a layer of foil over the plastic for extra protection.
To reheat, remove foil and plastic, then heat in the microwave or in a toaster oven/regular oven. I go with 50-60% power so that the whole thing heats through without making the tortilla soggy. I listed directions that work best with my microwave, but make sure to test it with yours- you may need more/less.
Did I mention that almost any filling works in these? Load them up with your favorites. In addition to my tempeh sausage and beans I do a healthy portion of salsa and pickled jalapenos.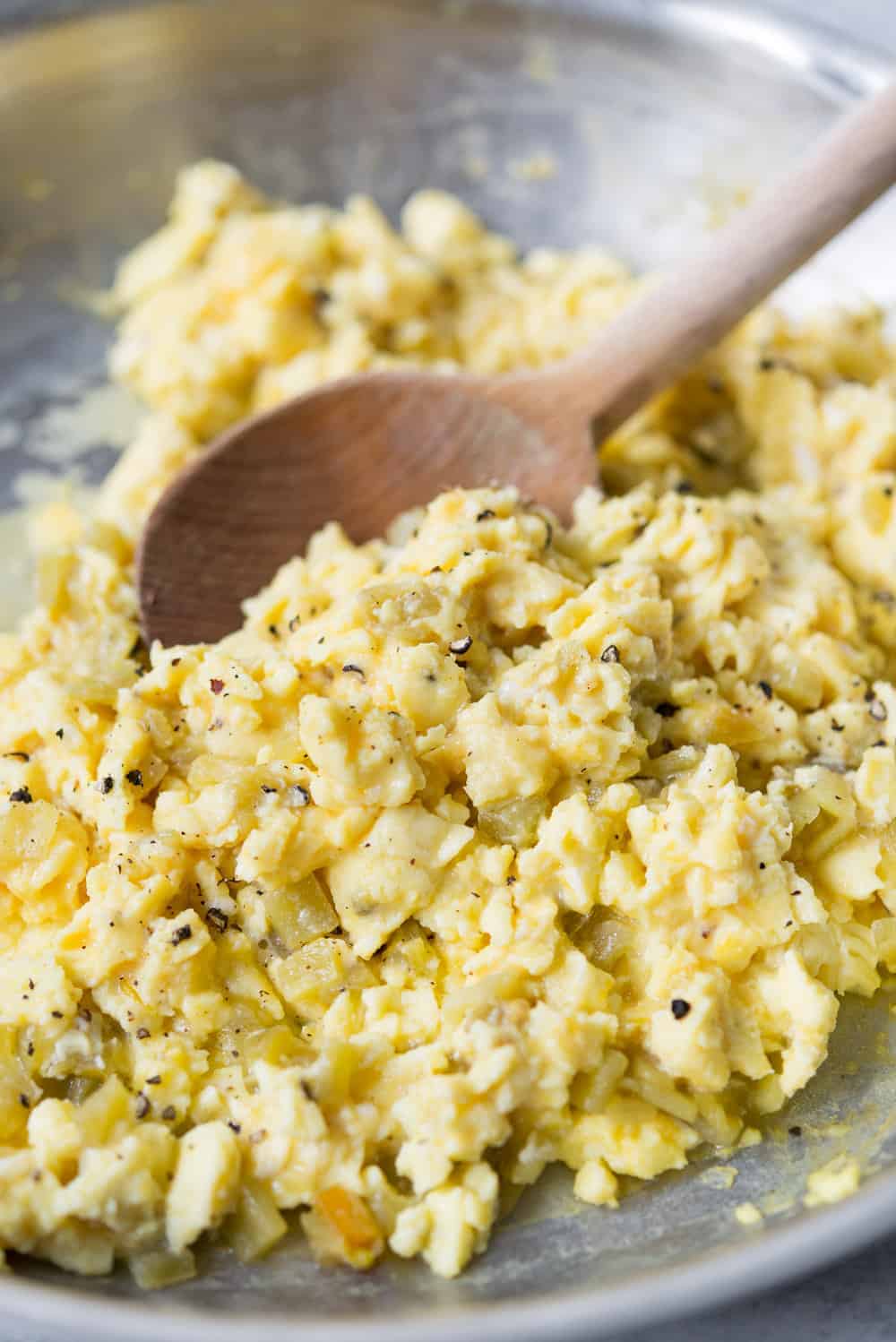 Print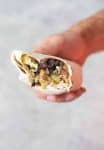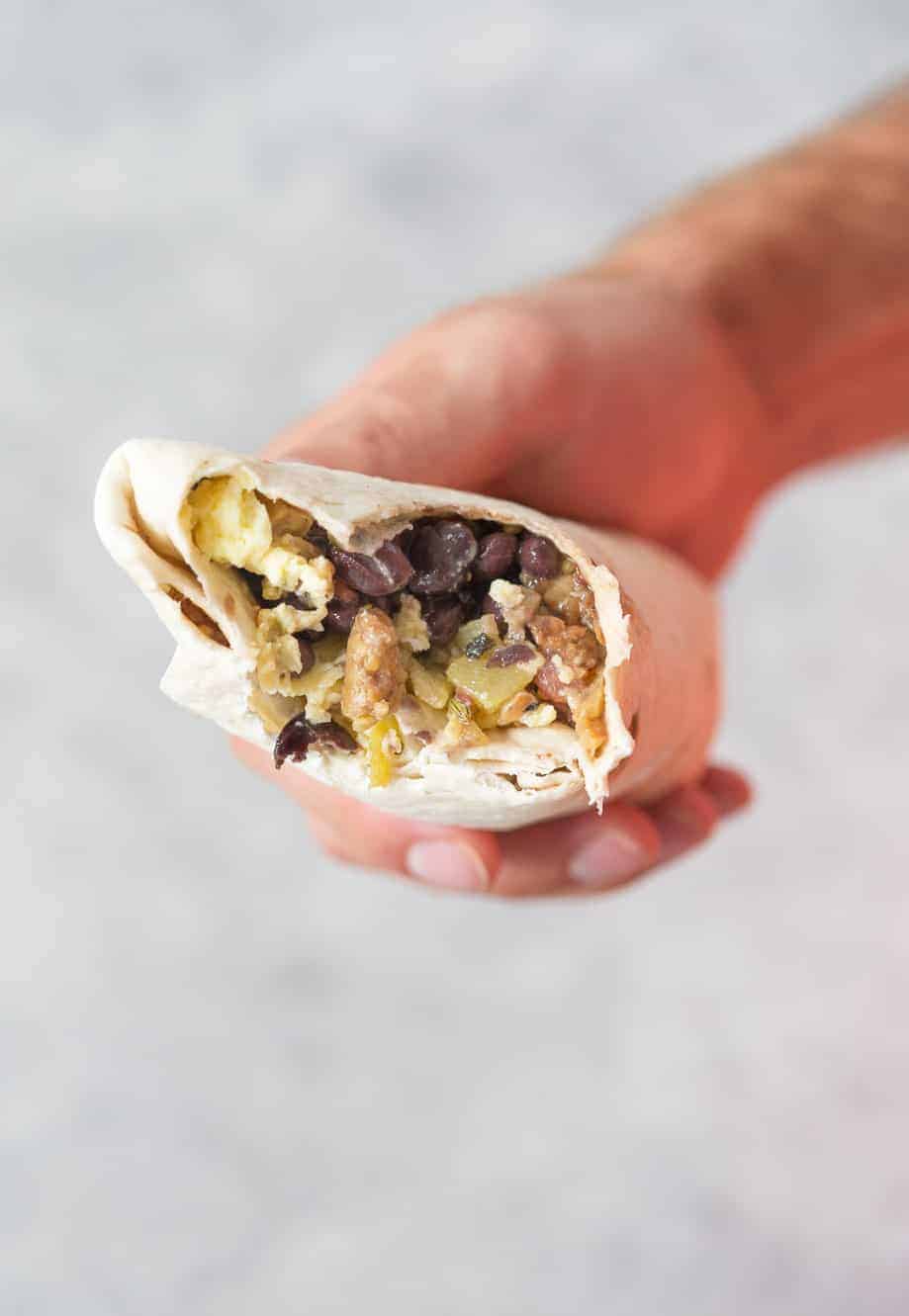 Make Ahead Freezer Breakfast Burritos
Author:

Prep Time:

20 minutes

Cook Time:

15 minutes

Total Time:

35 minutes

Yield:

8

burritos

1

x
Category:

breakfast, make ahead

Cuisine:

vegetarian, American
---
Description
Make ahead freezer breakfast burritos! These high-protein burritos are a MUST for busy mornings. Prep them ahead of time, store in the freezer and warm up to enjoy. Packed with choline-rich eggs, homemade tempeh sausage, black beans and salsa.
---
Scale
Ingredients
1 tablespoon

butter

10

eggs, lightly beaten

1/2 cup

shredded cheddar cheese

1

(15 ounce) can black beans, drained and rinsed

1/2 cup

pico de gallo

8

tortillas
Tempeh Sausage Crumbles: 
8 ounce

s tempeh, crumbled

1 teaspoon

dried fennel

1/2 teaspoon

dried basil

1/2 teaspoon

dried oregano

1/2 teaspoon

sage

1/4 teaspoon

red pepper flakes

1

garlic clove, minced

1 tablespoon

soy sauce

1 tablespoon

olive oil

1 tablespoon

pure maple syrup

1 tablespoon

white vinegar or lemon juice
---
Instructions
Make the tempeh sausage! Heat 1 tablespoon olive oil in a large skillet over medium heat and add the tempeh. Cook, stirring often, until tempeh is browned and crispy, about 5 minutes. Add in the fennel, basil, oregano, red pepper flakes, sage, garlic, soy sauce, maple syrup and lemon juice. Cook another 2-3 minutes, stirring occasionally. Add in the black beans and pico de gallo and set aside.
In a separate non-stick skillet over medium-low heat, melt the butter, swirling it so it coats the entire pan. Whisk the eggs and add in 1/2 teaspoon salt and freshly ground pepper. When the butter is just barely bubbling, add the eggs to the pan directly in the center so that the butter gets pushed out to the sides. This helps prevent the eggs from sticking to the pan, even if it's non-stick.
Watch for the edges to just barely start to set, and then gently swipe a spatula around the edges of the pan to create large soft curds. Continue this process, pausing in between to allow time for the eggs to cook but working quickly enough so as not to overcook the eggs, just gently pushing/folding the liquid eggs to form curds. The entire process should take 2-3 minutes or less.
When the eggs are barely set and you have some big folds of soft scrambled eggs, stir in the cheese and remove from heat.
To assemble! Place a tortilla on a cutting bowl and add in ~1/8th of the egg mixture and tempeh mixture. Roll up, then place on a square of plastic wrap and tightly cover. Repeat with the remaining tortillas and fillings.
Place in a freezer safe bag and place in the freezer for 2-3 months. To reheat, remove from bag and remove the plastic wrap. Place in the microwave and cook for 90 seconds on 50% power; then flip and cook another minute on 50% power. Depending on the strength of your microwave, this should be good! But, you'll want to touch it and make sure it's cooked all the way through.
Enjoy! These are so good!
---