I know what you're thinking. Homemade Crackers- ain't nobody got time for that! Don't you know how easy it is to just pick up a box of crackers?
Yes, I know. I used to roll my eyes at homemade cracker recipes too- an item that would be great to make from scratch if I didn't have 18,439 other items on my to-do list for the day.
But then I tried it and you know what- if you can make cookies, you can make crackers. Do I always make homemade baked goods? No. But are they almost always better than the store bought variety? Absolutely! Same goes for crackers. You don't have to make them from scratch, but if you do, you'll be rewarded with healthy, crisp-as-can-be crackers that are awesome on their own but even better when paired with a dip.
Break out your apron, it's baking time.
Like all happily married couples, BL and I will occasionally fall asleep to BuzzFeed quizzes. It's a great way to get an intimate look at your partner with hard-hitting questions like "Which one of Carrie Bradshaw's Exes should you date?" "Which Disney character are you most like?", "Would you survive in Game of Thrones?" and most recently- "Are you addicted to pizza?" (Aiden, Mulan, Hell to the No, and I think this quiz was written by a starving 14-year old)
And while ridiculous quizzes are the perfect way to cure insomnia, they also provide me with random recipe inspiration. This PB & J oatmeal parfait? Created after "Are you more peanut butter or jelly?" And, after deciding that BL and I are not addicted to pizza (much to our surprise)- I woke up the next morning with a strong craving for all things pizza.
Pizza crackers with pizza hummus should do the trick.
First up- these crackers, which I will reiterate are easier to make than they sound. If you know how to use a rolling pin, you're golden.
Once you've mixed the dough (use a food processor for easy clean up), let it rest for at least 15 minutes before rolling. Resting will allow the dough to roll easier, essential when you want paper thin crackers. Then roll, cut, sprinkle with spice mixture and bake. The ingredient list seems long but it's mostly spices. Don't worry if you don't have one or two, the familiar pizza flavor profile will still shine through.
If your spice cabinet is more bare than full, sub in Italian seasoning, red pepper flakes, garlic powder, a pinch of salt and you should be good to go. The 1/2 teaspoon of red pepper flakes is more for flavor than heat, but if you're worried about spice then feel free to omit it.

For this month's recipe redux theme, "DIY Kitchen Essentials", I wanted to share with you another item I used to buy but now make almost exclusively from scratch: hummus.
Because what are crackers but vehicles to dip all the hummus with? Right. So, I present to you- pizza hummus. Like normal hummus with pizza flavoring. You are so, so welcome.
Hummus is beyond easy-peasy to master. I started with my base- the best homemade hummus recipe– and added a bit of tomato paste, oregano and basil. Creamy pizza perfection.
While I may not be addicted to pizza according to BuzzFeed standards, this cracker and hummus combo has me reconsidering my position. Ready for more DIY kitchen staples? Check out the Recipe Redux roundup below.
If you try this recipe, let me know! Leave a comment, rate it, and tag your Instagram photos with #delishknowledge . I absolutely love seeing your creations. Happy cooking! 
Print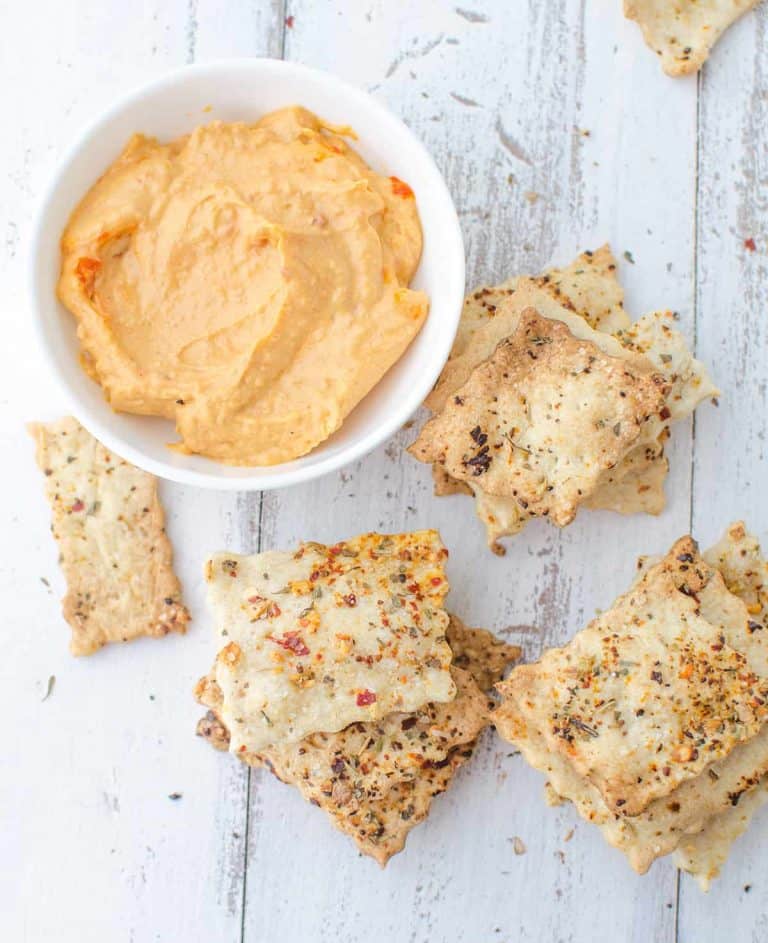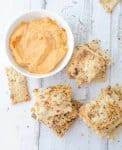 Pizza Crackers + Pizza Hummus
Author:

Category:

snack

Cuisine:

kid friendly, healthy
---
Description
Pizza crackers with homemade pizza hummus! Ready in just 30 minutes! A healthy snack, kid approved! Vegan | delishknowledge.com
---
Scale
Ingredients
Pizza Crackers:
Ingredients

2 cup

s all-purpose flour

1 cup

whole-wheat pastry flour

1 tsp

. sugar

2 teaspoon

s salt

4 tablespoon

s extra-virgin olive oil

1 cup

water

1 1/2 tablespoon

s oregano

1 tablespoon

dried basil

1 teaspoon

rosemary

1 1/2 tablespoon

s onion flakes

1/4 teaspoon

thyme

1/2 teaspoon

salt

1/2 teaspoon

red pepper flakes

1/4 teaspoon

garlic powder
Pizza Hummus:

1 tablespoon

extra-virgin olive oil

3 tbsp

. tomato paste

2 tsp

. dried oregano

1 tsp

. dried basil

2

cloves garlic

1

can chickpeas, drained and rinsed

1/4 cup

tahini

3 tbsp

.fresh lemon juice

2 tbsp

. olive oil

2 tbsp

. water, if needed
---
Instructions
Pizza Crackers:
Preheat the oven to 400°F. Line a baking sheet with parchment paper and set aside.
In a large bowl or base of a food processor fitted with a dough blade, mix together the flours, sugar and salt. Add the oil and water and combine or stir until a sticky dough is formed.
Remove the dough, wrap in plastic and let sit in the fridge for 15 minutes.
Remove dough from fridge and divide the dough into two halves; set one half aside. Sprinkle your work surface lightly with flour and set the dough halve on top.
Roll out the dough: Working from the center of the dough out, roll the dough into a rectangle roughly 1/8-1/16th inch thick- that's about the thickness of a penny. You will spend a bit of time rolling to get the dough thin, very thin. If the dough starts to resist and shrink back as you roll it, let it rest, uncovered, for 5 minutes and then continue rolling.
Combine the oregano, basil, rosemary, onion flakes, thyme, salt, red pepper flakes and garlic powder in a bowl. Brush the surface of the dough very lightly with water. Sprinkle half of seasoning mixture over the dough.
Cut the dough into cracker-sized rectangles or diamonds (see note)
Transfer crackers to baking sheet and prick with fork to prevent them from puffing up and the toppings falling off!
Bake for 12-15 minutes: Bake the crackers in the oven for 12-15 minutes, Take note of how thin your crackers are- thinner crackers will bake faster than thicker ones
While the first batch of crackers is baking, roll out and cut the remaining dough and repeat the steps.
Transfer the baked crackers immediately after removing from the oven to a wire rack to cool completely. The baking rack is essential so air can circulate and no condensation — the killer of crunch – forms.
Pizza Hummus:
Heat the olive oil in a skillet over medium heat. Add the tomato paste, dried herbs and cook until slightly toasted, about 2 minutes. Transfer the tomato paste mixture to a food processor and add the garlic, chickpeas, tahini, lemon juice and pinch salt. With the motor running, puree and drizzle in 2 tbsp. olive oil. For a creamier hummus, add the 2 tbsp. water (or more)
---
Notes
I used a crimped pastry edge to get a decorative edge but a regular pastry cutter or pizza cutter will work too. You can make the crackers into shapes as well, but that also means rerolling the dough several times- which can toughen it.Know that the crackers will crisp further as they cool. Store the crackers in an airtight container on the counter for 3-5 days.