Week 6 of our Running Challenge is here! Are you still with me?
Before we get chatting, let's pause for a little motivation/inspiration.
Love that! Especially on days I don't want to go anywhere.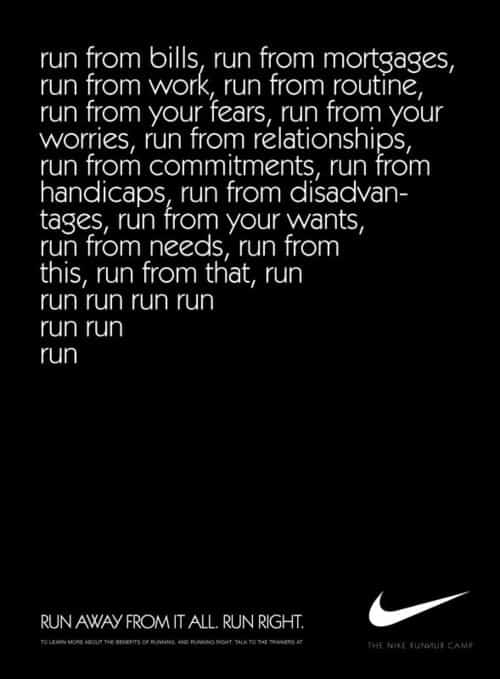 And my other favorite. Bam! Why do you run? I run mostly for me time & mental clarity. (sometimes I run to enjoy more margarita's)
Are we motivated yet?
Do you need more?
Today's Topic: Outside or Treadmill?
Most of us, I am guessing, are going to say outside. Outside, especially on a nice day, doesn't even feel like work. It's just enjoying the scenery, fresh air, and pace of whatever you've got to give.
I'm pretty lucky in the fact that Northern California weather, for the most part, is almost always sunny. Except for a few days here and there, I can count on dry, sunny skies to accompany me. I do have to deal with 100+ days in the summer, but I also run at 6AM so it doesn't impact me too much.
I'll be honest. I dread the days I have to go indoors. Especially if I've been on a kick with good outdoor runs, then being indoors feels like beating my head against the wall as I eye every minute on the treadmill.
You too? Sometimes though, you just gotta do it. If it's raining or miserably cold for a few weeks, we can't stop. Upcoming races wait for no one. I've learned that multiple times with shin splits, stress fractures, and other injuries.
There are benefits to running indoors: It's safer (I don't run alone at night. I've watched enough law&order SVU  to know that), You can pace yourself better (nothing like having a moving belt underneath you for motivation to keep your speed up), you can vary the terrain (practicing for the SF marathon but live in the flat-as-dirt valley? Make some hills on the treadmill!)
So, while I prefer the outdoor space as much as possible, here are top-tips to making your indoor workout just as fun.
1. Put on your favorite show:  If you're fortunate enough to have a treadmill near a TV, find a favorite show or channel and run to it! Most gyms use closed captioning so you can read the dialogue as you go along. You'd be amazed how mindless reality TV can be, to me it's the perfect thing to run to. I am so much more concerned with their failing lives than how many miles I've completed.
2. Switch up the Tempo: Maintaining a constant speed can be a real buzz kill. Switch it up! Add time intervals, tempo changes, ect. to make it more fun. Plus! Intense interval training will burn more calories and get you done faster. If you're new to training- try a few different time intervals. Push yourself for 60 seconds, recover and repeat. Not only will you get a more efficient workout, you're also training your body to run faster.
3. Don't change anything: I don't get the people who are running so fast they have to lean on the railings/console just to stay on. How is this good for you? Seriously. I am so fascinated that they are a moment away from biting it and falling off.   Keep your normal stride, and maintain that good form that we've been working on!
4. Stimulate the outdoor experience: Why does running on a treadmill seem easier? Oh, that's right- it is! The track propels you forward, so you have more momentum than being outside. Increase the incline to counteract this- 1-2% incline should do it!
5. ZONE out! Yes, you can zone out while you are outside, but you are more likely to be hit by a car, bike, or texter. When you're on the treadmill, you're safe. Zone out, think. Plan. Daydream about the weekend. No one will bother you or touch you. Enjoy the peace and just run.
What are your favorite tips for running either outside or on the treadmill?