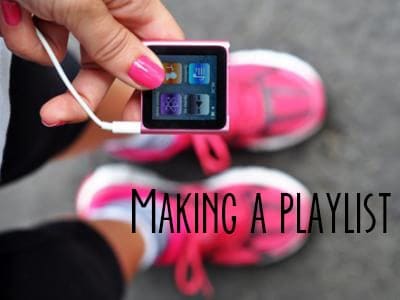 Today's post is all about music! To me, the essential component of a workout. I enjoy nothing more than zoning out and listening to my favorite songs, thinking about my day, day-dreaming as I get lost in the city. To me, a playlist can make or break a workout.
Have many times have I stopped a run early because my playlist wasn't cutting it or I was tired of listening to the same songs? Many, many times. I rarely run without music. I know some people enjoy the peace and quiet of running without music, but I just can't do it. I need a quick beat to keep me on pace, and to keep motivation up.
A good song keeps me going, even when I feel "out of gas". I keep "Farewell" by Rihanna on pretty much ever playlist to turn on when I need a push. I've also recently become obsessed with Map My Run, a free app that I highly recommend if you have a newer ipod or an iphone. It's a great way to keep track of your distance, time, and mile pace. I don't share my workouts publicly, but I keep them for myself to see if I've improved.
Tips to keep it fresh:
>>> Create a "running only" playlist: Make a list of favorite songs that you ONLY listen to when you exercise. This will help keep things fresh and prevent song burnout.

>>>Shuffle Your Songs: If you listen to the same playlist day in and day out, you've probably memorized the order of the songs. Switch it up! Try shuffling your songs instead. Even if it's the same songs, mixing up the order

>>>Don't put your best song first in your playlist: Rotate the first song every week to keep things fresh. You also don't want to start off with your favorite song, keep that until you need a boost. This song is a warm-up song anyways. My favorite: "Maps" by the Yeah Yeah Yeah's. I've probably listened to it 1,000 times but the first few beats always let my body know that I am starting my run.

>>>Don't put your best songs right in a row: Mix in your favorite songs for some so-so songs.
>>>Make a long run vs. short run playlist: Long running songs are ones that you can zone out with, I prefer one's that last as long as possible. Re-mix's are great for this! Search youtube for a remix of your favorite songs. They are usually longer and have a faster tempo. For short runs try faster songs with a higher BPM (beats per minute).to keep you on pace. While I am a fan of running to a beat, many aren't. Obviously, music makes you more susceptible to tuning the world, and possible danger, out. If you run alone, always pay attention to what's going on around you. When I head out on a trail, I only keep one ear bud in. Some people don't think that running helps you train, but I would argue the opposite. I think having a good playlist pushes you and gives you an emotional surge. I prefer pop/hip-hop songs when I run, I can always count on them for a good beat & catchy phrases.
>>>My Playlist from this morning (Girl power, no?)
The Edge of Glory, Lady GaGa
Revolver, Madonna
Wide Awake remix
Catch my breath, Kelly Clarkson
Starships, Nicki Minaj
Some Nights, FUN
Too Close, Alex Clare
Sweet Nothing, Calvin Harris & Florence Welch
Untouched, The Veronica's
Elevation, U2
Until it Beats No More, J.Lo
Miss California, Jack's Mannequin
Sweat, David Guetta
What are your favorite workout songs? Share with us here!