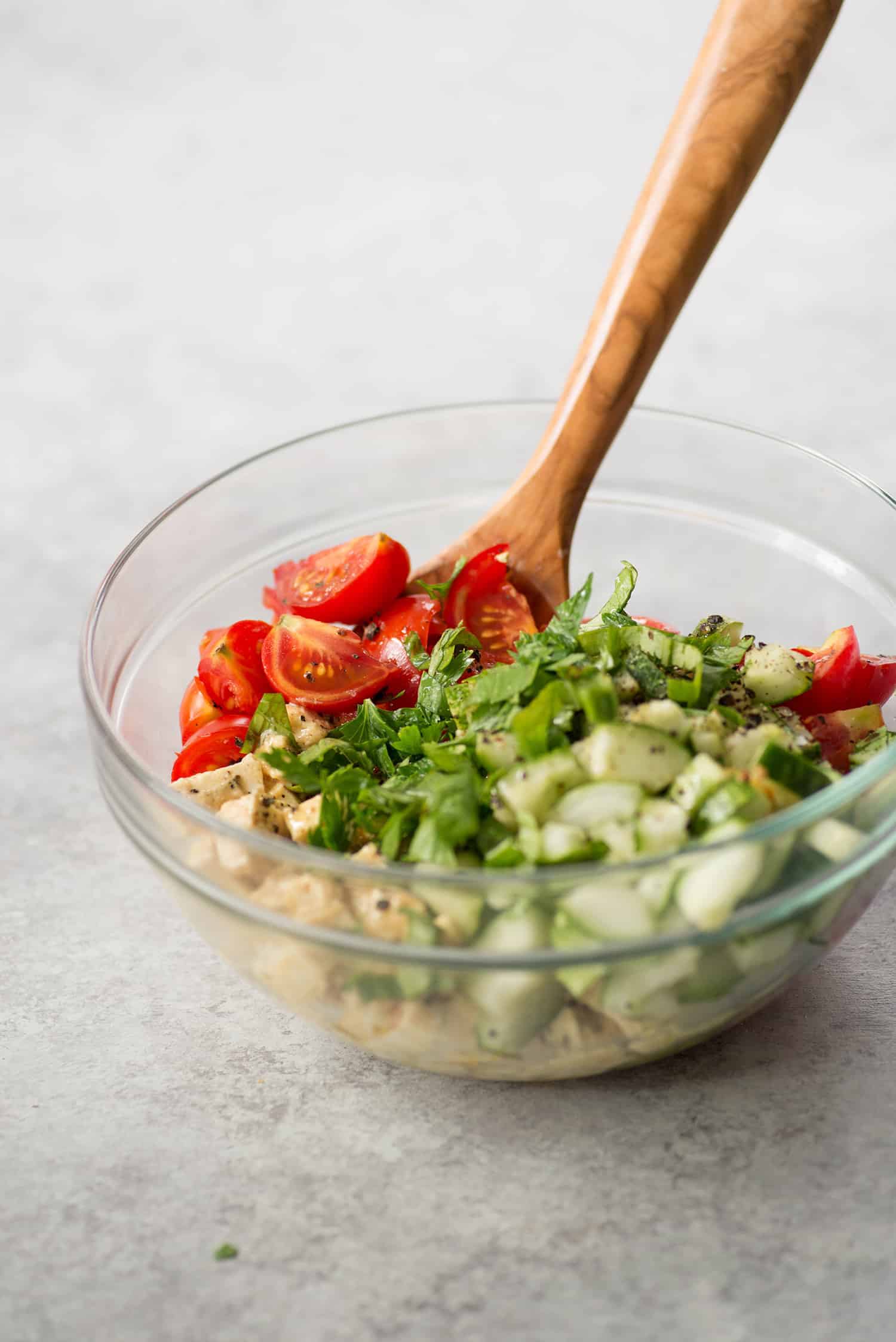 I've been super inspired by my garden produce lately, even though my garden is barely producing anything. Please, farmer superstars, tell me how it's done. I faithfully water my little patch of land every day only to be rewarded with a tomato or two every few days, one zucchini the entire summer, and a bunch of non-producing eggplant plants. Thankfully, I've got enough basil to make pesto for the entire neighborhood.
A client asked me yesterday what type of season was my favorite to cook in and my response was a no-brainer: summer. I love the simplicity of the season and I feel like my recipes reflect this. Save the more complicated meals for Fall and Winter; summer is for eating all the produce, preferably as un-messed around with as possible.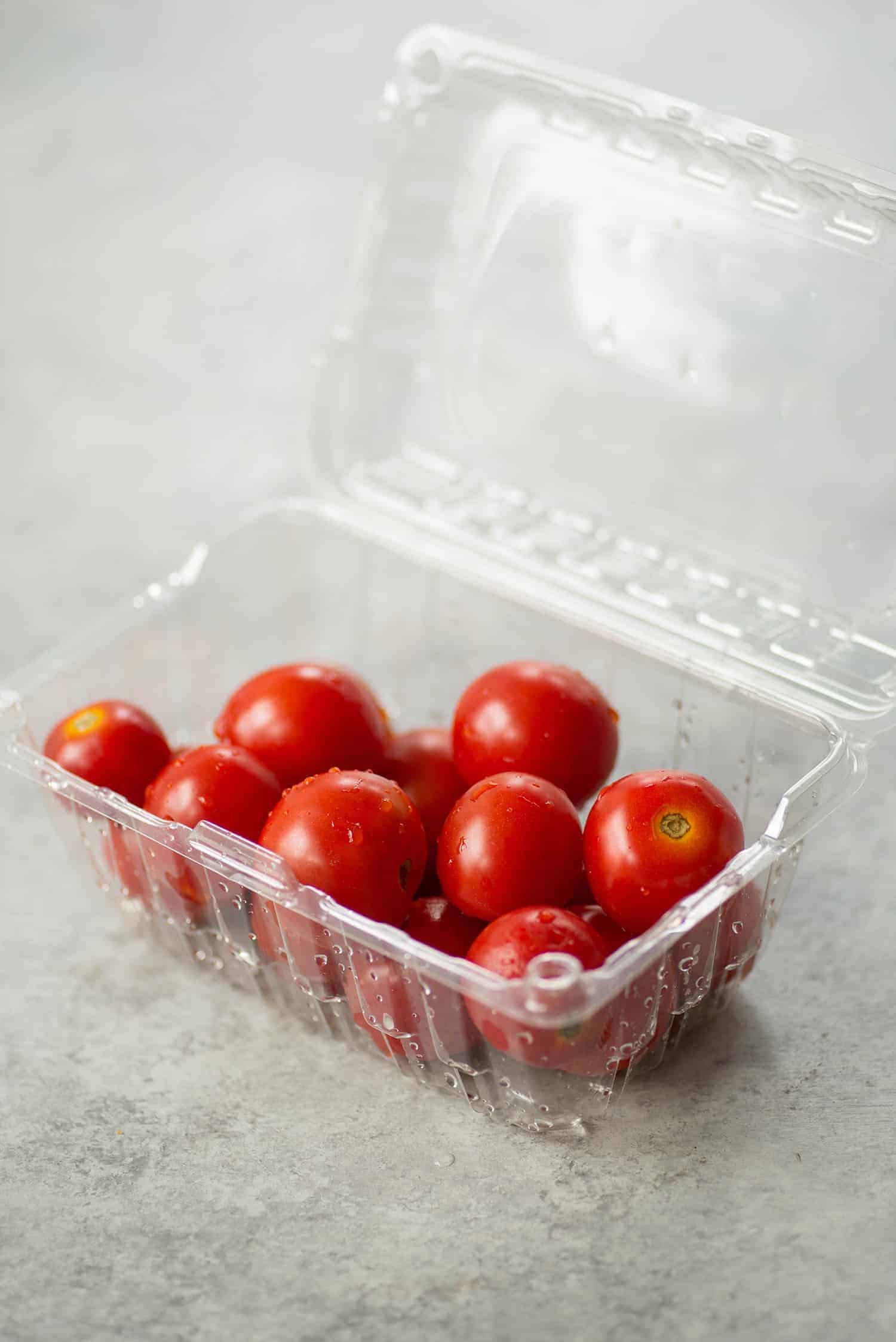 I almost feel bad posting this as a recipe. Almost. It's nothing fancy, but it's incredibly delicious. You've probably made some version of it, especially those of you who are lucky to have overflowing gardens. Bright tomatoes, cucumbers, lots of fresh herbs and a tangy dressing. Typically, I make this one with chickpeas as well, a lunch that's gotten me through many days when I really didn't feel like cooking.
However, I've been on a tofu feta kick, mostly because of you! I created a tofu feta recipe last year and it's been going crazy on Instagram, shared and re-shared a ton over the last few weeks. (P.S.- thank you for sharing your creations with me. It truly makes my day. I'm eternally grateful that there are people out there who trust my recipes enough to want to make them.)
MY LATEST VIDEOS
So- I threw some in. If you've super hesitant on the idea of tofu feta, it's OK. You can use regular feta, leave it out completely or throw caution to the wind and try it! I promise it's not as weird as it sounds. The tofu marinates in a miso-lemon sauce that gives it the characteristic salty, briny taste of feta cheese.
Enjoy your weekend! I signed up last-minute for a restorative yoga teacher workshop which will either be the greatest or worst idea I've had in a long time. I've been wanting to teach more yin-style classes so this opportunity felt like the right place/right timing. Although, it may be comical to my fellow attendees to see me attempt any yoga pose right now; my belly has gotten so large and uncomfortable that I can barely go from sitting to standing without a few attempts.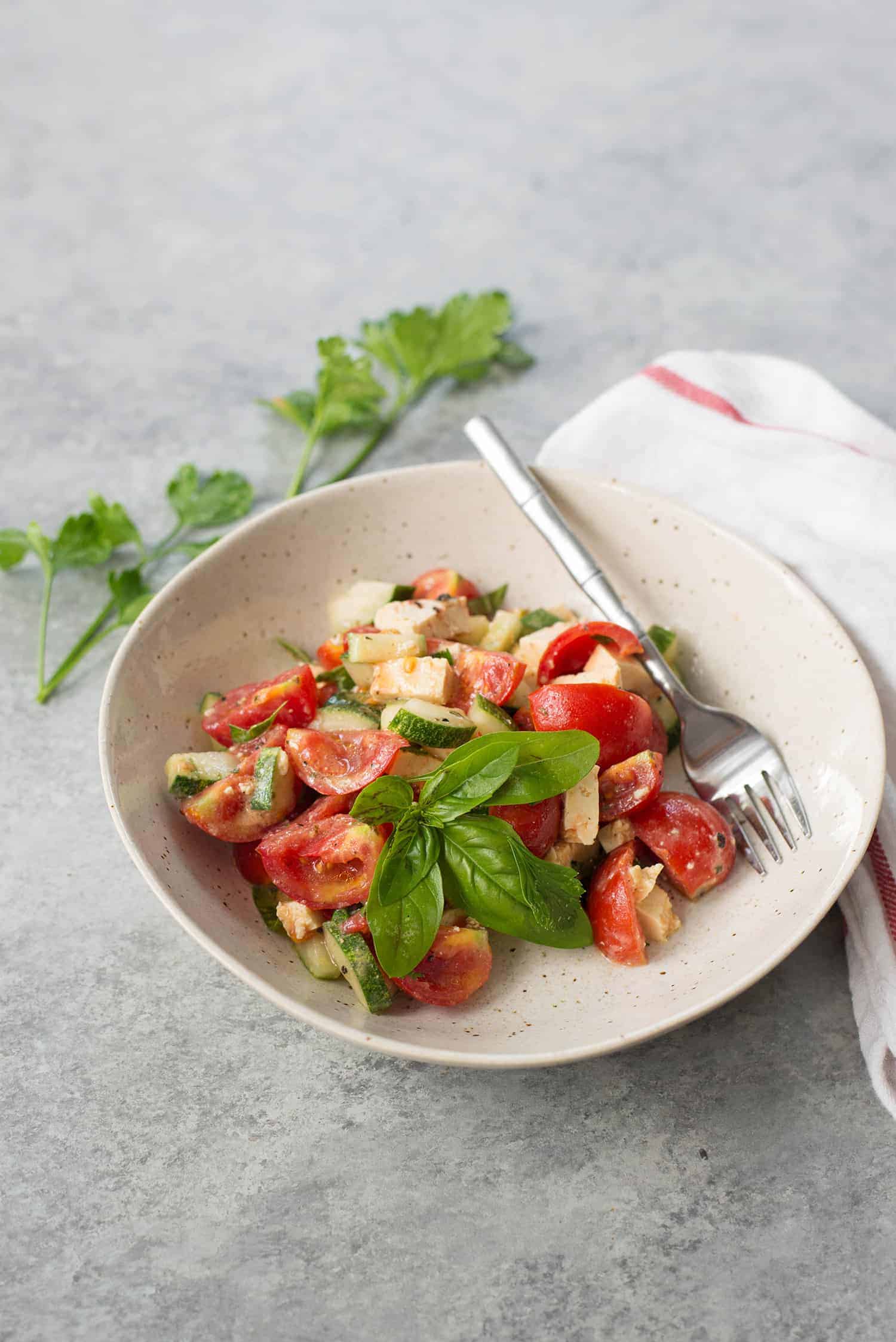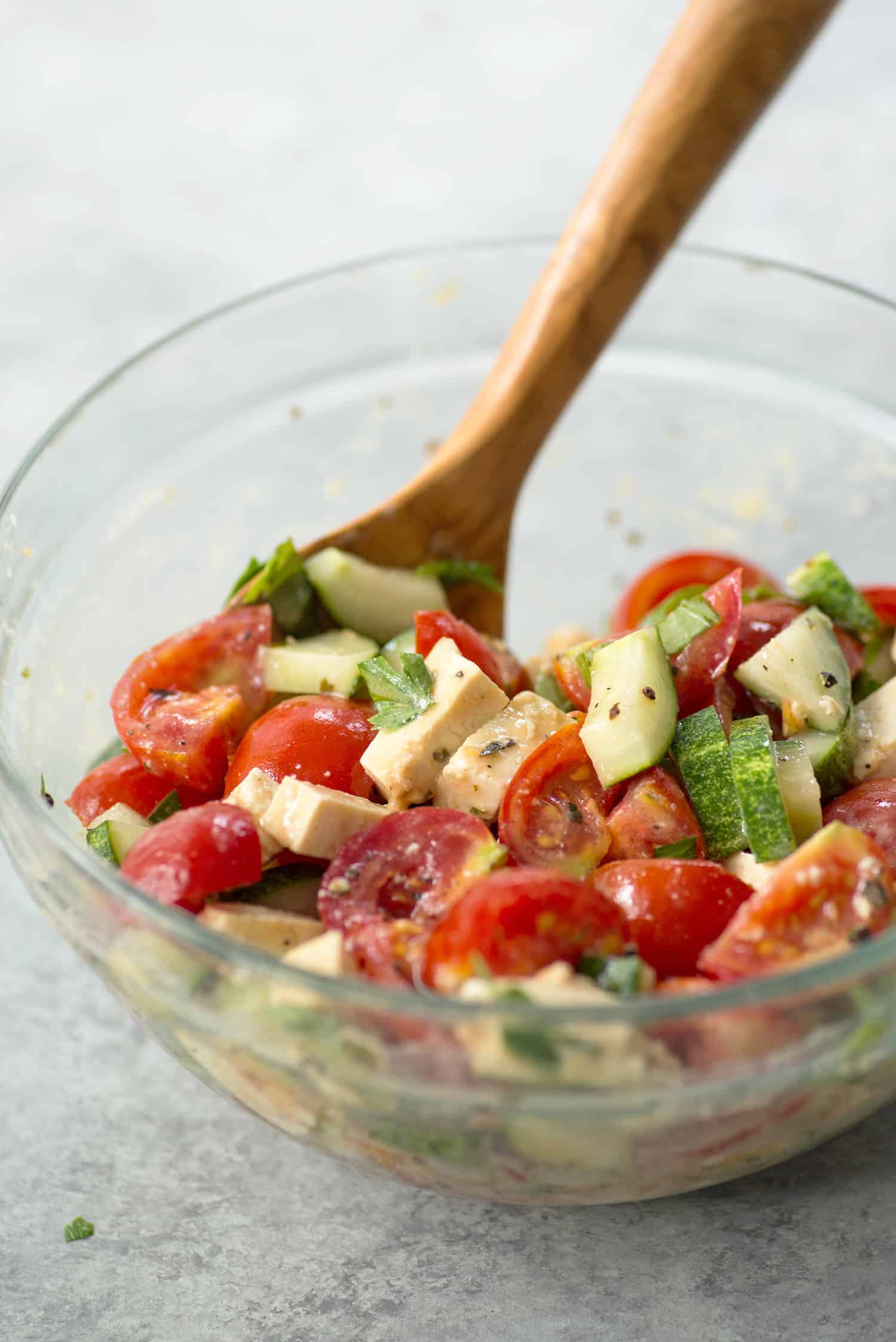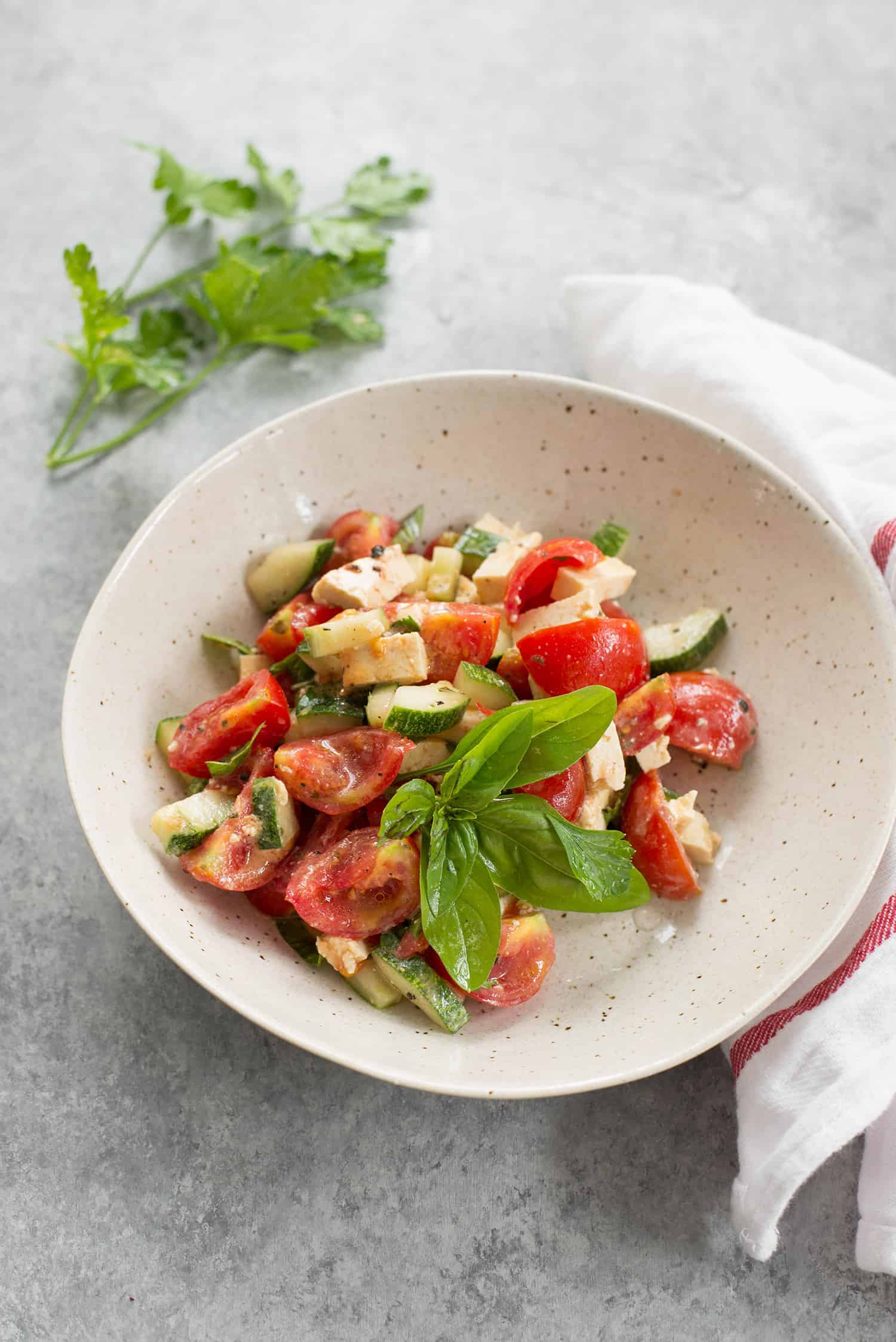 If you try this recipe, let me know! Leave a comment, rate it, and tag your Instagram photos with #delishknowledge . I absolutely love seeing your creations. Happy cooking! 
Print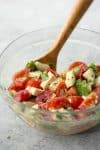 Simple Tomato and Tofu Feta Salad
---
Description
Simple Tomato and Tofu Feta Salad! This salad is so simple and easy; tomatoes, cucumbers, basil, parsley and homemade tofu feta. Vegan and gluten-free. 
---
Scale
Ingredients
2 cup

s chopped tomatoes 

1 cup

chopped, peeled and seeded cucumber 

1/2 cup

mixed herbs (I used a mix of fresh basil and parsley) 

1/2

batch Tofu Feta (see notes) 
Drizzle good quality olive oil 
Splash of fresh lemon juice or white wine vinegar 
salt and pepper 
---
Instructions
Place the tomatoes, cucumber, tofu feta and fresh herbs in a bowl. Drizzle with olive oil and vinegar and a generous pinch of salt and freshly ground pepper. Toss together, then season to taste as needed. 
Enjoy! 
---
Notes
I used my homemade tofu feta in this dish. If you don't want a vegan version, feel free to add in a regular version or omit all together. For protein, you could also swap in chickpeas. 
Enjoy this as is, on top of salad greens or tucked into a pita.