Spaghetti Squash topped with Roasted Ratatouille Sauce! Vegan, gluten-free and low in calories! 
I live in a dietitian/food blogger bubble.
A world where everyone knows that you can make chips out of apples, creamy sauces out of cashews, and 1,345 salads out of kale. It's the place I feel most comfortable in, but quickly forget that not everyone lives here.
Like my friend L. Who came over for dinner the other night, when I was serving up this spaghetti squash pasta with homemade ratatouille sauce. Like most girlfriend dinners, this one started out with a good ½ bottle of wine consumption as I finished up the meal.
MY LATEST VIDEOS
After I roasted my squash, I pulled it out of the oven to begin shredding. Shredding and sipping. Going about my business as I always do when I make spaghetti squash pasta, not even noticing that L was watching with fierce intensity.
"Is that really squash!?"
(It's large, yellow, and I already told her it was squash)
"Yup"
"And you are shredding it!?" "Into pasta?"
Into pasta my dear. A fabulous, gluten-free, low-calorie alternative to traditional pasta.
A trick that I thought everyone knew, and that everyone was doing.
But that's because I live in blogger world. In the real world, not everyone knows- so here is my quick primer. This method tastes great with just about any sauce you crave: spicy arrabiata, creamy vegan pumpkin alfredo, lightened up pesto, pomodoro, and on and on. It's pretty knock out though when combined with this fresh ratatouille.
Spaghetti Squash for Pasta: a How-To
1.After washing the outside of your squash, slice it in two. Even though you are not eating the skin, you still want to wash it as your knife will come in contact with the outside, which can bring dirt and bacteria inside.
2.Slicing your squash in half may seem easier said than done, depending on how sharp your knives are. If you own a microwave, pop it in there for a minute or three to soften the skin. It's easier to cut through. If you don't have a microwave, you can also pop it in the oven while you preheat it. Or just hack it with your sharpest knife and hope for the best! (kidding)
3.Once you have it in two equal halves, remove the seeds. I do this with a small paring knife, but you can use a spoon or your fingers.
From here, I lightly spray cooking oil onto the open halves. This helps the seasoning to stick, and for the top not to dry out and burn.
4.Now season with whatever works in your recipe. Cumin, oregano, and chili for Mexican dishes (try it with enchilada sauce or on tacos. It's weird and it's awesome!) Oregano, basil, thyme for Italian and so forth. I use dried spices here.
5.Then place in a 425 degree F oven for 35-40 minutes or so until done. Alternatively, you can place the squash cut side up in a oven safe dish filled with an inch or two of water. This will prevent the squash from drying out, but I never have that problem. I'm told you can also cook a squash in the microwave but I don't have one so I can't confirm cooking times.
6.Remove from the oven (or microwave) when finished and let cool slightly. Using a fork, gently scrape the inside of the squash- thin, ribbon like strands will start to appear- that's your pasta! Keep going until you are just left with the outer shell. Season the shredded squash with a pinch of salt, pepper if desired. Top with sauce and eat!
Ok, back to the bubble. Enjoy!
If you try this recipe, let me know! Leave a comment, rate it, and tag your Instagram photos with #delishknowledge . I absolutely love seeing your creations. Happy cooking! 
Print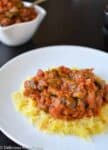 Spaghetti Squash with Ratatouille Sauce
---
Description
Spaghetti Squash topped with Roasted Ratatouille Sauce! Vegan, gluten-free and low in calories!
---
Scale
Ingredients
For the Squash:
1

spaghetti squash, prepared as described above
salt/pepper to taste
For the Ratatouille Sauce:
2 tbsp

. olive oil

1

onion, diced

1

green, chopped

1

eggplant, chopped

2

zucchini, chopped

2

cloves garlic, chopped

2 tbsp

. red wine (can sub red wine vinegar)

6 oz

. tomato paste

1

15 oz. can canned crushed tomatoes

1/2 cup

thinly-sliced basil leaves
---
Instructions
For the Ratatouille Sauce:
In a large dutch oven, heat the oil over medium heat.
Add the onion, bell pepper and cook, stirring occasionally until onion is translucent.
Add the rest of the vegetables (eggplant, zucchini, garlic) and a generous pinch of salt and black pepper. If you like a little kick, add a smidge of crushed red pepper flakes.
Reduce the heat to medium low, cover and cook for 15 minutes, stirring occasionally.
Add the red wine to deglaze, stirring to remove any bits from the bottom of the pan.
Add the tomato paste and stir to combine.
Add the crushed tomatoes and simmer, covered, stirring occasionally, until the vegetables are tender, about 15 minutes.
Just before serving, stir in the basil.
For the squash:
Prepare as instructed in the "basic prep" steps above.
Toss squash strands with a pinch salt/pepper and top with sauce!