Vegan and Gluten-Free Cranberry Chocolate Cookies. The perfect healthy cookie to add to your holiday dessert platter.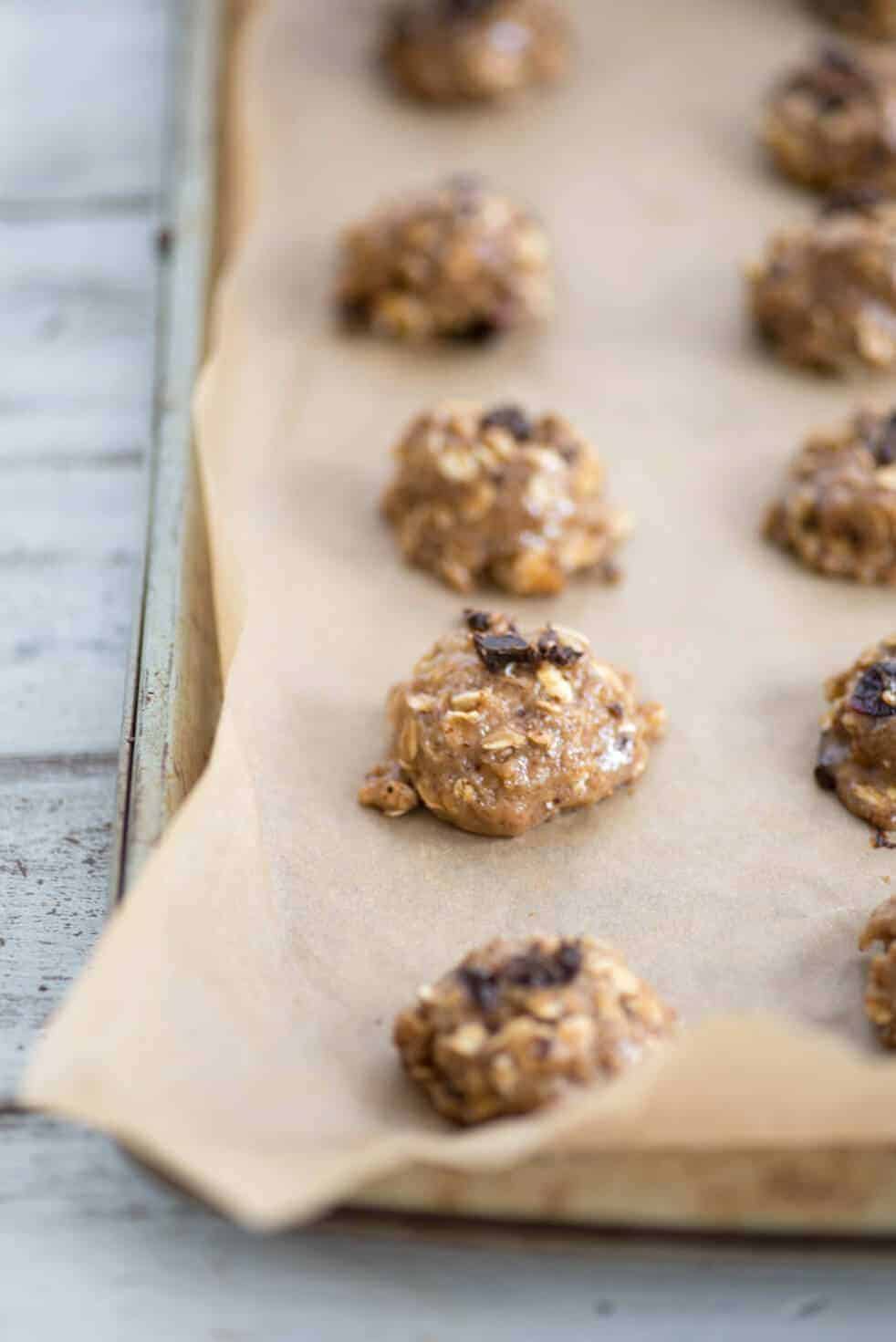 I suppose it's officially holiday cookie time. I have such fond memories of spending hours in the kitchen every December as a child, rolling out batch after batch of cookies to gift to neighbors and friends. While we experimented with a few new cookies each year, the classic must-make was the pizzelle, an Italian waffle cookie that takes hours to prepare, thanks to needing a special iron to press each one out of. It also doesn't help that my grandmother's recipe yields 12 dozen. Yup, 144 cookies from each batch, minus the ones my sister and I would nibble hot off the press. It's probably no surprise that pizzelle day was my favorite of the holiday season; we would put on festive music and spend all day creating gifts of love.
Now that I'm on my own, I've crafted my own tradition of this special day. This weekend, I'm hosting a few girlfriends for a cookie exchange; I'm planning on a few warm cocktails, appetizers, plenty of cookies and lots of festive cheer.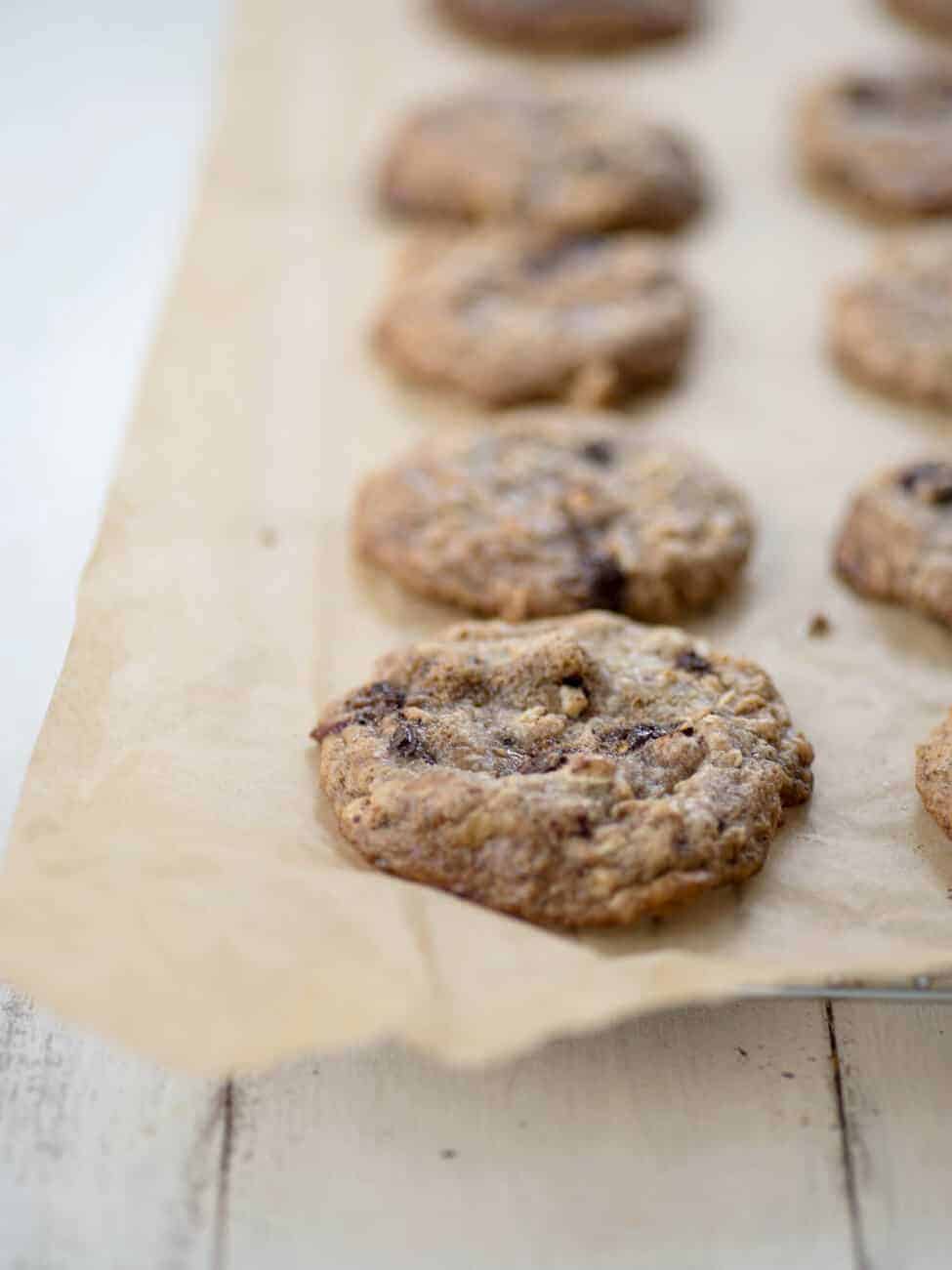 While I will still make a batch of pizzelles, it's tradition after all, I wanted to have a cookie that everyone can enjoy. Dairy-free, egg-free, gluten-free yet still packed with flavor. I tested these out last week and only after BL polished off an entire batch did I mention what was lacking. Of course, he couldn't tell (or care) and really, that's the point. Just because cookies aren't packed with butter, eggs and sugar doesn't mean they are any less decedent.
I adapted these cookies from Angela's recipe, adding a few holiday flavors like cinnamon, walnuts and chewy cranberries. They are the perfect cookie to add to your holiday table, to gift, and to enjoy with loved ones.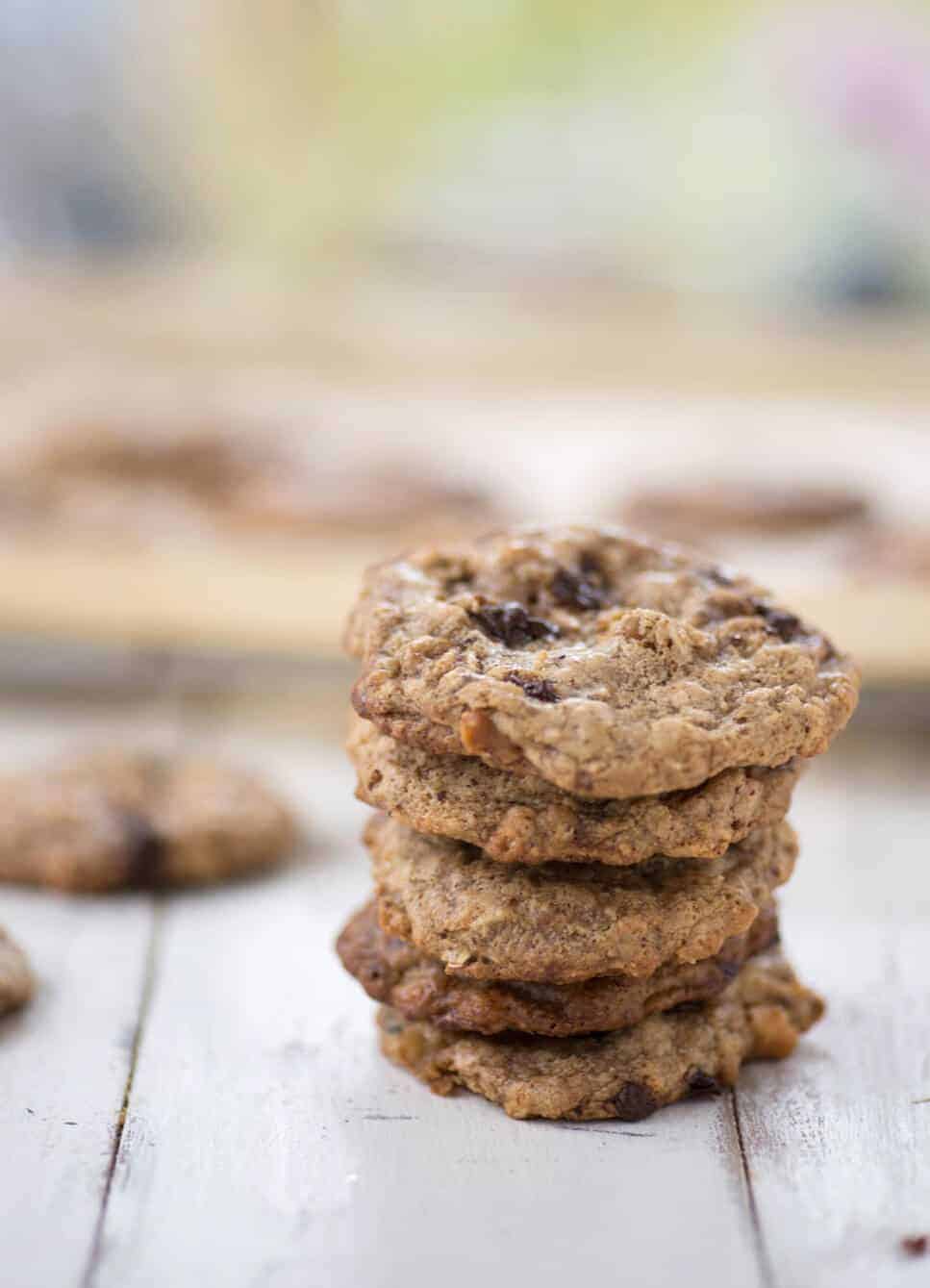 Vegan and Gluten-Free Cranberry Chocolate Cookies
Vegan and Gluten-Free Cranberry, Chocolate and Walnut Cookies. The perfect healthy cookie to add to your holiday dessert platter. Adapted from Oh She Glows.
Ingredients
½ cup  natural smooth almond butter
1/ 3 tablespoons 100% pure maple syrup
3 tablespoons softened coconut oil
½ teaspoon pure vanilla extract
½ cup rolled oats
¼ cup oat flour
2 tablespoons arrowroot starch
¼ cup almond flour
¼ teaspoon ground cinnamon
½ teaspoon baking soda
½ teaspoon salt
¼ cup dried cranberries
¼ cup chopped walnuts
¼ cup chocolate chip cookies (dairy-free for vegan)
Instructions
Preheat the oven to 350°F and line a large baking sheet with parchment paper.
In a large bowl, stir together the wet ingredients (almond butter, maple syrup, oil, and vanilla) until completely smooth.
Stir the dry ingredients, except for the walnuts, cranberries and chocolate into the wet mixture, one by one, until thoroughly combined. The dough may be a bit wet, but this is OK.
Stir in the walnuts, cranberries and chocolate, just stirring to combine, making sure not to melt the chocolate.
Using a cookie scoop (or a spoon), place mounds of cookie dough onto the cookie sheet, keeping 3 inches between each cookie as they will spread while baking.
Bake for 8 to 9 minutes until the cookies are spread out and just golden.
Cool the cookies directly on the baking sheet for about 5 minutes to harden. Gently transfer each cookie directly onto a cooling rack for another 10 minutes, where they'll firm up even more. Allow the cookies to cool completely before storing.